Subscribe/Access
Advertisements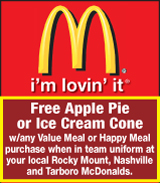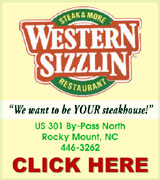 Sections
Member Options
Back
Nash oks incentive


Nash County Commissioners approved an inducement agreement for Carolina Innovative Foods, Inc. (CIFI) at a recessed meeting last week.
Krista Ikert, Vice-President of the Carolina Gateway Partnership, brought the agreement to commissioners for approval.

More ...
AMANDA CLARK, GRAPHIC STAFF WRITER
School vouchers nixed


Judge Robert Hobgood ruled last week that the NC state "Opportunity Scholarship Program," which offers private school vouchers to students in the state, is unconstitutional. In his ruling, Hobgood stated that the voucher program adopted by the NC General Assembly in 2013, violates several provisions of the NC Constitution.
Hobgood's ruling also stopped immediate implementation of the voucher program, a decision that has left hundreds of North Carolina children in a state of limbo, uncertain as to which school they will be allowed to attend.

More ...
AMELIA HARPER, GRAPHIC CORRESPONDENT

THE GREAT PUMPKIN! –– Danny Vester of Spring Hope stands beside his pumpkin which was just named the record breaking pumpkin for the Southeastern United States and is considered the world's second largest pumpkin.

Vester grows record breaking pumpkin for Southeast US


What started off as a hobby for a Spring Hope man has turned into a way to help promote Spring Hope's Pumpkin Festival.
Danny Vester recently returned from Cullman, Alabama with what is now considered the record breaking pumpkin for the Southeastern United States.
The pumpkin weighed in at 1,296 pounds.

More ...
AMANDA CLARK, GRAPHIC STAFF WRITER - 1 opinion posted
NPD SPOTLIGHT


The Nashville Graphic is introducing officers of the Nashville Police Department each month as part of an "Officer Spotlight" series.  The articles are featured the last Wednesday of each month  to help Nashville residents get to know the officers who protect and serve their communities.
Officer Name: Thomas M. Robbins

More ...
SPECIAL COMMUNITY SERIES
Annual Warren "Sneak" Lewis 5K is Sept. 13


Purple and gold will be the colors for the Third Annual Warren "Sneak" Lewis 5K Memorial Race, in honor of Lewis' daughter, Lauren, who just started her first year at East Carolina University.
The race is set for Saturday, September 13 in Middlesex and already, over 300 runners have registered for the race.
The race is in memory of Warren "Sneak" Lewis, III, who was shot and killed while serving a murder warrant with the Eastern North Carolina Fugitive Task Force.

More ...
AMANDA CLARK, GRAPHIC STAFF WRITER
Terry celebrates 100 years


Elsie Terry was shocked to receive a card last week from the President of the United States.
"I got a card from the White House," she exclaimed as her daughter-in-law, Sandy Terry, presented the card to her last Tuesday at Autumn Care in Nashville.
Sandy said the card was well deserved, as her mother-in-law was celebrating her 100th birthday.

More ...
AMANDA CLARK, GRAPHIC STAFF WRITER
Nash proceeds with recreation program


Nash County Parks and Recreation is moving forward with receiving input from residents about its recreation program and has two community input meetings planned for September 8th and 9th.
The meetings are a chance for residents of areas in the county to express their opinions and ideas on the recreation needs in the county.

More ...
AMANDA CLARK, GRAPHIC STAFF WRITER
Nash County withdraws from NCEast Alliance


Nash County Commissioners decided last week to withdraw from the NCEast Alliance, an economic development agency that serves Eastern North Carolina.
NCEast Alliance was formed after the General Assembly did away with funding for the NC Eastern Region. The law ended all state financing of all the regional economic development groups.

More ...
AMANDA CLARK, GRAPHIC STAFF WRITER
Cooking accident causes fire at Lumber Street home
A cooking accident was the cause of an early morning fire on Lumber Street in Nashville.
According to Captain Chris Joyner, Nashville's Fire Department was dispatched to 216 North Lumber Street around 1 a.m. on Tuesday morning.
A Nashville police officer made contact with firefighters shortly after the call was dispatched confirming everyone was out of the home.
More ...
Richard Jason Miles
Nash County Sheriff jails two for Marijuana operation
The Nash County Sheriff's Office Narcotics Division dismantled a sophisticated indoor marijuana growing operation last week and arrested the home's residents.
Investigators seized 40 marijuana plants, which were found in the basement of the home at 6017 Olde Bay Court, Rocky Mount.
More ...
NASHVILLE POLICE BRIEFS
INCIDENTS
A larceny was reported on 8/18/14 at 211 Thorne Street
A possession of counterfeit money and obtaining money/property by false pretense was reported on 8/19/14 at L&L Food Stores,1001 E Washington Street
More ...
NASH COUNTY SHERIFF'S OFFICE REPORTS
A missing person was reported on 8/18/14 at 8561 Strickland Road
A cruelty to animals was reported on 8/18/14 on Spring Mill Trail Road
A narcotics violation was reported on 8/18/14 at Webbs Mill Road and Barbee Street
A breaking, entering and larceny of a residence was reported on 8/18/14 at 914 NC 231
More ...
Rocky Mount man writes book about granddaughter


A Rocky Mount man has  written a book inspired by his granddaughter.
Arthur L. Ellis recently published "My Little Girl Abigail" and said the book is read like his granddaughter is talking.
"She says everything through me," he said.
Ellis said the book became something he was interested in immediately after Abigail was born 15 months ago.

More ...
AMANDA CLARK, GRAPHIC STAFF WRITER
Locals study abroad
The University of North Carolina at Chapel Hill has provided $687,929 in scholarships, fellowships and program support to 155 undergraduates for study abroad during 2014 and 2015. Funded by private gifts to the College of Arts and Sciences, the awards enable students to study in other countries for a semester, summer or year.
 More than one-third of UNC undergraduates study in other countries before they graduate  one of the highest study abroad rates among public universities nationwide.
More ...
OUTSTANDING NEIGHBOR!
Bobby Brannan was awarded the Outstanding Neighbor Award recently from the  Birchwood/Fairfield Community Watch. He is the first winner of the  award. The group hopes to select a new outstanding neighbor at every meeting. Pictured with Brannan is Debbie Batchelor (left) and Dee Battle (right).
More ...
SCHOLARSHIPS
The Momeyer Ruritan Club recently presented academic scholarships for the 2014-2015 school year. Pictured (L-R) is: Stuart Parker, committee chair, with scholarship recipients Devon Carter, Valerie Brooks and Annie Jackson. Carter is a rising freshman at North Carolina State University and Brooks and Jackson are attending Nash Community College.
More ...
LIONS CLUB LEADERS
The Lions of NC are going through a redistricting of their clubs. The newly formed district that will cover from the Capital to the coast is called 31S. Lion Mary Boehm (at right) of the Nashville Lions Club was elected Governor of the Newly formed district 31S. Standing with Mary is Lion Barbara Beltran from Raleigh (at left).  She was elected as 1st Vice District Governor of the newly formed district 31S.
More ...
NCC radio station streams programming for all audiences
"This is K-Pop (Korean Pop)" is just one of the show introductions listeners of Nash Community College's radio station, Big Bang Radio WNIA 89.1 FM, will hear in the upcoming fall semester. Dubbed "the station that plays something for everyone" by the first student manager back in 2008, WNIA stays true to its roots with the ushering in of the station's fourth successor, Melissa "Max" Herbert.
More ...
Family members revamp garden at Autumn Care of Nash
A group of hard-working individuals showed up at Autumn Care of Nash early in the summer to transform one of the enclosed courtyards into a floral paradise for both residents and staff to enjoy.  Several planter boxes were constructed containing flowers such as verbena, marigolds, salvia, and geraniums.  Other planters contain herbs and vegetables, particularly tomatoes in memory of a loved one.
More ...

Teacher's Assistant Maxine Nicholson shows kindergartner Ashton Langley the ins and outs of the cafeteria on Monday during a tour of the school.
NRMPS students start school
Nash-Rocky Mount Public Schools welcomed back over 16,000 students this week, as school began for most on Monday.
Kindergartners had staggered enrollment, with some starting on Monday and others starting Tuesday and Wednesday.
Superintendent Dr. Anthony Jackson visited Parker Middle School on Monday and then hopped on a school bus to ride to school with kindergartner Nathan Parker, Jr, a decade long tradition he has carried out every year while superintendent.
More ...
ICE BUCKET CHALLENGE
Nash County Manager Zee Lamb received the ALS Ice Bucket Challenge from Suzanne Stallings, Chowan County Clerk to the Board on Friday. On Tuesday afternoon, Lamb accepted the challenge and several buckets of ice water were dumped on his head by Nash County staff. In turn, Lamb challenged Nashville Town Manager Preston Mitchell, Rocky Mount City Manager Charles Penny and Nash-Rocky Mount Schools Superintendent Dr. Anthony Jackson.
More ...
Married
Two Battleboro Community Firefighters were married on Aug 23, 2014. Fire Captain Christopher Barus and Firefighter Megan Bandy were married at the Battleboro United Methodist Church in Battleboro NC by Reverend Patrick Sinclair. After the wedding they were escorted around the town by the Battleboro Community Fire Department.
More ...
PLAQUE OF APPRECIATION
Nash Central Middle School recently presented a plaque of apprecation to Nashville's Fire Department (NFD). The fire department provides coverage for all home football games and recently donated 250 concession cups that will be sold during home games this year. The department was presented the plaque on August 22, which reads "In appreciation for your service and dedication to our school and athletic program."
More ...
MILITARY NEWS
Army Pvt. Michael Dalton has graduated from basic combat training at Fort Jackson, Columbia, S.C.
During the nine weeks of training, the soldier studied the Army mission, history, tradition and core values, physical fitness, and received instruction and practice in basic combat skills, military weapons, chemical warfare and bayonet training, drill and ceremony, marching, rifle marksmanship, armed and unarmed combat, map reading, field tactics, military courtesy, military justice system, basic first aid, foot marches, and field training exercises.
More ...
Nashville native enjoys successful career in Army
A Nashville native has had a successful caraeer in the United States Army.
Command Sergeant Major Lynice D. Thorpe began her army career on October 2, 1989. She attended Basic Combat Training at Fort Dix, New Jersey and Advanced Individual Training in Fort Jackson, South Carolina, where she obtained the Military Occupational Specialty as an Administrative Assistant.
More ...

Heston Gregory won the 9 and 10 year olds division of the pork char grill at State 4-H Congress.
Nash 4-H'ers earn top honors at State Congress
Three Nash County 4-H'ers received top honors during the recent State 4-H Congress. This year's 4-H Congress, held in Raleigh June 21 through 24, attracted 541 youth and their adult leaders for activities including presentations on a variety of subjects, leadership and citizenship training, service opportunities, officer elections and more.
Taylor Tyson, 17, daughter of Sharon and Jeff Tyson of Nashville, was inducted into the 4-H Honor Club, one of the highest honors a 4-H'er can achieve.
More ...
Nash County Blood Drives for September 2014
Tuesday, September 2 from 3 until 7 p.m. at the Harrison Family YMCA, 1000 Independence Drive, Rocky Mount
Tuesday, September 2 from 10 a.m. until 3:30 p.m. at Nash Health Care Systems, 2460 Curtis Ellis Drive, Rocky Mount
Wednesday, September 3 from 2 until 6 p.m. at Church on the Rise, 3520 Bishop Road, Rocky Mount
Monday, September 8 from 12 until 6 p.m. at Southern Nash High School, 6446 Southern Nash Road, Bailey
More ...
PEACHTREE COMMUNITY NEWS


Pastor Whitehouse greeted those who came to worship at Peachtree on Sunday morning.  He administered the 'Lord's Table' with the assistance of the deacons.  Special music was "He's Alive," sung beautifully by Marta Whitehouse.
The sermon was titled"Waiting is good for the Soul."  It was based on scripture passage Habakkuk 1:21-2:1.  The pastor asked, 'What do you do when what is happening makes no sense?'

More ...
BARBARA HARDISON
RED OAK NEWS


Congratulations to Deven and Margo Ennis Melton on the birth of their daughter, Harper Elizabeth, on Friday, August 15! She weighed 7 lbs 11 oz. and was 18 1/2 inches long. Proud grandparents are Jim and Jackie Ennis.
Red Oak Baptist Church is pleased to welcome as new members Braxton, Christian, Ashton and Nicole Sykes; Olivia Coley; Harrison Brown and Nathan Norris.

More ...
Suzy Pearce
Word for the week


The gathering of God's people for weekly worship is a special place to meet with God. 
The Bible likens the church to a temple.  We are talking about people not a building.  The  church is a group of people "being fitted together" and "growing into a holy temple in the  Lord" (Ephesians 2:21).  God dwells in His temple. "For we are the temple of the living God; just as God said, 'I will dwell in them and walk among them; and I will be their God, and they shall be My people'" (2 Corinthians 6:16).

More ...
DENNIS PRUTOW
Parenting 101 tip: When in doubt, hide!


Don't get me wrong. Being a parent is really great. I'm apparently not great at it, though. But it is not for lack of trying. Or at least being in the right place.
I feel like after this summer at home with the kids, I have fulfilled all the training obligations to be a Mixed Martial Arts referee, or at the very least a WCW wrestling official (yes, the '80s-style professional wrestling. Not the stuff that passes as wrestling today).

More ...
Mike Brantley
Media should have been at recent drill


The Nash-Rocky Mount School System held an "active shooter drill" on the Southern Nash Middle School campus last Thursday morning.
We did receive some information about the event from the public relations office but it was straight from the school system, as the media were not "allowed" to cover the event.

More ...
Amanda Clark
Observing the short supply of wisdom in the world


Recent events in Ferguson, MO are in stark contrast to my experiences 35 years ago when I first wrote feature stories for the Nashville Graphic.    It is dangerous to observe from a distance, especially when one is not Bette Midler, but I'm doing it anyway
Mama always said, "What goes around, comes around."   I am beginning to believe this refers to a cycle of Dark Ages and Renaissance.

More ...
Ben Casey, Former Nashville Graphic Photojournalist
Backward Glances


PRIMING TOBACCO –– This photo was taken of Castalia residents while priming tobacco sometime between 1968 and 1972. Pictured on the front row, left to right, are: Rose Ann Height, Ben Hale, May Moore. Back row: Tony Moore, Carl (Bimbo) Moore, Dust Moore, Alice Pernell, Mrs. Pendergrass, Debbie Ann Moore.

More ...
A PICTORIAL LOOK INTO THE PAST
Nash County Animal Friends' Notebook


Nash County Animal Friends has been focusing on getting the Nash County shelter pets some exposure on major social media tools. All of this exposure has been done by volunteers, so we would like to thank them. The NCAF team is 100% volunteer-based.
We would like to thank Patricia N. for getting our website up to speed.

More ...
Kristy Carney, NASH COUNTY ANIMAL FRIENDS

DESHAN DOES IN THE BULLDOGS. Tarboro's Deshan Farmer (right) had a strong game on the ground as the Vikings defeated Nash Central last Friday night in Edgecombe County. Central will host Kinston HS today at The Dawg Pound.

Central Opens With A Setback


ROCKY MOUNT -- Following an opening-night loss to Tarboro, the challenge won't get any easier this week for the Nash Central High School football squad.
Central, coached by Kevin Crudup, will entertain the Kinston Vikings today at The Dawg Pound on the NCHS campus. The event will be staged on Thursday due to the pending Labor Day Weekend.

More ...
GEOFF NEVILLE, Graphic Sportswriter

HERE'S THE PITCH. Southern Nash High School quarterback Zack Foster (right) sends the ball to running back Grant Jones during last Friday night's road triumph against rival SouthWest Edgecombe.

FOURTH AMENDMENT


PINETOPS -- During his tenure at Southern Nash, Brian Foster has never been one to shy away from taking a chance.
That philosophy paid off last Friday night as Foster's Firebirds rolled the dice and were rewarded during a 33-16 triumph at long-time rival SouthWest Edgecombe in the regular season opener for both squads.
The Birds converted on a quartet of fourth-down chances, including a 26-yard burst from Demetris Perry for a touchdown to cap Southern's initial drive of the 2014 campaign.

More ...
GEOFF NEVILLE, Graphic Sportswriter
Northern Nash rallies past Pirates, 24-20


RED OAK -- It took one full calendar year, but the Northern Nash Knights were finally able to secure a payback football victory against Corinth Holders.
Last season, Northern opened with a down-to-the-wire loss against the Pirates on the road in Randy Raper's first game in charge of the Knights' gridiron program.

More ...
Staff Reports
Northern back on the court


RED OAK -- Northern Nash High School had a tough test during its volleyball season opener last Tuesday as the Lady Knights tangled with perennial state powerhouse D.H. Conley out of Pitt County.
Conley was able to secure a 25-6, 25-21 and 25-10 triumph in the non-conference matchup.
Susie Sykes had two kills for Northern Nash, while Kiana Thomas contributed eight blocks.

More ...
Staff Reports
NC TAKES THE CHALLENGE
TAKING THE CHALLENGE. Several drenched members of the Nash Central High School family took part in the Ice Bucket Challenge last week to raise awareness for Lou Gehrig's Disease (ALS). In the above photo, Nash Central Principal Gail Powers gets dunked
More ...
Mudcats close out road sweep


WINSTON-SALEM -- Jerrud Sabourin singled home Yhoxian Medina in the 12th inning for his third RBI of the night and the Carolina Mudcats beat the Winston-Salem Dash 6-5 on Monday night at BB&T Ballpark in a Class A Carolina League baseball showdown.
The Mudcats (31-31, 60-69) became the first visiting club to sweep a four-game set from the Dash (28-35, 58-74) in the Triad since BB&T Ballpark opened in 2010.

More ...
Staff Reports
Co. Line Raceway beats weather


ELM CITY -- With impending weather in the area, everyone was anxious and the track staff took control and went into hurry-up mode during last Saturday's action at County Line Raceway.
Fitting in 5 divisions of racing in would be a challenge, but the County Line Raceway staff would do its best to move the show along, and the drivers would put on a great show.

More ...
Staff Reports
Mudcats' player claims award


ZEBULON -- Less than 24 hours after catapulting the Carolina Mudcats to a 7-5 win over the Winston-Salem Dash with a ninth inning home run, outfielder Torsten Boss was named the Hitter of the Week for the Carolina League. The award is for the week of August 18-24.
Boss, 23, hit .467 (7-15) in four games this past week.

More ...
Staff Reports
NCWC squads earn rankings


FAYETTEVILLE -- The USA South Athletic Conference has released its 2014 fall sport preseason coaches polls for volleyball, soccer and cross country. 
North Carolina Wesleyan College's volleyball squad received a 5th-place billing in the league's North Division, while men's soccer was also tabbed 5th, women's soccer 9th and cross country 10th in their respective polls.

More ...
Staff Reports
APPRECIATION PLAQUE, PART ONE
Members of the Nash Central Middle School Athletic Department present an appreciation plaque to Pepsi Sales Manager Hank Evans (third from right). Also pictured are Nash Central Middle's (l to r) Matt Lancaster, Minnie White, Principal Marquis Spell, Kevin Leonard and Mark Wooten.
More ...
APPRECIATION PLAQUE, PART TWO
Members of the Nash Central Middle School Athletic Department present an appreciation plaque to the Town of Nashville Fire Department. Pictured are (l to r) NC's Mark Wooten, Minnie White and Matt Lancaster; NC Principal Marquis Spell; Nashville Fire Department's Scott Whitford (Captain), Tracey Wood and Lee Coppedge and NC's Kevin Leonard.
More ...
NOWHERE TO GO
Southern Nash's defense did a good job last Friday night of limiting SouthWest Edgecombe's potent offense during a road victory in Pinetops. The Firebirds will be away from home again today for a showdown against rival Wilson Beddingfield.
More ...
Nash Arts Center Calendar of Events
Letters from Laura –– A musical drama written by Jim Lee, and directed by Eric Morgan. September 4, 5, and  6 at 7:30 pm; Matinee on September 7 at 2:30 pm. $13 General admission/$11 senior citizens andchildren 12 & under*
Fantasy Art Exhibit with Melanie Statnick will run through August 29. Gallery hours are Monday - Friday 11 am - 4 pm.
More ...
ANGELIQUE KARINA LORGUS
Angelique Karina Lorgus, 30, passed away, Saturday August 23, 2014. She was born December 7, 1983 in Orange County California. She was preceded in death by her father, Gregory Allen Lorgus.
More ...
ANTHONY "RAY" COLLIE
Anthony "Ray" Collie, 52, passed away, Sunday August 24, 2014. He was born October 16, 1961 in Nash County.  He was preceded in death by his mother, Linda Rose Parker Groover.
More ...
BRYAN HENRY WHITFORD
Bryan Henry Whitford, Jr., 97, passed away on August 22, 2014. He was born May 18, 1917 in Beaufort County, the youngest of the four children of Bryan Henry Whitford, Sr. and Cornelia Mills Whitford. He was predeceased by his wife of 40 years, Grace Monteith Whitford.
More ...
CHERYL HOUSE VICK
Cheryl House Vick, 55 passed away, Monday August 25, 2014. She was born February 18, 1959 in Halifax County. She was preceded in death by her father, Millard House.
More ...
DON BAKER
Don Baker, age 59, of Spring Hope, passed away Saturday, August 23, 2014.
More ...
MARJORIE PAGE TANNER
Marjorie Page Tanner, age 81, passed away Sunday, August 24, 2014. She was preceded in death by her parents Jack and Pauline Page, husband H.M., sisters Lois, Patricia Ann and Jean, brothers Sonny Boy and Harold. She was the first of twelve children born to Jack and Pauline Page on August 30, 1932 in Nash County.
More ...
MARY FRANCES BROWN BURGESS
Mary Frances Brown Burgess, age 84, passed away Monday, August 25, 2014. Born in Northampton County on September 21, 1929 she was the daughter of the late Garland Edison Brown and Flaura Pritchette Brown. She was also predeceased in death by her husband, Joseph Norman Burgess and by one brother-in-law, Richard Tabb.
More ...
ORLANDO "GENE" ALSTON
ROCKY MOUNT – Orlando "Gene" Alston, age 73, passed away Monday, August 25, 2014. A funeral service will be held Saturday, August 30, 2014 at 1 p.m. at St. John Baptist Church. Visitation will be held Friday, August 29, 2014 from 3-7 pm at Richardson Funeral Home in Nashville.
More ...
SAMUEL AUSTIN, JR.
Samuel Austin, Jr., 71, of Wilson, passed away August 20, 2014.  Funeral services were held on Sunday, August 24, 2014, at St. Paul Church of Christ Disciples of Christ in Wilson. Arrangements by H.D. Pope Funeral Home in Rocky Mount.
More ...
STEVE GUPTON
Steve Gupton, 71, passed away Wednesday, August 20, 2014.   Funeral services were held on Tuesday, August 26, 2014 in the chapel of H.D. Pope Funeral Home with Pastor Reginald Silver officiating.
More ...
VERLIN THOMAS "WHISTLE" HILL
Verlin Thomas "Whistle" Hill, 50, of Spring Hope passed away Monday, August 25, 2014.  The family will receive friends 6 – 9 p.m. Thursday, August 28, at Joyner's Funeral Home, 4100 Raleigh Road Parkway, Wilson and other times at the home.
More ...
VIRGINIA DALE "GIN" JONES
LOUISBURG – Virginia Dale "Gin" Jones, age 60, passed away Sunday, August 24, 2014. A funeral service will be held Tuesday, September 2, 2014 at 1 p.m. at Haywood Baptist Church. Burial will follow at Haywood Church Cemetery with Rev. Douglas Harris officiating. Visitation will be held prior to the service from 12-1 pm.
More ...