Subscribe/Access
Advertisements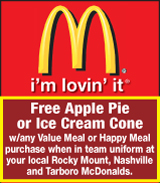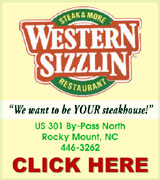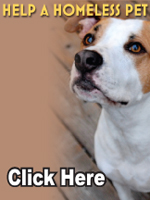 Sections
Member Options
Back
Spring Hope OKs permit for industry
Spring Hope Commissioners granted a special use permit on Monday night for a biomass plant to locate in the former American Rockwool Plant.
Commissioners amended the town's zoning ordinance in December to allow biomass plants in a heavy industrial zone/special use district with a special use permit. But at that time, commissioners were hesitant to issue the special use permit until more information was known. More ...
Amanda Clark, Graphic Staff Writer
Red Oak board approves solar farm ordinance
Red Oak Commissioners unanimously approved a solar farm ordinance that will govern the installation of such facilities in the town limits. The move came after a public hearing held in conjunction with the town's regular town meeting on Monday, July 1.
Red Oak Commissioner Barbara Tyre said that the town decided to develop the ordinance in response to the fact that several citizens in the area had received letters soliciting the lease of their land for this purpose. More ...
Amelia Harper, Graphic Correspondent
Harley named NC Young Careerist of the Year
Nashville Boys and Girls Club Director Marisa Harley always gets excited when she talks about her work with kids.
That excitement is likely what led Harley to be named the North Carolina Business and Professional Women (BPW) Young Careerist of the Year. More ...
Amanda Clark, Graphic Staff Writer
Rose Hill Plantation hosts historical reunion
Descendants of Willie B. and Fannie E. Harrison will converge at Rose Hill for the family's 40th Harrison-Boddie reunion.
The reunion is significant, not only because it's the 40th year the family has met, but because it's the first time it's being held at Rose Hill, where the Harrison-Boddie's family's roots began. More ...
Amanda Clark, Graphic Staff Writer
Filing begins July 5th for area municipal seats
Filing for municipal elections will start on Friday, July 5 and run for two weeks.
All candidacy filing forms and fees, including those that are mailed, must be received by the Nash County Board of Elections by noon on Friday, July 19. More ...

Blind man hikes Mountain-to-Sea
Trevor Thomas recently became the first blind person to hike the Mountain-to-Sea Trail and Nashville was one of many stops along the way.
Though Nashville is not a part of the Mountain-to-Sea Trail, Thomas camped out in the backyard of friend and Nashville resident Cheryl Burke. Burke was one of many friends who helped Thomas along the way. More ...
Amanda Clark, Graphic Staff Writer
Troopers conduct Operation Road Watch in Nash
The Highway Patrol completed its Operation Road Watch campaign after a 48-hour intensive enforcement effort on I-95 in Nash County. During the two-day event, Troopers concentrated on commercial motor vehicle violations as well as focused their attention on motorists who were driving aggressively around big trucks, speeding, tailgating, and driving aggressively. More ...

NEW NASHVILLE OFFICER
NEW OFFICER –– Mark Withrow is sworn in as Nashville's newest police officer on June 28 by Nashville Mayor Donald Street (above.) Withrow is from Montgomery, West Virginia and attended basic law enforcement training at Nash Community College. He spent four years in the United States Marine Corps. Prior to beginning his law enforcement career, Withrow served as a manager for Briggs Sawmill in Bunn. More ...

NASHVILLE POLICE BRIEFS
INCIDENTS
A larceny (shoplifting) was reported on 6/25/13 at Wal-Mart, 1205 Eastern Avenue
A simple assault was reported on 6/25/13 at 202 Richardson Court
A larceny was reported on 6/26/13 at Wal-Mart, 1205 Eastern Avenue More ...

Castalia's July 4th starts at 9 a.m.
The rain is expected to end just in time for Castalia's July Fourth festivities, which will kick off with the car show at 9 a.m.
Craft and Food Vendors will open at 11 a.m. and the parade will begin at 2 p.m. followed by the welcome and Citizen of the Year Presentations at 4:45 p.m. Entertainment will kick off at 5 p.m. and fireworks will conclude the festivities. More ...
Amanda Clark, Graphic Staff Writer
NASH SHERIFF'S OFFICE REPORTS
A breaking, entering and larceny of a residence was reported on 6/24/13 at 6185 Nicole Road
A breaking, entering and larceny of a residence was reported on 6/24/13 at 3043 North Old Franklin Road
A breaking, entering and larceny of a residence was reported on 6/24/13 at 8804 Millbranch Road
A larceny of a lawn mower was reported on 6/24/13 at 10427 Gaskill Farm Road More ...

Castalia man charged with trafficking opium
A Castalia man was arrested last week on charges of trafficking opium.
The Nash County Sheriff's Office Narcotics Divison conducted a vehicle stop on June 27 on a pickup truck on US 64 at Old Carriage Road. James Allen Woodruff was driving the vehicle.
According to the Sheriff's Office, 17 Oxycodone pills and a plastic bag containing marijuana were found on Woodruff. More ...

Hartsfield, Luper retire
Celebrations during the month of June marked the retirement of LeRoy Hartsfield, Assistant Superintendent of Student Services, and Dr. Connie Luper, Assistant Superintendent of Curriculum for Nash Rocky Mount Public Schools. Hartsfield and Luper have a combined 60 years of service in public education.
Hartsfield began his career in Franklin County Schools, and joined Nash Rocky Mount Public Schools in 1989 as an Assistant Principal at Southern Nash Junior High. More ...


Melanie Davis Wilder displays a drawing of Downtown Rocky Mount that will be presented to all merchants.

Rocky Mount celebrates streetscape
Rocky Mount city officials and merchants welcomed U.S. Congressman G.K. Butterfield to a celebration last month marking the completion of a $7.5 million downtown streetscape project. Butterfield was recognized for his support of the project due to his efforts of securing $4.6 million in federal funds for the project in 2006. More ...

RMA student receives full scholarship
Rocky Mount Academy's Emily Ferguson is the third of 31 students in the Class of 2013 to receive a full scholarship to college. Ferguson, daughter of William Ferguson and Dr. Marzena Laszewski, has the distinction of being the only 2013 recipient of the Alvey Scholarship to the University of Mary Washington in Fredericksburg, VA. More ...

Hardy, Gallo wed
Kathy Diane Hardy and Casey Martin Gallo were united in marriage on Saturday, May 4, 2013 at All Saints Chapel in Raleigh. The 3 p.m. ceremony was officiated by Rev. Ed Sansbury.
The bride is the daughter of Mr. and Mrs. Joseph Hardy of Nashville.
The groom is the son of Ms. Pamela Gallo of Raleigh and Mr. Martin Gallo of Liberty. More ...

Holland, Williams unite in marriage
Morgan Brittany Holland and Richard Ted Williams were married at 3 p.m. Saturday, May 18, 2013 at First Baptist Church.
Rev. Dennis Darville performed the ceremony.
The bride is the daughter of Mr. and Mrs. Eugene Freeman Holland, Jr. of Rocky Mount. More ...

Locals graduate from Barton College
Two hundred and thirty Barton College seniors received diplomas on Sunday, May 12, during the school's 111th annual commencement exercises.
Participating in the ceremony were students who completed their baccalaureate degree requirements in December 2012 and May 2013, as well as candidates who expect to fulfill requirements over the summer. More ...

Bass makes Dean's List at William & Mary
William Bass, of Nashville, was named to the Dean's List at the College of William & Mary for the spring 2013 semester.
In order to achieve Dean's List status, a full-time degree-seeking undergraduate student must take at least 12 credit hours and earn a 3.6 Quality Point Average during the semester. More ...

High Adventure Award
Following nomination by Nashville Post 110, Kirby Hill, Eagle Scout, Troop 37, supported and surrounded by his family, received the 2013 NC American Legion High Adventure Award at the June convention. More ...

Southern Nash grad receives $10,000 SECU scholarship
State Employees' Credit Union (SECU) members via the SECU Foundation, presented a $10,000 four-year college scholarship to Jordan Victoria Britt, a recent graduate of Southern Nash High School. Jordan is the daughter of Vickie Britt. This scholarship was awarded for study at Appalachian State University, part of North Carolina's 16-campus University of North Carolina System. More ...

Nash County Blood Drives for July 2013
Friday, July 5 from 12 until 5 p.m. at Golden East Crossing Mall, near JCP, 1100 North Wesleyan Boulevard, Rocky Mount
Monday, July 8 from 3 until 7 p.m. at Bethelehm Baptist Church, 305 South Halifax Road, Rocky Mount
Tuesday, July 9 from 11 a.m. until 5 p.m. at the Environmental Services Building, Thrope Road, Rocky Mount More ...

Local to attend Bob Jones University
Rebecca Winstead, of Nashville, joined members of the upcoming freshman class as Bob Jones University hosted summer orientation June 21-22.
Incoming students and their parents attended informational sessions about the BJU experience, asked questions regarding academics, financial aid and student life and became familiar with the campus. More ...

MILITARY NEWS
Air Force Airman Sean R. Foehner graduated from basic military training at Joint Base San Antonio-Lackland, San Antonio, Texas.
The airman completed an intensive, eight-week program that included training in military discipline and studies, Air Force core values, physical fitness, and basic warfare principles and skills. More ...

Summer hours set for NRMS
Nash-Rocky Mount Public Schools is operate on a special summer schedule.
Effective Monday, July 1 through Friday, August 9, Nash-Rocky Mount Public Schools and district offices will be open Monday through Thursday from 7:00 a.m. to 5:30 p.m., each week. Offices will be closed on Fridays through August 9. More ...

NCC SUPPORTS UNITED WAY
Nash Community College was recognized at a recent United Way luncheon for having the largest employee participation increase. In 2012, Nash Community College faculty and staff contributed over $18,000, a 99 percent increase in faculty and staff pledges from 2011. Total faculty and staff participation increased 24 percent. More ...

RED OAK NEWS
Congratulations to Bryan Faulkner and Marion Hawkins who were united in marriage at Red Oak Baptist Church on Saturday, June 29! Rev. Larry Bostian officiated at the ceremony. The ceremony was lovely with Bryan and Marion surrounded by their family and friends at this special time in their lives. Allison Boone performed 2 special songs for the couple. The beautiful wedding cake was made by Nicole Sykes. More ...
SUZY PEARCE
PEACHTREE COMMUNITY NEWS
"Celebrate America" was the theme of the worship service at Peachtree Church on Sunday morning. The Adult Choir presented a patriotic cantata on this theme. It was a salute to our heritage and a prayer for the future. Recognition was given to the men and women who had served in the many branches of the armed forces. It was directed by Pastor Whitehouse. More ...
BARBARA HARDISON
MOUNT ZION FWB CHURCH NEWS
Last week I mentioned that Atlee and I attended our high school class reunion. I forgot to share that Lois Williams Wood was at the reunion also and attended church at Mt. Zion last Sunday morning.
I provided a pretty arrangement of yellow and red gladiolus from my yard for the altar table today. I love home-grown flowers. I like to share them with sick, and shut-ins. More ...
ROSALENE BASS
LIFETIME ACHIEVEMENT AWARD
Freeman Cotton, Sr., 33rd degree, was honored in May with two awards by the Grand Masonic Lodge. Since 1969, Cotton, a Nashville native, has been an intricate driving force in leading by example within the Most Worshipful Sons of Light Grand Masonic Lodge that covers the states of California, Nevada, Oregon, and Alaska. More ...

Small receives award
Andrew Small, Nash Community College's Director of Electronic Media, was the 2013 J. Edgar and Peggie T. Moore Staff Award recipient. Small has been employed with Nash Community College since 2010. He holds a Bachelor of Arts degree in Journalism from Auburn University. More ...

Nash FSA County Committee nominations underway
Agriculture Secretary Tom Vilsack recently announced that the nomination period for Nash Farm Service Agency (FSA) county committees began on, June 17.
"I encourage all eligible farmers and ranchers to participate in this year's county committee elections by nominating candidates by the August 1 deadline," said Vilsack. More ...

BEULAH COMMUNITY NEWS
We had a really good morning service at Beulah Church Of Christ on Sunday morning with a good attendance and several visitors. Some of our visitors were Carol and Billy Dew from Tarboro and her sister Becky Joyner Talon and husband Bill Talon from Nashville, Tennessee. More ...
WILMA ENROUGHTY
Ruritan Scholarships
The Coopers Ruritan Club recently awarded a scholarship to Katie Marie Tyson of Rocky Mount under the Ruritan Foundation's "Build Your Dollars Grant Program." Members of the Coopers Club said they wished much success to Katie in her efforts to achieve her educational goal at NC Wesleyan College. Pictured above (L-R) is: Peggy Winstead, a member of the Coopers Ruritan Scholarship Committee, Katie Marie Tyson and Charles Ethridge, President of the Coopers Ruritan Club. More ...

July 4th ideas a long way from 2013
July 4th means a lot of things. It is the halfway mark of the summer, give or take, the ratcheting up of temperatures all across the countries, prime vacation time, fireworks and nods to patriotism.
Some folks complain about how many folks now fail to recognize the reason for our various holidays. We get this at "real" holidays like Easter, Memorial Day, July 4th, Veterans Day, and Christmas (Thanksgiving seems to be holding its own). More ...
Mike Brantley
Now I know why they call it Terrible Twos!
I'm not sure how much longer I will be able to handle having a two-year-old.
Every day with Corbin is like a day in a zoo full of wild monkeys. Corbin climbs on everything, he throws stuff, he hits and he puts everything in his mouth.
He gets at least one bruise each week. He gets in trouble every single day, multiple times a day. Getting in trouble doesn't phase him one bit. More ...
Amanda Clark
Backward Glances
NASHVILLE POLICE DEPARTMENT –– This photo was taken sometime in the 80's. The photo was provided to us by the Nashville Police Department. Standing on the left are: Joe Taylor, Donald Skinner, Bill Creech, Scott Parker, and Robert Rackley. Pictured on the right side are: Larry Taylor, David Rose, Bobby Jeffries, Ray Goodwin, and in front is Cynthia Richardson. More ...
A PICTORIAL LOOK INTO THE PAST
Nash County Animal Friends' Notebook
Whoever thinks that sharing pictures of animals in the shelter don't save lives well let me tell you a story about a family of dogs that were saved because of that.
My husband and I adopted Max and Miley from a Rescue. They came from a litter of nine puppies (two girl and seven boys) from the Nash County Animal Control Shelter. More ...
GUEST COLUMNIST Peri Couch, Adopter

EYE ON THE PRIZE. Birchwood Country Club's Maddie Viroid speeds toward the finish line during last Thursday evening's Nash-Halifax Swim League showdown on the road against rival Nash Rec. The teams will meet again on July 11.

RIVALS REUNITE
NASHVILLE -- Separated by less than one mile, Nash Rec and Birchwood renewed their Nash-Halifax Swim League rivalry last Thursday afternoon at the Nash Rec Pool.
Nash Rec, the defending N-HSL Champion, was the team winner by a 487-242 margin in the league's final pre-holiday matchup. More ...
GEOFF NEVILLE, Graphic Sportswriter
Matthews coaches the stars
NASH COUNTY -- Self-improvement is the main priority of any summer league endeavor, regardless of the sport.
And that was certainly a key objective during action at the recent Powerade North Carolina State Games High School Soccer competition. More ...
GEOFF NEVILLE, Graphic Sportswriter
Allen Returning To Northern
RED OAK -- Leonard Allen has been selected as the new baseball coach at Northern Nash High School.
Allen, who spent the past four years at Bunn, announced his resignation last Tuesday morning to accept the head coaching position at NNHS.
Later in the day, BHS Principal Robin Faulkner announced that Chris Cullom, a two-year assistant at Bunn, would succeed Allen. More ...
GEOFF NEVILLE, Graphic Sportswriter
Chipper set to be honored
DURHAM -- The Durham Bulls have announced plans to retire Chipper Jones' jersey number 10 in a ceremony following their game against the Charlotte Knights on August 20.
The Atlanta Braves legend will be on hand at Durham Bulls Athletic Park as the team commemorates his time in Durham by ensuring no other player will wear his number again. More ...
Staff Reports
NASH COUNTY CONNECTION
Incoming Northern Nash coach Leonard Allen (second from left) and Faith Christian's Greg Clifton (second from right) were part of the coaching staff for a medal-winning team at the recent Powerade North Carolina State Baseball Games, which were held near Charlotte. Allen recently accepted the head coaching position at Northern Nash after a successful stint at Bunn HS in Franklin County. More ...

State Takes A Chance
NASHVILLE -- Only 11 years old, Chance Puckett experienced a once-in-a-lifetime journey a few weeks ago to the 2013 College World Series in Omaha, Nebraska.
A rising sixth-grader at Nash Central Middle School, Puckett developed an affinity for the North Carolina State University Wolfpack at a young age. More ...
GEOFF NEVILLE, Graphic Sportswriter

STATE MEDAL MASTERS. (L-R) Recently graduated Nash Central High School standouts (l to r) Caley Bass and Lindsey Sharpe helped Region X gain a second-place medal at the Powerade North Carolina State Games, which were held last week near Charlotte.

State Softball Stars
ROCKY MOUNT -- Most area fast-pitch fans though Nash Central High School's loss in the second round of the Class 3-A State Softball Playoffs was the end of an era for one of the county's most decorated batteries.
But Central's Lindsey Sharpe and Caley Bass were destined to make one final diamond appearance together at the Powerade North Carolina State Games, which were held last week at Wingate University near Charlotte. More ...
GEOFF NEVILLE, Graphic Sportswriter
Rosters released for E-W soccer contest
GREENSBORO -- Rosters have been released for the upcoming North Carolina Coaches Association East-West Girls Soccer All-Star Game.
The event will be played July 23 at 6:30 p.m. at the University of North Carolina-Greensboro Soccer Stadium. The boys game will follow. More ...
Staff Reports
Mudcats avoid road sweep against Salem
SALEM, VA. -- The Carolina Mudcats took advantage of some early command problems from the Salem Red Sox's prospect Henry Owens, and scored three runs early.
The Mudcats then held on late for a 5-3 victory Sunday evening at LewisGale Field in a Class A Carolina League baseball matchup. More ...
Staff Reports
ASSIST FROM EAKIN
Birchwood Country Club's Lizzie Eakin (left) helps out teammate Tanner Bell during the Pups portion of last Thursday's road swim meet against backyard foe Nash Rec. More ...

BACKSTROKE ACE
Nash Rec's Samuel Smith takes part in the backstroke portion of the IM event last Thursday. More ...

CALEY CARRIES PLENTY OF CLOUT AT THE PLATE
Recently graduated Caley Bass was effective at home plate both with her bat and glove during her softball career with the Nash Central Lady Bulldogs. Bass and Nash Central teammate Lindsey Sharpe were able to participate in the Powerade State Softball Games near Charlotte last week. Bass will attend the University of North Carolina-Wilmington in the fall. More ...

MORE SWIM HIGHLIGHTS, 1
NASHVILLE SWIM SHOWCASE. Among the competitors from last Thursday's Birchwood-Nash Rec swim meet were (above) Nash Rec's Lara Wood. More ...

MORE SWIM HIGHLIGHTS, 2
NASHVILLE SWIM SHOWCASE. Among the competitors from last Thursday's Birchwood-Nash Rec swim meet were (above) Nash Rec's Marley Winstead. More ...

MORE SWIM HIGHLIGHTS, 3
NASHVILLE SWIM SHOWCASE. Among the competitors from last Thursday's Birchwood-Nash Rec swim meet were (above) Nash Rec's Emmy Savage and Andrew Hudkins. More ...

Maria V. Howard Arts Center displays new art exhibits
The Maria V. Howard Arts Center opened five new art exhibits in June that will run through August.
Exhibits include the 56th National Juried Art Show, paintings by Raleigh artist, Alia El-Bermani, and photographs by international journalistic photographer, Jerome De Perlinghi. The artists will be in attendance at the reception and welcome your questions and commentary. More ...

CARETHA JENKINS
CAPITOL HEIGHTS, MD –– Caretha Jenkins, 80, of Capitol Heights, Maryland and formerly of Kinston, died on Sunday, June 23, 2013. More ...

MELVIN HOLLOWAY
ROCKY MOUNT - Melvin Holloway, 54, died June 24, 2013. Funeral services will be Wednesday at Ebenezer Baptist Church, 2 p.m. Burial will be at Gardens of Gethsemane. Viewing/visitation was July 2, 2013, at Stokes Mortuary Chapel from 4 until 7 p.m. More ...

NORMA LISA BENSON
Norma Lisa Benson, 49 passed away Thursday, June 27, 2013. She was born in Nash County, July 21, 1963. She is predeceased by one grandchild. More ...

JULIUS WILBERT JOYNER, JR.
Julius Wilbert Joyner, Jr., 65 of Wilson, passed away on Sunday, June 30, 2013 at his residence. He was born June 27, 1948 to the late Julius W. Joyner, Sr and the late Mamie Winstead Joyner in Nash County. More ...