Subscribe/Access
Advertisements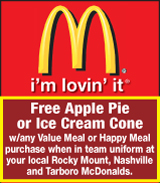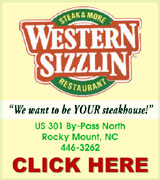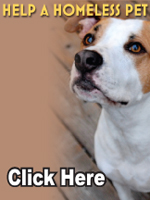 Sections
Member Options
Back
Tax reform may impact town's revenue
Nashville officials are concerned about a tax modernization bill that would significantly hurt the town's revenues if passed.
Nashville Mayor Donald Street said Senate Bill 394, "Lower Tax Rates for a stronger NC Economy," is a tax reform bill that could equate to an eight cents property tax increase for citizens. More ...
Amanda Clark, Graphic Staff Writer
Relay for Life starts Friday
Hundreds of people will take to the Rocky Mount Athletic Complex on Friday evening to help raise money for cancer.
The 19th Annual Nash County Relay for Life is set for Friday and Saturday, April 26 and 27.
Over 66 teams are participating in the annual event. More ...

NFD Junior Firefighters offer reflective 911 address signs
Nashville's Junior Firefighter Program has been going strong for four years now.
Captain Jason Edwards, who also serves as the lead advisor for the program, said junior firefighters typically are interested in a career in fire services and as a junior member, get a chance to start training early. More ...
Amanda Clark, Graphic Staff Writer
School Board okays budget
More computers, less teachers seems to be in the plan for next school year for the Nash-Rocky Mount Schools (NRMS) system. The NRMS board unanimously approved the administration's 2013-14 budget totaling $135 million at their special called meeting Monday night, which cuts 121 teachers and teacher assistants. More ...
Michele A. Cruz, Graphic Correspondent
Castalia Community Prayer Day is Saturday
Castalia area churches are hoping to bring the community together on Saturday with the Castalia Community Prayer Day.
This will be the third time the event has been held. Billy Henry, who serves as the pastor at Church of God of Prophecy, said it has been a few years since the event has been held.
A 14-year-old boy was the reason the event got started back up. More ...
Amanda Clark, Graphic Staff Writer
NASH seeks senior friendly businesses
Nash County's Senior Center is looking for Senior-Friendly businesses.
The senior center has been working hard for over a year to revitalize its Senior-Friendly Business program, which began several years ago as a pilot program.
The program is part of the Division of Aging and Adult Services Livable and Senior-Friendly Community initiative. More ...
Amanda Clark, Graphic Staff Writer
H.D. Pope Funerals & Cremation Services opens
Claude Anthony, Jr. has always had a vision of owning his own funeral home.
In February, Anthony's vision became a reality, as H.D. Pope Funerals and Cremation Services officially opened in Nashville.
Nashville's Chamber of Commerce celebrated Anthony's opening on Sunday with a ribbon cutting. More ...
Amanda Clark, Graphic Staff Writer
NASHVILLE POLICE BRIEFS
INCIDENTS
A larceny - shoplifting - was reported on 4/15/13 at Wal-Mart, 1205 Eastern Avenue
A call for service was reported on 4/16/13 at 111 S. Clarendon Drive
A driving while intoxicated was reported on 4/16/13 in the parking lot of L&L#14, W Washington Street More ...

NASH SHERIFF'S OFFICE REPORTS
A larceny of a motorcycle was reported on 4/15/13 at 10607 Smith Road
A damage to property was reported on 4/16/13 at 4211 Stoney Hill Church Road
A larceny of a lawnmower was reported on 4/16/13 at 13763 Old Smithfield Road
Found property was reported on 4/16/13 at 7368 S. Halifax Road More ...

Road closes for bridge replacement
The N.C. Department of Transportation recently closed a section of Liles Road north of Bailey in Nash County. The closure is necessary for crews to begin replacement of the bridge on Liles Road over Toisnot Swamp. The road will be closed until Aug. 30, weather permitting.
Liles Road will be closed to through traffic between Southern Nash High Road and Old Smithfield Road with a signed detour in place. More ...

BIRTH ANNOUNCEMENT
Nathan and Temsula Bass of Wake Forest proudly announce the birth of a daughter, Katriel Elyce Shisalia Bass, born April 9, 2013, at Rex Hospital in Raleigh. She weighed 7 pounds, 9 ounces, and was 20 1/2 inches long.
Maternal grandparents are Chem lom Phom and Asenla Chenth-Dimapur of Nagaland, India. More ...

Local student serves as Page in NC Senate
The North Carolina Senate was honored recently to have Jamison Miles Wiggins, a student at Nash Central High School, serve as a Page. He is the son of Oscar and Angela Wiggins of Nashville. Miles was sponsored by Senator Angela Bryant and appointed by the Senate President Pro Tempore, Phil Berger of Rockingham County. More ...

Have "Coffee with a Cop" Thursday, April 25th
Nashville's Police Department will host its next "Coffee with a Cop" event on Thursday, April 25 from 7:30 until 9 a.m. at Langley's Town and Country.
The "Coffee with a Cop" event is a community outreach program that allows citizens to sit down and meet Police Chief Tom Bashore and some of the Nashville Police Officers. More ...

Franklin County Historic Home tour is this weekend
This year's Franklin County Historic Homes Tour is slated for Saturday, April 27, and Sunday, April 28, rain or shine.
The event, which raises money for the preservation of Person Place on the Louisburg College Campus, will be from 10 a.m. until 5 p.m. on Saturday and 1 to 5 p.m. on Sunday. More ...

Nash Democrats host rally
Representative Bobbie Richardson urged fellow Democrats to get fired up and help support Democratic candidates in the coming elections so they could win back North Carolina.
Richardson, who represents District Seven in the General Assembly, spoke at the Nash County Democrat rally last Thursday evening. She told those in attendance that Democrats needed to work hard to win back more seats in 2014. Democrats also had another goal in mind for 2016, Richardson said. More ...
Amanda Clark, Graphic Staff Writer
REMEMBERING BOSTON
The Nashville Boys and Girls Club drew this photo on the chalkboard wall of the Boston skyline last Tuesday, following the bombing at the Boston Marathon. Asya Bryant, Dekalon Stample, Jaylyn Addison, Octavius Lynch, Tyler Richardson, Dasja Speight and Amari Hagans all contributed to the drawing. More ...


Brittany Bryant shows her goat, Whiz, off during the goat show at the 4-H Livestock Show and Sale. Bryant came in fourth place for Class 5 and received first place for Showmanship.

Locals show goats at 4-H Livestock Show and Sale
Nash County youth participated in goat shows at the 76th annual Livestock Show and Sale, which was held April 2 and 3 at the Eastern Carolina Livestock Arena in Rocky Mount.
Over 175 youth from Nash, Edgecombe and Halifax Counties participated in the event and showcased their lambs, steers, goats and pigs. Cloverbuds, youth ages five to eight, also had a chance to showcase their goats at the event. More ...

Fishing Creek Paddle set for May 11
The third annual Enfield Fishing Creek Paddle will take place on Saturday, May 11, 2013.
Fishing Creek, one of North Carolina's treasures, winds through pristine forest and farmland. A tributary of the Tar River, Fishing Creek has a long history. Shark teeth are often found along the river's banks reminding everyone that this part of North Carolina was under sea eons ago. More ...

NCC CELEBRATES GREEN
Nash Community College students, faculty and staff celebrated "Green Day" by planting three magnolia trees on campus. During the tree planting ceremony, Dr. Margaret Sowerwine, Chair of the Medoc Group of the North Carolina Sierra Club, and NCC Biology Instructor Reggie Cobb, educated the campus about environmental issues and how to get involved in promoting improved environmental practices. More ...

Webb named Principal Business Banker for Wells Fargo Greenville
Wells Fargo recently announced that Gina Webb, Vice President, has been named Principal Business Banker for the Greenville market. She will be relocating to Greenville from Rocky Mount.
In this role, Webb will be focused on serving the financial needs of local businesses. She is an expect resource for business credit, deposit, cash management and risk management solutions. More ...

Eleven to compete for Distinguished Young Woman title
Eleven high school students will vie for the title of Distinguished Young Woman of Rocky Mount in the city's 32nd annual scholarship competition to be held April 28.
The competition will start at 2 p.m. at the Dunn Center for the Performing Arts at N.C. Wesleyan College. Tickets are $15 and are available at the door and from participants. More ...

Nash Community celebrates Week of the Young Child
Faculty, staff and students from Nash Community College's Betsy B. Currin Child Development Center celebrated The Week of the Young Child April 15–19. The week is an annual celebration sponsored by the National Association for the Education of Young Children (NAEYC). The purpose of the Week of the Young Child is to focus public attention on the needs of young children and their families and to recognize the early childhood programs and services that meet those needs. More ...

Jungle Prowler Award
Lion Mary Boehm, President of the Nashville Lions Club, received the long-sought-after Jungle Prowler Award from Lion David Edwards, President of the Wilson Lions Club, at the April 18th joint-meeting in Wilson. More ...

Nash County recognizes National Child Abuse Prevention Month
Nash County is joining with others across the nation to recognize National Child Abuse Prevention Month.
In 1983, April was proclaimed the first National Child Abuse Prevention Month. During this month, public awareness is promoted as child welfare agencies strive to ensure to protect the safety and welfare of children as well supporting and strengthening families and communities to prevent child maltreatment. More ...

MOUNT ZION FWB CHURCH NEWS
We were blessed with 77 in Sunday School including three visitors.
Pastor Aycock is beginning a Sunday School class for the College and Career students. He has talked with some who are interested in starting this class again. I think it will be an asset to our church. This is the age that often times the church loses. More ...
ROSALENE BASS
PEACHTREE COMMUNITY NEWS
Following a week of violence and loss in Boston, and then Texas, made Sunday a most appropriate time for the special service held at Peachtree Church. The second annual 9-1-1 Memorial Service to honor the men and women who protect the country was held. The service began with greetings from Ricky Tucker of the NC State Capital Police. More ...
BARBARA HARDISON
BEULAH COMMUNITY NEWS
Last week I mentioned to you that a really great event was being held. It was the annual Red Oak Alumni Banquet which was held at the Shriner Bldg. this week-end, Friday night, April 19. I saw a lot of my high school graduates. I also saw a lot of Red Oak graduates I had not seen since I graduated, which was in 1958, 55 years ago. More ...
WILMA ENROUGHTY
RED OAK NEWS
Welcome to Joey and Elizabeth Sprinkle and Nicole Mason who are new members at Red Oak Baptist Church!
Everyone enjoyed the 57th Annual NRBA WMU Spring Meeting on Tuesday, April 9 at Hickory Baptist Church! Brenda Rose, WMU Director, gave the welcome followed by greetings from Hickory Baptist Church by Miriam Brown. More ...
SUZY PEARCE
EDGECOMBE-NASH RETIRED SCHOOL PERSONNEL
The Edgecombe-Nash Retired School Personnel met on March 12 at 10:30 a.m. in Braswell Memorial Library's Warner Room. After President Mary Williams welcomed everyone, Reverend Mary Hinton presented an Inspirational Moment and gave everyone a TV Channel TCT devotional booklet.
Member Shirley Felton introduced her son, Cleon Felton, Federal Program Administrator of the NC Department of Public Instruction in Raleigh. More ...
DEE LONG
Have journalists been replaced by narcissists?
I was leaving Campbell University to head back to Nash County when I saw the headline on a news website I frequent. It mentioned that a bomb had gone off at the Boston Marathon and there were people hurt.
I walked to my car and called a graduate school colleague, one I knew as an avid marathon participant. I couldn't remember if this was the year she was running it. She answered and I was relieved; and she hadn't heard the news. We got off the phone quickly, so she could call friends who were there. More ...
Mike Brantley - 1 opinion posted
Preparing for the Blooming Festival
It is that time of the year again…the sun is shining, the bees are buzzing, and the flowers are blooming. Speaking of blooming – the Nashville North Carolina's Chamber of Commerce sponsored "Blooming Festival" is coming up in the second weekend in May! This annual event showcases all the fine things Nashville has to offer – Food, Fun, and Fellowship. More ...
GUEST COLUMN, Chief Tom Bashore, Nashville Police Chief
Between kids and pets – never a dull moment!
Well this year will definitely go down in the books for my family. And not in a good way!
We have had one thing after another happen to us and I must say, I am ready for it to stop.
We started the year in the hospital with our little boy.
A few weeks later, I ended up in the hospital.
A month after that, we were back in the hospital with our little boy. More ...
Amanda Clark
Backward Glances
BLOCKED SHOT –– This photo was originally published in The Graphic January 19, 1967. Sandy Frazier (43) of Northern Nash has one of his shots blocked in a game against Green Central. The Knights won the game 57-32. More ...
A PICTORIAL LOOK INTO THE PAST
Nash County Animal Friends' Notebook
Monday was EARTH DAY. Earth Day reminds us to not overpopulate Earth when there are perfectly good pets waiting to be saved from death at your local Animal Control facilities, kill shelters, such as at Nash. You may not be able to adopt one of the Nash pets, but if you adopt from a Rescue, then they will have room to save another. More ...
Carol Vierela, Nash County Animal Friends

A HAPPY RETURN. Southern Nash's Cody Thorne prepares to execute a forehand at No. 4 Singles as part of the Firebirds' road tennis match Thursday afternoon against Big East Conference foe Nash Central.

SN On Top Again
ROCKY MOUNT -- When Brad Joyner describes Southern Nash's storybook boys tennis season as a 'true team effort', he isn't just talking in coaching rhetoric.
That has truly been the case in 2013 for the Firebirds, who don't have the star power of some of SN's past powerhouse squads. More ...
GEOFF NEVILLE, Graphic Sportswriter

COURT ACCOMPLISHMENTS. Nash Central High School's Randi Price will go down in history as one of the best girls tennis performers in the history of Nash County. She will attend Barton College in the fall.

THE TENNIS NATURAL
ROCKY MOUNT -- Spend any amount of time at Ennis Park in Red Oak, and you're bound to catch a glimpse of Nash County's First Family of Tennis in action.
Ever since the courts opened at Ennis Park several years ago, the Prices have been fixtures at facility.
Randy, the partriach of the family, is a long-time tennis instructor who is committed to raising tennis awareness -- and skills -- in the county. More ...
GEOFF NEVILLE, Graphic Sportswriter

FLEMING'S FOOTWORK. Northern Nash veteran Claire Fleming (right) moves the ball into scoring position during Monday's home conference matchup against the Southern Nash Ladybirds.

Winds Of Change
RED OAK -- Mother Nature's final pre-spring push brought in the winds of change Monday in the Big East Conference girls soccer standings.
Playing in drizzly, cold conditions much more appropriate for an early-March event, Southern Nash was able to deliver a key 1-0 victory at Northern Nash in a contest that muddled the league race for the fourth and final spot in the Class 3-A State Playoffs. More ...
GEOFF NEVILLE, Graphic Sportswriter
Southern grid camp targeted
STANHOPE -- Southern Nash High School will host a football camp on May 25 from 8 a.m.-4 p.m. on the SNHS campus in Stanhope.
Rising third through 12th-graders are welcome to participate. Cost is $50, which includes instruction, lunch and a T-shirt.
All positions on the field will be addressed. More ...
Staff Reports

EXCELLENCE. Quinesha Lynch was effective on both sides of the court for the Northern Nash Lady Knights.

Next Step For NN Stars
RED OAK -- Being talented on the court and in the classroom has opened plenty of recruiting doors for Northern Nash High School girls basketball players Quinesha Lynch and Jordan Oldham.
Lynch and Oldham were key factors in Northern's banner 22-2 campaign this past season, which featured a Big East Conference championship. More ...
GEOFF NEVILLE, Graphic Sportswriter
NASH COUNTY REC UPDATE
NASH COUNTY -- Listed are updated results from the Nash County Parks and Recreation Department's Spring Sports Season: More ...
Staff Reports
NC State earns sweep at Georgia Tech
ATLANTA -- No. 15 North Carolina State University completed its sweep of No. 14 Georgia Tech with a dramatic 8-7 comeback win in Atlantic Coast Conference baseball action on Sunday at Russ Chandler Stadium.
The Wolfpack (32-10, 14-7 ACC) won its 14th consecutive game and its 10th in a row in conference play.
In nine of those 10 wins, the Pack has had to come from behind. More ...
Staff Reports
Big East golf campaign ends
WILSON -- The Big East Conference finished off regular season action with a links match on Monday at Willow Springs Golf Course.
Wilson Fike capped off its perfect league schedule by taking first place once again with 327 strokes.
Southern Nash was second at 344, followed by Northern Nash (358), Wilson Hunt (362), Rocky Mount (372) and Nash Central (400). More ...
Staff Reports
Pelicans go 3-1 versus Mudcats
ZEBULON -- The Myrtle Beach Pelicans scored seven runs over three innings to topple the Carolina Mudcats 9-5 on Sunday afternoon in a Class A Carolina League baseball event at Five County Stadium.
The Pelicans (9-7) take the four-game series by winning the final three. The Mudcats (6-10) have dropped nine of their last 10 games. More ...
Staff Reports

THE TROJAN LEADER. Matt Lancaster has enjoyed an outstanding tenure as the fast-pitch softball coach at Nash Central Middle School, which is having another solid campaign on the field.

Continued Success
ROCKY MOUNT -- Matt Lancaster always expects at least a winning season for his Nash Central Middle School softball program.
That's because Lancaster knows no other result during his 10-year stint at NCMS, as the Lady Trojans have never had a losing campaign under Lancaster's direction. More ...
GEOFF NEVILLE, Graphic Sportswriter
Pirates deliver sweep versus UAB
BIRMINGHAM, ALA. -- Drew Reynolds' bases-clearing double highlighted a five-run seventh inning leading East Carolina University (20-20, 6-6) to a Conference USA baseball series sweep over UAB (16-24, 3-9) Sunday afternoon at Young Memorial Field.
Trailing 4-1 in the seventh, ECU took its first lead of the game at 6-4 after plating five runs and never looked back. More ...
Staff Reports
NASHVILLE REC RESULTS
NASHVILLE -- Here are recent results from the Nashville Parks and Recreation Department's Spring Softball and Baseball Seasons: More ...
Staff Reports
A CROWD IN THE MIDFIELD
(L to R) Southern Nash's Laney Ezzell and Northern Nash's Brittany Miller and Jasmine Richardson joust for possession of the ball during Monday night's Big East Conference girls soccer showdown, which was staged on the NN campus in Red Oak. More ...

A KEY AT THIRD
Third baseman Kelsie Aycock is an important player for the Nash Central MS girls softball team. More ...

CONTACT HAS BEEN MADE
Nash Central Middle School's T'Keyah Macklin swings at a pitch during Monday afternoon's softball practice session, which was held on the NCMS campus in Nashville. Macklin comes from a family of outstanding softball and baseball players, and she is paving her own successful path for the Lady Trojans. Macklin and the Trojans played Red Oak Middle School on Tuesday afternoon. More ...

NEXT STOP -- JOHNSON C. SMITH
Northern Nash's Quinesha Lynch (front, second from right) signs a letter-of-intent to continue her basketball career at Johnson C. Smith University, which is located in Charlotte. Also pictured are (back, l to r) NN Athletic Director Patricia Haggerty and NN Assistant Coach Sandy Frazier; (front, l to r) NN Assistant Coach Monika Underhill, NN head coach Grover Battle and Shaneil T. Lynch (mother). More ...

STRONG INSIDE
Jordan Oldham was a key paint presence this season for the Northern Nash Lady Knights. More ...

Nash Arts
A Night with David Via
Saturday April 27 at 7 p.m. Admission, $12; Nash Arts Member discounts applied as according to level of membership.
Call 252-459-4734 to order tickets or visit: www.brownpapertickets.com/event/373812 More ...

RICHARD HOWARD FERGUSON
Richard Howard Ferguson, 62 passed away Tuesday, April 16, 2013. He was born in Leesburg, FL, July 24, 1950 to the late J.T. and Jewel Craig Ferguson. More ...

NATHANIEL BROWN
ROCKY MOUNT –– Nathaniel Brown, 58, of Rocky Mount, passed away on Monday, April 8, 2013 at Vidant Medical Center in Greenville. More ...

JUANITA PETWAY
ROCKY MOUNT –– Juanita Petway, 55, of Rocky Mount, passed away on Thursday, April 11, 2013 at Nash General Hospital. More ...

JEAN CARTER SULLIVAN PROCTOR
Jean Carter Sullivan Proctor died Sunday, April 21, 2013. She was 89 years old. Born March 5, 1926, in Rocky Mount, Jean was the daughter of the late David Earl Sullivan and Ethel Carter Sullivan. She was predeceased by her husband of 49 years, Russell Leon "Snookie" Proctor, Jr. More ...

STUART CASON HALL
Stuart Cason Hall, 45, passed away Thursday, April 18, 2013. He was born in Craven County on October 23, 1967 to Junior Braxton Hall and Reba Mixon Williams. He is preceded in death by his father, Junior Braxton Hall. More ...

WILLIAM LANCASTER
William Lancaster, age 87, passed away Thursday, April 18, 2013. A native of Rocky Mount, born on August 29, 1925, he was the son of the late Julius Isham Lancaster and Minnie Clyde Dudley Lancaster. He was also preceded in death by his sisters, Winnie Estelle Lancaster Jones, Helen May Lancaster Gravely and Eloise Lancaster; and brothers, James Albert Lancaster, Russell Lee Lancaster and Julius Edward Lancaster. More ...

ROBERT RAY MAULDIN
Robert Ray Mauldin passed away on April 18, 2013 at his home in Rocky Mount. He was born on January 15, 1935 in China Grove, the son of Raymond Ray and Hazel Luther Mauldin. More ...

LINDA LAUDER STARR
Linda Lauder Starr, 67, passed away on April 20, 2013. She was born in Rockingham County on August 17, 1945 and was predeceased by her parents Pauline Truslow Lauder and George Leroy Lauder of Ruffin, NC. More ...

DORIS ANN STALLINGS
Doris Ann Stallings, 75, passed away Friday, April 19, 2013. She was born October 30, 1937 in Nash County. Doris was the daughter of the late Joe and Rhada Matthews Stallings. She was preceded in death by aunt Rhada Matthews. More ...

JERRY WAYNE CANTRELL
ROCKY MOUNT –– Jerry Wayne Cantrell, 74, passed away Thursday, April 18, 2013. He was born in Spartanburg County, SC November 2, 1938 to the late Lawrence and Velva Parris Cantrell. More ...

ANNIE HADNOTT LEWIS
Annie Hadnott Lewis, age 84, passed away in the Nash General Hospital on April 21, 2013. She was preceded in death by her husband Jessie A. Lewis, daughter Wanda Lewis Denton and parents Robert and Annie Elizabeth Hadnott. More ...