Subscribe/Access
Advertisements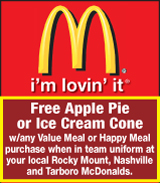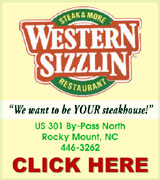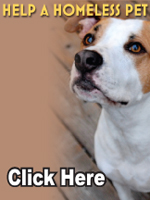 Sections
Member Options
Back
Nashville hires new Police Chief
The Town of Nashville has hired a Rocky Mount Police Sergeant to lead its police department.
Thomas Bashore will begin serving as Nashville's Police Chief on November 27, the town announced on Tuesday.
Bashore has served 15 years with the Rocky Mount Police Department. More ...
Amanda Clark, Graphic Staff Writer
Nash honors Tyson
Nash County's Board of Commissioners approved a resolution honoring the service of Commissioner Danny Tyson at the regular meeting on Monday morning.
Tyson, who has served on the board since 2004, will no longer serve on the board, after losing in the primary election to opponent Lisa Barnes. More ...
Amanda Clark, Graphic Staff Writer
Sanderson Farms Pulls Poultry Plug for Nash County
Sanderson Farms announced today that it will not be establishing a poultry plant in Nash County despite the recent incentive agreement drawn up between the company and Nash County officials. The announcement came on Tuesday, November 13, just days after Nash County won its latest legal challenge related to the proposed plant site. More ...
Amelia Harper, Graphic Correspondent
Judge rules in favor of defendant, Nash County
Seventh Judicial District Superior Court Judge Walter H. Godwin, Jr. ruled in favor of Nash County Friday after hearing the most recent lawsuit in court on Monday. The judge's terse decision was faxed to attorneys on Friday and said simply that the plaintiff's motion for summary judgment was denied, while the defendant's request for summary judgment was allowed. More ...
Amelia Harper, Graphic Correspondent

HEART TO HEART –– Clarence Joyner (at right) chats with Coopers Elementary School fifth grader Juan Vasquez (at left) about his service in the United States Army, where he served for 18 months.

HONORING VETERANS
Area veterans were recognized last week at several Nash-Rocky Mount Schools.
A Veterans Appreciation event was held last Thursday morning at Coopers Elementary School, with Nashville area veterans coming out to share their experiences with fifth graders.
This is the first year the school has held such a program to honor veterans. More ...
Amanda Clark, Graphic Staff Writer
Castalia reverses property sale vote
At the regular November business meeting, held on Election Day, November 6, 2012, Castalia Commissioner decided to keep the small lot that they had agreed to sell last month. Last month, Castalia commissioners voted in a closed session to sell a small piece of the town's property to one of the town's residents, T.O. Nelms. More ...
Amelia Harper, Graphic Correspondent
Ministry hosts Cancer Fund Run
Nine years ago, the Guardians of the Cross Bikers Ministry started a fund-raiser to help families dealing with cancer. The goal was to raise at least $1,000 to give to two families.
Last Saturday morning, the Guardians of the Cross were able to give over $1,300 to three families.
The Cancer Fund Run was initially started by Guardians co-founder Danny "Preacher Man" James. More ...
Amanda Clark, Graphic Staff Writer
Nash County celebrates Heritage Days
Fourth graders from area elementary schools attended one of three days last week of Heritage Days at the Rocky Mount Farmer's Market to get a sneak peek at how things were done years ago. The program is put on each year by Nash County Cooperative Extension. Pictured above, Nashville Elementary students Harley Daniels and Jordyn Anderton (L-R) get to hold baby chicks at one of the booths at Heritage Days last Wednesday. More ...


Six-year-old Jared Bone tosses a bean bag during a cornhole game at Nashville Elementary's Fall Festival.

Nashville Elementary holds Fall Festival
Nashville Elementary School held its annual Fall Festival on Friday night, November 9 at the school.
The event featured various vendors which included food and games and was open to both students and members of the community. More ...

Building is donated to United Way
Boddie-Noell Enterprises and the United Way Tar River Region recently announced that Boddie-Noell will donate the company's former administrative building on Sunset Avenue to the United Way for its headquarters.
The United Way is expected to relocate its offices to the facility by the end of this year. More ...

NASHVILLE POLICE BRIEFS
ARRESTS
Raymond Lavon Clark - 11/11/12 - charged with no operator's license
Travis Valentine Finch - 11/11/12 - charged with simple assault
Joseph Gregory Murphy - 11/11/12 - charged with trespassing More ...

DICTIONARY DONATION
The Coopers Ruritan Club recently donated dictionaries to students at Coopers Elementary School. Pictured above, on the front row (L-R) are third graders: Mariah Poland, Shanika Hilliard, Osbaldo Perez, Casey Hatchel, David Lopez Garcia and Charles Brown. On the back row (L-R) are Ruritans: Bob Walker, Ruritan President Charles Ethridge, Linda Ethridge, Gail Walker and Jane Tyson. More ...

RMA students nominated scholarships
Four members of the Class of 2013 have been nominated for prestigious college scholarships in the state.
Dillon Crawford, son of Mike and Mary Beth Crawford, and Tet Hughes, son of Andrew Roy and Kathy Hughes-Roy, have been nominated for the Park Scholarship at NC State University. The Park Scholarship provides full funding of four years' tuition and fees, room and board, books and supplies, travel, and personal expenses.
More ...

Tabs
Fifteen years of collecting can tabs has proven worthwhile for Mildred Parker and Geraldine Armstrong. Parker and Armstrong met at the Nash County Senior Center when Parker discovered Armstrong collected can tabs to donate to the Ronald McDonald House. Parker had been collecting can tabs for around 15 years and decided to give her collection to her new friend. More ...

50th ANNIVERSARY
Thomas and Jean Wood of Red Oak will celebrate 50 years of marriage on November 22. The couple were married in Rocky Mount on November 22, 1962. A celebration will be held at their son's home in honor of the special occasion. The couple have four children, Tommy Wood, Scott Wood, Randy Wood and Debbie Wood Ashlaw. They have seven grandchildren. Jean Wood was formerly Jean Parker of the Sandy Cross area. More ...

Energy Safety Awareness Week
Nash County held a drunk driving simulation exercise for county employees on October 17 as part of Energy Safety Awareness Week. The Nash County Sheriff's Office assisted with the simulation. Pictured above, Deputy Dennis King looks on as Kim Arnold tries her hand at driving a golf cart while wearing goggles that simulate being under the influence of alcohol. More ...

BOOK SIGNING
Cheryl Rice (at left) signs a copy of her cookbook, "A Collection of Family Treasured Recipes," for Leslie Sorrells in late September at a book signing at Cooley Library in Nashville. Rice's cookbook, which she had printed last year, was featured in Our State Magazine in a special section. In contains over 300 pages of family recipes as well as family photos. More ...

Nash residents pass CPA exam
The North Carolina State Board of Certified Public Accountant (CPA) Examiners recently announce that 242 North Carolina candidates successfully completed the Uniform CPA Examination during the period July 1, 2012 to Sept. 30, 2012, including several Nash residents. More ...

Governor Perdue appoints Wooten as teacher advisor
Gov. Bev Perdue has appointed Jackie Wooten of Bethel as the Teacher Advisor for the Governor's Office.
Wooten is a retired classroom teacher from the Pitt County School System. She is a member of the Pitt County Retired School Personnel and the North Carolina Association of Retired School Personnel. She received the NCAE Professional Educator of the Year award in 2000 and has been on the North Carolina Center for the Advancement of Teaching Board of Trustees since 2010. More ...

MILITARY NEWS
Civilian Jacob S. Moore, son of Jennifer L. Sykes of Wilmington, and Kevin S. Moore, of Whitakers, recently enlisted in the United States Navy under the Delayed Entry Program at Navy Recruiting District, Raleigh. More ...


WHITE OAK QUILT –– Meg James displayed her quilt at the Anniversary which shows scenes of the White Oak Community.

White Oak UMC holds 200th Anniversary Service
White Oak United Methodist Church held its 200th Anniversary Homecoming Celebration Sunday, November 4th. Members and guests filled the church sanctuary to worship and celebrate, some even being descendants of the earliest members from when the church was founded in 1812.
Reverend Scott Shaffer welcomed everyone along with special guests including former pastor Reverend Caswell Shaw and his wife Pat and Reverend Scott Dawson, who offered Sunday's sermon for the special occasion. More ...
Jo Anne Cooper, Graphic Publisher
MOUNT ZION FWB CHURCH NEWS
Robert Tyner welcomed everyone to Sunday school. There were 78 in attendance. Barbara Morgan was pianist for Sunday school. Robert prayed the closing prayer.
Our choir sang "Every Day With Jesus" for the call to worship Pastor Bogle welcomed everyone to worship service. Jason Modlin prayed the prayer of invocation. More ...
ROSALENE BASS
RED OAK NEWS
Several ladies from Red Oak Baptist Church attended the Adopt-a-Dorm Bible Study at Fountain Correctional Center in Rocky Mount on Monday, Nov. 5. Jean Mellor led the study with Audrey Pearce, Nell Boone, Hazel Hill, and Marion Hawkins also participating. More ...
SUZY PEARCE
NFD
Pictured above, the Nashville Fire Department was on hand with Sparky handing out treats and a few tricks at the fire station and Glover Park on October 31. Several kids came by and received candy as well as a fire prevention booklet from Sparky the Fire Dog. More ...

NRMS students share experience of Governor's School
Six outstanding students from the Nash-Rocky Mount Public School District were selected to participate in the 2012 North Carolina Governor's School: Sydney Browder, Rocky Mount High School (Mathematics); Jyazia Joyner, NRMPS Early College High School (English); Ann Catherine Phillips, Northern Nash High School (Natural Science); Jessica Rogers, Nash Central High School (Choral Music); Kayla Simmons, Southern Nash High School (Mathematics); Katie Tyson, Southern Nash High School (Mathematics). More ...

Cedar Grove holds mock election
Cedar Grove Elementary students had a chance to experience their own election season when third, fourth, and fifth grade recently participated in a mock presidential election.
"I think it's great for the school to have a presidential election for kids because you can't vote until you're eighteen." Trenton Hull said. More ...

Nash County Blood Drives for October 2012
Sunday, November 18 from 12:30 until 5 p.m. at Sharpsburg Baptist Church, 3720 Hathway Blvd, Sharpsburg
Monday, November 19 from 2:30 until 6:30 p.m. at Nash Correctional Institution, 2869 US Highway 64 Alt
Tuesday, November 20 from 7:45 a.m. until 1:45 p.m. at Rocky Mount Senior High, 1400 Bethlehem Road, Rocky Mount More ...

Answers to Thanksgiving questions and more
In a country that seems to be split about 50-50 on everything from politics to the importance of reality television, there does seem to be one place of agreement: what should be on the table for Thanksgiving Dinner.
Think about it. There are very few things that we do like we did 400 years ago. Somewhere along the line, it is not inconceivable that lasagna, General Tso's chicken, fajita nachos or ribeyes could have overtaken the turkey. More ...
Mike Brantley
Truly so much to be thankful for year-round
Thanksgiving is one of my favorite times of the year. I love to eat and I love to be with my family so being able to combine the two is truly awesome!
What I love most about Thanksgiving is the fact that it's all about being thankful. We should be thankful everyday for things in our life but Thanksgiving gives us a chance to sit down and reflect on just how fortunate we are. More ...
Amanda Clark
My tax dollars should not be used to entice businesses to move here
As a taxpayer in Nash County, I pay taxes for the support of county operations. I do not pay county taxes to see those taxes used for purposes other than county operations.
I expect the County Commissioners and the county administration to use my tax dollars wisely in support of county operations. More ...
Letters to the Editor:
Backward Glances
DOLLS, DOLLS EVERYWHERE! –– This photo originally published December 2, 1976. Marcy McGregor sits happily surrounded by the dozen dolls which were dressed by the Castalia Friendship Club ready for delivery to the Rocky Mount Salvation Army's Christmas program for needy families. Marcy is the daughter of Mr. and Mrs. Carlton McGregor of Castalia. More ...
A PICTORIAL LOOK INTO THE PAST
Nash County Animal Friends' Notebook
You all might have noticed that I don't write as much as I used to. That is due partly to burnout, even though I have help, I'm ultimately responsible. You try into the middle of each night and early each morning, seven days a week, to find good Rescues to take the pets and you get tired. Then there is the transports. Many of the Rescues use professional transports, but many will also use volunteers. More ...
Carol Vierela, Nash County Animal Friends

MANNING THE MIDDLE. Southern Nash's Ismael Rodriguez (left) works his way through the midfield during last Wednesday evening's playoff victory against Cleveland at Firebird Stadium in Stanhope.

Cleveland Rocked
STANHOPE -- Contentment was not a word Southern Nash head coach John Matthews tossed around after his Firebirds had already raced through a pair of opponents in the Class 3-A State Boys Soccer Playoffs.
Sure, the Firebirds were enjoying their best-ever campaign, along with making their deepest run in the postseason following a second-round squeaker against South Brunswick. More ...
GEOFF NEVILLE, Graphic Sportswriter

SLIDING SENSATION. Southern Nash's Nilton Perez (left) makes a tackle in the midfield during last Saturday's playoff setback versus Jacksonville.

A GREAT RUN ENDS
STANHOPE -- One of Nash County's longest-running, feel-good stories continued for 20 more minutes last Saturday.
Taking on nationally-ranked Jacksonville in the quarterfinals of the Class 3-A Boys Soccer State Playoffs, Southern Nash's Cinderella Boys scored first and held on to that cushion through the midpoint of the first half against one of the state's traditional powerhouses. More ...
GEOFF NEVILLE, Graphic Sportswriter

HOLD ON TIGHT. Southern Nash Middle's Khalil Brown (right) hangs on to the football during last Thursday afternoon's home gridiron matchup against the Red Oak Tigers at picturesque Firebird Stadium.

Conference Rivalry
STANHOPE -- Southern Nash's football pipeline seems to know no weakenesses these days -- and that certainly includes the middle school level.
The Cobras entered Tuesday's season-ending matchup at Parker with the opportunity wrap up yet another undefeated campaign, along with a conference championship for the second straight year. More ...
GEOFF NEVILLE, Graphic Sportswriter
Nash Co. winter offerings
NASH COUNTY -- The Nash County Parks and Recreation Department is offering several youth activities during the winter months.
Information on each offering is as follows: More ...
Staff Reports
HIGH SCHOOL GRID SCORES
NASH COUNTY -- Listed are last Friday's results and this Friday's schedule from the North Carolina High School Athletic Association State Football Playoffs
Class 4-AA East More ...
Staff Reports
RMHS ready for basketball season
ROCKY MOUNT -- Rocky Mount High School has released its boys and girls basketball schedules for this winter -- starting with both teams participating in the Annual Knightdale Thanksgiving Tip-Off Tournament next Friday and Saturday during Thanksgiving Break.
Then, on Nov. 30, the Gryphons will officially christen their new gym with Hertford County coming to town. South Central comes for a visit before trips to Hertford County and Greenville Rose. More ...
CHARLES ALSTON, Graphic Correspondent
Wesleyan closes campaign with a win
RED OAK -- The Battling Bishop football team of North Carolina Wesleyan College celebrated its 2012 Senior Day last Saturday afternoon with a 32-21 victory over Averett University at Death Valley on the campus of Northern Nash High School.
NCWC's defense pitched a shutout in the second half, outscoring the Cougars 20-0 in the third and fourth quarters en route to the victory. More ...
Staff Reports
HOW DID THIS HAPPEN?
A Cleveland player somehow sends a shot through the legs of Southern Nash's Pablo Mier during last Wednesday's soccer playoff showdown at Firebird Stadium. More ...

SWAC Tourney kicks off
NASH COUNTY -- After a long break following the conclusion of the Eastern North Carolina Football League season, both the Nashville Hornets and Nash County Firebirds varsity squads are ready to swing back into action.
Players from both clubs will get their wish this Saturday as the Statewide Athletics Committee State Tournament will kick off quarterfinal play. More ...
GEOFF NEVILLE, Graphic Sportswriter
TIME TO CELEBRATE
Southern Nash's Moises Gonzalez (center) is ecstatic after the Firebirds' goal during last Saturday's state soccer playoff contest against the Jacksonville Cardinals. More ...


Meredith Davis (1st Place), Chandler Boling (3rd Place), Kasey Tyndall (2nd Place).

Nash County's Got Talent
There's no doubt that Nash County has talent and on Friday night, 10 local residents took to the stage at Nash Arts to showcase their talent during the seventh annual Nash County's Got Talent! Finals.
Nashville resident Meredith Davis received top honors, winning first place in the competition.
Second and third place went to Kasey Tyndall and Chandler Boling. More ...
Amanda Clark, Graphic Staff Writer
JANET ELAINE JOHNSON
ROCKY MOUNT ––Janet Elaine Johnson, 61, of Rocky Mount, died on Friday, November 9, 2012, at Nash General Hospital . More ...

DONNIE GRAY "MULE" MILLS
NASHVILLE - Funeral services for Donnie Gray "Mule" Mills, 75, who died Monday, Nov. 5, 2012, were Friday, Nov. 9, at 2 p.m. at Richardson Funeral Home chapel. Burial followed in Oakland Cemetery with Rev. Greg Eaves officiating. More ...

ALBERT E. COLEY
LOUISBURG - Funeral services for Albert E. Coley, 52, who died Wednesday, Nov. 7, 2012, were held at 3 p.m. Sunday, Nov. 11, at Richardson Funeral Home in Louisburg. Burial followed in the Coley family cemetery. More ...

ELLA REDDING
ROCKY MOUNT ––Ella Redding, 81, of Rocky Mount, died on Saturday, November 10, 2012, at Kindred Care in Rocky Mount. More ...

SHIRLEY TEMPLE MANN RICKS
ROCKY MOUNT ––Shirley Temple Mann Ricks, 76, of Rocky Mount, died on Saturday, November 10, 2012, at Vidant Medical Center in Greenville. More ...

SUDIE SUGGS RIDLEY
ROCKY MOUNT –– Sudie Suggs Ridley, 75, of Rocky Mount, died on Wednesday, October 31, 2012, at Nash General Hospital. More ...

JASON SEXTON
WASHINGTON, DC ––Jason Sexton, 32, of Washington, DC, died on Thursday, November 1, 2012. More ...

LUCINDA ALSTON WHITAKER
ROCKY MOUNT –– Lucinda Alston Whitaker, 70, of Rocky Mount, died on Sunday, November 4, 2012, at Duke Medical Center in Durham. More ...

HAROLD LEWIS DAVIS, JR.
Harold Lewis Davis, Jr., 66, passed away Tuesday, November 06, 2012. He was born June 15, 1946 in Nash County to the late Harold Sr. and Audrey Smith Davis. In addition to his parents Harold was preceded in death by a brother James Davis. More ...

MOZELLE TANT UPCHURCH
Mozelle Tant Upchurch, 90, passed away Wednesday, November 7, 2012. She was the daughter of the late Mack and Jane Pearce Tant. She was preceded in death by her husband, Milton Upchurch, a granddaughter, Cherie Upchurch, great-granddaughter, Brittany Coppedge and great-great granddaughter, Brianna Upchurch.
More ...

COLLEEN SELLERS
Colleen Sellers, 83, passed away Thursday, November 9, 2012. She was born August 4, 1929. Ms. Sellers was preceded in death by her mother, Elizabeth Foley Adams and her brother, Neverson Foley Cooper. She is survived by her nephews, Kenneth and Tim Cooper. More ...

CLYDA LOUISE COCKRELL
Clyda Louise Cockrell, 70, passed away on Wednesday, November 7, 2012. Louise was born March 20, 1942 to the late Mr. and Mrs. Lee and Sarah Godwin. In addition to her parents, Louise was preceded in death by two sons, Kenneth Earl Joyner and Randy William Joyner; six brothers, Ed, Isaac, Everette, Cecil, Paul and Raymond; and two sisters, Phyllis Daniels and Nancy Strum. More ...

GENEVA MAE MITCHELL MOSS
Geneva Mae Mitchell Moss, 85 of Wake Forest passed away on Monday, November 5, 2012. She was born on October 29, 1927 in Red Oak and was the daughter of the late Sele Mitchell, Sr and Geneva Clay Mitchell. She was predeceased by her husband, Charlie Gray Moss, Jr, her son, Marvin Lee Moss, Sr, and her daughter-in-law, Mary "Mickie" Moss. More ...