Subscribe/Access
Advertisements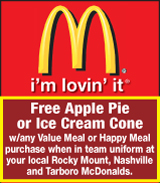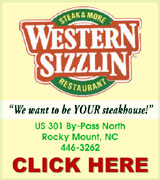 Sections
Member Options
Back
Nash Health Department receives grant
Breast cancer incidents and mortality rates are higher in this area and the Nash County Health Department is encouraging women to get mammograms.
Thanks to grant money, at-risk women can receive mammograms at no cost, said Kim Lowry, Health Educator for the Nash County Health Department. More ...
Amanda Clark, Graphic Staff Writer
Final reassignment public hearing is Thursday night
Public hearings on Nash-Rocky Mount Schools proposed student reassignment plans will continue this week, with the final hearing on Thursday at Northern Nash High School.
Last week, public hearings were held at Rocky Mount High School and Southern Nash High School.
Around 100 people attended the two hearings but only a handful spoke at each. More ...
Amanda Clark, Graphic Staff Writer
Castalia man arrested for drugs during traffic stop
The Nash County Sheriff's Office Narcotics Division arrested a Castalia man after finding over 200 grams of marijuana on him during a traffic stop.
The traffic stop was made on Monday, October 29 at US 64 and Highway 58. During the traffic stop, Donnie Patterson, 22, of Castalia, was found in possession of 233 grams of marijuana. More ...

Rocky Mount hosts final 2012 Gubernatorial debate
The final 2012 North Carolina Gubernatorial Debate was held last week at the Dunn Center on the Campus of NC Wesleyan College in Rocky Mount. The event marked an historic occasion as this was the first time that Rocky Mount has been the site of a Gubernatorial Debate. The event was jointly hosted by North Carolina Wesleyan College and the Rocky Mount Area Chamber of Commerce. More ...
Amelia Harper, Graphic Correspondent

CHINA –– Nathaniel Hartsell recently returned from a trip to Qingdao, China. Hartsell was one of 10 students selected from the College of the Ozarks to accompany World War II veterans. Hartsell's group was also accompanied by Charlie Tsui.

Native travels to China
For 10 days, Nathaniel Hartsell had the opportunity to walk in the shoes of a World War II veteran and go back in time to when he was on duty in China.
Hartsell, who grew up in the Sandy Cross area, was one of 10 students chosen from the College of the Ozarks in Missouri to accompany World War II veterans to Qingdao, China and hear their stories. More ...
Amanda Clark, Graphic Staff Writer
Local daycare changing ownership at S. First Street
Learning Adventures Child Development Center in Nashville closed its doors earlier this month but will reopen under new ownership.
Teresa Robbins, who owned the day care facility on South First Street, said she closed because of health problems of both her father and husband. More ...
Amanda Clark, Graphic Staff Writer

NASHVILLE ICON –– Willard Inscoe, of Nashville, is served sweet tea last Wednesday at the veterans appreciation luncheon at the home of Brenda Stallings. Inscoe was the oldest veteran in attendance. He turned 97 on Saturday, October 20.

Luncheon held honoring local veterans
Over 60 World War II and Korean War veterans got together last week for a special luncheon in their honor.
This is the fourth year Brenda Stallings has hosted such a luncheon at her Middlesex home but Stallings said it won't be the last. She'll continue to honor veterans as long as veterans exist.
"Next year's will be October 28," she said. More ...
Amanda Clark, Graphic Staff Writer
Pumpkin boy
Cade Edwards, who turned six on October 20, sits on one of the pumpkins from his family's pumpkin farm on Cooke Road, outside of Nashville. Edwards first appeared in The Graphic when he was a year old on the pumpkin farm. He is the son of Mike and Hope Edwards. The family sell pumpkins as a hobby during the Fall season. More ...

NASH SHERIFF'S OFFICE INCIDENT REPORTS
A larceny from a motor vehicle and second degree trespassing was reported on 10/22/12 at 2717 N Highway 581
A breaking and entering of a residence was reported on 10/22/12 at 6480 Pleasant Grove Church Road
A financial card fraud was reported on 10/22/12 at Wal-Mart More ...

NASHVILLE POLICE BRIEFS
ARRESTS
Dennis Edmond Williams - 10/27/12 - charged with larceny from a buildings, resisting public officer and no operator's license
Jakavis Ramel Whaley - 10/28/12 - charged with misdemeanor probation violation More ...

MILITARY NEWS
Navy Fireman Recruit Tremaine T. Lynch, son of Katina C. McKellar of Rocky Mount, and Jermaine T. Lynch, of Rocky Mount, recently completed U.S. Navy basic training at Recruit Training Command, Great Lakes, Ill.
During the eight-week program, Lynch completed a variety of training which included classroom study and practical instruction on naval customs, first aid, firefighting, water safety and survival, and shipboard and aircraft safety. An emphasis was also placed on physical fitness. More ...

KEEP AMERICA BEAUTIFUL
Lena Sessoms of Brooklyn Community Watch and Ted Davis of the Voice of Nashville, recently took part in Keep America Beautiful on October 11 by picking up trash on streets in their neighborhood including Brake, Brooklyn, Sixth and Old Wilson Road. The two groups partnered to do the clean up. More ...

EMPLOYEE OF THE MONTH
Glenda Carpenter has been selected as Nash County Department of Social Services Employee of the Month for September 2012. Glenda has been with the agency for six years as a Social Worker in Child Protective Services Investigations/Assessments. She has a very positive attitude and always volunteers to help her co-workers when needed. More ...

Multi-car accident on I-95 shuts down traffic
A multi-vehicle accident on I-95 last Wednesday left the road closed for most of the day while crews worked to clear the scene.
According to Trooper F. McClure, of the NC Highway Patrol, the accident occurred around 8:42 a.m. on Wednesday, October 24. More ...
Amanda Clark, Graphic Staff Writer
FIRE PREVENTION
The Red Oak Fire Department recently visited Red Oak Elementary School in celebration of National Fire Prevention Month. The presentation about fire prevention techniques focused on the stop, drop and roll procedures and the significance of having smoke detectors in the home. Students also learned about the fireman's uniform, equipment, the fire truck and how to get out of the house if they smell smoke. More ...

NCC director recognized
Nash Community College's Director of Electronic Media Andrew Small was recently recognized for his video production by the National Council for Marketing and Public Relations at the fall district two conference in Hilton Head, South Carolina.
Small's Computer-Integrated Machining video and NCC Foundation video were both selected among entries from the Council's Southeast members for bronze Medallion Awards. More ...

Working the booth
Betsy Owens (left), owner of America's Best Nut Co., and friend Betsy Robertson, work at a booth in the Kerr Scott Building during the 2012 NC State Fair, sharing the goodness of peanuts. (Contributed photo) More ...

Holland, Gurganus unite in marriage
Corrie Dean Holland and Elic Onslow Gurganus were married Saturday, Oct. 13, 2012 at Calvary Baptist Church, in Rocky Mount. The officiating minister for the 5 p.m. candlelight ceremony was Rev. Brandon Dees.
The bride is the daughter of Dean and Susan Holland of Nashville. More ...

Hope, Opportunities, and Jobs
To celebrate the North Carolina Community College System's 50th anniversary and Nash Community College's 45th Anniversary, Nash Community College presented System President Scott Ralls a piece of art designed by NCC Advertising and Graphic Design Graduate Jessica McCumbee to be displayed in Raleigh reflecting the theme of "Hope, Opportunities, and Jobs": the System's tagline for its Creating Success campaign. More ...

NNHS student selected to play in BCS National Championship Game
Northern Nash High School senior Joshua Freeman will have the chance to play his trumpet on a national stage—the halftime show of the 2013 National Championship in South Florida, as part of the 2013 All-Star Invitational Marching Band.
Freeman was recently notified of his selection and is among the finest high school performers in the nation. More ...

Living History/Reenactment
Bethel Heroes Chapter 636 UDC members, Margie Parker Brantley, Sarah Watson and Helen Sharpe visited the annual fall War Between the States Living History/Reenactment at Historic Stonewall Manor on October 20. More ...

PEACHTREE COMMUNITY NEWS
On a chilly, blustery Sunday morning, Peachtree folks gathered for worship. Pastor Whitehouse was happy to be back in the pulpit. His sermon topic was "Teach us to Trust in the Father". It was based on Genesis chapter 24. It was an account of the time that Abraham sent his servant from Canaan, back to his home in Mesopotamia, to seek a wife for his son, Isaac. More ...
BARBARA HARDISON
BEULAH COMMUNITY NEWS
Once again I'll remind you to mark your calendar for this Friday night. The monthly fish fry for Beulah Church of Christ will be from 5-8 p.m. at the Beulah Annex on Reges Rd. We look forward to seeing you there. Your support and fellowship is always greatly appreciated. More ...
WILMA ENROUGHTY
RED OAK NEWS
The Women in Action Multifocus Missions Group met at Red Oak Baptist Church on Tuesday, Oct. 23. They enjoyed a hot dog supper together, participated in the program led by Karen Girona, and made plans for their upcoming mission action projects. The next meeting will be Tuesday, Nov. 20. More ...
SUZY PEARCE
MOUNT ZION FWB CHURCH NEWS
Robert Tyner welcomed everyone to Sunday school. We had 66 in attendance with four visitors, the visiting preacher and his family. We welcomed them and everyone else today. More ...
ROSALENE BASS

NFD Asst. Chief Haywood Edmonds brought his granddaughter out to enjoy the festivities.

Nashville Fire Department hosts Fall Festival
The Nashville Fire Department held a Family Fall Festival on Sunday afternoon, October 28 for the fire department members and their families.
The afternoon was full of fun and games for the kids with a "Trunk or Treat" to finish out the day. Volunteer Firefighter Stan Mesh, won the best costume award. More ...

PFLAG announces safe schools partnership
Members of PFLAG Rocky Mount are participating in Care with PRIDE™, their national organization's partnership with the Johnson & Johnson Family of Companies and Walgreens Family of Companies.
"This campaign underlines the important work of PFLAG chapters and businesses to support safe schools programs for all children," said Lela Chesson. More ...

Fun/Recruitment Day
Nash Rocky Mount Girl Scouts held a Fun/Recruitment Day at Nash Community College on September 15th. Current Girl Scouts demonstrated activities and events that they enjoy doing in their troops and allowed new girls to sign up. Pictured above, Nashville's Fire Department also participated in the Fun/Recruitment Day. Below, youth sign up for Girl Scout activities. More ...

LIONS WHITE CANE FUND RAISER
Nashville's Lions Club held its annual White Cane Fundraiser on October 27 at the Nashville Wal-Mart. While there, they received a special visit from Cornelia Tyndall (at left). Tyndall was born blind in 1958 and received free medical care through Lions in 1963 which gave her the sight she enjoys 49 years later. Tyndall is pictured with Nashville Lion Linda Funkhouser. More ...

Nash County Blood Drives for October 2012
Thursday, November 1 from 10 a.m. until 2 p.m. at the Downtown Train Depot, 100 Coastline Drive, Rocky Mount. This blood drive is being held in memory of Tresa Farmer
Saturday, November 3 from 10 a.m. until 2 p.m. at Thorne's Chapel Baptist Church, 1624 Windsor Drive, Rocky Mount More ...

It's Halloween again y'all – NC ghost stories
It is that time, a time that comes on a regular basis, a time when all of us should be scared out of our wits.
This time of year curdles our blood, makes us afraid to wake up on That morning, and makes us fear the future, or even wonder if we are to have one.
That's right — it is election time.
But the good news is, we get Halloween first. More ...
Mike Brantley
It's time men get equal rights to diaper duty
Since having a kid, my husband and I pay a lot more attention at how kid-friendly places are. Changing tables are one of the things we notice when we venture out and you'd be surprised to learn how many places do not have changing tables in their restrooms.
My family may be considered untraditional since my husband is a stay-at-home dad. More ...
Amanda Clark
Newspapers still offer unbiased election coverage
I still have a folder of clippings from my 8th grade civics course at R. M. Wilson Junior High.
I also have my undergraduate textbooks on politics from UNC, and my graduate notes on political science from NCSU. More ...
Letters to the Editor:
How long will Nash County taxpayers tolerate this abuse?
The Nash County Commissioners have been sued for ignoring a North Carolina state law that requires a public hearing be held before any land purchases can be made. As a result of this suit, the Nash County Commissioners, in their infinite wisdom, decided to hold a public hearing on 10/15/12 supposedly to obtain public opinion on their 2 year old purchase of 145 acres of land at I 95 and Hwy 97. More ...
Letters to the Editor:
Legislative seats do not belong to the political parties
The level of corruption in our political system has become so rampant that it is accepted as normal by most observers. However, the request by the Chairman of the local Democrat Party takes the proverbial cake.
That a candidate has run afoul of the law is nothing new.
More ...
Letters to the Editor:
Backward Glances
TREE SHOPPING –– This photo was originally published in The Graphic on December 21, 1976. Nashville Jaycee Ross Strickland assists Mrs. Hattie Strickland as she takes her pick from a large group of trees the club was selling on Barnes Street. (Graphic photo by Trotter.) More ...
A PICTORIAL LOOK INTO THE PAST

WHERE DID IT GO? Southern Nash's Trey Jerman (center) tries to locate the ball during last Wednesday afternoon's championship match of the Big East Conference Soccer Tournament. The Firebirds defeated Wilson Hunt in overtime.

A WILL TO WIN
STANHOPE -- If ever there was justice in the soccer world, Southern Nash's Ben Liles was destined to have the ball on his foot once again with the outcome of the Big East Conference Tournament Championship at stake.
Again. More ...
GEOFF NEVILLE, Graphic Sportswriter

SENIOR SHOWCASE. Ryan Barham played his final football contest last Friday night for the Nash Central Bulldogs during their Big East Conference matchup versus Southern Nash.

Southern on way to playoffs
STANHOPE -- Southern Nash's reward for a strong campaign wasn't exactly the one Coach Brian Foster hoped for.
The Firebirds went 9-2 during the regular season, including a 5-1 mark and second-place finish in the Big East Conference. More ...
GEOFF NEVILLE, Graphic Sportswriter

A NARROW ESCAPE. Red Oak Middle School's Dijmon Moore (right) gets away from this tackle attempt during last Wednesday afternoon's road football victory against the Nash Central Trojans at the NCMS Field in Nashville.

Tigers Tilt Scales Vs. NCMS
NASHVILLE -- Given the transitional nature of middle school football, teams don't usually have an opportunity for redemption following a tough loss.
The majority of rosters are filled with eighth-graders who eventually work their way up to play in high school the next season. More ...
GEOFF NEVILLE, Graphic Sportswriter
Bulldogs take part in states
BURLINGTON -- Nash Central High School's doubles tandem of Randi and Kaley Price reached the semifinals of last weekend's Class 3-A State Individual Girls Tennis Tournament at the Burlington Tennis Center in Alamance County.
The Prices were defeated in the semis by Grace Deering and Rachel Tomchin from Charlotte Catholic. Scores were 6-0 and 6-1. More ...
Staff Reports
HIGH SCHOOL GRID SCORES
NASH COUNTY -- Listed are last Friday's results from the regular season football finale for the North Carolina High School Athletic Association: More ...
Staff Reports
CLASS 3-AA STATE PLAYOFF BRACKETS
CHAPEL HILL -- Listed are this Friday night's first-round matchups for the Class 3-AA portion of the North Carolina High School Athletic Association State Football Playoffs: More ...
Staff Reports
CLASS 3-A STATE PLAYOFF BRACKETS
CHAPEL HILL -- Listed are this Friday night's first-round matchups for the Class 3-A portion of the North Carolina High School Athletic Association State Football Playoffs: More ...
Staff Reports
Knights claim boys cross country crown
RED OAK -- Northern Nash's boys and Wilson Fike's girls claimed the team crowns at the Big East Conference Cross Country Championships, which were held Oct. 17 at the Red Oak Middle School Course.
Northern Nash, coached by Jeff Dodrill, wrapped up its strong regular season by compiling 43 points to outlast second-place Rocky Mount (63). More ...
Staff Reports

THE DUDES (SECOND FLIGHT, SECOND PLACE. (L to R) Steve Berry, John Tulloss, Fred Tulloss and Bill Craig.

NCC GOLF TOURNAMENT pics, 1
Nash Community College hosted its 23rd Annual NCC Foundation Student Scholarship Golf Classic on October 4 at Birchwood Country Club in Nashville. A total of 136 golfers took part in the event, which raised $30,000 for student scholarships. More ...

NCC GOLF TOURNAMENT pics, 2
NORTH CAROLINA ELECTRIC COOPERATIVES (CHAMPIONSHIP FLIGHT, SECOND PLACE. (L to R) Cecil Alexander, Tommy Greer, Rhonda Williams and William O'Conney. More ...

RAIN MAN
Nash Central's Jarius Richardson (left) doesn't let the precipitation slow him down during last Friday night's home football showdown against Big East Conference foe Southern Nash. More ...

HISTORY MAKER
After taking possession near the box, Southern Nash's Ben Liles (right) prepares to deliver the eventual match-winning goal for the Firebirds as they earned their first-ever Big East Conference Boys Soccer Tournament Crown with a victory last Wednesday against the Wilson Hunt Warriors. Southern Nash will begin state playoff action this week. More ...

MORE NCC TOURNEY PHOTOS
SPEIGHT'S TROPHY SHOP (CHAMPIONSHIP FLIGHT, FIRST PLACE. (L to R) Ray Richardson, Ashley Leonard, Carolyn Hinton and Roscoe Speight. More ...


Dr. Daniel Steinert

Concert set for October 28 at Historic Cherry Hill
A well-known Cherry Hill favorite, organist Dr. Daniel Steinert, and bass/baritone soloist Dr. Scott MacLeod, who has sung opera professionally and taught in Vienna, will combine their talents to perform at historic Cherry Hill in Warren County at 3 p.m. Sunday, Oct. 28. Their performance will be the third in the fall series at the historic home and commemorates Justice John Hall More ...

REBECCA CAROL HOBSON CARPENTER
NASHVILLE - Rebecca Carol Hobson Carpenter, 63, passed away Tuesday October 23, 2012. She was born December 30, 1948 in Wilson County. Carol was the daughter of the late Avery Lee and Evelyn Raper Hobson. Carol was preceded in death by her husband Luther Martin Carpenter, Jr. More ...

MARY ETTA LINDSEY VICK
Mary Etta Lindsey Vick, 93 years old, passed away on October 27, 2012. She was born in Nash County on August 13, 1919 to W. Nathanial Lindsey and Sally Winstead Lindsey. She was preceded in death by her oldest son, Grady L. Vick and her husband, Ervin T. Vick. More ...

RONNIE EARL GRIFFIN
Ronnie Earl Griffin, 29, passed away Wednesday, October 24, 2012. He was born in Nash County December 4, 1982.
More ...

MARY ELLEN COLEY
Mary Ellen Coley, 42, passed away October 26, 2012. Memorial Service was held Monday October 29, 2012 at Oakview Baptist Church.
More ...

NORMA FAYE HEARN COOK
Norma Faye Hearn Cook, 91, passed away on October 28, 2012. The daughter of Robert Lee Hearn and Minnie Leigh Jones Hearn, Norma was born in Burgaw on April 4, 1921. More ...

AUDREY E. LANCASTER SHERROD
Audrey E. Lancaster Sherrod passed away on October 23, 2012. She was born on April 6, 1928 to the late Richard Lancaster and Almeta Dickens of Sharpsburg. She was preceded in death by two husbands John Price, of Rocky Mount, and Redmond Sherrod of Spring Hope; one sister, one brother, and a son. More ...

BILLIE "BILL" BATCHLOR MEDLIN
Billie "Bill" Batchlor Medlin, age 82, passed away Sunday, October 28, 2012. Born in Nash County on February 10, 1930, he was the son of the late Walter Gray Medlin and Vera Batchlor Medlin. He was also preceded in death by his wife, Thelma Mills Medlin; daughter, Ann Medlin; sisters, Catherine Hendricks, Mattie Ruth Driver, Doris Matthews, and Eunice Green; and brothers, James Medlin, Horace Medlin, John Gray Medlin, and Carl Medlin. More ...

NORMAN (PETE) WHITEHEAD
Norman (Pete) Whitehead, age 80, passed away on Friday October 26, 2012. He was born October 5, 1932 in Elm City to Johnnie and Dolly Whitehead. He is preceded in death by his wife of 60 years Ann Holder Whitehead, three brothers, George, JP and Donald, and one sister Cleo Lamm. More ...

JOSEPH FREDERICK FULLER II
Joseph Frederick Fuller II, age 69, passed away on Friday, October 26, 2012. Fred was preceded in death by his parents, Joe and Mamie Fuller, and his grandparents, Mr. and Mrs. G.W. Bartholomew. More ...

JAMES "BUBBA" SHERRICK NELMS
James "Bubba" Sherrick Nelms, age 71, passed away Wednesday, October 24, 2012. Born in Warrick County VA on December 30, 1940, he was the son of the late James Wilber Nelms and Myrtle Virginia Shreves. More ...

MARTHA R. SILVER
CASTALIA - Funeral services for Martha R. Silver, 78, who died Thursday, Oct. 25, 2012 were Tuesday, Oct. 30 at 2 p.m. at Pleasant Grove Baptist Church. Burial followed in the Pleasant Grove Church Cemetery with Rev. Linda Taybron officiating. More ...