Subscribe/Access
Advertisements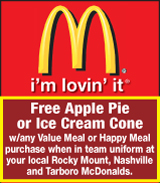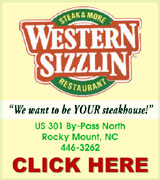 Sections
Member Options
Back
County approves past land purchase
After a surreal public hearing held on Monday, October 15, Nash County commissioners approved the decision to purchase an approximately 145 acre piece of property which has been owned by the county for nearly two years. The move came as the last of a series of efforts designed to minimize the legal ramifications of the county's decision to lure poultry processor Sanderson Farms to Nash County. More ...
Amelia Harper, Graphic Correspondent
Bailey holds public hearing for Wal-Mart
Over a dozen citizens came out to the Bailey Commissioner's meeting on Monday night to offer their thoughts on a proposal that would have a Wal-Mart Express coming to town.
A public hearing was held to rezone just under three acres of property on Oak Avenue, just off of Highway 581, from residential to a commercial special use district. More ...
Amanda Clark, Graphic Staff Writer
FIRE PREVENTION CLASS
Nashville's Fire Department spent the day at Nashville Elementary School speaking with students about fire safety during fire prevention week, which was last week. Pictured above, Firefighter/EMT Chris Jenkins speaks with students in Ms. Janet Pridgen's class on Monday morning at the school. More ...

Sheriff Jenkins to retire
Nash County Sheriff Dick Jenkins recently announced he will not be seeking another term as sheriff.
Jenkins was appointed by the Nash County Commissioners in 2005 to fill the unexpired term of Sheriff Jimmy Grimes. He won re-election to the position in 2006 and again in 2010.
Jenkins term will end in 2014 and though Jenkins said he does plan to finish his term, he said he felt like it was time for him to retire and spend more time with his family. More ...
Amanda Clark, Graphic Staff Writer
NASH COUNTY SHERIFF'S OFFICE INCIDENT REPORTS
A larceny of a trailer was reported on 10/8/12 at 5193 Momeyer Way
A larceny from a school was reported on 10/8/12 at 1638 S. First Street
A breaking, entering and larceny of a residence and injury to real property were reported on 10/8/12 at 11281 Selma Road
More ...

NRMS Superintendent revises technology upgrade plan
Nash-Rocky Mount Schools (NRMS) superintendent Dr. Anthony Jackson has changed the technology upgrade plan again. In the new plan, approved unanimously by the board at their meeting Monday night, third grade students will not be given iPads to take home with them, and teachers will now receive MacBook Air laptops instead of sixth-graders. More ...
Michele A. Cruz, Graphic Correspondent
Town mulls traffic woes at Nashville Elementary
The Town of Nashville is exploring ways to ease school traffic at Nashville Elementary School.
At the town council's regular meeting earlier this month, council members considered an ordinance that would change no parking zones around the school.
The ordinance changed the no parking zone times on Green Street, between Collins and Joyner Street, from 7:45 to 8:15 a.m. and 2:45 p.m. to 3:15 p.m. on school days to 8 to 8:30 a.m. and 3 until 3:30 p.m. on school days. More ...
Amanda Clark, Graphic Staff Writer
Local rhythm and blues band releases first CD
The East Coast Rhythm and Blues Band will officially release their first CD this Saturday, October 20 at the Bill Ellis Convention Center in Wilson.
The group intially started with brothers Rex and Kim Jones holding "jam sessions" with a few other guys just for fun. That fun soon became paying gigs, with the group playing for parties and other small events. More ...
Amanda Clark, Graphic Staff Writer
Move Over Law expands to include maintenance operations in NC
A new version of the state's Move Over law went into effect Monday, Oct. 1, requiring motorists to change lanes or slow down to avoid roadside utility and maintenance crews bearing flashing amber lights.
The General Assembly voted in June 2012 to include utility and road maintenance operations displaying amber lights – including some N.C. Department of Transportation work sites – on the list of situations where drivers legally are required to steer clear to help prevent accidents. More ...

Rocky Mount man faces drug charges
A Rocky Mount man was sentenced to 480 months in prison for conspiring to distribute cocaine based crack.
Terence Lovell Dickens, 41, was sentenced by Chief United States District Judge James C. Dever III.
On February 21, 2012, a Criminal Information was filed charging Dickens with conspiring to distribute and possessing with the intent to distribute fifty grams or more of cocaine base crack. On May 9, 2012, Dickens pled guilty to the charge. More ...


Mason

Two men arrested for drugs
Two men were recently arrested and charged after close to seven grams of crack cocaine were discovered in their vehicle.
The arrest was a result of a joint investigation between the Nash County Sheriff's Office, Rocky Mount Police Department and Wilson County Sheriff's Office. More ...

NASHVILLE POLICE REPORTS
ARRESTS
Ahmad Akeem Mercer - 10/10/12 - charged with larceny
Keith Demetrius Wright - 10/1/12 - charged with larceny
Khaled Saleh Almulaiki - 10/5/12 - charged with assault on a female and assault with a deadly weapon
Lee Thomas Wiggins, Sr. - 10/7/12 - charged with fraud More ...

Turner returns from mission trip to Cambodia
Since returning from Cambodia just over a month ago, Kay Turner has been busy telling her story.
Turner, of Nashville, recently spent two months in Kompong Thom, Cambodia as part of a mission trip helping teach children English and when she was able, teaching children about Christ and the Bible.
Turner said she enjoyed her trip and looks forward to planning another visit.
"I probably will go again," she said. More ...
Amanda Clark, Graphic Staff Writer
Early voting begins Thursday
Nash County Board of Elections Director John Kearney is encouraging Nash County voters to get out and vote early.
Early voting starts on Thursday, October 18 and will run through November 3.
Kearney said with this year's presidential election, he's expecting a heavy voter turnout. More ...
Amanda Clark, Graphic Staff Writer
Public health officials urge caution around wildlife and stray animals
Many animals- including wildlife such as raccoons, skunks, foxes, and bats as well as unvaccinated dogs and cats- may carry rabies. Recent cases locally as well as around the state and nation remind us that everyone must be careful to prevent bites from animals.
Each year, the State Laboratory of Public Health tests from 4,000 to 5,000 animals that have potentially exposed people and unvaccinated animals to rabies. More ...

N-RMS Board approves incentive plan for Tar River Academy
The Nash-Rocky Mount Schools (NRMS) board unanimously approved an incentive plan for Tar River Academy in Rocky Mount to give teacher and staff monetary rewards for higher achievement this school year. Students whose test scores reach a higher level will be given a day trip as a reward. More ...
Michele A. Cruz, Graphic Correspondent
New signs installed at Nash borders
New signs were recently erected at Nash County borders welcoming motorists to the county. The new signs read "Growing Green with Agriculture" and were recently erected on NC 43 at Nash-Halifax border, NC 97 at Nash-Franklin border, NC 581 and NC 58 at Nash-Wilson border. More ...

NCC, NRMS to host CTE open house
On October 25, 2012 from 5:30 to 7:30pm, Nash Community College (NCC) and Nash-Rocky Mount Public Schools (N-RMPS) will host eighth through twelfth grade students and their parents at the Career & Technical Education Open House. More ...

Local teen wins title
Courtenay Wells, 17, competed in the Wilson area on September 22. She won the title Teen Miss Fall Festival as well as Best Model Look, Prettiest Attire, Prettiest Smile, Prettiest Hair, Prettiest Eyes, Best Personality, Most Beautiful and Most Photogenic.
Courtney is also a Semi-Finalist in the Justine Magazine R.E.A.L. Girl Contest.
More ...


Cole Strickland is pictured with "Peaches."

Cedar Isle Dairy competes in four shows this summer
Cedar Isle Dairy has traveled to four competitions this summer. Cedar Isle Dairy is made up of Mike, Mary, Cole and Casey Strickland.
In June, they competed in the Central Carolina District Show and The Central Carolina Holstein Association Show in Hillsborough. More ...

Attended presentation
Nash Community College second-year Associate Degree Nursing students recently attended a presentation at the UNC-Chapel Hill School of Nursing by Donna E. Shalala, Chair of the Committee on the Future of Nursing at the Institute of Medicine of the National Academy of Sciences, titled "Practicing to the Full Extent of One's Education: Implications for Providers, Diversity & the People of North Carolina." More ...

Northern Nash band launches fruit sale
The Northern Nash High School band program is marching along and as of Oct. 2nd, so is the annual fruit sale. To support the importance of keeping the arts in education, and in particular the band program at NNHS in its entirety, please contact any high school band member or family member. More ...

Willcox named Endoscopy Supervisor at Nash Day
Willcox named endoscopy coordinator/supervisor
Karla Willcox, RN, BSN, CGRN, was named endoscopy coordinator / supervisor for Nash Day Hospital. A Rocky Mount resident, she earned her bachelor's degree in nursing from East Carolina University, and she has more than two decades of experience in endoscopy nursing. More ...

Academy graduates
Nash Community College has announced its October 2012 Emergency Medical Technician (EMT) Academy graduates. The Emergency Medical Technician – Basic Academy is the first EMT Academy in the college's history. It includes 179 hours of classroom and lab instruction and 24 hours of field training. More ...

DONATION
Jackie Ward (left), member of the Nash Health Care Volunteer Auxiliary, presents stuffed animals to Cindy Worthy (center), Emergency Department director and Joddy Amerson (right), Emergency Department quality nurse clinician. More ...

Nash County Blood Drives for October 2012
Wednesday, October 17 from 7:45 a.m. until 1:45 p.m. at Southern Nash High School, 6446 South Nash Road, Bailey
Thursday, October 18 from 9 a.m. until 2 p.m. at Edgecombe Community College, 225 Tarboro Street, Rocky Mount More ...

LOCAL MILITARY NEWS BRIEFS
Air Force Airman William T. Lawrence graduated from basic military training at Lackland Air Force Base, San Antonio, Texas.
The airman completed an intensive, eight-week program that included training in military discipline and studies, Air Force core values, physical fitness, and basic warfare principles and skills. More ...


First Vice Regent Frankie Powell and Speaker Retired Air Force Colonel Calvin Anderson.

DAUGHTERS OF THE AMERICAN REVOLUTION
The Daughters of the American Revolution Micajah Pettaway Chapter met Thursday, September 20, 2012, 10:30 A.M. in the Wiley Room at Braswell Memorial Library.
After the DAR Ritual, Regent Dottie Barrett introduced Calvin Anderson who spoke on the "Veterans' Museum in Tarboro."
More ...
DEE LONG
GRANDPARENTS DAY
School board member Doneva Chavis-Battle visted her grandaughter at Swift Creek Elementary as part of Grandparents Day which was held recently. Swift Creek Elementary has held the annual celebration for the past seven years. As part of the event, grandparents had the opportunity to listen to the students read, and watch them use their iPads. More ...

Rocky Mount Debu-ette Club
The Rocky Mount Debu-ette Club recently kicked off its 2012-2013 year. The incoming freshman class consists of 30 girls and five adult advisers and one civic grade mother. The advisers will devote the next four years to mentoring the girls through community service projects and helping them become leaders in civic and social events. More ...

PEACHTREE COMMUNITY NEWS
On a beautiful autumn morning Peachtree folks gathered for worship. Pastor Whitehouse chose as his sermon topic, "Christians with a Tang." It was based on scripture from Luke 14:25-35. Jesus states that the cost of following him is high. [A contractor figures the cost of building a house before he begins, so a disciple must count the cost of following him.]
More ...
BARBARA HARDISON
MOUNT ZION FWB CHURCH NEWS
Robert Tyner welcomed everyone to Sunday school. We had 67 in attendance. Robin May was our pianist for Sunday school, thank you. Robert shared that Donald Bass was in Raleigh yesterday and had a seizure. He is in Wake Med. His wife, Clara is with him. Our pastor talked with them by phone this morning and Donald was fine. The doctors were going to run some tests. Pray for Donald and Clara. More ...
ROSALENE BASS
BEULAH COMMUNITY NEWS
We really had a great homecoming at Beulah Church of Christ on Sunday. Sunday school began at 9:45. This was followed by church at 10:45. Our guest speaker was James Warren., He brought us a really great sermon. It was really good to see a lot of old friends back for this service. A terrific lunch was enjoyed by all, after the morning sermon, outside behind the church. More ...
WILMA ENROUGHTY
RED OAK NEWS
Congratulations to Patrick and Paige Edwards in the birth of their son, Boyd Boddie Edwards, on Oct. 8! Proud grandparents are Thorp and Vickie Baker.
"The Story Lives On" Prayer Retreat will be held at Red Oak Baptist Church on Wednesday, Oct. 17 at 6:30 p.m. This is for all adults. More ...
SUZY PEARCE
The best memories are yet to be made
Kristi,
It seems that things work out better when I keep it simple. I also know you like lists, so I'm going to go with that. And by the way, because it really doesn't fit anywhere else, thanks.
I remember the first day I saw you in Western Civ class. I remember those eyes, and I remember how I had to figure out a way to talk to you. I suppose you caught on that I started getting to class really early. More ...
Mike Brantley
Nash County is really fortunate to have 4-H
Last Sunday, I had the opportunity to attend Nash County 4-H's annual appreciation banquet as well as their open house. At this event, they name the 4-H'er of the year as well as the 4-H Volunteer of the Year and Club of the Year. Lots of other recognitions take place at the event as well.
I don't often cover events on Sunday because I look at Sundays as my one day off to relax and spend time with my family. More ...
Amanda Clark
Nashville's Town Council had a tough decision to make recently
The Nashville Town Council had a really tough call to make a couple weeks ago.
A local downtown property owner requested for the town to allow auction sales in the downtown business district so he could lease his property (the former Super Ten building) to a local couple which owns and operates the Red Barn Auction Company. More ...
Jo Anne Cooper
Excessive regulations really hurt our small businesses
If I could ask the candidates one question at the presidential debate on October 16th it would be simple: "What exactly are you going to do to address the 4,100 new regulations that are pending in Washington, which could cost more than $500 billion and won't hit until after the election?" More ...
Letter to the Editor:
Backward Glances
This photo originally published in The Graphic November 30, 1976. The Northern Nash basketball 1976-77 Northern Nash High School basketball team... More ...
A PICTORIAL LOOK INTO THE PAST - 1 opinion posted

TURN ON A DIME. Nash Central's Tyler Walton (right) tries to gain possession of the ball during last Thursday's Big East Conference boys soccer showdown against rival Rocky Mount on the NCHS campus.

DOGS WALK PAST RM
ROCKY MOUNT -- Nash Central High School continued its upward boys soccer progression during a meeting last Thursday against backyard rival Rocky Mount.
The Gryphons have been strong on the field in recent years, producing players the likes of Southern Methodist University standout Andrew Morales. More ...
GEOFF NEVILLE, Graphic Sportswriter

DUEL OF 6s. (L to R) Southern Nash's Trey Jerman and Northern Nash's Connor Woodburn try to gain possession during last Thursday night's Big East Conference boys soccer event, which was won 7-0 by the Firebirds on the NNHS campus.

Southern Nash Shuts Out NN
RED OAK -- A Northern Nash fan's attempt to disrupt Southern Nash's concentration only served the opposite purpose during last Thursday's Big East Conference boys soccer showdown.
During the early portion of the match, the Firebirds came out flat, despite the fact that they hadn't lost a match in league play this season. More ...
GEOFF NEVILLE, Graphic Sportswriter
Hoffman stars for Pirates
GREENVILLE -- Sophomore Jeff Hoffman tossed three scoreless innings and junior Drew Reynolds picked up the save as the Purpleteam defeated Gold 5-2 in the deciding game of the 2012 East Carolina University Purple-Gold World Series at Lewis Field inside Clark-LeClair Stadium Sunday afternoon.
Trailing 1-0 in the bottom of the fourth inning, Purple struck for three runs and never relinquished the lead. More ...
Staff Reports
Nash Co. Firebirds take on Rocky Mount
ROCKY MOUNT -- Nash County's Firebirds resumed their Eastern North Carolina Football League schedule last Saturday with a road meeting at Rocky Mount.
Here is a look at each of the three games: More ...
Staff Reports
NC Wesleyan drops high-scoring matchup
FERRUM, VA. -- North Carolina Wesleyan College's football team turned one of its most productive offensive showings of the season last Saturday as senior quarterback John Jackson tossed a career-high four touchdown passes, two of which were hauled in by junior wide receiver Greg Edwards.
It would not be enough, however, as homestanding Ferrum College earned a 51-35 win over the Bishops in USA South Conference play. More ...
Staff Reports
Central to host Pink Night at football game
Nash Central High School will commemorate October's Breast Cancer Awareness Month during next Friday's home football game against the Southern Nash Firebirds.
Cheerleaders will be selling pink ribbons, and other donations will be accepted. Proceeds will go to Relay For Life. More ...

Nashville Hornets to host rival Rocky Mt.
NASHVILLE -- Only one team now separates the Nashville Hornets from the Eastern North Carolina Football League Varsity Championship -- and a perfect regular season.
Nashville will carry a 6-0 mark into this Saturday's showdown against backyard rival Rocky Mount -- with the winner earning the league crown. More ...
GEOFF NEVILLE, Times Sportswriter
READY TO TICKLE THE TWINE
Nash Central's Zach Connor lifts this free kick into the net for a goal during last Thursday's home soccer victory against Rocky Mount. More ...

Racing returns at CLR
ELM CITY -- Absolutely gorgeous fall weather greeted fans and drivers as the pits and stands filled up with folks ready to see some good old-fashioned dirt track racing last weekend at County Line Raceway.
After 2 weeks off, everyone was more than ready to see the Nashville Feed Super Stock 4's, ARCO Restoration Pure Stock 4's, PL Woodard Pure Stock V8, Rapid Red Racing Supply Thunder & Lightning and the Barnes Equipment Late Model division take to the 3/8 clay oval to sling some red dirt around. More ...
Staff Reports
BELINDA MOORE
WILMINGTON - Belinda Moore formerly of Rocky Mount, died October 7, 2012. Funeral services were Friday, October 12, 2012 at John Shaw Funeral Home Chapel in Wilimington. Elder Reginald Silver officiated.
More ...

SAMUEL JULY
ROCKY MOUNT - Samuel July, 69, died October 3, 2012. Funeral services were Thursday, October 11, 2012 at St. James Baptist Church, 2 p.m. Rev. James Worthy officiated. Burial was at Gardens of Gethsemane.
More ...