Subscribe/Access
Advertisements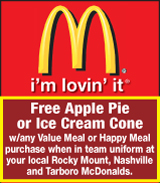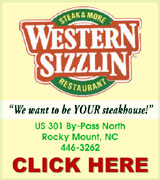 Sections
Member Options
Back
Sanderson Farms picks Nash County
Sanderson Farms announced on Tuesday morning that it has officially selected Nash County as its next base of poultry operations. The news broke in conjunction with the company's third quarter earnings report which cited improved poultry sales compared to last year's downturn. The report also cited higher grain prices and ongoing drought conditions as challenges to the company going forward. More ...
Amelia Harper, Graphic Correspondent
School Board ok's five-year plan
At their meeting Monday night, the Nash-Rocky Mount Schools (NRMS) board approved the administration's five-year strategic plan for the system. By 2018, the plan promises that 100 percent of NRMS students will "reach their full academic potential," "be actively involved in extracurricular and co-curricular activities," and "graduate on time and excel at their school or career of choice…with the skills needed to compete…with an awareness of and a commitment to their community," Dr. Anthony Jackson, NRMS superintendent said. More ...
Michele A. Cruz, Graphic Correspondent
BACK TO SCHOOL
Around 16,000 Nash-Rocky Mount students returned to school on Monday. Pictured above, Nashville Police Officer J.W. Wilkins (at right) gives a pencil to fifth grader Lara Wood while her grandparents, Jane and Chip Wood, look on. More ...

Hospira to expand Rocky Mt. plant
Hospira will expand its operations in Rocky Mount, bringing with it 200 additional jobs and a $270 million capital investment.
Gov. Bev Perdue announced last week that Hospira would modernize and expand the capabilities of its operations in Nash County. Her announcement followed approval of inducement agreements from the Nash County Board of Commissioners as well as from the Rocky Mount City Council. More ...
Amanda Clark, Graphic Staff Writer
FIREMAN'S DAY
The Spring Hope Fire Department hosted the fourth annual Fireman's Day on Sunday afternoon in downtown Spring Hope. The events included entertainment, vendors and a special competition among area fire departments, including junior members. This is the second year the competition has been held. Pictured above, Chris Chappell participates in the bucket brigade competition. More ...

Sheriff's Office begins senior wellness check program
Senior citizens who live alone and their family members can rest easier, thanks to a new program by the Nash County Sheriff's Office.
The program, My Daily Call, is part of Nash County's CodeRED program, a telephone communication service for emergency notifications. More ...
Amanda Clark, Graphic Staff Writer
Tucker earns Volunteer of the Year award
The Nash County Senior Center treasures its volunteers and last week, recognized two special volunteers for their dedication to helping others.
The senior center held its annual Volunteer Appreciation Social last Wednesday afternoon with the theme, "We Treasure Our Volunteers." More ...
Amanda Clark, Graphic Staff Writer
NASH COUNTY SHERIFF'S OFFICE INCIDENT REPORTS
A narcotics violation was reported on 8/20/12 at 302 S. Ash Street
A narcotics violation was reported on 8/20/12 at Ash Street Recreation
A narcotics violation was reported on 8/20/12 at Ash Street Recreation
A narcotics violation was reported on 8/20/12 at Citco Gas Station More ...

NASHVILLE POLICE BRIEFS
ARRESTS
Ashley Millina Brake - 8/20/12 - charged with larceny
Paul Leon Lee - 8/25/12 - charged with larceny and resisting a public officer
Juan Delacruz Alvarez Jr. - 8/26/12 - charged with breaking and entering, failure to appear for driving while license revoked and failure to appear for fictitious registration card/tag More ...

Walk for Life set for Saturday, September 22 at Englewood Park
The Pregnancy Care Center's 22nd Annual Walk for Life is a fun-filled family event scheduled for Saturday, September 22, 2012 at Englewood Park. Registration for the Walk will begin at 9:15 a.m and the two-mile Walk will begin at 10:15 a.m. Through 21 years of Walks, supporters have invested more than $1.7 million in the PCC. More ...
Contributed
BACK TO SCHOOL pics, 1
Nash-Rocky Mount Schools Superintendent Dr. Anthony Jackson and kindergarten student Christian Hudgins step off bus 171 and prepare to enter Coopers Elementary on the first day of school Monday. Jackson surprised Hudgins on Monday morning by riding the bus with him and his brother, Jeremy, who entered first grade this year. (Contributed photo) More ...

BACK TO SCHOOL pics, 2
Nashville Elementary School second grade teacher Linda Martin (at right) watches as Alexis Powell, 10, tries out the guitar at a district-wide back to school event. Powell attends, O.R. Pope School. More ...

PEACHTREE COMMUNITY NEWS
Folks at Peachtree Church were saddened this week-end by the passing of its most senior member, Dallas Robert Edwards, who was 103. He had served on the Deacon Board for many years. With the exception of the years that he was employed by the Newport News Ship Yard, he spent his entire life living at Edwards Cross Roads. More ...
BARBARA HARDISON
MOUNT ZION FWB CHURCH NEWS
Robert Tyner welcomed everyone to Sunday school. We had 83 in attendance with one visitor.
The arrangement of pretty roses were given in memory of Curtis Batchelor by his family.
Our choir sang "Be Still and Know". Pastor Bogle welcomed everyone to worship service. Jason Modlin prayed the prayer of invocation. Hymns of worship were "The Lily of the Valley" and "We're Marching to Zion." More ...
ROSALENE BASS
RED OAK NEWS
"Be A Star!" was the theme of the night Friday, Aug. 24 at Dortches Baptist Church. Children (grades 1-6 and including GA and CiA members), family, and leaders of the North Roanoke Baptist Association were invited to "Be A Star!" and focus on the Star Ideals from Girls' Auxiliary.
More ...
SUZY PEARCE
BEULAH COMMUNITY NEWS
Our sincere sympathy goes out to the family of Billy Daniels who passed away Thursday, Aug. 23 after being in the hospital at Nash General. Billy leaves many family members and friends to mourn the loss. Some of those are his wife, Darwell Griffin Daniels, daughters Libba Daniels, Jan Daniels and Debbie Hodges. Sister, Lula Bell Walker (Jim). More ...
WILMA ENROUGHTY
MILITARY NEWS
Woodfin
Navy Seaman Stephen D. Woodfin, son of Julie A. and Daniel E. Woodfin, of Nashville, recently completed U.S. Navy basic training at Recruit Training Command, Great Lakes, Ill. More ...

City of Rocky Mount workers named "Hometown Heroes"
Brian Marshall, Terry Johnson and Brad Short, all Rocky Mount Public Utilities Gas Division employees, were named Hometown Heroes at the ElectriCities 2012 Annual Conference awards banquet.
The Hometown Hero award recognizes municipal employees who have made outstanding efforts to save a life or lives. More ...

Dr. Martha Chesnutt joins Nash Health Care Board
Dr. Martha Chesnutt, a physician specializing in internal medicine with Boice-Willis Clinic, was named to the Nash Health Care Board of Commissioners.
Originally from Weldon, NC, Dr. Chesnutt has practiced medicine in Rocky Mount for nine years. More ...

Osterhoudt wins award
Chet Osterhoudt, of Edward Jones in Nashville, recently won the firm's Ed Armstrong Award for his exceptional achievement in building client relationships.
Chet Osterhoudt was one of 1,429 of the firm's 12,000 financial advisors to receive the Ed Armstrong award. More ...

Nash County Blood Drives for September 2012
Tuesday, September 4 from 3 until 7 p.m. at the Harrison Family YMCA, 1000 Independence Drive, Rocky Mount
Tuesday, September 4 from 10 a.m. until 4 p.m. at Nash Health Care Systems, 2460 Curtis Ellis Drive, Rocky Mount More ...


Darnell Malloy and Charlie Choate wait patiently for the fish to bite Saturday while fishing in the annual Down East Inner City Youth and Adult Bass Fishing Back to School Championship Tournament.

Youth participate in annual fishing tournament
Thirteen youth came out to the Tar River Reservoir on Saturday to participate in the Down East Inner City Youth and Adult Bass Fishing Back to School Championship Tournament.
The youth, along with adult mentors, set out on the water bright and early Saturday morning and despite the rain, went ahead with their fishing trip. More ...
Amanda Clark, Graphic Staff Writer
Spring Hope Firefighter Day
Spring Hope Firefighter Day was held on Sunday afternoon with entertainment, food, vendors and a competition among area fire fighters. Pictured above (L-R), Haleigh Whitley passes water to Danielle Andelin during the bucket brigade competition. More ...

A break from politics with strange news bits
Next week is September, so I figured I better break out the collection of weird news I have collected in my notebook as well as Chuck Shepherd's clearing house. After all, once the politicians start going full throttle, the bar for weird stuff will get pretty high.
So enjoy: More ...
Mike Brantley
Back to school time!
Where did the summer go?
I bet that's what a lot of kids, and their parents, are saying right about now.
School started for Nash-Rocky Mount kids this week and for some parents, I'm sure it was bittersweet. I was at Nashville Elementary bright and early Monday morning watching the kids arrive at school with the parents. Some were super excited and some had the first day jitters. More ...
Amanda Clark
It's time for honest dialogue about the realities of industrial animal production in NC
In a letter to the editor submitted to the Rocky Mount Telegram by Bob Ford, Executive Director of the North Carolina Poultry Federation, Mr. Ford includes incorrect statements about the regulatory requirements for dry litter poultry operations in this state. In Mr. Ford's letter, he states, "Each farm adheres to a strict nutrient management plan that's written by professional planners and approved by the N.C. Department of Environmental Natural Resources." More ...
Letters to the Editor:
There is another choice for voters on the ballot
Imagine with me for a second; Gary Johnson and Jim Gray as our new president and vice president, respectively. Kind of hard to imagine, huh? That's probably because voters have never heard of either of these men before. This will be a crazy surprise for many of you, but Mitt Romney and Barrack Obama are not the only two candidates in the 2012 presidential race. More ...
LETTERS TO THE EDITOR
We should honor Obama for his leadership
What leadership has President Obama shown about defeating Al-Qaeda?
US Forces killed Osama bin Laden in Pakistan Al-Qaeda on 5-2-11. That was not all! After that date, the following Al-Qaeda leaders were killed, too:
More ...
LETTERS TO THE EDITOR
Why not offer tax break to other companies?
Commissioners & City Council,
Why not grant the same ten year property tax concession for all area employers who expand their hiring and investments in this area? Why would you even consider continuing the unfair practice of "picking and choosing" winners, at everyone's expense? More ...
LETTERS TO THE EDITOR
Nash County Animal Friends' Notebook
I have very little to say this week, except to say WHO LET THE DOGS OUT? OUT to procreate and cause problems? OUT to stray, usually looking for love in all the wrong places. OUT to get into fights with other unaltered dogs. OUT to have LOTS of puppies that showed up this last week at the Shelter. Been pushing them out ASAP to Rescues, but by the time you read this, bet there will be some more!
More ...
Carol Vierela, Nash County Animal Friends
Backward Glances
WHO ARE THEY? –– This photo was originally published in The Graphic October 30, 1975. Members of the Birchwood Ladies' Golf Association were celebrating Ladies' Day activities by dressing as mystery golfers. More ...
A PICTORIAL LOOK INTO THE PAST

TIME OF POSSESSION. Northern Nash's Thomas Roy gains the ball for the Knights during last Thursday's home tie against the Franklinton Red Rams.

Keeper Quandary
RED OAK -- To date, Isaac Welker has found more questions than answers in his first season in charge of an inexperienced boys soccer squad at Franklinton High School.
Welker, however, has discovered one absolute amid a roster that is otherwise dotted with unproven freshmen and sophomores. More ...
GEOFF NEVILLE, Graphic Sportswriter

TANGLED UP WITH YOU. (L to R) Southern Nash's Trey Jerman and Bunn's Walter Snead collide during last Wednesday's soccer showdown at SNHS.

IN NEED OF OFFENSE
STANHOPE -- Benj Daniels was right -- the high-flying days are temporarily over for the Bunn High School boys soccer program.
That doesn't mean, however, that the victories have to stop -- at least in Daniels' estimation. More ...
GEOFF NEVILLE, Graphic Sportswriter

HANG ON. Nash Central High School's Jaquan Wilkins (right) holds on to the ball while being tackled during last Friday night's road football victory against the Smithfield-Selma Spartans.

Sweep For County
ROCKY MOUNT -- Bertie High's football team made a trip to Rocky Mount for the first time since 1979 when it came last Friday evening to face the Gryphons.
RMHS used an opportunistic offense to record a 40-7 win over the Falcons It was the first victory for Rocky Mount in its new digs and Jason Battle's first triumph as a head coach. More ...
CHARLES ALSTON, Graphic Correspondent
ENCFL's jamborees scheduled
NASH COUNTY -- A pair of jamborees will be held this Saturday as teams prepare for the Opening Day of the Eastern North Carolina Football League season.
Nashville, Sharpsburg, Rocky Mount and host Enfield will participate in the Enfield Jamboree at the Old Enfield Middle School in Halifax County. More ...
Staff Reports
HIGH SCHOOL GRID SCORES
NASH COUNTY -- Here are last weekend's results from Week Two of the North Carolina High School Athletic Association Football Season: More ...
Staff Reports
COME BACK TO ME
(L to R) Franklinton's Victor Gonzales (left) tries to catch up with Northern Nash's Zeke Alvarez during last Thursday evening's boys prep soccer contest on the NN campus in Red Oak. More ...


DIAMOND SHINES. Tri-County Arts' Diamond Kinard had the highest individual score of 9.80 at the North Carolina State Games Gymnastics Competition this summer.

State Supremacy
WINSTON-SALEM -- Competitors from Tri-County Arts in Nash County racked up the medals during action this summer in the gymnastics division at the Powerade North Carolina State Games.
Three Tri-County Arts students earned first-place finishes in their respective categories.
Rachel Blankenship not only was the Level 2 9-Year-Old Grand Champion, but the Nashville resident also posted the highest all-around score for the entire meet with an impressive 38.20 points out of a possible 40. More ...
Staff Reports
Mosley, Guzzo join NCHS staff
ROCKY MOUNT -- Nash Central High School has named Michael Mosely as its new Athletic Director.
Coach Mosley was instrumental in starting the athletic program at Nash Central when the school opened in 2002.
He has been a teacher, mentor and coach for many years. More ...
Staff Reports
MACK MASTERS THE SPARTANS
Nash Central High School quarterback Khalil Macklin (with ball) races through the Smithfield-Selma defense during last Friday's football matchup. More ...

Co. Line victors crowned
ELM CITY -- With an overcast sky and a little bit of a cool breeze blowing, folks came out to County Line Raceway for an action-packed night of racing last Saturday.
County Line Raceway celebrated the Wix Filters 100 nights of racing with a full schedule including the Nashville Feed Super Stock 4, PL Woodard Pure Stock V8, DRU Incorporated Open Wheel Modifieds, ARCO Restoration Pure Stock 4 and Rapid Red Racing Supply Thunder & Lightning divisions. More ...
Staff Reports
Shuford shines for LC
WILKESBORO -- The Louisburg College 2012-13 athletic year officially began last Friday night as the Hurricanes women's volleyball team won a conference match over Wilkes Community College, 3-0.
The Lady Canes earned the sweep as they defeated the Cougars 25-19, 25-13, 25-10.
As a team, LC made 19 service aces and they compiled 24 kills in their season opener. More ...
Staff Reports
Salem sails past the Mudcats
ZEBULON -- On their way to cruising through six innings with a three-run lead against the Salem Red Sox Sunday afternoon, the Carolina Mudcats surrendered eight runs with two outs in a 9-5 setback at Five County Stadium in a Class A Carolina League baseball contest.
The Mudcats (29-34, 61-72) held a 4-1 lead when the rally started against reliever J.D Reichenbach (5-7) on a Drew Hedman single. More ...
Staff Reports
Nash Arts to administer grassroots grant monies
Nash Arts is now accepting applications for Grassroots Arts Grant for fiscal year 2012-2013. The Grassroots Arts Program is state-funded through the North Carolina General Assembly and allotted through the North Carolina Arts Council to counties based on population. Nash Arts receives and administers the funds in Nash County for the North Carolina Arts Council as their designated county partner. More ...

CAROLE LEE DAVIS
ROCKY MOUNT –– Carole Lee Davis, 62, of Rocky Mount, died on Saturday, August 18, 2012, at Vidant Edgecombe Hospital in Tarboro. More ...

EARL M. FARMER
Earl McClees Farmer, 82, of Bailey, passed away on Wednesday, August 22, 2012. Funeral services were conducted at 3 p.m. on Saturday at White Oak Hill Free Will Baptist Church in Bailey. Interment followed in Cedar Grove Cemetery, Elm City. The Rev. Reuben Cason officiated. More ...

CAYLEE CORNELIA HALL
Colorado Springs, CO - Miss Caylee Cornelia Hall, aged 1, departed this earthly life on Wednesday, August 22, 2012, at Evans Army Community Hospital in El Paso, Colorado. More ...

EDDIE MORRIS JOHNSON
NASHVILLE - Funeral services for Eddie Morris Johnson, 68, formerly of Hollister, who died on Sunday, Aug. 19, 2012 were Friday, Aug. 24 at Pine Chapel Baptist Church. Burial followed in the church cemetery. More ...

MARY L. WILLIAMS
NASHVILLE - Funeral services for Mary L. Williams, 70, who died on Wednesday, Aug. 22, 2012 were Sunday, Aug. 26 at Union Hill Baptist Church. Burial followed in the Oakland cemetery with Bishop Donnie Graves officiating. More ...

ODESSA HARRIS
ROCKY MOUNT ––Odessa Harris, 61, of Rocky Mount, died on Thursday, August 23, 2012, at Nash General Hospital in Rocky Mount. More ...

WILLIAM "BILLY" MCKINLEY DANIELS
William "Billy" McKinley Daniels, age 84 passed away Saturday, August 25, 2012 in Rocky Mount. He is proceeded in death by his parents Atalee and Mack Daniels, brothers; Harold, Charles, Earl, Harvey "Bo," Eddie, Robert; sister;, Pauline "Polly," and nephew Gene. More ...

SHEILA LEE WARD JOHNSON
Sheila Lee Ward Johnson, the daughter of the late Joseph Elbert and Della Lee Ward of Nash County, was born on February 2, 1948 and passed away August 24, 2012 at the age of 64. More ...

RUBY ELIZABETH "LIBBY" BABB
Ruby Elizabeth "Libby" Babb, age 65, passed away Monday, August 27, 2012. Born in Nash County on November 14, 1946, she was the daughter of the late John and Sara Puckett. More ...

CHARLIE CLIFTON "CLIFF" ALFORD
Charlie Clifton Alford, age 84, passed away Sunday, August 26, 2012. Born in Edgecombe County on January 22, 1928, he was the son of the late Charlie Cooper Alford and Bessie Hamlett Alford. He was also preceded in death by his wife of 62 years, Vivian "Bunny" Alford; brothers, James Edward Alford, Julian Glynn Alford, William Cooper Alford and Roy David Alford; sister-in-law, Mary Lou Alford; brother-in-law, Marcus Wiley Johnson; one great-granddaughter; son-in-law, Timothy Lee Pridgen. More ...

EDWARD ALTON "EDDIE" GLASGOW, JR.
Edward Alton "Eddie" Glasgow, Jr., age 59, passed away Wednesday, August 22, 2012. He was born in Rocky Mount on March 20, 1953, son of Christine Searcy Glasgow and the late Edward Alton Glasgow. More ...

DANCEY WARD
NASHVILLE - Funeral services for Dancey Ward, 53, who died on Thursday, Aug. 23, 2012 will be Thursday, Aug. 30, at 1 p.m. at the Richardson Funeral Home Chapel. Burial will follow in the Oakland cemetery with Rev. Dalphine Moody Solomon officiating. More ...