Subscribe/Access
Advertisements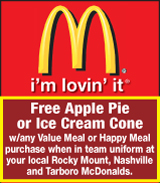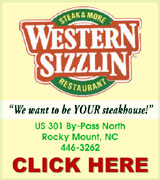 Sections
Member Options
Back
Shooting suspect had Nashville ties
The small town of Nashville has been hurled into the national spotlight since it was revealed that suspected gunman Wade Michael Page spent six months here during 2011 as a resident at a home in Nash County, just outside the Nashville town limits. On Monday, FBI agents swarmed the property at 2582 Sherrod Road, seeking clues as to why Page would walk into a Sikh temple in Wisconsin on Sunday and reportedly slay six people. Three others were critically wounded in the attack which left the suspected lone gunman dead at the hand of law enforcement officers. More ...
Amelia Harper, Graphic Correspondent
Local trio retire from NC Highway Patrol
Three Nashville area men who began working with the North Carolina Highway Patrol around the same time in the early 80s are now celebrating retirement together.
Eddie Thomas, Daniel Bass and Randy Lamm all retired from the Highway Patrol within a month of each other. More ...
Amanda Clark, Graphic Staff Writer
KINDERGARTEN BEACH DAY!
BEACH PARTY –– Sarah Cook and Jerrica King (L-R) enjoy some sprinkler fun on Monday evening during Nashville Elementary's "Beach Day." The event was held as a transition event for the 140 or so students planning to enter kindergarten at Nashville Elementary this school year. Students and their parents were able to get acquainted with their teachers, ride a school bus and just have fun with classmates. More ...

Nashville Board approves special use for dance studio
Nashville's Town Council approved a special use request on Tuesday night to allow a dance studio on Eastern Avenue.
The studio will be located at 2585 Eastern Avenue, across from East Coast Equipment.
Last Wednesday evening, a joint public hearing was held on the request between Nashville Town Council and Planning Board members. No public comments were made. More ...
Amanda Clark, Graphic Staff Writer
Stone announces bid for Nash County Sheriff seat
Captain Keith Stone retired last Wednesday from the North Carolina Highway Patrol and already, he has his eyes set on another law enforcement career; Nash County Sheriff.
Stone, of Red Oak, recently announced that he plans to run for the sheriff seat during the 2014 elections.
Stone said his desire to seek the sheriff seat is one that stems from childhood. More ...
Amanda Clark, Graphic Staff Writer
Spring Hope Police search for bank robbery suspect
Spring Hope Police are looking for the man who committed a strong-armed robbery on Friday afternoon at the First Citizens Bank.
Spring Hope Police Chief Tim Denton said a woman pulled up to the outside drive through at the First Citizen's Bank around 2:30 p.m. on Friday to cash a check for a man she was driving for. More ...
Amanda Clark, Graphic Staff Writer
School Board ok's funds for middle school renovation
The Nash-Rocky Mount Schools (NRMS) board unanimously approved the use of $700,000 to renovate the old high school building in Rocky Mount into a middle school for 2013-14.
Dr. Anthony Jackson, NRMS superintendent, told the board at their meeting Monday night that earlier that day the Nash County Commissioners had approved the use of $519,000 in education lottery proceeds for use in the renovation process. More ...
Michele A. Cruz, Graphic Correspondent
Nash to hold public hearing on economic development project
Nash County Commissioners will hold a public hearing in a few weeks to receive comment on an inducement agreement for an economic development project.
Commissioners met for their regular meeting on Monday morning. At the end of the meeting, commissioners moved to closed session to discuss pending litigation and to consider the discussion of matters related to an economic development project. More ...
Amanda Clark, Graphic Staff Writer
NASHVILLE POLICE REPORTS
ARRESTS
Bonnie Lynise Bottoms - 7/31/2012 - charged with driving while intoxcated
Natasha Davis Silver - 8/2/2012 - charged with embezzlement
Marvin Worley - 8/4/2012 - charged with driving while intoxicated More ...

NASH SHERIFF'S OFFICE INCIDENT REPORTS
A breaking, entering and larceny to a residence and damage to property was reported on 7/30/2012 at 10198 Edwards Road
A breaking, entering and larceny to a residence and injury to real property was reported on 7/30/2012 at 640 Bass Road More ...


One of the photos found in the home

Man seeks to find Nash County soldiers
Jason Hale of Rocky Mount is reaching out to find two men whom he has never met, or at least a family member of each one.
Hale's grandfather purchases older manufactured homes. He reconditions and either rents or sells the homes. Jason was cleaning out one home recently and stumbled across pictures taken in Vietnam of two Nash County soldiers along with a newspaper clipping. More ...

Local woman wins award for cake recipe
Jamie Beecham, of Nashville, was recently awarded a blue ribbon for her Cherry Smashed Cake recipe.
Beacham's cake was awarded the blue ribbon from the Just a Pinch Recipe Club, a new online social community created for and by cooks.
Beecham said she hasn't been a member of the Just a Pinch Recipe Club long but said she joined so that she could start trying other's recipes. More ...
Amanda Clark, Graphic Staff Writer
ENGAGEMENT
Mr. and Mrs. Robert Tyner of Nashville announce the engagement of their daughter, Sarah Michelle Tyner to David Leon Montague, son of Mr. and Mrs. Dallas Montague of Wilson. The wedding will take place October 20, 2012 at Mount Zion Free Will Baptist Church, in Momeyer. More ...

Harvest Family Health celebrates National Health Center Week
Harvest Family Health Center is recognizing National Health Center Week with an open house on Thursday, August 8 between 12- 2 pm at their clinic located at 8282 North Carolina Highway 58 South in Elm City. The open house will showcase the broad scope of services available to community health center patients. Refreshments will be served and all members of the community are invited. More ...

BIRTH ANNOUNCEMENT
Russell and Cherie Winstead, of Wilson, announce the birth of their son, Gavin Charles Winstead. Gavin was born May 16th, 2012 and weighed 5 pounds, 13.5 ounces and was 19 inches long.
Maternal grandparents are Larry and Tammy Fowler of Newsoms, VA. Maternal great-grandparents are Ellaree Hyder of Courtland, VA and the late Earl Hyder and Julia Fowler of Newsoms, VA and the late Julian Fowler. More ...

Pillow stuffing
The WMU women of Edgemont Baptist Church held their annual pillow stuffing for Nash General mastectomy patients on August 7, 2012. Forty pillows were made from the fabric and batting which was given to the church by an anonymous donor. The women said they would like to thank the donor for the gracious contribution to the pillow project. Picture is Linda Bulluck holding two of the pillows. More ...

MILITARY NEWS
Keith J. Smith has been promoted to the rank of staff sergeant in the U.S. Army.
Smith is a signal support systems specialist assigned to 82nd Field Artillery Regiment, 1st Brigade, 1st Cavalry Division at Fort Hood, Texas. The new staff sergeant has served in the military for 13 years. More ...

Spring Hope Board approves ordinance to allow chickens
Chickens are now allowed within the city limits of Spring Hope.
After months of working on an ordinance amendment and listening to opinions of citizens, commissioners approved an ordinance amendment on Monday night that allows chickens, with certain restrictions, in residential zones. More ...
Amanda Clark, Graphic Staff Writer
Filing for school board ends
Only one school board seat will be contested in the November general elections.
Filing for available seats on the Nash-Rocky Mount School Board began on July 6 and ended on Friday, August 3.
Six seats are up for grabs on the school board in the upcoming elections but only the District 5 seat will have two vying for the one available seat. More ...
Amanda Clark, Graphic Staff Writer
HORSE CAMP
A Clover Bud Horse Camp was held last week, July 31 through August 2, at Circle J Farm in Nashville. The class was taught by Wanda Bunn. Youth ages five to eight learned about proper horse care and riding skills. Pictured above, Mattie Taylor learns how to maneuver around a cone while riding a horse. More ...

Grant
Nashville's Harold D. Cooley Library received a $5,000 grant from the Upper Coastal Plain Learning Council. Nashville's Library was one of only three libraries who received the grant. Pictured (L-R) is Dr. Kathy Lawson, of the Upper Coastal Plain Learning Council, Brian Booth, Cooley Library Associate and Cindy Peck, of the Upper Coastal Plain Learning Council. More ...

Engineering Camp
Middle Schoolers from Nash, Wilson, Halifax and Northampton Counties attended an Engineering Camp at Wesleyan College July 16-20. The camp concluded with Dr. Nancy Currie, Principal Engineer at the NASA Space Center, talking to youth about what is was like to be an astronaut. More ...

Nash County Blood Drives August 2012
Thursday, August 2 from 3:30 until 7:30 p.m. at West Mount Volunteer Fire Department, 7955 West Mount Drive, Rocky Mount
Friday, August 3 from 12 until 5 p.m. at Golden East Crossing Mall, 1100 N. Wesleyan Boulevard, Rocky Mount More ...

VBS
Nashville United Methodist Church held their annual Vacation Bible from July 15-19. This years theme was "SonRise National Park" and the Scripture was Philippians 4:19, "And my God will meet all your needs according to his glorious riches in Christ Jesus." Each night the children were able to hear a Bible Story and learn why we can trust Jesus to help us with all our needs. More ...

MOUNT ZION FWB CHURCH NEWS
I was not able to attend Sunday school or church on Sunday but I got a CD of the morning service, so I am writing from information received from the CD and bulletin. Our attendance was down to 77 in Sunday school. Maybe we'll all be back next week including me. More ...
ROSALENE BASS
PEACHTREE COMMUNITY NEWS
On a beautiful August morning Peachtree folks gathered for worship. In the absence of Pastor Whitehouse, the pulpit was filled by Dr. Wendy Edwards. [She is the Regional Elder Care Director with the NC Baptist Aging Ministry.] She brought an inspiring sermon based on Hebrew 5:11. She said there was apostasy in the early church, just as there is the church and world today. More ...
BARBARA HARDISON
Brooklyn Community News
Are you interested in community work, maybe starting a community watch or just gaining a better understanding of the daily operations of a police officer? If you answered yes to any of these questions you cannot afford to miss this upcoming Nashville Citizen Police Academy. This FREE event will take place Thursday, August 9th at the Nashville Police Department. More ...
LENA SESSOMS
BEULAH COMMUNITY NEWS
We want to thank each of you who attended our monthly fish fry on Friday night. We got started a little late but thank you for your patience and understanding. Some of our regular help were sick and some were out of town.
Mickey and Bonnie Matthews are really enjoying two of their grandchildren spending time with them. More ...
WILMA ENROUGHTY
Fundraiser
Charles Malone (at right), Democratic candidate for Congress in the 13th N.C. District, met recently with former Congressman Tim Valentine (center), of Nashville, and Mrs. Valentine (far left) at a fundraiser for gubernatorial candidate Walter Dalton in Wilson. Malone's grandfather, the late A. E. Winborne, was born near Middlesex. More ...

United Daughters of Confederacy Bethel Heroes
Wallace Abernathy, member of the Captain Jesse S. Barnes Chapter of the Sons of Confederate Veterans was the guest speaker at the UDC Bethel Heroes July meeting.
Wallace spoke on two important subjects, the first of which was the Wilson Confederate Hospital. Built originally as the Wilson Female Seminary in 1859, the structure, headed by Dr. S. S. Satchwell, served as one of 21 North Carolina Confederate hospitals during the Civil War. More ...
HELEN SHARPE
SERVICE AWARD
Paul Shaw was recently awarded a 30-year Chevrom for his service with the Nashville Lions Club and Lions Club International. Pictured (L-R) is Past District Governor and Nashville Lion Jim Boehm with Paul Shaw.
More ...

A few Olympic ideas for the Common Man
Maybe you got caught up in Olympic fever over the last week or so. Sure, Gabby Douglas was impressive, but how fast can she clean up a glass of spilled milk?
I enjoyed the women's beach volleyball, the swimming and women's soccer exploits as much as anyone. But I'm thinking the Olympics need an event in the gap between the Summer and Winter games, something for the Common Man. More ...
Mike Brantley
Here we go again . . . Corbin is getting a baby brother!
Just over a year ago, my life changed forever.
I became a mom.
To say the past year has been interesting would be an understatement. It's been way more than interesting.
I've learned a lot of things about babies, baby boys in general. Some of the things I've learned have been terrifying. More ...
Amanda Clark - 1 opinion posted
It's high time we cut government charity and tighten budgets
The recurring financial problems for the town of Princeville should be a "teaching" moment for many towns and cities heading in the same direction. Simply put, Princeville does not have a large enough base of private sector workers and middle class to rob and plunder for the benefit of a welfare class, dependent on public services at little or no cost. More ...
Letters to the Editor:
Backward Glances
NASHVILLE BICENTENNIAL MARKER – This photo originally published in The Graphic August 26, 1975. Nashville Mayor Rex Paramore (with shovel) spoke briefly during ceremonies at which the town's bicentennial marker was erected on the Battleship median. Facing Mayor Paramore is M.W. Weaver, chairman of the Nashville bicentennial Committee which was developing plans for local participation in bicentennial activities. More ...
A PICTORIAL LOOK INTO THE PAST

READY TO SERVE. Nash Central High School's Randi Price unleashes a powerful serve during a recent girls tennis practice session at the NC Courts.

SUSAN'S STARS
ROCKY MOUNT -- Nash Central's best-ever girls tennis season last fall might even be improved upon in 2012.
That's because the Lady Bulldogs return each member of their Top Six from a club that went undefeated before getting edged by long-time power Cardinal Gibbons in the semifinals of the Class 3-A State Team Playoffs. More ...
GEOFF NEVILLE, Graphic Sportswriter
Ricks to compete at event
RED OAK -- Jessica Ricks, a rising Junior at Northern Nash High School has recently been selected to compete in the Queen of Diamonds Showcase South (QDSS) at Winthrop University in Rock Hill, S.C. on August 24-25. More ...
Staff Reports

LISTEN UP. Nash Central High School head football coach Kevin Crudup guides his team through a drill during a Monday practice session at the school. The Bulldogs will scrimmage Bunn today at the NCHS Practice Field in Rocky Mount.

Another Huge Year For NC?
ROCKY MOUNT -- Nash Central earned a taste of gridiron success last season, but head coach Kevin Crudup hopes that was just an appetizer -- with the main course to arrive soon.
The Bulldogs were dominant in 2011, with only league nemesis Wilson Hunt keeping them from a possible deep playoff run. More ...
GEOFF NEVILLE, Graphic Sportswriter
Northern will host jamboree
RED OAK -- The Northern Nash Boys Soccer Jamboree will be held Thursday beginning at 5:30 p.m. on the NNHS campus.
In addition to host Northern Nash, other entrants are Louisburg and Southern Nash.
The event schedule is as follows: More ...
Staff Reports
NCWC announces newest HOF class
ROCKY MOUNT -- Since 1999, North Carolina Wesleyan College has honored 51 former athletes, administrators, teams, coaches and contributors by enshrining them in its Athletics Hall of Fame.
These individuals have created a higher standard for Battling Bishop athletics and were selected based on their outstanding accomplishments and/or contributions to the College.
More ...
Staff Reports
Miracle Shoot slated at Rose Hill's facility
NASHVILLE -- Clay targets, skill shooting contests, games, vendor booths and industry demonstrations are on tap for the 17th Annual Colony Tire Sporting Clays Miracle Shoot, to be held Friday August 24 and Saturday August 25, 2012 at Rose Hill Sporting Clays in Nashville. More ...
Staff Reports
LIZZIE LETS ONE FLY
Nash Central High School's Lizzie Eakin rips a forehand during Monday afternoon's practice action for the Lady Bulldogs' girls tennis squad. Nash Central, coached by Susan McCarthy, is the defending Big East Conference champion. More ...

Exciting finishes at CLR
ELM CITY -- After several weeks of a very temperamental mother nature, fans, staff, crews and drivers were ready to get a little sideways at County Line Raceway last Saturday night.
With a packed schedule of racing, the anticipation was in the air.
Out first was the Nashville Feed Super Stock 4 division with James Manning and John Proctor starting on the front row. More ...
Staff Reports
Mudcats rally to top Lynchburg
ZEBULON -- Jesus Aguilar's only hit of the afternoon proved to be the most important as the Carolina Mudcats shocked the Lynchburg Hillcats 7-6 in front of 1,734 on Sunday afternoon at Five County Stadium in a Class A Carolina League baseball matchup.
Trailing 6-4 going into the bottom of the eighth, the Mudcats (22-21, 54-59) rallied for two runs to tie the score and set up the thrilling finish. More ...
Staff Reports
EAST-WEST COACHING PICKS
GREENSBORO -- Here is the complete list of coaches for the 2013 North Carolina/South Carolina Basketball and East-West All-Star Games: More ...
Staff Reports
JACK ARNOLD 'COLLINS SR.
Jack Arnold Collins Sr., 73, passed away, Thursday, August 02, 2012. He was born April 27, 1939 in Nash County to the late George Clifton and Laura Hyde Collins. More ...

DEBORAH GASTER SHEARIN
Deborah Gaster Shearin, 53, passed away, Sunday, July 29, 2012. She was born October 14, 1958 in Wilson County to the late Raymond H. and Dorothy Dew Gaster. More ...

MAMIE LEE LEONARD
Mamie Lee Leonard, age 91, passed away Friday, August 03, 2012. Born in Whitakers on February 03, 1921, she was the daughter of the late Frank D. Hudgins and Nora Virginia Barnes Hudgins. She was also preceded in death by her husband of 55 years, W.H. "Sam" Leonard. More ...

LOVETT LAWRENCE "TINNY" JOHNSON
Lovett Lawrence "Tinny" Johnson, age 73, passed away Friday, August 3, 2012. He was born on August 26, 1938 in Edgecombe County, son of the late Grover Cleveland Johnson and Myrtle Pearce Johnson. In addition to his parents, he was preceded in death by brothers, Archie Derwood Johnson, Jesse Howard Johnson and Morris Wayne Johnson; a sister, Nellie Mae Grinnell. More ...