Subscribe/Access
Advertisements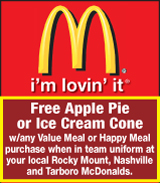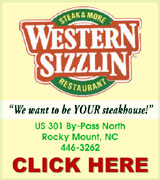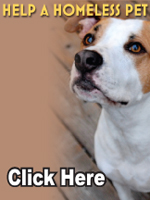 Sections
Member Options
Back
Committee views revised attendance maps
Based on the Nash-Rocky Mount Schools board's priorities, Mike Miller of Operations Research and Education Laboratory (ORed) presented revised maps of attendance zones for all 25 schools to the Student Reassignment Committee at their meeting Monday night. These maps are posted on the NRMS website for the committee and the community to evaluate and comment on. More ...
Michele A. Cruz, Graphic Correspondent

Tweedy

NNHS teen killed in accident
A Northern Nash High School junior was killed in a single-vehicle accident on Monday afternoon.
The accident occurred around 2:30 p.m. on Reges Store Road. According to a Highway Patrol report, 16-year-old Alexandra Meredith Tweedy was traveling down Reges Store Road when she ran off the road to the right and came back on the road, over corrected and ran off the road again. The vehicle she was driving collided with a ditch, some bushes and then overturned, coming to rest near a utility pole in someone's yard. More ...
Amanda Clark, Graphic Staff Writer

Heidi Frazier was surprised as the 2012 recipient of the Julie Bowling Professional Caregiver of the Year Award.

RELAY FOR LIFE
A sea of purple was all that could be seen at the start of the 18th annual Nash County Relay for Life on Friday evening, as survivors took their celebratory lap around the track.
The survivor lap always starts the annual Relay for Life event, an event that raises money to fight cancer.
Chrissy Moore, Co-Chair for Relay, said celebrating survivors is what Relay for Life is all about. More ...
Amanda Clark, Graphic Staff Writer
Nashville budget is presented
Nashville Town Manager Preston Mitchell presented the town's $8.5 million proposed budget for the 2012-2013 Fiscal Year to town council members at the board's regular meeting on Tuesday night.
The budget is a $697,000 increase from the budget adopted for the 2011-2012 Fiscal Year. More ...
Amanda Clark, Graphic Staff Writer
W.L. Greene will close next year
Beginning next school year, the current W. L. Greene Alternative School campus in Nashville will be closed to students. Nash-Rocky Mount Schools (NRMS) assistant superintendent LeRoy Hartsfield shared the administration's plan to redesign the system's alternative school programs with the board at their work session last Thursday. More ...
Michele A. Cruz, Graphic Correspondent
Nash teens arrested for robbery
Four Nash County teenagers have been charged with robbing a man in Greenville and police are still looking for a fifth suspect.
According to police, 22-year-old Demarcus Black was shot in the leg on April 15 while trying to flee after being approached by four suspects. Black was reportedly riding around with two girls he met at a club when the four suspects approached the vehicle as it was stopped. More ...
Amanda Clark, Graphic Staff Writer
Nashville Chamber hosts candidate forum
Sanderson Farms was a hot topic of discussion during a recent candidate forum sponsored by Nashville's Chamber of Commerce.
The forum was held for those seeking the District Four Nash County Commissioner seat. Four candidates are running for the seat, with incumbent Danny Tyson and Lisa Stone Barnes vying for the Republican ticket and Bert Daniel and Jerry Harris vying for the Democratic ticket. More ...
Amanda Clark, Graphic Staff Writer - 2 opinions posted
NASHVILLE POLICE BRIEFS
ARRESTS
Deshaun Davis - 4/17/2012 - charged with trespassing
Melissa Carol Ramirez - 4/19/2012 - charged with simple worthless check
Eric Woodard Morris - 4/21/2012 - charged with liquor law violations More ...

National Day of Prayer to be observed Thursday
A National Day of Prayer celebration will be held Thursday, May 3, 2012 at 12:00 noon on the Nash County Courthouse steps in Nashville. This event is sponsored by Nashville area churches, the public is invited to participate. Coordinator for the event is Rev. Vernon Potter of the Ebenezer Pentecostal Holiness Church. Call 252-459-2188 for more information. More ...

FOOD DRIVE BENEFITS BACKPACK BUDDIES PROGRAM
The School Nutrition Association of Nash-Rocky Mount Public Schools has just completed a food drive to benefit Backpack Buddies. Backpack Buddies are programs run by various churches and nonprofit agencies that provide meals to students in need. Each Friday, more than 200 students in the district receive a back pack with non-perishable ready to eat foods to help throughout the weekend. More ...

Local youth participate in 4-H Livestock Show and Sale, 1
Nash County youth recently participated in the Eastern Carolina 4-H Livestock Show and Sale in Rocky Mount. Pictured are the Nash County Livestock Show and Sale participants with seniors Aaron Hartsell, Michaela Cary and Rebecca Peede seated on the front row left to right. More ...

N-RMS System faces tough budget decisions
Nash-Rocky Mount School Superintendent Anthony Jackson presented his proposed budget to board members last Thursday with a decided air of reluctance.
"If I had to choose, this is not the budget I would prefer to present," he told members of the board of education at a work session on April 29. " I would prefer an expansion budget instead of a maintenance budget. But we need to align our priorities with the available resources." More ...
Amelia Harper, Graphic Correspondent
Nash Soil and Water Poster, Essay Contest Winners
POSTER WINNERS - Fifth graders from Nashville Elementary School were recently recognized by Thomas Sledge, Natural Resource Conservationist, for their winning posters in the Nash County Soil and Water Poster and Essay Contest. Pictured (L-R) is: Jacob Chappell, first place winner, Thomas Sledge, Natural Resource Conservationist, Stephen Tucker, second place winner, and Shania Zunie, third place winner. Jacob also was the second place winner in the county for his poster. More ...

All-County Honors Band performs at Dunn Center
With close to 200 sixth through twelfth grade student musicians, the Dunn Center at Wesleyan College came to life recently with the vibrant sounds of the 2012 All-County Honors Band.
Students representing all middle and traditional high schools in the Nash-Rocky Mount Public School System were selected by their band directors to be a part of the Honors Band and have been eagerly awaiting this event. More ...

Winham appointed to director position
Amy Winham, PT, of Nash Health Care, was recently named director of performance improvement for Nash Health Care. In her new role, Winham will assist with preparing Nash Health Care for future accreditation surveys as well as follow-ups required during the post-survey response period. She will also play a key role in leading Nash Health Care's performance improvement initiatives. More ...

Nash Recreation works to start new football program in Red Oak
RED OAK -- Nash County's formula for youth football success has worked so well at Southern Nash that the other end of the county also wants a piece of the pie.
The Nash County Parks and Rec Firebirds have proven to be a solid feeder program for Southern Nash, all the while winning two Statewide Athletics Committe State Championships and four Eastern North Carolina Football League crowns. More ...
GEOFF NEVILLE, Times Sportswriter
SAVING LIVES
The Allied Health Science II class at Southern Nash High School recently hosted a blood drive for the Red Cross. Students, staff and parents donated 190 pints of blood. Up to 3 lives are saved with each pint of blood!! (Contributed photo) More ...

Braswell, Cooley Libraries now sharing collections
Harold D. Cooley and Braswell Memorial Libraries are opening their collections up to one another and hoping other libraries will soon follow suit.
Beginning May 1, patrons of either library were able to check out books from either library. Books could be returned to either library as well. In addition, patrons are able to use the libraries' software system to request materials from either library. More ...
Amanda Clark, Graphic Staff Writer
Advocates honored during Child Advocate Month
Outback Steakhouse, located at 210 Gateway Boulevard, provided a luncheon to recognize the contributions of Guardian ad Litem (GAL) child advocates in Edgecombe, Nash, Wilson, Halifax, Hertford, Northampton, Bertie Counties on April 16th, 2012. Every April, several Outback Steakhouses throughout North Carolina donate their services to honor GAL volunteers in celebration of North Carolina GAL Child Advocate Month. More ...

HOT FEET IN ACTION
Pictured above, Coopers Elementary School students hide their faces under a parachute during one of many events held during Hot Feet in Action at Glover Park. More ...

KIWANIS HONOR
Nash Central Middle School received honors from President Ed Vann, right, at the Rocky Mount Kiwanis Club luncheon on April 26. Recently chartered "Valentine Community Builders Club" Advisor Mary Jo Karner, left, received a Certificate of Appreciation, and President Brittany Cherry and Treasurer Octaveus Taylor, center left to right, received recognition as Students of the Week. More ...

MOUNT ZION FWB CHURCH NEWS
We were delighted to have 101 in Sunday school including 3 visitors. Robert Tyner welcomed everyone. Allie Farmer read the Bible verse for today.
Our choir sang "When the Battle's Over" for the call to worship. Usher Tim Bass prayed the offertory prayer. We all sang the doxology in praise to God and then greeted one another. More ...
ROSALENE BASS
BEULAH COMMUNITY NEWS
Well friends, this Friday night will be our monthly fish fry again from 4-8 pm at the Beulah annex on Reges Rd. We look forward to seeing you again. We thank you for your continued support and fellowship. More ...
WILMA ENROUGHTY
PEACHTREE COMMUNITY NEWS
On a beautiful spring morning folks gathered at the church for worship. Pastor Whitehouse chose as his sermon topic "Truth and Value of the Gospel in the Power of the Holy Spirit." He said that the Charter of the Church is found in I Peter 4:11. The local church is part of the church universal and is here to carry out God's work on earth. The adult choir sang "O The Love of my Redeemer." More ...
BARBARA HARDISON
CHARM visits Graphic
Pictured above are students in the second group who visited The Graphic. Students included Andrew Grissom, Anthony Grissom, Anna Kathryn Grissom, Alex Grissom, John Rondon, Joshua Rondon, Anna Busch, Lydia Bush, Chris Bush, Bronson Harrell and Jameson Harrell. More ...

Nashville Scouts attend Camporee
On April 27-29, 2012 Boy Scout Troop 76, Sponsored by Nashville Baptist Church, attending the East Carolina Council Spring Camporee held at Camp Boddie located in Blounts Creek NC. During this event these scouts competed in events such as campsite inspections, scouting trivia, primitive fire building, plant identification, first aid, knot tieing, canoe racing, bicycle racing, tommohawk throwing, rifle shooting and numerous other events. More ...

Parks is Morehead-Cain Scholar
The Morehead-Cain-the oldest, most prestigious merit scholarship program in the United States-will welcome 51 new scholars in the Class of 2016 to the University of North Carolina at Chapel Hill in August.
Twenty-six of the newest Morehead-Cain Scholars are from North Carolina high schools; 19 are from other U.S. high schools. The class will also include three British and three Canadian scholars. More ...

MAY 8 PRIMARY BALLOT INFORMATION
All Ballotts:
Community College Bonds:
Shall the order adopted on March 5, 2012, authorizing not exceeding $9,500,000 GENERAL OBLIGATION COMMUNITY COLLEGE BONDS of the County of Nash, North Carolina, More ...

Government waste and ways to fix it
As is tradition, the Soapbox takes two weeks every year to address wasteful government spending and the out-of-control folks in Washington who are piling on debt. We compile our findings via information gathered by the non-partisan group, Citizens Against Government Waste (CAGW). More ...
Mike Brantley
It's time to build a coop, or a dog house
There are chickens in my living room. Yes, chickens.
It all started as a "temporary" thing. But that was three weeks ago.
My husband has been on my case for well over a year about us getting chickens so we can have fresh eggs. I've delayed the chicken conversation for as long as I could but I knew it would eventually happen. More ...
Amanda Clark
Please support NCC bond
Community Colleges were created to provide low cost and easy access within 30 miles or 30 minutes to the thousands who desired higher education. Many of these applicants were first generation college students for whom the traditional four year boarding school was not a viable option. More ...
Letters to the Editor:
Citizen says no to NCC bond
Over the past weeks I have read a number of articles and letters regarding the Nash Community College Bond issue. In all the various articles and letters none have really touched on the purpose of the bond issue; the building of facilities to train public servants. More ...
Letters to the Editor:
Backward Glances
This photo was found in The Graphic's 1962 archives of a parade in downtown Nashville. More ...
A PICTORIAL LOOK INTO THE PAST
Nash County Animal Friends' Notebook
SPRING and LOVE is in the air. As a result, we will be seeing more and more litters of babies at the Nash County Animal Shelter. It is already happening,. Last Thursday, we were able to obtain rescue for 2 litters and went on Friday morning to take them out and found another litter! Before we got back from Raleigh, there was a second litter. Sometimes we feel like a hamster on a wheel. More ...
Carol Vierela, Nash County Animal Friends

LIKING THE LOOK OF IT. Southern Nash's Josh Harden follows this drive during Monday afternoon's Big East Conference golf action. The event was held at Birchwood Country Club in Nashville.

DEMON-IZED AGAIN
NASHVILLE -- Given Fike's long-time dominance of the Big East Conference Golf Standings, it was a surprise in itself that Southern Nash still entertained Golfer of the Year and Regular Season Team Champion aspirations heading into Monday's league finale at Birchwood Country Club.
But Southern was unable to follow through on both counts as Fike's dynasty atop the Big East continued for yet another campaign. More ...
GEOFF NEVILLE, Graphic Sportswriter

GLIDE AND COLLIDE. Northern Nash's Chandler Bass (center) and Southern Nash's Desiree Perry get tangled up while trying to locate the ball during Monday's first-round match of the Big East Conference Girls Soccer Tournament in Red Oak.

NN Claims Tourney Opener
RED OAK -- Once the dam broke, it did so in a big way for the Northern Nash High School girls soccer team.
After squandering a slew of scoring chances in the first half, the Lady Knights found the twine a whopping five times after the break to secure a 5-0 victory over Southern Nash in the first round of the Big East Conference Tournament. More ...
GEOFF NEVILLE, Graphic Sportswriter
Spikers welcome at SNHS
STANHOPE -- Southern Nash High School will host its annual Ladybird Volleyball Camp on June 12-13 at the SN Gymnasium.
Times will run from 3:30-7 p.m. each day. Cost is $30 per camper.
Participants in grades 4-12 are welcome. A snack will be provided, and a T-shirt will be given to each camper. More ...
Staff Reports
Spikers welcome at SNHS
STANHOPE -- Southern Nash High School will host its annual Ladybird Volleyball Camp on June 12-13 at the SN Gymnasium.
Times will run from 3:30-7 p.m. each day. Cost is $30 per camper.
Participants in grades 4-12 are welcome. A snack will be provided, and a T-shirt will be given to each camper.
More ...
Staff Reports
NC WESLEYAN AWARD WINNERS
NORTH CAROLINA WESLEYAN ATHLETES OF THE YEAR. Robert Kjellberg (left, men's tennis) and Mackenzie Tingle (right, volleyball) were honored recently as North Carolina Wesleyan College's Athletes of the Year. They are pictured with NCWC Athletic Director John Thompson. More ...

Northern Nash, RM win tourney games
RED OAK -- Northern Nash's baseball team rallied from a 9-3 deficit Monday night to Wilson Fike in its opening game of the revived Big East Conference Baseball Tournament to sneak past the Golden Demons 10-9 at Death Valley.
The Knights (10-10), seeded third in the tournament, traveled to No. 2 seed Nash Central (9-10) Tuesday evening to see who will advance to the tournament finals Thursday evening. More ...
CHARLES ALSTON, Graphic Correspondent
Bulldogs settle for 2nd in conference
WILSON -- Nash Central was oh so close to winning its first-ever baseball conference title when it traveled last Thursday even to face Wilson Hunt in the regular season finale for both squads.
But Hunt had fortune on its side as senior Parker Lamm scored from first on a Jacob Page double to give the Warriors a 5-4, eight-inning triumph and the Big East Conference title. More ...
CHARLES ALSTON, Graphic Correspondent
A BIG YEAR FOR BETSY BRASWELL
FIRST-YEAR IMPACT. Former Northern Nash standout Betsy Braswell enjoyed a strong freshman season this spring as a member of the Wingate University softball squad. Braswell earned All-South Atlantic Conference honors as a catcher after batting .336 with eight home runs. She led the Bulldogs in homers, total bases and slugging percentage. Wingate closed its season at 26-24 overall. More ...

SAND SAVE
Nash Central's Ryan Phillips gets up and down out of a bunker during Monday's Big East Conference Golf Match at Birchwood Country Club in Nashville. More ...

Strickler a winner at CLR
ELM CITY -- With a cloudy, overcast sky lingering over County Line Raceway, fans filled the stands and drivers filled the pits in anticipation of a full night of heavy racing action last Saturday.
On the schedule was the Nashville Feed Super Stock 4's, the ARCO Restoration Pure Stock 4's, P.L. Woodard Pure Stock V8's, Barnes Equipment Late Models & DRU Inc. Open Wheel Modifieds. More ...
Staff Reports
RMHS schedule is released
ROCKY MOUNT -- Rocky Mount High School will get to open its new football stadium before its students even get to set foot in their new classrooms.
The Gryphons, with new head coach Jason Battle at the helm, will open their new gridiron home on Bethlehem Rd. on the strength of three straight home games to kick off the 2012 season. More ...
CHARLES ALSTON, Graphic Correspondent
State continues winning ways
RALEIGH -- Danny Canela hit a pair of homers, but Logan Ratledge's RBI double in the eighth proved the difference for No. 19 North Carolina State in an 8-7 win over Duke to sweep the series Sunday at Doak Field at Dail Park in Atlantic Coast Conference baseball action.
State (30-12, 16-8 ACC) fell behind 2-0 in the top of the first, but knotted the score in the bottom half before taking a 3-2 lead in the third. More ...
Staff Reports
MICHELLE MARIE MITCHELL MCGUIRE
NASHVILLE –– Michelle Mitchell McGuire, 43, passed away Monday April 23, 2012. She was born January 28, 1969 in Everett, Washington. She was preceded in death by father John E. Mitchell. More ...

PATRICIA VERNON BINGHAM
Patricia Vernon Bingham, 62, passed away Wednesday, April 25, 2012. She was born in Wilkes County October 16, 1949 to the late Carl and Albertine Vernon. More ...

FLORA BUNDY LAMM
Flora Pearl Bundy Lamm, age 76, passed away on Monday, April 30, 2012. Born in Elizabeth City on February 02, 1936, she was the daughter of the late Haywood Garland Bundy and Monna Ivy Staples Bundy. She was also preceded in death by her husband of 43 years, James William Lamm; sisters, Hazel Ferrell and Ethel Cartwright; and brother, Victor Bundy. More ...

LULA DAVIS COBB
Lula Davis Cobb, age 91 passed away April 26, 2012. She was born April 15, 1921 in Nash County to the late William Barry and Maggie Jane Parker Davis. More ...

HAZEL GURGANUS CARTER
Hazel Gurganus Carter, age 81, passed away Wednesday, April 25, 2012. Born in Enfield on April 18, 1931, she was the daughter of the late Quincy Eugene Gurganus and Nannie Hux Gurganus. She was also preceded in death by her husband of 23 years, Leland Clester Carter; baby sister, Joyce Marie Gurganus; and brother, James Gurganus. More ...

THOMAS "TOMMY" PAUL BENSON, JR.
Thomas "Tommy" Paul Benson Jr., age 57, passed away on Tuesday, April 24, 2012. Born in Nash County on April 09, 1955, he was the son of the late Thomas Paul Benson Sr. and Frances Caroline Jilcott Benson. He was preceded in death by his sister, Frances Elizabeth Benson. More ...

ALEXANDRA MEREDITH TWEEDY
NASHVILLE - Alexandra Meredith Tweedy, 16, passed way on Monday, April 30, 2012 after being involved in an automobile accident. Born in Greenville SC on May 24, 1995, she was the daughter of Scott and Susan Tweedy of Nashville. She was preceded in death by her grandfathers, Tom Palmer and Jack Jackson; and paternal grandparents, Glenn and Bonnie Tweedy. More ...