Subscribe/Access
Advertisements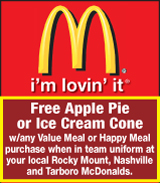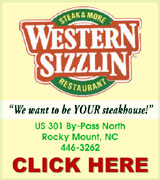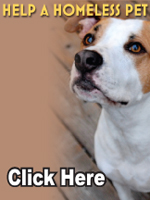 Sections
Member Options
Back
Superintendent addresses SNHS rumors
The Superintendent of Nash-Rocky Mount Schools is addressing what he said is misinformation in the community regarding an incident at Southern Nash High School that occurred on March 20 at the school.
A 15-year-old student at the school has been charged with attempted first degree murder after walking up behind a fellow student, 16-year-old Jasmine Barnes, in between classes and cutting her throat with a scalpel. More ...
Amanda Clark, Graphic Staff Writer
NPD Chief announces retirement
The Town of Nashville will soon have to start looking for a new police chief, as Chief Bill Creech has announced his retirement.
Town Manager Preston Mitchell informed council members of Creech's plans at the regular board meeting on Tuesday night. More ...
Amanda Clark, Graphic Staff Writer

Spring Hope Elementary School third grader Marvin Espiritu is paraded around stage by the 2011 Womanless Queen Scott Collie as "Lola" during the opening number of the 2012 Spring Hope Elementary School Womanless Pageant on Friday night.

KNOCK OUT CANCER
Spring Hope Elementary School will do whatever it takes to raise money in the fight against cancer, just ask G.W. Pierce, who on Friday night was crowned the 2012 Womanless Pageant Queen.
Pierce, who was known as "Eva-Ka-Diva" in the pageant, was one of 13 participants in the annual pageant, which is Spring Hope Elementary School's largest fundraiser for the Nash County Relay For Life. More ...
Amanda Clark, Graphic Staff Writer
Spring Hope woman is assaulted in home invasion
According to information provided by Spring Hope Police Chief T.E. Denton, a Spring Hope woman was sexually assaulted in a home invasion that took place during the evening hours of March 28. The 22 year-old victim reported that two men came to her home on E. Franklin Street about 9 p.m. and asked for contact information for the victim's boyfriend. As she turned to get the phone number, the two men pushed their way into the home and were followed by a third person. More ...
Amelia Harper, Graphic Correspondent
Spring Hope tackles new budget issues
Spring Hope Commissioners met on Saturday morning and received a first look at the 2012-2013 Fiscal Year budget. The total $1,001,246 budget includes no tax or other rate increases.
"The budget I'm proposing now is anywhere between $2,000 or $3,000 or maybe $7,000 less than what I proposed last year at this time," Spring Hope Town Manager John Holpe said. More ...
Amanda Clark, Graphic Staff Writer
Grant provides free water connections to 19 area homes
Nash County Commissioners held a second public hearing for a Community Development Block Grant (CDBG) project that will provide funds to connect 19 homes to the county's water system.
Patsy McGhee, Nash County Organizational Development Director, brought the item before the board during the regular meeting on Monday night. More ...
Amanda Clark, Graphic Staff Writer
Eastern Carolina 4-H Livestock Show and Sale set for April 10
Nash County youth have been busy preparing their animals for the upcoming Eastern Carolina 4-H Livestock Animal Show and Sale.
The sale will be held next week, on Tuesday and Wednesday, April 10 and 11 at the Eastern Carolina Livestock Arena in Rocky Mount. More ...
Amanda Clark, Graphic Staff Writer

DORSEY

Rosemary Dorsey named Assistant County Manager
Nash County's Planning Director has been named the Assistant County Manager.
Rosemary Dorsey was named to the new position following the retirement of Wayne Moore, whose last day was Friday, March 30. Moore worked with Nash County for 37 years, last serving as the Assistant County Manager and Clerk to the Board. Janice Evans will serve as Clerk to the Board and Dorsey has taken on the Assistant County Manager position. More ...
Amanda Clark, Graphic Staff Writer
Program offers crime data to citizens
The Nash County Sheriff's Office has joined CrimeReports.com to allow citizens access to neighborhood crime data.
Citizens can access the free crime data through the website at www.crimereports.com or through the Crime Reports iPhone application, which is available for free download in the Apple iTunes store. More ...

"Dottie Duke"
Nick Tedder as "Dottie Duke" received the Most Congenial Award in the 2012 Womanless Pageant. More ...

"Black Widow"
The first runner up in the Womanless Pageant was Jeremy Hardy as the "Black Widow." More ...

Spring Hope Chamber of Commerce commits to community park funds
The Spring Hope Chamber of Commerce has committed to donate $7500 over the next three years to the town's community park improvement project, Spring Hope Town Manager John Holpe announced on Monday at the regular town meeting. The town needs to come up with $55,000 in locally matching funds to proceed with grant funding for the project designed to repair and enhance the town's recreational park facilities. More ...
Amelia Harper, Graphic Correspondent
Fun Run gift giving period begins
The 2012 Fun Run for Charities gift giving period began on Sunday, April 1. This year, Reach Out Rocky Mount's Fun Run for Charities has partnered with 67 non-profits to help raise much-needed funds for the community. Last year's event raised over $463,000. The three-year total is over $1,170,000. More ...

BIRTHDAY CELEBRATION
Bettie Mae Griffin Tant celebrated her 95th birthday on Saturday, March 24th, 2012 with around 40 family and friends. Tant was born in 1917 in Nash County in the Oak Level community. She still resides there today, on the family farm she was born and raised on. More ...

Carolinas District Key Club Convention
Twenty-one students and five advisors from Southern Nash High School, Northern Nash High School, Nash Central High School and Rocky Mount High School attended the 66th Annual Carolinas District Key Club Convention in Durham March 23-25. More ...

Sunburst Miss Greenville
Sarah Wells was recently named Sunburst Miss Greenville at a Sunburst Beauty Pageant held in Greenville on March 10.
Wells is the daughter of Ricky and Meta Wells of Red Oak. She is a Junior at North Carolina Wesleyan College, where she majors in Religious Studies and Psychology, is a member of the Wesleyan Singers, and is the worship leader for Refuge Campus Ministries Club. More ...

Sunburst Teen Miss Greenville
Courtenay Wells was named Sunburst Teen Miss Greenville recently at the Sunburst Beauty Pageant in Greenville. Wells also won best attire, prettiest smile, prettiest eyes, best personality, prettiest hair, top model look and most photogenic. More ...

KINDLE WINNER
The Friends of the Harold D. Cooley Library held a drawing in March for a Kindle Fire. Pictured is Vernon Whitaker who was the winner of the March drawing. More ...

N-RMS to host kindergarten registration
The Nash-Rocky Mount School System is urging all parents to register their rising kindergartener next week to help the school system assign the proper number of staff to classrooms during the next school year.
Pre-registration events are being held at various schools throughout the county next week to encourage parents to take advantage of early registration. More ...
Amanda Clark, Graphic Staff Writer
NFD to offer free CPR classes each quarter
The Nashville Fire Department hopes to start offering free CPR/Operation Heartbeat courses every quarter to citizens.
The first class will be held on Tuesday, April 17 from 6 until 8 p.m. in the Town of Nashville Town Council Chambers at Cooley Library. More ...

Art Garden Visual Art and Flower Fair registration deadline is April 11
The Maria V. Howard Arts Center invites you to reserve a space at the inaugural Art Garden Visual Art and Flower Fair on May 5, 2012 at the Imperial Centre for Arts and Sciences. Art Garden is a celebration of two areas – visual arts and gardening. Art Garden is designed for artists and flower enthusiasts from our community creating original work, executed by their own hand, and of high quality to share their talents with their community. More ...

Nashville woman wins lottery
Rose Davis, a housecleaner from Nashville, bought an Extreme Green ticket on Wednesday and won $500. As she was claiming her prize, she decided to buy three more tickets, the third of which won her the game's $200,000 top prize. More ...

DAUGHTERS OF THE AMERICAN REVOLUTION NEWS
The DAR Micajah Pettaway Chapter met Thursday, March 15, 2012, 10:30 a. m. in Braswell Memorial Library's Wiley Room.
After Regent Dottie Barrett welcomed everyone, with Chaplain Pris Sykes, she led the DAR Ritual, U. S. flag pledge, American's Creed, the NC flag salute, and the Preamble to the Constitution. More ...
DEE LONG
Rogers earns Fire Marshal title
Assistant Fire Marshal Scott Rogers, of Nash County Emergency Services, Fire/Emergency Management Division, has successfully completed the process that awards him the professional designation of "Fire Marshal" (FM). More ...

Relay for Life News & Events
Relay Prom Night: 2012 Relay for Life Prom Night will be held on April 7, 2012 from 7 p.m. until 12 midnight at the Rocky Mount Moose Lodge. Music will be provided by DJ Mark Speed. The cost is $30 per couple or $15 per person. For tickets or more information, contact Barbara Gill at 801-0690. More ...

MOUNT ZION FWB CHURCH NEWS
Brother Robert Tyner welcomed everyone to Sunday school. We had several couples gone on vacation, so our attendance was down to 73. Being the first Sunday in the month, we sang "Happy Birthday"
for all with a birthday this month. Miller Jones gave candy to the lucky ones. Couples with wedding anniversaries this month were recognized also. More ...
ROSALENE BASS
PEACHTREE COMMUNITY NEWS
The excitement at Peachtree on Sunday morning was the news of the arrival of Pastor Eugene and Marta's grandson- Dylan James Suggs. He was born at 2:09 AM on Sunday morning in Columbia, South Carolina. He weighed 6 lbs and 11 oz. He was born on his great-grandmother's, Rosida Vngegas, birthday. His parents are Christina and Matt Suggs and he has a big sister, Kara. Best wishes to all. More ...
BARBARA HARDISON
RED OAK NEWS
LuAnn Coleman of Bradner, Ohio and Joya Jones of Centerpoint, Indiana spent past week with their parents and aunt and uncle, respectively, Roger and Eileen Shanks. They traveled to the Outer Banks last Monday.
Andy and Amy Jo Smelser and their 4 children from LaFollette, Indiana were overnight guests Tuesday at the home of Amy's grandparents, Roger and Eileen Shanks. More ...
SUZY PEARCE
FARM SERVICE AGENCY
Nash County producers interested in DCP should visit the USDA Service Center where their farm is administered and sign up. Enrollments cannot be accepted after the deadline. Enrolling early means avoiding a missed deadline during this busy season." More ...
SHARON TAYLOR
A local literary legend passes away
I can't find my copy of "You All Spoken Here" and I'm very distressed.
Last week, Spring Hope native Roy Wilder, Jr. died at the age of 97. A lot of Nash County folks have never heard of Mr. Wilder, and that's a shame. I wish I had known him better, and maybe that's a bigger shame.
Mr. Wilder, to say the least was a character, and a man who certainly lived a full life. He grew up in Spring Hope and attended the University of North Carolina School of Journalism. More ...
Mike Brantley
Will we really reap any long term benefits from a poultry plant?
For more than a year now Nash and Wilson County citizens have been lobbying to stop a poultry processing plant from locating in Nash County.  But it seems most of our county leaders are looking the other way and moving ahead welcoming this industry –– Sanderson Farms.
In my opinion, Commissioner Wayne Outlaw is the only person on the Nash County Board who has really taken the time to look at all sides of this issue and continues to study all aspects of it. More ...
Jo Anne Cooper - 1 opinion posted
Stop excessive oil speculation!
On March 21, 2012, a bill was introduced to make federal regulators invoke emergency powers to rein in speculators responsible for rapidly-rising gasoline prices. The legislation would set a 14-day deadline for the Commodity Futures Trading Commission (CFTC) to implement rules to stop excessive speculation by Wall Street traders in oil futures markets. More ...
Letters to the Editor:
Nash County Animal Friends' Notebook
Last week a beloved pet died because the family was too busy. They had found the dog as a baby and raised her. They loved her. They had scheduled her several times to have her fixed, but something always came up. So, surprise! She had an "accidental" pregnancy. She died giving birth. Now her 5 babies have to be bottle fed. More ...
Carol Vierela, Nash County Animal Friends
Prevention is the key to a healthier community
Each year, chronic illnesses such as heart disease, cancer and diabetes are responsible for millions of premature deaths and cause Americans to miss 2.5 billion days of work, resulting in lost productivity totaling more than $1 trillion dollars. With nearly a million Americans dying every year from diseases that could be prevented, even small preventive changes and initiatives can make a big difference in leading healthier lives. More ...
Letters to the Editor:
Save lives – spay/neuter your pets!
Why? It is such a simple solution! I am disgusted, mad, sad and just confused as to why a person who has pets can be so irresponsible that they refuse to spay/neuter their animals! Instead, they choose to keep these poor animals and allow them to continue to breed cycle after cycle, only to end up taking all the babies to the kill shelters. It blows my mind why anyone would ever want this if they have pets. More ...
Letters to the Editor:
Backward Glances
HEADED TO CAMP – This photo originally published in The Graphic on June 21, 1962. 51 Nash County 4-H club members headed for Camp Millstone, located near Rockingham. More ...
A PICTORIAL LOOK INTO THE PAST

LOOSE BALL. Nash Central Middle's Jazmine Battle is safe at second base during last Thursday's home softball victory against Edwards.

The Matt Leaders
NASHVILLE -- Nash Central used an amazing 20-run frame to get past rival Edwards Middle School last Wednesday in fast-pitch softball action at Lady Trojan Field.
Central, coached by Matt Lancaster, is enjoying yet another fine campaign. Not only have the Lady Trojans been productive in recent seasons, they have also sent plenty of talented performers on to the successful team at Nash Central High School. More ...
GEOFF NEVILLE, Graphic Sportswriter

IN THERE. Nash Central Middle School's Zack Denton barely beats a tag at home plate to score a run for the Trojans during last Wednesday afternoon's home baseball matchup against Edwards MS.

GUZZO'S GOOD GUYS
NASHVILLE -- Rarely does a middle school baseball program have the luxury of hiring a coach the caliber of Tony Guzzo.
But Nash Central has been able to enjoy Guzzo's presence in recent campaigns. And when Guzzo speaks, players listen -- and learn. More ...
GEOFF NEVILLE, Graphic Sportswriter

THEY'RE ON THE RUN. (L to R) Northern Nash's Claire Fleming and Louisburg's Kelsey Harris try to chase down a loose ball during last Thursday evening's girls soccer matchup on the NN campus in Red Oak.

No Match For NNHS
RED OAK -- Louisburg's upstart program met an established Northern Nash contingent, and the result was predictable during girls, non-conference soccer action last Thursday.
The host Lady Knights delivered four goals in the first 15 minutes and went on to defeat Louisburg by a 9-1 margin at the NNHS Soccer Complex. More ...
GEOFF NEVILLE, Graphic Sportswriter
Brown is honored on squad
ROCKY MOUNT -- Associated Press All-State honors don't come around every day for Nash County's athletes, least of all, females.
After all, a female from the county hadn't been so honored since former Northern Nash center Carisse Moody was selected in girls basketball in 1998 after she led the Lady Knights to the NCHSAA 4-A State Championship. More ...
Staff Reports
Wesleyan wins on court
ROCKY MOUNT -- With a 9-0 sweep of Ferrum last Saturday followed by an 8-1 victory over Greensboro on Sunday, the men's tennis team of North Carolina Wesleyan College continued its recent dominance of USA South opponents, moving to 12-2 overall and 5-0 in league play.
More ...
Staff Reports
Bishops squads are in action
GREENSBORO -- Host Greensboro College scored two runs in the bottom of the 12th inning to earn a 5-4 baseball victory over North Carolina Wesleyan College on Sunday afternoon.
Sophomore Brandon Roberts received a no-decision after allowing three runs on seven hits and striking out five over seven complete frames. More ...
Staff Reports
Tarboro tournament scheduled
TARBORO -- Eight teams will participate in one of the area's longest-standing events next week -- the Tarboro High School East Baseball Classic.
The tournament will be held April 11-13 at historic Tarboro Municipal Stadium.
This will be the 19th edition of the annual tourney. More ...
Staff Reports
DRIVE FOR FIVE
Northern Nash's Alexus Hill (left) scored five goals last Thursday while helping the Lady Knights earn a non-conference, girls soccer decision against Louisburg High School. More ...

NCMS PITCH MAN
Nash Central Middle School's Zack Pope delivers an offering toward home plate during last Wednesday's home baseball contest against Edwards MS. More ...

FORCE PLAY
A Nash Central Middle School baserunner (right) is forced at second base during last Wednesday afternoon's game against Edwards MS. More ...

ANGIE TAYLOR HINES
Rocky Mount –– Angie Taylor Hines, 60, of Rocky Mount, died on Sunday, March 25, 2012, at Nash General Hospital in Rocky Mount. More ...

ALICE CHRISTINE DICKENS
VIRGINIA BEACH –– Alice Christine Dickens, 79, passed away on March 27, 2012. A native of Duplin County, NC, she was the daughter of the late Thomas P. and Alice Rivenbark Rooks. More ...

HENRIETTA PARRISH KING
Henrietta Parrish King, age 95, passed away Friday, March 30, 2012 surrounded by her daughters. Born in Franklin County on February 10, 1917, she was the daughter of the late Harold W. Parrish and Betty P. Parrish. She was also preceded in death by her husband, George O. King; a grandson, and four sisters and two brothers. More ...

JOAN ANNETTE HANSON
Joan Annette Hanson, 74, passed away, Thursday March 29, 2012. She was born May 10, 1937 in Norwalk, Ohio, daughter of the late Arthur and Maxine Barker Bilton. She was preceded in death by two brothers, Gene and Jerry Bilton. More ...

MARVIN RAY COLEY SR.
Marvin Ray Coley Sr., age 60 passed away on March 27. He is survived by his son Marvin Ray Coley Jr. of Rocky Mount, daughter Heather Coley of Rocky Mount, his two sisters: Betty Ann Wester of Red Oak and Linda Dianne Coley of South Carolina, three brothers: John Thomas Coley, John Alvinn Coley both of Rocky Mount and Mark Allen Coley of Sharpsburg. More ...