Subscribe/Access
Advertisements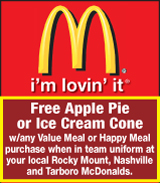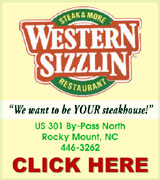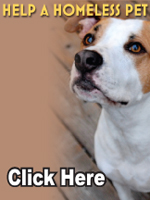 Sections
Member Options
Back
Solar farm to build at Sandy Cross
Nash County Commissioners approved a rezoning request last Monday that will allow a solar farm to locate on property near I-95 in the Sandy Cross community.
The request to rezone the property from Single Family Residential (R-40) to Single Family Residential Conditional Use (R-40-CU) was made by Anne Lewis Webb. The property is located at the southeast quadrant of Lewis Road and northbound I-95. More ...
Amanda Clark, Graphic Staff Writer - 1 opinion posted
Bank robbed, shots fired in Dortches
The Nash County Sheriff's Office is looking for a man who robbed the First South Bank inside Smith's Red and White in Dortches on Tuesday morning.
The armed robbery occurred around 9:15 a.m. on Tuesday, October 11.
According to Captain Pat Joyner, of the Nash County Sheriff's Office, an armed man went into Smith's Red and White and into the First South Bank and demanded money. More ...
Amanda Clark, Graphic Staff Writer
County to vote on landfill expansion in November
Nash County Commissioners held a public hearing last Monday morning for the proposed expansion of the C&D Landfill on Duke Road.
Three residents spoke during the hearing, with two just asking questions on the expansion. However, one woman expressed her anger at the facility expansion. More ...
Amanda Clark, Graphic Staff Writer
Kelly battles breast cancer second time
Debbie Kelly has one thing to say about her fight with breast cancer: "Being breastless is certainly better than being breathless."
Kelly is in the midst of her second bout with breast cancer but hasn't let it get her down.
"I just let go and let God," she said. "If you dwell on a problem, it's going to overcome you." More ...
Amanda Clark, Graphic Staff Writer
Castalia tests limits of ethics laws
Castalia's regular town meeting held on October 4 was cut short when Commissioner Sylvia Mann left the meeting in protest of the continuing debate over the town's recently adopted ethics code. Her comments highlight a real problem with the ethics code enacted by the NC General Assembly in 2009—namely, how to enforce the code. More ...
Amelia Harper, Graphic Correspondent
Spring Hope Commissioner Hawley resigns
Spring Hope Commissioners accepted the resignation of fellow commissioner Stanley Hawley during the board's regular meeting on Monday night.
Hawley, who was not present at Monday's meeting, announced his resignation via a letter to the Board of Commissioners. More ...
Amanda Clark, Graphic Staff Writer
Local woman releases CD
A Nashville woman has released her first gospel CD and plans to soon debut it at her home church.
Chris Williams released the CD "On My Knees" in August. The CD contains two songs written by Williams and eight others which Williams said are traditional gospel songs.
Williams has always loved to sing. She began singing at a young age in church and comes from a family of singers. More ...
Amanda Clark, Graphic Staff Writer
W.L. Greene Alternative works to change image
Nashville's W.L. Greene Alternative School is working hard to change its image.
Many in the community have misconceptions that the school is only for bad or troubled youth but that's not the case, said Sam Davis, who serves as a Teacher's Assistant at the school.
Instead, W.L. Greene works to help youth learn in a different way, providing them more resources than a traditional public school would. More ...
Amanda Clark, Graphic Staff Writer
Forum set for Register of Deed candidates
The African American Caucus of the Nash County Democratic Party will host a candidates forum on Wednesday, October 12 for candidates of the Nash County Register of Deeds position.
Barbara Sasser, who had served as Nash County Register of Deeds for 19 years, passed away on September 20 after battling cancer. More ...

BOOK SIGNING
The Friends of Harold D. Cooley Library welcomes Beverly S. Harless for a book signing Saturday, October 29th from noon until 2 p.m. in the Town of Nashville Council Chambers. Born in Rocky Mount and currently residing in Spring Hope, Ms. Harless has released her first Christian fiction book, "One Night of Regrets: A Story of Restoration and Grace" and will have a limited number of copies for purchase at the event. More ...

NASHVILLE POLICE BRIEFS
ARRESTS
Phillip Clyde Batchelor - 10/6/2011 - charged with larceny
Doron Terrell Alston - 10/7/2011 - charged with assault with a deadly weapon with intent to kill inflicting serious injury More ...

School board approves $26 million capital projects plan
Cafeteria and kitchen additions and renovations at Swift Creek Elementary School tops the Nash-Rocky Mount Schools (NRMS) $26 million five-year capital outlay projects list approved by the board last month.
Other major projects include renovations at the W. L. Greene Alternative School administration building, Cedar Grove Elementary media center, and at Early College High and Red Oak Elementary schools. More ...
Michele A. Cruz, Graphic Correspondent
Nash County Blood Drives for October 2011
Thursday, October 13 from 9:30 a.m. until 3:30 p.m. at Honeywell Corporation, 3475 Wesleyan Blvd, Rocky Mount
Thursday, October 13 from 8:30 a.m. until 2:30 p.m. at Nash Community College, Building A, 522 N Old Carriage Road, Rocky Mount More ...

Dodrill receives Dudley Whitley Memorial Award
The second Dudley Whitley Memorial Award was presented to Jeff Dodrill, teacher and coach at Red Oak Middle School and coach at Northern Nash High School. Friends and family of Dudley Whitley, long-time coach and administrator, established the annual award to recognize coaches who exemplify Whitley's goals, character and sportsmanship as well as a coach who serves as a positive role model for students.
More ...

Shelton, Massey marry
Dana Hope Shelton and David Joel Massey were married Saturday, Aug. 6, 2011 at Pine Lake Pavilion, Mebane. The officiating minister for the 6 p.m. ceremony was Rev. Clark Rounds.
The bride is the daughter of David and Susan Shelton of Spring Hope.
The groom's parents are Greg and Caroline Massey and Jimmy and Kimberly Hinshaw of Mebane. More ...

Barnes is DSS Employee of the Month
Charlene Barnes has been selected as Nash County Department of Social Services Employee of the Month for September 2011. She is employed as Public Information Assistant IV in Medicaid reception and has worked for the agency for 5 years. Charlene is kind and inviting to customers. She has a charming smile and is engaging with customers and coworkers. Charlene has many skills and helps wherever needed. More ...

NAII class
Several Nash Health Care employees successfully completed the NAII class at Nash Community College. These employees, who nominated by their managers to take the class, are (sitting, left to right) Teresa McKeithan, Jasper Howard (standing, left to right)Luci Battle, Chiquita Hunter-Harrison, Lavoris Basemore, Barbara Fox, Kim Huguley, Eloise Richardson and Brenda Hewlin. More ...

MOUNT ZION FWB CHURCH NEWS
There were 83 present in Sunday school, including three visitors. Welcome everyone. Brother Bob made comments concerning the good job he thinks our deacons are doing in the absence of a pastor. I agree. Allie Farmer read the Bible verse for today. "Thank you Allie." More ...
ROSALENE BASS
PEACHTREE COMMUNITY NEWS
The weather was so beautiful this week-end that it was perfect for the many family reunions that took place. The Hill family reunion was held in Bunn at the Charlie/Berteen Wilder place. Nancy and Dallas Hill attended and were happy to meet some family members that they had never known. More ...
BARBARA HARDISON
Word for the week
What is the purpose of an oath or a vow? "Men swear by one greater than themselves and with them an oath given as confirmation is an end of every dispute" (Hebrews 6:16).
God confirmed His promise to Abraham with an oath. "By Myself I have sworn," declares the Lord, "I will greatly bless you" (Genesis 22:16 and 17). More ...
DENNIS PRUTOW
BEULAH COMMUNITY NEWS
We had such a great week-end at Beulah Church of Christ that I hardly know where to begin to tell our readers about it! It was such a busy week-end that you have a hard time really understanding how much it was really and truly enjoyed by everyone involved. The fellowship everyone had while working together in Christian harmony was just unbelievable and we thank God for all his blessings through all the hard work. More ...
WILMA ENROUGHTY
RED OAK NEWS
The Red Oak Community Bake Sale to benefit the Cystic Fibrosis Foundation was held at Faulkner's Store at Red Oak on Saturday, Oct. 8. Thanks to donations of baked goods, purchases of baked goods, and monetary donations approximately $500 was raised to help find a cure for this genetic disease! Thank you to everyone who contributed. More ...
SUZY PEARCE
Former educator presented Order of Long Leaf Pine
Charles Davis, retired Nash-Rocky Mount Public Schools principal, was awarded the order of the Long Leaf Pine on October 3 at the NRMPS Board of Education meeting. The Order of the Long Leaf Pine, created in the mid 1960s, is one of the most prestigious awards presented by the Governor of North Carolina. The award is presented to individuals who have a proven record of extraordinary service to the state and contributions to their communities. More ...

Nash County Animal Friends' Notebook
Foster Homes.
All you have to give is LOVE. The Rescues pay the vet bills. For only two-four weeks max, then they would go to a Foster-till-Adopted home!
Foster homes are CRITICAL to Rescue. We have been working with Rescues so much that we have run out of places to park them for awhile.
More ...
Carol Vierela, Nash County Animal Friends
Old school still works better, even today
A parent on Kent's soccer team told me that he had stopped at a Big Lots in South Carolina and picked up a really nice soccer goal for $30. He knew I'd been looking one for a while, and thought I might want to look in Rocky Mount.
In just a couple of years, Kent and his brother Lowell had been through two goals. Both were made out of "rugged" PVC pipe. Both got about an hour's play time before wicked shots totally destroyed both goals.
More ...
Mike Brantley
I'm truly inspired by cancer survivors
This month, The Nashville Graphic will again feature four women who have battled breast cancer.
We did the same thing last year in partnership with the Nash County Health Department to honor Breast Cancer Awareness Month. It was truly inspiring to sit down last year with the four ladies I interviewed and hear their stories. And this year, I've already been inspired as well. More ...
Amanda Clark, Graphic Staff Writer
It's time we put an end to domestic violence, you can help
October is Domestic Violence Awareness Month and once again, the staff at My Sister's House looked at various ways to bring attention to this issue. Should we have a walk, a vigil? Nothing seemed to be enough to draw attention to violence against women. Our community is still dealing with the deaths of eight women.
More ...
Letters to the Editor
New thinking is required to fix old problems
There are a number of partisan discussions going on about the jobs using the President's American Jobs Act as the focal point. All the discussions are missing the true costs of the Act. Where is all the money coming from to finance another round of jobs stimulus? More ...
Letters to the Editor
Backward Glances
MIDDLE SCHOOL CHAMPS – This photo was originally published in The Graphic May 10, 1973. The W.L. Greene "Blue" captured the Nash County Middle School baseball championship with an 8-2 record for the season. More ...
A PICTORIAL LOOK INTO THE PAST

AROUND END FOR THE BIRDS. Nash County's Dontavian Lynch (25) picks up yardage off the left side for the Firebirds during their varsity football meeting last Saturday against the Nashville Hornets at Glover Park.

42 -- AND COUNTING
NASHVILLE -- It's hard to say what is more impressive -- the way the Nash County Varsity Firebirds execute on offense and defense, or the gaudy numbers they have put up over the past several seasons.
Included in that list are a 42-game winning streak that features three consecutive Eastern North Carolina Football League Championships, two straight Statewide Athletics Committee state titles and three undefeated seasons in a row. More ...
GEOFF NEVILLE, Graphic Sportswriter

CLASH OF TITANS. (L to R) Northern Nash's Jose Rodriguez and Southern Nash's Tyler Colbert go for a loose ball during Monday afternoon's Big East Conference boys soccer matchup, which was staged at the SNHS Soccer Complex.

Southern 2nd In Conference
STANHOPE -- Southern Nash head coach John Matthews was pleased with the outcome -- but not the route his club took to get there -- during a boys soccer showdown Monday afternoon against Big East Conference rival Northern Nash.
Southern used a strong second half to pull away for a 5-0 decision over the young Knights. But Northern was scrappy in the first half, which closed with the Firebirds only holding a two-goal margin. More ...
GEOFF NEVILLE, Graphic Sportswriter
Southern wraps up schedule
STANHOPE: Southern Nash High School wrapped up the regular season portion of its 2011 volleyball schedule with a trio of matches last week.
The Ladybirds tangled with Rocky Mount and Nash Central in Big East Conference action and stepped away from league play to meet backyard rival Bunn. More ...
Staff Reports
HIGH SCHOOL GRID SCORES
NASH COUNTY -- Listed are last week's scores from the North Carolina High School Athletic Association's football season: More ...
Staff Reports
Wesleyan drops contest against Ferrum
RED OAK -- The Ferrum Panthers earned a 21-10 USA South football victory over homestanding North Carolina Wesleyan College last Saturday afternoon at the Northern Nash Football Complex.
The Panthers outscored the Bishops 14-3 in the second half to secure the win and climb to 3-2 on the season and 2-0 in league play. More ...
Staff Reports
Huge race night at County Line
ELM CITY -- With absolutely beautiful weather, folks piled into County Line Raceway for its next -to-last race of the season last Saturday.
As the sun slowly dropped over turn one, cars from all divisions participated in a slow roll in, with fans getting to see some of the new cars and drivers. More ...
Staff Reports

SEXTUS SPLITS THE DEFENSE. Southern Nash's Sextus Vane (20) finds some running room during last Friday night's home football victory against Northern Nash.

SNHS Stops Knights
STANHOPE -- It didn't take long for the Southern Nash Firebirds to get back on the right side of the Big East Conference football standings.
Just four days after dropping a tough league setback at Wilson Fike, the Firebirds quickly recovered by topping Northern Nash by a 28-13 margin last Friday night at historic Firebird Stadium on the SNHS campus. More ...
CHARLES ALSTON, Graphic Correspondent
Key football games slated in Big East
ROCKY MOUNT -- Every Friday night in the Big East Conference is a big football night, and this Friday will be no different.
As for Nash County's league schools, Southern Nash and Rocky Mount will hit the road, while a major county battle will take place in the Dawg Pound. More ...
CHARLES ALSTON, Graphic Correspondent
Lady Bishops defeated
ROCKY MOUNT -- The women's soccer team of North Carolina Wesleyan College created several scoring opportunities on Sunday afternoon, but the Bishops were unable to break through against Emory & Henry as the Wasps posted a 3-0 shutout at Scalf Field. More ...
Staff Reports
FOR WHOM THE BELL TOLLS
Nashville's Kendrick Bell (with ball) picks up yardage during last Saturday morning's home varsity football meeting versus Nash County. More ...

Nash Arts hosts weekend concert, class
The following programs are coming up this weekend at Nash Arts Center, 100 E. Washington Street, Nashville. For additional information call 252-459-4734 or visit www.nasharts.org
Mark and John Bunn in concert Saturday, October 15 at 7 p.m. Doors open at 6:30 p.m. The father and son duo play acoustic versions of your favorite songs of the past and present. General admission is $12, $8 for Nash Arts members. More ...

Fall concert series begins at Cherry Hill
That hint of color in the trees and a bit of a chill in the air can mean only one thing, – it's time for the annual Fall concert series at the historic Cherry Hill Plantation in Warren County.
The first in the series of three concerts this year will feature pianist Keiko Sekino who enjoys an active career as a solo recitalist and chamber musician in the United States and abroad, having performed at Carnegie Weill Recital Hall, Steinway Hall, Bennett-Gordon Hall at Ravinia Park, and Palacio de Festivales de Cantabria in Santander, Spain. More ...

DENISE ELIZABETH HARPER MARSHALL
Richmond, Va. - Denise Elizabeth Harper Marshall, 58, formerly from Rocky Mount died October 4, 2011. Funeral was Monday, October10, 2011 at St. John 3:16 Baptist Church, 1:00 pm. Rev. Collins Kornegay officiated. Burial was at Gardens of Gethsemane. More ...

PATRICIA "LYNN" BECK
Patricia "Lynn" Beck, 49, passed away, Thursday October 6, 2011. She was born December 7, 1961 in Craven County, NC. Patricia was preceded in death by her father, Lewis W. Beasley, maternal grandparents, Fletcher and Susie Waters. More ...

MELISSA TIBBS EVERETT
Melissa Tibbs Everett, 44, passed away, Wednesday October 5, 2011. She was born July 27, 1967 in Lynchburg, VA.; she was the daughter of the late Bobby and Marsha Tomlin Tibbs. More ...

GILBERT BENJAMIN FISHER
Gilbert Benjamin Fisher, 78, died Thursday, October 5, 2011. He was born June 23, 1933 in Nash County, son of the late Alphonso Jackson and Annie Moore Fisher.
More ...

LUCY TREVATHAN BREEDLOVE
Lucy Trevathan Breedlove, 88, of Rocky Mount, passed away on Thursday, October 6, 2011. She was the daughter of R.D and Sue Winifred Trevathan. She was preceded in death by her parents and her husband of 28 years John Edward Breedlove. More ...

KEVIN MICHAEL CONROY
Kevin Michael Conroy, 50, died Saturday, October 8, 2011 He was born on September 20, 1961 in Cooperstown, NY to James Michael Conroy and Carol Ann Smith Oldick. More ...

ANNETTE MELVIN BOSWELL VIVERETTE
Annette Melvin Boswell Viverette, age 70, died Saturday, October 08, 2011. Born in Cumberland County on November 30, 1940, she was the daughter of Ruth Starling Melvin of Rocky Mount and the late Ralph Melvin. She was also preceded in death by her husband, Ronnie Viverette, and daughter, Natasha. More ...

DANIEL WOOD CAPPS, SR.
Daniel Wood Capps, Sr. age 76, passed away Thursday, October 06, 2011. Born in Nash County on October 18, 1934, the son of the late Daniel I. Capps and Annie Harper Capps. He was also preceded in death by his wife, Rhoelle Joyce Capps. More ...

BEJAMIN FRANKLIN TOLER JR.
Benjamin Franklin Toler, Jr. (Ben) passed away Thursday, October 06, 2011 at the age of 84. He was born November 15, 1926, the son of the late Benjamin Franklin Toler, Sr. and Gertha Trull Toler. More ...

BROADUS ELIZABETH CHEWNING COBB
Broadus Elizabeth Chewning Cobb passed away Tuesday, October 04, 2011. Born in Anson County on August 09, 1921, she was the daughter of the late Charlie William Chewning and Hattie Ramsey Chewning. She was preceded in death by husband, James Russell Cobb; brothers, Charles Chewning, Bennette Chewning, Thomas Chewning; and sister, Lois Chewning Proctor. More ...