Subscribe/Access
Advertisements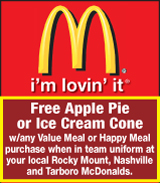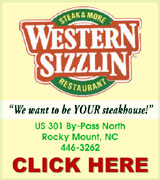 Sections
Member Options
Back
Red Oak questions population data
The Town of Red Oak is considering a challenge to the most recent population data sent to the town from NC State Demographer Jennifer Song. Commissioners for the Town of Red Oak discussed the recent data at a regular business meeting held Monday, September 5.
The most recent data sent from the state places the population of Red Oak at 3443. More ...
Amelia Harper, Graphic Correspondent
Area teen killed in weekend accident
A 19-year-old woman was killed after running off the road and into a tree early Saturday morning.
According to Trooper Michael Davidson, of the NC Highway Patrol, Candace Perdue was traveling east on Bend of the River Road, between I-95 and NC Highway 58, around 4 a.m. when she went into a left-handed curve, ran off the road to the left and collided with a tree. Davidson said Perdue died at the scene. More ...
Amanda Clark, Graphic Staff Writer
Town okays resolution to honor Dr. Liverman
Nashville's Town Council approved a resolution recognizing Dr. Joseph Liverman for his many years of service to the Town of Nashville.
Liverman retired on August 31 after 55 years of practicing medicine in Nashville. Liverman came to Nashville on December 28, 1956 after practicing medicine in the United States Air Force for three years. He's been in Nashville practicing medicine since. More ...
Amanda Clark, Graphic Staff Writer
Nash-Rocky Mount School System aims to decrease drop out rate
At its meeting Thursday night, the Nash-Rocky Mount Schools board approved a partnership with three organizations for 2011-12 school year: Opportunities Industrialization Center (OIC), Communities in Schools (CIS), and East Carolina University (ECU) Department of Psychology. More ...
Michele A. Cruz, Graphic Correspondent
TEST DRIVE RAISES FUNDS FOR SCHOOL
Graham Nelson, Sales Consultant with Davenport Autopark, shows Somora Anstead a GMC Acadia at Nash Central Middle School prior to Anstead going for a test drive. Every person that came out to the school on August 23 to test drive a car earned $10 towards the school's Parent Teacher Association (PTA). This was the first time the dealership has done a program like this in conjunction with a school PTA. More ...

Nash Health Care Board reviews business plan
The Nash Health Care Board of Commissioners heard an update on its business plan from CEO Larry Chewning during the board's regular meeting last Thursday afternoon.
The business plan consists of 18 items that were established during planning sessions. The items are all goals that Nash Health wants to focus its attention on this year. More ...
Amanda Clark, Graphic Staff Writer
Farm Bureau breaks ground for new office
Nash County Farm Bureau is moving its offices to a new, larger location behind Wendy's off of Eastern Avenue.
A groundbreaking was held last Thursday to celebrate the start of construction, with board members, employees and the architect and contractor in attendance. More ...
Amanda Clark, Graphic Staff Writer
NASHVILLE POLICE BRIEFS
ARRESTS
Forrest Terrell Lucas - 8/24/11 - charged with motor vehicle theft - recreation vehicle, conspiracy, contributing to delinquency of minor More ...
Staff Reports
Speaker of House hosts Town Hall
NC House Speaker Thom Tillis paid a visit to Rocky Mount last Wednesday for a Town Hall meeting with local residents. The meeting was one of several Tillis is holding throughout North Carolina to get feedback from residents.
"We thought it was important for the legislative leaders to get out and talk to you about a variety of things," Tillis said.
More ...
Amanda Clark, Graphic Staff Writer
State Trooper crashes while responding to call
A state trooper was involved in an accident while responding to assist another officer on Saturday night.
Trooper Brandon Jones was on West Mount Drive, near Bethlehem Road, when he lost control of his patrol car and hit a tree and a guidewire to a power pole. More ...

Nash County eligible for disaster assistance
Nash County was recently added to the list of counties who are eligible for federal disaster assistance in the recovery from Hurricane Irene.
So far, 33 counties have been added to the list of those eligible for help from the Federal Emergency Management Agency's (FEMA) Individual Assistance Program. More ...
Amanda Clark, Graphic Staff Writer
Woman charged with stealing lottery tickets
A Middlesex woman was arrested for stealing lottery tickets from her employer.
Agents with the N.C. Alcohol Law Enforcement Division arrested Candice Joan Sawatzky, 44 on August 22 for allegedly stealing lottery tickets from the Wendell convenience store where she worked. More ...

New database to assist local law enforcement
State Controller David McCoy was in Nash County recently to introduce a new criminal-tracking database to local law enforcement agencies.
The database, called CJLEADS (Criminal Justice Law Enforcement Automated Data Services, integrates data found within the state's various criminal justice applications and provides up-to-date criminal information in a centralized location via a secure connection. More ...
Amanda Clark, Graphic Staff Writer
Nash Community College recognizes EMT and Nurse Aide graduates
The Nurse Aide II course prepares students to perform more complex skills for patients or residents in a variety of settings. The course includes class, laboratory and clinical learning experiences. Upon satisfactory completion of the course and skill/competency evaluation, the student is eligible to apply for listing as a Nurse Aide II by the North Carolina Board of Nursing Nurse Aide Registry. More ...

Emergency Medical Services
The Emergency Medical Services program is a comprehensive approach to the delivery of emergency medical care to the critically ill and injured including training in transportation, communication, organization, evaluation and standard record keeping. More ...

Nurse Aide I Plus
The Nurse Aide I Plus graduates pictured above from left to right are: (front row) Carla Cantres of Rocky Mount, August Scott of Rocky Mount and Stacey Tisdale of Nashville. Back Row: Liberty Brake of Rocky Mount, Angelica Hernandez of Bailey, Beverly Harless of Spring Hope and Felicia Ammons of Elm City.
More ...

Nurse Aide I
The Nurse Aide I class introduces basic nursing skills required to provide personal care for patients in a health care setting. Nurse Aide I graduates are eligible to take the National Nurse Aide Assessment Program (NNAAP or NACES) Examination. More ...

Nurse Aide I night class
The Nurse Aide I night class graduates pictured above from left to right are: Tawana White of Rocky Mount, Brittney McCready of Spring Hope, Emily Williams of Whitakers, Darlene Price of Sims, Jennifer Wheeless of Louisburg and Angie Lamm of Rocky Mount. More ...

Nurse Aide I Hybrid Fast Track
Nurse Aide I Hybrid Fast Track is an accelerated course allowing students to complete the Nurse Aide I course in nine weeks of online instruction, offered concurrently with six weeks of traditional class time. Hybrid indicates the lecture (theory) portion of the class is online. This course teaches basic nursing skills required to provide personal care for patients, residents, or clients in a health care setting.
More ...

Daughtry earns BSN degree
Shamon Daughtry of Rocky Mount recently earned her bachelor's of science degree in nursing with honors from Winston-Salem State University. Originally from Paterson, New Jersey, Daughtry has worked at Nash Health Care since 2005, when she started working at the hospital as a Patient Care Technician. More ...

NN clean-up
Students and staff at Northern Nash High School rallied together to clean up the Northern Nash campus after Hurricane Irene. Several large trees were downed as well as general debris strewn throughout the grounds. The building itself did not sustain any damage. NNHS Principal Chip Hodges reported that campus was ready for students and staff to return when schools re-open. More ...

BACKPACKS
Nash Community College is helping improve the quality of life in the Nash-Rocky Mount area by donating one backpack to Communities in Schools for every two backpacks sold in the College Bookstore. In the photo, Nash Community College Bookstore Manager Lindsey Schulte (left) gives Communities in Schools Executive Director Sandra Jones (right) a backpack donation. More ...

PEACHTREE COMMUNITY NEWS
Many exciting things have occurred since the last writing of this column. First there was an earthquake followed by Hurricane "Irene". Everyone felt the effects of that. Some people had lots of damage from falling trees. Everyone lost power and/or telephone service. But it was a blessing that devastation was not worse. More ...
BARBARA HARDISON
Word for the week
What gets into serial killers and rapists? Are they uncontrollable, unmanageable, and incorrigible? "The mind set on the flesh is death, but the mind set on the Spirit is life and peace, because the mind set on the flesh is hostile toward God; for it does not subject itself to the law of God, for it is not even able to do so" (Romans 8:6-7). More ...
DENNIS PRUTOW
Former resident publishes book
Linda Evans, author of "Will You Sparkle in the Light," wants her book to help people better understand God and how they can better tell others about God.
Evans, a nine-year Washington resident, describes the book as a "end-of-the-age crash course in the supernatural and spiritual things of God." More ...
Contributed by The Washington Daily News
NASH COUNTY FSA NEWS
Nash County USDA Farm Service Agency (FSA) Executive Director Sharon Taylor reminds foreign persons with an interest in agricultural lands in the United States that they are required to report their holdings and transactions to the U.S. Secretary of Agriculture. More ...

Retreat readies NRMS leaders for 2011-2012 school year
More than 90 instructional and administrative leaders of Nash-Rocky Mount Public Schools met for 2 days at Nash Central High School preparing for the new school year. Superintendent Anthony Jackson set the stage focusing staff on "Pursuing Deliberate Excellence". More ...

PARTNERSHIP
Nash Community College Hospitality Management Instructor Greg Quintard (left) and Culinary Arts Instructor Chef Don Sexauer (right) met with Four Seasons Restaurant Owner Toney Vaughan (center) this week to discuss a new training partnership. The restaurant, located at 209 N. Church Street in Rocky Mount in the former Carlton House, is scheduled to open in the coming weeks. More ...

Middlesex receives Rural Center grant
The N.C. Rural Economic Development Center has awarded 18 grants totaling $5.5 million to create new jobs, expand health services and provide clean water in rural counties. The grants will create 585 jobs and assist projects in 16 counties, including Nash County. More ...

Remembering 9/11 – then and now
I know where I was, how I heard about it and most of all, I remember the pictures.
I suspect you do too.
Much like the day JFK was shot, or MLK, or RFK or the day the space shuttle blew up, September 11, 2001, is one of those days that — as a President once said about another awful day — will live in infamy. More ...
Mike Brantley
Our community will miss Dr. Liverman
Last Wednesday was a sad day for many residents of Nashville and surrounding areas, as Dr. Joseph Liverman worked his last day at the Boice Willis Clinic in Nashville.
Dr. Liverman has been treating patients in Nashville for 55 years!
Dr. Liverman is a rare kind of doctor. He's the type that personally calls his patients with test results. More ...
Amanda Clark
Confirmed. The Nashville Exchange is not closing
We published a story in The Graphic last week regarding a local business owner needing to put a stop to rumors of her business shutting down.
Lisa Hattaway, owner of The Nashville Exchange, has been in operation now for 13 years growing her business from a small bookstore to a full service steak house and cafe. More ...
Jo Anne Cooper
Hoping new generation of doctors took advantage of Dr. Liverman's wisdom of treating patients
Nashville's hometown doctor, Dr. Liverman, announced his retirement and it is a bittersweet moment for those of us whom he treated from a child to adult. I had gotten hives in the strawberry patch when I was a small "then colored child", and he had my mother bring me to his house for a shot. As a mother myself, I called him on a Saturday evening because my younger son had stuck a berry in his nose. Dr. Liverman had me meet him at his office and when he got out of the car, he was dressed in a tux. More ...
Letter to the Editor:
Backward Glances
JUNIOR HIGH CHAMPS 1976 – This photo was originally published in The Graphic June 8, 1976. Pictured is the Southern Nash Junior High baseball team who ended its 1976 season with a 6-3 victory over R.M. Wilson Junior High which brought them the area junior high league championship. More ...
A PICTORIAL LOOK INTO THE PAST
Nash County Animal Friends' Notebook
Are you a BACKYARD BREEDER? You are a backyard breeder if your dog had a litter for fun, profit or by 'accident'.
Of all the millions of dogs in the USA, about two-thirds come from backyard breeders. They are the single greatest cause of the pet overpopulation crisis in this country. More ...
Carol Vierela, Nash County Animal Friends

REPEAT THE PROCESS. Look for this scene to happen many times this season as Southern Nash's Terron Huffman breaks away from a defender as part of last Friday night's action at the Wilson Fike Jamboree.

SNHS' EARLY TESTS
WILSON -- Familiar foes with not-so-familiar faces will be on display Friday when Southern Nash opens regular season football action with a renewal of the Sweet Potato Bowl against the SouthWest Edgecombe Cougars.
The long-time rivalry was temporarily halted two campaigns ago with the demise of the NEW-6 Conference. More ...
GEOFF NEVILLE, Graphic Sportswriter

A STRICKLAND SMASH FOR NCHS. Nash Central's Brittani Strickland (right) sends down a kill for the Lady Bulldogs during their season-opening volleyball match on Monday afternoon against the host Bunn Ladycats in Franklin County.

Bulldogs Stopped By Bunn
BUNN -- A lesson learned translated into a victory earned Monday for the Bunn Ladycats against Nash Central in the regular season volleyball opener for both teams.
But it wasn't easy for BHS as veteran head coach Henry Jones decided to sit out two starters for the first game after they were late for the match. More ...
GEOFF NEVILLE, Graphic Sportswriter
Northern spikers prepared
RED OAK -- Northern Nash High School began its 2011 volleyball slate on Tuesday at home against the Bunn Ladycats.
Northern's complete ledger is as follows, with home events listed in CAPS: More ...
Staff Reports
NNHS ready for season
RED OAK -- In an uncharacteristic development, Northern Nash's boys soccer team failed to reach the Class 3-A State Playoffs for the first time in over a decade in 2010.
NNHS head coach Joe McCarthy hopes that's an aberration and not a trend as the Knights get into the swing of things this fall. More ...
GEOFF NEVILLE, Graphic Sportswriter
Football season opens Friday
NASH COUNTY -- The 2011 high school football season will get underway Friday as all four Nash County teams will hit the field.
Game time for all four contests is 7:30 p.m. More ...
CHARLES ALSTON, Graphic Correspondent
Prep grid games to be televised
CHARLOTTE -- A new season of Time Warner Cable's Game of the Week kicks off Friday with more games and the best high school football matchups from across the state.
Along with great competitions in Charlotte, Raleigh, Fayetteville, Wilmington and Newport, Time Warner Cable is also featuring the best in North Carolina private school rivalries.
More ...
Staff Reports
LOOKOUTS CLAIM CROWN
WORLD SERIES CHAMPS. The Carolina Lookouts 12-Under Girls Fast-Pitch Softball Team recently went to Myrtle Beach to take part in the 2011 WFC A Class World Series. The Lookouts dropped only one game at the event and won the World Series. More ...

Mudcats blast Biscuits at home
ZEBULON -- Carolina's Pedro Villarreal tossed his first complete game of his 50-start career, shackling the Montgomery Biscuits with a four-hitter as the Mudcats evened their series with the Biscuits thanks to a 6-2 victory at Five County Stadium on Sunday afternoon in a Class AA Southern League diamond event. More ...
Staff Reports
HOLD ON TIGHT
Louisburg High School wide receiver Jordan Perry tries to avoid a Southern Nash tackle attempt during last Friday night's action at the Wilson Fike Football Jamboree. More ...

VERTA COOPER PARKER
ELM CITY - Verta Cooper Parker, 79, passed away, Tuesday, August 30, 2011. She was born December 2, 1931 in Nash County. Verta was the daughter of the late Z.D. and Eula Mosley Cooper. She was preceded in death by her husband Purvis S. Parker, three bothers and one sister. More ...

GWENDOLYN MARIE ARRINGTON
WASHINGTON, DC- Ms. Gwendolyn Marie Arrington, 60, of Washington, DC, and formerly of Nash County, died on Monday, August 29, 2011. More ...

CHRISTINE FIELDS GRAY
Christine Fields Gray, age 91, of Wilmington, died Monday evening at New Hanover Regional Medical Center in Wilmington. Born in Wayne County, she was the daughter of the late Walter Pleasant and Ida Casey Fields and the wife of the late Samuel Maynard Gray. More ...

DONALD FRITZE WOMBLE
Donald Fritz Womble, 74, of Elm City, passed away Monday, August 29, 2011 at the V.A. Hospital in Durham. He was preceded in death by his parents, George Verdice Womble and Minnie Alene 'Polly" Harlow Womble; sisters, Mary Lou Fuller of Elm City; and Nannie Aileen (Froggie) Rogers of Wilson. More ...

ROSSIE KING
Rossie King, 57, passed away, Saturday, September 3, 2011. He was born February 14, 1954 in Edgecombe County. He was the son of the late John D. Vick and Ruth Winstead Wooten.
More ...

CANDACE RENEE PERDUE
Candace Renee Perdue, 19, passed away Saturday, September 3, 2011. She was born May 27, 1992 in Wilson County to Michael of Scotland Neck and Tracey Perdue of Rocky Mount. More ...

HILLIARD LYONS
UPPER MARLBORO - Mr. Hilliard Lyons, 90, of Upper Marlboro, North Carolina, and formerly of Whitakers, died on Thursday, September 1, 2011. More ...

JAMES HINES
ROCKY MOUNT- James Hines, 84, died August 30, 2011. Graveside services will be Wednesday at Northeastern Cemetery, 11:00 am. More ...