Subscribe/Access
Advertisements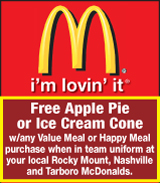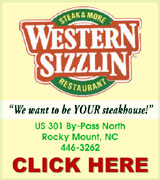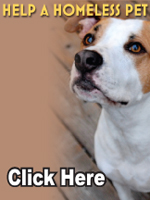 Sections
Member Options
Back
New NC Districts raise concerns
Nash Community College acted as a host for a six-hour public hearing on the new North Carolina legislative maps that were revealed in their entirety last week. The forum was held Monday, July 18, from 3 to 9 p.m. Ten counties across the state were selected as sites for the teleconferenced hearing that was based in Raleigh. More ...
Amelia Harper, Graphic Correspondent - 1 opinion posted

McBride

Nashville incumbents to face competition
The filing season for the 2011 municipal elections has ended and most towns will see new faces vying with incumbents for positions on town boards.
On October 11, the Town of Sharpsburg will hold the first of several Nash County municipal elections. There are three positions opening up in Sharpsburg as the terms of Commissioner Raymond Moore, Commissioner Wilbur Etheridge, and Commissioner Randy Weaver expire. More ...
Amelia Harper, Graphic Correspondent

SUMMER FUN – Mckenly Hines, 8, dribbles past Robert Richardson, 8, in a game of 3-on-3 during Youth Day Saturday at Glover Park.

Youth Day offers day of activities
Over a hundred youth participated in a variety of activities at the Sixth Annual Youth Day at Glover Park on Saturday.
The annual event continues to be a success, as more youth are coming out to participate and more volunteers are getting involved. Lena Sessoms, one of the organizers of the event, said this year, more churches stepped up to help. More ...
Amanda Clark, Graphic Staff Writer
Local girl to audition for American Idol
Fifteen-year-old Meredith Davis doesn't necessarily dream of being famous. She just wants to sing.
This week, Meredith will get the opportunity to join thousands of others in Charleston, South Carolina, where she will audition to become the next American Idol. More ...
Amanda Clark, Graphic Staff Writer

SAUCE – Lisa Collins pours sauce in the new 32-ounce George's Sauce jars for Sam's Clubs. Sam's Club recently started selling the sauce.

Local business lands contract
George's Sauces has landed a contract that will allow the company to add more employees and possibly expand.
Fifteen North Carolina Sam's Clubs stores will now stock the Nashville-made barbecue sauce in a 32-ounce twin pack.
More ...
Amanda Clark, Graphic Staff Writer
Murder suspect allegedly planned June 9 shoot-out
Court documents reportedly indicate that at least one of the suspects involved in the June 9 shooting death of Nash County Deputy Warren Lewis planned to gun down officers if they tried to arrest him. According to reports by the Associated Press, Kion Tyearl Dail told a friend that we would rather "shoot it out with police" than go to jail for a murder he allegedly committed a few days prior. More ...
Amelia Harper, Graphic Correspondent

Carolyn Hodge Avent checks out a painting Saturday during the grand opening of Gracious Designs. Avent said she planned to buy the painting for her church, New Hope First Baptist.

Faith Christian celebrates opening of Gracious Designs
Faith Christian Ministries in Spring Hope celebrated a new venture on Saturday with the grand opening of Gracious Designs, which sells handcrafted items made by local artists.
Gracious Designs is another way for Faith Christian Ministries to reach out to the community, said Mary Jane Perry. More ...
Amanda Clark, Graphic Staff Writer
NASHVILLE POLICE BRIEFS
ARRESTS
Leon Sylvester Davis - 7/1/2011 - charged with breaking or entering
Shaquita Louise Allen - 6/28/2011 - charged with failure to appear for driving while license revoked and expired registration More ...
Staff Reports
YOUTH DAY PICS, 1
Pictured, participants of Nashville's Youth Day received certificates of appreciation on Saturday. Over 100 youth participated in the annual event. More ...
Graphic photos by Amanda Clark and Chuck Lewis
Local student serves as Governor's Page
Jasmyne Davis of Spring Hope participated in the Governor's Page Program in Raleigh. Jasmyne spent a week gaining valuable life experience and providing administrative support as a page for the Department of Commerce for the week of July 11-15. More ...

Strickland, Moody unite in marriage
Leigh Anne Strickland and Joshua Daniel Moody were united in marriage May 21, 2011 at Samaria Baptist Church. The officiating minister for the 5 p.m. rose ceremony uniting all family members was Rev. Andy Raynor. More ...

Jones celebrates 89th birthday
Mrs. Essie Mae Richardson Jones celebrated her 89th birthday on Saturday, July 16th at Gardner's Barbeque. Her surprise party was coordinated by her children and some of the children whose lives she's touched in her lifetime. Essie grew up on the Harper's and Bass Farm, which was then located on Old 64 Highway. She attended the Nash County Training School in Nashville. More ...

Local students honored
RALEIGH -- The artwork of 14 elementary and middle school students was selected for the first North Carolina Farm to School calendar. The calendar features daily agricultural facts and is intended to highlight the Farm to School program and agriculture's role in food production. More ...
Staff Reports
Woodmen of the World
Woodmen of the World Lodge #1086 recently donated an American Flag in honor of Cpl. Howard Freeman. The donation was held at the Rocky Mount Jack Laughery Veterans Memorial Park on June 20, 2011 for a special Veterans flag donation in conjunction with the Joint Veterans Committee of Nash and Edgecombe County. Pictured (L-R) is Robert Tyson, President of Woodmen of the World Lodge #1086 with George Freeman and his mother, Mrs. Howard Freeman. (Contributed photo) More ...

Annual golf tournament to raise funds for Boy Scout programs
East Carolina Boy Scout Council has partnered with East Carolina Pizza Huts to help raise funds to support local Boy Scout programs. These programs allow young men the opportunity to achieve the core objectives of strengthening character, personal fitness and good citizenship. More ...

YMCA and ACS partner to fight cancer
ROCKY MOUNT - The Harrison Family YMCA and the American Cancer Society have teamed up to make a splash against cancer.
To help raise money to fight cancer, the YMCA will host a duck race on July 30. For a $5 donation anyone can participate and support the American Cancer Society. More ...

Cadets complete Firefighter Class at Nash Community
Sixteen graduates were recently recognized for completing Nash Community College's Recruit Firefighter Class. The program is designed to provide individuals and firefighters the information and skills needed for modern firefighting through a variety of learning experiences and training scenarios. The classes are often taken directly to firefighters through training sessions held in local departments and at training sites throughout the community. More ...

American Legion Auxiliary
Nashville's American Legion Auxiliary Unit 293 was represented at the American Legion Department of North Carolina's 93rd annual convention, held in Raleigh June 8-11, 2011. Three members of the Unit 293 attended the convention and accepted the second place award in the state scrapbook competition. Unit 293 also received nine certificates of recognition, appreciation and participation. More ...

Locals graduate from ASU
Appalachian State University released its graduation list for the Spring 2011 semester. A total of 298 graduate students and 1,571 undergraduate students received degrees during ceremonies held in May.
Anna Lauren Dudley, of Rocky Mount, received a Bachelor of Arts degree in Psychology. Dudley graduated Summa Cum Laude. In addition, Dudley also earned department honors. More ...

MOUNT ZION FWB CHURCH NEWS
We had 80 in Sunday School. People on vacation hurts attendance in every church.
Brandon Bass read the Bible verse.
Our choir sang "Isn't He Wonderful" for the call to worship. More ...
ROSALENE BASS
PEACHTREE COMMUNITY NEWS
Summer heat lies heavy on the land. It is the time of sweet corn, peaches, tomatoes, watermelons, home-made ice cream. These good things to eat help to compensate for the sweltering heat and all of the labor involved in gardening. More ...
BARBARA HARDISON
RED OAK NEWS
LuAnn Coleman from Bradner, OH and Leland and Dorothy Stevenson of Centerpoint, IN have returned to their homes after spending two weeks with Roger and Eileen Shanks during Roger's recuperation following his accident and return home from Pitt Memorial Hospital. Roger and Eileen Shanks have had many neighbors and friends who have visited them during the past few weeks. More ...
SUZY PEARCE
EPHESUS NEWS
Rev. Dougald McLaurin delivered God's message, "Abandoning All to Follow Christ", from Matthew 4:18-22 and Luke 14:25-33. Jesus calls all people to give up everything and follow Him. What is Jesus really worth to you? More ...
DEBBIE PHILLIPS
BEULAH COMMUNITY NEWS
Sunday school began at Beulah Church of Christ on Sunday morning at 9:45, followed by church service at 11:00.
It was really good to see Caroleun Hyde and and Ellen Walker back with us after having health problems, some tine in the hospital, and unable to attend for a few weeks. More ...
WILMA ENROUGHTY
What to do in the summer – then and now
Saturday, I was out taking care of the goats and chickens. With the extremely hot summer we've got going – and we haven't even reach August yet º plenty of fresh water, hay and cool places to hang out are essential.
While I was working with the domestic animals, I also turned out the wild animals – namely, Holly (11), Kent (6) and Lowell (4). Left to their own devices, these three can be far more dangerous, but just as fun to observe. More ...
Mike Brantley
"Odd sea creature" is good summary of new districts
While I was out on maternity leave, I tried my best to keep up with the latest happenings in The Graphic so I wouldn't be completely clueless upon my return. It seems like while I was gone, a lot happened.
I was sad to hear about Nash County Sheriff's Deputy and U.S. Marshall Warren Lewis, who was killed in the line of duty. It's certainly a tragedy for not only the family members of Deputy Lewis but also for the families of the young men who were involved in the shooting. More ...
Amanda Clark
The environment is important to citizens
As a Nash County resident and taxpayer, I am writing to express my opposition to the proposed site for the Sanderson Farms chicken slaughterhouse. This site is within a mile of my property and would pose a significant threat to my family and numerous other families in the immediate area.
More ...
Letters to the Editor:
Citizens question recruitment of Sanderson Farms
John Gessaman, in a July 6, 2011 article in The Wilson Times, stated, "We were pursuing Sanderson Farms." Now we know the impetus for rezoning the land along N.C. 97 was to recruit Sanderson Farms. I find this issue very disturbing that Mr. Gessaman would continue to lure Sanderson Farms to this location after the Nash County Landowners' Association presented the Nash County Commissioners with a petition of more than 2000 individual signatures against bringing in this industry. More ...
Letters to the Editor: - 1 opinion posted
Backward Glances
RATTLE SNAKE – This photo originally published in The Graphic February 18, 1965. A crowd gathered around to see a rattle snake captured when a Nashville Group went rabbit hunting near Aurora. The reptile, which had 12 rattlers, weighed four pounds and measured 56 inches long. More ...
A PICTORIAL LOOK INTO THE PAST
Nash County Animal Friends' Notebook
Who's fault is it that so many cats and dogs die at the Nash County Animal Shelter? Well, its probably not your fault. I based that on the fact that you are reading this column. And it is not the fault of the staff at the shelter. However, when administration will NOT allow the volunteers to have the shelter open on Saturdays, then some of the blame goes on them. More ...
Carol Vierela, Nash County Animal Friends - 1 opinion posted

TO THE FINISH WITH A FURY. Nash Rec Swim Team's Marley Winstead heads toward the finish line during last Thursday evening's home swim meet against Roanoke Valley in Nash-Halifax Swim League action.

NR PUT TO THE TEST
NASHVILLE -- For the majority of the meet, a group of vociferous Nash Rec swimmers stood at the turn, shouting encouragement to their teammates in the pool.
Indeed, it was a spirited occasion last Thursday for the Nash Rec Swim Team, which was hoping to avenge an earlier-season road defeat against Roanoke Valley in Nash-Halifax Swim League action. More ...
GEOFF NEVILLE, Graphic Sportswriter
Westridge Wins 3-Way Meet
ROCKY MOUNT -- Last Thursday's Nash-Halifax Swim League schedule featured a three-way dance between Nash County foes Westridge, Birchwood and host Benvenue.
Westridge came away with the convincing team victory as its total of 404 was more than Birchwood and Benvenue combined. More ...
Staff Reports
Glover to return to sideline
NASHVILLE -- Legendary coach Jim Glover will be returning to the sideline this fall for the Nashville Hornets' youth football program.
Glover will oversee the varsity team and will be assisted by Tony Thomas.
Nashville is having a football camp this week, and practice will start Aug. 1 at 6 p.m. at The Hornets Nest at Glover Park. More ...
Staff Reports
Rocky Mount to play in the Glaxo
RALEIGH -- Forty years ago, Rocky Mount High School's boys basketball team was among the first four teams to play in the first GlaxoSmithKline Invitational Basketball Tournament -- then called the Holiday Invitational Tournament. More ...
CHARLES ALSON, Graphic Correspondent
Championship Effort
NASH COUNTY -- Two postseason tournaments produced successful finishes for the Nash County 13s Babe Ruth All-Star Baseball Team.
Nash County's stars -- a collection of top performers from regular season action, repeated as the champion at the ENC District 5 Tournament, which was held earlier in July in Greenville. More ...
Staff Reports
Mudcats top Jackson
ZEBULON -- Eric Campbell homered twice and drove in four to lead a quartet of home runs as Carolina split its six-game series with the Jackson Generals 12-3 at Five County Stadium on Monday night in a Class AA Southern League baseball game. More ...
Staff Reports
More action at Co. Line
ELM CITY -- There was a heat wave earlier last week for the entire state of North Carolina, but by midweek, County Line Raceway was put under a Hurricane Warning coming out of the west.
County Line Raceway also welcomed back the Rapid Red Modified Open Wheel Modified Division for a 25-lap $750 to win event. More ...
Staff Reports
MORE SWIM HIGHLIGHTS
SWIM STARS. Among the Nash Rec swimmers from last Thursday's meet against Roanoke Valley were Lindsey Sharpe. More ...
Graphic photos by Geoff Neville
HOME FINALE FOR NRST
Jessie Savage and the rest of the Nash Rec Swim Team will be at home this Thursday to close regular season action in the Nash-Halifax Swim League with a meet against backyard rival Wesridge. The first event will begin at 5 p.m. in Nashville. More ...

Cherry Hill offers summer music camp
There is still time -- and one more reason -- to sign up for the Summer Music Festival and Camp at historic Cherry Hill in nearby Warren County.
The camp will be July 28 to Aug. 2 and will feature organ workshops for children and adults, a children's chorus and recital for grades one through eight, piano lessons, lectures and master classes. There also are audit options. More ...

SARAH CANNADY
ROCKY MOUNT - Sarah Cannady, 77, of Rocky Mount, passed away on Saturday, July 9, 2011.
A visitation for Mrs. Cannady was held from 1 - 2 p.m., with the Funeral Service beginning at 2 p.m., on Friday, July 15, 2011, in the Rocky Mount Chapel of H.D. Pope Funeral Home. More ...

KEVON REKEL CORBETT
ROCKY MOUNT – Kevon Rekel Corbett, 11, of Rocky Mount, passed away on Thursday, July 14, 2011, at Duke University Hospital in Durham.
More ...

JOSEPHINE BAKER HINES
ROCKY MOUNT – Josephine Baker Hines, 92, of Rocky Mount, died on Wednesday, July 13, 2011, at Hunter Hill Nursing Rehabilitation Center in Rocky Mount. More ...

TONY DANIELS
ROCKY MOUNT – Tony Daniels, 21, of Rocky Mount, died on Thursday, July 14, 2011, at Nash General Hospital in Rocky Mount. More ...

PEGGY M. JONES
ROCKY MOUNT – Peggy M. Jones, 65, of Rocky Mount, passed away Thursday, July 14, 2011, at UHS Inpatient Hospice in Greenville. More ...

WILLARD "BO" WINSTEAD
Willard (Bo) Winstead, 66, of Spring Hope passed away Saturday, July 16, 2011. He was born October 28, 1944 son of Estelle Sherrod Winstead and the late Raymond Winstead. More ...

RHADA STALLINGS MATTHEWS
Rhada Stallings Matthews, 100, died Friday, July 15, 2011. She was born on December 3rd, 1910 in Nash County, daughter of the late Oliver and Martha Ann Stallings. She was the widow of the late Earnest Oliver Matthews and was also preceded in death by one sister and four brothers. More ...

DAISY PEARL NARRON
Daisy Pearl Narron, 94, died Friday, July 15, 2011. She was born May 28, 1917 in Nash County, daughter of the late Miles Joseph Robbins and Susan Emmer Pridgen Robbins. Mrs. Narron was the widow of the late Bennie Lee Narron and was also preceded in death by her daughter, Frances Moore Wheeler and a grandson in law, Tony Coley, and a sister, Molly Pridgen.
More ...

RACHEL B. BAINES
Rachel B. Baines, 92, died Thursday, July 14, 2011. She was born October 21, 1918 in Nash County, daughter of the late Louis and Lessie Manning Bass. She was the widow of the late Woodrow Baines and was also preceded in death by one grandson. More ...

NELL S. FERRELL
Nell S. Ferrell, 74, died Wednesday, July 13 2011 in Rocky Mount. She was born March 12, 1937 in Hertford County, NC, daughter of the late Henry and Hazel Stephenson Slaughter. More ...

LAVERNE KAY EDWARDS
Laverne Kay Edwards, 64, passed away on Wednesday, July 13, 2011. He was born in Nash County on July 23, 1946. He was preceded in death by his parents James Augusta Edwards and Elizabeth Windborne Edwards, two brothers Carl Edwards and Keith Edwards. More ...

GEORGIANNA DAVIS
TARBORO - Mrs. Georgianna Davis, 89, of Tarboro, died on Monday, July 18, 2011, at Heritage Hospital in Tarboro. More ...