Subscribe/Access
Advertisements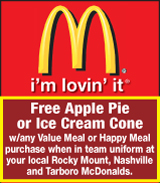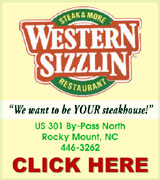 Sections
Member Options
Back
Policeman's mother speaks out
Edna Denton, mother of Middlesex police officer Hillary Thompson, appeared at the Spring Hope Town meeting Monday to demand a meeting with town officials over the treatment of her son, who was formerly employed as a full-time Spring Hope Police Officer. Denton accused Commissioners Stanley Hawley and Bill Newkirk of "unfavorable conduct" in regards to the Public Records Law. More ...
Amelia Harper, Graphic Correspondent
Area men busted on drug charges
Three men were arrested after Nash County Sheriff's Deputies seized close to 1,600 grams of cocaine during a search of their vehicle and residence.
The arrest was made possible through a joint investigation by the Nash County Sheriff's Office and the North Carolina State Bureau of Investigation. More ...

Young Men in Purpose celebrates anniversary
Eighty-six young men have come through First Sgt. Ted Williams' program. That's a big jump from the 10 that started with Williams just over a year ago.
On Saturday, Williams and many of the boys who have come through the Young Men of Purpose program and those that are currently in it, celebrated its one-year anniversary. More ...
Amanda Clark, Graphic Staff Writer
Annexation reform is promised at GOP event
Thom Tillis, NC Speaker of the House, spoke at a gathering of the Nash County Republican Party on Thursday, March 10, where he announced an April 1 deadline for the resolution of the annexation issue that has concerned many local citizens. The event was held at Nash Community College, where several hundred gathered for a dinner and to be updated on the transition of the power in the NC House and the activities of the Nash County Republican Party. More ...
Amelia Harper, Graphic Correspondent
Dedication ceremony held for Confederate
Six months ago, Web Williams didn't know he had family in Nash County. But on Monday afternoon, Williams visited a cemetery where his great-grandfather is buried to participate in a re-dedication of his grave.
Williams, who is from Myrtle Beach, South Carolina, said he was looking for deceased family members on findagrave.com and eventually discovered he had family in Nash County. More ...
Amanda Clark, Graphic Staff Writer
NASHVILLE POLICE REPORTS
ARRESTS
Donnie Ray Foster, Jr - 2/15/2011 - charged with assault on a female, driving while intoxicated level 2, and probation violations
Tonya Bryant Powell - 2/20/2011 - charged with fraud, worthless checks More ...

N-RMS Board resolution opposes charter school bill
North Carolina Senate Bill 8 (SB-8), "No Cap on Number of Charter Schools," has the Nash-Rocky Mount Schools (NRMS) board upset.
Passing the NC Senate with a vote of 33-17 the first week of March, SB-8 moved to the NC House and passed on the first reading. More ...
Michele A. Cruz, Graphic Correspondent
Nashville hosts American Legion State Oratorical Contest
For the first time, Nashville hosted the American Legion NC State Oratorical contest which was held on Saturday, March 5, 2011 at the Nashville Baptist Church. The event was jointly hosted by the Nashville American Legion Post #110 and the Wilson Post #13. More ...

NHCS offers cancer tests
In observance of National Colorectal Cancer Awareness Month this March, Nash Health Care will be offering free fecal occult blood test kits. These tests are one of the main screening tools for colorectal cancer. These kits, which are available to anyone in the community age 45 to 75, will be analyzed at the Nash Health Care lab, and results will be mailed to the participants. More ...

More Nashville residents are recycling
Recycling numbers in Nashville have improved, Nashville Town Manager Preston Mitchell told council members during the board's regular meeting this month.
Mitchell provided council members with recycling and landfill pounds from 2006 to 2010. Recycling numbers show the number of pounds increasing by over 150,000 pounds during the four-year period. More ...
Amanda Clark, Graphic Staff Writer
Spring Hope Elementary students celebrate Black History Month
To celebrate Black History month Spring Hope Elementary hosted two local celebrities, Annie Parker and Gladys Johnson. Ms. Parker, 86, worked at Spring Hope for thirty years while Ms. Johnson, 92, spent twenty-eight years at the school. Both touched many lives during their tenure at Spring Hope Elementary. Principal Bebe Wall recalls how both women made all of the children feel special and went out of their way to make sure each child was cared for. More ...
1 opinion posted
ENGAGED
Cindy and Jimmy Brantley of Momeyer announce the engagement of their daughter, Jamie Laura Brantley of Momeyer to Jimmy Aaron Baker of Elm City. Jimmy is the son of Russ Baker of Nashville and Tricia Hart of Elm City. The wedding will take place Saturday, April 16, 2011 at Church on the Rise in Rocky Mount.
More ...

Nash County Blood Drives for March 2011
Wednesday, March 16 from 8 a.m. until 1 p.m. at Faith Christian School, 505 Englewood Drive, Rocky Mount
Friday, March 18 from 10 a.m. until 3 p.m. at Edward Jones in Dortches, 3679 N. Halifax Road, Rocky Mount More ...

Farm Bureau honors local agency manager
Dan Cone, Manager of Nash County Agency in Nashville, was named Third Place Honor Agency Manager in his category for 2010, by Steven D. Carroll, CPCU, Executive Vice President and General Manager of North Carolina Farm Bureau Mutual Insurance Company.
More ...


Members of the Nashville Boys & Girls Club unit participate in a food drive. Pictured are Jayda Hines, Kristen Lewis and Jasmine Speight.

Be a part of something great!
National Boys & Girls Club Week
Nashville joins Boys & Girls Clubs across America next week to celebrate National Boys & Girls Club Week, March 20-26, by hosting several events to emphasize the importance and value of the Clubs to the Nashville community. The organization invites everyone to visit the club and see first-hand the impact being made on today's youth.
Boys & Girls Clubs are unique in the field of child development due to five identifying characteristics. Clubs provide: More ...
Photos by Sophia Edmonds, Unit Director Nashville Boys & Girls Club
PEACHTREE COMMUNITY NEWS
Saturday evening's dinner and talent show was a huge success. As always Peachtree cooks furnished a bountiful meal. The church hostesses served it in their gracious way. The talent show, coordinated by Lynn Griffin, was a roaring success. Talent acts ranged from an improvisation of Louis Armstrong, by the Pastor, dressed in a tux, to the reading of his original poetry by Jerry Perry. More ...
BARBARA HARDISON
MOUNT ZION FWB CHURCH NEWS
I was unable to attend Sunday school or church service on Sunday due to a cold and terrible cough. I was told Sunday school attendance was down. I guess others were out sick too. Maybe we can all be back next Sunday.
I am using the church bulletin and the sermon outline that our pastor puts in the bulletin every week for my source of information. More ...
ROSALENE BASS
RED OAK NEWS
Several ladies from Red Oak Baptist Church participated in the Adopt-a-Dorm Bible Study at Fountain Correctional Center in Rocky Mount on Monday, March 7. Hazel Hill led the study. Others attending included Jean Mellor, Suzy Pearce, Audrey Pearce, and Marilyn Boone. More ...
SUZY PEARCE
WORD FOR THE WEEK
Lazarus died. His sisters wept. Four days later Jesus arrived. "Your brother will rise again" (John 11:23). Martha knew the hope of eternal life taught in Scripture. "Martha said to Him, 'I know that he will rise again in the resurrection on the last day'" (John 11:24). More ...
Dr. Dennis Prutow
DAUGHTERS OF THE AMERICAN REVOLUTION
The DAR Micajah Pettaway Chapter met for a coffee hour on February 17, 2011, 2:30 P. M. in the home of Dee Long in Tarboro. After Vice Regent Dottie Barrett welcomed everyone, Dee introduced Dr. Jonathan Sarris, Associate History Professor at Wesleyan College who spoke on "Indentured Servitude." More ...
DEE LONG
EPHESUS NEWS
Youth Pastor Dan Crumley led our message in Word today from Ezekiel 20: 7 (NIV) And I said to them, "Each of you, get rid of the vile images you have set your eyes on, and do not defile yourselves with the idols of Egypt. I am the Lord your God". We need a new vision when we face the obstacles of life; God is that vision. More ...
DEBBIE PHILLIPS
BEULAH COMMUNITY NEWS
Last week my news failed to get published so I just want to mention a few things I had commented on last week.
First of all our last fish fry was the largest turn-out we have ever had and I want to give everyone a special thanks who attended and who continue to give us your support and fellowship. More ...
WILMA ENROUGHTY
It's safer to just stay in the shower
Lest you begin to think my often written about children have a) run away from home b) grown up or c) sent off to boarding school, they are once again the topic for the Soapbox this week.
Whereas they – usually individually – could be counted on to fill an entire space with just one incident, that is no longer the case. More ...
Mike Brantley
Let the sun shine through!
I think the weather this week matches perfectly with what newspaper people all over the world are celebrating: Sunshine Week. For the most part, this week is supposed to be nice and sunny but there will be some clouds and possibly even rain. Doesn't it seem like that's how elected officials are at times? More ...
Amanda Clark
It's your right to know!
The public has a right to know – that's what Sunshine Week, which is being celebrated across the country this week, is all about.
Sunshine Week is a national initiative to promote a dialogue about the importance of open government and freedom of information.
More ...
Jo Anne Cooper
Thanks for being patient through downtown construction project
I want to thank everyone for their patience during the construction going on in the downtown area. We have had few complaints and a lot of comments about how good it is going to look. I know there have been periods of congested traffic but the workers have done a good job of keeping traffic moving. I do want to remind you of the fact that when construction is finished, there will be some changes to the traffic pattern. More ...
Bill Creech, Nashville Chief of Police
Backward Glances
We found this photo in the Graphic's 1961 archives. Looks like this may have been a demonstration for a class or organization. Recognize anyone? Call us at 459-7101.
More ...
A PICTORIAL LOOK INTO THE PAST
Distinguished Citizen thanks community
I want to give a sincere thank you to the Nashville Chamber of Commerce and all participating parties that bestowed the honor of Nashville Distinguished Citizen of the Year upon me. I was caught off guard at the actual ceremony, so I wanted to take this moment to express my gratitude. I never thought I would receive such an important honor. More ...
Letters to the Editor:
Annexation Repeal Bill needs to be passed
In addition to the Involuntary Annexation Moratorium Bills in the North Carolina General Assembly there is a group of Annexation Repeal Bills. These Annexation Repeal Bills are of equal importance to the North Carolinians that have undergone forced annexation. More ...
Letters to the Editor:
Help Needed – Must Love Animals
It takes a village. Hmmm… Where have I heard that? But it does. It takes more than one to help save the pets of the Nash County. Adoption isn't the only way to help. What we need is time. Yours. YOU are the SOLUTION
Photographer – Several needed. Photographing one day a week at the Shelter (between 1pm and 4pm), then same day upload of images.
More ...
Carol Vierela, Nash County Animal Friends - 1 opinion posted

MIDFIELD MEETING. (L to R) Northern Nash's Jasmine Richardson and Bunn's Missy Kanuck try to gain possession during Monday's non-conference girls soccer showdown, which was held on the BHS campus.

BHS' Solid Start
BUNN -- Eric Schuette spent some time Tuesday morning talking to long-time observers of the Bunn High School girls soccer program, wondering if his team's victory over Northern Nash one day earlier was the first in BHS history against the tradition-rich Lady Knights.
"Nobody is really sure, but some people thought it might be,'' Schuette said following the Ladycats' 3-2 home decision versus Northern. More ...
GEOFF NEVILLE, Graphic Sportswriter

SLIDING SUCCESS. Northern Nash's Luke Joyner (right) scores a run as Bunn catcher Nick Cole comes up with a throw during last Tuesday afternoon's baseball matchup on the NNHS campus in Red Oak.

NN's Nine-Run First
RED OAK -- Northern Nash didn't provide a very hospitable welcome for Leonard Allen's homecoming last Tuesday afternoon.
Allen, a former assistant at NN, is now in his second season in charge of the program at Bunn High School in Franklin County. More ...
GEOFF NEVILLE, Graphic Sportswriter

BERRY'S BEST. Rocky Mount High School's Matthew Berry rips a single for the Gryphons during their road, non-conference baseball matchup last Wednesday afternoon against the Louisburg Warriors.

Return The Favor
LOUISBURG -- Disappointed by his team's performance during back-to-back losses two weeks ago at Rocky Mount and Tarboro, Louisburg High School baseball coach Al Bolton hoped for much better things when those teams returned the favor last week with journeys to Warrior Field. More ...
GEOFF NEVILLE, Graphic Sportswriter
NCMS a winner in fast-pitch
ROCKY MOUNT -- The Nash Central Middle School softball team kicked off its 2011 season last Wednesday with a 9-0 victory against South Edgecombe.
Kelsee Whitley was the winning pitcher for Nash Central as she whiffed 15 batters. More ...
Staff Reports
Central keeps streak going
ROCKY MOUNT -- The Nash Central High School softball team kept rolling along in non-conference play with another week of three wins.
The bats have stayed hot and Lindsey Sharpe and Grayson Bass have split pitching duties and have collectively held opponents to a .205 batting average and allowed only 8 earned runs through six games. Each has a 3-0 record on the season.
More ...
KENT WHEELESS, Graphic Correspondent
Bulldog baseballers keep rolling
TARBORO -- Nash Central's baseball team kept winning streak going last week with wins over Tarboro and Bunn.
At Tarboro, the Bulldogs topped the Vikings on Tuesday at Municipal Stadium.
The Vikings committed four errors to help Nash Central's cause.
NCHS got three runs in the fourth to go up 4-0. That spurt was started by junior Jalen Hendricks with a double. More ...
CHARLES ASLTON, Graphic Correspondent
NCHSAA STATE HOOPS SCORES
CHAPEL HILL -- Listed are last weekend's final results from the North Carolina High School Athletic Association's Boys and Girls State Basketball Championships: More ...
Staff Reports
Nash Co. players earn POY honors
WILSON -- Normally, seniors dominate when the top honors of most conferences are announced.
Not so when it came to Big East 3-A basketball this past winter. Two sophomores ended up setting the standard for the league. More ...
CHARLES ALSTON, Graphic Correspondent / Submitted photos by David Hahula
It's Baseball Season
NASH COUNTY -- They have put away the basketballs and crowned state champions.
Now baseball will be the headliner for the spring season as diamonds are seeing action all around Nash County.
For a look at how each high school team will be looking this spring, check out the preview capsules on each squad: More ...
CHARLES ALSTON, Graphic Correspondent / Submitted photos by David Hahula
East Carolina edged by Liberty
GREENVILLE -- Steven Evans tossed a season-best 7.1 innings with nine strikeouts as Liberty shutout East Carolina University 2-0 Sunday afternoon in the sixth and final game of the Eighth Annual Keith LeClair Classic.
With the win, the Flames move to 8-8 on the year, while the Pirates, coached by Billy Godwin, had their five-game win streak snapped falling to 11-4 on the season. More ...
Staff Reports

Pictured are "Life Goes On" cast members Stan Larwa, Tim Valentine, and Robert Toney. Judge Smith, (Tim Valentine) smooths the feather once again!

"Life Goes On" starts March 17 at Nash Arts Center
DROP DEAD FUNNY!
Nash Arts will present "Life Goes On" a comedy presented in two acts, beginning Thursday, March 17. The play will also run Friday, March 18 and Saturday March 19. All shows begin at 8 p.m. Admission is $12 for general public $10 for Nash Arts members. More ...

NOLIA WINSTEAD DAVIS
Nolia Winstead Davis, 81, passed away, Thursday, March 10, 2011. She was born February 22, 1930 in Edgecombe County. She was the daughter of the late Robert and Josephine Johnson Whitley. She was preceded in death by a son, Douglas Winstead in 1977.
More ...

ANNIE MOSLEY EDWARDS
CASTALIA - Annie Mosley Edwards, 86, died Wednesday, March 9, 2011. She was daughter of the late Herbert Tilman and Addie Frances Mosley. More ...

HARVEY RAY PIPKIN
Whitakers - Harvey Ray Pipkin, 51, passed away, Saturday, March 12, 2011. He was born October 22, 1959. Harvey was the son of the late, James and Martha Stancil Pipkin. Harvey was preceded in death by a sister, Sarah Elizabeth and her husband Mac Parker.
More ...

DENNIS MCNAIR
Mr. Dennis McNair, 63, of Rocky Mount, died on Wednesday, March 9, 2011 at Pitt County Memorial Hospital in Greenville. More ...

SHUQETTA A. BATTLE
ROCKY MOUNT - Ms. Shuqetta A. Battle, 26, of Rocky Mount, died on Tuesday, March 8, 2011 in Rocky Mount.
More ...

ANDREW JACKSON SHERROD, SR.
ROCKY MOUNT - Andrew Jackson Sherrod, Sr., 75, passed away Wednesday, March 9, 2011 at his home. He was born August 31, 1935 in Spring Hope, North Carolina. He was the son of the late Johnnie Jackson and Elsie Johnson Sherrod. More ...

WILSON HEDGEPETH
HOLLISTER - Funeral services for Wilson Hedgepeth, 93, who died on Saturday, March 12, 2011, will be today (Wednesday, March 16) at 2 p.m. at Pine Chapel Baptist Church with Rev. Robert Hedgepeth officiating. Burial will follow in the church cemetery. More ...

MICHELLE FINCH
ROCKY MOUNT - Funeral services for Michelle Finch, 36, who died on Friday, March 11, 2011, will be Friday, March 18, at 2 p.m. at Helping Hand Rapture of Deliverance with Bishop-elect Robin Atwater officiating. Burial will follow in the St. John cemetery. More ...

ANTHONY SMITH
RALEIGH - Funeral services for Anthony Smith, 48, who died on Friday, March 11, 2011, will be Saturday, March 19 at 1 p.m. at Little Zion Missionary Baptist Church with Elder David Wise officiating. More ...