Subscribe/Access
Advertisements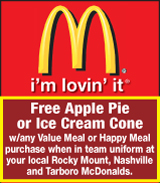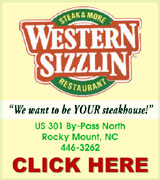 Sections
Member Options
Back
Middlesex releases statement regarding pedestrian's death
The Town of Middlesex has released a statement on the death of John William Perry, who was killed on February 14 after being brought to a Nashville Magistrate's Office by a Middlesex Police Officer. Perry was released in Nashville by the officer and was later killed on Highway 64 East as he was walking, reportedly back to Middlesex. More ...
Amanda Clark, Graphic Staff Writer
Motorcycle accident claims Bailey man's life
A Bailey man was killed after wrecking his motorcycle during a high-speed chase in Wake County on Saturday night.
According to Phyllis Stephens, spokeswoman for the Wake County Sheriff's Office, officers reportedly tried to stop Daniel Scott Barnes, 22, on Interstate 40 around 11:30 on Saturday night.
"One of our officers clocked the motorcycle down the Johnston County line at 133 miles an hour," Stephens said. More ...
Amanda Clark, Graphic Staff Writer
Lena Sessoms named Distinguished Citizen
When Lena Sessoms arrived at Nash Arts last Thursday night, she thought she was showing her support for the Boys and Girls Club. But instead, Sessoms was surprised to be called up to the front and presented the Nashville Chamber of Commerce's 2011 Distinguished Citizen Award. More ...
Amanda Clark, Graphic Staff Writer
Animal Friends' founder offers solution to extend shelter hours
The President of Nash County Animal Friends has asked to be put on the county's payroll.
Carol Vierela, who started the animal group last August, came before the Nash County Board of Commissioners on Monday morning with the request. More ...
Amanda Clark, Graphic Staff Writer - 2 opinions posted
Coopers Fire and Rescue double-dog dares you!
The Bulldog Brigade of the Coopers Fire and Rescue Department has one question for Nash County residents. When was the last time you were double-dog-dared?
The department is teaming up with the St. Baldricks's Foundation next Saturday, March 19 from 3 until 7 p.m. to raise money to help cure childhood cancer. More ...
Amanda Clark, Graphic Staff Writer
Board requests review of downtown bump outs
Nashville Council Members are requesting that the bump out on the corner of Washington and Barnes Street be reviewed to determine if it needs to be pulled in some.
The bump out is part of Nashville's Downtown Redevelopment Project, which has been ongoing since November of last year. More ...
Amanda Clark, Graphic Staff Writer
Corporal punishment policy is repealed by School Board
Public schools in the area can no longer administer corporal punishment. The Nash-Rocky Mount Schools (NRMS) board voted 6-5 to repeal their current corporal punishment policy.
Voting to get rid of the policy were chairman Bob Jenkins, vice chairman Evelyn Bulluck, and members Doneva Chavis-Battle, Joe Edge, Jon Hardy, and Franklin Lamm. More ...
Michele A. Cruz, Graphic Correspondent

Dew

Nashville woman part of duo arrested for insurance fraud
A Louisburg man and Nashville woman were sent to jail for their roles in swindling an elderly woman out of her life savings.
Superior Court Judge Richard Baddour Jr., sentenced Aaron Pittman, 56 to between 96 months and 125 months in jail and ordered the Louisburg man to pay $122,000 in restitution.
Baddour also sentenced Mildred Dew, 58, to between 13 months and 16 months in prison and five years of probation on March 3, following a trial in Granville County Superior Court.
More ...
Carey Johnson, Special to the Graphic
Nashville approves resolution in support of ABC system
Nashville's Town Council approved a resolution last Tuesday night in support of North Carolina's current public Alcohol Beverage Control (ABC) System.
The ABC System has been a hot topic in North Carolina over the past year, as questions of whether to privatize the system have been put on the table.
More ...
Amanda Clark, Graphic Staff Writer
Nashville families donate projector, screen to library
Two Nashville families have donated a projector and drop-down screen to Cooley Library which will allow the library to better show movies and other special programs.
The donations are from the LaRonia Boone family as well as the family of Andrew and Susan Tyson in memory of LaRonia and Andrew's parents, Hubert and Pearl Tyson and LaRonia's husband, Donald Thomas Boone. More ...
Amanda Clark, Graphic Staff Writer
Nashville Elementary student hit while waiting for school bus
A Nashville Elementary student was hit after darting in the road while waiting for the school bus last Wednesday.
According to the North Carolina Highway Patrol, 23-year-old Stephen Worley of Nashville was traveling south on Red Oak Road when 11-year-old Jimmy Winstead darted into the roadway. Worley attempted to avoid Winstead but hit the boy with the passenger side mirror. Worley's pickup truck came to a stop on the shoulder of Red Oak Road. More ...

911 Telecommunicators recognized at training
Three Nash County 911 telecommunicators were recognized last week for having the highest scores during a training class.
A brief ceremony was held on March 2 to recognize the three employees for their achievements. Those recognized included Assistant Shift Supervisor Bill Trimmer with a proficiency score of 100 percent, Telecommunicator Sherry Mullen with a compliance score of 98.2 percent and Telecommunicator Donnie Pittman with a compliance score of 97.5 percent. More ...

Red Oak experiences delays on sewer system
The Red Oak Sewer project has been delayed slightly by minor glitches that must be corrected before the town has permission to turn on the taps, Mayor Alfred Wester announced Monday at the town's regular business meeting. However, the mayor assured commissioners that the problems were being addressed and that service would soon commence. More ...
Amelia Harper, Graphic Correspondent
Ward Drug Company receives Special Recognition
Ward Drug Company received Special Recognition for Businesses at the Chamber of Commerce's Distinguished Citizen reception last Thursday night. Pictured above are employees of Ward Drug with Mayor Donald Street and Councilman Charles Taylor.
More ...

Beyond the Call of Duty
Chad Neville accepts the Beyond the Call of Duty Award at the Chamber of Commerce's Distinguished Citizen reception last Thursday night. Neville works for the Town of Nashville. More ...

Ward Drug Company welcomes pharmacy student during March
Ward Drug Company of Nashville welcomes Aadi Shah, a fourth-year pharmacy student, to the pharmacy team for the month of March.
Aadi Shah is a student at UNC Eshelman School of Pharmacy and will graduate in May of 2011 with his Doctor of Pharmacy degree. He has served in the community pharmacy setting throughout his didactic training. More ...

Godwin named DSS Employee of the Month
Mark Godwin has been selected as February Outstanding Employee of the Month for Nash County Department of Social Services. Godwin was selected based on his level of service, superior level of commitment, partnership, accountability, positive attitude, and ability to embrace change. Mark is a Child Support Agent and has been a Social Services employee since 1997.
More ...

MOUNT ZION FWB CHURCH NEWS
Our new Sunday school year begins the first Sunday in March. Today, we had our annual kickoff breakfast to start the year off right. We had a good attendance for the breakfast at 9 a.m., then went to class. We had 111 in attendance with 13 visitors. Brother Bob welcomed everyone. We sang happy birthday to all those with a birthday in March. More ...
ROSALENE BASS
PEACHTREE COMMUNITY NEWS
Next Saturday evening a Talent Show and Fellowship Meal will be held in the Fellowship Hall at 6:00! Bring a covered dish and stay for the show. You will be surprised by the talent that will be performing.
Sunday was a stormy day as the much needed rain came. Pastor Whitehouse chose as his sermon topic "Unity Matters".
More ...
BARBARA HARDISON
RED OAK NEWS
Everyone's invited to attend the North American Mission Study on Wednesday, March 9, 6:30 PM - 7:45 PM at Red Oak Baptist Church. This study is for all ages, Preschoolers through adult. Study will begin in the sanctuary. Come see what the missionaries are doing to spread the gospel and what you can do! More ...
SUZY PEARCE
EPHESUS NEWS
Pastor David Eidson delivered our message in Word from Romans 8:1-17, "Conquering Habitual Sins". Do not seek things of the world, but seek things of Christ. We should be still and listen to Him, stay in step with the Holy Spirit, be different from others, and live life in the Holy Spirit. Get plugged into the power source – get plugged into the Holy Spirit! More ...
DEBBIE PHILLIPS
Nash County Blood Drives for March 2011
Monday, March 14 from 3 until 7:30 p.m. at Nashville United Methodist Church, 209 E Washington Street, Nashville
Tuesday, March 15 from 12 until 4 p.m. at Rocky Mount Medical Park, 901 N Winstead Avenue, Rocky Mount More ...

Relay for Life News & Events
Live Auction: The Sixth Annual Relay for Life Live Auction will be held on March 12, 2011 at the Farmer's Market in Rocky Mount. Starts at 6 p.m. with a preview at 4:30 p.m. Lots of items to be auction off including a two night stay at the Sheraton in Morehead City, a 1 week Mountain vacation, Mudcats tickets, Rudy Theatre tickets, gift baskets, homemade cakes, & lots, lots more! More ...

President McLaurin to speak at Shaw University banquet
The Shaw University Rocky Mount/Kelly Bryant Alumni Chapter is excited and extremely happy to welcome Shaw's 15th President, Dr. Irma McLaurin, Ph. D., as its 8th Annual Heritage Banquet speaker on April 1st at Thorne Chapel Life Center, 1624 Windsor Drive, Rocky Mount at 7:00pm. Dr. McLaurin, the second woman president of Shaw University, came to Shaw in 2010 from the University of Minnesota where she served as Associate Professor. More ...

RAFFLE DRAWING
The Rocky Mount Debu-ette Club hosted a raffle drawing at Via Cappuccino on Saturday February 5, 2011. The club raised $6,500 to support local charities and the gifting of scholarships at the Debu-ette Presentation to be held in May. Pictured from left to right are Colleen Brie, Madison Sides, Shelby Dunn, and Sarah Hinson.
More ...

NEW OFFICERS
The Nash County Democratic Women installed new officers January 25th with the help of the Nash County Democratic Party Chairman, Marvin Arrington. All interested women are welcome to join in the discussions at the dinner meetings and often enjoy a stimulating speaker.
More ...

Wesleyan to offer initial Ratchford music scholarships
Having previously announced the establishment of the Ratchford Music Scholarship Endowment, North Carolina Wesleyan College is now offering a trio of initial awards to eligible students for the fall 2011 semester. Named for Dr. George Rufus Ratchford and intended for students who wish to participate in an instrumental program, the College is actively seeking candidates for three scholarships in the amount of $1,500 each. More ...

Diabetes Conference and Health Fair is today, March 9
Nash County Health Department and community partners continue leading efforts to address diabetes and its complications. On March 9, from 1-5 p.m. the Weigh-To-Go Diabetes Conference and Health Fair will be hosted at Nash Community College - Brown Auditorium in Rocky Mount. The afternoon conference is designed to inform, motivate, and empower participants to take control of their diabetes. Residents from a three county area; Nash, Edgecombe and Halifax counties are all invited to attend. More ...

Leaving, but certainly not saying goodbye
Someone pass the Aleve. Moving is no fun.
While most Nash County folks know that I've had a photography studio in Nashville for over 15 years, I've always made a point to not write about it. This wasn't something imposed by the Nashville Graphic, it was something I tried to abide by, to not make this an advertisement every week. More ...
Mike Brantley
Ms. Sessoms is very deserving of award
Last week, Nashville's Chamber of Commerce announced its Distinguished Citizen of the Year. I was not surprised to hear the name of Ms. Lena Sessoms called. If anything, the first thing that popped into my head was, "It's about time!"
There are so many wonderful people in the Town of Nashville, so many that willingly give of their time. Ms. Lena is one of those people. More ...
Amanda Clark
Reader's opinion differs from attorney
A news story entitled 'Attorney contends poultry plant may kill future jobs' has incorrect statements made by attorney Clark Wright, Jr. In the article he states that "The soil in Nash County is already saturated with phosphorus and the excess has to go somewhere." More ...
Letters to the Editor:
Nash County Animal Shelter still gasses animals
It has been over a year now since my "crusade" to end the use of the gas chamber at Nash Co Animal Shelter. We were told by certain members of council that things were going to change. As of today, those animals are still being tortured in that gas chamber. NC is the worst state for treating animals in shelters with absolutely no compassion. This is by no means the fault of the shelter workers. Not at Nash anyway. More ...
Letters to the Editor: - 1 opinion posted
We deserve answers about Perry's death
I have questions as well as the family of John William Perry who was killed Feb. 14 when he was hit by several vehicles on U.S. 64. We want to know if the actions of law enforcement and government officials contributed to his death. More ...
Letters to the Editor:
Why are we changing the age of majority to 26?
As I read the various letters and articles about the benefits of the "Patient Protection and Affordable Care Act" (Obama Care) the first benefit quoted by most of these letters and articles is the ability of parents to keep their children on the health insurance program until age 26. The first question that comes to mind is: when will parents or the government decide that the children have reached the age of majority? More ...
Letters to the Editor:
Nash County Animal Friends' Notebook
Come join me on Wednesday (TODAY, March 9) at the Nash County Animal Shelter. I will be there 4-7 p.m. I challenge you to come, talk to me and see our Shelter. And maybe, you might actually leave with a new family member. But even if you don't, I would like to meet people who are interested in pets and the fact that many are dying needlessly. More ...
Carol Vierela, Nash County Animal Friends
Backward Glances
This photo was originally published in The Graphic May 25, 1961 of the class officers elected to serve during the 1961-62 tern at NC Wesleyan College. Pictured from left to right are Barbara Williams of Coopers, treasurer; Albert Boone of Benvenue, president; Patsy Matthews of Nashville, secretary; and Joe Ezzelle of Rocky Mount, vice president.
More ...
A PICTORIAL LOOK INTO THE PAST

WAITING FOR THE THROW. Bunn's Sara Green (right) scores as Nash Central pitcher Lindsey Sharpe waits for the throw at home plate during last Tuesday afternoon's softball showdown in Franklin County.

Central Reloads
BUNN -- Following the graduation of a star-studded senior class -- including three college signees -- it was easy to wonder if this would be a rebuilding season for the Nash Central Lady Bulldogs' softball squad.
But over the years, Central has built a strong softball pipeline thanks to excellence on the middle school and JV levels -- along with a burgeoning travel program in Nash County. More ...
GEOFF NEVILLE, Graphic Sportswriter

IRON FIREBIRD. Southern Nash's Matthew Ray follows the flight of an iron shot during the Firebirds' team match Monday afternoon against Wilson Fike and Louisburg at The River Golf Course in Franklin County.

SN Back On Course
BUNN -- Wet weekend weather didn't bode well for a potential prep golf match Monday between host Southern Nash, Wilson Fike and Louisburg.
But skies cleared that morning, and the event took place as scheduled -- much to the happiness of Southern Nash's Haywood Brantley. More ...
GEOFF NEVILLE, Graphic Sportswriter

SHE'S SAFE. Southern Nash's Haley Wood (left) slides safely into home plate as Bunn's Melanie Davis tries to apply a tag during last Thursday afternoon's fast-pitch softball matchup at SN's Ladybird Field.

Southern Squeaker
STANHOPE -- Before last Thursday's road matchup at backyard foe Southern Nash, Bunn High School softball coach Melanie Lovin hoped her club had worked out its early-season kinks two days earlier during an opening home loss against Nash Central. More ...
GEOFF NEVILLE, Graphic Sportswriter
Southern wins one, ties one
STANHOPE -- Southern Nash has gotten off to a solid start in girls soccer action for the 2011 season under veteran head coach John Matthews.
Last week, the Ladybirds defeated Wilson Beddingfield by a 1-0 margin and tied Northern Vance 0-0. More ...
Staff Reports
Northern Reaches Semis
FAYETTEVILLE -- Visions of 1998's state championship run had been dancing in the heads of Northern Nash basketball fans as the Lady Knights played South Central last Saturday for the right to go to the finals for a state championship.
But a frigid shooting effort by Northern in the most important game it has played in over a decade ended those hopes as they fell 47-24 to South Central in the finals of the NCHSAA 3-A Girls Eastern Regionals at Crown Arena. More ...
CHARLES ALSTON, Graphic Correspondent / Submitted photos by David Hahula
Nash Central surges past Oxford Webb
OXFORD -- Nash Central spoiled J.F. Webb's home opener last Friday behind a complete-game performance from pitcher Jeremy Sloop.
Sloop didn't completely shut the Warriors down, but he did keep them in check, allowing nine hits and one walk while striking out 10 in Nash Central's 10-3 win. More ...
KELLEN HOLTZMAN, Henderson Dispatch
NCHSAA STATE HOOPS RESULTS
CHAPEL HILL -- Listed are this weekend's state pairings and last weekend's regional results from the North Carolina High School Boys and Girls State Basketball Tournaments: More ...
Staff Reports
East Carolina takes two of three games
GREENVILLE -- Senior Brad Mincey held Pepperdine in check in Game Two of a day-night twinbill, working a career-best 7.2 innings of relief in East Carolina University's series-clinching win, 7-4, last Saturday night in college baseball action at Lewis Field inside Clark-LeClair Stadium. More ...
Staff Reports
TAYLOR IN ACTION FOR WAKE TECH
Former Nash Central High School standout T.J. Taylor is now a freshman member of the Wake Tech Community College baseball team. Taylor and the Eagles have posted an 8-8 record this season. He is shown at the plate during a recent home contest against the Louisburg College Hurricanes at the USA Baseball Complex, which is located in Cary.
More ...

A Big East Bash
ROCKY MOUNT -- The team many feel will take the Big East Conference regular season baseball title this spring has opened its 2011 campaign with a bang.
Nash Central has started its campaign with a perfect 3-0 record after its opening week of play.
Coach Jeff Mizelle's group posted wins over Bunn, Smithfield-Selma and Oxford Webb. More ...
CHARLES ALSTON, Graphic Correspondent / Submitted photos by David Hahula
Wesleyan wraps up campaign
NORFOLK, VA. -- After a conference regular season and tournament championship, the North Carolina Wesleyan College Bishops men's basketball season has finally come to an end.
N.C. Wesleyan saw the final seconds of last Friday night's NCAA Division III first-round tournament tick off in a 69-56 loss to Franklin & Marshall. More ...
Staff Reports

FORWARD THINKING. Northern Nash's Caroline Johnson (left) tries to chase down a ball for the Lady Knights during their home girls soccer victory last Tuesday night against Louisburg High.

NNHS' Lofty Goals
RED OAK -- With only 10 players available due to injuries and incomplete physical forms, the Louisburg Lady Warriors took a much-needed defensive posture during their regular season girls soccer opener last Tuesday against the Northern Nash Lady Knights.
And the strategy worked before NN was able to put together a pair of late goals in the first half to take command. More ...
GEOFF NEVILLE, Graphic Sportswriter
NCWC breaks through at tourney
VIRGINIA BEACH, VA. -- North Carolina Wesleyan's softball team entered last weekend's Beach Blast tournament at Virginia Wesleyan College having played very well against a tough schedule, but still searching for its first victory of the season.
That search ended on day one of the tournament. More ...
Staff Reports
Stars Show The Way
NASH COUNTY -- When Chuck Braswell started the Stretchlon Lady Stars fast-pitch Travel Ball softball program in 2003, he had some hefty goals in mind.
First, Braswell wanted to help build quality players for Nash and Edgecombe Counties and help make the local schools more competitive with surrounding counties. More ...
Staff Reports
TOP BIRD
Southern Nash's Jarrett Hagler played in the No. 1 group for the Firebirds during their team golf matchup Monday afternoon against Wilson Fike and Louisburg at The River Golf Club.
More ...

"Life Goes On" starts March 17
Nash Arts will present "Life Goes On" a comedy presented in two acts, beginning Thursday, March 17. The play will also run Friday, March 18 and Saturday March 19. All shows begin at 8 p.m. Admission is $12 for general public $10 for Nash Arts members. More ...

WALTER LEE BRASWELL
ROCKY MOUNT - Walter Lee Braswell, 59, of Rocky Mount, died on Thursday, March 3, 2011 at Nash General Hospital in Rocky Mount.
More ...

HAZEL C. COFIELD
ROCKY MOUNT - Hazel C. Cofield, 77, of Rocky Mount, died on Thursday, March 3, 2011 at UNC Hospital in Chapel Hill, North Carolina. More ...

LUTHER MCCOY BULLOCK
WASHINGTON - Luther McCoy Bullock, 62, of Washington, DC, and formerly of Whitakers, died on Friday, February 25, 2011. More ...

EMMA L. EARL
NASHVILLE - Funeral services for Emma L. Earl, 90, who died Wednesday, March 2, 2011, were at 1:15 p.m. Sunday, March 6 at Union Hill Baptist Church, with Rev. John Neal officiating. Burial followed in the St. John Church cemetery. More ...

Lois Blanche Shearin Joyner
Lois Blanche Shearin Joyner went to be with her Lord and Savior on Sunday, March 6, 2011. Born March 15, 1933 in Nash County to the late Jasper Luscious and Bettie Will Harper Shearin, she was the second born of four children. Lois was a life member of Nashville Church of God. She worked 20 years at Rocky Mount Mills and then retired after 20 years of dedicated service from Abbott Laboratories. More ...