Subscribe/Access
Advertisements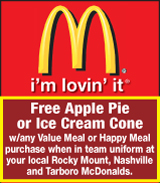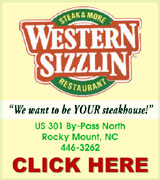 Sections
Member Options
Back
Pedestrian's death raises questions
The family of a man killed on NC Highway 64 on Feb. 14 wants answers as to why he was picked up by a Middlesex police officer and brought to Nashville on outstanding warrants they say don't exist.
John William Perry, 52, of Middlesex, was killed around 10 p.m. on Monday, Feb. 14 after he was struck by several vehicles while walking eastbound on NC 64 in Nashville. More ...
Amanda Clark, Graphic Staff Writer
Locals busted selling drugs
A Nashville man was arrested last week and charged with selling marijuana out of his home.
According to Lt. Dennis Wooten, of the Nash County Sheriff's Office Narcotics Unit, citizen complaints about drug activity in the area led to the arrest of 29-year-old Patrick Dwayne Woodcock, of 790 Moss Road, Nashville. More ...
Amanda Clark, Graphic Staff Writer
Sanderson delayed
The rising cost of corn and shrinking poultry sales have delayed the construction of the Sanderson Farms project, CEO Joe Sanderson announced last week. However, the company says that it remains "committed" to a second North Carolina complex. More ...
Amelia Harper, Graphic Correspondent
GROUNDBREAKING DAY
Nash Health Care Systems celebrated the groundbreaking of its new Middlesex Facility off of Highway 231 on Tuesday afternoon. The project was made possible because of a partnership with University Health Systems. Oakley-Collier Architects designed the 5,600 square foot building, which is slated to be completed at the end of 2011.
More ...

Senate bill may hinder town's shot at park grant
The Town of Nashville may no longer get a shot at grant funding to revamp the old Glover Park, thanks to a bill in the General Assembly that may take away the Parks and Recreation Trust Fund.
Nashville Town Manager Preston Mitchell told council members on Tuesday night during the board's regular meeting that although Senate Bill 13 was vetoed by Governor Beverly Perdue, another bill was passed that could still affect the town's chances at receiving the Parks and Recreation Trust Fund Grant. More ...
Amanda Clark, Graphic Staff Writer
Annexation bill offers hope to Oak Level community
Local residents fighting the proposed annexation by the City of Rocky Mount are hopeful that new representation in the General Assembly will create better laws that protect against forced annexation.
Members of the Oak Level Community Against Forced Annexation, or OLCAFA, have been fighting Rocky Mount's proposed annexation since September 2008, when they first heard the city was planning to annex over 1,700 acres of land into its city limits. More ...
Amanda Clark, Graphic Staff Writer
Distinguished Citizen Event is Thursday night
The Nashville Chamber of Commerce will honor its 2011 Distinguished Citizen at a reception Thursday night, March 3, at Nash Arts Center. The ceremony begins at 7 p.m. with a reception immediately following. Guest speaker for the event is District Attorney Robert Evans.
More ...

Medication disposal day is March 22
The Nash County Sheriff's Office and Ward Drug Company are partnering in Operation: Medicine Drop to give Nash County residents a safer way to dispose of medications.
Operation: Medicine Drop is a statewide pill take-back effort in which citizens are encouraged to bring in their old and/or unused medications to be properly disposed of. More ...
Amanda Clark, Graphic Staff Writer
Nash Health Care MRSA rate is reduced by 75 percent
What do college dormitories, military barracks, day care centers, locker rooms, hospitals, and nursing homes have in common? All are places where infections with a germ resistant to treatment with common antibiotics can occur—particularly if there are shared items such as towels or razors that may have come into contact with infected skin. More ...

Streater named Director of Imaging Services at Nash Health Care
Jay Streater was recently named director of imaging services at Nash Health Care. In his role, he will supervise areas including ultrasound, MRI and CT scanning, X-ray services, and the Nash Breast Care Center.
Originally from Morven, a town near Rockingham, NC, he earned his MBA in health care management from the University of Phoenix, and he received his bachelor's degree in radiological science from the University of North Carolina at Chapel Hill. More ...

Local sorority to present 15 ladies at event
The Rocky Mount Alumnae Chapter of Delta Sigma Theta Sorority, Inc. will present 15 young ladies in its 36th Jabberwock on Sunday, April 3 at 4:00 p.m. at the Dunn Center for Performing Arts at N.C. Wesleyan College in Rocky Mount.
With a theme of "Shining Stars of Tomorrow," the program will allow these exceptional young ladies to display their talents and earn scholarships toward the attainment of future higher education goals. More ...

Hearn named Breast Care Nurse Navigator
Penny Hearn, a women's health nurse practitioner, was recently named Breast Care Nurse Navigator for the  Nash Breast Care Center. In her new role, she will guide patients through the process of detecting and treating breast disease.
Penny received her women's health and family nurse practitioner certification from the University of North Carolina at Chapel Hill. She earned her master's degree in nursing administration from Emory University.  More ...

Spring Hope Elementary School Speaker
Author Kelly Starling-Lyons spoke to students at Spring Hope Elementary School on Friday, February 11 as part of the school's Black History Month celebrations. Lyons, who lives in Raleigh, wrote a book on the Million Man March that took place in Washington, D.C.
More ...

Dine Out set for March 10
The 15th annual Dine Out for Communities in Schools (CIS) is set for Thursday, March 10 and Sandra Jones hopes the event will continue to raise money to help encourage youth to stay in school.
Since its inception, Dine Out has raised over $14,000 each year the event has been held. As part of Dine Out, participating restaurants pledge 10 percent of their sales to help increase student achievement. More ...
Amanda Clark, Graphic Staff Writer
Nash County Blood Drives for March 2011
Thursday, March 3 from 12 until 6 p.m. at Englewood Presbyterian Church, 100 South Englewood Drive, Rocky Mount
Friday, March 4 from 11 a.m. until 5 p.m. at Englewood Presbyterian Church, 100 South Englewood Drive, Rocky Mount
Tuesday, March 8 from 3:30 until 7:30 p.m. at Red Oak Volunteer Fire Department, 7951 Red Oak Blvd, Red Oak More ...

Nash-Rocky Mount Public Schools salutes counselors
The sixty-two school counselors of Nash-Rocky Mount Public School System serve over 17,000 students throughout the school year, providing a wide variety of skilled services to students and families alike.
Professional school counselors are certified, experienced educators with a master's degree in guidance and counseling. The combination of their training and experience makes counselors an integral part of the total educational program. More ...


American Legion Post 110 of Nashville was presented a membership award last Monday night at the Ladie's Night banquet. Pictured (L-R): State Department Commander Bill Oxford presents the award to Post 110 Commander Larry Womack.

American Legion Post 110 honors ladies
American Legion Post 110 kept to its tradition of honoring the ladies last Monday night during its annual Ladies Night.
The Legion holds the event every February. Larry Womack, Commander of Post 110, said its important to honor the wives of legionnaires because without them, they wouldn't be able to do what they do. More ...
Amanda Clark, Graphic Staff Writer
MILITARY NEWS
Navy Seaman Recruit Natea M. Tapper, daughter of Vailery B. Green of Rocky Mount, recently completed U.S. Navy basic training at Recruit Training Command, Great Lakes, Ill. More ...

EPHESUS NEWS
Special music was provided by the DJCs, and they were later joined by the Ephesus Adult Choir as they all sang "This Little Light of Mine."
Pastor David Eidson delivered our message in Word from 1 Corinthians 2:1-5, quoting from verses 4 and 5 (NASB) "and my message and my preaching were not in persuasive words of wisdom, but in demonstration of the Spirit and of power, so that your faith would not rest on the wisdom of men, but on the power of God". More ...
DEBBIE PHILLIPS
PEACHTREE COMMUNITY NEWS
Sunday was a beautiful spring morning- forgotten were the cold days of winter. Pastor Whitehouse concluded his series of sermons on "The Greatest Conversion Story in the Bible", based on Galatians 1:16b-24. The main thesis was that you cannot understand Christianity without coming to grips with the truth of conversion. More ...
BARBARA HARDISON
RED OAK NEWS
Hola! Children, leaders, and parents of the North Roanoke Baptist Association joined together Saturday, Feb. 26 at 5:00 PM at West Edgecombe Baptist Church for a Missions Festival to celebrate the Hispanic culture and learn, ways to reach out to Hispanics who do not know Christ and also to learn ways to work together and encourage those who are Christians.
More ...
SUZY PEARCE
MOUNT ZION FWB CHURCH NEWS
There were 90 present in Sunday school today. Allie Farmer read the scripture verse. Brother Bob reminded us that the Sunday school institute would be next Saturday at Mt. Olive College. This is a very interesting workshop type day that is held every year. It is designed to help teachers and other workers to do a better job. More ...
ROSALENE BASS
EDGECOMBE-NASH RETIRED SCHOOL PERSONNEL
The Edgecombe-Nash Retired School Personnel met on Tuesday, February 8 10:30 a.m. in Braswell Memorial Library's Warner Room. After President Laurette Lewis greeted everyone, Vice President Mary Williams gave the devotion on God leading us to help others. More ...
Dee Long
SCHOLARSHIP RECIPIENT
On Feb 14, 56 people gathered to pay tribute to Lindsay Sendek who was the Voice of Democracy Second Place winner. Each year the Veterens of Foreign Wars gives three scholarships at the state level, one scholarship at District level and one scholarship at Post Level.
More ...

BEULAH COMMUNITY NEWS
We had another great day at Beulah Church of Christ on Sunday. The attendance was up and the enthusiasm was great. I could not be there but I was told the service was really inspiring. One young lady came forward and was baptized. Our hearts were really glad to welcome her into our congregation. Let's all pray that her faith will continue and God will bless her in her decision to serve him. More ...
WILMA ENROUGHTY

Gene Braswell (at left), son of Pfc Joseph Braswell accepts a flag from Wallace Darling, Captain of the VFW Honor Guard, last Monday morning. Pfc. Joseph Braswell was honored last month at the flag raising ceremony.

Flag raising held for Corporal Thomas Batts
The Joint Veterans Committee (JVC) paid tribute to Corporal Thomas A. Batts, Sr. last Monday morning at the Veterans Memorial at Jack Laughery Park in Rocky Mount.
The JVC honors a deceased veteran from Nash or Edgecombe County each month.
Batts lived all but three years of his life in the Rocky Mount area. Those three years were spent in the United States Army. More ...
Amanda Clark, Graphic Staff Writer
Nashville Boys and Girls Club Masquerade Party Pics, 2
The men of the Boys and Girls Club take a moment to pose for a picture. Pictured is: Octavius Lynch, Tyler Richardson, Cam'Ron Addison, Dekalon Stample, Quante Downey, Jaylyn Addison, Geroade Outlaw and Keyon Lynch. Also pictured are staff members Trevor Tucker and Elliot Hansen.
More ...

Gas prices remind us we're not invincible
It depends on how far back you want to remember.
Gas is really expensive right now. Sunday, a couple of hours before putting this article together, the price on the signs in Nashville and Spring Hope were $3.31 a gallon. At least where and when I drove by they were. Two days before, I filled up at one of those stations for $3.24, thinking it was going to get worse before it got better.
And it is going to get worse yet. More ...
Mike Brantley
Protecting our Children
We published the annual edition of "Protect Our Children" in The Graphic last week. This special edition provides information on the many dangers children face today.
The publication is made possible with the help of many non-profit agencies that lend information to us to pass along to parents. More ...
Jo Anne Cooper
Looking forward to our new downtown
Downtown Nashville is starting to take on a new appearance and I'm anxious to see the new, improved look.
Work has been ongoing for several months although to those of us that are downtown a lot, it probably seems like a lot longer. But in reality, it hasn't been that long. Workers have moved fairly quickly in getting things done, especially when you look at other towns, whose downtown projects took years to complete. More ...
Amanda Clark
Across the board budget cuts will be catastrophic for our state
The North Carolina General Assembly has a major opportunity to reduce the spending of the State of North Carolina for the 2011 and 2012 Budget years during the 2011 session. How they go about the reduction is currently in question. Many want an across the board cutting where everything is cut by a given percentage. The unintended results of across the board cutting can and will be catastrophic to the state and the citizens of the state for years to come. More ...
Letter to the editor:
Backward Glances
These 4-H Club members were the top winners in the annual 4-H Fashion Show held at Spaulding High School in 1961. This photo was published in The Graphic May 4, 1961. Pictured from left to right: Mary Sexton of Swift Creek, Edna Bryant of Central, Arnette Wright of Central, Waltrine Mills of Spaulding, Gloria Coley of Swift Creek, Ruth Ann Williams of Swift Creek, Geraldine Avent of Swift Creek, and Artis Moore of Swift Creek. Artis Moore was the overall winner.
More ...
A PICTORIAL LOOK INTO THE PAST
Nash County Animal Friends' Notebook
I know where you are coming from, when you tell me hard times hinder you from taking care of your pets the way you used to. We have children that either cannot find a job, cannot find one doing what they were educated to do or have to work somewhere away from family just to have a job. Our retirement doesn't go nearly as far as it used to either! More ...
Carol Vierela

ON THE DRIVE FOR FAYETTEVILLE. Northern Nash's Quonisha Lynch (right) heads to the basket during the Lady Knights' home victory over Havelock last Friday night in the third round of the Class 3-A Girls Basketball State Playoffs.

ELITE EIGHT RETURN
RED OAK -- Not since 1999 has Northern Nash's girls basketball team tasted competition past the NCHSAA sectional level
That will change Friday as the 2011 version of the Lady Knights will open play in the Class 3-A East Regionals in Fayetteville thanks to their 60-48 victory over Havelock last Friday in a sectional final at Northern Nash. More ...
CHARLES ALSTON, Graphic Correspondent / Submitted photos by David Hahula
RMA Puts On Show At State
ROCK HILL, S.C. -- The Rocky Mount Academy swim team made a big splash recently at the North Carolina Independent School Athletic Association State Championship Swim Meet.
Eleven of the 13 team members traveled in style to Rock Hill (just south of Charlotte), where they competed against independent schools from across the state and even a handful from the local South Carolina area. More ...
Staff Reports
NCWC to conduct tourney
ROCKY MOUNT -- North Carolina Wesleyan College is hosting The Wesleyan Cup golf tournament on April 8 at the Golf Club of Rocky Mount.
Sponsored by Roger G. Taylor & Associates, the event will be held at the Golf Club of Rocky Mount and is a significant source of academic, athletic, and scholarship funding for deserving Wesleyan students. More ...
Staff Reports
Wrestling Wraps Up
GREENSBORO -- Tamaris Lane didn't allow a first-round defeat to get in the way of his ultimate goal -- to make the medals stand at last weekend's Class 3-A State Individual Wrestling Tournament at the historic Greensboro Coliseum.
Lane, a junior at Nash Central, entered the double-elimination event with a strong 40-4 record in the heavyweight classification. More ...
Staff Reports
NCHSAA REGION HOOPS PAIRINGS
CHAPEL HILL -- Here is this week's schedule for regional action in the North Carolina High School Athletic Association State Basketball Playoffs: More ...
Staff Reports

ENJOYING THE MOMENT. Members of the North Carolina Wesleyan College men's basketball team have reason to celebrate after the Battling Bishops won the USA South Conference Tournament Championship on Sunday afternoon on the NCWC campus.

Wesleyan celebrates league championship
ROCKY MOUNT -– The North Carolina Wesleyan College basketball team woke up Sunday morning in a very familiar position.
Already crowned the 2011 USA South Regular-Season Champions, and in the conference tournament finals with an opportunity to sweep the two titles. More ...
Staff Reports
MORE MURRAY MAGIC AT LOUISBURG
Former Nash Central High School standout Megan Murray is enjoying a strong start to the 2011 campaign for the Louisburg College fast-pitch softball squad. Murray, a first baseman, is shown making contact during the Lady Hurricanes' home doubleheader last Saturday afternoon against Surry Community College.
More ...

ECU Pirates win on road versus Virginia
CHARLOTTESVILLE, VA. -- Junior Mike Wright worked a career-best seven innings and Mike Ussery drove in three runs as East Carolina University defeated 10th-ranked Virginia 4-3 in baseball action Sunday afternoon at Davenport Field.
With the win, the Pirates move to 4-2 on the year, while the Cavaliers fall to 6-1. More ...
Staff Reports
COUNTY LINE RESULTS
ELM CITY -- Listed are results from last weekend's racing events at County Line Raceway, which is located in Elm City: More ...
Staff Reports
Campbell to perform at Cherry Hill
Keiran Campbell, who began studying the cello at the age of 8, will be the featured performer at 3 p.m. Sunday, March 13, at Cherry Hill Plantation.
He will be accompanied by pianist Nancy Johnston. They will present a program including Bach's Suite No. 6 for Solo Cello; Beethoven's Sonata No 4 for Cello and Piano in C major and Popper's "Spinning Song." More ...

JOSEPH ASBURY MARTIN
Joseph Asbury Martin, Jr., 69, passed away Monday February 28, 2011 at Pitt Memorial Hospital, Greenville, NC. He was born in Lansing, Ash County, NC on March 29, 1941 to the late Joseph Asbury Martin, Sr. and Kathryn Bell Martin. More ...

NATALIE DENISE DAVIS
ROCKY MOUNT - Natalie Denise Davis, infant, of Rocky Mount, died on Thursday, February 24, 2011 at Nash General Hospital in Rocky Mount. More ...

LUTHER MCCOY BULLOCK
WASHINGTON, DC - Luther McCoy Bullock, 62, of Washington, DC, and formerly of Rocky Mount, died on Friday, February 25, 2011. More ...

ERNEST MILTON HUNTER
ROCKY MOUNT - Ernest Milton Hunter, 80, of Rocky Mount, died on Tuesday, February 22, 2011 at Nash General Hospital in Rocky Mount.
More ...

WILLIAM FRANKLIN LONG
William Franklin Long, 68, passed away Thursday, February 24, 2011. He was born March 13, 1942 in Nash County. William was the son of the late, Walter and Mary Stallings Long. He was preceded in death by sisters, Sue Corkum, Betty Vick and Linda Phelps. More ...

VIRGINIA BATTLE BRIDGERS
NASHVILLE - Virginia Battle Bridgers, 97, passed away, Tuesday, March 1, 2011. She was born September 11, 1913 in Nash County. She was the daughter of the late James and Flora Ross Bridgers. More ...