Subscribe/Access
Advertisements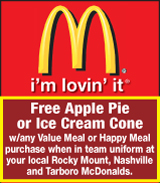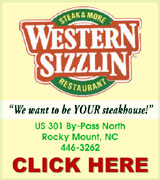 Sections
Member Options
Back
Mental health facility to stay
After over a year of studying Coastal Plain Hospital, Nash Health Care will continue to operate the mental health facility.
The Nash Health Care Board of Commissioners made the decision at its regular meeting on Thursday, January 6, after a recommendation from the Strategic Planning Committee. More ...
Amanda Clark, Graphic Staff Writer
SWORN IN
Newly elected Representative Jeff Collins (at left) was sworn in by NC Court of Appeals Judge Anne Marie Calabria (center) Monday at the Nash County Courthouse. Holding the Bible for Collins is his wife, Beanie (far right). Collins defeated Randy Stewart for the District 25 seat in the NC House of Representatives. More ...

Animal rule in Castalia faces public opposition
Castalia commissioners faced a crowd of concerned citizens last Tuesday at a public hearing held for the purpose of adopting a series of new ordinances for the town. The ordinances addressed a host of issues ranging from types of businesses located in the town to cell tower ordinances and animal issues. However, citizen concerns and the mysterious appearance of anonymous letters prevented the adoption of all of the ordinances. More ...
Amelia Harper, Graphic Correspondent
Nash County looks at revenue projections
Nash County Finance Director Lynne Anderson provided commissioners with a snapshot of how the 2010-2011 budget is shaping up during the board's regular meeting on Monday morning.
Anderson provided commissioners with figures through December 31, 2010. The 2010-2011 budget ends on June 30, 2011. More ...
Amanda Clark, Graphic Staff Writer
Flu kills teen in NC
Officials with the Nash County Health Department are reminding residents that it's not too late to get a flu shot after North Carolina reported its first child death from the flu for the 2010-2011 season.
A 15-year-old, whose identity and hometown have not been released, died on January 5 of complications from an influenza infection. The child had not received the flu vaccine this season. More ...
Amanda Clark, Graphic Staff Writer
Citizens continue to speak out against Sanderson Farms
Commissioners again suspended its rules of procedure on public comments to allow opponents of Sanderson Farms time to speak.
The county's policy states that those wishing to speak during the public comments section must limit their comments to three minutes, with the total session allowing for 15 minutes. More ...
Amanda Clark, Graphic Staff Writer
English receives Order of Long Leaf Pine
Nashville's Interim Fire Chief David English was surprised last Monday night with the Order of the Long Leaf Pine Award.
English, a Red Oak resident, received the award during a volunteer meeting at the fire department.
"I was totally shocked," English said. "They did a good job of keeping the secret." More ...
Amanda Clark, Graphic Staff Writer
The Love Church holds giveaways in December
The Love Church helds its first free Clothing Giveaway on December 4, 2010 with over 50 people coming out to select clothes, coats, accessories and shoes that were donated by members of the Showers of Blessing Christian Center (SBCC) members and others from the Love Church community. More ...

MOUNT ZION FWB CHURCH NEWS
There were 99 in Sunday school recently. Caleb Whitford read the Bible verse for today. "Thank you."
Our choir sang "For God So Loved The World/The Family of God". Atlee Matthews prayed the prayer of invocation. Algie Jones, Jr. led the service as Pastor Rogerson prepared for another baptismal service. More ...
ROSALENE BASS
EPHESUS NEWS
Our service began Sunday morning with special music by sister and brother, Pam Peele and Wallace Edwards, as they sang "Turn Your Eyes Upon Jesus".
Student Pastor Dan Crumley read scripture from Acts 2:40-47. Pastor David Eidson's message from that scripture was "When God Comes to Church". More ...
DEBBIE PHILLIPS
BEULAH COMMUNITY NEWS
We want to say thank you to everyone who came to the fish fry last Friday night. We really enjoyed seeing you again and always appreciate your support and enjoy the fellowship. I want to thank those also who worked at the fish fry. It takes all of you to make it a success each month. Without all of you we could not accomplish this. Again, thank you all. More ...
WILMA ENROUGHTY
Brooklyn Community News
On December 16, 2010, the Brooklyn Area Community Watch partnered with the Nashville Boys & Girls club in having a Christmas party. There were a host of activities available for the children, all going on at the same time. One group was making gingerbread houses, using graham crackers, M&M candy, and icing. More ...
LENA SESSOMS
SGA delivers toys to local children
The Nash Community College Student Government Association (SGA) wrapped up a successful Christmas toy collection in December.
Nash Community College's SGA wrapped up its toy drive in December. Pictured above on the front row (L-R) is: Angelica Wright (Activities Coordinator), Bill Hill (President), Tiffany Richardson (Parliamentarian) and Landon Rayburn (Treasurer). On the back row (L-R) is: Latoya Anderson (Public Information Officer) and Stephanie Brown (Advisor).
More ...

RED OAK NEWS
Several ladies from Red Oak Baptist Church participated in the monthly Adopt-a-Dorm Bible Study at Fountain Correctional Center in Rocky Mount on Monday, Jan. 3. Approximately 10 ladies from Dorm B attended the study led by Marilyn Boone. Others from Red Oak included Hazel Hill, Audrey Pearce, Suzy Pearce, and Jean Mellor. More ...
SUZY PEARCE
PEACHTREE COMMUNITY NEWS
On this past cold Sunday morning, the faithful who were in church were warmed by the spirit of love and fellowship of those present. The sanctuary flowers were given by Jane May in memory of her husband, Perry, whose birthday was in January.
Pastor Whitehouse chose as his sermon topic, "When a Prophet Speaks". More ...
BARBARA HARDISON
New words and things to ponder in 2011
Finally, it seems, we're past the major holidays and heading back to "normalcy." The Soapbox hopes to have its Christmas tree down by St. Patrick's Day, but otherwise, it is a clean slate for 2011. Except for …
With all the things to write about in December and January, the Inbox here piled up with content and observations by readers. More ...
Mike Brantley
Local Krispy Kreme lady certainly makes my day a little brighter!
There is something about doughnuts that can brighten just about anyone's day and not just any doughnut, but a Krispy Kreme glazed doughnut.
I can't remember a time that I didn't like doughnuts and when I was younger, I liked any and all doughnuts. I was a kid and I didn't know about the "hot" sign and the distinct difference between those fresh, hot Krispy Kreme ones and all the other ones. More ...
Amanda Clark
Dumping hunting dogs out to die is barbaric
Living out in the country has a lot of advantages. As a matter of fact, the country life is the life I've always known and loved.
But one huge disadvantage is having to deal with irresponsible hunters this time of year.
In the past, our experiences with hunters have routinely been having to remind them that our land is private and we don't allow hunting. More ...
Jo Anne Cooper - 1 opinion posted
Backward Glances
This photo was found in The Graphic's 1961 archives. Looks like this young lady was treated to a little taste of snow!
More ...
A PICTORIAL LOOK INTO THE PAST - 1 opinion posted
Political parties should not interfere in Board of Education elections
My father once shared an old saying that, "a locked door keeps an honest man honest." I always struggled with the meaning of this because I still felt a handshake, a person's word and a shut door would still suffice. This election year the two political parties decided to inject themselves into the "NON-PARTISAN" School Board elections. More ...
Letters to the Editor:
YOU are the SOLUTION – Fostering to Save a Life!
We have a problem and we have a solution. The problem is that we are killing around 200 pets a month at the Nash County Animal Shelter. The thing is, many of these are really good pets. You read this and you think what can you do? LOTS! You could, of course, adopt. Or you could open up your heart and home to Foster.
More ...
Letters to the Editor:

FINISH-ING TOUCH FOR SNHS. Southern Nash High School's Sarah Johnson heads toward the finish line during freestyle action as part of last Wednesday afternoon's Big East Conference Swim Meet, which was held at the Harrison YMCA in Rocky Mount.

MORE OF THE SAME
ROCKY MOUNT -- The prolonged Christmas Break wasn't about the stop the momentum of the on-a-roll Nash Central High School girls swimming team.
Not a chance.
The Lady Bulldogs began 2011 in the same fashion as 2010 -- with another solid victory last Wednesday afternoon in Big East Conference action at the Harrison Family YMCA. More ...
GEOFF NEVILLE, Graphic Sportswriter

PLAYING KEEPAWAY. Southern Nash's Tracey Coppedge (with ball) averts a steal attempt from Bunn's Jaymes Kingsberry during last Wednesday night's non-conference boys basketball showdown at the SNHS Gymnasium in Stanhope.

SNHS Bounced Versus Bunn
STANHOPE -- A trip to Southern Nash always provides a homecoming for Bunn boys basketball coach Gerald Melton, who used to guide the SN girls hoops squad in the late 1990s.
Melton has enjoyed plenty of success during his Stanhope returns, including a non-conference victory against the Firebirds last Wednesday night at the SNHS Gymnasium. More ...
GEOFF NEVILLE, Graphic Sportswriter
Bulldogs a winner on mat
ROCKY MOUNT -- Host Nash Central picked up a 54-18 decision against Rocky Mount last Wednesday in a Big East Conference wrestling matchup.
Central will return to the mat Friday at Wilson Fike before taking part in the annual Firebird Duals on Saturday at the Southern Nash High School Gymnasium in Stanhope. More ...
Staff Reports
Wilson Fike, Hunt earn league wins
ROCKY MOUNT -- The matinee' showing of the Big East Conference's swim season provided a different ending in the girls standings last Saturday.
Nash Central had controlled the proceedings in Big East girls action until Fike ended the streak in a daylight showdown at the Harrison Family YMCA. More ...
Staff Reports

STYLES POINTS. Nash Central's Niya Styles (with ball) drives to the basket during the Lady Bulldogs' Big East Conference basketball game last Friday at Rocky Mount.

SNHS Dooms Demons
WILSON -- Every so often, at start of Big East Conference basketball play, comes an upset.
There was a biggie in Wilson last Friday night.
Southern Nash's boys, coming off a crushing 60-27 defeat in their league opener earlier in the week to Wilson Hunt and a non-conference loss to Bunn, shocked defending conference tournament champion Wilson Fike on its home floor. More ...
CHARLES ALSTON, Graphic Correspondent / Submitted photos by David Hahula
Wesleyan collects split
WINCHESTER, VA. - North Carolina Wesleyan College's men's and women's basketball split last Saturday's USA South doubleheader at Shenandoah University in Shingleton Gymnasium.
The men were 83-64 victors behind junior Domarius Thomas double-double of 21 points and 11 rebounds, while the women suffered their third straight loss, 85-72, despite 21 points and 13 boards by sophomore Samantha Urquhart. More ...
Staff Reports
Hot Stove event slated
RALEIGH -- The Raleigh Hot Stove League will stage its 61th annual banquet on January25 at the McKimmon Center on the North Carolina State University campus.
A silent auction will begin at 5:15 p.m. with the banquet to follow at 6 p.m. More ...
Staff Reports
TREMENDOUS EFFORT
Wake Forest resident Tori Hansen, who won the Nash County sectional event of the National Football League Punt, Pass and Kick Competition in October, has advanced to compete in the National Finals in the Girls 8-9 Division on Jan. 15 at the Georgia Dome in Atlanta.
More ...

ECU to host 'Meet The Pirates'
GREENVILLE -- East Carolina University baseball fans will get their first chance to meet the 2011 Pirates up close and personal on Saturday, February 5, as ECU hosts its 11th Annual "Meet the Pirates" luncheon. More ...
Staff Reports
The Snow of 2010
The snow was so pretty falling
So hard you could hardly see
All of it was God's work
Everything He does is for you and for me. More ...
Elizabeth Rackley, Nashville Graphic Subscriber
Jared Wood to perform at Nash Arts Center
Nash Arts has kicked off the New Year with a full calendar of events including local and national artists, The Nashville Opry and Nash County's Got Talent Showdown.
Rocky Mount Native Jared Wood will perform at a sing-a-long event Sunday, January 16 at 7 p.m. Admission is $10 ($8 for members..) More ...

BILLY RAY GLOVER
Mr. Billy Ray Glover, age 80, of Nashville, NC passed away in his home. He was born June 4, 1930 in Wake County, North Carolina to the late Jimmy and Ada Hopkins Glover. He was preceded in death by his brothers, Bobby, Harold, Jimmy, Clint, Willis. More ...

WILLIAM C. MOODY
Rocky Mount- William C. Moody died January 2, 2011. Funeral arrangements to be announced. Arrangements by Stokes Mortuary, Inc.
More ...

TROY BYRON WARNER
Rocky Mount - Troy Byron Warner died December 31, 2010. Funeral services were Saturday, January 8, 2010 at 1 p.m. at North End Missionary Baptist Church. Viewing/ visitation was Friday, January 7, 2010 from 3-7 pm.
More ...

ANNIE L. PERRY
Rocky Mount - Mrs. Annie L. Perry, 82, of Rocky Mount, passed away Monday, January 3, 2011 at Nash General Hospital in Rocky Mount. More ...

WILLIE LEE ROSS
Rocky Mount - Mr. Willie Lee Ross, 35, of Rocky Mount, died on Tuesday, January 4, 2011 at UNC Hospital in Chapel Hill.
More ...

EFFIE WILLIAMS
Rocky Mount - Mrs. Effie Williams, 81, of Rocky Mount, died on Wednesday, December 29, 2010.
More ...

THOMAS LEE COOPER
Rocky Mount - Mr. Thomas Lee Cooper, 75, of Rocky Mount, passed away Sunday, January 2, 2011 at his residence in Rocky Mount.
More ...

ERMA RAE WILDER PATTERSON
Erma Rae Wilder Patterson, 88, passed away Saturday, January 8, 2011. She was the wife of the late J.B. Patterson and daughter of James Ermon and Sallie Lou Wilder. More ...

ANTOINETTE VIOLA DEANS
Rocky Mount - Mrs. Antoinette Viola Deans, 35, of Rocky Mount, departed this life on Saturday, January 8, 2011 at Nash General Hospital in Rocky Mount. More ...