Subscribe/Access
Advertisements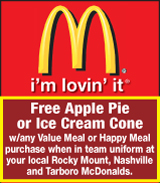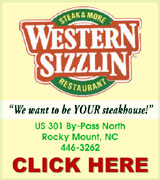 Sections
Member Options
Back

Up to 12 inches of snow fell over Nash County on Christmas night and into Sunday. Pictured, Jordan Saunders, of Nashville, enjoys playing in the snow.

Christmas Snow in Nash County
Despite the significant snowfall in parts of Nash County, the North Carolina Highway Patrol reported no fatalities on the roadways due to the weather.
First Sgt. Keith Stone said as of Monday night around 8 p.m., the Highway Patrol had responded to 445 accidents within Troop C, which includes Nash County. More ...
Amanda Clark, Graphic Staff Writer
Dashing through the snow!
Local teens spent the day sledding in Nashville after more than a foot of snow fell in Nash County. Pictured here several friends who decided to take a ride "together" down the hill including Ryan Barham, Dylan Rackley, Dillon Moore, Joey Davis, Matthew Smith, Sam Collier, Gavin Johnson, Katie Smallwood, Randi Price, Brandon Hodges, Mitchell Harrell, Matthew Pope, Rush Sharod and Michael Smith.

More ...

Spring Hope man dies in house fire
A Spring Hope man was found dead inside his home after a late night fire on Christmas Day.
The Spring Hope Fire Department was dispatched to a fire at 2875 Bergeron Road around 11:15 p.m. on Saturday, December 25. When firefighters arrived, they found the mobile home fully involved. The fire was brought under control within 30 minutes. More ...
Amanda Clark, Graphic Staff Writer
"Shop With A Cop" helps needy families in Nashville
A Nashville family's Christmas was made brighter thanks to the efforts of Nashville's Police Department and Wal-Mart.
Police Officers teamed up with Wal-Mart to offer the first ever Shop With a Cop program in Nashville, where the police department selects needy families and buys toys and clothes for the kids. More ...
Amanda Clark, Graphic Staff Writer
Lawsuit stalls poultry processing plant plans
Plans for a proposed Sanderson Farms chicken processing plant continue to be on hold until after the new year due to lawsuits filed by the City of Wilson and neighboring landowners.
The City of Wilson and 34 property owners filed a lawsuit on November 19 against Nash County, alleging that their rezoning of property Sanderson Farms is looking to purchase is not valid. The land was rezoned on November 1. More ...
Amanda Clark, Graphic Staff Writer
CHRISTMAS MORNING
Payton and Cullin Whitley (L-R) check out what Santa left them on Christmas morning. They are the children of Susan and Damian Whitley of Red Oak. More ...

Thieves break in to Nash County pawn shop
American Jewelry and Pawn in Rocky Mount was broken into on Monday morning.
According to Sgt. Beth Carlton of the Rocky Mount Police Department, the burglary occurred around 9:25 a.m. on Monday. The business was closed at the time of the burglary. More ...
Amanda Clark, Graphic Staff Writer
Santa at Cooley Library
Jillian Hale, who is one and a half years old, checks out Santa at Cooley Library last week. Santa visited the library and got Christmas wish lists from the boys and girls, who also had the opportunity to make Christmas arts and crafts.
More ...

Nash County Animal Shelter
Carol Vierela, President of Nash County Animal Friends, visited the Nash County Animal Shelter on Thursday, December 23 to give treats and toys to the animals. Pictured above, Vierela gives a bone to one of the dogs at the shelter.
More ...

Whitakers man dies after being found in snow
A Whitakers man died after being found in the snow on December 26.
According to Captain Pat Joyner, of the Nash County Sheriff's Office, Gene Artis Dunn, 61, was reported missing on December 26 by family members. More ...
Amanda Clark, Graphic Staff Writer
Snow pics, 1
SNOWMAN – Ashley Bass of Nashville (right) stands with his daughter Emily at the snowman the family built Sunday.

More ...
Graphic photos by Jo Anne Cooper
Edgecombe-Nash Retired School Personnel meet
On December 14th the Edgecombe-Nash Retired School Personnel met 11:00 a.m.. at Stacks Restaurant for their Christmas Fellowship Luncheon.
President Laurette Lewis welcomed everyone and Mary Williams, Vice President, introduced Reverend Milton Harrell, a graduate of Pattillo School and resident of Tarboro. He presented special music on his harmonica, gave an inspirational message, and presented each member and guest with a CD of his musical selections titled, "Celebration of Love." More ...
DEE LONG
Local graduates from Gardner-Webb
Gardner-Webb University is pleased to announce that Tiffany Jackson, of Nashville, was among the nearly 300 students who recently graduated during its 2010 fall commencement exercises.
Jackson graduated with a BSN degree in Nursing. More ...

EPHESUS NEWS
During the Christmas Eve service, families joined together for communion and then a candlelight service as Pastor David told the story of Jesus' birth while candles were being lit, reminding us all of the true meaning of Christmas. More ...
DEBBIE PHILLIPS
Nash County Blood Drives for January 2011
Monday, January 3 from 2:30 until 7:30 p.m. at Wal-Mart, 1205 Eastern Avenue, Nashville
Monday, January 3 from 3:30 until 7:30 p.m. at Bethlehem Baptist Church, 305 South Halifax Road, Rocky Mount
Tuesday, January 4 from 2:30 until 6:30 p.m. at First United Methodist Church, 100 S. Church Street, Rocky Mount More ...

Former Graphic editor wins two national writing awards
Clifton Barnes, a Rocky Mount native and former sports and feature page editor of the Graphic, has won a pair of national writing awards.
Barnes won the awards, presented by DC area-based Communications Concepts through its 2010 Awards for Publication Excellence competition, for articles he wrote for UNC's Carolina Alumni Review magazine and the North Carolina State Bar Journal magazine. More ...

ACHIEVEMENTS
Taylor Joyner and Ben LaHay two of Nash County's 4-Hers made the NC State Skillathon Team. During the try out phase, the youth competed in several competitions as well as took online competency test to compete for a spot on the State team. At the contest in Pennsylvania on October 1, 2010, Taylor placed first therefore winning Stockman of the Year. Also, the NC State team won the contest. The team placed second at the Southern Regional Contest in Raleigh. Taylor and Ben along with two other North Carolina 4-Hers traveled to Louisville Kentucky to compete at the National 4-H Skillathon Contest on November 15, 2010. The team placed 5th in the evaluation division and 8th overall at the National Competition.
More ...

My anti-resolutions for the new year
"Good resolutions are simply checks that men draw on a bank where they have no account." ~Oscar Wilde
It's that time of year again, when Christmas has passed, and the New Year is upon us. That can only mean one thing: your health insurance goes up next month. More ...
Mike Brantley
It's too early for snow in Nash County
I guess some of you got your wish for a white Christmas, although technically it was a white day after Christmas.
I was quite glad the snow held off until late Christmas Day because I was in Pitt County and had no desire to drive home in a blizzard nor did I want to have to cut my Christmas celebrations with my family short because of the weather.
More ...
Amanda Clark
Response from school system was unfortunate
I am a retired pastor who is currently serving Castalia Baptist Church as interim while they search for a new pastor. Castalia Baptist Church, as it has done for at least two years, provided a "toy ministry" for families needing assistance to provide gifts for their children for Christmas. Members of the church and donations from outside the church helped to provide new toys for each family who registered and came to the church. More ...
Letters to the Editor:
New leadership for a new year
For the citizens of North Carolina, Nash County, and Rocky Mount; 2010 has been a year of excitement and contrast. There are a number of things that can be identified on each side. I would prefer to deal with those things that I believe will add excitement to the future and provide an opportunity for North Carolina, Nash County, and Rocky Mount to shine. More ...
Letters to the Editor:
Backward Glances
NEWSPAPER BOYS – These three young men were The Graphic's top newspaper salesboys in March of 1973. Pictured, left to right, are Herbert Morgan, Bobby Wilder and Jan Richardson.
More ...
A PICTORIAL LOOK INTO THE PAST

Northern Nash High School's Khadijrah Robinson (with ball) grabs a rebound while being defended by a pair of Rocky Mount players during last Wednesday night's Girls Championship Game of the annual Nash County Christmas Basketball Tournament.

Teams Do The Splits
ROCKY MOUNT - Rocky Mount has dominated most of its opponents thus far this season.
That trend continued last week in the annual Nash County Christmas Basketball Tournament at Rocky Mount High School.
After taking care of Southern Nash in the semifinals, the Gryphons beat previously unbeaten Northern Nash last Wednesday in the finals for the second straight year by a 60-47 count. More ...
CHARLES ALSTON, Graphic Correspondent / Submitted photos by David Hahula

BOARD BATTLE. (L to R) Rocky Mount's Bruce Applewhite and Northern Nash's Jevonte Payton go up for a rebound during last Wednesday night's Boys Championship Game of the annual Nash County Christmas Basketball Tournament.

Knights Top RMHS For Title
ROCKY MOUNT -- Northern Nash's Michael Brackett is used to making game winners. After all, he's one of the state's best high school tennis players.
But as for making game winners in basketball, it's not his forte -- at least not until last Wednesday night. More ...
CHARLES ALSTON, Graphic Correspondent / Submitted photos by David Hahula
Bulldogs will open March 1
ROCKY MOUNT -- Nash Central High School, the defending Big East Conference Softball Tournament Champion, will begin its 2011 fast-pitch campaign March 1 with a road outing against Bunn in Franklin County.
First pitch is scheduled for 4:30 p.m. More ...
Staff Reports
NASH COUNTY HOLIDAY SCORES
ROCKY MOUNT -- Listed are all of the scores from last week's action at the Nash County Christmas Basketball Tournament at Rocky Mount High School. More ...
Staff Reports
PEGGY HOPKINS PITT
Peggy Hopkins Pitt, 63, died Thursday, December 23, 2010. She was born June 4, 1947 in Nash County, daughter of Ruby Bunn Hopkins and the late Alsey Monroe Hopkins. More ...

HELEN BURNETTE BATTS
Helen Burnette Batts, 97, died Sunday, December 26, 2010. She was born July 22, 1913 in rural Franklin County near Laurel Mill. She was predeceased by her parents, John Ward and Rebecca Gupton Burnette; her husband of 26 years, W. R. "Dock" Batts; brothers, Fred, Linwood, "Greek", "Monk", "Chubby", and Cliff Burnette. More ...

GLADYS MAE HOWE SALLEE
Gladys Mae Howe Sallee, 92, passed away Sunday, December 26, 2010 surrounded by her family. She was born November 23, 1918 in Madison County, Kentucky, the daughter of the late William Howe and Ella Henderson Howe. She is also preceded in death by her husband, Chester B. Sallee; son, William "Billy" A. Sallee; daughter-in-law, Margaret Sallee; sons-in-law, Bob Rogers and Billie O'Neal. More ...

WILLIAM "BUD" BARNES
WASHINGTON, DC- William "Bud" Barnes, formerly of Rocky Mount died December 20, 2010. Funeral arrangements to be announced. Arrangements by Stokes Mortuary, Inc.
More ...

ROSEZELLA GRAHAM LEWIS
ROCKY MOUNT - Mrs. Rosezella Graham Lewis, 87, of Rocky Mount, died on December 20, 2010 at Heritage Hospital in Tarboro.
More ...

TOMMIE WINSTON
ROCKY MOUNT - Mr. Tommie Winston, 63, of Rocky Mount, NC, departed this life on Tuesday, December 20, 2010.
More ...

LORAINE FISHER HEDGEPETH
RED OAK – Loraine Fisher Hedgepeth, 92, passed away on Wednesday, December 22, 2010. Born December 12, 1918, to the late Samuel Willis Fisher and Lizzie Capps Fisher. More ...