Subscribe/Access
Advertisements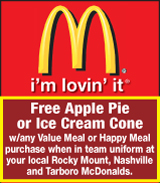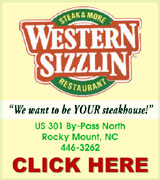 Sections
Member Options
Back
Nielsen demands public records
Nashville business owner Dennis Nielsen told Nash County Commissioners he planned to file a lawsuit against the county if they failed to provide public records he has continuously requested for four months.
Nielsen spoke briefly before the board at the regular meeting on Monday, December 6, 2010. More ...
Amanda Clark, Graphic Staff Writer
Jones named Nashville Firefighter of the Year
Bill Jones was named the 2010 Nashville Firefighter of the Year on Saturday night during the Nashville Fire Department's annual Christmas celebration. Brandon Lindsey was named Rookie of the Year.
Pictured (Above): Bill Jones (far right) was named the Firefighter of the Year at the Nashville Fire Department's annual Christmas celebration on Saturday night. Pictured, Captain Scott Whitford (far left) presents Jones with a mask while Volunteer Chief Haywood Edmonds looks on. More ...
Amanda Clark, Graphic Staff Writer
Downtown Nashville project moves forward
Just over a month since Nashville's Downtown Redevelopment Project began, work is continuing at a steady pace.
Van Narron, of Narron Contracting, met with business owners on Tuesday morning to provide an update on the project. Narron said around 75 percent of the trenching had been done, with the rest to be completed the first of the year. More ...
Amanda Clark, Graphic Staff Writer
Christmas wreath unites families
Sometimes the simplest of things can tell the greatest story.
Take the wreath that hangs every Christmas at Red Oak Baptist Church. At first glance, the wreath looks like a beautifully decorated holiday wreath. But that five-foot wreath tells a story, a story of healing, of prayer, of Christmas. More ...
Amanda Clark, Graphic Staff Writer

Bob Joyner

Joyner to represent Nash County at Veterans Park
A Nashville man's hands will be bronzecast and prominently displayed at the North Carolina Veterans Park in Fayetteville, which is set to open on July 4, 2011.
Bobby L. Joyner was selected to represent Nash County. One veteran from each of North Carolina's 100 counties was selected to have his/her hands bronzecast and displayed at the park. More ...
Amanda Clark, Graphic Staff Writer
CSP deadline is extended
It's the gift of more time for farmers interested in the Conservation Stewardship Program (CSP). The USDA's Natural Resources Conservation Service (NRCS) has extended the deadline for producers interested in CSP to January 7th.
JB Martin Jr., NRCS State Conservationist for North Carolina, encourages interested farmers to apply early to be considered during the funding cycle. More ...

NASHVILLE POLICE BRIEFS
ARRESTS
Frederick Neal Mitchell, Jr - 11/20/2010 - charged with speeding and driving while license revoked
Sharon Tamika Ford - 11/22/2010 - charged with criminal summons
Aderyl Dewaune Wright - 11/22/2010 - charged with simple physical assault More ...

Homecoming planned for injured RMA football player
A homecoming is planned on Wednesday, December 22 for Colt Brake, a Rocky Mount Academy student who was injured during a football game in October. Brake has been at the Shepherd Center in Atlanta, which specializes in spinal injuries.
While Brake has been recovering in Atlanta, friends and family have been working hard to make over his home, making it more wheelchair accessible. More ...

DONATION
Pictured L-R, James Ervin and Vince Tesoro receive a donation from Herb Joyner, president of the Oak Level Ruritans for the 2010 Toys-For-Tots Campaign.
More ...

Plaque of appreciation
Former Nashville Fire Chief Tim Pope accepts a plaque of appreciation for his 11 years with the department. Pope left to go to the Bay Leaf Fire Department.
More ...


Pete Hinton (far right) is presented the Tom Downing Award by former National Ruritan President Wayne Outlaw (far left) during the Momeyer Ruritan's Christmas Dinner on Monday night.

Pete Hinton receives Tom Downing Award
Pete Hinton, a charter member of Momeyer's Ruritan Club was the recipient of the Tom Downing Award at the club's annual Christmas dinner on Monday night.
Wayne Outlaw, 2008 National President and Nash County resident, presented the award to Hinton.
"It's always a great honor," Outlaw said. "Its the most coveted award in Ruritan." More ...
Amanda Clark, Graphic Staff Writer
NASH COUNTY BLOOD DRIVES
Thursday, December 23 from 11 a.m. until 3:30 p.m. at Outback Steakhouse, 210 Gateway Blvd, Rocky Mount
Thursday, December 23 from 8:30 a.m. until 12:30 p.m. at Davenport Autopark, 600 English Road, Rocky Mount
Friday, December 24 from 9:30 a.m. until 2 p.m. at Old Navy, 1587 Benvenue Road, Rocky Mount More ...

NCC employees increase donations to United Way
Nash Community College has completed another successful United Way campaign. This year College faculty and staff contributed over $12,039, a fifteen percent increase from last year's campaign.
Throughout the two-month campaign, employees were encouraged to give through payroll deduction and other fundraising activities including opportunities to wear their Halloween costume or jeans to work for a small fee. More ...

Nash Community College Child Development Center receives Five Star rating
Nash Community College's Betsy B. Currin Child Development Center program has received a Five Star rating, the highest rating awarded in North Carolina. The one to five star rating system was created by the Division of Child Development to evaluate child care centers on components of quality, staff education and program standards. More ...

PEACHTREE COMMUNITY NEWS
On this fourth Sunday of Advent, the candle of "LOVE' was lit by MartaWhitehouse, following the reading of the Advent Devotional, led by she and Ann Browder. Pastor Whitehouse led the morning worship. The children presented their Christmas program. More ...
BARBARA HARDISON
MOUNT ZION FWB CHURCH NEWS
I rested again this past Sunday. Coughing too much to get in public. My daughter brought me a bulletin, so I'm writing this article from information in that. Our pastor types an outline of his message and encloses an insert in the bulletin. That helps me with the sermon part. More ...
ROSALENE BASS
RED OAK NEWS
Family Night was held at Red Oak Baptist Church Sunday, Dec. 12. The night featured music by the children and preschoolers. Refreshments followed the service. More ...
SUZY PEARCE
EPHESUS NEWS
On Sunday morning, the Advent candle of Joy was lit.
Pastor David Eidson's message in Word was from Matthew 6:25 (NIV) "Therefore I tell you, do not worry about your life, what you will eat or drink; or about your body, what you will wear. Is not life more than food, and the body more than clothes?"
More ...
DEBBIE PHILLIPS
RECOGNIZING VETERANS
Members of the Nashville American Legion Post 293 Auxiliary, along with local youth, recently recognized veterans at local rest homes. Pictured (L-R) is Akira Simmons, Louise Boddie, Myfauney Parker, Anna Deans with Carisma Deans and Auxiliary President Doris Leonard.
More ...

TOYS FOR TOTS
Nash County EMS were the winners of a drawing that allowed them to donate toys to Toys for Tots. During a central meeting, involving 33 county EMS organizations, representatives from each county brought a gift for a child. A county was drawn and their organization of choice was given the gifts.
More ...

BOOK DONATION
Mary Bryan Fryar, former Nashville resident and author, recently donated her new book, Promise of Joy, to Cooley Library as a gift. Pictured is Fryar (at left) with Betsy Robertson (at right), of Friends of the Cooley Library.
More ...

RMA students recognized
Fifty four students at Rocky Mount Academy were recognized as local winners of the 2010 Young Authors Project, a writing contest sponsored locally by the Nash Rocky Mount Council of the International Reading Association.
Each year, students from the area public and private schools write prose or poetry about a theme. This year, the subject was "That's A Fact," and students had to write a non-fiction piece.
More ...

Wood scholarship established at NCC
The Wiley Frank Wood Memorial Technology Scholarship was recently established at Nash Community College by his daughter, Susan W. Sabiston, and her husband, Jim of Rocky Mount to honor the life of Frank Wood and his service to his fellow man. A native of Elizabeth City, Mr. Wood enjoyed helping others and was devoted to lifelong learning of technology.
More ...

MILITARY NEWS
Civilian Alexander M. Wade, son of Laneta Jo Delong Wade, of Rocky Mount, and John D. Wade, of Rocky Mount, recently enlisted in the United States Navy under the Delayed Entry Program at Navy Recruiting District, Raleigh.
The program allows recruits to enter the Navy and take up to one year to complete prior commitments such as high school. Using recruiters as mentors, this program helps recruits ease into the transition from civilian to military life. More ...

'Twas the night after Christmas
(Note: The columnist wrote this piece of inspiration years ago, and it is back by popular demand. Merry Christmas! Predictions and Resolutions to follow the next two weeks.)
With apologies to Clement Clarke Moore...
Twas the night after Christmas, when all through our place,
It looked like a tornado had hit our space.. More ...
Mike Brantley
It's time for our generation to step up
Recently, Nashville lost two people who were really important to the town.
Joe Wilson, who owned The Graphic years ago, passed away last Monday evening. But aside from his time here at The Graphic, Mr. Wilson really jumped into the Nashville community. He did so many things for this community, there's no way I could even list them all without leaving something out. More ...
Amanda Clark
We owe a debt of gratitude to friends we've recently lost
Nashville has lost several key members of its community over the last several weeks.
Sometimes when so many people leave us over a short window of time, it's really easy to get depressed over how much we've lost.
But it's also important to remember how much we gained from these people as they shared their life with us and this community. More ...
Jo Anne Cooper
Backward Glances
CHRISTMAS PAST – This photo was taken in downtown Nashville in December of 1958.
More ...
A PICTORIAL LOOK INTO THE PAST
A different kind of Christmas this year
This year I won't be going to spend Christmas Eve or Christmas Day with family as I have in the past few years. Why? Because somebody dropped off a litter of seven three-week old puppies at the Nash County Animal Shelter this week. He didn't want to keep them, but he wanted to keep the mom. He apparently didn't think about the fact that these puppies were not weaned and would die almost immediately without intervention. It was unlikely they would get adopted in time. More ...
Letter to the Editor:

IT'S TROPHY TIME. Members of the Nash Central Swim Team pose with their hardware after they claimed the girls title and the Team Spirit Award at last Saturday's Southeast Interscholastic Meet in Wayne County. (Photo Submitted)

GLORY IN GOLDSBORO
GOLDSBORO -- With Santa Claus coming one week later, the Nash Central High School Girls Swim Team continued to deliver more heroics in the pool last Saturday.
Holiday Cheer has never been more evident for the undefeated Lady Bulldogs, who continued their season-long string of successes at the Sixth Annual Southeastern Interscholastic Meet at the Goldsboro Family YMCA in Wayne County. More ...
Staff Reports

WORKING HER WAY THROUGH THE MAZE. Nash Central's Niya Styles tries to drive through Northern Nash's defense during Monday's action at the Nash County Holiday Basketball Tournament, which is being held at Rocky Mount HS.

Play Begins At Nash Tourney
ROCKY MOUNT -- The top athletic event in the county during the Christmas Holidays opened the way most thought it would Monday evening at Rocky Mount High School's Gymnasium.
Northern Nash's girls beat Nash Central, and both of Rocky Mount's squads made their way to today's finals of the annual Nash County Holiday Basketball Tournament with victories. More ...
CHARLES ALSTON, Graphic Correspondent / Submitted photos by David Hahula
Northern schedule finalized
RED OAK -- Northern Nash High School will begin its 2011 regular season girls soccer schedule on Feb. 28 with an away matchup against the Northern Vance Lady Vikings.
NN, coached by veteran mentor Joe McCarthy, will have its initial home match March 1 versus Louisburg. More ...
Staff Reports
Big East spike squad released
WILSON -- Regular season champion Rocky Mount saw four of its players named to the 2010 Big East All-Conference volleyball first team in a release by the league last week.
Seniors Timisha Walker, Kushunn Seabreeze and Lauren Campbell and junior Tia Hudgins led the Lady Gryphons to a 17-5 record under second-year head coach Tabitha Wilcox (Conference Coach of the Year). More ...
CHARLES ALSTON, Graphic Correspondent / Submitted photos by David Hahula
Nash Central Middle sweeps the Cobras
NASHVILLE -- The snow and winter weather were only enough to push the Nash Central Trojans game against Southern Nash Middle back a few days, but not enough to slow the Trojans down.
Playing the final game before Christmas Break, the Trojans wasted no time in downing the Cobras 39-23 in the boys game and 25-13 in the girls contest. More ...
Staff Reports
Northern Nash takes part in mat tournament
RALEIGH -- Northern Nash took on some hefty competition last weekend at the 39th Annual WRAL Invitational Wrestling Tournament, which was held at Athens Drive High School in Wake County.
As part of a star-studded field, the Knights claimed 24th place overall with 62 points. More ...
Staff Reports
Mudcats announce shift to Class A ball
ZEBULON -- The Carolina Mudcats have announced that they will join the Carolina League effective with the 2012 season.
The sale certifying the changes will be finalized by Jan. 2, 2011.
The Mudcats will retain their current affiliation with the Cincinnati Reds in the Southern League next year before the transfer takes effect. More ...
Staff Reports
Letters to Santa
Dear Santa,
Can you get me a surfboard and a playstation three, also a monkey and a dart gun and a robot to do my chores and my homework to I would also like a shirt with a dinosaur on it and a 2K09 basketball game that has Mighal Jarsen. I will leave milk and cookies for you. I hope you bring me presents. More ...

GRACE MERRITT DENTON
Grace Merritt Denton, 83, passed away, Monday, December 20, 2010. She was born December 4, 1927 in Hertford County. She was the daughter of the late Tom and Earle Wynns Merritt. Grace retired from Rocky Mount OB GYN and was a member of Nashville United Methodist Church. She was preceded in death by her husband Dan Fondwell Denton. More ...

JESSE ALSTON
ROCKY MOUNT - Jesse Alston, 73, of Rocky Mount, died on Saturday, December 11, 2010 at Nash General Hospital in Rocky Mount. More ...

EMMA PEARL BARNES
ROCKY MOUNT - Emma Pearl Barnes, 74, of Rocky Mount, departed this life on Tuesday, December 14, 2010 at Nash General Hospital in Rocky Mount. More ...

OLIVIA MAE WALKER NELMS
Olivia Mae Walker Nelms, age 94, passed away Tuesday, December 14, 2010. She was born August 15, 1916 in Nash County. She was the daughter of the late Edgar Poe and Vivian Whitaker Walker. She was preceded in death by her parents; her husband of 68 years Alexander Nelms, Sr.; brother, John Ashley Walker; son, John Allen Nelms; daughter, Patricia Fay Sealy; granddaughter, Wanda Nelms; and grandsons, John Thomas Nelms and Frankie Walters, Jr. More ...

GILBERT JONES, SR.
ROCKY MOUNT - Gilbert Jones, Sr., 82, of Rocky Mount, died on December 12, 2010 at Nash General Hospital in Rocky Mount. More ...

CHARLIE "RICK" PARKER
ROCKY MOUNT - Charlie "Rick" Parker, 52, died December 10, 2010. Funeral Services were at Church of God of Deliverance on Saturday, December 18 at 1 p.m. Rev. Diane McDonald officiating. Burial was at Gardens of Gethsemane. Viewing/visitation was Friday from 3 - 7pm. Arrangements by Stokes Mortuary, Inc.
More ...

TINY O.B. PARKER
Tiny O.B. Parker, 77, passed away, Thursday, December 16, 2010. He was born November 28, 1933 in Nash County. He was the son of the late Eddie and Alice Eason Parker. More ...

LESLIE WEBB
Leslie Webb, 77, passed away, Thursday, December 16, 2010. He was born December 12, 1933 in Wilson County. Leslie was the son of the late Willis and Viola Thigpen Webb. More ...

BETTY W. PRICE
Betty W. Price, 71, passed away, Monday December 20, 2010. She was born May 31, 1939 in Nash County. Betty was the daughter of the late Mangrum and Lois Blackman Watkins. She was preceded in death by a son-in-law, Arthur Harrell. More ...

CHRISTINE BATTLE PERRY
ROCKY MOUNT - Funeral services for Christine Battle Perry, 78, who died Tuesday, Dec. 14, 2010 will be today (Wednesday, Dec. 22) at 12 noon at Truth Tabernacle Ministries with Bishop Haywood Parker officiating. Burial will follow in the Gardens of Gethsemane Cemetery in Rocky Mount. More ...

Mrs. Idalene Inscoe Marshall
Mrs. Idalene Inscoe Marshall, age 98, went home to be with the Lord on Tuesday December 21, 2010 at The Shannon Gray Rehabilitation and Recovery Center in Jamestown, following a brief illness. More ...