Subscribe/Access
Advertisements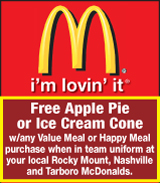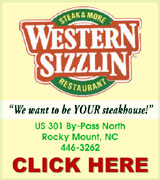 Sections
Member Options
Back

Wilson

Former Graphic owner passes away
Joe Wilson, former longtime co-owner of The Nashville Graphic, passed away on Monday night. He was 88 years old.
Wilson was a native of Scotland County and graduated from Laurinburg High School, where he then entered the United States Navy.
Wilson joined the Navy in June of 1942 and was initially stationed aboard the Fayette. Soon, he was reassigned to the Nightingale as a machinist mate third class. More ...

County's grant request returned
The North Carolina Department of Environment and Natural Resources (DENR) wants more information from Nash County on its water and sewer plans for a proposed poultry plant.
Nash County has submitted information in order to receive grant funding from DENR to assist with water and sewer connections on a proposed site for Sanderson Farms. More ...
Amanda Clark, Graphic Staff Writer
Nashville names interim fire chief
The former Assistant Fire Chief for the City of Rocky Mount will lead Nashville's Fire Department until a new chief has been named.
The Town of Nashville appointed David English as the Interim Fire Chief/Safety Officer. His appointment comes following the resignation of Chief Tim Pope, who left to take on a position with the Bay Leaf Fire Department. More ...
Amanda Clark, Graphic Staff Writer
HANGING ON TO HOPE
Students at Swift Creek Elementary make Christmas ornaments each year to raise funds for families in need. Amy's Hallmark & Abundantly More at Westridge Shopping Center in Rocky Mount allows the students to sell the ornaments in front of her stores. Profits go to feeding families at Swift Creek Elementary, My Sister's House and the Red Cross.
More ...

Spring Hope auditor cautions board
The Town of Spring Hope received a clean audit report at its regular meeting on Monday night but commissioners were cautioned to be more conservative moving forward.
Gerrelene Walker, CPA, presented the audit report to the board.
Walker said she didn't have any findings from her audit report. More ...
Amanda Clark, Graphic Staff Writer
Castalia mulls changing ordinances
Castalia citizens may face a host of new regulations if the new proposed ordinances are approved at the January 4 meeting. Lee Nichols, a community planner with the NC Department of Commerce, was present at a two hour regular town meeting on December 7 in order to explain the new ordinance changes to the town board. These changes had been crafted and recommended by the town's planning board. More ...
Amelia Harper, Graphic Correspondent
Rhada Matthews celebrates 100th birthday
Rhada Matthews spent all her life working on a farm. That hard work is what she says helped her make it to 100 years old.
Matthews celebrated her 100th birthday on December 3. Friends and family held a birthday party for her on Sunday, December 5 at Momeyer Baptist Church. More ...
Amanda Clark, Graphic Staff Writer
Casey at bat: Joe Wilson touched my life
There are so many usual phrases that come to mind when paying tribute to someone who has lived such an exemplary life. Yet usual phrases simply don't fill the bill when I think of Joe Wilson. He touched my life.
We encounter so many people in a lifetime, through business, work, pleasure, faith, neighbors or just acquaintances. Yet it is rare that one can say, "He touched my life." More ...
Ben Casey - 1 opinion posted
Long-time Arts Council volunteer passes away
Nashville mourned the loss of a Centenarian last week. Mildred Drake Hinton, 100, passed away Friday, December 10, 2010.
Though known for several accomplishments over her lifetime, many remember her for her long-time volunteer efforts through the Nash County Arts Council, today called Nash Arts Center. More ...


Pictured above are (left to right) Reginald Silver, Marie Harper, Robert Bynum, and Bob Jenkins.

SCHOOL BOARD
Nash-Rocky Mount Public Schools Board of Education recently installed 5 board members for a 4-year term, serving until December 2014. The NRMPS Board of Education meets on the first Monday of each month at 7:00 PM in the Administrative Offices located at 930 Eastern Avenue in Nashville unless otherwise noted. The board meeting schedule is also available at www.nrms.k12.nc.us.
More ...

Nash County young farmers win statewide Acievement Award
Nash County young farmers Brent and Sue Leggett, of Nashville, were recognized as the winners of North Carolina Farm Bureau's (NCFB) Achievement Award for 2010.
The Leggetts accepted the honor during a Dec. 5 ceremony as part of NCFB's 75th Annual Meeting at the Joseph S. Koury Convention Center, Sheraton Greensboro Hotel at Four Seasons. More ...

50TH ANNIVERSARY
Bernard and Dora Batchelor Collier celebrated their 50th wedding anniversary Sunday afternoon at the Nashville United Methodist Church with a reception given by their children and grandchildren. Bernard and Dora were married December 4, 1960 at Momeyer Baptist Church. Their children are B.W., Ann, Laura, and Sam Collier; Tim, Lynda, Katie, Andrew and Brandon Taylor.
More ...

Sharpe named new Red Oak Elementary Principal
The NRMPS Board of Education approved the appointment of Margaret Sharpe as principal of Red Oak Elementary School during the Board Meeting held Monday, December 6, 2010. Sharpe will assume her new duties on January 1, 2011 following the retirement of Rossie Williams at the end of December. More ...

Wesleyan takes applications for Shelton Leadership Program
North Carolina Wesleyan College is now taking applications from rising 9th through 12th grade high school students who want to participate in the Shelton Leadership Challenge at NC Wesleyan College. The program will be held July 10 through 15 and is limited to 50 students. More ...

BEULAH COMMUNITY NEWS
We had another great service at Beulah Sunday morning. Even with the rainy day weather everyone was smiling and greeting their friends. Sunday school began at 9:45 followed by church services at 11:00.We were really glad to have Roger and Mary Parker back with us on Sunday morning but we missed Merritte Rose who was under the weather and didn't feel like coming. More ...
WILMA ENROUGHTY
MOUNT ZION FWB CHURCH NEWS
I was not able to attend church on Sunday, due to a cold and cough. I miss Sunday school and worship service when I can't go. Miss Ollie had her open house at the parsonage Sunday afternoon. I really was disappointed that I missed that. She always has the house decorated really pretty. More ...
ROSALENE BASS
Brooklyn Community News
I was invited by my daughter to attend a Hunger Banquet at North Carolina Wesleyan College on Nov. 17, 2010. In accepting this invitation, my initial thought was that I was going to attend a banquet, enjoy some good food, meet new people, hear a motivational speech about the hunger issue in the world, and then give a donation to an organization that focuses on the issue, before going home. More ...
LENA SESSOMS - 1 opinion posted
RED OAK NEWS
Congratulations to George and Marilyn Boone on the birth of their grandson, Lee Dilly Wedekind, IV, on Dec. 1! Proud parents are Lee and Suzanne Wedekind of Jacksonville, FL. More ...
SUZY PEARCE
APPRECIATION
The North Carolina Highway Patrol presented a plaque of appreciation to Tim Evans (center at left), owner of Acme Cleaners in Nashville, for his dedication and service to helping keep their uniforms clean and pressed. First Sergeant Dean Edwards (center at right) presented Evans and his staff with the plaque.
More ...

Local trooper honored
A North Carolina Highway Patrol Trooper from Rocky Mount has earned the Meritorious Service Award.
Trooper Cleveland Atkinson, who works Edgecombe County with Troop C, District 1, was recently given the award at a special ceremony last week. More ...

PEACHTREE COMMUNITY NEWS
The worship celebration on Sunday morning at Peachtree was a little different from the usual format. It was the third Sunday of the Advent season. Ricky and Diane Tucker led in the devotional reading and the lighting of the candle for "JOY". The sermon was a musical one. The Adult Choir presented the Christmas Cantata titled "God's Gift to Man at Christmas".
More ...
BARBARA HARDISON
EPHESUS NEWS
On Sunday morning, Pastor David Eidson lit the Advent candle of Peace.
Michaela Bauer offered special music as she sang "I Wonder As I Wander", accompanied by Mary Jane Bauer on piano.
Pastor David Eidson's message in Word was from 2 Corinthians 9:15 (NIV) "Thanks be to God for His indescribable gift". Paul emphasizes the spiritual rewards for those who give generously. As you bless others, you will be blessed. More ...
DEBBIE PHILLIPS
MILITARY NEWS
Army Pvt. Jermaine D. Bunn has graduated from the Automated Logistical Specialist Advanced Individual Training (AIT) course at the U.S. Army Quartermaster Center and School, Fort Lee, Petersburg, Va. More ...


W.C. Joyner was the recipient of the Tom Downing Award and was also named the Oak Level Ruritan of the Year on Saturday night during the club's annual Christmas Dinner. Pictured is Joyner with his wife, Christine.

W.C. Joyner receives Tom Downing Award
When W.C. Joyner arrived at the Oak Level Ruritan Club's annual Christmas Dinner, he was wearing his best suit and tie but didn't know why. He quickly found out as he was the big honoree of the evening's events, receiving both the Ruritan of the Year award and the coveted Tom Downing Award. More ...
Amanda Clark, Graphic Staff Writer

Linda Ethridge was named Coopers Ruritan of the Year at the annual Appreciation Banquet held on November 18. Ethridge has been with the Coopers Ruritan for four years. (Contributed photo)

Coopers names Ethridge Ruritan of the Year
Linda Ethridge was named the Coopers Ruritan of the Year at the club's annual Appreciation Banquet, held on Thursday, November 18 at Mt. Zion United Methodist Church. More ...

Brodie receives Order of Long Leaf Pine
A surprise for one of its members was the first order of business at the most recent Nash Health Care Board of Commissioners meeting.
"We're getting the last meeting of the year off to a good start," Board Chairman Michael Bryant said. More ...
Amanda Clark, Graphic Staff Writer
A little history on America's Christmas
It is that time of year when children get excited, parents get stressed and many poor retail seasons are righted – it is Christmas.
It's also that time of year, where amidst the joy of the season, communities all across America will have one person complain about Christmas being recognized, being too religious or being offensive. More ...
Mike Brantley
The best Christmas gift ever, we're going to be parents!
You never know when your life is going to unexpectedly change. So you just have to always be prepared.
I try to be prepared for life's little surprises. But still, every now and then, something sneaks up on me and catches me off guard.
Several months ago, Allen and I were somewhat surprised with the news that we would be parents. More ...
Amanda Clark
Backward Glances
DECEMBER SNOW – Carol and Tim Evans, and Jimmy Hinton went sledding during the big snow in December of 1958. This photo was originally published December 18, 1958. A possibility of snow is in our forecast for this week. Could history repeat itself?
More ...
A PICTORIAL LOOK INTO THE PAST
The real cost of proposed poultry plant
The real cost of the proposed poultry slaughter plant is not the 4 million in incentives, the millions in grants that require matching county funds, the 1.2 million Nash has already paid for the land or the water which Nash will sell for substantially less than the true cost. The real cost is what we know it means to us, the citizens of Nash and Wilson Counties. More ...
Letters to the Editor:
A couple of magical football seasons
When football practice starts every team would like to have that magical season and win a State Championship.
On December 11, Tarboro completed their second magical season on being undefeated and winning their second State Championship. More ...
Letters to the Editor:
Please help us save a life this Christmas!
Christmas is near and homeless pets will die at the Nash County Animal Shelter unless someone can find room in their homes and hearts for a new companion. Maybe you didn't plan to add another family member at this time, so how about considering saving one and foster for awhile until you can find a loving home? More ...
Letters to the Editor:
Play it safe during the holidays
Most of us are shopping for Christmas and this time of year you need to be especially aware of identity theft. There are a variety of methods used to steal your personal information. Some of the more common ways are dumpster diving where the thief goes through your trash looking for papers with your personal information on it. More ...
Bill Creech, Nashville Chief of Police

STYLES POINTS. Nash Central's Niya Styles (left) drives to the basket while being defended by Bunn's Whitney Bunn during last Friday night's game.

A Rally Thwarted
ROCKY MOUNT -- Heading into the fourth quarter, the Bunn Ladycats appeared to be well on their way -- and in comfortable fashion -- to finishing off a season sweep against Nash Central in girls high school basketball action.
Bunn had rallied late to win the initial meeting two weeks ago, but last Friday's rematch featured a strong early surge from the Ladycats, who didn't let up through three periods. More ...
GEOFF NEVILLE, Graphic Sportswriter

SETTING THE PACE IN THE POOL. Southern Nash's Stephanie Moss takes part in a freestyle distance event during last Friday afternoon's Big East Conference Swim Meet at the Harrison Family YMCA in Rocky Mount.

Central Is Still Tops
ROCKY MOUNT -- Nash Central's success in the Big East Conference Girls Swim Standings continued with yet another impressive outing last Friday afternoon.
The Lady Bulldogs remained undefeated in league action during the 2010-11 season as they racked up 251 points en route to the victory. More ...
GEOFF NEVILLE, Graphic Sportswriter

MAKING HIS CASE. Nash Central Coach Renny Taylor (right) seeks an explanation of a foul call from an official during last Friday's home victory.

Central In A Sweep
ROCKY MOUNT -- From beginning to end, the Nash Central Bulldogs have held an edge over the Bunn Wildcats during non-conference boys basketball action this month.
The Bulldogs, however, took two different routes on their way to a 2-0 season sweep over the Wildcats.
In the initial meeting two weeks ago, Nash Central came through with a late rally to secure a key victory at the Bunn Dome. More ...
GEOFF NEVILLE, Graphic Sportswriter
Wachovia standings released
CHAPEL HILL -- Thanks to league championships in volleyball and boys soccer, the Rocky Mount Gryphons currently lead the Big East Conference's Wachovia Cup Standings through the fall season portion of the schedule.
The Gryphons also earned points with second-place efforts in boys and girls cross country. More ...
Staff Reports

NUMBER ONE -- AGAIN. Members of the Nash County Firebirds celebrate after winning the Statewide Athletics Committee Tournament Championship last Saturday.

Title Belongs To Birds
STANHOPE -- Following last year's thriller in the Statewide Athletics Committee Football Championship, more of the same was expected when Nash County -- for the second straight season -- hosted Scotland County last Saturday with the SWAC title at stake. More ...
GEOFF NEVILLE, Graphic Sportswriter
HIGH SCHOOL GRID SCORES
CHAPEL HILL -- Here are last weekend's final scores from the North Carolina High School Athletic Association Football Championships: More ...
Staff Reports
Buffaloe claims first place at tournament
NEW YORK -- Former Nash County resident Christian Buffaloe, the 11-year-old son/student of local Kyokushin Karate instructor Kenny Buffaloe of Warren County, recently won 1st Place (Champion) in the "Kyokushin Karate Full Contact Goodwill Tournament (Youth Division)" in New York City on December 4. More ...
Staff Reports
Holiday hoops slated
ROCKY MOUNT -- One of Nash County's most awaited annual sporting events will begin this coming Monday at the Rocky Mount High School Gymnasium.
That's when play will begin at the 2010 Nash County Christmas Basketball Tournament, which will feature Big East Conference rivals Nash Central, Northern Nash, Southern Nash and host Rocky Mount. More ...
GEOFF NEVILLE, Graphic Sportswriter
NC Wesleyan rallies to get past Maryville
ROCKY MOUNT -- The Battling Bishop men's basketball team of North Carolina Wesleyan rallied from a pair of 11-point deficits to defeat Maryville College by an 82-79 score last Saturday afternoon in Rocky Mount.
Tied 79-79, a Matt Dougherty lay-up from Devin Nichols with 1:06 remaining proved to be the game-winner as the Bishop defense held strong over the final minute, which included a Cornelius Snow block of the potential game-tying three-pointer as time expired. More ...
Staff Reports
Central Middle still unbeaten
ROCKY MOUNT -- Nash Central Middle School's boys basketball team has had a perfect start to its season as the Trojans now stand at 4-0 after victories over South Edgecombe and West Edgecombe this past week.
The Trojans visited the defending conference champion Dragons in Pinetops on Thursday and came out with a 43-23 win, and then Monday night they continued their Edgecombe County road trip with a 39-35 victory over the Wildcats. More ...
Staff Reports
Big East gridiron stars honored
WILSON -- To the winner goes the spoils.
The old adage really held true when the Big East Conference All-Conference football team was released this week.
Co-champions Northern Nash and Wilson Hunt got the lion's share of the honorees.
Eleven Knights received first-place notices from the league as did 11 Wilson Hunt players. More ...
CHARLES ALSTON, Graphic Correspondent / Submitted photos by David Hahula
IM EXCELLENCE
Nash Central High School's Kaila Billups performs the breaststroke section of an IM event during last Friday's Big East Conference Swim Meet at the Harrison Family YMCA.
More ...

FORCE ON THE BOARDS
Nash Central's Demetrey Clark (with ball) grabs a rebound for the Bulldogs during their home victory last Friday night in boys basketball action at the NCHS Gymnasium in Rocky Mount.
More ...

TANGLED UP
(L to R) Bunn's Ashley Denton and Nash Central's Precious Griffin try to claim a loose ball during last Friday night's non-conference girls hoops contest.

More ...

IT'S A WONDERFUL LIFE
A Christmas Show with Alvin Smith, aka Elvis, will open at 7 p.m. on Saturday, December 18th at Nash Arts Center in downtown Nashville. Joining Smith is special guest Mark Gagnon, a tribute to Johnny Cash. Tickets are $10 (general) $15 (reserved). Nash Arts is located at 100 East Washington Street, Nashville. For more information call 252-459-4734.
More ...

KIM MCFELIX (GARRIS) BISSETTE
Kim McFelix (Garris) Bissette, 46, passed away Friday, December 10, 2010. He was born May 25, 1964 in Nash County. Kim was the son of the late, Kenneth and Jennifer Medlin Bissette. More ...

LESTER GRAY BEST
ROCKY MOUNT - Lester Gray Best, 63, of Rocky Mount, died on Saturday, December 11, 2010 at Pitt Memorial Hospital in Greenville. Funeral arrangements are incomplete and will be announced by the Rocky Mount location of H.D. Pope Funeral Home.
More ...

JESSE ALSTON
ROCKY MOUNT – Mr. Jesse Alston, 73, of Rocky Mount, NC, died on Saturday, December 11, 2010 at Nash General Hospital in Rocky Mount. Funeral arrangements are incomplete and will be announced by the Rocky Mount location of H.D. Pope Funeral Home.
More ...

WALTER SPIVEY, JR,
ZEBULON - Walter Spivey Jr, 62, of Zebulon, and formerly of Rocky Mount, died on Saturday, December 4, 2010. More ...

MARVIN ANDREW WALTON SR.
Marvin Andrew Walton Sr., 82, passed away on Thursday. December 9, 2010. He was born August 7, 1928 in Nash County. He was the son of the late Stacy Beaman and Irene Walton. He is preceded in death by his wife Betty Jean Hogshire Walton, son Larry Walton, daughter Barbara Jean Joyner, two brothers, and one sister.
More ...

BENNY KEITH ADCOX
Benny Keith Adcox, 72, passed away on Sunday, December 5, 2010. He was born April 19, 1938 in Nash County to the late Robert Ernest and Katie Lee Watson Adcock. He was preceded in death by five brothers, Bob, Floyd "Dick", Melvin, Sammy and Wayne Adcox and two sisters, Mary Catherine Collins and Billy Adcox Farmer. More ...