Subscribe/Access
Advertisements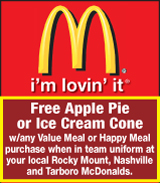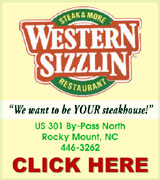 Sections
Member Options
Back
Pope resigns from Fire Dept.
After 11 years at the helm of Nashville's Fire Department, Chief Tim Pope is leaving to take a position with the Bay Leaf Fire Department in northern Raleigh.
Pope's last day was Monday, November 22.
"It's an opportunity, not only for me professionally, but personally," Pope said. More ...
Amanda Clark, Graphic Staff Writer
Wilson sues Nash County
The City of Wilson and 34 property owners have filed a lawsuit against Nash County, alleging that their rezoning of property on November 1 is not valid.
The lawsuit was filed on Friday, November 19. More ...
Amanda Clark, Graphic Staff Writer

4-Hers serves guests last Monday night at the Hungry to Help dinner, which raised money and food to give to the Food Bank of Eastern and Central North Carolina. Pictured, Amanda Dickson delivers spaghetti plates to guests.

Nash County 4-H'ers hold event to aid Hungry to Help
In times of struggle, it's important to be able to lean on your community. That was the message at the 4-H Hungry to Help dinner held last Monday night.
Craig Johnson, Managing Partner of Pizza Inn of Rocky Mount, was the guest speaker for the event, which was held in lieu of the annual Nash County 4-H Gala. Johnson spoke on several things but his focus was on hunger. More ...
Amanda Clark, Graphic Staff Writer

Allissa

Nashville family gives thanks for Team Daniel
Deborah Black is thankful she discovered Team Daniel.
Black and her husband Charlie have two daughters with developmental disabilities. With Team Daniel, the Black family now has more control and direction over their daughter's care. More ...
Amanda Clark, Graphic Staff Writer

McINTYRE

Group honors first Library "Friend"
Though she is gone, Mary Hobbs McIntyre will never be forgotten, especially at Nashville's Harold D. Cooley Library.
The Friends of the Library unveiled a special bronze bench in honor and memory of McIntyre at a special ceremony on Saturday morning.
McIntyre passed away in March 2008 at the age of 71. More ...
Amanda Clark, Graphic Staff Writer
NASHVILLE POLICE BRIEFS
ARRESTS
Tarris Tyree Jones - 10/16/2010 - charged with failure to appear for a simple affray
Andre Lamont Pittman - 10/18/2010 - charged with failure to appear for drug violations
Regina Dozier - 10/21/2010 - charged with simple physical assault More ...

Town of Nashville honors Ronnie Rice
The Town of Nashville honored Ronnie Rice, the town's first letter carrier, during a special event at the Nashville Post Office last Wednesday morning.
Rice retired on October 3 after around 40 years of government work. More ...
Amanda Clark, Graphic Staff Writer
Starr asks for 2nd recount
A second recount will be done for the District Six Nash County Commissioner race, at the request of challenger Doug Starr.
The first recount was done last Wednesday and showed Mary Wells as the winner by 15 votes.
"Some of totals changed a little bit but the outcome didn't change," Nash County Board of Elections Director John Kearney said. More ...
Amanda Clark, Graphic Staff Writer
NCAF joins petfinder
Nash County Animal Friends, of Nashville, has joined other animal welfare organizations in the area that list their homeless pets on Petfinder.com, the oldest and largest database of adoptable animals on the Internet. The site currently has over 359,700 homeless pets listed, and it is updated continuously. More ...

Nashville's Compassion Cafe continues to serve community
Nashville's Compassion Cafe was just a mere conversation between several people in the community in January of 2010. But the concept flourished into reality in March and today volunteers serve an average of 40 meals per day.
The idea for the Compassion Cafe came about after several community members got together and began discussing the needs of the community and what they could do to help. In January, an organization meeting was held for area churches. More ...

Civitan Club forms in Rocky Mount
Civitan International, a service organization that works to help people with developmental disabilities, is forming a new club in Rocky Mount.
The club currently has 12 charter members and is looking to grow. The club meets at 6 p.m. Thursdays at Texas Steakhouse at 711 Sutters Creek Blvd. First time guests eat free. More ...

Western Carolina announces summer grads
Two Nash County residents are among those who received degrees from Western Carolina University during the summer school sessions of 2010.
R. Greg Bauer, of Middlesex, received a Bachelor of Science Degree in Emergency and Disaster Management. More ...

ANNIVERSARY
Larry and Patricia Whitehurst of Nashville were united in marriage November 26, 1960 in Bethel, NC. The couple were honored by family and friends at a Golden Annniversary celebration in Greenville on Saturday, November 20, 2010. More ...

Air Force Airman Dickerson graduates basic training
Air Force Airman Devonte A. Dickerson graduated from basic military training at Lackland Air Force Base, San Antonio, Texas.
The airman completed an intensive, eight-week program that included training in military discipline and studies, Air Force core values, physical fitness, and basic warfare principles and skills. More ...

DAR
Jim Wood, a Rocky Mount artist, researched the Daughters of the American Revolution. The DAR headquarters building in Washington, D. C. covers an entire city block and has one of the largest collections of genealogy in the world. Wood then painted this original, creative and beautiful oil painting. The U. S. flag is flying above the Betsy Ross flag in front of the DAR building.
More ...

NCC announces new Honor Society members
Nash Community College recently inducted 46 students during its Gamma Beta Phi Honor Society fall induction ceremony.
The Gamma Beta Phi Society is a non-profit, educational, honor and service organization for students in colleges and universities throughout the United States.
More ...

PEACHTREE COMMUNITY NEWS
On Sunday morning, folks at Peachtree received a real treat when Mike Sykes came to speak about his medical mission trip to the Philippines. Mike is a pharmacist in Wilson, but grew up in Peachtree Church, where his dad, Bobby, was the RA Leader for years. More ...
BARBARA HARDISON
EPHESUS NEWS
The Thanksgiving holiday brings about an early deadline for printing; therefore, the church news is limited this week. More ...
DEBBIE PHILLIPS
MOUNT ZION FWB CHURCH NEWS
We had another good lesson in Sunday School from Psalm 91 on God's protection and deliverance. Ina Jones was the teacher in my class. She always does a good job. "Thank you" Ina for your faithfulness. There were only 81 in attendance but we had seven visitors. "Come back again," visitors. AJ Jones read the bible verse today. "Thank you." More ...
ROSALENE BASS
Volunteers, gifts and donations needed for Tar River MHA's Operation Santa Claus
Tar River Mental Health Association is gearing up for Operation Santa Claus, their annual holiday drive benefiting those affected by mental illness. The Tar River Mental Health Association, a community partner of United Way Tar River Region, serves members of the community by providing vital support to promote mental wellness and eliminate discrimination through advocacy, education, and service in Nash and Edgecombe counties. More ...

USDA extends EQIP deadline
The USDA's Natural Resources Conservation Service (NRCS) has announced December 17, 2010 as the deadline to qualify for funding through 2011 Environmental Quality Incentives Program (EQIP) in North Carolina. Landowners who wish to participate in this ranking and funding cycle should have their applications submitted to their local NRCS Field Office by close of business Friday the 17th. More ...

EQUALITY CONFERENCE
Nash County members of PFLAG (Parents, Families and Friends of Lesbians and Gays) attend the 2010 Equality NC Conference at the Elliott University Center on the campus of the University of North Carolina at Greensboro November 13. The group reviewed anti-bullying policies in state school districts, as well as steps to ensure safe learning environments for all children.
More ...

Nash Breast Care Center opens
The chance of a woman having invasive breast cancer in her lifetime is 1 in 8. Now, area women have a new, state-of-the-art facility with a compassionate health care team at the new Nash Breast Care Center, located in the recently constructed medical office building beside Nash Day Hospital on the Nash Health Care campus. More ...

Funny how things change over the years
The trouble with "the good old days" is that you don't realize when they were until they've come and gone.
This is often compounded by the fact that the more amount of time that passes, the "gooder" the "good old days" were.
When I was a child, Thanksgiving Dinner was always at Granny Lucy's house, and in those days, Dinner was the midday meal. More ...
Mike Brantley
Coach thanks community
I would like to thank all of the football parents, community members, and businesses for all of their support for Terry Pittman and his family. It has been a very difficult time for me and the Red Oak School Community. Seeing the community come together and rally behind Terry has been truly amazing to witness.
More ...
Letters to the Editor:
Partnership says claims against proposed poultry plant are misleading
There have been significant distortions of fact surrounding the potential construction of a poultry processing facility in Nash County. The construction of a facility like the one Sanderson Farms proposes would create an economic boost for the area while providing much needed jobs for the local workforce. More ...
Letters to the Editor:
Chief Pope will be missed in Nashville
If you have been through downtown Nashville in the last week or so, you've most likely noticed we've got a little something going on over here.
The Downtown Redevelopment Project construction has finally begun. More ...
Jo Anne Cooper
Backward Glances
This photo of Mr. and Mrs. Sherrill Joyner and daughter Sherry at Christmas was originally published in The Graphic December 25, 1958.
More ...
A PICTORIAL LOOK INTO THE PAST

FOSTER IS FLEET AFOOT. Nash County quarterback Zack Foster (with ball) breaks free for a big gainer in the first half of the Firebirds' home victory against SouthWest Edgecombe last Saturday afternoon.

TWO VICTORIES AWAY
STANHOPE -- The victory total is now at 31 -- and counting -- for the Nash County Parks and Rec varsity football team.
Going back a few years, the current roster of varsity Firebirds hasn't been beaten in 31 tries -- a streak that continued last Saturday against SouthWest Edgecombe in the second round of the Statewide Athletics Committee Football Playoffs at Southern Nash's Firebird Stadium. More ...
GEOFF NEVILLE, Graphic Sportswriter
Knights Make College Picks
RED OAK -- Northern Nash has built a substantial college softball pipeline in the past few years, with the likes of Melissa Williams (Peace), Raven Lee (Campbell) and Melissa Avent and Brianne McKenney (both at Pitt CC) all moving on to play at the next level.
Pictured (Above): Northern Nash High School's Lauren McGrath (front, left) signs a letter-of-intent to continue her fast-pitch softball career at Mount Olive College. Also pictured are (back, l to r) Brian McGrath (father) and NNHS sofball coach Greg Tharrington; (front, right) Denise McGrath (mother). More ...
GEOFF NEVILLE, Graphic Sportswriter
Price the POY pick in league
ROCKY MOUNT -- Nash Central High School sophomore Randi Price has been voted the 2010 Big East Conference's Girls Tennis Player of the Year by the league's coaches for the second year in a row. Price was also awarded the honor as a freshman while playing at Northern Nash. More ...
Staff Reports
HIGH SCHOOL GRID SCORES
CHAPEL HILL -- Listed are last Friday's scores and this Friday's schedule in the NCHSAA State Football Playoffs: More ...
Staff Reports
Knights roar past S. Central
WINTERVILLE -- For the first time since 2002, the Northern Nash Knights will be playing football on Thanksgiving weekend.
They were afforded that privilege last Friday when they beat South Central 37-10 in the second round of the N.C. High School Athletic Association 3-AA State Playoffs. More ...
CHARLES ALSTON, Graphic Correspondent / Submitted photos by David Hahula
Mudcats offer tickets
ZEBULON -- Once again, the Carolina Mudcats are offering the perfect stocking stuffer -- ''Muddy's Unreal Deal.''
For $35, you can purchase a booklet with coupons for 13 $10 tickets for the 2011 season.
Nine tickets are for Sunday-Thursday games, while the other four are for any home contest at Five County Stadium. More ...
Staff Reports
NC Wesleyan excels at hoops tournament
ROCKY MOUNT -- Sophomore guard Cornelius Snow poured in a career-high 23 points last Saturday afternoon, leading his North Carolina Wesleyan College men's basketball team to a 71-62 win over Wesley College to conclude the 2010 Roger Taylor Invitational in Everett Gymnasium. More ...
Staff Reports
TAKING FLIGHT
Nash County's Tahj Deans (right) soars to make a tackle during the Firebirds' home victory against SouthWest Edgecombe last Saturday afternoon in the second round of the Statewide Athletics Committee Football Tournament at Firebird Stadium.
More ...

"A Christmas Carol" opens December 2nd
Nash Arts' 10th annual presentation of "A Christmas Carol," the beloved classic story of Ebenezer Scrooge and Tiny Tim written by Charles Dickens, opens December 2nd, 3rd and 4th. The play also will be performed the following weekend of December 9th, 10th and 11th opening at 8 p.m. each night with the house opening at 7:30 and a 15 minute intermission, just like all plays everywhere. But something is different this year. Different and amazing! More ...

Nashville's Christmas Celebration is Dec. 4
The Nashville Children's Christmas Parade and Celebration is set for Saturday, December 4 in downtown Nashville.
The event will begin at 3:45 p.m. on December 4 and children 12 years old or younger are invited to come out with their decorated bikes, wagons, scooters, strollers or themselves and take part in this annual event. More ...

WILBUR JACKSON
Wilbur Valentine Jackson passed away on Saturday, November 20, 2010. Wilbur was born February 14, 1934 the son of the late Herman Parker and Annie Sykes Jackson. He was preceded in death by his wife Nancy Edwards Jackson and his son William Milton Jackson. More ...

WILLIE HARRISON
ROCKY MOUNT – Willie Harrison, 72, of Rocky Mount, died on Tuesday, November 16, 2010 at his residence in Rocky Mount. More ...

JOSEPH LYNCH
ROCKY MOUNT – Joseph Lynch, 52, of Rocky Mount, North Carolina, died on Wednesday, November 17, 2010 at his residence in Rocky Mount. More ...

XAVIER MALIEK SPIVEY
NASHVILLE - Funeral services for baby boy Xavier Maliek Spivey, eighteen months, who died Saturday, Nov. 13, 2010, were Friday, Nov. 19, 2010 at 1 p.m. at First Timothy Missionary Baptist Church in Nashville, with pastor Rev. Willie Hedgepeth officiating. Burial followed in the Oakland Cemetery. More ...

LULA KAY WILLIAMS
ROCKY MOUNT – Lula Kay Williams, 51, died November 14, 2010. Funeral services were Sunday at Shiloh Baptist Church (Sutton Rd), 2:00 pm. Officiating was Rev. Richard Battle. Burial was at Oakland Cemetery. Viewing and visitation was Saturday from 3-7 p.m. at Stokes Mortuary Chapel. Arrangements by Stokes Mortuary, Inc.
More ...

GERTRUDE DUNN MCCOY
BALTIMORE, MD - A memorial service for Gertrude Dunn McCoy, 84, formerly of Whitakers, who died Oct. 18, 2010, was Saturday Nov. 20, 2010 at 10 a.m. at the Richardson Funeral Home Chapel in Nashville with Rev. Thomas L. Walker officiating. Survivors include her sister, Lula Dunn of Nashville; brothers, Eugene Dunn Jr., Willie Dunn, and Robert Dunn, all of Nashville.
More ...

EDGAR B. "DOC" COOPER
NASHVILLE - Funeral services for Edgar B. "Doc" Cooper, 90, who died Nov. 16, 2010, were Sunday, Nov. 21, 2010 at 1 p.m. at the Richardson Funeral Home chapel in Nashville. Burial followed in the Oakland Cemetery with Rev. Carl Wardrett officiating. More ...

MCKINLEY "BULLET" COOPER
Funeral services for McKinley "Bullet" Cooper, age 55, who died Friday, November 19, 2010, will be held Wednesday, November 24, 2010 at 2:00 p.m. at Philadelphia Baptist Church. Burial will follow in the St. Delight Baptist Church Cemetery. Rev. Terry Stample will officiate. More ...