Subscribe/Access
Advertisements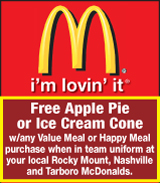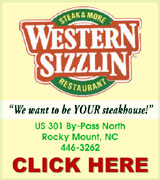 Sections
Member Options
Back

Nash County resident Betsy Hester displays a sign during the rally.

Citizens rally to fight new poultry plant
Hundreds of people gathered at a rally Sunday afternoon near the intersection of Hwy. 97 and Tar River Church Road to protest the recent rezoning of nearby property that could become the site of a poultry processing plant.
Nash County Commissioners voted 4 to 3 on November 1 to rezone 150 acres at 3025 and 3279 E. NC 97 to General Industrial. More ...
Jo Anne Cooper, Graphic Publisher and Amanda Clark, Graphic Staff Writer
School system faces $9 million in budget cuts
The coming budget year for Nash-Rocky Mount Schools will be one of the toughest the school system has seen, Superintendent Rick McMahon told Nash County Commissioners during a joint meeting on November 4.
McMahon gave a brief outlook of the upcoming state budget during the meeting. More ...
Amanda Clark, Graphic Staff Writer

Southern Nash Middle students (from L-R) Ashia Privette, Alyssa Jernigan and Blake Boyd look at memorabilia collected by Henry Van Dorp (far right) during his time in service at a Veteran's Day appreciation service at the school.

Veterans Day is observed at many events in Nash County
Nash County veterans were honored last week in several events throughout the county.
At Southern Nash Middle School, sixth graders held a reception honoring veterans last Wednesday morning, November 10.
Students are required to read a novel about a 19-year-old U.S. Air Force Pilot and his experiences while in France during WWII and after he returns home. More ...
Amanda Clark, Graphic Staff Writer
Habitat breaks ground at newest home site
Nashville's Habitat for Humanity broke ground for its ninth home last Tuesday afternoon.
Janet Alston, a Nash County Department of Social Services employee, will be the new home owner.
Friends, family and co-workers of Alston's joined Habitat volunteers for the ground breaking ceremony. Alston said she was excited about her new home, which she will share with her nine-year-old granddaughter, Ariyana Mintz. More ...
Amanda Clark, Graphic Staff Writer

Lillie Cleepper, Brittany Lucas and Rebecca Thacker play the victims in a Halloween party tragedy during a training exercise for Nash County EMS personnel on November 5.

Nash County EMS holds training excercise
Nash County Emergency Services tested its incident command and triage systems recently through a training exercise held at Nash Community College.
The exercise was based off an incident that occurred in 2003 at a Rhode Island nightclub. In that incident, almost 100 people were killed and dozens more were injured. More ...
Amanda Clark, Graphic Staff Writer
Local students receive Bright Ideas grants
Wake Electric announced recently that 39 teachers in Johnston, Franklin, Granville, Wake, Nash, Durham and Vance counties have been awarded Bright Ideas grants, totaling more than $50,000 in grant monies. The grants will be used for a variety of class-room programs throughout the school year. More ...

ANNIVERSARY
Mick and Peggy Patterson of Rocky Mount celebrated their 60th anniversary on November 10, 2010. The Pattersons have two children, Ricky Lane Patterson and Faith Denise Patterson Stone, both of Rocky Mount. They have one grandchild, Alexandria Denise Stone.
More ...

CHECK PRESENTATION
Take Off Pounds Sensibly (TOPS) Chapter 620, Nashville present a check to Christy Southhall, Coordinator for the Nash Senior Center, to assist needy seniors during the holiday season. More funds are needed to do the job well. If interested call Christy at 459-7681. Pictured left to right are Willa Wagner (TOPS Treasurer), Christy Southhall (Senior Center Coordinator) and Rachel Ervin (TOPS Leader).
More ...

KIWANIS CLUB KIDS
Paige Emig of Southern Nash High School, left, a National High School Scholar, and Lauren Campbell of Rocky Mount High School, right, a member of the National Honor Society, were honored by Rocky Mount Kiwanis Club as Students-of-the-Week for Nov. 8-12. They are both on their respective varsity volleyball teams.
More ...

Nash celebrates Veterans Day
Spring Hope Elementary School served veterans lunch last Tuesday during its annual appreciation luncheon. Pictured above is Cpl. J.R. Reynolds with his daughter Ryleigh. Reynolds is now a police officer with the City of Rocky Mount. More ...

Military News
Civilian Tamara D. Pope, daughter of Gloria J. Allen of Rocky Mount and Michael E. Pope, of Nashville, recently enlisted in the United States Navy under the Delayed Entry Program at Navy Recruiting District, Raleigh.
The program allows recruits to enter the Navy and take up to one year to complete prior commitments such as high school. Using recruiters as mentors, this program helps recruits ease into the transition from civilian to military life.
More ...


Dina Pitt

NCC announces Inaugural Professorate Class
Nash Community College (NCC) is pleased to announce that seven of its faculty members have received professor distinction. These professors have demonstrated outstanding support of Nash Community College's mission through teaching excellence, student support, community service and awareness and have been promoted from instructors into Nash Community College's inaugural professorate class. More ...

Cedar Isle Dairy Farm competes in shows at West Virginia Fair
Cedar Isle dairy farm traveled to Lewisburg, West Virginia to compete in the Beef and Dairy Cattle Shows at the West Virginia Fair.
Cole Strickland Competed in the Short Horn Beef Cattle Show with "Bella" and took a 6th place. Cole also competed the Ayrshire Competition with "Mollee" and took first place in the Winter Yearling Class.
More ...

Cooper speaks to Rocky Mount Kiwanis
Rocky Mount Kiwanians gathered 70 strong at a recent luncheon meeting to hear N. C. Attorney General Roy A. Cooper III, 53.
The former Nasvhille lawyer was introduced by Wink Hardesty, who credited the speaker's success to his wife Kristin and three daughters, Hilary, Natalie, and Claire. More ...

Ministers' Wives and Widows Association celebrates Founder's Day
The Edgecombe/Nash & Vicinity Ministers' Wives & Ministers' Widows Association was found November 14, 2009. The association organizers are Dr. Audrey Lucille Battle, Mrs. Deborah J. Battle, Reverend Katie McClain, Pastor Juanita Phillips, Mrs. Gwen Jones, Mrs. Renee Tillery and Mrs. Shirley Parker. These seven faithful sisters, met and organized this association at Mount Olive Baptist Church, Rocky Mount where the Reverend GE Battle is the Senior Pastor. More ...

Speaker
Michael Baker, center, the executive director of the OIC Family Medical Center, spoke to the Rocky Mount Kiwanis Club on November 11. Program Chair Richard Joyner, right, and President Jon Wiggs, left, show their appreciation.
More ...

EPHESUS NEWS
It was a very special day at Ephesus on Sunday as we held an ordination ceremony for our Student Pastor Dan Crumley.
The service began with special music by the Ephesus Men's Choir singing "There's Something About That Name". The men's choir also provided our message in music, "I'll Fly Away". More ...
DEBBIE PHILLIPS
BEULAH COMMUNITY NEWS
On Saturday at Beulah Church of Christ we had a really great turn-out for our annual Ladies Retreat! There were approximately 80 ladies present. Our speaker was Bre Matchem from Elizabeth City, NC. She did a really great job and her speech was on "Retirement –NOT". The main meaning of her speech was to forget the past, accept the future, and keep stretching. More ...
WILMA ENROUGHTY
MOUNT ZION FWB CHURCH NEWS
We welcomed 92 students in Sunday school today. What a joy and privilege to study God's Word every week.
The colorful, pretty mum was given in memory of Mr. and Mrs. Luther Matthews, Sr. by their family.
Sympathy is extended to the Russel Matthews family. He died early this morning. More ...
ROSALENE BASS
PEACHTREE COMMUNITY NEWS
Pastor Whitehouse's sermon topic was "We Will Always Be Strangers in the World, Part 2", based on I Peter 1:1-2. The truth found here is that we are strangers in the world precisely because we are chosen by God to be His people. We need to stand fast and stand up for Jesus. The choir sang "O the Love of My Redeemer". Sanctuary flowers were given by Aubrey and Kathy Farmer in honor of their son-in-law, Derrick Pittman, who is serving with the US Air Force in Korea. More ...
BARBARA HARDISON
Troop 37 sends youth to Fall Camporee
Troop 37 was on the move recently sending 14 youth members and adult leaders to Fall Camporee at the West Edgecombe Ruritan Club. On the weekend of November 5th through 7th over 140 scouts from the Tar River District of the East Carolina Council gathered to earn merit badges that have not been offered since the 1950's. More ...

Not exactly a "Home Alone" weekend
I think it was an ancient philosopher and then later, a very average pop band in the 1980s who said, "If you love something, set it free."
That may be true of some things, such as credit cards and women who have done you wrong. But leaving three males at home, with no written guidelines of any kind, that's more than setting something free. That's just poor judgement. More ...
Mike Brantley
Trying to balance the pros and cons of proposed industry
It is impossible to adequately express my appreciation for the support and vote of confidence expressed for me at the polls. I am humbled and overwhelmed with the kindness and hard work that so many friends and neighbors put forth to assure my election. Please know that every decision I make on your behalf will be done prayerfully after thoroughly studying and understanding the issue presented. More ...
Letter to the Editor:
Thankful for all the memories of Uncle Dean
Next week around this time, I'll be starting my ritual fasting to prepare for Thanksgiving.
It doesn't feel like Thanksgiving but nonetheless, it's here and I'm going to be ready.
Since I've been married, Thanksgiving has been a challenge. Actually, all holidays are a challenge. Both of our families live in Pitt County and we're expected to be at both Thanksgiving celebrations. More ...
Amanda Clark
Backward Glances
Wayne Joyner demonstrates a gyroscopic principle with a bicycle wheel while Mrs. C.H. Fries, science teacher, looks on during a special science project. Leon Zirkle, the traveling science teacher of Oak Ridge Tennesse, visited Nashville High School during this week. This photo originally published November 6, 1958 in The Nashville Graphic.
More ...
A PICTORIAL LOOK INTO THE PAST

MOVER AND SHAKER. Northern Nash's Marquez Farmer (left) avoids a Southern Nash tackle attempt during the Knights' home victory last Friday night in the opening round of the Class 3-AA State Football Playoffs at Death Valley in Red Oak.

NORTHERN'S SONG
RED OAK -- Probably the last thing Northern Nash wanted was to face a conference rival that it beat in the regular season in the first round of the NCHSAA 3-AA State Football Playoffs.
That's exactly what happened last Friday when Southern Nash made its second trip this season to Death Valley to tangle with the Knights. More ...
CHARLES ALSTON, Graphic Correspondent / Submitted photos by David Hahula

ALL-REGION PERFORMER. Southern Nash High School senior defensive standout Josh Barnes earned a selection on the Class 3-A All-Region Boys Soccer Team for the 2010 season.

County Soccer Stars Saluted
STANHOPE -- John Matthews' first season as Southern Nash's boys soccer coach was certainly one to remember.
Matthews guided the Firebirds to a 14-8 overall mark -- the highest total in SNHS school history.
The Firebirds would eventually reach the Class 3-A State Playoffs before dropping a heartbreaking loss at Southern Lee in the opening round. More ...
GEOFF NEVILLE, Graphic Sportswriter
Swimming campaign is starting
NASH COUNTY -- The Big East Conference Swim Season will begin next Monday with a meet at the Harrison Family YMCA in Rocky Mount.
The Big East competitors will be Nash County schools Southern Nash, Northern Nash, Nash Central and Rocky Mount, along with Wilson Hunt and Wilson Fike. More ...
Staff Reports
Birds Begin Title Defense
STANHOPE -- Nash County will begin defense of its Statewide Athletics Committee Tournament Championship with a home game this Saturday against the SouthWest Edgecombe Cougar Clubs.
Kickoff is scheduled for 1 p.m. at Firebird Stadium on the campus of Southern Nash High School. More ...
GEOFF NEVILLE, Graphic Sportswriter
Wesleyan earns share of championship
RED OAK -- North Carolina Wesleyan College's football team celebrated Senior Day last Saturday by turning in a 28-13 win over Averett University at the Northern Nash Football Complex.
The win secured a share of the 2010 USA South regular season title, marking the Blue & Gold's third conference championship in the past four seasons. More ...
Staff Reports
HIGH SCHOOL GRID SCORES
CHAPEL HILL -- Listed are last Friday's scores from the opening round of the North Carolina High School Athletic Association State Football Playoffs: More ...
Staff Reports
Godwin announces ECU signing class
GREENVILLE -- Three junior college players and 10 high school seniors have committed to play baseball at East Carolina University in 2012, head baseball coach Billy Godwin announced last Friday.
The latest group of standouts will enroll at ECU in the fall of 2011 and will take the diamond for the Pirates in 2012. More ...
Staff Reports
SEASON CONCLUDES
Jalen Hendricks and the Nash Central Bulldogs wrapped up their 2010 football campaign last Friday with a tough loss at West Carteret in the first round of the Class 2-AA State Playoffs.
More ...

Nash Arts Schedule
Following are events scheduled at Nash Arts this fall. The center is located at 100 East Washington Street, downtown Nashville.
For additional information or tickets, call 252-459-4734. More ...

NORA LOUISE STRICKLAND MOSS
Nora Louise Strickland Moss, 94, passed away November 15, 2010. She was born September 28, 1916 in Wilson County, daughter of the late Willie Strickland and Nora King Strickland. She was also preceded in death by her husband, Willie Gray Moss; sister, Margaret Smith; brothers, Sidney and Willie Strickland; and two grandchildren, Debbie Kelly and Craig Moss. She was also predeceased by three stepchildren, Juanita Moss, George Moss and James Moss. More ...

BESSIE MARIE CARPENTER
SPRING HOPE - Bessie Marie Carpenter, 86, passed away, Friday, November 12, 2010. She was born December 18, 1923 in Nash County. She was the daughter of the late, William Ernest and Susie Carpenter Boone. She was preceded in death by her husband Willard Carpenter and by two brothers. More ...

BERTHA ELIZABETH DUNN
NASHVILLE - Bertha Elizabeth Griffin Dunn, age 89, passed away on Tuesday, November 9, 2010. She is preceded in death by her husband, Robert W. Dunn. More ...

GLADYS DELORIS PITTMAN
ROCKY MOUNT - Gladys Deloris Pittman, 76, of Rocky Mount, North Carolina, died on Thursday, November 11, 2010 at her residence. More ...

BENJAMIN PORTIVENT ROBINSON II
NASHVILLE - Benjamin Portivent Robinson II, 70, died on November 12, 2010. He was born February 3, 1940 in Hoke County. Benjamin was the son of the late Earl and Elizabeth Tyson Robinson. Benjamin was preceded in death by a brother, Earl H. Robinson, Jr. More ...

ZACHARY QUENTIN DOWD
ROCKY MOUNT - Zachary Quentin Dowd, 25, of Rocky Mount, died on Tuesday, November 9, 2010. Funeral arrangements are incomplete and will be announced by the Rocky Mount location of H. D. Pope Funeral Home.
More ...