Subscribe/Access
Advertisements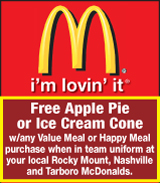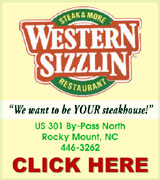 Sections
Member Options
Back
County buys homes in downtown
Nash County has purchased two properties with plans to expand the Nash County Senior Center.
The County Board of Commissioners approved the purchase of two homes, at 104 and 108 E Washington Street, following a closed session during its October 4 board meeting. The board approved a $140,000 purchase price for both homes. More ...
Amanda Clark, Graphic Staff Writer
School board to look at redistricting
In order to take full advantage of the new high school and to relieve overcrowding at other schools, the Nash-Rocky Mount Board of Education will look at redrawing attendance lines.
The Nash-Rocky Mount Board of Education and Nash County Commissioners met in a joint meeting last Thursday to discuss several school-related items, including updates on capital projects and enrollment projections for the next five years. More ...
Amanda Clark, Graphic Staff Writer
Spring Hope seeks funds for its park renovation
The Town of Spring Hope will move forward with applying for a Parks and Recreation Trust Fund (PARTF) grant to renovate its park, commissioners decided on Monday night.
Kathy Nall, who serves on the Community Park Committee, came before the board to request applying for the grant and to provide an update on park plans. More ...
Amanda Clark, Graphic Staff Writer
McTEACH-ME
Yvonne Taylor, first grade teacher assistant at Nashville Elementary School, (right) takes orders at McDonald's with help from employee Alanna Moore (left) during the school's McDonald's Night, where teachers and PTO members worked at the restaurant. A portion of all carry-out and eat-in sales were donated to be used towards the PTO Mobile Computer Lab fund. More ...

Castalia plans park surveys for residents
Castalia commissioners met on November 2 to discuss strategies to increase the ability for the town to obtain grants for the proposed Castalia Park. Monique Edwards, a representative from Elizabeth City State University, was on hand to help plan a campaign to survey members of the Castalia community, in order to seek input as to the recreational needs of Castalia. More ...
Amelia Harper, Graphic Correspondent
N-RMS Board approves district improvement plan
The Nash-Rocky Mount Schools (NRMS) board approved the administration's revised district improvement plan, as well as individual school improvement plans, at their work session Monday night. The system's achievement goals include decreasing the drop out rate, increasing use of effective teaching strategies, and improving student learning. More ...
Michele A. Cruz, Graphic Correspondent
Middlesex hosts first annual Christmas parade
The Town of Middlesex is hoping to get its residents into the Christmas spirit this year with its first ever Christmas Parade.
Cindy Ridgway, with the help of her family and a few others, is working hard to make the Christmas Parade an annual event.
Ridgway said the town has held a children's Christmas parade for years.
"It was for kids," Ridgway said. "They decorated their bikes, four-wheelers and go-carts." More ...
Amanda Clark, Graphic Staff Writer
Write-ins have no effect on school board election results
Write-in candidates had no effect on the outcome of last week's election. However, some candidates will have the opportunity to request a recount due to voting margins, Nash County Board of Elections officials confirmed on Tuesday afternoon.
At a special meeting on Tuesday afternoon, the Nash County Board of Elections tallied up the write-in candidates from last week's general elections for school board districts two and six. The results determined whether or not a runoff could be held. More ...
Amanda Clark, Graphic Staff Writer - 1 opinion posted
Nashville man killed after being hit while riding bike
A Nashville man was killed after being struck while riding his bicycle on a rural road in Nash County.
According to a spokesperson with the North Carolina Highway Patrol, Larry Dean Hull, 56, was traveling west on Harrison Road in the center of the lane when a vehicle, driven by 21-year-old Milton Earl Harvey, Jr., of Nashville, came up behind Hull's bike and struck it from behind. More ...

Ward Drug receives Accreditation Award
Ward Drug Company of Nashville recently announced a Three-Year Accreditation award in Durable Medical Equipment and Diabetic Supplies by the American Board of Certification in Orthotics, Prosthetics & Pedorthics, Inc. (ABC).
Ward Drug Company is recognized for achievements in the areas of Organizational Management, Patient Standards, Quality Assurance, Supplier Compliance and Facility and Safety Management. More ...

Two arrested for drug trafficking
The Nash County Sheriff's Office arrested two men for drug trafficking following a joint investigation.
The two-month investigation between the Sheriff's Office, North Carolina State Bureau of Investigation, Rocky Mount Police Department and the Edgecombe County Sheriff's Office ended with the arrest of 47-year-old John Edward Rogers of Indian Trail, Nashville and 47-year-old Byron Langley, of Kaitlin Road, Rocky Mount. More ...
Amanda Clark, Graphic Staff Writer

The cannon is fired in honor of Rose.

Civil War soldier honored with stone dedication
The descendants of William Henry Rose paid tribute to his life and service during the Civil War at a special stone dedication service on Saturday in Rocky Mount.
The service was held at the Falls of the Tar Church, where Rose was buried in 1932. The stone was provided by the Sons of the Confederate Veterans. More ...
Amanda Clark, Graphic Staff Writer
Annual "YAM JAM" helps feed the hungry
People from all over came out to the 13th annual Yam Jam held on Saturday, October 23. Sweet potatoes were picked and donated to food banks, homeless shelters and other organizations.
More ...

Nash Community announces new faculty members
Nash Community College has announced that Robbie Amerson, David Beamer, Justin Cole, Paula Dickerson, Kristin Kirkland, Renee Martinez and Marcus Rich joined the faculty this fall.
Robbie Amerson is the EMS Coordinator/Instructor. Robbie brings over 22 years of Fire and EMS experience including nine years of Fire and EMS instruction. More ...

Nash County celebrates Heritage Days
BEES PLEASE – Curtis Powell talks to Nashville Elementary students about bees during Heritage Days at the Farmer's Market in Rocky Mount on Friday. Fourth graders from area elementary schools attended one of three days last week to visit Heritage Days and get a sneak peek at how things were done years ago.
More ...

News from Northern Nash High
Northern Nash High School was recently recognized as a Model School by the North Carolina Department of Public Instruction for its outstanding PBIS program.
The Northern Nash High School yearbook "Roundtable" was selected by Walsworth Publishing Company as having one of the best yearbook cover and endsheet in 2010. Northern Nash was one of only 40 schools nationally to receive this recognition. More ...

Tar River Philharmonic Orchestra presents "Tonight's Really Big Show!
"Tonight's Really Big Show!" will be presented by the Tar River Philharmonic Orchestra Saturday, November 13th at 7:30 p.m. at the Dunn Center for Performing Arts on the campus of North Carolina Wesleyan College in Rocky Mount.
The Tar River Philharmonic Orchestra will perform music from the "Ed Sullivan Show" including: Tchaikovsky's Violin Concerto, featuring Rebecca Telford-Marx, the 2010 Young Artist award winner and excerpts from Tchaikovsky: Swan Lake, Bizet: Carmen, Beethoven: Egmont Overture, Rogers: South Pacific, The Beatles and more. More ...
Contributed
Ward Drug welcomes intern
Ward Drug Company of Nashville welcomes Nicole Suttles, a fourth-year pharmacy student to the pharmacy team for the month of November.
Nicole Suttles is a student at UNC Eshelman School of Pharmacy and will graduate in May of 2011 with her Doctor of Pharmacy degree. She is originally from Hickory, North Carolina. More ...

65TH ANNIVERSARY
Mr. and Mrs. James William Matthews ("Sister" Bass) celebrated their 65th wedding anniversary on November 9, 2010 with family in the home of Jimmy and Connie Matthews, which was her parent's home where they married in Momeyer. The couple have four children: Jill Jessup and her husband Leo; Jamie Dollar and her husband Ike; Jimmy Matthews and his wife Connie; and Jerry Matthews and his wife Mary.
More ...

Accepts check
Chief Buck Pittman from the West Mount Fire Department accepts a check in the amount of $8,000 from Trish Pittman, President of the Ladies Auxiliary of West Mount Fire Department, to purchase a Thermal Imaging Camera. Pictured left to right are Buck Pittman, Trish Pittman, Pat Joyner, Jan Howell, and Gladys Winstead.
More ...

Golf tourney check
Vernon Wallace (right), West Mount Ruritan Club President, accepts a check for $12,100 from Wayne Outlaw, project chairman of the inaugural Duke K.I.D.S. (Kids in Desperate Situations) Golf Tournament Project. The event was held in honor of kidney transplant recipient Bayden Collins, son of Brad and Mindi Collins, and the grandson of Wayne and Sharon Outlaw and George and Jo Collins.
More ...

Low cost spay and neuter clinic comes to Nashville
A Mobile Low-Cost Spay/Neuter Clinic is coming to Nashville. The clinic is sponsored by the Nash County Animal Friends and will be held Saturday, November 20, 2010 at 64 Marketplace, 1038 Eastern Avenue.
POP-NC (Pet Overpopulation Patrol) will bring its clinic to Nashville for the first time Nov. 20 and in January will be returning twice a month. More ...

Appalachian State University announces summer graduates
Appalachian State University has released its graduation list for the Summer 2010 term. A total of 305 graduate students and 577 undergraduate students received degrees in August, including several Rocky Mount residents.
Andrew M. Bergland, of Rocky Mount, received a Bachelor of Science Degree in Exercise Science while William W. Coleman, also of Rocky Mount, received a Bachelor of Science in Communication Studies. More ...


Al Staton

Twin County Hall of Fame Inductees
The next class of members to the Twin County Hall of Fame will be inducted on Thursday, Nov. 18th at the Dunn Center at Wesleyan College.
This year's inductees includes a congressman, a local business leader, several members of the arts including artist, author, and musician, a Medal of Honor recipient, along with people active in their communities. More ...


Senator A.B. Swindell (left) attended the ground breaking for Divine Fath Baptist Church. Pictured with Swindell is Pastor James Williams, Jr. (Graphic photo by Chuck Lewis)

Church breaks ground for new facility
Divine Faith Baptist Church, located on Cokey Road in Rocky Mount, under the leadership of Pastor James Williams, Jr., is on the move! The church broke ground for their new Educational Building on Saturday, October 30, 2010 at 10 am. The building will consist of four class rooms, a large fellowship/meeting area, a warming/serving area and a storage room. More ...

MOUNT ZION FWB CHURCH NEWS
Betsy Coppedge taught the Sunday school lesson in my class today. The subject was God is Awesome, from Psalm 66. There is a lot for us to think about in this passage of Scripture. Just look around and look at creation, stop and count your blessing. You will see that God is awesome. In fact, the word should be used only in reference to God and what He has done. More ...
ROSALENE BASS
EPHESUS NEWS
Veterans' Day was observed at Ephesus on Sunday with displays of pictures and memorabilia from their time of service, and they were honored at a luncheon after the worship service.
Victor Lamm is our Deacon of the Month for November. More ...
DEBBIE PHILLIPS
BEULAH COMMUNITY NEWS
Saturday night at the Beulah Church of Christ annex we had a great turn-out at the Fall Festival. We want to thank everyone who attended and also everyone who helped make it a great success. On Sunday morning, Sunday school began at 9:45, also with good attendance. This was followed by church services at 11. Welcome and announcements were given by our minister, Daniel West, then a song of call to worship by our choir, "Thou Art Worthy". More ...
WILMA ENROUGHTY
PEACHTREE COMMUNITY NEWS
Peachtree Church enjoyed a week-end of glorious events. On Friday evening the "Reviv.A. Sing" was well attended. Singing groups from several churches in the area participated. These included Nobles Chapel, First Baptist Spring Hope, Gibson Memorial Methodist, White Oak Methodist, Peachtree Choir, as well as Scotty Winstead of Momeyer and Diane Wilder, soloist of Bowling Green , Va.
More ...
BARBARA HARDISON
RED OAK NEWS
Ladies from Red Oak Baptist Church participated in the Adopt-a-Dorm Bible Study at Fountain Correctional Center in Rocky Mount on Monday, Nov. 1. Nell Boone led the study. Others attending included Jean Mellor, Suzy Pearce, Audrey Pearce, Marilyn Boone, and Hazel Hill. More ...
SUZY PEARCE
A day to honor citizen soldiers
For something to have a lasting effect on us, it has to touch us in a personal, identifiable way.
This can apply to religion, the birth of a first child, the loss of a loved one, or having to deal with an illness such as cancer, either ourselves or with a family member. Some folks call it "hitting close to home."
And so it should be with Veteran's Day. More ...
Mike Brantley
Citizens commend public servant Wayne Outlaw
Dear Editor:
Wayne Outlaw, one of those rare people you meet once in a lifetime that you can call a real friend.
We have known Wayne for many years and what impresses us the most is his noble character. He is honest, trustworthy, humble, responsible, competent, accessible and qualified. More ...
Letter to the Editor:
Thirty minutes is nothing compared to their sacrifices
Thursday is Veterans Day, a day in which we celebrate and honor our military veterans.
This past weekend, veterans from right here in Nashville got out in the cold, wet weather and put up American flags throughout the Town of Nashville. What a humbling sight this must have been, these men putting up flags to make sure we remember those that have fought for our many freedoms. More ...
Amanda Clark
Backward Glances
This photo was found in our 1958 archives. We're not sure when it was pubished. Recognize anyone? Call 252-459-7101.
More ...
A PICTORIAL LOOK INTO THE PAST

CHASE SCENE. Nashville Hornets' defenders (l to r) Nigeria Macon, Turner Davis and Jackson Stussie rush the Sharpsburg quarterback during last Saturday's Eastern North Carolina Football League junior varsity showdown.

A PERFECT EXAMPLE
NASHVILLE -- Numbers didn't lie this season for the Nashville Hornets' junior varsity football team -- and not just with its won-loss record.
Nashville dominated foes in the Eastern North Carolina Football League en route to an undefeated campaign and an overall championship. More ...
GEOFF NEVILLE, Graphic Sportswriter
NN Shuts Out Rocky Mount
ROCKY MOUNT -- The Northern Nash High School football team had a three-tiered goal this season. It wanted a winning season, grab a playoff berth and beat Rocky Mount.
Mission accomplished on all counts. More ...
CHARLES ALSTON, Graphic Correspondent
Bulldogs fourth at XC finals
KERNERSVILLE -- Nash Central High School's cross country squad closed out another outstanding year by taking fourth place in the team standings at last Saturday's Class 3-A State Meet, which was held at Beeson Park in the Triad Area.
The Bulldogs, coached by Brian Winham, accumulated 142 points to edge Hillsborough Orange and Charlotte Catholic (both with 148 points) for the No. 4 position overall. More ...
Staff Reports
HIGH SCHOOL GRID SCORES
NASH COUNTY -- Here are last Friday's North Carolina high school football results for the final games of the regular season: More ...
Staff Reports

Nashville's Emmanual Henderson (with ball) attempts to avoid a Sharpsburg tackler during last Saturday morning's Eastern North Carolina Football League varsity meeting, which was staged at The Hornets' Nest at Glover Park in Nashville.

Varsity Season Closes
NASHVILLE -- Nashville's hopes of earning a season-ending varsity victory looked to be a 50-50 proposition in the second half of last Saturday's Eastern North Carolina Football League contest against the Sharpsburg Gators.
But Sharpsburg broke open the game with two unanswered touchdowns en route to a 26-12 decision over Nashville at The Hornets Nest at Glover Park. More ...
GEOFF NEVILLE, Graphic Sportswriter
STATE FOOTBALL PLAYOFF GAMES
CHAPEL HILL -- Listed are the brackets for the North Carolina High School Athletic Association Class 3-AA State Football Playoffs, which will begin Friday. More ...
Staff Reports
NCWC wins in a rout
WINCHESTER, VA. -- North Carolina Wesleyan College kept its hopes alive for a potential USA South Conference football title with a 38-0 win over homestanding Shenandoah University last Saturday afternoon in the Northwest portion of the Commonwwealth of Virginia. More ...
Staff Reports
State volleyball champions are crowned
RALEIGH -- The North Carolina High School Athletic Association crowned four champions last Saturday at the annual State Volleyball Finals at historic Reynolds Coliseum on the campus of North Carolina State University.
Results from the matches were as follows: More ...
Staff Reports
AROUND END
Nashville Hornet Austin Luttrell (left) uses a nice block from Garrett Pannell (80) to pick up yardages during last Saturday's victory over Sharpsburg.
More ...

Trojans get past Red Oak
NASHVILLE -- As the rain came down last Thursday, the chances of the Nash Central playing their season finale against rival Red Oak seemed to diminish.
Despite that, the game still went on and as some of the Trojan players put "the rains are thang" after practicing in it throughout the season. More ...
Staff Reports
Prep squads ready for playoffs
NASH COUNTY -- The North Carolina High School Athletic Association's new pod playoff system of bringing football opponents closer geographically did its job when it came to the Big East 3-A Conference. More ...
CHARLES ALSTON, Graphic Correspondent

2nd Place TRAVIS MOSS

Nash County's Got a lot of Talent
When Kelly Sorie heard about Nash County's Got Talent, the thought of a $1,000 prize and the opportunity to perform in a public venue lured her in.
Sorie, 22, was named the first place winner in the Fifth Annual Nash County's Got Talent showdown held last Thursday and Friday at Nash Arts. More ...
Amanda Clark, Graphic Staff Writer
ROBERT NOLAN HUBBARD
ROCKY MOUNT - Robert Nolan Hubbard, age 46, of Rocky Mount, passed away on November 5, 2010. He was born in Fayetteville, on May 1, 1964. More ...

MINNIE B. "TOOT" MARSHALL
NASHVILLE - Funeral services for Minnie B. "Toot" Marshall, 57, who died Sunday, Oct. 31, 2010 were 2 p.m. Friday, Nov. 5 at Pleasure Hill Baptist Church. Burial followed in the church cemetery with the Rev. Melvin Johnson officiating. More ...

MARY L. EVANS
NASHVILLE - Funeral services for Mary L. Evans, 77, who died on Wednesday, Nov. 3, 2010 were Tuesday, Nov. 9, 2010 at 12 noon at Mt. Zion Holy Church. Burial followed in the Oakland Cemetery with Rev. Melvin Arrington officiating. More ...

WILLIAM INSCOE
NASHVILLE - William Inscoe, 66, died on Monday, November 8, 2010. He was born October 20, 1944 in Nash County. William was the son of the late Douglas and Ida Johnson Inscoe. More ...