Subscribe/Access
Advertisements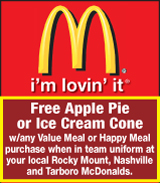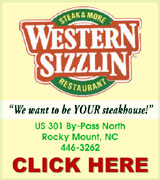 Sections
Member Options
Back
Man nabbed again for sexual assault
A Nashville man has been arrested again for attempting to sexually assault a Nashville woman.
Mark Anthony Johnson, 24, of Nashville, was arrested in May for allegedly kidnapping a woman from the Kangaroo gas station in Nashville. Johnson reportedly took the woman out of the city limits and sexually assaulted her. Police later found Johnson as he was driving with the victim. He was charged with kidnapping and rape and placed in Nash County Jail under a $75,000 bond. More ...
Amanda Clark Graphic Staff Writer
NCWC, NRMS partner to enhance Early College
North Carolina Wesleyan College (NCWC) has entered into a cooperation agreement with Nash-Rocky Mount Schools to enhance Early College High School opportunities with the "Wesleyan Experience Program."
"The change in leadership at North Carolina Wesleyan has brought new opportunities," Nash-Rocky Mount Schools (NRMS) Superintendent Rick McMahon told the board at their meeting Monday night.
More ...
Michele A. Cruz, Graphic Correspondent
Mitchell receives award
A Nashville man was recently honored with The Old North State Award for his dedication and service to the State of North Carolina.
Norman Mitchell was presented the The Old North State Award on October 4 by Governor Beverly Perdue. The award was established by former Governor Mike Easley and is presented to outstanding North Carolinians who have a proven record of exemplary service and commitment to the state and their community. More ...
Amanda Clark, Graphic Staff Writer
Nash EMS is "PINK"
Ginny Carpenter has seen a lot in her 11 years with Nash County EMS. But the most devastating thing Carpenter has witnessed is her sister's battle with breast cancer.
Carpenter's sister, Laura, lost her battle with the disease on May 30. It was her second bout with breast cancer.
"I was her caregiver, her sister," Carpenter, of Nashville, said. "It's probably the most devastating thing I've ever dealt with in my life." More ...
Amanda Clark, Graphic Staff Writer
Early voting numbers up
Over 1,300 Nash County residents have cast their vote during early voting for the upcoming general elections.
John Kearney, Nash County Election's Director, said that the numbers are high compared to similar election seasons.
"I think 2006 was a light turnout and this appears to be a heavy turnout," he said. More ...
Amanda Clark, Graphic Staff Writer
Sasser shares cancer story
Michelle Sasser and her husband were watching television one evening when she found a lump on her breast.
Sasser said after she found it, she asked her husband to check and when he agreed that something was there, she called her doctor the next morning.
The doctor sent Sasser to Greenville for a biopsy and when the doctor called and wanted to see her, Sasser said she knew something was wrong. More ...
Amanda Clark, Graphic Staff Writer
NASHVILLE POLICE REPORTS
ARRESTS
John Thomas Jones - 9/8/2010 - charged with DWI
Christopher Allen Jackson - 9/10/2010 - charged with simple physical assault
Matthew Brandon Joyner - 9/10/2010 - charged with simple physical assault More ...

STORYTIME
Nashville's Cooley Library welcomed the Nashville Fire Department to storytime this month. Jason Edwards, Nashville Fire Department's Shift B Captain, and Sparky spent some time with the children giving tips for keeping safe in case of a fire. Pictured above with Sparky are Ben Finch, Blaine Hale, Ciera Rhudy, Walton Green, Max Keel and mother Alejandra Keel.
More ...

MILITARY NEWS
Navy Damage Control Fireman Recruit Jacob David Schroll graduated October 8, 2010 from basic training at Recruit Training Command, Great Lakes, Ill.
The eight-week training program included physical conditioning, classroom study, practical training on the Navy's core values, naval customs, first aid, fire fighting, water safety and survival, shipboard and aircraft safety. More ...

Scout donation
Tommy Cliett and Ron Wilder of Western Sizzlin recently donated $400 to Boy Scout Troop 587 based at the West Edgecombe Ruritan Club. The donation went to the summer camp program at Camp Boddie near Little Washington. Thirteen boys were able to go to camp this year because of the donation.
More ...

Kiwanis students of the week
Ana Lauren Joyner of Nash Central High School, Taylor Vick of Southern Nash High School, and Benton Moss of Rocky Mount High School were honored by the Rocky Mount Kiwanis Club as Students-of-the-Week for October 11-15. More ...


Parker Barnes, 8, works on getting to the top of the rock wall at the play area at the Down East Festival.

29th annual Down East Festival
The 29th annual Down East Festival was held in Downtown Rocky Mount on Friday, October 8 and Saturday, October 9.
As part of the festivities, the third annual Eastern Barbecue Throw Down was held. Entertainment was provided throughout the day by The Craig Woolard Band, The Fantastic Shakers and Robert Lee Smith and the Original Tams. More ...

Beulah News
We had another great service at Beulah Sunday morning. Daniel West, our minister brought us a sermon on "Mystery Revealed", scripture taken from Ephesians chapter 3. Prior to the sermon we had Communion Meditation by Daniel West followed by communion. Elder presiding over communion was Kenneth Massengale. More ...
WILMA ENROUGHTY
Ephesus News
On Sunday morning, our service began with special music provided by the "Bible Belters" (Terry and Jenny Alford, Lynn Cash, and Patrick Snipes) as they sang Jesus Is Coming Soon. More ...
DEBBIE PHILLIPS
Mt. Zion FWB Church News
We had 106 in attendance for Sunday school today. Good for us! The pretty yellow mum was given in memory of Rev. Carl Swanson on his birthday Oct. 15 by his wife, Beth, son Brock and daughter-in-law, Susan. "Thank you". Ina Jones taught a good lesson on the subject, God provides protection, strength and His presence. More ...
ROSALENE BASS
Red Oak News
Eileen Shanks, Adult Consultant, and Audrey and Suzy Pearce, Children's Consultants, attended the WMU Associational Leadership Team meeting on Saturday, Oct. 16 at the associational center in Dortches. More ...
SUZY PEARCE
LBJ donates money, equipment to Nashville Recreation soccer program
In the spirit of teamwork taught by youth sports, LBJ Chevrolet in Nashville is teaming up with the Town of Nashville - Soccer to provide their players and coaches with soccer kits filled with equipment bags, soccer balls, sport cones, practice jerseys and t-shirts, a monetary donation and an opportunity to help them raise funds. More ...

Watching the world go by while sick is no fun
I was fine until I was not.
The Nash County Plague, also known as The Virus, The Stomach Flu and a number of less evil sounding names set upon me late last week. It had been "going around" you know. I'm here to tell you now: if you haven't had it, go to your local warehouse store and buy enough Lysol to coat your home, body, car and knock a giant hole in the ozone layer. More ...
Mike Brantley
Searching for family members in Castalia area
The recent discovery of letters from Ashley Moore, Mary Moore and Claretha Moore indicate that there may be members of the family of Ashley and Mary Moore in the Castalia/Nash County area. I am the son of Daniel Moore, Sr. formerly of the Fairmont/Orrum, North Carolina area. Daniel and Ashley were brothers. More ...
Letter to the Editor:
It's unfortunate that Pit Bulls get a bad rap
October is a month that brings awareness to a lot of issues: breast cancer, domestic violence, dental hygiene and the list goes on and on. October is also National Adopt-a-Dog Month.
This event bring awareness to shelter dogs and encourages people to adopt a pet from your local animal shelter. I definitely agree with that. If you are looking for a pet, please check out your local animal shelter. They are full of dogs and cats that would make wonderful friends. More ...
Amanda Clark
Backward Glances
A photo featuring two of these young ladies, Jackie Tunnell and Ann Bailey (center two) was published in The Nashville Graphic November 27, 1958. Apparently this photo was taken at the same time with four girls sitting at the table. Let us know if you recognize the other two young girls. Last week's photo has been identified as Brenda Vanhook Griffin and Billy Vanhook, Jr.
More ...
A PICTORIAL LOOK INTO THE PAST

MIDFIELD INTENSITY. Southern Nash's Carlos Leon (with ball) tries to get past Rocky Mount's Andrew Morales during Monday's soccer matchup.

SN ON THE CUSP
STANHOPE -- Southern Nash boys soccer coach John Matthews doesn't know whether to be thrilled or disoncerted about his club's recent string of near-misses against upper-echelon opponents in the competitive Big East Conference.
Certainly, this is one of Southern's all-time best teams -- as evidenced by the Firebirds' victory total of 12. More ...
GEOFF NEVILLE, Graphic Sportswriter
Price is a champion in league
WILSON -- The Singles Finals of the Big East Conference Girls Tennis Tournament proved to be a family affair for Nash Central's Randi and Kaley Price.
The Prices have been on opposite sides of the court a myriad of times -- but usually during practice sessions. More ...
Staff Reports

CHASING HIM DOWN. Northern Nash's Tevin Marshall (13) tries to track down Southern Nash's Kent Jones (with ball) during last Friday night's Big East Conference football showdown at Death Valley on the NNHS campus in Red Oak.

Northern Tops SN In Big East
RED OAK -- Outscoring seventh-ranked Southern Nash 14-0 in the second half, Northern Nash put an indelible stamp on its 21-7 victory over the Firebirds last Friday night in a major Big East Conference tilt at Death Valley.
How important was it? It broke a ton a streaks that were going the wrong way for the Knights and it kept the door open for a possible league title for Northern. More ...
CHARLES ALSTON, Graphic Correspondent
A 3-on-3 tourney is scheduled
RED OAK -- The Nash County Parks and Recreation Department is hosting a 3-on-3 Basketball Tournament on Nov. 6 from 11 a.m.-2 p.m. at Ennis Park.
Males and females ages 14-over are welcome to participate. Cost is $30 per team.
The registration deadline is Nov. 5. More ...
Staff Reports
Southern Middle rallies past Nash Central
NASHVILLE -- The Nash Central Middle School Trojans lost a heartbreaker on Thursday afternoon at home to Southern Nash Middle School by a 30-24 margin.
The Trojans again started a home game roughly as they took the opening kickoff but threw an interception on their second play from scrimmage. More ...
Staff Reports
Bailey resident teaches golf to local youngters
BAILEY -- Serving as a boxing coach in the early portion of his adult life, Rocky Winstead switched to teaching a much less puglistic endeavor in 1971.
But against a foe no less challenging -- in the form of a golf course. More ...
GEOFF NEVILLE, Graphic Sportswriter
Area P, P&K winners honored
RED OAK -- The Nash County Parks and Recreation Department hosted a sectional competition for the National Football League Punt, Pass & Kick Event on Sept. 9.
A total of 34 youngsters -- from Gates County to Wake County -- participated for the opportunity to go to the Team Championship in December as part of a Carolina Panthers' home game in Charlotte. More ...
Staff Reports
Bishops stopped by Captains
RED OAK -- Four lost fumbles, an interception and a blocked punt for a touchdown told the story of last Saturday's USA South Conference football tilt between North Carolina Wesleyan and Christopher Newport, and unfortunately for Bishop fans, it was the Captains who left Nash County with a 23-15 gridiron win. More ...
Staff Reports
Nash Co. splits with SWE
PINETOPS -- Corey McCalston and Hunter Perry were the go-to players as the Nash County junior varsity football team fell short to Southwest Edgecombe by a 6-0 score last Friday in Eastern North Carolina Football League action.
The event was staged at the SouthWest Edgecombe High School Football Field. More ...
Staff Reports
STARS OF THE SHOW AT GLOVER PARK
The Lady Stars Fast-Pitch Softball Travel Team out of Nash County dominated the High School Division at the Smack Down Tournament, which was held Oct. 9-10 at Glover Park in Nashville. In six games, the Stars outscored opponents by a whopping 46-7 margin, and they would close with a perfect 6-0 record.
More ...

HALL OF FAME ACHIEVEMENT
Nash County native Howard McCullough was inducted last Saturday into the Louisburg College Athletic Hall of Fame. McCullough, a Rocky Mount Senior High graduate, played baseball for the Hurricanes in the 1970s. He currently lives in Greenville and is a scout for Major League Baseball's Arizona Diamondbacks. In the above photo, McCullough gives an acceptance speech. More ...

RETURN TO SENDER
Southern Nash's Julio Roman (14) waits for the ball to come to him during Monday's home soccer match against the Rocky Mount Gryphons.
More ...

Nash Arts announces fall schedule
Following are events scheduled at Nash Arts this fall. The center is located at 100 East Washington Street, downtown Nashville.
For additional information or tickets, call 252-459-4734. More ...

IRENE CARTER EDWARDS WADSWORTH
BATTLEBORO - Irene Carter Edwards Wadsworth, 87 passed away Wednesday, October 13, 2010. She was born September 18, 1923 in Nash County to the late Raymond and Grace Collie Carter. In addition to her parents she is preceded in death by her first husband, William Lawrence Edwards, Sr.; brothers, Albert, Elbert, Robert, Johnny, and Raymond Carter; sister, Mary Sue Manning; and step-son, Bobby Edwards.
More ...

JOSEPH "JOE" WILLIE PITTMAN JR.
ROCKY MOUNT - Joseph Willie Pittman Jr., 74, passed away, Wednesday, October 13, 2010. He was born December 8, 1935 in Nash County. He was the son of the late Joseph Willie Pittman Sr. and Bertha Bone Pittman. He was preceded in death by two brothers, Tommy and Jerry Pittman, one sister, Magalene Baker. More ...

GLADSTONE BULLOCK
ROCKY MOUNT - Mr. Gladstone Bullock, 81, of Rocky Mount, died on Monday, October 11, 2010, at Nash General Hospital in Rocky Mount. More ...

DAVID WHITLEY
MIDDLESEX - David Whitley, 60, of Middlesex passed away, Thursday, October 14, 2010. He was the son of the late Clarence and Essie Mae Whitley. He was preceded in death by a brother, Ronnie Whitley and sisters, Ruby Moss and Essie Evans. More ...

FREDDY LEE TEVEPAUGH
NASHVILLE - Freddy Lee Tevepaugh, 56, passed away Monday, October 11, 2010. He was born March 02, 1954 in Nash County, NC to the late Willie and Versie Wood Tevepaugh. In addition to his parents he is preceded in death by his brother, Leroy Tevepaugh and his sister, Betty Lou Kunde.
More ...

GRAHAM N. BELLAMY
WHITAKERS – Graham N. Bellamy, 60, passed away, Wednesday, October 13, 2010. He was born January 24, 1950 in Halifax County. He was the son of the late Graham and Geraldine Greene Bellamy. He was preceded in death by his sister Judy Brake. More ...

CORA ETHEL DUGGINS
ROCKY MOUNT - Mrs. Cora Ethel Duggins, 83, of Rocky Mount, NC, died on Thursday, October 7, 2010, at Nash General Hospital In Rocky Mount. More ...

CHARLIE E. THOMAS
ROANOKE RAPIDS - Charlie E. Thomas, 73, of Roanoke Rapids, North Carolina, died on, Sunday, October 10, 2010 at Halifax Regional Medical Center in Roanoke Rapids. More ...

ETHEL LEE DEBRO
Mrs. Ethel Lee Debro, age 98, of Rocky Mount passed away October 15, 2010 at Nash General Hospital. A funeral will be held at 1:00 p.m. Wednesday, Oct. 20 at Bunn Chapel Baptist Church, Nashville. Burial is at Oakland Cemetery. Visitation was held from 3-8 p.m. Tuesday. More ...

TERRY BURT
Mr. Terry Burt, age 46, of Nashville passed away October 16, 2010. A funeral will be held Thursday, October 21 at 2 p.m. at Bunn Chapel Baptist Church, Nashville. Burial is at Oakland Cemetery. Arrangements by William Toney's Funeral Home, Spring Hope.
More ...