Subscribe/Access
Advertisements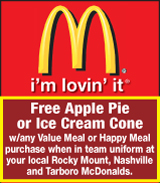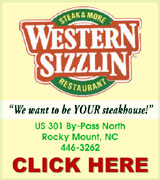 Sections
Member Options
Back
Sewer cost could be 3.7 million
Castalia Commissioners met on Tuesday, October 5, to hear a preliminary report of the sewer study prepared by Mark Russell of Mack Gay and Associates. Russell spent nearly an hour outlining various sewer options available to the town and encouraged the town to implement sewer services as soon as possible. More ...
Amelia Harper, Graphic Correspondent
Tractor accident kills Nashville man
A Nashville man was killed Monday afternoon when a tractor turned over on top of him.
According to Captain Pat Joyner, of the Nash County Sheriff's Office, Freddy Tevepaugh, 56, was working at Rose Hill Farm at 2240 Boddie Lane when the accident occurred. More ...
Amanda Clark, Graphic Staff Writer
ACCIDENT
Four people were transported to the hospital after an accident last Wednesday morning in front of Wendy's on Eastern Avenue. According to the Nashville Police Department, Anita Langley, of Elm City, was driving north on Eastpoint Drive when Betty Horne of Nashville allegedly ran the stoplight and hit Langley's vehicle, causing it to overturn.
More ...

Former Spring Hope Commissioner dies
A longtime public servant for the Town of Spring Hope passed away from complications of a stroke.
Marion Clark, 86, passed away in Raleigh on September 29, a week after she suffered a stroke.
Clark served as a Spring Hope Commissioner from 1999 to 2009. In the ten years Clark was a commissioner, she only missed two meetings. More ...
Amanda Clark, Graphic Staff Writer
Fisher honored with grant for Nash 4-H
When Bobby Joe Fisher received the phone call that he had been selected as a winner in the America's Farmers Grow Communities Program, there was no doubt which community organization he would choose to receive the $2,500 prize; Nash County 4-H. More ...
Amanda Clark, Graphic Staff Writer
Campfield shares cancer story
Nancy Campfield had a premonition that she had breast cancer. But she didn't immediately see a doctor.
Campfield's husband was battling multiple myeloma so she put off a doctor's visit of her own.
"I really knew something was going on with me when my husband became ill or right after he became ill," Campfield said. "I couldn't figure out how I could handle two cancers at the same time." More ...
Amanda Clark, Graphic Staff Writer
Nielsen addresses County Commissioners
Nashville business owner Dennis Nielsen came before the Nash County Board of Commissioners last Monday to discuss his downtown business.
In July, Nielsen learned that the lease on his downtown business would expire at the end of the year. Nielsen leases the building from Nash County. More ...
Amanda Clark, Graphic Staff Writer
Anderson is Outstanding County Finance Officer
Lynne Anderson, Nash County Finance Director, was presented the Outstanding County Finance Officer Award at the 2010 County Finance Officers' Conference last week in Hickory by Kevin Leonard, Director of Government Relations for the North Carolina Association of County Commissioners (NCACC). Anderson, outgoing Past President of the N.C. County Finance Officers' Association, was recognized for her work on county and statewide issues of tax and finance. More ...

NCC SGA PRESIDENT
Nash Community College recently announced that Bill Hill of Whitakers was elected as the 2010-2011 Student Government Association (SGA) President. Hill is a Machining Technology student and plans to graduate in May 2011. He is also a member of the Gamma Beta Phi honor society and the Metalworkers Club.
More ...


Jackie Wall (right) accepts the award for the Home Delivered Meals Volunteer of the Year Award on behalf of Jan Gwaltney. The award was presented by Brenda Sheilds (left).

Nash Senior Center Volunteers of the Year
Volunteers with the Nash County Senior Center received the Hollywood treatment to celebrate all they do for the county's senior citizens.
A Volunteer Appreciation Social was held at The NASH on September 22 with volunteers walking the red carpet and having their photos taken. More ...
Amanda Clark, Graphic Staff Writer
Local man is SONC Athlete of the Month
Tony Harriss of Nash County was named Special Olympics North Carolina Athlete of the Month for October!  Tony has been involved with Special Olympics for 22 years.  He competes in athletics, basketball, bocce, bowling and softball!  Tony is very competitive and works very hard to make himself and his teammates better. 
More ...

NATIONAL CERTIFICATION MAINTAINED 25 YEARS
Twenty-five years ago, the Infusion Nurses Certification Corporation started a national certification program for IV nurses. IV nurses are responsible for starting patients' IVs and may assist in situations where a patient's veins may be difficult to access. Since the inception of the certification program, only 44 nurses in the United States have continuously maintained their certification for these 25 years, and four of those nurses are employees of Nash Health Care.
More ...

Kiwanis honors area students
Miriam Ann Kannan of Nash Central High School and Will Matthews of Southern Nash High School were named Students-of-the-Week by Rocky Mount Kiwanis Club for week ending September 30.
Miss Kannan ranks fourth in her class of 246, and is a member of the National Honor Society. She is a member of the N. C. Scholars Program and as a junior was a marshal for 2010 NCHS graduating class. More ...

Local woman wins shootout
Melissa Williamson of Rocky Mount won first place in the Ladies with Guns Shootout hosted by Mike's Custom Gun and Knife Works and Nashville Guns on Sunday, October 3. Women from as far as Clayton competed in the all female shoot out. They had to demonstrate skills with various weapons firing three different guns including an assault pistol, a center fire gun of their choice and a Ruger 22 caliber target pistol. Williamson fired a Sig Pro 9MM pistol. More ...

FUNDING CLUB SCHOLARSHIPS
The Brooklyn Community Watch held its annual Nashville Youth Day at Glover Park in August. Every year the committee raises funds from the town of Nashville to provide scholarships to the Boys and Girls Clubs of Nash/Edgecombe Counties' Nashville area Unit. With this donation, the Boys and Girls Club will be able to provide scholarships to youth in the community. For additional questions or information, please call (252) 977-9924 or visit our website at BGCNEC.org.
More ...

Worthy, Mercer exchange vows
Ashley Marie Worthy and Justin Graham Mercer were married Saturday, Sept. 25, 2010 at Our Lady of Perpetual Help Catholic Church, Rocky Mount. The officiating minister for the 2 p.m. ceremony was Father C. Timberlake Meares. More ...

Coggins and Arcila wed
Alison Denise Coggins and León De Jesus Arcila Jr. were married Saturday, September 25, 2010 in a 4 p.m. ceremony at Yankee Hall Plantation in Greenville. The officiating minister for the outdoor ceremony was Rev. Ann Marie Alderman. More ...

MILITARY NEWS
Montrel Stokes
Army National Guard Pvt. Montrel Stokes has graduated from Basic Combat Training at Fort Sill, Lawton, Okla. More ...

BIRTH
Carter Thomas Leggett
Brent and Sue Leggett of Nashville are proud to announce the birth of their son, Carter Thomas Leggett, born Aug. 20, 2010 at Nash General Hospital in Rocky Mount. He weighed 8 pounds, 1 ounce and was 21 inches long. More ...

Mt. Zion FWB Church News
There were 84 in Sunday school today. We appreciate Barbara Morgan serving as our pianist today.
Our choir sang "God is So Good" for the call to worship. Pastor Rogerson welcomed everyone and prayed the invocation. Hymns of worship were "Where He Leads Me" and "Jesus is Lord of All." More ...
ROSALENE BASS
Red Oak News
Several ladies from Red Oak Baptist Church attended the Adopt-a-Dorm Bible Study at Fountain Correctional Center in Rocky Mount on Monday, Oct. 4. Audrey Pearce led the study with Jean Mellor, Suzy Pearce, Marilyn Boone, and Hazel Hill also participating. More ...
SUZY PEARCE
Brooklyn Community News
Most of us think of our church as a "Safe Haven" but take a second and think about how safe your church really is. This day and time that we live in, sadly church violence is not uncommon. If my memory serves correct, nothing too extreme has happened in our community, but it can and does happen. More ...
LENA SESSOMS
Daughters of the American Revolution
The DAR Micajah Pettaway Chapter met September 16 in the Theater Lobby at the Imperial Center for a coffee hour. Regent Toni Wade welcomed everyone. She led the DAR Ritual, the Pledge of Allegiance and American Creed joined in by Chaplain, Priscilla Sykes. More ...
Dee Long
Beulah News
We had a great day at Beulah Church of Christ on Sunday. It was our annual homecoming. It was really good to see so many old members and friends again. The visiting minister that planned to preach for homecoming was sick and could not be there. That was Reggie Webb from Edenton. More ...
WILMA ENROUGHTY
Peachtree Community News
"Nothing could be finer than to be in Carolina in the---autumn". The beautiful fall weather has been enjoyed by all since the rains came and refreshed the earth. More ...
BARBARA HARDISON
Ephesus News
On Sunday morning, Jenny and Terry Alford provided our special music as they sang "When I Get Carried Away."
We all welcomed Mike Bauer home from his recent mission trip to Haiti with the Tar River Mission Team. He shared with us how this mission impacted his life in a way he never thought possible. More ...
DEBBIE PHILLIPS
Is any political office really worth this price?
I purposely avoided the hot political topic in this space last week for two reasons:
1.Nashville's first mail carrier had announced his retirement, it was quite timely and a positive-oriented topic I had planned on writing at some point. More ...
Mike Brantley - 1 opinion posted
Cancer survivors have shared their courage
This month, The Nashville Graphic is featuring women who have fought breast cancer.
It's been inspiring to sit down with the ladies we've featured and hear their stories. I wish I could have sat down with all 25 of the ladies that were featured in the Nash County Health Department's poster campaign. More ...
Amanda Clark
Commissioner responds to opponent
I was disheartened to read the comments in last week's Graphic from my opponent who is seeking the District 5 Nash County Commissioner seat. Since I was appointed to complete the unexpired term of the late Jay Alford, I have studied each agenda, asked relevant questions for clarification, prayed for guidance, and many times agonized over what was best for all residents of Nash County. More ...
Letters to the Editor: - 1 opinion posted
Reader prefers Swindell's records
As a rebuttal comment – the Watauga County details still have the precise name that Buck Newton has in their records. (i.e. middle also) Commonly in the vetting process an attorney is used to remove errors or expurgate them . As attorney, did Buck Newton fail to take care of vettin , clearing and expurgating misleading information? He is an attorney? Someone clearing felony charges should see that as important. More ...
Letters to the Editor: - 3 opinions posted
Superior Court Judges running - or not?
Have I missed it? I can't find anywhere that the following eastern NC Superior Court Justices have announced they are running for re-election: Judge Quentin Sumner, Nash County; Judge Milton Toby Fitch Jr.; Wilson County; Judge Walter Godwin Jr., Edgecombe County. Even though their terms are up in 2010. More ...
Letters to the Editor:
Backward Glances
We found this photo is our 1958 archives and figured since Christmas is knocking at the door, we would run it as this week's backward glance photo. We don't know who these youngsters are, but looks like they were ready for Santa!
More ...


HE'S CLEARED FOR TAKEOFF. Nashville's Raymond Bullock escapes the Nash County defense en route to a big gainer during last Saturday's Eastern North Carolina Football League JV showdown in Stanhope.

4 VICTORIES TO GO
STANHOPE -- Put another notch in the victory column for the red-hot Nashville Hornets' Junior Varsity football squad.
Last Saturday on the road, the unbeaten Hornets scored early and often and went on to defeat the homestanding Nash County Firebirds by a 39-0 margin in Eastern North Carolina Football League action at picturesque Firebird Stadium on the campus of Southern Nash High School. More ...
GEOFF NEVILLE, Graphic Sportswriter

ALL TIED UP. (L to R) Southern Nash's Josh Barnes and Northern Nash's Joey Simpson tangle for a ball at midfield during Monday night's crucial Big East Conference boys soccer matchup, which was held on the NNHS campus in Red Oak.

SN Continues Playoff Quest
RED OAK -- Some coaches wouldn't be happy with a fourth-place finish in the conference, regardless of the sport.
But that position fits Southern Nash's John Matthews just fine, thank you.
With Wilson Hunt, Wilson Fike and Rocky Mount firmly entrenched as the Top Three in the Big East Conference boys soccer standings, that leaves everybody else jousting for the final automatic berth from the league for the upcoming Class 3-A State Playoffs. More ...
GEOFF NEVILLE, Graphic Sportswriter
A Bishop honored in league
FAYETTEVILLE -- The USA South Athletic Conference has released its weekly awards for the second week of October, and North Carolina Wesleyan's Jamal Smith of football has earned recognition as the league's Offensive Player of the Week.
The honor is the first of the sophomore's career and comes after the Bishops' 48-12 defeat of Greensboro College. More ...
Staff Reports

SPLITTING THE UPRIGHTS. Nash Central's Zach Connor kicks an extra point for the Bulldogs during last Friday's home football victory against Rocky Mount.

Bulldogs Best Gryphons
ROCKY MOUNT -- Nash Central High School's football team did something last Friday night it had never done before. The Bulldogs beat Rocky Mount on the gridiron.
They got their first-ever win over the Gryphons with a 27-14 victory in the Dawg Pound in the Big East Conference opener for both teams.
More ...
CHARLES ALSTON, Graphic Correspondent
NC Wesleyan enjoys successful weekend
ROCKY MOUNT -- North Carolina Wesleyan College celebrated its 2010 Homecoming last Saturday, and it truly was a great day for Battling Bishops' fans.
In football, the Blue & Gold won its third straight game and 11th straight USA South contest dating back to 2008 with a 48-12 thumping of Greensboro College at the Northern Nash Football Complex in Red Oak. More ...
Staff Reports
'Birds shut out Hornets
STANHOPE -- Last Saturday night, the Nash County Firebirds varsity team attempted to remain undefeated this season, but had to defeat the Nashville Hornets to do so.
Nash County roared to an early advantage and went on to defeat Nashville by a 42-0 score in an Eastern North Carolina Football League matchup at Firebird Stadium on the campus of Southern Nash High School. More ...
Staff Reports
Central Middle a big winner
NASHVILLE -- The Nash Central Middle School Trojans football team had a successful week by picking up two wins defeating Parker 30-6 last Monday, and West Edgecombe 32-14 last Thursday.
The Trojans were forced to play at Parker Middle School on Monday due to the heavy rains last week, forcing an always-interesting football doubleheader for the week. More ...
Staff Reports
Central spikers start well at tourney
WILSON -- After posting a 5-5 conference record and tying for third place the Nash Central Bulldogs volleyball team headed into the first round of the Big East Volleyball Tournament with high hopes.
New additions to the team from the JV squad, Timyra Staton and Jalyn Westry, made immediate impact on the Bulldogs' game. More ...
KENT WHEELESS, Graphic Correspondent
NC SENIOR DAY HIGHLIGHTS
Bahja Hinton and Kristen Shuford were saluted as part of the annual Senior Day festivities last Thursday for the Nash Central High School volleyball squad. Pictured (above) Hinton shares a special moment with her father during the ceremony. More ...

Buffaloe takes 4th at New York Event
NEW YORK -- Christian Buffaloe, the 10-year-old son (& student) of Kyokushin Karate Instructor Kenny Buffaloe, a former Nash County resident, recently participated in a high-level Japanese Youth Martial Arts Demonstration in New York, at the "All American Kyokushin Karate Championships." More ...
Staff Reports
NCHS' SENIOR NIGHT SHOWCASE
Nash Central High School's Brittany Faulkner (left) sends a kill attempt past Southern Nash blocker Logan McNinch during last Thursday evening's Big East Conference volleyball event at the NCHS Gymnasium in Rocky Mount. The host Lady Bulldogs, under the direction of veteran head coach Frank Poyer, outlasted Southern Nash in an epic five-game spike showdown.
More ...

Nash County's Got Talent!
Nash Arts will hold the annual Nash County's Got Talent auditions October 25 and 26th at 5:30 p.m. both evenings for ages 14 and up. Prizes include $1000 for first place, $500 for 2nd place and $250 for 3rd place. Callback rehearsals will be held November 2 at 5:30 p.m. Finals will be held November 4 and 5 at 7 p.m. Entry fees are: Individual $25; Groups or bands $50.
More ...

Alethea Jean Higgs
Ms. Alethea Jean Higgs, 53, of Princeville, North Carolina, died on Thursday, September 30, 2010, at her residence. More ...

Martha Ann Wilkins
Mrs. Martha Ann Wilkins, 69, of Rocky Mount, NC, departed this life on Thursday, October 7, 2010, at Nash General Hospital in Rocky Mount, NC. More ...

Joshua Wilson Lane Jr.
Joshua Wilson Lane Jr., 59, passed away Saturday, October 9, 2010. He was born April 27, 1951, in Edgecombe County, the son of Joshua Wilson Lane Sr. and Pauline Bradley Lane . He was preceded in death by his father. More ...

Cora Ethel Duggins
ROCKY MOUNT - Mrs. Cora Ethel Duggins, 83, of Rocky Mount, NC, died on Thursday, October 7, 2010, at Nash General Hospital In Rocky Mount, NC. More ...