Subscribe/Access
Advertisements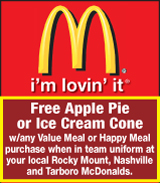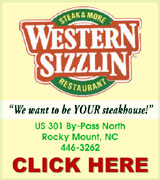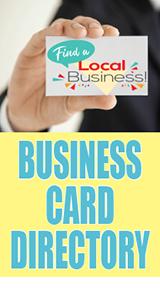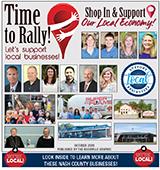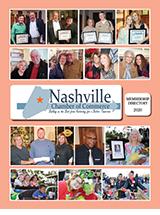 Sections
Member Options
Back
Utility issues continue to hinder downtown plans
Nashville's Downtown Redevelopment Project continues to experience delays and now the project is facing modifications to the actual scope of work in order to cut down on costs.
At the Nashville Town Council meeting last Tuesday night, Steve Player and Fred Rash, both of the Wooten Company, came before the board to provide an update on the project. More ...
Amanda Clark, Graphic Staff Writer
Gun shop to lose lease end of 2010
The Nash County Board of Commissioners extended the lease for the Nashville Gun Shop, following a closed session on Monday.
Dennis Nielsen opened the gun shop in September of 2009. County Manager Bob Murphy said that lease was extended through the end of 2010, where it will then be terminated. More ...
Amanda Clark, Graphic Staff Writer

Bayden Collins stands with a set of golf clubs before taking a few practice swings to prepare for the K.I.D.S. Golf Tournament on September 11 at Northgreen Country Club in Rocky Mount. The tournament will raise money for Duke Children's Hospital.

GOLFING FOR K.I.D.S.
To the average eye, Bayden Collins appears to be a typical eight-year-old boy. He enjoys playing golf, watching Duke basketball and being spoiled by his grandparents. But Bayden has had quite a journey in his short life.
Bayden was born with kidney problems. At first, doctors didn't know what was wrong with Bayden. Bayden's mom, Mindi Collins, said even in utero Bayden wasn't developing properly. He was born early and continued to develop slowly. More ...
Amanda Clark, Graphic Staff Writer
Youth event is Saturday
Organizers of the Fifth Annual Athletic Youth Day are expecting a big crowd to come out and join in the different activities set for Saturday, July 17.
Lena Sessoms, one of the event's organizers, said this year's Youth Day will be the same as in year's past, with different athletic activities, food and guest speakers.
More ...
Amanda Clark, Graphic Staff Writer
Edwards named NFD Captain
Nashville's Fire Department recently promoted Jason Edwards as Captain of the "B" shift. 
Edwards takes the place of Tony Bailey, who left in May to take on a position with a Fire Department in Wake County.
Edwards has been in the fire service since 1999, when he began as a Junior Firefighter in Spring Hope. In 2002, when Edwards turned 18, he became a full-fledged volunteer with Spring Hope's Fire Department. Today, Edwards serves as the Assistant Volunteer Fire Chief in Spring Hope. More ...
Amanda Clark, Graphic Staff Writer
Four sent to hospital after vehicle overturns
A single-car accident sent a woman and three children to the hospital on Monday afternoon.
According to Trooper Michael Davidson, of the NC Highway Patrol, 31-year-old Ylonda Garibay was traveling on Highway 231 outside of Middlesex when she ran off the road to the right. Davidson said when she ran off the road she clipped a sign and then overcorrected too hard, sending her 2004 Chevrolet Silverado down an embankment.
More ...
Amanda Clark, Graphic Staff Writer
NASHVILLE POLICE BRIEFS
ARRESTS
Travis Williams - 6/2/10 - charged with a probation violation
Vanrea Lynch - 6/4/10 - charged with simple physical assault
Tony Alfonzo Lynch - 6/4/10 - charged with communicating threats
More ...

Littleton man arrested for trafficking cocaine
The Nash County Sheriff's Office arrested a Littleton man after finding cocaine during a vehicle stop.
The Sheriff's Office said they received a tip that 43-year-old Luke Henry Harvey, of Littleton, would be driving on NC 43 in possession of narcotics. After a vehicle stop on NC 43, near the Halifax County line, deputies found 58 grams of crack cocaine and $153. More ...

Rocky Mount man dies after car accident
A 46-year-old man is dead after an accident on Highway 301 in Rocky Mount.
Rocky Mount Police say Stuart Brent Gray, Jr. was traveling on US Highway 301 South at Porter Road when his vehicle left the road and rolled over several times. Gray, who was not wearing a seatbelt, was thrown from the vehicle. More ...

ENGAGED
Lisa Dawn Collins and Timothy Mark Cooper of Nashville announce their wedding engagement. The wedding will take place on Saturday, September 4, 2010 at 3 p.m. in a small chapel in the mountains.
More ...

Hewett - Neal Engaged
William and Gladys Hewett announce the engagement of their daughter, Tanya Nakia Hewett to Marcus Jerome Neal, the son of Wiley Jr. and Brenda Neal, of Nashville.
More ...

UNC-Pembroke Honor List
The University of North Carolina at Pembroke recently announced its Chancellor's and Honor's List for the Spring 2010 semester.
Nash County residents named to the Chancellor's List were Kellie Van Dyke and Melissa Page Whitt, both of Nashville. More ...

NCC launches new communication tools
The Nash Community College Office of Financial Aid has recently launched two new email addresses to better serve students. Students may e-mail nccfinancialaid@nashcc.edu and Financial Aid will respond within 24 hours during normal processing times and within 48 hours during peak times, such as registration. Veteran students may e-mail veterans@nashcc.edu and a Veterans Financial Aid Officer will respond within the same amount of time. More ...

Pinyan named special med manager at NHCS
Steve Pinyan, RRT, RCP, has been named manager of the Special Medicine Department at Nash General Hospital, bringing more than 16 years of respiratory care experience to the organization.  He obtained his associate's degree in applied science from Forsyth Community College in 1992, and has worked at Forsyth Memorial and Baptist Hospitals in Winston Salem, and at Rex Hospital in Raleigh.
More ...

Mt. Zion FWB Church News
Earl and I were not able to go to Sunday school nor worship service today. Therefore I won't have all the details. Sunday school was a time of learning, I am sure. More ...
ROSALENE BASS
Beulah Community News
Attention! Important Notice! On this Saturday, July 17, from 9 a.m. to 2 p.m., there will be a Vacation Bible School Day Camp at Beulah Church of Christ. This will be for all children between the ages of four to fifteen years old. Bring a bathing suit and a friend. If you haven't registered you are still welcome, but to register prior to the event please call Amy West at 459-7893. This will give us an idea of the expected attendance and how many children to prepare for. We hope to see a good attendance for a fun Christian event. More ...
WILMA ENROUGHTY
Red Oak Community News
Several ladies from Red Oak Baptist Church attended the Adopt-a-Dorm Bible Study at Fountain Correctional Center on Monday, July 5. Marilyn Boone led the study. Others attending from Red Oak included Nell Boone, Jean Mellor, Suzy Pearce, Audrey Pearce, Hazel Hill, and Jean Stallings. More ...
SUZY PEARCE
Ephesus Community News
It was a joyful day at Ephesus on Sunday as baptism service was held for Davey and Teri Armstrong, Anna Coppedge, Jarrett and Jordan Hagler, and Abby Legg. Lisa Strickland made a profession of faith and joined as a member of Ephesus. We are so blessed to have them all join our church family! More ...
DEBBIE PHILLIPS
Peachtree Community News
The refreshing rain that fell in the area on Friday night was a blessing and an answer to prayers. On Sunday Morning Pastor Whitehouse chose II Corinthians 4:10-12 for his scripture. His sermon topic was "Do You Really Want to be Like Jesus?" We must suffer as he suffered; be rejected as he was rejected; be misunderstood as he was misunderstood. The choir sang,"Holy Ground" under the direction of Pastor Whitehouse. Sanctuary flowers were given by Beverly Wilson. More ...
BARBARA HARDISON
Wooten named manager
Maribeth Wooten was recently named the director of rehabilitation nursing. In her new role, Wooten will over see the rehabilitation services at both Nash General Hospital and Nash Day Hospital. In addition, she will work with the HealthFirst Wellness Center. More ...


12-year-old Dylan Proctor checks his brisket during District 4-H Activity Day.

Nash hosts District 4-H Activity Day
Nash County was host to over 200 4-Hers from across Northeastern North Carolina on June 24 for the District 4-H Activity Day.
Each year, different counties host the event. This is the second year District 4-H Activity Day has been held in Nash County.
"It will go to Halifax County next year," said Sandy Hall, Nash County 4-H Extension Agent.
More ...
Amanda Clark, Graphic Staff Writer
Local child trains under famous world champion from Japan
Christian Buffaloe, 10 year old son (and student) of local Kyokushin Karate instructor Kenny Buffaloe, formerly of Nash County, recently received an opportunity of a lifetime. Christian was personally invited for special fight training under former Kyokushin Karate World Full Contact Champion, Mr. Kenji Yamaki of Tokyo, Japan. More ...
Contributed

Romon Hernandes makes a philly cheese sub at Chubby's Pizza.

Bailey restaurants celebrate grand openings
Chubby's Pizza and San Miguel Mexican Food and Bakery are celebrating their grand opening at 9675 S. Highway 581 in Bailey.
Chubby's has been in business since July 2001 servicing the area with pick-up orders and delivery around the town of Bailey. The restaurant now has dine-in for its customers. Owner Maria Garcia says the secret to the restaurant's success is the good old fashion way they make the food from scratch. More ...

Bequest from Nashville man endows new scholarship
A bequest of $25,000 from the estate of the late Donald G. Glisson of Nashville has established a new scholarship at North Carolina Wesleyan College. The scholarship will benefit academically talented students from Nash County who have earned a high school grade point average of "B" or better and who maintain a "B" average on college work. More ...

Nashville Habitat receives gift
Nashville's Habitat for Humanity received a boost recently thanks to an $800 donation as part of the Lowes Foods/Sprite Tabs for Habitat promotion.
Lowes Foods and Sprite joined together to promote Habitat for Humanity through out North Carolina and portions of South Carolina and Virginia.
More ...

Local students earn degrees from UNC at Chapel Hill
More than 5,000 students earned bachelor's, master's, doctoral or professional degrees from the University of North Carolina at Chapel Hill during the May Commencement ceremony.
Out of 5,262 students graduated, 3,198 earned a bachelor's, 1,230 earned a master's, 219 earned a doctoral degree and 615 earned a professional degree. More ...

Whatever happened to the Peanuts Gang?
In today's social-media crazed world of 24-hour news cycles and a 'No Scandal Left Behind' mindset, it is so easy to lose track of totally unimportant stories and how they finally end.
For example, how many folks realize that The Green Lantern was slapped with cease-and-desist order until he could justify his work was environmentally sound, and cleared to use the title 'Green'? Or that Iceman was offered a substantial amount of money to say he was retiring due to Global Warming? More ...
Mike Brantley
Your support of local events helps out the Boys & Girls Clubs
I'm convinced that if everyone took their kids to the Boys and Girls Club, the world would be a better place.
Since becoming a reporter, I've had the distinct pleasure of witnessing first-hand what the Boys and Girls Club can do for kids.
I started my journey over in Pitt County. I admit, I really didn't know what the Boys and Girls Club was all about at first. I never attended a club as a kid so it wasn't until I was an adult I had a chance to see what the clubs do. More ...
Amanda Clark
Vandals in Castalia should get costly punishment
The vandalism that took place in reaction to fireworks being cancelled in Castalia last week was inexcusable.
According to Castalia's July 4th Celebration organizers, there was a miscommunication with the company that the town uses to provide its fireworks display.
The town moved its event due to the Fourth falling on a Sunday and apparently the company and the town weren't on the same page with the change. More ...
Jo Anne Cooper
To all who care about animals
NC has been named as one if not the worst states for killing shelter animals. Our own Nash County Animal Shelter is killing animals in the most horrific way. Our tax dollars are paying for it too. This shelter still uses the gas chamber. Animals are thrust into this chamber and forced to breathe poisonous gasses until they die. More ...
Letters to the Editor:
Another point of view on Soap Box bits and pieces
It is always interesting to see things via the eyes and emotions of others. It tells us the temperature and perspective of the originator. Sometimes the originator (writer) might rescind part of it when the temperature changes? However for what it's worth I feel it's important to not let things go unnoticed too long. More ...
Letters to the Editor:
General Assembly's action is disrespectful of God
This morning while having my morning coffee and watching the morning news programs I was almost knocked out of my chair by a news story that came on my television. The story dealt with the issue of Pastor Ron Baity's tenure as Honorary Chaplin to the North Carolina House of Representatives being terminated or cut short because he refused to remove the word "Jesus" from his prayer or his future prayers. More ...
Letter to the Editor:
Backward Glances
Roger Strickland (left) and his brother John are shown with watermelons they produced as a 4-H project in August of 1959. The melons were sold locally and profits went to a special college fund for the boys. (Graphic photo by Smith.)
More ...
A PICTORIAL LOOK INTO THE PAST

FREESTYLE FORM. Nash Rec's Chason Tanner races toward the finish line for his team during last Thursday evening's road conference swim contest against Benvenue and host Birchwood in Nashville.

NOT CLOSE THIS TIME
NASHVILLE -- After edging Westridge by just six points the week before, Nash Rec found things to be much more comfortable during last Thursday's matchup with Benvenue and host Birchwood.
Nash Rec, using its usual array of depth, pulled away to win the Nash-Halifax Swim League meet with 484 total points at the Birchwood Pool. More ...
GEOFF NEVILLE, Graphic Sportswriter
Post 58 Advances In Playoffs
EDENTON -- Rocky Mount Post 58 rode the momentum that came in the ninth inning last Friday night in its big comeback win to an outright rout last Saturday afternoon.
T.J. Taylor delivered a two-run single in the bottom of the ninth to give Post 58 a 6-5 come-from-behind win at home over Edenton Post 40 in game 1 of their Area I East semfinal series. More ...
CHARLES ALSTON, Graphic Correspondent
Central set to hit the court
ROCKY MOUNT -- Nash Central High School's 2010 girls tennis schedule will begin Aug. 17 with a home matchup against the Lady Yellow Jackets from Roanoke Rapids. More ...
Staff Reports
HONORING AMERICA
Birchwood Swim Team members (l to r) Anna Scott Wingfield, Kennedy Miller and Briana Winham sang The Star-Spangled Banner before last Thursday's home matchup against Benvenue and Nash Rec at the Birchwood Pool in Nashville.
More ...

TOUGH TO TOP
Benvenue Country Club's Leah Anderson has dominated her pool opponents this summer in the Nash-Halifax Swim League. Anderson competes in the Girls 15-18 Division.
More ...

NASH COUNTY 15S
Members of the 2010 Nash County Babe Ruth 15-Under Baseball All-Star Team are as follows (in no particular order): Coaches Dirk Van Dorp, John Sherrod Jr. and John Sherrod III; Players Christian Arrington, Jordan Braswell, Evan Brewer, Dayln Follmer, Mic Howard, Dylan Hodges, David Johnson, Davin Moore, Matthew Pope, Ryan Shearin, J.D. Sherrod, Hank Van Dorp and Garrison Vick.
More ...

NASH COUNTY 13S
Members of the 2010 Nash County Babe Ruth 13-Under Baseball All-Star Team are as follows (in no particular order): Coaches Joe Hester, Wesley Joyner and James Bradley; Players Matthew Askew, Tyler Barrow, Derrick Carter, Alex Cooke, Jacob Green, Brandon Griffin, Chad Haggerty, Linwood Jones, Tyler King, Phillip Krauss, Braydon Morris, Christian Perry, Cody Smith, Matthew Sikes and Nick Vester.
More ...

NASH COUNTY 14S
Members of the 2010 Nash County Babe Ruth 14-Under Baseball All-Star Team are as follows (in no particular order): Coaches John Edmondson and Scott Stone; Players Ryan Barham, Noah Edmondson, Will Edwards, Jared Johnson, Daniel Kelly, Justin Letchworth, Andy Morris, Hunter Parris, Dylan Rackley, Trey Radford, Chase Roupp, Kyle Taylor, Jonathan Thomas, Stephen Thompson and Nick Webb.
More ...

Nash Co. heads to districts
NASH COUNTY -- After being rivals for most of the summer, players from the Nash County Babe Ruth Baseball League will team together beginning this week to tangle with some of the area's top diamond foes.
Nash County will field All-Star squads in the 13-Under, 14-Under and 15-Under divisions for the upcoming Babe Ruth District 5 Tournaments in Pitt County. More ...
GEOFF NEVILLE, Graphic Sportswriter
HALEY'S FAN CLUB
(L to R) Birchwood's Jennifer Jackson and Anna Scott Wingfield cheer on competitor Haley Brantley during last Thursday evening's home swim meet versus Nash Rec and Benvenue in Nashville.
More ...

Carolina Mudcats now in 1st place
JACKSON, TENN. -- Tom Cochran won his fourth straight start, while Carolina pounded out 15 hits en route to a 9-1 victory over West Tenn at Pringles Park last Saturday night in a Class AA Southern League baseball matchup.
The Mudcats (11-8) overtook sole possession of first place with their third win in four games over West Tenn (6-13). More ...
Staff Reports
Wesleyan picks HOFers
ROCKY MOUNT -- Since 1999, North Carolina Wesleyan College has honored 45 former athletes, administrators, teams, coaches, and contributors by enshrining them in its Athletics Hall of Fame.
These individuals have created a higher standard for Battling Bishop athletics and were selected based on their outstanding accomplishments and/or contributions to the College. More ...
Staff Reports
What's Happening at Cooley Library
Ron Cromer, a specialist in herpetology, and his pet python Penelope will be at the Harold D. Cooley Library Wednesday July 21st at 6:30 p.m.
This hands on session will also include other reptiles including turtles, lizards and native snakes. A program for all ages! More ...
Alana Fisher, Library Director
HARRY LEE ASKEY
NASHVILLE - Harry Lee Askey, 69, of Nashville died Thursday, July 8, 2010. A memorial service was conducted at 2 p.m. on Sunday, July 11, 2010 at Joyner's Funeral Home, 4100 Raleigh Road Parkway, Wilson. The Rev. Ray Wells officiated. The family received friends immediately following the service. More ...

CARL "TATER" WINDALL BEASLEY
NASHVILLE - Carl 'Tater" Windall Beasley, 53, passed away, Sunday, July 12, 2010. He was born July 24, 1956 in Pasquotank County, NC. He was the son of the late Ernest Sr. and Margaret Spry Beasley. Tater was a loving husband, father and grandfather. More ...

ORA L. FAISON DAVIS
ROCKY MOUNT - Mrs. Ora L. Faison Davis, 80, of Rocky Mount, North Carolina, died on Thursday, July 8, 2010, at Nash Rehab Nursing Center in Rocky Mount.
More ...

ROOSEVELT HARGROVE
WASHINGTON, DC - Mr. Roosevelt Hargrove, 63, of Washington, DC, and formerly of Rocky Mount, NC, died on Friday, July 9, 2010, at Georgetown University Hospital in Washington, DC. More ...

MICHAEL ANTHONY HARRIS
NEW CASTLE, DE - Mr. Michael Anthony Harris, 52, of New Castle, Delaware, and formerly of Rocky Mount, NC, died on Friday, July 9, 2010, at Christiana Hospital in Newark, DE. More ...

ELMARIE WILLIAMS
Elmarie Williams, 62, died Tuesday, July 6, 2010. Funeral services were held Saturday, July 10, 2010 at 1:30 p.m. at Mt. Vernon Baptist Church. Burial followed in Oakland Cemetery. Bishop Brian Alston officiated. More ...