Subscribe/Access
Advertisements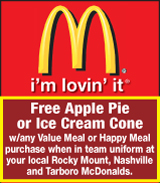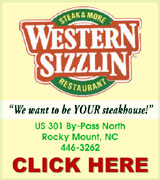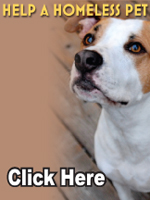 Sections
Member Options
Back
EMS facility plans move forward
Nash County Commissioners agreed to move forward and seek bids on a new Emergency Medical Services Building, which will be located on the Nash Health Care Systems campus.
The special called meeting was held on Monday morning and lasted over three hours. Tim Oakley, of Oakley and Collier Architects, presented the site and building plan for the proposed facility. More ...
Amanda Clark, Graphic Staff Writer

Dominque Randolph

Robbery suspects caught
Two men have been arrested in connection with several armed robberies of L&L Food Stores in Rocky Mount and Castalia.
One robbery occurred on Thursday, June 24. According to Captain Pat Joyner, of the Nash County Sheriff's Office, a man entered the L&L in Castalia allegedly brandishing a revolver and demanded money around 6 p.m.
"The clerk gave him the money and he left on foot behind the store," Joyner said.
More ...
Amanda Clark, Graphic Staff Writer

NEW RIDE – Logan Jones of Nashville prepares for take off on his new golf cart he received through the Make-A-Wish Foundation. Logan and his older brother, Daylon, have Muscular Dystrophy.

MAKE-A-WISH
Logan Jones of Nashville is like any typical 12 year-old. He enjoys swimming and playing with his friends. He's become quite an accomplished golfer at a young age. In fact, he recently competed in the Eastern NC Junior League Golf Tournament held in Wendell, N.C.
You'd never know by looking at him play that he has Muscular Dystrophy. More ...
Jo Anne Cooper, Graphic Publisher
County to purchase hybrids
Nash County is one of several North Carolina municipalities taking part in a Clean Fuel Advanced Technology (CFAT) Project whose goal is to reduce transportation-related emissions.
A total of $734,383 was awarded by the North Carolina Solar Center at NC State University. The funds will be used to reduce transportation-related emissions in North Carolina counties that do not meet ambient air quality standards. More ...
Amanda Clark, Graphic Staff Writer
Marijuana discovered in Nash
A twice-yearly marijuana eradication in the county resulted in the seizure of around 434 marijuana plants.
The Nash County Sheriff's Office, NC National Guard and the NC State Bureau of Investigation participated in the eradication on Tuesday, June 22. As part of the effort, a helicopter flies over the county looking for marijuana. Captain Pat Joyner, of the Nash County Sheriff's Office, said this type of operation is normally done twice a year in Nash County. More ...
Amanda Clark, Graphic Staff Writer
Nash residents still eligible for weatherization services
If you feel a draft in your home during the winter months and you can't seem to properly cool down your home during the summer months, your home may be in need of some weatherization.
Nashville's office of the Martin County Community Action Weatherization Program may be able to help.
More ...
Amanda Clark, Graphic Staff Writer
COTTON BLOOM
Nellie G. Vick, of Nashville, holds the first cotton bloom found on the Winstead Farm, just outside of Nashville. Vick is from the Sandy Cross area and said she had been in search for the first cotton bloom for several weeks before finding this one. The Nashville Graphic has held a long-time tradition of offering a free one-year subscription for the first bloom of the season brought to the newspaper. More ...

Boykin retires as Town Clerk
After 33 years as a town clerk, Betsy Boykin said it's time to retire.
Boykin spent her last day with the Town of Spring Hope on Friday, June 25. On the same day, Boykin also celebrated her 66th birthday.
More ...
Amanda Clark, Graphic Staff Writer

Wiggins

Two arrested for break-ins
A concerned citizen helped Nash County Sheriff's Deputies arrest two men in connection with several break-ins throughout the county.
According to the Sheriff's Office, a citizen spotted a suspicious vehicle on June 17 in the area of E. NC 97 near London Church Road. Deputies found the vehicle and conducted a stop, where stolen property was located in the vehicle. More ...


Janie Grischow

Chappell's pond is site of 4-H Fishing Clinic
A Nash County 4-H Fishing Clinic was held on Tuesday, June 15 from 9 a.m. until 12 noon for seven to 15-year-olds at Chappell's Pond in Nashville.
This educational event was a partnership effort by Nash County 4-H and the N.C. Wildlife Commission.  Many of the participating youth were first-time fishermen.
More ...

MILITARY NEWS
Army Pfc. Julius J. Williams-Cox has graduated from basic combat training at Fort Jackson, Columbia, S.C.
During the nine weeks of training, the soldier studied the Army mission, history, tradition and core values, physical fitness, and received instruction and practice in basic combat skills, military weapons, chemical warfare and bayonet training, drill and ceremony, marching, rifle marksmanship, armed and unarmed combat, map reading, field tactics, military courtesy, military justice system, basic first aid, foot marches, and field training exercises. More ...

NASH COMMUNITY COLLEGE EMT AND NURSING GRADUATES, 1
In a recent ceremony, Nash Community College recognized Nurse Aide I and II and EMT Basic graduates. The Nurse Aide I class introduces basic nursing skills required to provide personal care for patients in a health care setting. Nurse Aide I graduates are eligible to take the National Nurse Aide Assessment Program (NNAAP or NACES) Examination. More ...

NASH COMMUNITY COLLEGE EMT AND NURSING GRADUATES, 2
Nurse Aide I graduates (L to R): Andrea Lynch of Hollister, Judy Garver of Spring Hope, Magan Fabrizio of Bailey, Heather Fabrizio of Spring Hope, Tiara Mitchell of Rocky Mount, Shannon Kemp of Rocky Mount, Carol Bulluck of Battleboro, Janet Pollard of Whitakers, Ginger Tess of Rocky Mount, Tatiana Tocays of Whitakers, Laborah Kirby of Nashville, Marie Everette of Rocky Mount, Misty Walton of Whitakers, Ester Masters of Battleboro and Cheryl Pittman of Rocky Mount.
More ...

NASH COMMUNITY COLLEGE EMT AND NURSING GRADUATES, 3
Nurse Aide I graduates: Holly Cook of Spring Hope, Joyce Gwinn of Zebulon, Renisha Battle of Nashville, Latoya Deans of Spring Hope, Jasmine Allen of Sharpsburg, Cynthia Brantley of Spring Hope, Jim Grant of Red Oak, Asia Williams of Rocky Mount, Ke'ana Daniels of Rocky Mount, Brandy Lashley of Rocky Mount, Charlene Joyner of Rocky Mount, Ashley Bryant of Spring Hope and Brittany Woods of Raleigh. Not pictured: Brandy Nilson of Rocky Mount and Joy Dancy of Whitakers.
More ...

SCHOLARSHIPS
Coopers Ruritan Club recently awarded a $1,000 scholarship to Samantha Davenport of Nashville under the E.C. Pearce Scholarship program. Pictured presenting the award is (left to right) Ron Hawley, Coopers Ruritan President, Samantha Davenport, and Danny Tyson, chairman of the scholarship committee. (Contributed photo)
More ...

SENATE PAGES
The North Carolina Senate was honored recently to have Benjamin Horne (pictured left) and John Stanley, both students at Nash Central High School, serve as Pages.
Benjamin is the son of Bob and Denise Horne of Nashville. He was sponsored by Senator A.B. Swindell and appointed by the Senate President Pro Tempore, Marc Basnight. More ...

Princess Tea Party pics, 2
PRINCESS TREAT – Grace Ray enjoys a tasty treat while attending the annual Princess Tea Party at Nashville United Methodist Church Saturday, June 26th. More than 40 young girls attended the event.
More ...

Red Oak Community News
Howdy! Children and teachers had a rootin' tootin' good time at Saddle Ridge Ranch last week! The Vacation Bible School began on Monday, June 21 at 8:30 AM with the worship rally and then the children rotated to various sessions including Bible Study, Missions, Crafts, Music, Snacks, and Recreation.
More ...
SUZY PEARCE
Ephesus Community News
Pastor David Eidson delivered our message in Word, "Too Far Away", from John 4:43-54. He told the story of how Jesus healed a royal official's son. To quote from NIV, "Unless you people see miraculous signs and wonders" Jesus told him, "you will never believe". We are fortunate enough today to have the benefit of the Word of Jesus. Do you believe? More ...
DEBBIE PHILLIPS
Beulah Community News
I hope everyone has a great 4th of July. Remember to pray for all the men and women who are risking their lives to keep our country free. When the Declaration of Independence was signed, our country was quite different from the way it is now. Many things are happening today that cannot be solved unless this country turns back to God, and we must pray without ceasing. More ...
WILMA ENROUGHTY
Peachtree Community News
Pastor Whitehouse's sermon was based on II Corinthians 4: 4-8. It was titled "Victory through Trouble- Not Victory Apart from Trouble". It was a timely message, as all people face adversity and troubles. People do not get to choose their troubles, but the way that they respond to them can draw them closer to God.
More ...
BARBARA HARDISON
Mt. Zion FWB Church News
Earl and I didn't make it to Sunday school nor church today. We missed being there.
Bible school was a success last week with an average attendance of thirty children each night. We thank the parents for bringing their children and all who helped. Special thanks to Stacie Jones for directing VBS. She did a wonderful job. More ...
ROSALENE BASS
Right here at home, July 4th started in a big way
The biggest holiday of the summer, and for most folks, the marking of the middle of summer as we think of it, is upon us.
July 4th — truly a holiday that all Americans can embrace, is this weekend.
No one can really be offended by a religious context to the holiday, although we should certainly feel comfortable to thank God for this country; no one can attribute the day to the oppression of anyone else, although at times, it seems the current administration is still seeing to "fundamentally change" this nation; and while America may not be perfect, it's about as close as anyone has been able to come up with, as far as country's go. More ...
Mike Brantley
It's hot! Don't forget, our furry friends get hot too!
You know it's hot outside when your dogs walk out the door and immediately turn right back around and go back in the house. But who knows, maybe my two girls are just spoiled?
June was a pretty hot month though so I can't even imagine what July and August are going to look like. Looks like my dogs may be spending a big portion of their summer inside with the air conditioner blasting. More ...
Amanda Clark
Reader responds to Etheridge incident
Ms. Cooper,
I feel that you mislead your readers in the facts concerning Congressman Etheridge. I take it that you were not present when the congressman visted our town last summer, to listen to citizens voice their concern over the pending Healthcare bill. More ...
Letters to the Editor:
General Assembly continues to rob us of our freedoms and liberties
When I read the newspapers and watch television I see that the legislature is spending time on such items as internet cafes, dictating that sugar free lunches must be served within the school systems, and many more personal freedom interference type Bills from both houses of the General Assembly. I wonder why they are so insistence on repressing the liberties, rights, and freedoms of their fellow North Carolinians. More ...
Letters to the Editor:
Backward Glances
Pat Wheeless (left) and Helen Ayers (right) enjoy a cool dip of ice cream. Both girls were 1959 graduates of Nashville High School. This photo was originally published in The Graphic August 27, 1959.
More ...
A PICTORIAL LOOK INTO THE PAST
Visit "Take 25" for information to protect your children
Warm weather brings more yard sales throughout the town. While yard sales are beneficial to both the person having the sale and the people who patronize the sales, everyone should remember and heed the regulations regarding sales and the safety issues connected to them. People who wish to have a yard sale in the Town of Nashville are required to obtain a permit from the town hall.
More ...
Bill Creech, Nashville Chief of Police

STUDY OF INTENSITY. Birchwood County Club's Caroline Jenkins speeds toward the finish line in freestyle form during last Thursday evening's swim meet on the road against Nash Rec in Nashville.

FOES BACK IN ACTION
NASHVILLE -- Long-time foes -- and backyard rivals -- Nash Rec and Birchwood renewed their rivalry last Thursday during an early-season pool matchup in the Nash-Halifax Swim League.
With temperatures nearing 100 degrees, participants were more than happy to dive into the water at the Nash Rec Pool.
Host Nash Rec, the several-time defending league champion, used its talent and numbers to score a victory over Birchwood.
More ...
GEOFF NEVILLE, Graphic Sportswriter
Foster Receives Whitley Award
NASH COUNTY -- Friends and family of Dudley Whitley, long-time coach and administrator, recently established an annual award to honor his memory.
The Dudley Whitley Memorial Award recognizes a coach who exemplifies Whitley's goals, character and sportsmanship as well as one who serves as a positive role model for students.
More ...
Staff Reports
Wesleyan will host campers
ROCKY MOUNT -- North Carolina Wesleyan College will host the following volleyball camps:
• Team Camp from July 26-30 for grades 9-12. The event will run from 6-8 p.m. each day. Cost is $65 per person. You do not have to attend as a team.
• Youth Camp from July 26-30 for grades K-8. The event will run from 9 a.m.-noon each day. Cost is $110 per camper. More ...
Staff Reports
Stallions ready for kickoff
ROCKY MOUNT -- The Carolina Stallions will kick off their 2010 season in a new league when they open their football campaign Saturday, July 10 against the Northern Neck Rivermen at Nash Central High School.
Northern Neck is a member of the Mason-Dixon Football League and is based in Colonial Beach, Va.
All home games will be played at 6 p.m. at the Dawg Pound. More ...
CHARLES ALSTON, Graphic Correspondent
Post 58 qualifies for playoffs
MOUNT OLIVE -- Coleman-Pitt Post 58's American Legion baseball team ended its regular season Monday with a 3-1 non-division loss to Wayne County Post 11 at Mount Olive College.
The wins it got Sunday, however, were a bit more important. More ...
CHARLES ALSTON, Graphic Correspondent
Offense sparks Mudcats on road
SEVIERVILLE, TENN. -- Dave Sappelt drove in two more runs to lead a 16-hit attack as Carolina won the series finale over Tennessee 10-3 at Smokies Park on Sunday night in a Class AA Southern League baseball event.
Sappelt, coming off of a pair of three-RBI games, drove in a pair with two singles as Carolina (2-4) salvaged their final game at Smokies Park this regular season. More ...
Staff Reports
Nash Central reaches title matchup
ROCKY MOUNT -- After having already locked up second place, last Tuesday the 9-2 Nash Central Bulldogs 13U baseball squad hosted Rocky Mount in the final game of the reglar season season.  After spotting Rocky Mount 5 runs in the 1st inning, the young Bulldogs battled back in the 2nd inning to take a 8-5 lead behind relief pitcher Brandon Kelly. More ...
Staff Reports
MORE SWIM HIGHLIGHTS
THUMBS UP. Birchwood Country Club swim coach Barbara Weiffenbach (right) gives the 'thumbs up' sign as Bethany Williams gets ready to dive into the pool last Thursday evening during a road meet against league rival Nash Rec.
More ...

JAQUARIUS D. PERSON
ROCKY MOUNT - Jaquarius DaShawn Person, 13, died Wednesday, June 23, 2010, at Pitt County Memorial Hospital in Greenville. More ...

NEGOLIA DEBRO YOUNG
GARYSBURG - Negolia Debro Young, 73, died Saturday, June 19, 2010 at Pitt County Memorial Hospital in Greenville. More ...

THEE OLIVER LAMM
Thee Oliver Lamm, 77, passed away on Friday, June 25, 2010. The family received friends from 1-2 pm Tuesday, June 29, 2010 at Johnson Funerals and Cremations on English Rd. Graveside services followed at 3:00 p.m. Tuesday, June 29, 2010 at the Free Union Free Will Baptist Church Cemetery on Macedonia Road in Spring Hope, N.C.
More ...

ROY JULIUS PRIDGEN
Roy Julius Pridgen, 77, passed away Sunday, June 27, 2010. He was born December 6, 1932 in the Sandy Cross community of Nash County. More ...

JAMES LESLIE BREWER, JR.,
James Leslie Brewer, Jr., 70, passed away Thursday, June 24, 2010. He was born October 4, 1939 in Wilson County, North Carolina. He was preceded in death by his parents, James Leslie Brewer, Sr. and Flonnie Williams Brewer. More ...

WILLIAM EDWARD SWANSON
William Edward Swanson, 91, passed away at home, Saturday, June 26, 2010. He was born June 17, 1919 in Nash County. He was the son of the late Walter and Emma Brown Swanson. William was preceded in death by five sisters and two brothers. More ...

ANNE B. BUNN
Anne B. Bunn, 86, passed away, Wednesday, June 23, 2010. She was born May 4, 1924 in Nash County. She was the daughter of the late Fred and Florence Lancaster Brown. She was preceded in death by her husband Edward E. Bunn. More ...

HERMAN KNIGHT DAVENPORT
Herman Knight Davenport, 92, passed away Wednesday, June 23, 2010 at NC Veterans Home in Fayetteville. He was born September 15, 1917 in Nash County, son of the late Thurston and Bonnie Davenport. He was also preceded in death by his wife, Margeleen Overman Davenport; sisters, Viola Davis, Stella Turnage, Matt Williams and Edith Shearin; and brothers, Ashley Davenport and T.F. "Bill" Davenport. More ...