Subscribe/Access
Advertisements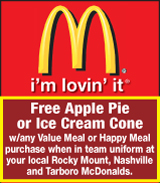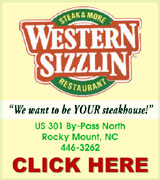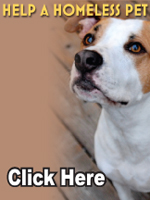 Sections
Member Options
Back
Town to foreclose on delinquent lots
Nashville will move forward with foreclosing on unpaid lots in town, starting first with the lots that receive the most complaints.
The Vacant Lot Infill Project was first brought up during the board's annual retreat earlier this year.
Town Manager Preston Mitchell said the town receives a lot of complaints relating to vacant lots in town, particularly in residential areas. The complaints range from high grass to loitering and trespassing. More ...
Amanda Clark, Graphic Staff Writer
Memorial Day Service is Sunday
Nashville's American Legion Post 110 will host its annual Memorial Day service at Forest Hills Cemetery on Sunday evening to honor and remember soldiers that paid the ultimate sacrifice.
The ceremony will begin at 6 p.m. and will feature remarks from Major Lewis "Nordo" Collins. More ...
Amanda Clark, Graphic Staff Writer

PUPPY LOVE – Pictured above, Laura Gearhart gets a little affection from one of her foster puppies, Raymond, Saturday at the grand opening of Animal Crackers Pet Food Bank in Rocky Mount.

Animal Crackers opens food bank
Animal Crackers, a non-profit group dedicated to promoting responsible pet ownership, held a grand opening on Saturday for its pet food bank.
The food bank was an idea the group had when it formed late last year but that came to fruition thanks to the efforts of J.R. Parks, a Rocky Mount Boy Scout. More ...
Amanda Clark, Graphic Staff Writer
NRMS Board discusses capital plans
The Nash-Rocky Mount Board of Education held its first Capital Planning Committee meeting on Monday night following the board's work session.
The committee was formed at the board's last work session to study the school system's capital projects and develop a priority list.
More ...
Amanda Clark, Graphic Staff Writer
Residents lobby to stop Nash Animal Shelter gas chamber
A group of Nash County residents want the county to change its method of euthanizing animals.
A petition has been circulating to end what the group says is a inhumane way to euthanize animals. In addition, a Facebook page, "Stop the Gas Chamber at Nash County Animal Shelter," has been set up and as of Tuesday, had over 1,200 members. More ...
Amanda Clark, Graphic Staff Writer
Castalia considers Main Street revitalization
Castalia commissioners met Saturday, May 22 for a six hour retreat to discuss goals and plans for the coming year. Sharon Campbell and Henry Lancaster of the Center for Green Research and Evaluation at Elizabeth City State University were on hand to discuss strategies for governing municipalities. Brad Thompson, a former Raleigh mayor pro-tem and State Director of the Office of U.S. Senator John Edwards, also spoke on municipal governance. More ...
Amanda Clark, Graphic Staff Writer
Ladies luncheon to benefit Cooley Library
The home of Brenda and Hubert Vester will be the host site for the third annual Ladies' Luncheon, sponsored by Friends of the Cooley Library.
The luncheon is a fund raiser for the group, who works to raise money for Nashville's Cooley Library. Betsy Robertson, a member of the Friends group and Chair of the Luncheon Committee, said the Ladies' Luncheon has become an annual event many in the community look forward to. More ...
Amanda Clark, Graphic Staff Writer
A BUG OF MANY COLORS!
Tyler Dubose woke up to find her car covered in 2,800 multi-colored post-it notes on Friday, May 21. Tyler celebrated her 19th birthday on Friday and her friends, Betsy Clifton and Emily Brown decided to decorate her car as a practical joke. The girls said it took two and a half hours to put the post-it notes on the car. Tyler lives in the Birchwood Subdivision.
More ...

Utility pole continues to delay downtown project
Nashville's Revitalization Project continues to be at a standstill due to the relocation of a utility pole at the intersection of Barnes and West Washington Streets.
Town of Nashville Planner, Gene Foxworth, told merchants and property owners present at a project update meeting last week that the project was slightly behind, but not too far off schedule. More ...
Amanda Clark, Graphic Staff Writer
Nash starts new payment system for traffic tickets
For the first time, Nash County citizens can pay traffic tickets and related costs online. A new system, payNCticket, built by the N.C. Administrative Office of the Courts (NCAOC), allows citizens to make online payments via credit or debit card for most waivable traffic citations. More ...

NCC program receives accreditation
Nash Community College recently announced the initial five year accreditation of its Medical Assisting program by the Commission on Accreditation of Allied Health Education Programs (CAAHEP).
More ...

Endowment established in honor of Claude Mayo
In honor and recognition of Claude Mayo's contributions to the growth and development of Nash Health Care, Nash Health Care Foundation has announced that an endowment has been established that will benefit the state-of-the-art surgery pavilion which bears his name. More ...

FOOD DONATION
The freshman class of the Rocky Mount Debu-ette Club recently collected food donations for the Bassett Center. A total of 132 bags of grocery items were collected. Pictured (L-R) is: Gracyn Hicks and Abby Schatzman. (Contributed photo)
More ...

UNC School of Medicine honors local physician
Doctor Daniel L. Crocker, MD, a member of the Nash Health Care Medical Staff, was recently honored by the UNC School of Medicine with the Distinguished Medical Alumnus Award. Dr. Crocker was recognized for his tireless efforts to care for the people of Rocky Mount and the surrounding communities, as well as his efforts to cultivate and support the arts. More ...

NASHVILLE ELEMENTARY FUND-RAISER
Nashville Elementary School recently participated in a Math- A-Thon to raise money for St. Jude's Children's Research Hospital. St. Jude's treats children with cancer and other life-threatening diseases. The hospital never charges more than a family can pay and therefore raises necessary funds through events like the Math-A-Thon. More ...

ENGAGED
On June 15th I have the honor of marrying Michelle Webb Poland, my best friend and my gift from above. I truly believe that God has brought the two of us together and I promise to treat you like the blessing that you are. I look forward to the joy of experiencing life with you by my side and the priceless memories we will create. I love you with all my heart Michelle. You make me happy beyond words. More ...

MILITARY BRIEFS
Army Pvt. Christopher L. Hultgren Jr. has graduated from basic combat training at Fort Jackson, Columbia, S.C.
During the nine weeks of training, the soldier studied the Army mission, history, tradition and core values, physical fitness, and received instruction and practice in basic combat skills, military weapons, chemical warfare and bayonet training, drill and ceremony, marching, rifle marksmanship, armed and unarmed combat, map reading, field tactics, military courtesy, military justice system, basic first aid, foot marches, and field training exercises. More ...


Je' Nydia Thomas participates in the cup cake decorating competition.

Nashville Boys & Girls Club kids bake tasty creations
Members of the Nashville Unit Boys & Girls Club joined in on several different activities during National Boys & Girls Club Week. The club held a cup cake decorating contest during that time. Unit Director Sophia Edmonds said this competition helped the children understand the importance of learning unit measurements and how to be creative with ingredients. More ...

Nash County Blood Drives
Tuesday, June 1 2010 from 3 until 7:30 p.m. at the Harrison Family YMCA, 1000 Independence Drive, Rocky Mount
Thursday, June 3 2010 from 10 a.m. until 3 p.m. at the Nash County Office Building, 120 W. Washington Street, Nashville.
Friday, June 4 2010 from 10 a.m. until 4 p.m. at Wal-Mart, 1511 Benvenue Road, Rocky Mount
Tuesday, June 8 2010 from 2 until 6 p.m. at Pizza Hut, 2820 Sunset Avenue, Rocky Mount More ...

Peachtree Community News
Pastor Whitehouse preached the concluding segment of his sermon "The Source of Our Success." It was taken from II Corinthians 3: 1-3. He said that the real mark of a successful ministry is the lives changed by the preaching of the gospel, through the power of the Holy Spirit. The choir sang, "He Touched Me", under the direction of the Pastor. Sanctuary flowers were given by Frank and Diane Bunn in honor of their daughter, Jamie, on the occasion of her birthday on the 29th. More ...
BARBARA HARDISON
Mt. Zion FWB Church News
Earl came home Friday after being in the hospital for almost two weeks. He is much better and we are so thankful. We thank everyone for their cards, visits and especially your prayers. It is good to be home and mending. More ...
ROSALENE BASS
Ephesus Community News
Pastor David Eidson welcomed everyone into God's house Sunday morning as the rain poured outside. It was good to have Gordon Bailes back with us!
More ...
DEBBIE PHILLIPS
Troop 37 visits D.C.
Forty-three scouts and adult leaders from Troop 37 boarded a charter bus and headed for Washington, DC on Saturday, May 15. The trip was to celebrate the 100th anniversary of Boy Scouts in the United States. Scouts arrived at the National Mall and visited different sites and museums, including the Smithsonian Air and Space Museum as well as the Holocaust Museum.
More ...

New coat for My Sister's House
The North Carolina Wesleyan Football Team recently painted the inside of My Sister's House new shelter. Supporters of this project include Habitat for Humanity, Awe Home Repair, City of Rocky Mount CD Rehabilitation and Billy Earp & Sons. My Sister's House launched its campaign for a new shelter in April.
More ...

Bus drivers receive annual awards
Yellow buses filled the parking lot of Nash Central High School during the annual Nash-Rocky Mount Public Schools Bus Drivers Road-E-O. Drivers from across the district demonstrated amazing levels of skill in driving safety and accuracy. The yearly competition, sponsored by Nash-Rocky Mount Public Schools and the NC Department of Motor Vehicles School Bus & Traffic Safety Section, includes 8 categories of testing: railroad crossing, straight line, offset alley, diminishing clearance, back-up, right-turn, parallel parking and stop line maneuvers. More ...
Contributed
Troop T-shirt design
Momeyer's Girl Scout Troop held a competition recently to design a troop t-shirt. The troop used funds from selling cookies to purchase the shirts. The first place winner in the competition was Holly Brantley. Makayla Stoddard was first runner up and Nicole Emahiser was named the adult first place winner.
More ...

Nash-Rocky Mount Public Schools honors school nurses
National School Nurse Day was established in 1972 as a way to recognize school nurses and to better understand the vital role nurses play in educational settings. National School Nurse Week is celebrated annually May 6th through May 12th.
Duties of the school nurse vary as widely as the population they serve, however, the purpose of school nurses remains the same: to serve as a provider of health services; to manage student health care, and to act as educator and counselor for students, families and staff. More ...
Contributed
Remembering "Flanders Field" in all contexts
For some reason, as I sat down to think about Memorial Day, a poem we studied and learned back in high school English came back to mind.
I don't know what is taught now, but then we were taught some roads less travelled in Literature. I can't remember the why, but I distinctly remember memorizing "In Flanders Fields." More ...
Mike Brantley
Don't lose focus on the real problem, adopt those pets!
There's been some recent uproar in our county over the method of euthanization the Nash County Animal Shelter uses to put down unwanted animals. The uproar is certainly necessary. It's painful to think that thousands of animals are killed in such a way each year. More ...
Amanda Clark - 1 opinion posted
We punched the wrong kid
Homespun Sense: I recalled in school when we had a movie on ethics and anger. It was probably a first attempt to learn about false witness. A male child was slugging it out with another who seemed to be defending himself. But before we were to comment on the fighting we were privileged to focus on the cause. The film (we saw) showed who and how the altercation started. More ...
Letters to the Editor:
Backward Glances
This photo was used in a full page advertisement for Strick's Clothing that ran August 24, 1967. The store was celebrating nine years in business and running a back to school special. Pictured is Mrs. Aljah Ray Dew displaying a selection of goods for back to school. Girls dresses were advertised starting at $1.88! The store is still in operation today.
More ...
A PICTORIAL LOOK INTO THE PAST
It's illegal to park in fire lanes or near hydrants
We often receive calls about cars being parked in the fire lanes in the shopping centers. While this may seem to be a minor violation, it can be a serious one. These lanes are marked as fire lanes to keep an area available for fire trucks and other emergency vehicles in case of an emergency. In case of a fire, time is critical.
More ...
Bill Creech, Nashville Chief of Police
Project Perspective Downtown Nashville
The Town of Nashville started a major economic development initiative in 2008 to revitalize downtown Nashville. The planning for the project has been ongoing for the past couple of years and as it nears construction many may be curious just what has been going on behind scenes. This article is the first in a series to keep the public up to date on its progress. More ...
Steve Player, Project Director The Wooten Company

IN THE CLEAR. Southern Nash's Alkeem Thomas (right) clears a hurdle during preliminary action in the Boys 110 Hurdles at last Friday's Class 3-A State Track and Field Meet at North Carolina A&T University.

THE MEDAL TRACKERS
GREENSBORO -- Nash County's annual role as a major player at the Class 3-A State Track and Field Championships continued last Friday.
As usual, county schools Nash Central, Northern Nash, Southern Nash and Rocky Mount all had competitors in the mix for individual championships at Irwin Belk Track on the campus of North Carolina A&T University.
More ...
GEOFF NEVILLE, Graphic Sportswriter

OUTSTANDING ASHLEY. Nash Central senior Ashley Bone will go down as one of the best fast-pitch softball players in Nash County history.

Diamond Success
ROCKY MOUNT -- In the past, Nash Central High School softball coach Gary Smith would wonder how he could possibly replace such a talent senior class of standouts.
But that's not the case anymore, as Central has built a deep program that, in Smith's estimation, is capable of withstanding graduation losses. More ...
GEOFF NEVILLE, Graphic Sportswriter
Central's 13-U club a winner
ROCKY MOUNT -- The Nash Central 13U Babe Ruth Prep baseball team opened its season last Saturday at The Dawg Pound on the Nash Central High School campus with an 8-0 shutout win against Southwest Edgecombe.  
Rising Rocky Mount Academy  8th grader Brandon Griffin pitched 6 2/3 scoreless innings, striking out nine while surrendering only five hits and three base on balls.  More ...
Staff Reports
CLASS 3-A STATE TRACK RESULTS
GREENSBORO -- Listed are the final team and individual results from last Friday's action at the Class 3-A State Track and Field Championships at Irwin Belk Track on the campus of North Carolina A&T University: More ...
Staff Reports
Mudcats topped by SL foe Chattanooga
CHATTANOOGA, TENN. -- Corey Smith capped a five-run Chattanooga ninth inning with a game-ending grand slam to catapult the host Lookouts past the Carolina Mudcats 6-4 at AT&T Field on Sunday afternoon in a Class AA Southern League baseball showdown in the Volunteer State.
More ...
Staff Reports
ECU rallies to get past Houston
GREENVILLE -- Senior Kyle Roller picked a great time to record his 200th career RBI pushing home the game-winning run in the seventh inning to help East Carolina University to an 8-6 win over Houston on Saturday afternoon in baseball action at Lewis Field inside Clark-LeClair Stadium on the ECU campus.
More ...
Staff Reports
Regionals heading to Fayetteville
CHAPEL HILL -- Fayetteville will be the new host city for the North Carolina High School Athletic Association Eastern Regional basketball tournament, starting with the 2010-11 hoops season.
Davis Whitfield, executive director of the NCHSAA, made the official announcement on Monday.
More ...
Staff Reports
A GREAT START FOR THE LOOKOUTS
The Carolina Lookouts 14-Under Fast-Pitch Softball Team began its 2010 spring season by placing second in the recent NCUSFA Relay For Life Tournament in Washington.
More ...

CORNER TURNER
Rocky Mount's Zikeena Parker (center) sprints toward the finish line in the Girls 200 preliminaries during last Friday's Class 3-A State Track and Field Meet.
More ...

STATE ACHIEVEMENT
Nash Central's Xaviera Bass clears the bar during girls high jump competition at the Class 3-A State Track and Field Championships last Friday.
More ...

A JOB WELL DONE
Northern Nash's Justin Hines is congratulated by Head Coach Jeff Dodrill after taking third place in the boys long jump at last Friday's Class 3-A State Track and Field Championships.
More ...

Football Coach Herman Boone to speak at Nash Arts Gala
Nash Arts is hosting its annual Gala fundraiser Friday June 11, 2010 from 6-10 p.m. at the Brown Auditorium, Nash Community College.
The event will feature art by local artists, heavy hors d'oeuvres, silent auction and entertainment by The Monitors. Guest speaker at the event is Coach Herman Boone, retired head Football Coach of T. C. Williams High School "The Titans."
More ...
Contributed
Nash Central Middle School students hold Praise Fest
On Friday, May 14, 2010, Nash Central Middle held a Praise-Fest in the Gym. It was a concert of praise and worship. Three bands from local churches played, and between bands there was a dance team and a duet of students.
The event was put together by the First Priority club there. The concert was the student's idea and they put it all together, with the help of the teacher advisors. The club advisors are Mrs. Vanessa Lynch and Mr. Tim Finn. More ...
Courtney A. Banning, NCMS 8th grade student
JOHNNY RAY AYSCUE
Johnny Ray Ayscue, 49, passed away Saturday, May 22, 2010. He was born April 30, 1961 in Nash County. He was preceded in death by his father, Eugene W. Ayscue and a brother Eugene W Ayscue Jr.
More ...

ROBERT ELERY PARRISH SR.
Robert Elery Parrish Sr., 85, passed away May 16, 2010. He was preceded in death by his wife of 65 years, Neva Bernice Owens Parrish. More ...

LEDFORD WASHINGTON BURNETTE
Ledford Washington Burnette, 77, passed away Sunday, May 23, 2010 at Durham VA Medical Center. He was born July 17, 1932 in Franklin County. He was the son of the late Earley and Beaulah Nelms Burnette. More ...

AUDREY PRICE HARRISON
Audrey Price Harrison, 86, passed away Sunday, May 23, 2010. She was born August 4, 1923, daughter of the late James Thomas Price, Sr. and Nora Hux Price. She was preceded in death by her husband of 65 years, James Earl Harrison and daughter, Nancy Harrison. She was also preceded in death by brothers, James T. Price, Jr., Theodore Price and John Roger Price. More ...

PAULINE SUTTON LAYTON
Pauline Sutton Layton, 88, passed away Sunday, May 23, 2010. She was preceded in death by her husband, Ben J. Layton who passed away on August 28, 2007. She was also preceded in death by her parents, George and Pauline Sutton; and five brothers and two sisters.
More ...