Subscribe/Access
Advertisements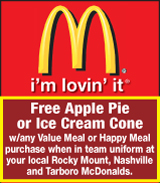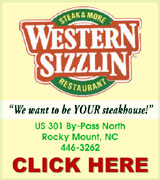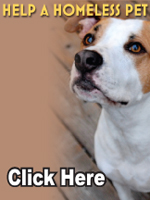 Sections
Member Options
Back
Downtown project at a standstill
Progress continues at a slow pace for Nashville's Downtown Redevelopment Project.
A utility pole is still the main thing holding up the town's plans.
"We're waiting on Progress Energy to finish final design as far as the pole at Barnes and Washington Street," said Town Planning Director Gene Foxworth. "It has held it up a little bit." More ...
Amanda Clark, Graphic Staff Writer

Above, survivors walk during the start of Nash County's Relay for Life on Friday evening. (Graphic photos by Amanda Clark)

RELAY FOR LIFE
Nash County residents will do anything to attend Relay for Life, even if it means jumping out of an airplane and parachuting to the event.
The 16th Annual Nash County Relay for Life kicked off Friday night with an airplane circling overhead. As relayers looked above, Don Carrington, of Raleigh, and John Renfrow, of Wendell, jumped out and parachuted to the center stage of the Relay events. Carrington, a cancer survivor himself, said he and Renfrow, parachute at many events around the state. This was their way of showing their support in the fight against cancer.
More ...
Amanda Clark, Graphic Staff Writer
Spring Hope gets first look at new budget
Spring Hope Commissioners got a first glimpse at the proposed 2010-2011 fiscal year budget, a budget that is close to $33,000 less than what was proposed last year.
Town Manager John Holpe gave a brief presentation on the budget during the commissioner's regular meeting last Wednesday. Commissioners will meet on Saturday for a budget retreat to discuss the budget in more detail.
More ...
Amanda Clark, Graphic Staff Writer
School, County review capital projects
In a joint meeting, Nash-Rocky Mount School (NRMS) Board members presented Nash County Commissioners with a brief overview of its capital projects wish list for the coming years.
NRMS Board Chair Bob Jenkins began the meeting by showing off an aerial photo of Nash Central High School, where the two boards met. More ...
Amanda Clark, Graphic Staff Writer
My Sister's House kicks off campaign for new shelter
My Sister's House hosted its annual Men for Change breakfast last Thursday morning in Rocky Mount but this year's breakfast was extra special as it served as the launch of the organization's capital campaign for a new shelter.
The current shelter, which serves Nash and Edgecombe Counties, has been hosting victims of domestic violence since 1986. The two-story home has five bedrooms and two bathrooms but conditions are cramped, said Meredith Holland, Executive Director for My Sister's House. More ...
Amanda Clark, Graphic Staff Writer
Primary Election
Primary elections are set for Tuesday, May 4. To give readers a look at where candidates stand on issues, The Graphic sent out a questionnaire to all contested candidates. Their answers appear on the Local News section in this week's online edition. More ...

STORM DAMAGE
A severe thunderstorm swept through Nash County on Sunday evening, leaving minor damage. A tornado touched down between Middlesex and Spring Hope, destroying a garage at a residence. In Nashville, a big limb from an Oak Tree fell on the deck and part of a shed at the home of Anthony and Karen Silveri, who live on Boddie Street. No injuries were reported.
More ...

Retirement party
Nashville's Post Office held a retirement party last week for Bill Gibbons, who has worked as a carrier in Nashville for 16 years. Gibbons retirement was effective January 1, 2010. Prior to joining the Postal Service, Gibbons served 24 years with U.S. Marines. A bad back forced Gibbons to retire. Gibbons said he has enjoyed working with the Postal Service and already misses it.
More ...

Jack Smith promoted to Major at Nash County Sheriff's Office
The Town of Enfield's loss is Nash County's gain, according to Nash County Sheriff Dick Jenkins, who announced his right hand man at a special ceremony on March 31.
Jenkins promoted Enfield Police Chief and Nash County Sheriff Deputy Reserve Jack Smith to Major, replacing Dennis Lyons, who retired at the end of February.
More ...
Amanda Clark, Graphic Staff Writer
Relay for Life Pics, 1
Retha Pappas hangs a bow in the garden for cancer survivors, both past and present, on Friday night.
More ...
Graphic photos by Amanda Clark
Relay for Life Pics, 2
Garrett Potter, 6, of Nashville, takes a swing at Nash Central High School's mascot Bruiser at the "Fight Like a Dawg" booth, sponsored by the school, at Relay for Life.
More ...

Relay for Life Pics, 3
Detective Mike Lewis, of the Rocky Mount Police Department, waits to get dunked at the department's booth at Relay on Friday.
More ...

Relay for Life Pics, 4
Don Carrington looks to land at Relay on Friday night. Carrrington, who is a cancer survivor, parachuted onto the field to start off Relay events.
More ...

NRMS students selected to attend the 2010 NC Governor's School
Four exemplary students from Nash-Rocky Mount Public School System have been selected to participate in the 2010 North Carolina Governor's School. Thomas May (Southern Nash High School), Emily Moedl (Northern Nash High School), Dara Robinson (Northern Nash High School) and Elizabeth Thompson (Rocky Mount High School) are among the 600 rising high school juniors and seniors statewide selected to attend the six-week summer program for academically or intellectually gifted students. More ...

2010 PRIMARY ELECTION
Primary elections will be held on May 4 with general elections set for November 2, 2010. Following is a list of seats and candidates. More ...

CANDIDATE QUESTIONS / Charlotte Lewis Mizelle, County Commissioner District 5 - Democrat
Age: 63
Professional Background: I held positions as Director of Surgical Services for 9 years and as Administrative Director of Laboratories for 19 years, retiring in May, 2007 after 28 years at Nash healthcare Systems. These positions included managing a large staff and budgets exceeding $25 million. These positions included evaluation of sophisticated technology, dealing with tight financial times while still delivering excellent patient care. More ...

CANDIDATE QUESTIONS / Richard D. (Dick) Jenkins, Nash County Sheriff - Democrat
Age: 67
Profession or background: attended FBI Academy, law enforcement for 30 years with the N.C. State Highway Patrol, working up through the ranks from trooper to major within these years. Appointed Chief Deputy with the Nash County Sheriff's Office in 1996, retired in 2003. Appointed Sheriff of Nash County January 2006 and successfully re-elected by the citizens of Nash County in the fall of 2006 More ...

CANDIDATE QUESTIONS / Donnie Weaver, NC State Senate District 11 - Republican
Donnie Weaver, your conservative Republican candidate for our NC Senate District 11 for Nash and Wilson county. I'm 64 and a retired computer analyst programmer.
Growing up on a tobacco farm in Nash county gave me a respect for hard work and making a living on the land. It taught me that the most valuable things you have are your family, your faith in God, and what you learn in school. With that you can succeed in America. More ...

CANDIDATE QUESTIONS / Frank Deatrich, US HOUSE DISTRICT 2 - Republican
Age: 70
Profession or background: I served the U.S.M.C. 3 yrs active duty and 6 yrs reserves. I attended Ft. Hays Kansas State College where I received my BS and MS in biology and education.
Family: I am married to my wife Ruth and we are grandparents as well as great- grandparents.
Hobbies: Reading, and horses More ...

Carson, Jackson unite in marriage
Kimberley Gray Carson and Christopher Allen Jackson were married Saturday, April 10, 2010 by the oceanfront at 389 West First Street, known as Chateau De Chef. The officiating minister for the 5 p.m. ceremony was Rev. Blake Jackson.
The bride is the daughter of Mr. and Mrs. Jimmie Eddie Carson. She is the granddaughter of the late Mr. and Mrs. Johnny Wilbur Carson and the late Mr. and Mrs. Henry Franklin Williams, Sr. More ...

50TH ANNIVERSARY
Donald and Guy Jean Farmer, of Spring Hope, celebrated their 50th anniversary on April 18, 2010 at the First Baptist Church of Spring Hope fellowship hall. A reception was hosted by Donald's niece and husband, Joan and Bruce Richert. The couple were married on April 17, 1960 at the First Baptist Church in Spring Hope by Dr. James H. Blackmore. Mrs. Farmer is the former Guy Jean Manning.
More ...

ENGAGED
Donald and Linda Flora of Rocky Mount announce the engagement of their daughter, Olivia Renee Flora, to Jamie Ray Moss, the son of Tim and Linda Thorne and Herbert and Pat Moss of Spring Hope. The wedding will take place on June 5, 2010 at Sandy Cross United Methodist Church.
More ...

Wheeless, Swanson exchange vows
Bethany Claire Wheeless and Pfc. Ryan Jay Swanson were married Saturday, April 3, 2010 at First Baptist Church, Rocky Mount. The officiating minister for the 3 p.m. double-ring ceremony was Dr. Alan Lyke.
The bride is the daughter of Mr. and Mrs. Edward Osmon Wheeless of Red Oak.
The groom's parents are Mr. and Mrs. Brock Page Swanson of Nashville. More ...

Local youth to attend National Young Scholars Program
Zachary Warrick, a third grader at Rocky Mount Preparatory School, was selected to participate in the National Young Scholars Program (NYSP) at Wake Forest University in Winston-Salem.
The Young Scholars Program is for high-achieving students in third, fourth and fifth grades and inspires students to explore, invent, learn and think creatively. More ...

MILITARY NEWS
Air Force Airman Adam W. Hopkins graduated from basic military training at Lackland Air Force Base, San Antonio, Texas.
The airman completed an intensive, eight-week program that included training in military discipline and studies, Air Force core values, physical fitness, and basic warfare principles and skills. More ...

Nash Ruritans meet
Nash County Ruritans gathered on March 9 for its annual meeting. Members of all the Ruritan Clubs in Nash County attended the event as well as several past National Ruritan Presidents and the current National President and Vice President. Pictured (L-R) is the 2008 National President and Nash County resident Wayne Outlaw, 2010 National Vice President Jayson Duncan, 2010 National President Jerome Rhodes and 2002 National President Millard Thacker.
More ...

Nash Central Middle newsbowl team is among highest in nation
Nash Central Middle School students love the news!
Each month over 500 Newsbowl teams compete to determine the best team in the nation. During the 2009-2010 school year, Nash Central Middle School students placed first in the nation in the months of December, February and March validating their superior knowledge of current events. More ...

Rudy Bears
Rudy Bears were given to Nash County EMS and the Nash County Sheriff's Office by Nash County Ruritans on March 9 during the annual meeting. Pictured, Kenneth Parker (center), a member of Momeyer's Ruritan Club, presents the bears to Jamie Moss (far left), of Nash County EMS and Sgt. David Wooten (far right), of the Nash County Sheriff's Office.
More ...

TV star to speak at Gala
On Thursday, April 29, 2010, actress Kim Coles will be the keynote speaker at The Wright's Center's 21st Anniversary Gala celebration. Coles is best known for her five-season run as the unforgettable Synclaire on FOX's groundbreaking comedy series, Living Single. She is currently host of BET's primetime game show, Pay It Off. More ...

BLUE AND GOLD BANQUET
Nashville Cub Scouts Pack 76 held its annual Blue and Gold Banquet on February 19 at Nashville United Methodist Church. The banquet celebrates the scouts crossing over and arrow of light ceremony. Pictured above, Coleston Dempsey and Jaden Crudup sing during one of several skits scouts performed during the banquet.
More ...

Daughters of the American revolution
The Micajah Pettaway Chapter of the North Carolina Society of the Daughters of the American Revolution met for a luncheon on Thursday, March 18, 2010 in the Tarboro home of Dee Long. First Vice Regent Dottie Barrett opened the meeting with the DAR Rituals, accompanied by Acting Chaplain, Martha Blount. After everyone recited the American's Creed and pledge to the U. S. Flag, Hostess Dee Long introduced the speakers, Kay and David Hindsley. Both are members of the North Carolina Bluebird Society and serve on the Board of Directors. More ...
DEE LONG
Peachtree Community News
For this Sunday morning worship, Pastor Whitehouse led the choir as it sang "Ancient Words", by De Shazo. The sanctuary flowers were given by Catherine Gupton in memory of her mother, Kate Wester, and her husband, G. B. Gupton. For the children's sermon Beverly Wilson showed the children some maple tree seeds.
More ...
BARBARA HARDISON
MAKING PLANS
The American Legion Auxiliary 110 met on April 19 at Langley's Town & Country Restaurant for its third official meeting since forming in the Fall of 2009. Plans were made to supply desserts for the Legion Post 110 Chicken BBQ dinner this Friday, April 30 at the Community Center on South Alston Street.
More ...

Rocky Mount NARFE meets
Rocky Mount Chapter 0781 of the National Active and Retired Federal Employees Association (NARFE) met on April 13 at Gardner's Restaurant. Vice president Lewis Thompson conducted the business session in the absence of president Bill Waters. The March 9 meeting minutes, treasurer's report, membership report and sunshine report were given by Gracie Couch. More ...

Ephesus Community News
We were pleased to have several visitors with us Sunday morning and hope you come back and join us again in worship. We also invite you and your families to join us on Wednesday nights beginning at 7 p.m.; there's something for everyone!
More ...
DEBBIE PHILLIPS
Mt. Zion FWB Church News
We had 86 in attendance for Sunday school. Ryan Marlowe read the Scripture verse for today. Algie Jones, Jr. prayed the closing prayer.
The pretty flowers for the altar table were given by Clarence Manning family in memory of him. "Thank you."
More ...
ROSALENE BASS
Beulah Community News
Sunday school at Beulah church of Christ began at 9:45, followed by church service at 11:00. Mary Lee Bass was at the organ and Bonnie Matthews at the piano. Invocation was given by our minister, Daniel West followed by hymn of praise "Jesus is All the World to Me". Prayer hymn was "Near to the Heart of God". More ...
WILMA ENROUGHTY
Going green – it's all a state of mind
Going Green.
That just sounds so great.
Forget politics, or what you think about Global Warming, or Global Drying, or the fact that some favor a random big explosion as the "logical" explanation of how the Earth got here. More ...
Mike Brantley
Be sure to cast your vote on May 4
It's hard to believe May is just a few days away. It seems like yesterday, we were celebrating Christmas. But in reality, we're getting closer to Christmas 2010. That's scary.
With May looming over us, don't forget to vote on Tuesday. Primary elections are May 4 and if you haven't already got out there and voted early, make sure to mark your calendar to vote on May 4. This election is just as important as any other. More ...
Amanda Clark
Backward Glances
Pictured are Madelyn D. Dawson (original owner of Madelyn's Florist) and Eva Joyner Moore, who married Preston "Pug" Moore, owner of Moore's Antique Shop in Rocky Mount. We believe the photo was taken around 1935. The photo was submitted by Harriet Davis of Nashville.
More ...
A PICTORIAL LOOK INTO THE PAST
Please join us for special production
Some of you already know me, but if not let me use this letter to introduce myself. I am Betsy Hester, a theater and English teacher at Rocky Mount High School, affectionately known as "Senior High." My purpose for writing this letter is to invite you to join me on Thursday, April 29, 2010 at 7:30 p.m. at The Dunn Center for the Performing Arts to see the stage production of Timothy Tyson's highly acclaimed memoir, "Blood Done Sign My Name." More ...
Letters to the Editor:
Forced annexation has done nothing to improve rural areas
For fifty years the North Carolina County Commissioners and their lobbying arm, the North Carolina Association of County Commissioners (NCACC), have watched as the North Carolina municipal councils and their lobbying arm, the North Carolina League of Municipalities (NCLM), have ravaged the countryside and rural areas of North Carolina. They have provided little to no resistance to municipalities taking in more and more rural areas as part of their municipality through involuntary annexation. More ...
Letters to the Editor:

SAFE AT SECOND. A Rocky Mount player (right) slides into second base as Nash Central's Jeremy Sloop tries to make the tag during last week's Big East Conference prep baseball showdown.

CLOSE CALL FOR DOGS
ROCKY MOUNT -- Nash Central High School's baseball coaches had a plan when the Bulldogs traveled to face Big East Conference leader Rocky Mount last Thursday evening.
Since they felt that they didn't have one single pitcher who could possibly help them pull off an upset of the Gryphons, they employed a three-pitcher attack (Jason Taylor, T.J. Taylor, Trellis Ashley) that could show Rocky Mount a mixture of curve balls and off-speed pitches -- just enough to shake up a squad that just loves to feast on primarily fastballs. More ...
CHARLES ALSTON, Graphic Correspondent
AND THEN THE (HEAVY) RAINS CAME AT NASH CENTRAL
Nash Central High School's Terrance Copeland competes in the high jump event during Monday afternoon's action at the Nash County Track and Field Championships at The Dawg Pound. Shortly after this attempt, poor weather moved into the area, forcing the postponement of the meet. Field events had just started, and none of the running events had taken place. The meet will resume today at 4 p.m. on the NCHS campus.
More ...

Southern wins over Demons
WILSON -- The Southern Nash Ladybirds remained undefeated in Big East Conference action last Thursday with a 7-0 road victory at Wilson Fike.
Southern is now 17-1 overall to go with a 6-0 league ledger.
Taylor Braswell was the winning pitcher, striking out eight and walking just one as part of the complete-game effort.
More ...
Staff Reports
NC Wesleyan hosts athletics banquet
ROCKY MOUNT -- The North Carolina Wesleyan College Department of Athletics honored its 2009-2010 athletic teams and student-athletes last Tuesday night at the Dunn Center.
Major awards of the night went to Athletes of the Year Brittany Insley of volleyball and Trey Drake of men's basketball, while volleyball's Barbara DeRatt was named Female Student-Athlete of the Year.
More ...
Staff Reports
Big East golf sked ended on Monday
ROCKY MOUNT -- The Big East Conference closed out its regular season golf schedule on Monday with a familiar scenario, as Wilson Fike once again took home team medalist honors.
Fike, which didn't lose in league competition this spring, once again ran away for a victory at Northgreen Country Club.
The Golden Demons compiled 310 strokes, while Rocky Mount boasted a strong second-place effort with 326 shots. More ...
Staff Reports
East Carolina has tough weekend at Rice
HOUSTON, TEX. -- Jimmy Comerota's bases clearing double highlighted a five-run fourth inning as host Rice went on to complete the Conference USA baseball series sweep of No. 21 East Carolina University on Sunday afternoon by an 11-9 score at Reckling Park.
The Owls improve to 26-16 on the season and 11-4 in league play, while the Pirates drop its fifth-straight game and fall to 24-17 and 6-6. More ...
Staff Reports
Mudcats' losing skein continues
JACKSONVILLE, FLA. -- Mike Stanton homered three times and drove in seven runs as the Jacksonville Suns dropped the Carolina Mudcats to their eighth straight defeat, 11-2 at the Baseball Grounds on Monday afternoon in a Class AA Southern League baseball showdown. More ...
Staff Reports
GREAT SPORTS AT LBJ AND NASH REC.
Representatives from LBJ present the Nashville Recreation Department with a check for $500 as part of its 2010 Chevy Youth Baseball Program. LBJ has participated in this event for the past three years, donating not only money, but also equipment.
More ...

JAMES "EARL" JOYNER
James "Earl" Joyner, 87, passed away, Saturday, April 24, 2010. He was born December 20, 1922 in Nash County. Earl was the son of the late Richard and Minnie Joyner. He was preceded in death by one grandson, Keith Barnes, two sisters, Marie Weaver and Beulah Pridgen, one brother, Harvey Joyner. More ...