Subscribe/Access
Advertisements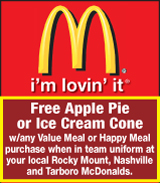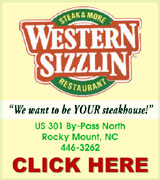 Sections
Member Options
Back
Bailey leaves NFD for district chief position
A long-time employee of Nashville's Fire Department will leave the department to take on the District Chief position at a Fire Department in Wake County.
Captain Tony Bailey, who has served with Nashville's Fire Department for 12 years, accepted the position at Stony Hill Fire Department last Friday. His first day with the new department will be May 3.
More ...
Amanda Clark, Graphic Staff Writer
Hospira says its not shutting down RM plant
Rick Isaza, the site leader for Hospira's Rocky Mount operations, squashed rumors that the company is in the midst of a massive layoff.
Isaza said though the company is moving some of its production lines to the Dominican Republic, the impact should be minimal to full-time employees. More ...
Amanda Clark, Graphic Staff Writer

The 13th North Carolina-Latham's Battery provided the cannon that was fired during the ceremony honoring Captain John Adam Harrison on Saturday. Harrison was one of the founding members of the Town of Castalia.

Castalia founder is honored
When Freda Roberts bought her home on Main Street in Castalia, she soon discovered her property contained a piece of Castalia's history.
A small cemetery sits next to the home, many of the headstones and markers destroyed. After talking to town residents and doing a little research on her own, Roberts discovered that Captain John Adam Harrison was buried there. More ...
Amanda Clark, Graphic Staff Writer
Nashville looks at fourth option for Pay Study
Nashville's Town Council was presented another option to consider in implementing its pay plan portion of a Classification and Pay Study presented last year.
The study, presented to council members in May 2009 by Becky Veazey of The Maps Group, contains classification information, which assigns positions to classifications based on the degree of similarity and difference in the difficulty of work, judgement and responsibility, education and experience requirements, nature and extent of public contract, physical effort and hazards and supervision given and received. More ...
Amanda Clark, Graphic Staff Writer
Week honors 9-1-1 telecommunicators
When you pick up your phone to dial 9-1-1, you may not give a moment's notice to who is on the other end. But in an emergency, a telecommunicator's response can sometimes make all the difference.
During this week around the world, emergency services departments are celebrating National Telecommunicator's Week. The month of April is also 9-1-1 National Education Month. More ...
Amanda Clark, Graphic Staff Writer
Castalia Commissioners plan to apply for park grant
Castalia commissioners plan to apply in the coming year for a state matching grant to help provide funds to build a new park. After much discussion, the decision was made at the regular Tuesday, April 6 town meeting held at the town hall. Newly elected Commissioner Jeanette Evans was absent for the second month in a row. However, County Commissioner Lou Richardson did attend the meeting. More ...
Amelia Harper, Graphic Correspondent
Therapy Garden
United Hospice in Rocky Mount recently provided a "Therapy Garden" for seniors and caregivers at the Nash Senior Center in Nashville. Jessica Smith, Administrator for United Hospice, said the idea is for seniors and caregivers to write down their worries and concerns and bury them into the garden. The garden was given as part of United Hospice's Commitment to Caring program. Two benches were also donated. Pictured (L-R) is Jessica Smith, Administrator for United Hospice, and Stacie Shatzer, Aging Director for the Nash County Senior Center, in front of the "Therapy Garden."
More ...

Dedication ceremony
Wallace Abernathy (far right) salutes the Confederate flag during a stone dedication ceremony for Captain John Adam Harrison Saturday in Castalia. The U.S. Flag is not present out of respect for Captain Harrison. During the Civil War, the stars and stripes were carried by the enemy.
More ...

Gun salute
Pictured above, members of the 13th North Carolina-Latham's Battery of the Sons of Confederate Veterans fire a gun salute in honor of Captain John Adam Harrison.
More ...

Town of Red Oak selects contractor for sewer project
Red Oak is one step closer to construction starting on its Sanitary Sewer System Project which has been in the planning stages since 2007.
Town Council members met Monday night in a recessed meeting to review 8 construction bids that were submitted to the town for the sewer project. Bids ranged from $1.5 to $2.3 million. The lowest bid came in at $1,501,694.50 from Ralph Hodge Construction in Wilson.
More ...
Jo Anne Cooper, Graphic Publisher
Nashville Council hears update on summer recreation programs
Nashville's Town Council heard a brief presentation by Nashville's Recreation Department on the planned activities for this summer. Jim Glover, Recreation Director, and Joey Corbett, Nashville Police Lieutenant, made the presentations during the board's regular meeting last Tuesday night.
Glover cited the town's first annual Easter Egg Hunt, held on Monday, April 5 as a success.
More ...
Amanda Clark, Graphic Staff Writer
Couple celebrates 70th anniversary
A.T. "Buck" and Bernice Holland celebrated their 70th wedding anniversary last Tuesday, April 6, 2010.
The couple currently stay at Nash Grove Manor but are originally from Nashville.
Buck, 91, and Bernice, 93, met in 1939. Bernice worked in a country store in the Aventon community and Buck was painting the store. Bernice was dressed in blue and Buck was awestruck. From then on, he called her 'Miss Blue.' More ...

Spring Hope meeting postponed
Spring Hope Town Commissioners were forced to postpone their regular monthly meeting due to the lack of the quorum needed to conduct town business. Much of the group was assembled on Monday, April 12 at 7:00 p.m.; however, the absence of Commissioners Stanley Hawley, Lee Bissett, and Bill Newkirk forced Mayor Buddy Gwantley to discontinue the meeting.
More ...
Amelia Harper, Graphic Correspondent
NCC Gamma Beta Phi Honor Society inducts largest group in college's history
Nash Community College's Gamma Beta Phi (GBP) Chapter recently inducted its largest class ever with 43 new members for the 2010-2011 academic year. Gamma Beta Phi is a non-profit, co-educational, honor and service organization for students in colleges and universities. Its objectives are to recognize and encourage excellence in education, to promote the development of leadership ability and character, and to foster, disseminate, and improve education through appropriate service projects. More ...

Nash County Blood Drives for April 2010
Friday, April 16, 2010 from 7:45 a.m. until 1:45 p.m. at Southern Nash High School, 6446 Southern Nash Road, Bailey
Tuesday, April 20, 2010 from 10:30 a.m. until 3 p.m. at Outback Steakhouse, 210 Gateway Boulevard, Rocky Mount More ...

Relay for Life News & Events
Benefit singing: Abby's Angel's Relay for Life team is having a benefit singing featuring "The Mills Family" on Friday, April 16 at North Rocky Mount Church of God, 2413 Goldrock Road, Rocky Mount @ 7:30pm. Hot dogs, baked goods & drinks will be sold before the singing. Love Offering accepted. All proceeds goes to Relay for Life. More ...

Beulah Community News
Sunday morning Sunday school began at 9:45 at Beulah Church of Christ. Everyone was welcomed by one of our elders, Earl Cary. After announcements were made we sang Happy Birthday to Mrs. Dorothy Fisher and also to her brother who was in Virginia. Mrs. Fisher put money in the birthday bank for herself and also for her brother, Tom Callahan. He has been really sick and we were glad to hear he is a little improved and planned to attend his church on Sunday. May God bless him and his family. More ...
WILMA ENROUGHTY
Brooklyn Community News
The Brooklyn Area Community Watch and Voices of Nashville sponsored a Weatherization Services Application Clinic on Monday, April 5 at 7 p.m. at Cooley Library, in the Town Council Chambers.
The guest presenter was Lois Watkins, Public Relations, Eligibility Specialist for Martin Community Action, Nash County Office of the Weatherization Assistance Program. More ...
LENA SESSOMS
Red Oak Community News
The monthly Bible study at Fountain Correctional Center was held on Monday, April 5. Several ladies from Red Oak Baptist Church participate in the study at B Dorm. Nell Boone led the study. Jean Mellor, Suzy Pearce, Audrey Pearce, Hazel Hill, and Marilyn Boone also attended. More ...
SUZY PEARCE
Mt. Zion FWB Church News
We had an interesting lesson in Sunday school on "Living in the Light of Love". We learned that love is the foundation of the Christian faith. God loved us and we are to love all others. We are to tell others that God loves them too. Jesus died for them because of His love. More ...
ROSALENE BASS
Peachtree Community News
On a beautiful spring morning, folks gathered at Peachtree for worship. Pastor Whitehouse chose as his sermon topic "What is the State of Your Soul?" based on scripture passage Romans 9:1-5. He emphasized the importance of "Love" in our witness to others. The choir sang "To Die For", under the direction of the Pastor. Sanctuary flowers were given in honor and in appreciation of the Adult Choir by Melba Hobgood. More ...
BARBARA HARDISON
Ephesus Community News
Pastor David Eidson delivered our message in word from John 3:16-18. Everyone knows verse 16, but the other two verses are just as important. Quoting from verses 17 and 18 (NIV) For God did not send his Son into the world to condemn the world, but to save the world through him. Whoever believes in him is not condemned, but whoever does not believe stands condemned already because they have not believed in the name of God's one and only Son. More ...
DEBBIE PHILLIPS
Rotary Club and Nash Grove Bingo
Rocky Mount Rotary Club members turned out for a Rotary Day Community service project on March 15 to play Bingo with residents at Nash Grove Manor in Nashville. This project was in conjunction with Rotary International celebrating its 105th Anniversary as the world's oldest Service Organization. Twenty games of Bingo took place with everyone taking home a prize. The evening concluded with cake and refreshments for the 105th Anniversary of Rotary . Todd Klingbiel, Nash Grove Manor administrator is a member of the Rocky Mount Rotary club.
More ...

Ride for Knowledge set for May 22
The Nash Community College Foundation has announced that the 3rd Annual Jack Laughery Ride for Knowledge will be held on Saturday, May 22, 2010 at Rocky Mount Harley-Davidson. The event serves as a tribute to Jack Laughery, the former CEO and chairman of the Hardee's restaurant chain along with his wife, Helen and their love of motorcycling and support of higher education. All proceeds from the motorcycle ride benefit the Helen and Jack Laughery Honorary Scholarship Fund at Nash Community College. More ...

North Carolina Angus Association
These members will serve on the North Carolina board of directors and are pictured at the 2010 North Carolina Angus Association Annual Meeting and Banquet, January 23 in Winston-Salem.
More ...

Annual Scouting for Food Drive
Cub Scout Pack 76, sponsored by Nashville United Methodist Church and Boy Scout Troop 76, sponsored by Nashville Baptist Church participated in the Annual Scouting for Food Drive on February 6, 2010. These organizations placed door hangers throughout the community during the snow and returned the following week to collect canned foods and dry goods.
More ...

Speight receives academic award
Nash Community College recently announced Almonica Speight of Wilson as the 2010 North Carolina Community College System Academic Excellence Award recipient. The Academic Excellence Award is given to North Carolina community college students who exhibit outstanding scholastic achievements. This award represents the highest academic honor at Nash Community College. More ...

Opry House brings legend to Spring Hope
Lots of folks talk about how 'nothing exciting happens around Nash-Edgecombe counties when it comes to entertainment.' It seems like the TV news people from the Triangle only venture out this way if a man bites a dog, or if there is a string of bizarre crimes.
However, a lot of times folks make those statements while just down the road or sometimes down the street, there are big names performing. More ...
Mike Brantley
Honoring 9-1-1 Telecommunicators
I had the opportunity to visit the 9-1-1 call center around two weeks ago. It wasn't my first visit there but each time I go, I am more in awe of what these men and women do.
I like to think of myself as a multi-tasker. Even though I can't rub my head and my tummy at the same time, I can write stories while gulping a big cup of coffee. I can also listen to people talk while taking notes at the same time. But if you want to know what a real multi-tasker is, you must take a trip to the 9-1-1 center in Nashville. The telecommunicators definitely qualify as multi-taskers. More ...
Amanda Clark
Backward Glances
This photo was found in The Graphic's June, 1967 archives. We're pretty sure it was taken at a local church during Vacation Bible School.
More ...
A PICTORIAL LOOK INTO THE PAST
What is the true cost of illegal immigration
"Immigration Reform" is going to become a hot piece of legislation very shortly. I want all of us to consider what the cost of low skilled immigrants (immigrants without a high school education) has been and will continue to be for each taxpaying American. More ...
Letters to the Editor:

SLIDING SAFELY. Nash Central's Tyler Mizelle (left) slides into third base for the Bulldogs during their opening-round victory last Wednesday against Jefferson Forest at the annual Tarboro Easter Baseball Classic in Edgecombe County.

TWO OUTTA THREE
TARBORO -- Two out of three certainly wasn't bad for the Nash Central Bulldogs during last week's Tarboro Easter Baseball Classic at historic Municipal Stadium.
Taking on some tough competition, the Bulldogs opened with a victory against Jefferson Forest (Virginia), only to fall in the second round to eventual champion Lawrence Academy -- the defending North Carolina State Independent School Champion.
More ...
GEOFF NEVILLE, Graphic Sportswriter

LIFT OFF. Former Northern Nash High School stalwart Melissa Avent fouls off a pitch for the Pitt Community College Lady Bulldogs during last Thursday evening's Region X fast-pitch softball showdown against host Louisburg College.

NNHS Stars Playing For Pitt
WINTERVILLE -- Throughout their high school and travel ball careers, Brianne McKenney and Melissa Avent are used to enjoying a high level of success on the fast-pitch softball diamond.
McKenney and Avent have excelled for area travel clubs, and they helped Northern Nash compile its best stretch of fast-pitch heroics in school history, including a trip to the Class 3-A Elite Eight when they were juniors in 2008. More ...
GEOFF NEVILLE, Graphic Sportswriter
Nash Co. standouts selected
NASH COUNTY -- For the second consecutive year, both Nash Central and Southern Nash will be represented at the annual 2010 East-West All-Star Football Game.
The event is planned for July 21 at historic Jamieson Stadium on the campus of Grimsley High School in Greensboro.
Nash Central defensive lineman Devin Evans and Southern Nash offensive lineman Tyler Whitley will be on the East squad.
More ...
GEOFF NEVILLE, Graphic Sportswriter
Southern is first at tourney
NASHVILLE -- Southern Nash High School took home the top prize at last week's 2010 Spring Break Bash Softball Tournament, which was held at Glover Park in Nashville.
The Ladybirds won three contests, including a 3-0 victory against Northern Nash in the championship showdown.
Earlier, Southern Nash had topped Roanoke Rapids (7-1) and Halifax Academy (9-2). More ...
Staff Reports

INSTANT IMPACT FOR LC. Former Nash Central High School standout Megan Murray is shining as a freshman fast-pitch softball player at Louisburg College.

Murray Makes An Impact
LOUISBURG -- Nash County has a rich history of sending fast-pitch standouts to compete for the Louisburg College softball program.
And Nash Central's Megan Murray is adding her name to that impressive list during the 2010 season.
Murray is a freshman first baseman for the Lady Hurricanes, who are in the process of building a strong squad under second-year head coach Monica Gordy. More ...
Geoff Neville, Graphic Sportswriter
Mudcats red-hot to begin season
BIRMINGHAM, ALA. -- Daryl Thompson and two relievers combined on a two-hitter as the Carolina Mudcats remained undefeated to start the Southern League season, defeating the Birmingham Barons for the fourth straight game 4-1 on Sunday at Regions Park in a Class AA baseball contest.
More ...
Staff Reports
NC Wesleyan wins regular season crown
DANVILLE, VA. -- North Carolina Wesleyan College's baseball team clinched the 2010 USA South Conference Regular Season Championship last weekend by earning a doubleheader sweep at Averett University.
The Battling Bishops (17-17) wrapped up their league slate with an 9-3 conference mark, capturing the 17th regular season title in program history, the 3rd in the past four seasons, and the 5th of head coach Charlie Long's tenure. More ...
Staff Reports
Clark honored by league
FAYETTEVILLE -- The North Carolina Wesleyan College Department of Athletics has announced that Battling Bishop freshman Tyler Clark has earned USA South Rookie of the Week recognition in baseball.
Clark helped the Battling Bishops to a 2-2 record last week, including a two-game sweep of league foe Averett University that secured the program's 17th Regular Season Championship. More ...
Staff Reports
Brandt helps ECU top Tigers
MEMPHIS -- Sophomore Kevin Brandt struck out a career-best 11 batters and tossed his first career complete game helping No. 27 East Carolina University to a 3-2 win over Memphis and its first Conference USA baseball series win of the season.
With the win, the Pirates improve to 20-12 overall and 3-3 in league play, while the Tigers drop to 14-18 and 5-4.
ECU is coached by Northern Nash alum and Nash County resident Billy Godwin. More ...
Staff Reports
Benefit golf tourney scheduled
ROCKY MOUNT -- As renovation begins on a new homeless shelter and soup kitchen in Rocky Mount, organizers are preparing for their second charity golf tournament to raise funds for construction costs.
The 2nd Annual Operation Nineveh Charity Golf Tournament is scheduled for Friday at Northgreen Country Club, which is located in Rocky Mount.
More ...
Staff Reports
1ST PITCH AT GLOVER PARK
Three representatives from LBJ Chevrolet-Buick were on hand last Wednesday to throw out the first ball for the Nashville Recreation Department's Baseball/Softball Season. For the past three years, LBJ had donated money and equipment to Nash Rec as part of the Chevy Youth Baseball Program. The throwers were LBJ General Manager Larry Wood and LBJ Sales Manager Johnny Matthews and LBJ Salesman Eddie Brinkley. Pictured are (l to r) Nashville Recreation Director Jim Glover, Wood, Brinkley, Matthews and Nashville Recreation Department Athletic Coordinator Sally McKenzie. More ...

FABULOUS FINISH FOR JAKE
Nash Central High School's Jake Robinson (far left) earned a spot on the podium courtesy of his fifth-place finish in the 135-pound weight class at the annual North Carolina High School Athletic Association Class 3-A State Wrestling Championships. The event was held last month at the Greensboro Coliseum in Guilford County.
More ...

IT'S A GONER
Nash Central's Tyler Mizelle (10) is welcomed at home plate by his teammates after hitting a gargantuan home run during last Wednesday's conquest against Jefferson Forest in the first round of the Tarboro Easter Baseball Classic at Municipal Stadium.
More ...

Cherry Hill concert is Sunday
The second concert of 2010 at Warren County's historic Cherry Hill will feature a single work -- the 80-minute-long Goldberg Variations, BWV 988 by Johann Sebastian Bach. The concert is to begin at 3 p.m. Sunday, April 18.
Featured will be Quercus Quartet that includes Carol Chung, David Marschall and Bonnie Thron. They will be playing a transcription for string trio by Dmitry Sitkovetsky, a violinist who is the conductor of the Greensboro Symphony in Greensboro, NC.
More ...


Meredith Collins

Nash County's Got Talent Showdown
Nash Arts welcomes contestants of Nash County's Got Talent back to its stage Thursday, April 15 from 7-9:30 p.m. for the annual Nash County's Got Talent Showdown. Performers include Erin Strickland, Ronnie Ezzell, Meredith Collins, Ordean Robinson and Travis Moss. Tickets are $10 per person. For more information call 252-459-4734. More ...

KENNETH ELBERT JAMES
ROCKY MOUNT - Kenneth Elbert James of Rocky Mount passed on Thursday, April 8, 2010 at Nash General Hospital. He was born November 02, 1943, in Brunswick County and was the son of Elbert and Ruth James. He was preceded in death by his parents. More ...

EDWARD MATTHEW MCAULEY
NASHVILLE - Edward Matthew McAuley, Sr., 66, passed away Friday, April 9, 2010. He was born January 28, 1944 in Hertford County to Terry and Hattie McAuley. He was preceded in death by his mother Hattie and his sister, Linda McAuley Allsbrook of Virginia Beach, VA. More ...

SHANNON LAMONT ARRINGTON
NASHVILLE – Funeral services for Shannon Lamont Arrington, age 33, who died on Saturday, April 10, 2010, will be held Saturday, April 17, 2010 at 1:00 p.m. at the Union Hill Baptist Church. Burial will follow in the Oakland Cemetery. The Rev. Thomas McCullers will officiate.
More ...