Subscribe/Access
Advertisements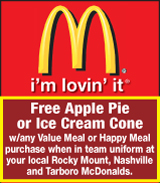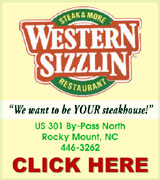 Sections
Member Options
Back

Larry Toney

Drug bust nets seven
A Nashville father and son were among seven arrested and charged last week as a result of a seven month undercover operation.
The Narcotics Division of the Nash County Sheriff's Office began Operation: Punisher seven months ago to target drug dealers throughout Nash County. This operation was designed to infiltrate organizations operating in Nash County who distributed prescription pills, ecstasy pills, cocaine and marijuana.
With these arrests, the Nash County Sheriff's Office hopes to send a message that these crimes will not be tolerated. More ...
Amanda Clark, Graphic Staff Writer

Pictured are the court officials with Nash County Clerk of Court Rachel Joyner and Superior Court Judge Quentin Sumner. (Graphic Photo by Jo Anne Cooper)

South Korean judges visit Nash County
Rachel Joyner, Nash County Clerk of Superior Court was host to a delegation of eight South Korean court officials on Thursday and Friday, November 5 and 6.
The delegation traveled from Seoul, Korea and was made up of three high court judges, a district court judge, a clerk of court, two assistants and a junior clerk of court.

More ...
Amanda Clark, Graphic Staff Writer
Taylor's win is confirmed
A recount of the votes for the two open seats on Nashville's Town Council turned out exactly the same as it did last Tuesday, Nash County Elections Director John Kearney said.
Larry Taylor defeated James McBride by five votes in the race for one of two Nashville Town Council seats last Tuesday. State law says that if there is a one percent or less difference, candidates may ask for a recount.
McBride asked for a recount late last week.
More ...
Amanda Clark, Graphic Staff Writer
Red Oak to hold hearing on cell tower ordinance
Red Oak Commissioners recessed last Monday's meeting until November 23, 2009 so that they may hold a public hearing regarding a new cell tower ordinance the town wishes to adopt. The mayor presented the thirty-five page ordinance for the first time to commissioners at the Nov. 2 meeting and asked that they review it before the public hearing. The public hearing will be held at 8:00 p.m. A planning board meeting will be held at 7:30 p.m., just prior to the hearing. Anyone wishing to review the ordinance should email the town at redoak@embarqmail.com; call Mayor Wester at 252-904-9049 or Town Clerk Carolyn Briggs at 252-903-9735.
More ...
Amelia Harper, Graphic Correspondent
HONORING VETERANS
Sixth graders at Southern Nash High School held a reception honoring veterans on Tuesday morning, November 10. Students are required to read a novel about a 19-year-old U.S. Air Force Pilot and his experiences while in France during WWII and after he returns home. The students also partner with a local veteran, who shares his/her experiences. For Veterans Day, students get a chance to meet the veterans they've written to. Pictured, retired U.S. Army Veteran and Nashville resident Bob Joyner (at left), speaks to Southern Nash Middle student Aaron Talbot (at right) about his experiences serving in the military.
More ...

Write-in wins Castalia seat
Clarence Bender and Jeanette Evans were the top two vote getters for Castalia's Board of Commissioners during elections November 3. But Evans' name wasn't even on the ballot.
Enough citizens wrote in Evans' name during elections to put her on Castalia's Board. Evans received 27 votes while Bender received 29 votes. Allison Roberts received the third highest number of votes with 22 votes.
More ...
Amanda Clark, Graphic Staff Writer
ALE agents stop moonshine operation in Nash County
Smoke coming from a barn on an unusually hot October day was the clue N.C. Alcohol Law Enforcement Agent Tim Parker needed to pinpoint a moonshine still in the small town of Whitakers, just north of Rocky Mount.
On November 4, ALE agents seized 460 full quart glass mason jars of non-taxpaid spirituous liquor and a stainless steel liquor distillery with copper components. The street value of the moonshine was valued at $11,000. More ...

First place
The 4-H Tiger Teens won first place in the hay bale competition at the NC State Fair recently.
More ...

Spring Hope receives good audit report
Spring Hope's Board received a positive audit report during its regular meeting on Monday night.
Gerrelene Walker, CPA, provided the audit report for the year ending on June 30, 2009. Walker said the town had done a good job balancing its budget in a difficult year.
"This year was the difference between night and day as far as what we had to deal with the year before," Walker said. "You've done a remarkable job in balancing the budget."
More ...
Amanda Clark, Graphic Staff Writer
MILITARY NEWS
Matthew L. Cheesman graduated from the Army ROTC (Reserve Officer Training Corps) Leader Development and Assessment Course, also known as "Operation Warrior Forge," at Fort Lewis, Tacoma, Wash. More ...

Nash man takes plea deal
A Nash County man could spend more than 20 years in jail for killing a Franklin County man last summer.
Prosecutors and attorneys reached a plea earlier this month, agreeing that Ibin Williams would spend between 188-235 months in jail for his role in the death of Corey Mann, 29.
Williams was initially charged with first-degree murder, which carried a sentence of life in prison, but his attorney, Teresa Gibson, and Assistant District Attorney Bill Williamson agreed to the plea of second-degree. More ...
CAREY JOHNSON, Special to The Graphic
Nashville teen raising money to support troops
Matthew Pope of Nashville is raising funds to honor and support troops returning home in the coming weeks.
The 5-73 CAV (Panther Recon) of the 5th Squadron, 73rd Calvary will be returning home to Fort Bragg in a few weeks, completing another full year deployment in Iraq. More ...

Wounded warriors reunited with comrades
BAGHDAD – The room was silent, and would occasionally erupt into laughter at a funny story as reunited brothers in arm swapped stories.
Retired 1st Lt. Edwin Salau, of New Bern, who served as a platoon leader with Company C, 120th Combined Arms Battalion "Tuskhogs," 30th Heavy Brigade Combat Team in 2004 only had one thing to say.
"Hi, I'm Ed. I'm a Tuskhog." More ...
Contributed by Sgt. Mary Phillips
Nash County Blood Drives for November 2009
Thursday, November 12 from 10 a.m. until 4 p.m. at Rocky Mount Engine Plant, 9377 US Hwy 301, Whitakers
Thursday, November 12 from 10 a.m. until 2 p.m. at the Rocky Mount Chamber of Commerce, 100 Coastline Drive, Rocky Mount More ...

Price, Powers marry
Stephanie Brooks Price and Bradley Charles Powers were married Saturday, October 24, 2009 at 3 p.m. at Arlington Baptist Church. The officiating minsters for the 3 p.m. ceremony were Rev. Horace Ward, grandfather of the bride, and Rev. Eugene Powers, grandfather of the groom. More ...

ENGAGED
Robert and Sara Rudd of Nashville announce the engagement of their daughter, Kelly Rudd Holton, to Terry Edward Mills, the son of Timothy Mills of Rocky Mount and Pamela Nunez of Spring Hope. The wedding will take place on Dec. 12, 2009 at Corinth Baptist Church, Nashville.
More ...

ENGAGED
Mr. and Mrs. Jimmie Eddie Carson of Rocky Mount announce the engagement of their daughter, Kimberley Gray Carson, to Christopher Allen Jackson, the son of Mr. and Mrs. Timothy Bric Jackson of Nashville. More ...

Marching Knights
The Marching Knights traveled to Snow Hill recently for the Greene Central Band Contest. The Marching Knights performed "Suite Dreams" arranged for them by Band Director Erik Harris. The Knights went from lying on the field to rapidly creating formations while playing complex music as the color guard wove in and out, and they delighted the crowd. The band garnered second place in every judged category with the notable exception of Drum Major, where Cristina Rekeibe and Phoebe Whitwell took top honors. Perhaps most significantly, they won the Kenneth Ginn Award of Excellence which is given to the band that excels in all areas, including disciplined, respectful behavior when not on the field.
More ...

Nashville Realtor meets requirements for AMA
Jason Walters of RE/MAX Classic Realty in Nashville completed the 40 hours of course work needed to meet the requirements of the Accredited Master Associate (AMA) designation.
The North Carolina Builder Institute, the educational arm of the North Carolina Home Builders Association, administers the continuing education program. An Accredited Master Associate designation is recognized statewide and identifies top professionals in the building industry.
More ...

TERRIFIC KIDS
Cedar Grove Elementary School celebrated its Terrific Kids and Citizenship Awards for the last six weeks recently. Nashville's Kiwanis Club sponsors the Terrific Kids program. One student from each class is chosen by their classroom to receive a Terrific Kid and Citizenship Award, which is based on excellent character traits. The Kiwanis Club gave each Terrific Kid a goody bag filled with a framed certificate and different goodies. Terrific Kids were (in no particular order): Taniya Richardson, Naraly Rosas, Whitley Williams, Fabien Morado, Cody Hawkins, Willie Anistead, Desiree Hargrove, Haley Hiatt, Hailee Griffin, Christian Toler, Rebekah Edwards and Elexis Mitchell.
More ...

Beulah Community News
Again I would like to say thank you for your great support at the fish fry last Friday night. We hope you enjoyed the food and also the great fellowship.
We have another event scheduled for all you ladies this Saturday, Nov. 14. The Ladies Retreat will begin at 10:00 at Beulah church of Christ. Our speaker will be Amy Carroll of Proverbs 31 Ministries. The cost will be $10 which will include a Bar B Que chicken lunch across the road at the Beulah fellowship hall. If you haven't already registered try to come around 9:15 of 9:30 so you can complete the registration by 10:00.
More ...
WILMA ENROUGHTY
Peachtree Community News
The week-end revival was a time of renewal for the church. Dr. Daniel Day brought four messages that were uplifting and soul- searching. The one on Friday evening, was titled "The Gladness of Jesus" from John 15: 1-11. On Saturday his sermon was titled "Where Do You Live?" from John 15:5. On Sunday morning his subject was "Life's Relentless Requirement", from Hebrews 11:29-12: 2a. Then on Sunday evening, he spoke on the "Family Album" from Isaiah 51: 1-3. More ...
BARBARA HARDISON
Red Oak Community News
Ladies from Red Oak Baptist Church attended the Adopt-a-Dorm Bible Study at Fountain Correctional Center in Rocky Mount on Monday, Nov. 2. Several women of B Dorm joined with us for a study led by Jean Mellor. Others participating included Marilyn Boone, Suzy Pearce, Audrey Pearce, Hazel Hill, and Jean Stallings. More ...
SUZY PEARCE
Ephesus Community News
Veterans' Day was observed as Pastor David Eidson asked all veterans to stand as we thanked them for protecting us and fighting for our freedom.
The DJCs inspired us with "I'm Your Miracle, Lord". Our DJCs consist of Summer Adcock, Brooklyn Coffey, Caroline Eidson, Taylor Faulkner, Abby Heckman, Jeremy King, Cooper Strickland, and Trevon Thompson.
More ...
DEBBIE PHILLIPS
FLAG RAISING
The Joint Veterans Committee of Nash and Edgecombe Counties honored Staff. Sgt. James Jasper Hicks at the Rocky Mount Veterans Memorial at Jack Laughery Park in October. Hicks honorably served his country from the beaches of Normandy to the frozen hills of North Korea; From the Army Air Corps to the Air Force. He earned a Purple Heart, the World War II Victory Service Medal, the Army China Service Medal, the China War Memorial Service Medal and the Korean Defense Medal. He proudly served his country during two wars in the course of his twenty-one year career from 1943 to 1964. He passed away in 1981. Sheri Hicks Pittman presented the flag that will fly over the memorial until the December flag-raising. The remarks, invocation and benediction were given by James Ervin.
More ...

Local teen tobacco prevention advocates host TRU Week 2009
Students from four high schools in Nash County participated in activities to help prevent teen tobacco use.
The NC Health and Wellness Trust Fund's (HWTF) Teen Tobacco Use Prevention and Cessation grantees showcased the work of the state's Tobacco. Reality. Unfiltered (TRU) youth movement in schools and communities across the state as each local TRU group sponsored regional activities during "TRU Week 2009." More ...

Gov. Perdue reappoints Walker to Martin Luther King Jr. Commission
Gov. Bev Perdue has reappointed Dr. Thomas L. Walker of Rocky Mount to the Martin Luther King, Jr. Commission.
Walker is the senior pastor at Ebenezer Baptist Church. He was the first black commissioner for Edgecombe County and chairman of the Edgecombe-Nash Political Caucus, PRIDE, and the N.C. Martin Luther King, Jr. Commission. Walker was awarded a doctorate of Humane Letters by United Christian College and he has received a Gold Record for the song "One Day at a Time." He received his bachelor's degree in theology from Shaw University and his doctorate in divinity from the Eastern N.C. Theological Institute. More ...

Business and Professional Women
Nashville's Business and Professional Women (BPW) held a spaghetti luncheon on Wednesday, October 21 at the Nashville Community Building. Pictured (L-R) are members Sandy Hall, Annette Mills, Barbara High Tyre, Shirley House and Amanda Clark.
More ...

NHCS gears up for Lights of Love
Christmas seems far away, but the Nash Health Care Volunteer Auxiliary is making plans for the 2009 Lights of Love holiday remembrance celebration.
For $5, a light for the Christmas trees in the hospital lobby may be purchased in memory or honor of a loved one. The trees will be displayed in the hospital lobby throughout the holiday season, and the names will be recorded in a Book of Remembrance, which will be on display. Names from the Book of Remembrance will be read as a part of a special tree-lighting ceremony that will be held at 5:30 p.m. on Nov. 24. More ...

Local company provides free dental services in multiple communities
The Dental Care Center's annual Free Dental Day events were held in Fayetteville, Rocky Mount and Smithfield this year. Doctors Harrold, Higgins, Mani and Watson had over 100 volunteers at the three separate community events. The Dental Care Centers hosted the free dental service projects, donating thousands of dollars in service to those willing to stand in line at each event. More ...

Nash awarded $1.5 million for transportation project
Rep. Angela Bryant recently announced that Nash County has been awarded a $1.5 million transportation project to aid in the state's economic recovery.
The money will be spent to pay for the resurfacing, shoulder construction and installation of rumble strips over 4.5 miles of I-95 from north of mile marker 123 to the Nash County line, and from the Wilson County line to the Tar River. A $1.5 million contract was awarded to S.T. Wooten. The work can begin as early as Nov. 30, and is scheduled to be finished by Oct. 15, 2010. More ...

Speaks to students
Clifton May, a metal sculptor, spoke to art students in Wendy Ferguson-Whitehead's class at Swift Creek Elementary School on October 19. May uses recycled material to make his metal art. May's work is on display at the Artisan Center in Rocky Mount and he also has pieces in Spain, Holland, Mexico and along the eastern seaboard. May is the grandfather of Morgan May, who is in Whitehead's class.
More ...

Vets of lesser known conflicts deserve respect
Many articles have been written over the years about Veterans Day. In recent years, many specifically have been geared towards how we should view our Veterans — with gratitude and respect.
This has been particularly important since there was an era — glorified in movies, film and in the memories of "self-proclaimed hippies of the '60s" — in this country when military personnel were very much treated with disrespect. More ...
Mike Brantley
A few updates from the Chief of Police
The police department thanks everyone for a safe and enjoyable Halloween. We didn't have any problems related to trick or treating or Halloween in general. The children had a good time and collected lots of goodies. More ...
Bill Creech, Nashville Chief of Police
Be sure to take time to thank a Veteran today, or any day
oday is Veterans Day and although it's a day many will spend honoring veterans who are still on this earth, this year, many of us are thinking of those that have passed away.
Recently, 13 soldiers were murdered on an army base in Texas in a senseless killing that has sent shock through our country. Even more shocking is that a fellow soldier has been accused of the killings. More ...
Amanda Clark
Backward Glances
We thought we'd share one more photo from the fall of 1974 archives before packing it up. This little girl was enjoying some tasty festival food at the Spring Hope Pumpkin Festival. We're not sure who she is, but looks like the food was mighty good!
More ...
A PICTORIAL LOOK INTO THE PAST

THAT ELUSIVE PIGSKIN. Nash County's Jaquay Mitchell (dark uniform) tries to come up with a loose ball on a punt return between two All-Star defenders during last Saturday's football contest at Firebird Stadium. (Graphic photo by Geoff Neville)

NC'S SWAC ATTACK
STANHOPE -- When it came time to field a team for the Statewide Athletics Committee (SWAC) State Football Tournament, Nash County varsity head coach David Allen had two options.
He could keep his current group together, or he could add other players from the Eastern North Carolina Football League to create an All-Star Team.
The second option, of course, would mean less playing time for some of the current Firebirds. More ...
GEOFF NEVILLE, Graphic Sportswriter

MAN ON THE MOVE. Northern Nash's Joe Young (with ball) heads forward on a carry during last Friday night's football game against Rocky Mount. (Submitted photo by David Hahula)

RM Edges Knights In Classic
RED OAK -- When Rocky Mount and Northern Nash have had close football contests, they have all virtually been at Death Valley.
And though it has been a few years, another close classic between the two old rivals took place last Friday night in the regular season finale for both teams.
Rocky Mount quarterback Collins Cuthrell scored on a controversial fourth-down, 5-yard run with 3.2 seconds remaining in their Big East contest to give the Gryphons a narrow 15-12 win.
More ...
CHARLES ALSTON, Graphic Correspondent
Big East salutes players
NASH COUNTY -- Three Nash County athletes have earned accolades as part of the First Team on the All-Big East Conference Girls Tennis Squad for the 2009 campaign.
Those performers are Rocky Mount's Kate Gray and Lindsay Thomas and Northern Nash's Randi Price.
Thomas was also selected as the Big East's Player of the Year.
More ...
Staff Reports
STATE FOOTBALL PLAYOFF GAMES
CHAPEL HILL -- Here are the brackets for the upcoming Class 3-AA State High School Football Playoffs, which will feature Southern Nash and Rocky Mount: More ...
Staff Reports
Birds feel good about chances
NASH COUNTY -- Even though his club posted a sterling 9-2 regular season record, Southern Nash head coach Brian Foster is convinced that we have yet to see the best his Firebirds have to offer.
Foster hopes that will happen Friday as the Firebirds, seeded 11th, will be on the road for the first round of the Class 3-AA State Football Playoffs. More ...
GEOFF NEVILLE, Graphic Sportswriter
NC Wesleyan wins final home contest
RED OAK -- North Carolina Wesleyan College's football team celebrated 2009 Senior Day last Saturday by winning their sixth straight contest, downing Shenandoah University by a 38-28 score at the Northern Nash High School Football Complex.
After being honored prior to kickoff, Wesleyan's seniors responded by having a hand in all six Battling Bishop touchdowns on the day.
More ...
Staff Reports
A strong finish for NC
CLEMMONS -- Nash Central High School capped off another amazing season with strong boys and girls finishes at last Saturday's Class 3-A State Cross Country Championships.
Central's boys and girls both claimed eighth overall at the annual event, which was staged at Tanglewood Park, just west of Winston-Salem. More ...
Staff Reports
AMAZING CATCH
Nash County's Tahj Deans (right) comes up with this unbelievable grab for the Firebirds during last Saturday's matchup against the Eastern North Carolina Football League All-Stars. Nash County won the game in the first round of the playoffs.
More ...

WEST COMES HOME
Nash Arts welcomes Will West to its stage Saturday, November 14 at 8 p.m. Admission is $12 ($10 for members.)
West's music is described as Old-Time Folk, Roots Music and Progressive Americana. His tunes will easily fit into a relaxing Sunday afternoon or ride out into the country with the top down.
Eastern North Carolina born songwriter Will West has been living and performing in the Pacific Northwest (Portland Oregon) since the summer of 2002. But his roots bring him back to Nash County. More ...

Nashville publisher and authors honored at recent book signing
Two local authors and a Nashville book designer and publisher recently were honored at a book signing event that highlighted their contributions to Folk Art of the Coastal Plain: A Comprehensive Catalog of the Four Sisters Gallery of Self-taught Visionary Art Featuring the Robert Lynch Collection at North Carolina Wesleyan College.
The new 96-page, full-color book showcases the work of 57 artists from the Coastal Plain whose creations are preserved in the Robert Lynch Collection on display in Wesleyan's Four Sisters Gallery. More ...