Subscribe/Access
Advertisements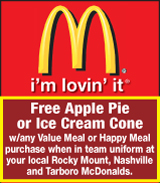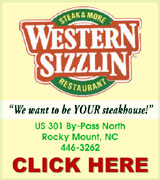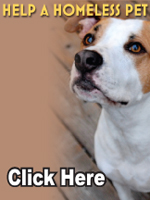 Sections
Member Options
Back
County's error to cost town $171,000
An error with Nash County's tax software may cost the Town of Nashville $171,000 in tax revenues, County Tax Administrator Jim Wrenn told Nashville's Town Council on Tuesday night.
Wrenn came before the board during the regular meeting on Tuesday night to report the error, stating Nashville was the only municipality affected by the error.
The error was discovered on Friday, Wrenn told council members.
"I feel it's my duty because I am your tax administrator," Wrenn said. More ...
Amanda Clark, Graphic Staff Writer

Pictured above, Herb Williams (at left) signs autographs for fans prior to the Phil Ford Golf Classic on Saturday.

Golf tourney raises funds for youth
They played. Kids won.
The second annual Phil Ford Golf Classic brought out over a dozen celebrities in addition to over 100 volunteers to help raise money for the Boys and Girls Clubs of Nash/Edgecombe Counties.
Final figures were not in yet but Theresa Shaw, Executive Director of the Boys and Girls Clubs of Nash/Edgecombe Counties, said the event was yet again a success and plans will soon be underway for the third annual event.
"I thought it was awesome," Shaw said of the event. "I have only received positive accolades from everything that occurred." More ...
Amanda Clark, Graphic Staff Writer
Red Oak de-annexes property
At Monday night's regular business meeting, Red Oak commissioners voted to de-annex two lots located on Northern Nash Road near the New Haven subdivision. Kevin Varnell, an engineer with Stocks Engineering company, was present at the meeting to represent the interests of Servant's Heart Church, the owner of the property in question.
The church requested the de-annexation in order to allow the City of Rocky Mount to connect sewer services to the church when it is built on the Northern Nash Road site. The church property is comprised of two lots located with Nash County and two within the boundaries of the Town of Red Oak. More ...
Amelia Harper, Graphic Correspondent
County approves Voluntary Ag Districts
Nash County Commissioners approved a Voluntary Agricultural District Ordinance on Monday which includes both traditional and enhanced voluntary districts.
The approval makes Nash County the 66th county in North Carolina that has Voluntary Ag Districts. Voluntary Agriculture Districts were created years ago in the interest of farmland preservation. The General Assembly created the possibility for counties to establish the districts if they choose. More ...
Amanda Clark, Graphic Staff Writer
Three file for seat on Castalia Board
Castalia Mayor Ellene Leonard will have no challengers in the upcoming election as Gustav Sjoberg withdrew his candidacy to run for a spot on the town's board.
Nash County's Board of elections extended the filing period, giving Castalia resident one additional day to file for seats on the town's board.
When filing ended on July 17, no one had filed to run for the two seats up for grabs. The Board of Elections held an emergency meeting and voted to extend the filing period to allow residents to file on Tuesday, July 28 from 8 a.m. until 5 p.m. More ...
Amanda Clark, Graphic Staff Writer
Nash Yo-Yo Master to perform for youth
A local man and former yo-yo professional will demonstrate yo-yo tricks next week at Cooley Library.
George Humphreys, who is the Postmaster of Nashville's Post Office, will perform several yo-yo tricks on August 13 at 1:30 p.m. Sponsored by the Nashville Kiwanis Club, the program is one of many summer programs offered by Cooley Library throughout June, July and August.
Humphreys began yo-yoing as a teenager in Columbus Grove, Ohio.
"I started yo-yoing when I was in high school," Humphreys said. "It kind of came naturally." More ...
Amanda Clark, Graphic Staff Writer
Blood drive to honor former Nashville resident
A blood drive will be held on August 11 to honor and remember a longtime Nashville resident who passed away in December.
Arlington Baptist Church will host the blood drive for Betty Meadows, who was active with the local chapter of the American Red Cross. Meadows served as a volunteer with blood drives and as a member of the blood services committee. She was also a regular blood donor herself.
Meadows loved assisting as a faithful volunteer and was honored with the Ruby Powell Blood Services Volunteer of the Year award in 2005. More ...

Nash County Blood Drives for August 2009
Thursday, August 6 from 4 p.m. until 8 p.m. at West Mount Volunteer Fire Department
Thursday, August 6 from 12:30 until 4:30 p.m. at RBC Bank-Downtown, 134 N. Church Street, Rocky Mount
Thursday, August 6 from 12 until 4:30 p.m. at Golden East Crossing Mall, 1100 N. Wesleyan Blvd, Rocky Mount
Saturday, August 8 from 10:30 a.m. until 3 p.m. at South Rocky Mount Community Center, 517 Ravenwood Drive, Rocky Mount
More ...

NRMS meets state proficiency standards
NASHVILLE — Making a drastic turnaround, 18 of 26 schools in the Nash-Rocky Mount Schools (NRMS) system made Adequate Yearly Progress (AYP) for the 2008-09 school year. This is up from only two NRMS schools that were able to achieve AYP for the 2007-08 school year.
The other local K-12 public school, Rocky Mount Preparatory, did not meet AYP for 2008-09, meeting 21 out of 26 target goals, or 80.8%. Last year, this school did not meet AYP, meeting 19 of 25 goals, or 76%. More ...
Michele A. Cruz, Graphic Correspondent
ENGAGED
Michael and Anise Coggin announce the engagement of their daughter, Christina Michelle Coggin, to Adam Dwayne Pritchard, the son of Dwayne Pritchard of Rocky Mount and Mary Barnes of Spring Hope. The wedding will take place September 9, 2009 at Corinth Baptist Church.
More ...

Hill, Beal marry
Elaine Turner Hill and Jeffery Jay Beal were married at 5:30 p.m. June 27, 2009 at Nashville United Methodist Church. Reverend Wayne Hicks performed the double-ring ceremony.
The bride is the daughter of James and Ruth Gurganus of Tarboro and Ray and Denise Turner of Pinetops.
The groom is the son of Emerson "Buzz" and Lois Beal of Rolesville. Honorary grandmother is Mrs. Betsy Primrose of Pittsburgh, Pa. More ...

BIRTH ANNOUNCEMENT
Paul and Maggie Bell, along with their son, Aidan, announce the birth of Anderson Lloyd Bell, born June 12, 2009 at Nash General Hospital. He weighed 7 lbs., 12 oz. and was 21 1/4 inches long.
Maternal grandparents are Ronnie and Sandra Lloyd of Rocky Mount and Julia Lloyd of Rocky Mount. Maternal great-grandparents are Johan and Lynda deNijs of Oriental. More ...

Local elected President of East Carolina Council
At a recent Executive Board Meeting of East Carolina Council, Boy Scouts of America, held at Pamlico Sea Base in Blounts Creek, NC, Benjamin E. Moore was elected as the President Elect of the council.
East Carolina Council serves 10,000 youth annually in 20 counties in eastern North Carolina through 4,000 volunteers with a budget of $1.75 million. Moore will begin his service as president beginning December 1, 2009. Moore maintains a home in both Rocky Mount and Morehead City. For the Boy Scouts, he currently serves a member of the council executive committee, executive board, Wild Game Feast and finance committee. He is the founder of Outer Banks Outfitters. Previous jobs include Senior Vice President of Hardee's Food Systems, owner of individual Hardee's stores, and Vice President of Boater's World More ...

State investigates death at Coastal Plain Hospital
The state has started an investigation into the death of a patient at Coastal Plain Hospital on July 23.
James R. Collins, 23, of Louisburg, was found dead around 2:45 p.m. in an isolation room by staff members at the hospital. A police report stated that Collins had been dead for approximately six hours when he was discovered by staff and police were called. Collins' body was sent to Pitt Memorial Hospital, where an autopsy will be done to determine the cause of death. More ...

Steps to take to prevent being a victim of crime
We as a nation have seen an increase in crimes of opportunity due in part to the state of our economy. As citizens, you can take steps to reduce the possibility of becoming a victim of these types of crime. Recently, we have had a few instances where someone entered cars and removed items from them. These cars were left unlocked and items were left inside. You should remove all items of value from your car when you park it and make sure to lock the doors. If you must leave an item inside, it should be hidden so anyone looking inside cannot see it. You should always take the keys out of your car. I do not suggest hiding a spare key on the car. Thieves know that people do this and often look for the spare key.
More ...
Bill Creech, Nashville Chief of Police
United Way receives certification
The United Way Tar River Region, serving Nash and Edgecombe counties, has successfully completed all of United Way's national membership requirements by their respective due dates, Ginny Mohrbutter, Executive Director recently announced.
The annual certification process ensures that the organization is maintaining strong financial, business and operational practices, as well as, the highest in donor accountability. Over and above the annual requirements, United Way Tar River Region completed a mandatory organizational self-assessment in 2007, as part of this process. More ...

SCRAPBOOK AWARD
Four members of the American Legion Auxiliary, Unit 293 in Nashville attended the American Legion Department of North Carolina Convention in Raleigh on June 10-13, 2009. Unit 293 won third place in the American Legion Auxiliary Department of North Carolina Senior Unit Scrapbook Contest for 2008-2009. A certificate was presented to Unit 293 for meeting their fair share obligations for the 2008-2009 year.
More ...

4-H Exchange Club hosts youth from Missouri
The Nash County 4-H Exchange Club hosted a group of 4-H'ers from Livingston County, Missouri July 29 through August 3.
The visiting group included eight kids ages 13 to 15 and two adult chaperones.
While visiting North Carolina the group attended a Carolina Mudcats baseball game. They traveled to the North Carolina coast, where many enjoyed their first ever day on the beach, attended the Lost Colony outdoor drama and hiked Jockey's Ridge. They also visited the Wright Brothers Memorial, Hatteras Lighthouse and Ocracoke Lighthouse. More ...

EQIP funds available
Farmers and producers have through August 7th to enroll in this year's Agricultural Water Enhancement Program (AWEP). AWEP is a voluntary conservation program that provides financial and technical assistance to implement agricultural water enhancement activities on agricultural land for the purposes of conserving surface and ground water and improving water quality. The AWEP Program is a part of the EQIP Program. Applicants must meet all current producer eligibility requirements under EQIP. More ...

UNC announces degrees and academic achievements
More than 5,100 students earned bachelor's, master's, doctoral or professional degrees from the University of North Carolina at Chapel Hill during the May 10 commencement ceremony. Chancellor Holden Thorp presided over the ceremony which featured remarks by Archbishop Emeritus Desmond Tutu of South Africa.
Out of 5,188 students who received a degree, 3,167 earned a bachelor's, 1,188 earned a master's, 197 earned a doctoral degree and 636 earned a professional degree. More ...

RMA announces honor roll
Rocky Mount Academy Third Trimester Honor Roll
Grade 6, Headmaster's List: Brice Andracchio, Vineet Baliga, Sam Brown, Quinci Christian, Meg Deyton, Sally Fairman, Justin Hicks, Landin Johnston, Colby Kirkpatrick, Darby Robbins, Claire Stanovich; High Honors: Cacky Anderson, Ashley Bissette, Mackenzie Butler, Catherine Coats, Brandon Griffin, Katy Jaber, Alex Jackson, Bodie Mincher, Ann Claire Roberson, Nelson Schacht, Hayley Sigmon, Chelsea Walden, More ...

UPS raises $6,000
UPS raised $6,000 for United Way Tar River Region during the annual UPS/United Way Golf Tournament. Pictured, left to right; Gary Wallace, Linda Maybin, Parley Potter, Ginny Mohrbutter, Randall Mills, Angie Hedgepeth, and Greg Hawkins.

More ...

Castalia Baptist News
The Castalia Bus left this past Monday morning taking 12 youth and 2 youth leaders to Caswell. Several church members gathered with them and help load lots and lots of luggage and stuff for their week long stay. Leaders Cathy Shearin and David Braswell will be leading them through out the week in life changing experiences that will strengthen their walk with Christ. We are praying for them this week and look forward to their return this Saturday. More ...
KATHY FREEMAN-ROBLES
Mt. Zion FWB Church News
Our Sunday school attendance was down today for different reasons. Our prayers are for those who are sick, or concerned about loved ones in the hospital or nursing homes. We pray for safe travel for those on the roads. We pray for those with pains and ailing bodies, like me. I ask for your prayers for me and my back problems. More ...
ROSALENE BASS
Red Oak Community News
Approximately 27 youth and adults of Red Oak Baptist Church had a great time during their lake retreat last week. On Sunday they returned to have a pool party at the home of Bill and Lucy McKeel.
The children and chaperones returned home safely from their adventure at Centri-Kid last week. Everyone had a wonderful time and enjoyed all the activities. More ...
SUZY PEARCE
Ephesus Community News
Martha Edwards gave us a report of the Acteens' mission trip to Savannah, GA. Also, testimonies were given from several ladies who attended the Deeper Still conference this past weekend in Greensboro with presentations by Beth Moore, Kay Arthur, and Phyllis Shire.
More ...
DEBBIE PHILLIPS
Beulah Community News
O.K. Faithful readers of our column! Guess what is happening this week on Friday night at the Beulah Annex on Reges Rd. That's right! You guessed it I'm sure! Our monthly fish fry will be held again from 5 - 8 p.m. We look forward to seeing all our friends again. This month begins our 11th year having our monthly fish frys. We really appreciate the continued support of all of you who attend. Hope to see you again on Friday night. Some of our faithful workers will not be there this week. I know a lot of you look forward to seeing Roger Parker who works at the back take-out drive-thru service. Roger is in the hospital and had surgery. He has some serious problems but seems to be doing good at this time. Please join us each day with prayers for a quick recovery. More ...
WILMA ENROUGHTY
Peachtree Community News
The weather at Peachtree remains hot and humid. The deer are having a "field day" in local gardens. The tomato crop is flourishing. The "dog days" of summer are here which means that summer is winding down.
Pastor Whitehouse chose as his sermon topic for Sunday morning "Why Should God Let You into Heaven?" It was based on various passages of scripture from the Old and New Testaments.
More ...
BARBARA HARDISON
Community Christian Service
Members of Community Christian Service built a ramp for Buddy Henry, who lives on Boddie Street in Nashville, last week. The group built 24 ramps in Nashville and surrounding areas last year. Pictured above, members of the organization carry a piece of th ramp to its destination.
More ...

4-H Criminal Justice Camp
The Nash County Sheriff's Office provided the 4-H Criminal Justice Camp for the second year last week. The week-long camp featured teambuilding exercises, a discussion of Nash County's Jail and a visit to Southern Police Canine in Momeyer along with many other events. Last Wednesday, youth got a chance to talk to officers of the Sheriff's H.E.A.T. team and see some of the vehicles they drive. On Friday, a National Guard helicopter landed in Nashville and talked to the youth. Pictured are the camp attendants with representatives of the Sheriff's Office. More ...

Cash for clunkers and other smart ideas
By now, you've been hearing a lot about Cash for Clunkers.
That is the brilliant government plan that was devised by the government to bail out the auto industry they just recently purchased.
Under this plan, you trade in your perfectly functioning vehicle for a new perfectly functioning vehicle, and the American taxpayers give you a down payment of $4,500. Then, a government-employee version of Dr. Kevorkian for automobiles injects something into your old engine so that it will die.
Wait a minute ... are we still talking about the Cash for Clunkers plan or President Obama's proposed healthcare reform? More ...
Mike Brantley
Golf and gala were all about the kids
This weekend, the much anticipated Phil Ford Celebrity Golf Classic was held in Nashville. It was a great event that helped support the efforts of the Boys and Girls Clubs of Nash and Edgecombe Counties.
On Friday night, a Black Tie Gala was held, with dinner, dancing and a few special presentations. One of the presentations was a plaque of appreciation for Mr. Frank Wright, who passed away in November 2008.
For those of you that may not know, Mr. Wright is THE reason there is a Boys and Girls Club in Nashville. I wasn't here during the time that occurred but I have heard that he did everything in his power to get that club here. I have no doubt that he would have built the club with his own hands if he had to. More ...
Amanda Clark
Access to affordable homeowners insurance may be at risk
There is a piece of legislation currently in the NC Senate that I believe is very critical to our ability to continue to have access to affordable homeowners insurance rates in NC.
Briefly, there is a state program to provide property insurance in the coastal counties, called the NC Beach Plan. It was originally intended to be the "market of last resort" for people on the Outer Banks, but has since been expanded to include 18 "coastal counties". To give you a point of reference, it comes as far inland as Jones County, which is two counties away from Goldsboro. More ...
Letters to the Editor:
Still no reform
Here we start another week and the passage of annexation reform has yet to happen. I ask you when in this session will real annexation reform pass?
We North Carolinians have suffered long enough at the hands of the unscrupulous municipalities and their cohort the North Carolina League of Municipalities. We need you, our elected representatives, to come to our rescue and stop them from ravaging the lives of more North Carolinians by passing real annexation reform immediately. More ...
Letters to the Editor:
Backward Glances
High school football is just around the corner. This photo was originally published November 17, 1966. Sammy Hardy (62) scampers around end for a gain before being stopped by Farmville's Fred Sauls. Northern Nash won the game 18-0 and finished the season with a 5-5 ledger.
More ...


KEEPING UP. Birchwood's Ethan Robbins keeps his eyes and nose above water during last Saturday's action at the Nash-Halifax Swim League Championships at the Harrison Family YMCA in Rocky Mount.

THE FEELING...NEVER GETS OLD
ROCKY MOUNT -- If the Nash Rec Swim Team was a professional sports organization, the club would be running out of fingers to display championship rings.
Back in the 1970s, the Pittsburgh Steelers coined a 'One For The Thumb' jingle to coincide with their surge toward a fifth Super Bowl title.
That number is ancient history for Nash Rec, which would be shooting for a 'One For The Other Thumb' moniker in 2010.
Nash Rec captured its ninth straight crown during action last Saturday at the annual Nash-Halifax Swim League Championships at the Harrison Family YMCA in Rocky Mount. More ...
GEOFF NEVILLE, Graphic Sportswriter
Red Oak tryouts targeted
RED OAK -- Red Oak Middle School will conduct tryouts for fall sports on the following dates:
• Boys Soccer -- Aug. 18 from 3-4 p.m.
• Girls Tennis -- Aug. 24 from 3-5 p.m.
• Volleyball -- Aug. 24 from 3-5 p.m.
• Football -- Aug. 17 from 5-7:30 p.m.
Also, an optional Football Mini-Camp will be held Aug. 10-12 from 5:30-7:30 p.m. More ...
Staff Reports
Softball clinic slated at Glover Park
NASHVILLE -- A youth fast-pitch softball clinic will be held this Saturday at Glover Park in Nashville.
Girls ages 5-15 are welcome to participate in the clinic.
Registration begins at 8 a.m., with the clinic slated to run from 8:30-11:30 a.m.
Instruction will be provided by coaches and players from the Stretchlon Lady Stars 18-Under Fast-Pitch Travel Team.
Among the topics of instruction will be: More ...
Staff Reports
Braswell claims fast-pitch honor
RED OAK -- Betsy Braswell, a rising junior softball pitcher from Northern Nash High, has recently been selected to compete in the Queen of Diamonds Showcase South (QDSS).
The fast-pitch event will be held in Rock Hill, S.C., from September 4-6.
The QDSS, now in its' fourth season, is the second largest fast-pitch softball showcase in the United States.
Play will take place on the campus of Winthrop University. More ...
Staff Reports

Members of the Price Junior Blue Tennis Team for the 2009 season included (back, l to r) Megan Bailey, Jonah Richardson, Michael Brackett, Dharmesh Patel and Bryson Williams; (front, l to r) Kaley Price, Randi Price and Morgan Griffin. (Photo Submitted)

Tennis teams wrap up action
ROCKY MOUNT -- The Price Junior Tennis Red and Blue Teams played each other at Sunset Tennis Park on July 15.
The Price Junior Tennis Blue Team won the match 5-4. Here are the results: More ...
Staff Reports
Rocky Mount begins fall football practice
ROCKY MOUNT -- For the first time in six years, Rocky Mount's football program started a season without a familiar face barking out instructions.
Gone is legendary head coach B.W. Holt who put the Gryphons back on the state's football map. In his shoes is his replacement Dickie Schock, who, in typical Holt style, doesn't have time to worry about comparisons to anyone -- let alone his mentor.
He has more pressing debts -- like whipping a team into shape before its Aug. 28 season-opening debut at Northern Durham.
Schock and his staff met around 80 players at their opening practice Saturday morning. More ...
CHARLES ALSTON, Graphic Correspondent
Nashville Chamber of Commerce annual meeting is August 18
The Nashville Chamber of Commerce will hold its annual membership meeting Tuesday, August 18 at 6 p.m. at The Nashville Exchange in downtown Nashville.
"We are excited about the new year ahead for the chamber and for Nashville," said Meredith Holland, Executive Director of My Sister's House. Holland will be installed as the new chamber president at the event. "We encourage all members to come to the event and invite them to bring their employees as well," she continued. More ...

JAMES LESLIE BREWER, SR.
ROCKY MOUNT - James Leslie Brewer, Sr., 90, passed away on Tuesday, July 28, 2009. He was born on February 18, 1919, in Wilson County. He was the son of the late Carl and Lizzie Thorne Brewer. He was preceded in death by his wife, Flonnie W. Brewer.
He is survived by his son, James L. Brewer, Jr. of Rocky Mount; his daughter, Sue Brewer Joyner of Rocky Mount; four grandchildren; three great grandchildren; and his brother, Joseph C. Brewer of Seattle, Washington. More ...

KATHERINE LOUISE HURDLE
NASHVILLE - Katherine Louise Hurdle, 85, passed away Monday, July 27, 2009. She was born July 25, 1924 in Whaleyville, VA. She was the daughter of the late John and Mary Lelia Fraust. She was preceded in death by Perley C. Hurdle. More ...

BARBARA WILSON- HARRIS
ROCKY MOUNT - Barbara Wilson-Harris, 60, died Thursday, July 30, 2009 at Pitt County Memorial Hospital in Greenville.
Funeral services were 3 p.m. Sunday, August 2, 2009, at Light of Peace Missionary Baptist Church with Elder Everett Silver, Sr. officiating. Visitation was from 2:30 - 3 p.m. prior to the service.
These professional services have been entrusted to H.D. Pope Funeral Home.

More ...