Subscribe/Access
Advertisements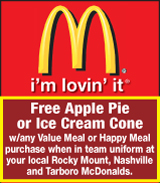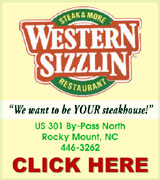 Sections
Member Options
Back
Locals face child rape, abuse charges
Three Nash County residents have been arrested and charged with sex offenses against three teenage girls.
According to Lt. Pat Joyner, of the Nash County Sherrif's Office, deputies responded to a call on July 3 for a custody dispute at a home on Macedonia Road in Spring Hope.
"During that call it was disclosed from one of the victims that she had been raped," Joyner said. "It went from there."
The Sherrif's Office later arrested 32-year-old Michael L. Frazier and his girlfriend, 39-year-old Tabetha Bridges, who both live at the residence on Macedonia Road. Frazier was charged with two counts of first degree rape of a child, two counts of statutory rape and indecent liberties with a child. Bridges was charged with felony child abuse. Joyner said Bridges was charged with child abuse because she knew of the alleged incidents with Frazier. More ...
Amanda Clark, Graphic Staff Writer
Spring Hope girl found dead in Ohio
The last time Diane Dille saw her granddaughter, the 20-year-old was stepping on a bus with plans of starting a new life for herself and her children in Ohio.
The next time Dille sees her, it will be to take possession of her ashes.
Dille said Portsmouth, Ohio investigators confirmed to her Friday that her granddaughter, Nichole Alloway, was found dead in a small Ohio village about 470 miles northeast of her Spring Hope home.
Alloway's death, Dille said, was the result of a doomed Internet relationship that cast her granddaughter into a world of unscrupulous people that ultimately took her life. More ...
CAREY JOHNSON, Special to the Graphic

Joshua Bullock, 4, of the Swift Creek community, laughs as Pluggie squirts him with water Saturday at Nashville's Athletic Youth Day at Glover Park. Pictured behind Bullock is Raymond Bullock, Jordan Wilson and Montre Cash, all 9-years-old.

YOUTH DAY
Despite a low turnout, organizers say the Fourth Annual Nashville Athletic Youth Day was still a success, raising over $600 for the Nashville Boys and Girls Club.
Youth Day started four years ago to give area youth something to do during the summer while school was out. All proceeds from the event go to fund scholarships so youth can participate in activities at Nashville's Boys and Girls Club. The event is sponsored by the Brooklyn Area Community Watch along with Cooperation Extension and Nash County 4-H.
For this year's event, more events were offered for the younger kids, such as an egg on spoon game and a hula hooping contest. More ...
Amanda Clark, Graphic Staff Writer
Filing extended for Castalia
Castalia residents wanting to run for a seat on the town's board will get another opportunity to do so, as the Nash County Board of Elections has extended the filing period.
According to John Kearney, Elections Director, the Board of Elections met Tuesday morning to discuss whether or not to extend the filing deadline in Castalia. The deadline was Friday, July 17 at noon but Kearney said no one filed to run for the two open seats on Castalia's Board of Commissioners.
"The Board of Elections had an emergency meeting and voted to extend the filing period for the Town of Castalia commissioner race," said Kearney, "This is being done because nobody filed for this race." More ...
Amanda Clark, Graphic Staff Writer
Red Oak Fire to build new, larger facility
Construction will soon begin on a new 18,000 square foot facility next to Faulker's Gas Station on Red Oak Boulevard.
A new fire station has been in the discussion phase for a while now, said Red Oak Fire Chief Bryant Fisher.
"We've been talking about it for five years," Fisher said.
Fisher said members of the department began looking at land two to three years ago. The Town of Red Oak owned four acres of land and donated it for the fire department to build its new station on. The land sits next to Faulkner's and is also adjacent to the recently completed W.B. "Bill" Ennis, Jr. Memorial Park. More ...
Amanda Clark, Graphic Staff Writer
Local scout earns Eagle rank
Justin Edward Hinton was honored last month for receiving the ranking of Eagle Scout.
An Eagle Scout Court of Honor Ceremony was held for Hinton at Momeyer Baptist Church on June 14, which was also Flag Day.
Nationwide, only about five percent of boys who start the Boy Scout program go on to earn the Eagle Scout designation.
To earn the Eagle Scout rank, the highest advancement rank in scouting, a Boy Scout must fulfill requirements in the areas of leadership, service, and outdoor skills. Part of the process to becoming an Eagle Scout is developing a project that benefits the community. More ...

Spring Hope asks state to fund 2008 grant application
The Town of Spring Hope is hoping the state will take another look at a grant application submitted last year for a Community Development Block Grant (CDBG).
The grant was submitted in 2008 and the town was not among those awarded the $700,000 grant. However, upon meeting to discuss applying for a 2009 grant, it was discovered that a section on Spring Hope's 2008 application had been wrongly categorized by those reviewing the grant application. According to David Harris, of RSM Harris, had the error not been made, the town would have received the grant.
More ...
Amanda Clark, Graphic Staff Writer
WFU Dean's List
Three Rocky Mount residents were recently named to the Dean's List at Wake Forest University for the Spring 2009 semester.
Students who achieved a 3.4 grade point average were named to the list.
Students include Elizabeth Wooding Bailey, John William Lucas and Michael Quartei Mahmoud. More ...

UNC-P Chancellor's List
Two Nash County residents were among those named to the Chancellor's List at UNC-Pembroke recently.
Melissa Page Whitt, of Nashville and Akeyia V. Johnson, of Rocky Mount, were both named to the Chancellor's List for the Spring 2009 Semester at UNC-P.
Students are eligible for Chancellor's List if they achieve a minimum semester quality point average of 3.7 while passing at least 12 semester hours of course work. More ...

Three H1N1 cases confirmed in Nash
Three cases of the H1N1 virus, formerly known as Swine Flu, has been reported in Nash County.
"We have had at least three confirmed cases and several suspected cases," said Bill Hill, Nash County Health Director.
H1N1 is a respiratory disease caused by type A influenza viruses. It usually causes regular outbreaks in pigs and not in people. However, sometimes H1N1 viruses occur in people and, like seasonal flu, can spread from person to person. Cases of 2009 H1N1 flu were first reported in Mexico in February 2009. In late March, early April, the virus was reported in Texas and California and have since spread to other states, including North Carolina. More ...
Amanda Clark, Graphic Staff Writer
Nash County fugitive caught in Philippines
After four years on the run, a Nash County man has been caught and arrested on drug charges, the U.S. Marshal's Service and Nash County Sheriff's Office announced.
James Ricky Perry, 50, was being sought on a warrant issued on July 19, 2005, charging him with conspiracy to distribute more than five kilograms of cocaine and possession with intent to distribute more than 500 grams of cocaine. Perry is alleged to have been part of an organization that conspired to distribute large quantities of cocaine in Eastern North Carolina over a four-year period beginning in 2001. Perry's involvement in the organization came to light during an investigation conducted by the Nash County Sheriff's Office. More ...

Beware of fake parking tickets
As your Chief of Police, I'd like to thank you for the assistance you've given the police department over the years. Without the help of our citizens, our job would be much more difficult. Your eyes and ears multiply those of the police and help us have a safe community.
I would like to encourage everyone to participate in a community watch program and in our "Watch Dog" program. Both these programs can help make our town safer for us and for our visitors. For more information on these programs, you can call our Community Services Officer, George Bottoms at 459-4545. More ...
Bill Creech, Nashville Chief of Police
Rocky Mount Telegram and other Cox publications are sold
According to The Rocky Mount Telegram newspaper and its website, Cox Enterprises, Inc. has "reached an agreement to sell its North Carolina newspapers to Cooke Communications, LLC which is a privately-held family company headed by John Kent Cooke." Included in the sale are The Rocky Mount Telegram, the Daily Reflector in Greenveille and other newspapers in eastern North Carolina.
The release in The Rocky Mount Telegram Tuesday reports that Cooke's eldest son, John Kent Cooke, Jr., will move to the the Greenville area to become president of Cooke Communicationos and publisher of The Daily Reflector. More ...

ENGAGED
Mr. and Mrs. Russell Leon Proctor III of Rocky Mount announce the engagement of their daughter, Amanda Ward Proctor, to Kai Stephen Mullen, the son of Mrs. Heidemarie Gooss Mullen and Mr. Stephen Craig Mullen of Rocky Mount. The wedding will take place on Oct. 24, 2009 at 5 p.m. at First Presbyterian Church, Rocky Mount.
More ...

BIRTHS
ATTKISSON
Ken and Jennifer Attkisson of Edenton, NC announce the birth of their daughter, Annslie Brooks Attkisson, born June 10th, 2009 at Chowan Hospital in Edenton.
She weighed 7 lbs. 5 oz. and was 21 inches long.
Maternal grandparents are Albert and Judy Batchelor of Nashville.
Paternal grandparents are Dr. Wayne and Margaret Attkisson of Windsor.
Maternal great grandmother is Christine L. Green of Nashville.
Paternal great grandfather is Oscar W. Attkisson of Richmond, VA.
Annslie has a brother, Batchelor, who is 3.
More ...

Nashville girl to compete for 2009 Miss Teen North Carolina title
Abby Schatzman, the daughter of Tim and Phyllis Fisher of Nashville, will be among the candidates competing for the title of Miss Teen of North Carolina at the 2009 state pageant in Greensboro. The winner will receive a $1,000 cash scholarship and a $500 U.S. Savings Bond. The new State Titleholder will also be eligible to compete for the National Title of Miss Teen of America and vie for additional scholarships, awards and prizes. More ...

N.C. Debutante Ball is announced
RALEIGH - Marvin Burke Koonce, III, president of the Terpsichorean Club of Raleigh, announced recently that invitations have been issued to the eighty-third annual North Carolina Debutante Ball. The event will be held in Raleigh on September 10, 11 and 12. The formal presentation of young ladies from across the state will highlight the weekend festivities.
The Terpsichorean Club, comprised of young gentlemen from the Raleigh area, was formed in the 1920s to sponsor an annual statewide Debutante Ball to present North Carolina's prominent young ladies and to honor their families. The Ball has been given every year since 1923 with the exception of the World War II years. More ...

Pearce Scholarship Award
Coopers Ruritan Club recently awarded the E.C. Pearce Scholarship Award of $1,000 to Marvin A. House, II of Elm City. Pictured presenting the award to House is (left) Calvin Horne, president, and (right) Danny Tyson.
More ...

Walkers at Glover Park
Walkers at Glover Park now have somewhere to stop and cool off, thanks to the efforts of Matt Braswell. Braswell built a shelter on the walking trail at the park as part of his Eagle Scout project. Last month, members of Nashville's Town Council came out to look at the shelter. Pictured sitting on the bottom row (L-R) is Matt's mother, Jane Braswell, Nashville Mayor Donald Street, Bradley Phillips and Nashville Councilwoman Jackie Wright. On the back row (L-R) is Councilwoman Louise Hinton, Recreation Director Jim Glover, Athletic Coordinator Sally McKenzie, Matt Braswell, Matt's father Sherill, Town Manager Preston Mitchell and Councilman Tommy Rogers.
More ...

LEMONADE
Emily and Madilyn Godwin are raising money for Disney World. The cousins decided to open "Godwin's Goodies" to raise money for their trip to Disneyworld in December. The trip is a Christmas present for the girls, who decided to try to make a little of their own spending money for their trip. The girls plan to have the lemonade stand, complete with cookies, cup cakes, muffins, rice crispy treats and sweet potato turnovers, at least once a week. The stand is located in between State Farm and Madelyn's Flower Shop. Pictured on the back row is Madilyn 10, with Ann Godwin. On the front row are sisters Rachel Godwin, 4, and Emily Godwin, 8.
More ...

NC State graduates
North Carolina State University conferred 4,294 degrees when the university held its 2009 Spring Commencement on Saturday, May 9, at the RBC Center in Raleigh.
John Seely Brown, independent co-chairman of the Deloitte Center for Edge Innovation and a visiting scholar and advisor to the provost at the University of Southern California, delivered the commencement address.
Candidates for degrees were from all 100 North Carolina counties, 34 other states or United States territories and 42 foreign countries. NC State holds graduation ceremonies each year in the spring and fall. More ...

NARFE raises money for Alzheimer's
The Rocky Mount Chapter of the National Active and Retired Federal Employees Association (NARFE) are among those who have worked to raise money to combat Alzheimer's disease.
Members of the National Active and Retired Federal Employees Association (NARFE) have exceeded the $8 million mark in their giving to combat Alzheimer's. Since NARFE took on Alzheimer's as a national project in 1985, members have raised money through progressively higher fundraising goals. Through a partnership with the Alzheimer's Association, Chicago, Illinois, all donations go to Alzheimer's research. NARFE's extrordinary giving record makes it the Alzheimer's Association's largest membership organization donor. Alzheimer's disease now affects as many as five million Americans. More ...

Beulah Community News
Sunday School began at 9:45 Sunday morning, followed by church service at 11. Beautiful flowers were placed in the church by Daniel and Amy West. We had call to worship by our choir, followed by invocation by our minister, Daniel West. For our prayer hymn, we sang, "Near to the Heart of God." Our hymn for our communion service was "The Old Rugged Cross." Men at the table were William Enroughty, Steve Wheeler, Jeff Joyner and Roger Parker. We had a very inspiring sermon, "In a Tight Spot." More ...
WILMA ENROUGHTY
Mt. Zion FWB Church News
We had 82 in Sunday School including three visitors. Brother Bob welcomed everyone. Brittany Connie read the Bible verse for the day.
Our choir sang "In My Heart There Rings a Melody." Pastor Rogerson welcomed everyone and prayed the invocation. Hymns of worship were "There Shall be Showers of Blessings " and "The Solid Rock." We worshipped through giving. Usher, Andy Jones, prayed the offertory prayer. We greeted one another. Our choir special was "Heaven Came Down." Wonderful! Our pastor read 2 Corinthians 12:1-10 and titled his message, "Power in Weakness." More ...
ROSALENE BASS
Red Oak Community News
Mackenzie Nyman participated in a missions trip to Italy on June 19-27. She spent those days in Naples, Italy with World Changers. World Changers provides short-term hands-on missions opportunities for youth and is affiliated with the Southern Baptist Convention and the North American Mission Board. More ...
SUZY PEARCE
Ephesus Community News
VBS ended Friday with family night as classes showed us what they had learned about Jesus through songs, cave art drawings, and a very dramatic display by the older youth of Jesus dying on the cross. Pastor David announced two challenges for the week. First, if our attendance was greater than 250, he would kiss a pig. Second, if we raised $500 in offerings he would let Scott Strickland "pie" him in the face. Scott then agreed to be "pied" by Pastor David if we raised $1,000. The offerings would be given to Faith Christian Ministries in Spring Hope. In the end, Pastor David puckered up to kiss a baby pig and both gentlemen received a pudding pie in the face as attendance goal was met and collections were well over $1,000. What a fun week we have had! Thanks to everyone that helped. More ...
DEBBIE PHILLIPS
Kiss a pig
Pastor David (at left) kisses a pig during Vacation Bible School at Ephesus Church recently. The pastor said if attendance was greater than 250, he would kiss a pig.
More ...

August 30 is deadline for FSA County Committee nominations
USDA Farm Service Agency (FSA) Nash County Executive Director Suzanne Murray, reminded farmers, ranchers and other agricultural producers that they have until Aug. 3, 2009, to nominate eligible candidates to serve on the local FSA County Committee.
 "I encourage all Nash County producers to get involved by nominating candidates to serve on the County Committee," Murray said. "FSA county committees are essential to the delivery of federal programs. We are getting close to the deadline and we need more participation. I also urge producers to help us build a strong future for our next generation of agricultural businesses and communities by nominating beginning farmers and ranchers, minorities and women." More ...

New livestock indemnity program announced by FSA
Eligible ranchers and livestock producers can begin applying for benefits through the Livestock Indemnity Program provided in the 2008 Farm Bill on July 13.
"This program will provide livestock producers with a vital safety net to help them overcome the damaging financial impact of natural disasters," said Mike Eaves, Acting State Executive Director for USDA Farm Service Agency. More ...

Son's first baseball game - priceless
The two ticket stubs will go in my dresser drawer in a little envelope.
They won't ever have a monetary value, they weren't at a game of any sporting significance, but they might as well as have been.
On Sunday, I took my oldest son Kent (a.k.a. "Junior") to his first baseball game. It was a Carolina Mudcats game, a pretty high level of play for those who took time to notice. I don't know who had the most fun, the four-year-old or me.
Now, before we get too far along, this isn't one of those nostalgic, heart-tugging, Hollywood-fabrications of a father-son trip to a baseball game. We didn't sit in our seats for nine-innings, constantly flash admiring, loving looks at each other and then revel in the magic of the game. When you find a four-year-old boy who does that, let me know, and I'll help you find a good doctor to check him out. More ...
Mike Brantley
Continuing forced annexation doesn't look good for counties
I know Nash County has infested by the plague of forced annexation; and my hat is off to Nashville for not being a part of it.
It appears to have begun in the eastern counties and continues to work its way westward.
For instance, in Fayettteville, 43,000 people were forcibly annexed a number of years ago. It is anticipated that they will not have any services until 2023, if ever. This annexation was done simply to force county residents to pay city taxes.
If the present rampage of forced annexations continue, there won't be any physical gap between city and county, for there will be no more county land to steal. More ...
Letter to the Editor:
Backward Glances
We found this photo in our 1974 archives. It looks as though the photo may have been taken at a summer camp of some type. Obviously participants were having fun.
More ...

Digital TV has been a nightmare
It's been one month. One whole month. I haven't seen an episode of any of my favorite television shows. Not even one.
This new digital TV thing has been a nightmare for me.
I did everything they told me to. I bought the stupid convertor box, after ordering my coupons online. I even bought the thing way in advance, prior to the first time they were supposed to make the switch, which was in February. I never hooked it up to try it out though. Maybe that was our mistake.
We waited until June 13, the day after the switch. I kept thinking they'd postpone it again so I didn't even bother hooking it up early. And everyone made it sound so simple. Just hook this little box up and your TV will work!! Just like magic!!! More ...
Amanda Clark - 1 opinion posted

KEEPING UP THE PACE. Lindsey Sharpe heads to the finish line for the Nash Rec Swim Team during last Thursday evening's road matchup against Birchwood. Nash Rec picked up the overall team victory. (Graphic photo by Geoff Neville)

Nash Rec A Winner
NASHVILLE -- For the second straight week, Nash Rec defeated Birchwood in a Nash-Halifax Swim League showdown.
But the final outcome was much closer this time around, as Nash Rec was a winner by a 454-363 score last Thursday at the Birchwood Pool.
One week earlier, Nash Rec had rolled at home by a convincing 528-334 margin.
The final regular season outings are scheduled for this Thursday, as Birchwood will entertain Westridge and Nash Rec will be at home against Roanoke Valley.
The annual N-HSL Championships will be held Aug. 1 at the Rocky Mount YMCA. More ...
GEOFF NEVILLE, Graphic Sportswriter
Brittany pairings released
WILSON -- Each of Nash County's public high schools will take part in the annual Brittany For The Boys Soccer Showcase.
The event will be held Aug. 21-22 at the J. Burt Gillette Athletic Complex in Wilson.
Northern Nash will be in action Aug. 21 at 6 p.m. against Hickory.
One day later, Southern Nash will tangle with Currituck (2 p.m.), Rocky Mount will meet East Wake (9:30 a.m.) and Nash Central will take on East Cuplin (11:45 a.m.).
Tickets will be available at the gate, with all proceeds going to the Brittany Willis Scholarship Fund. More ...
Staff Reports
Post 58 sweeps Cary
RED OAK -- For the first time since 1973, Nash County Post 58 will be vying for a North Carolina American Legion state championship.
Post 58 completed its march to Greenville, site of the state tournament, Monday evening with an 8-5 victory over Cary Post 67 at Northern Nash High School.
The win gave Post 58 a 3-0 sweep of Cary and the team's first Area I title since 1986.
Post 58's last state title came in 1973. More ...
CHARLES ALSTON, Graphic Correspondent
Buffaloe takes tourney
NEW YORK -- Christian Buffaloe, the 9-year- old son (and student) of local Kyokushin karate instructor Kenny Buffaloe, former Nash County residents, recently won the Japan sponsored "Kyokushin Karate Full Contact Knockdown Children's Tournament" in New York City for an unprecedented second time.
Last year, Christian, a former Nash County resident who now lives in Warrenton, made history by becoming the first American to ever win this international event.
More ...
Staff Reports
Wesleyan selects HOF members
ROCKY MOUNT -- Since 1999, North Carolina Wesleyan College has honored 42 former athletes, administrators, teams, coaches, and contributors by enshrining them in its Athletics Hall of Fame.
These individuals have created a higher standard for Battling Bishop athletics and were selected based on their outstanding accomplishments and/or contributions to the College.
This year's class meets these same standards and will comprise the 11th group of honorees. More ...
Staff Reports
NASH COUNTY 13-UNDER ALL-STARS
The Nash County 13-Under All-Stars went 1-2 last weekend at the Babe Ruth State Baseball Tournament, which was held in Henderson. Pictured are (back, l to r) Scott Stone, John Edmondson, Barry Thompson, Patrick Horne, Nick Ellis, Noah Edmondson and Will Edwards; (front, l to r) Stephen Thompson, Jonathan Thomas, Dylan Follmer, Justin Letchworth, Garrison Vick, Nick Webb, Daniel Kelly and Trey Radford. Not pictured is Jarrett Browning.
More ...

PHIL FORD CLINIC
As part of his contribution to the Boys & Girls Clubs of Nash/Edgecombe Counties, Phil Ford will host a co-ed basketball clinic Aug. 1 from 6-8 p.m. at Rocky Mount High School for teens 13-18 years old. Registration is at 5 p.m. Participants of this clinic will learn the fundamentals of basketball as well as the importance of sportsmanship and teamwork.Limited spots are available. For more info or to sign up for the clinic, call the Boys & Girls Club of Nash/Edgecombe Counties at (252) 977-9924.
More ...

NASH COUNTY 15-UNDER ALL-STARS
The Nash County 15-Under All-Stars recently competed in Babe Ruth District Baseball Tournament action. Pictured are (back, l to r) Scott Farmer, Andy Tyson, Daniel Tyson, Josh Barnes, Zach Parris, Ryan Shearin, Nathan Everette, Lucas Bayless and Mike Brake; (front, l to r) Anthony Engrassia, Nolan Farmer, Davin Moore, Luke Joyner, Jon Keel, Colt Brake, Dillon Moore and Thomas Phillips.
More ...

CAROLINA HURRICANES 2009-10 NHL SCHEDULE
RALEIGH -- The Carolina Hurricanes will open their National Hockey League 2009-10 regular season schedule on Oct. 2 with a home contest against the Philadelphia Flyers.
The 82-game campaign will run through April 14, 2010, with a break from Feb. 15-28 for the Winter Olympics in Vancouver, British Columbia, Canada.
The Hurricanes will also have their annual New Year's Eve Celebration on Dec. 31 at 8 p.m. versus the New York Rangers.
Ticket information for home matchups at the RBC Center will be made available at a later date.
Carolina's complete schedule is as follows (home events are listed in CAPS and all starting times are Eastern Time): More ...
Staff Reports
Mudcats close series with win
ZEBULON -- The Carolina Mudcats topped the Chattanooga Lookouts 6-1 in the series finale Sunday afternoon in front of 6,574 fans at Five County Stadium in a Class AA Southern League baseball game.
Carolina starter Travis Wood (W, 9-3) set a franchise record by winning his ninth consecutive decision.
Wood tossed seven shutout innings, striking out eight and walking none. Ruben Medina and Sean Watson combined for the final two innings without allowing an earned run. More ...
Staff Reports
NORTH CAROLINA USFA SUMMER BLAST TOURNEY CHAMPS
The Carolina Magic 18-Under squad took first place recently at the North Carolina USFA Summer Blast Softball Tournament at Glover Park in Nashville. The Magic went 5-0 in bracket play and outscored opponents by a whopping 38-6 margin. Pictured are team members (back, l to r) Brittney Finney, Ashley Tharrington, Stephanie Rose, Kayla Hinton, Haley Wishall, Mariah Gray and Nicole Thomas; (front, l to r) Nicole De La Rosa, Melissa Avent, Jenna McKenney, Tawny Richardson and Tiffany Macklin.
More ...

TRI-COMMUNITY LITTLE LEAGUE TOURNEY CHAMPS
The Game On! Games West Mount team won the Tri-Community Little League Tournament Championship after finishing in second place during the regular season. Pictured are (back, l to r) Coaches David Upchurch, Lewis 'Whistle' Whitman and Terry Small; (middle, l to r) Jacob Wolf, Dylan Wood, Hunter Lynch, Tiffany Whitman, Terry Small, Hunter Moore and Zack Upchurch; (front, l to r) Tyler Bunting, Matthew Taylor, Storm Tyson, Justin Davinport and Noah Joyner. Not pictured is Brandon Winstead.
More ...

Fantastic Wallers to perform at Gala
Phil Ford, NBA superstar and current Assistant Coach for the Charlotte Bobcats, will host his Second Annual Phil Ford Golf Classic benefiting the children of the Boys & Girls Clubs of Nash/Edgecombe Counties.
Festivities begin Friday, July 31, 2009, with a Black Tie Gala, at 7pm in Rocky Mount's Gateway Convention Center. Organizers invite you to join Phil and his celebrity guests for an elegant evening of cocktails, dinner, and dancing.
Celebrity guest will include Dave Hanners, Darrell Armstrong, Spud Webb, James Worthy, Chris Collins, Chris Corchiani, Buck Williams, Danny Talbott, Tony Womack, David Henderson, Dean Smith, Bill Gutheridge, Carlton Bailey, Herb Williams, Dell Curry, Stephan Curry, John Kuester, Walter Davis, Al Wood, LeVelle Moton, Corey Roberson, Wali Rainer, Shammond Williams, Aaron Brooks, Les Robinson, and Hubert Davis, Jr. More ...

Stonewall Jackson to perform in Spring Hope
Spring Hope welcomes Stonewall Jackson to its Opry House Friday night, July 24th at 7 p.m.
Other entertainment includes The Malpass Family, Marshall Stephenson and the Blue Grass Train, Sara Dew (winner of the NC-SC Colgate Country Showdown), Traci Batten Radford and Commedian Cousy Brossey, Clyde Mattocks and Curtis Lee.
According to his biography on his website written by Bob Neal, Stonewall became the first and only unknown artist ever signed to the Grand Ole Opry. With his natural singing abilities, he quickly became a star. More ...

Exhibit to honor those who battled breast cancer
In honor of October's National Breast Cancer Awareness Month, Nash County Health Department will sponsor a free Pink Survivors photographic exhibit along with local artwork. The exhibit will be held at the NC Wesleyan Dunn Center in October. This exhibit honors the brave Nash County women who battled breast cancer, while bringing awareness to the importance of early detection.
More ...

Nash Arts offers art camp
Nash Arts Center will host an art camp for children ages 5-8 August 3rd – 7th. The center is located at 100 East Washington Street, Nashville and is open Monday through Friday from 9-5 p.m. (closed for lunch 12-1 p.m) For more information or to register, call 252-459-4734.
More ...

The Voice in the Hand opens at NC Wesleyan
Contributed – Drawings: The Voice in the Hand is a new exhibition at NC Wesleyan College's Four Sisters Gallery in the Thomas J. Pearsall Building that will continue until October 4. This selection of drawings comes both from the Gallery's Permanent Collection of Self-Taught Visionary Art and from several new artists, who we are pleased to introduce and sell their work. Gallery hours are 9 a.m.-5 p.m. daily and 9 a.m. to 12 noon Saturdays. Admission is always free. More ...

ELDER JASPER SPRUILL
ROCKY MOUNT - Elder Jasper Spruill, 89, of Rocky Mount, died Sunday, July 12, 2009 at Life Care Hospital in Rocky Mount. More ...

VIRGINIA PARKER PARSON
ROCKY MOUNT - Virginia Parker Parson, "SueCat", 63, died Tuesday, July 14, 2009 at Pitt County Memorial Hospital in Greenville. More ...

RACHEL MAE SMITH
NEW YORK, N.Y. - Rachel Mae Smith, 89, formerly of Rocky Mount, died Thursday, July 9, 2009 at St. Luke Hospital in New York, N.Y. More ...

WILLIAM THOMAS SR.
ROCKY MOUNT - William Thomas, Sr., 65, died Wednesday, July 15, 2009 at Nash General Hospital in Rocky Mount. More ...