Subscribe/Access
Advertisements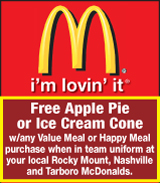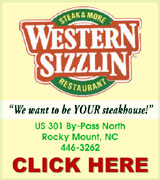 Sections
Member Options
Back
Five men nabbed for home invasion
The Nash County Sheriff's Office arrested five men in conjunction with a home invasion that occurred in Rocky Mount in April. Three of the men arrested are from Nashville.
According to Lt. Pat Joyner, of the Nash County Sheriff's Office, the home invasion occurred on April 1 at the home of Milton Joyner, who lives on Dortches Boulevard in Rocky Mount. Joyner said around 9:30 p.m., two men went into the residence and threw Milton Joyner and Sherly Jeans onto the floor, allegedly hitting Joyner before tying both of them up.
Lt. Joyner said the two men rambled through the house, took some money and some other things from the house and left. Milton Joyner was injured during the robbery but was treated and has since been released. More ...
Amanda Clark, Graphic Staff Writer
Nash prison may house more inmates
The North Carolina Division of Prisons may be forced to close several of its prisons in budget cuts proposed by Governor Beverly Perdue.
If the cuts are approved, the inmates in those prisons will be moved to other prisons, including Nash Correctional Institute, or NCI.
Butch Jackson, Administrator of NCI, said although it's unclear what the final budget will be, there is a possibility that around 300 additional inmates will be sent from other North Carolina prisons to NCI.
"It is a possibility," Jackson said. "Right now I can't be clear on it until they do the state budget. It would be more definite if the state budget is approved." More ...
Amanda Clark, Graphic Staff Writer
GRIN AND BEAR IT
This black bear was spotted on Sapony Creek by Betsy and Pete Winstead over the weekend. The couple were on their back deck having breakfast when Betsy noticed something in the water and saw the bear swimming towards the bank, where he disappeared into a wooded lot next to the Winstead's home. "We see lots of deer and racoons and possums out here but no bears," Betsy said. According to the NC Wildlife Resources Commission, black bears tend to move during the summer months to find new territory, so residents shouldn't be alarmed if they see a bear just passing through. The Commission said black bears are rarely aggressive and usually do not approach people, adding that NC has not experienced an unprovoked bear attack. More ...

FALCON nets 71 arrests in Nash
A joint operation last month between multiple law enforcement agencies netted 1,196 arrests within the Eastern District of North Carolina. Seventy-one of those arrests were in Nash County.
The efforts were a part of Operation FALCON, Federal and Local Cops Organized Nationally, which is led by the United States Marshals.
Operation FALCON combined the collective efforts of multiple law enforcement agencies in one of the area's largest-ever fugitive initiatives, focusing on capturing individuals wanted on felony charges including sexual predators and fugitives wanted for crimes of violence. Among the 1,196 fugitives arrested over the course of the 30-day operation, Deputy U.S. Marshals, teamed with federal, state and local law enforcement partners, also apprehended 22 sex offenders, including three unregistered sex offenders, and cleared a total of 1,805 warrants in Eastern North Carolina. More ...
Amanda Clark, Graphic Staff Writer
Spring Hope to use promoter's services for Music Jubilee
Spring Hope's Board approved a contract with Marshall Stephenson to help operate the town's Music Jubilee at Spaulding Auditorium.
The decision was made following a lengthy, and sometimes heated, discussion on the finances of the Jubilee at the board's regular meeting Monday night.
Last month, commissioners discussed whether or not to allow Stephenson to assist the town with the event. However, a vote was tabled until Monday night so commissioners could get a better understanding on how much money the town had made off of the Jubilee. More ...
Amanda Clark, Graphic Staff Writer
County launches public tv channel
Grants have helped Nash County develop a public access channel for cable television users.
The public access channel will help inform and educate residents on the different services the county offers. The county also aims to potentially offer board meetings for citizens to view.
Alton Vick, Director of the IT Department for Nash County, presented an update on the channel to commissioners during their regular meeting last week. More ...
Amanda Clark, Graphic Staff Writer
Northern Nash High teacher, coach passes away
A long-time teacher and coach at Northern Nash has passed away after a brief illness.
William Hayes Kennedy, 62, of Wilson died at home Thursday, July 9. A graveside service and interment was held Sunday, July 12, at 3 p.m. in Oakdale Cemetery, Spring Hope. The Rev. Tom Watkins officiated. The family received friends 7 – 9 p.m. Saturday at Joyner's Funeral Home, 4100 Raleigh Road Parkway. More ...

Former Graphic pressman dies
Lawrence "Wayne" Viverette, 63, passed away, Friday, July 10, 2009. He was born, June 13, 1946 in Nash County. He was preceded in death by his father, Lawrence Marshall Viverette.
He was employeed by The Nashville Graphic as a pressman during the ownership of Tom and Joe Wilson through 1984 and and also worked a while during the ownership of Jack and Helen Sharpe. More ...

Nash Health works to make ER more efficient
Nash Health Care Systems says it has taken steps to make its emergency room more efficient.
The hospital's emergency room has seen a tremendous increase in its patient loads over the past few years. As a result, it has created a system that moves patients through based on the extent of their injuries. But the end result is the same; getting patients seen faster and keeping a high quality of care. More ...
Amanda Clark, Graphic Staff Writer
Castalia citizens seek to curb crime
The Castalia Town Hall was nearly packed Tuesday, July 7, as citizens gathered to express their concerns about a recent spree of break-ins in the area. Nine cars in Castalia were broken into during the early morning hours of June 26. 20-year-old Emilio Green and 17-year-old Jeffrey Merritt, both of Castalia, were arrested and charged with nine counts of breaking and entering of motor vehicle and six counts of larceny from a motor vehicle.
Two other juveniles, age 13 and 15, were also arrested and charged in connection with the incidents. However, several Castalia residents were concerned that the juveniles were already released back into the community and feared that the break-ins would continue or escalate into home invasions. More ...
Amelia Harper, Graphic Correspondent
NASHVILLE POLICE BRIEFS
ARRESTS
Willie Deandrea Barrett - 6/19/09 - charged injury to personal property
Jessica Lavonne Watson - 6/20/09 - charged with assault with a deadly weapon
Danny Lee Johnson - 6/20/09 - charged with assault on a female
Scottie Cornell Birth - 6/21/09 - charged with a probation violation More ...

LEADERSHIP INSTITUTE
Travis Boswell and Ashley Garner, both of Nash County, recently attended the Institute for Future Agricultural Leaders at North Carolina State University. The North Carolina Farm Bureau Federation sponsored the event. Participants toured the facilities in the College of Agriculture and Life Sciences and met with students and faculty to discuss current issues in the food, fiber, and natural resources industries. More ...

More file for seats in upcoming municipal elections
Two Nashville men have filed for two seats on Nashville's Town Council, the Nash County Board of Elections reported on Tuesday.
As of noon on Tuesday, July 14, incumbent Tommy Rogers and Kelton S. Frazier were the only two Nashville residents who had filed for election to the two seats up for grabs.
Filing ends for municipal elections on July 17 at noon.
Rogers' seat and Jacquelyn Wright's seat, are up for grabs. Wright was appointed to the seat after her husband Frank Wright passed away in November of 2008. More ...

Healthy Kids Collaborative
Sixteen members of the Healthy Kids Collaborative (HKC) adopt healthy food policies for their organizations as part of their community effort to reduce childhood obesity. Pictured on the bottom row (L-R) is Karen Ramsey, Nash County Health Department; Denise Harrison-Johnson, Community Enrichment Organization; Ernestine Belfield, Edgecombe/Nash Retired School Personnel and Comraderie Sr. Group, Mount Zion First Baptist Church; Gloria Sutton and Jennifer Stearns, Braswell Memorial Library; Brenda Martin, Area L AHEC; and Lena Sessom, Brooklyn Community Watch. On the back from (L-R) is: Freda Joyner, child support; Frances Harrison, CIS, Spaulding and Williford Family Resource Centers; Mary Hilliard, Nanny on the Go; Robin Davenport, Heritage Hospital; Henrietta Zalkind, DEPC; and Jama Greene, parent.
More ...

Brooklyn Community News
Childhood obesity is rising at an alarming rate. We must find a way to attack this epidemic head on. I recently attended a seminar discussing this very subject. Several area groups have pledged to provide at least one healthy snack or drink alternative at all functions when food is being provided. More ...
LENA SESSOMS
Mt. Zion FWB Church News
Eighty-five attended Sunday school to study God's word, pray and enjoy Christian fellowship. We praise God for the privilege.
Our choir sang "Search Me, Oh God" for the call to worship. Pastor Rogerson welcomed everyone and prayed the invocation. Hymns of worship were "Send the Light" and "Jesus Saves". Ronald Bass prayed the morning prayer. There are many scenes going on in a morning church service; little babies in the nursery, children in a hurry to get to Children's church, visitors being welcomed, home folks greeting one another, smiling faces, voices lifted in praise, heads bowed in prayer, special music, the pastor's message from the Word of God and the feel of God's presence. More ...
ROSALENE BASS
Peachtree Community News
Vacation Bible School began on Sunday night for children from age 3 through 6th Grade. Helen and Dean Davis did an excellent job of organizing everything. The theme is "Kingdom of the Son- a Prayer Safari". Sessions will be held nightly at 6:00- 8:30 with a culmination service on Friday evening. More ...
BARBARA HARDISON
Beulah Community News
Well friends, as we grow older we see many changes in life. If you travel down Beulah Road now you will certainly realize an old landmark has recently gone. The home place of the late Addie Enroughty Tyson, which was over 100 years old, has been torn down and cleared away. Also all the barns and buildings are gone. I know nothing or no one can last forever but to me it is sad to see it happening. More ...
WILMA ENROUGHTY
Red Oak Community News
Madgie Macklin and family enjoyed a recent visit from her cousin, Nellie Aycock and husband, Fuller of Henderson.
Gaston Pearce's sisters, Tency Penny and Louise Champion, visited Sunday, July 5.
Several ladies from Red Oak Baptist Church participated in the Adopt-a-Dorm Bible Study at Fountain Correctional Center in Rocky Mount on Monday, July 6. Marilyn Boone led the study. More ...
SUZY PEARCE
Ephesus Community News
We really got into the Vacation Bible School spirit Sunday morning as the AMPlify puppets entertained us. Scott Strickland spoke about some of the activities during the week at VBS and encouraged us to all come and bring our friends. VBS concludes on Friday at 6:30 p.m. with family night. More ...
DEBBIE PHILLIPS
Nash County Blood Drives for July 2009
Thursday, July 16 from 11 a.m. until 5 p.m. for City of Rocky Mount employees, at Thorpe Road, Rocky Mount
Monday, July 20 from 4 until 8 p.m. at Northside Community Church, 1660 Beaver Pond Drive, Rocky Mount
Wednesday, July 22 from 9 a.m. until 1 p.m. at Tri-County Industries, 1250 Atlantic Avenue, Rocky Mount
Thursday, July 23 from 4 until 8 p.m. at Momeyer Baptist Church, 4967 Momeyer Way, Nashville More ...

Ripley selected NC preceptor of the year by UNC School of Pharmacy
Vickie Ripley, PharmD, CPP, was recently named North Carolina Preceptor of the year by the UNC School of Pharmacy.  Ripley is the Coordinator for Pharmacy Services and clinical pharmacist at Coastal Plain Hospital, the Bryant T. Aldridge Rehabilitation Center and Hospice and Palliative Care of Nash General Hospital.
Pharmacy students are required to complete clerkships, which provide them hands-on experience to complement their studies. Ripley works with advanced fourth-year pharmacy doctoral candidates, focusing on psychiatric and Hospice medical care. More ...

Nobody could make this stuff up
It's that time of the month again, when we clean out the Soapbox notebook.
We keep an odd collection of news items and trivia throughout the month, stuff we figure might make up an entire column on its own, or just be interesting or as additional content for the blog (www.soapboxcolumn.blogspot.com).
Many items are just too good to trash. After awhile, that stuff accumulates and we have to do something with it. Here is that something: More ...
Mike Brantley
What will North Carolina's government tax next, smiles?
It sure does seem like the government is working hard to suck the life right out of its citizens.
In a depressed economy, many citizens are working hard to stay afloat. North Carolinians are losing jobs, losing their homes and soon, we may have to also cut out whatever livelihood we had left.
A budget for North Carolina still has not been passed yet but you can bet there will be some new taxes in it. Some of the taxes being looked at include taxing extracurricular activities. The taxes vary but include things like a tax on movies or playing golf. More ...
Amanda Clark
Perdue recognized annexation issue during campaign, but numb to it now
Yesterday, I contacted Gov. Perdue, Rep. Carolyn Justice, and NC Commerce Sec. Criscoe via email, regarding whether or not companies being wooed to North Carolina were advised of the possibility of forced annexation. I also pointed out the detrimental effect forced annexation had on Phillip Morris, as well as 6 major companies, including Sara Lee, now involved in litigation due to forced annexation. I received an email response from Katharine Neal, NC Commerce Dept., answering "on their behalf", saying:
"…annexation generally remains a local issue, so it wouldn't be appropriate to comment……"
To that I would reply: More ...
Letter to the Editor:
Backward Glances
This photo originally published in The Graphic August 13, 1974. Mrs. Jim Reges (center) chairman of the season ticket sales committee at Northern Nash Senior High, shows Mary Alice Wells where her season seat will be located. Booster Club president Weldon Jackson looks on as Mrs. Wells buys her ticket. More ...


KEEPING PACE. Nash Rec's Bailey Smith heads to the finish line during the freestyle portion of the IM event during last Thursday evening's home swim meet against Birchwood in Nashville. (Graphic photo by Geoff Neville)

RULERS OF THE POOL
NASHVILLE -- Nash Rec continues to make waves as part of its thrill-a-minute 2009 Nash-Halifax Swim League schedule.
Nash Rec, the defending league champion, continued its successful summer last Thursday with a 528-334 home decision against backyard rival Birchwood.
The league will have two more weeks of action before the annual N-HSL Championships on August 1.
This Thursday, Nash Rec will be at Birchwood, while Westridge will travel to Roanoke Valley.
The July 23 finale will feature Roanoke Valley at Nash Rec and Westridge at Birchwood.
Last Thursday's results were as follows: More ...
GEOFF NEVILLE, Graphic Sportswriter
Price Squads Own The Courts
ROCKY MOUNT -- The Price Junior Tennis Red Team competed against the Gryphons last Tuesday at Sunset Park.
The Red Team won the match 5-4.
Results from the event were as follows: More ...
Staff Reports
Southern schedule released
STANHOPE -- Southern Nash High School will kick off its 2009 boys soccer campaign on Aug. 17 with a road matchup at SouthWest Edgecombe.
SN's complete ledger is as follows (home matches are listed in CAPS): More ...
Staff Reports
TRI-COMMUNITY CAL RIPKEN ALL-STARS
Members of the Tri-Community Cal Ripken 12-Under All-Stars for the 2009 season were (back, l to r) Terry Small, Dylan Langley, Brandon Griffin, C.J. Devers, Wade Reeves, Cameron Vick and Tucker Pridgen; (front, l to r) Brandon Kelly, Cole Bost, Matthew Taylor, Noah Joyner, Brock Cale and Brandon Walker. Not pictured are Coaches Jody Bass and Allen Bollin.
More ...

LEAGUE REGULAR SEASON CHAMPS
The Robbins Brothers Farms Sharpsburg squad earned the regular season championship and tournament runner-up this season in Tri-Community Cal Ripken Baseball League action. Pictured are (back row, l to r) Coaches Jody Bass (head coach), Bill Pridgen, Allen Bolin and James Kelly; (second row, l to r) Cameron Vick, Matthew Bass, Tucker Pridgen, Brandon Griffin, Dylan Langley and Wade Reeves; (front row, l to r) Brandon Kelly, Garrett Saunders, Cameron Morgan, Dalton Collie, Brock Cale and Brandon Walker.
More ...

BABE RUTH 13-UNDER TOURNAMENT CHAMPIONS
SouthWest Edgecombe claimed the title at the recent Nash County Babe Ruth 13-Under Baseball Tournament at Nash Central High School. Pictured are (back, l to r) Barry Thompson, John Edmondson, Josh Williams, Stephen Thompson, Will Barnes and Scott Stone; (front, l to r) Nick Webb, Justin Letchworth, Noah Edmondson, Daniel Kelly, Tanner Williams and Trey Radford. Not pictured are John Holder and Braydon Morris.
More ...

BABE RUTH 13-UNDER ALL-STAR TEAM
Here are the Nash County Babe Ruth 13-Under All-Stars for the 2009 season: (back, l to r) Barry Thompson, John Edmondson, Stephen Thompson, Nick Ellis, Will Edwards, Phillip Pace, Patrick Horne, Jarrett Browning, Noah Edmondson and Scott Stone; (front, l to r) Trey Radford, Daniel Kelly, Nick Webb, Justin Letchworth, Dylan Follmer, Garrison Vick and Jonathan Thomas. (Photo Submitted)
More ...

Mudcats split road doubleheader
JACKSONVILLE, FLA. -- Brad Stone and two Jacksonville relievers combined on a three-hit shutout of the Carolina Mudcats in the nightcap of last Saturday's doubleheader, defeating the Mudcats 1-0 at the Baseball Grounds in a Class AA Southern League baseball contest.
The Suns (13-7) managed just two total hits in Saturday's doubleheader, and the run in the nightcap did not need a hit to score.
Tom Cochran (L, 1-3) fanned Chris Hatcher to leadoff the inning, but a wild pitch put Hatcher aboard. More ...
Staff Reports
Nash players make All-State team
NASH COUNTY --Northern Nash's Tyler Joyner and Rocky Mount's Brian Goodwin, Ben Fish and Hobbs Johnson were all named to the North Carolina Baseball Coaches Association 3-A All-State Baseball Team last week.
It's the only statewide organization that selects All-State teams for high school baseball.
Joyner (5-11, 185), who is headed to East Carolina in the fall, led the county in pitching wins (10, 10-2), strikeouts (135) and ERA (0.47). He was solid at the plate, too, hitting .346 for the season with eight doubles, three home runs and 14 RBI. More ...
CHARLES ALSTON, Graphic Correspondent
Nashville hosts baseball camp
NASHVILLE -- The Town of Nashville Parks & Recreation Department held a baseball training camp from July 7-9 at Glover Park.
Jeff Mizelle, the head baseball coach at Nash Central High School, led the camp of 12 participants.
Assisting Coach Mizelle were Jeremy Sloop and Clay Leonard.
The first day focused on learning fundamental skills of the game. More ...
Staff Reports
Post 58 falls in playoff
RED OAK -- Wilson Post 13 gave Nash County Post 58 a bit of its own medicine when the two faced off Sunday evening at Northern Nash.
In the opening game of the American Legion Area One East finals series, Wilson took away the home field advantage, at least for now, with a 14-9 win over Post 58. Post 13 is now up 1-0 in their best-of-five series as it heads back to Wilson. Post 58 is hoping to win its first Area One East title since 1995. More ...
CHARLES ALSTON, Graphic Correspondent
COLLEGE SHOWCASE RUNNER-UP
The Stretchlon Lady Stars fast-pitch softball team took second place recently in the 18-Under Division at the Best of the Best College Showcase in Cary. The Stars finished 4-1 in bracket play and fell 4-1 to the Carolina Wildcats in the championship game. Pictured are (back row, l to r) Coaches Chuck Braswell and Dan Wood; (second row, l to r) Betsy Braswell, Caitlin Campbell, Lauren McGrath, Brittany Wood, Carrie Mosher and Ashley Warren; (front row, l to r) Raven Lee, Hayley Lewis, Martha Fluharty and Leanna Fann.
More ...

JIMMIE DEE BOSEMAN
Mr. Jimmie Dee Boseman, 85, died peacefully at his home on Wimberly Avenue, July 12, 2009. He suffered a stroke in late June of this year. Jimmie will always be remembered as a loving husband, dad, granddaddy, brother and uncle, and as a wonderful friend. More ...

JASPER SPRUILL
ROCKY MOUNT - Elder Jasper Spruill, 79, died Sunday, July 12, 2009 at Life Care Hospital in Rocky Mount. More ...