Subscribe/Access
Advertisements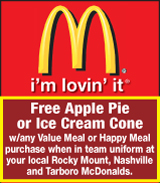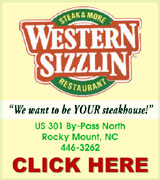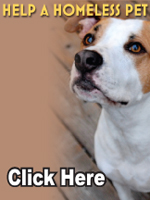 Sections
Member Options
Back
County to give $400,000 back to NRMPS
The Nash County Board of Commissioners voted last week to replenish half of the funding it cut from the Nash Rocky Mount Public School System.
In March, Commissioners agreed to cut $800,000 from the school system's funding to offset its budget for the 2008-2009 Fiscal Year. Commissioners agreed to the cut but also agreed that if the county were able to put any of the funding back in the school system's budget that they would do so.
County Manager Bob Murphy told commissioners on Thursday, during a special called meeting, that the $800,000 was needed. More ...
Amanda Clark, Graphic Staff Writer
Momeyer Ruritan celebrates 45 years
The Momeyer Ruritan Club held its annual Volunteer Appreciation Banquet on Monday, June 15 but this year's event was extra special as the club was celebrating its 45th year.
The Momeyer Ruritan Club formed in June 1964 with 30 members. Ronnie Lamm served as the club's first president with Winifred Smith as Vice President, Milton Bass as Secretary and Frederick Hinton as Treasurer. Directors were Dan Bass, Zack Hinton and Charles Bass.
Forty-five years later, five men are still members of the club; Paul Bass, Charles Bass, Bobby Lee Bass, Pete Hinton and Wilbur Jackson. All five were recognized at the club's Volunteer Banquet last Monday night. More ...
Amanda Clark, Graphic Staff Writer
Spring Hope approves 2009-2010 budget
In a recessed meeting Monday night, Spring Hope's Board approved its budget, which included a five cents decrease in the property tax rate.
The $1,036,573 budget was around $34,000 less than what Town Manager John Holpe initially proposed to board members.
The initial budget left the tax rate at 62 cents per $100 valuation. However, board members expressed concern over how that would affect citizens with the county's recent revaluations, which caused the values of many homes to jump around 17.5 percent. Board members asked Holpe to take another look at the budget to see if the town could get the rate closer to the revenue-neutral rate, which was at 55 cents per $100 valuation. More ...
Amanda Clark, Graphic Staff Writer
Phil Ford Golf Classic coming to Nashville
Plans for the second annual Phil Ford Golf Classic are underway, with over 20 celebrities already committed to attending.
The Phil Ford Golf Classic is an annual fund raising event for the Boys and Girls Clubs of Nash and Edgecombe Counties. Last year's inaugural event raised over $119,000, all of which went back to the local Boys and Girls Clubs. During last year's event, Phil Ford committed himself to help with the event and brought out dozens of celebrities to participate in the tournament.This year, Ford has once again committed his time to help. More ...
Amanda Clark, Graphic Staff Writer
NFD is certified in confined space and trench rescue
Nashville's Fire Department has two more certifications to add to its resume.
The department was recently certified through the North Carolina Association of Rescue and Emergency Medical Services as both a confined space rescue provider and a trench rescue provider.
"This is in addition to the earlier certifications we received as a heavy rescue provider and medical responder unit," said Nashville Fire Chief Tim Pope. "This has been one of our goals over the last few years to achieve this designation." More ...
Amanda Clark, Graphic Staff Writer
Local woman's dog, Charlie, survives oral cancer
Charlie is a black Labrador Retriever. He runs around the back yard of his home in Rocky Mount with the energy of a typical six-month old puppy. But Charlie isn't an ordinary puppy. At just four months old, Charlie was diagnosed with cancer.
Charlie had only been with his new owner, Joni Moss, for just over a month when Dr. Ann McGowan, of Benvenue Animal Hospital, noticed the swelling on his right chin.
Moss had just gotten Charlie from a breeder near Concord, NC after friends had insisted her yellow Lab, Roxy, would be happier with a friend to play around with. More ...
Amanda Clark, Graphic Staff Writer
American Food Resources is not shutting its doors
Despite rumors of shutting down, Tim Carper, CEO of American Food Resources, said the company is doing just fine.
"We've laid off some people but have added some others," Carper said. "There will probably continue to be changes."
American Food Resources opened in Nashville's Business Park in January 2005. In November of 2008, the company announced plans to invest $3 million in an expansion of its facility, a move that would add 70 jobs over the next three years.
More ...
Amanda Clark, Graphic Staff Writer
Nashville girl leads law enforcement on brief chase
A Nashville girl was arrested after leading authories on a brief chase down Highway 97.
According to Sgt. D.P. Wainright, of the NC Highway Patrol, the Nash County Sheriff's Office iniated a chase with Shanee Arrington, of Barnes Hill Church Road on Sunday afternoon. Wainright said a Highway Patrol Trooper joined in the chase and conducted a pit maneuver to stop the vehicle Arrington was driving. More ...

Nash residents named to Dean's List at NCSU
Nash County residents are among the 6,253 undergraduates students who earned Dean's List honors at North Carolina State University during the Spring 2009 semester.
To make the Dean's List, students must earn an academic grade point average of 3.25 or higher if they are carrying 15 or more hours of course work, or a 3.5 grade-point average if they are carrying 12 to 14 hours. More ...

School system salutes school nurses during National School Nurse week
Contributed – Nash-Rocky Mount Public School System recently celebrated its dedicated school nursing staff during National School Nurse Week. NRMPS currently has 19 registered nurses serving 29 sites throughout the school system.
In recent years, the role of the school nurse has measurably expanded with the changing health needs of students and school environments. Greater emphasis has been placed on case management, consultation, communicable disease prevention and control, student safety and daily student medical needs.
More ...

Locals attend state Republican convention
Thirteen members of the Nash County Republican Party attended the state party's convention in Raleigh on June 12th and 13th.
Delegates to the convention elected Tom Fetzer, former mayor of Raleigh, as the Chairman of the North Carolina Republican Party. Fetzer's victory followed a contest for the position among four candidates.
Fetzer's first public appearance as a candidate for leadership of the party was at this year's Nash County Republican Party's convention held at the Nash County Courthouse in March. The county convention selected the delegates from Nash County to the state convention. More ...

Military News
Army Pvt. Jasmine M. Wiggins has graduated from basic combat training at Fort Jackson, Columbia, S.C.
During the nine weeks of training, the soldier studied the Army mission, history, tradition and core values, physical fitness, and received instruction and practice in basic combat skills, military weapons, chemical warfare and bayonet training, drill and ceremony, marching, rifle marksmanship, armed and unarmed combat, map reading, field tactics, military courtesy, military justice system, basic first aid, foot marches, and field training exercises. More ...

Stimulus funds to improve roads in Nash, Edgecombe Counties
The N.C. Department of Transportation will soon be putting American Recovery and Reinvestment Act funds to work in Edgecombe and Nash counties to improve pavement and driving conditions on U.S. 64.
Transportation Secretary Gene Conti recently awarded a $6.6 million contract to Barnhill Contracting Co. of Tarboro to mill and resurface 19.2 miles of U.S. 64 from Winstead Avenue in Nash County to the Tar River near Tarboro in Edgecombe County. Work is scheduled to begin as early as July 13, with final completion no later than Nov. 15. More ...

Pike - Parvin marry
Casey Mitchell Pike and Robert William Parvin were united in marriage at 5 p.m. on Saturday, June 20, 2009 at Nashville United Methodist Church in Nashville. More ...

NHCS is recipient of 2009 President's Cup at NCC
Nash Community College has announced that Nash Health Care Systems is the 2009 recipient of the President's Cup Award. The President's Cup is the College's highest and most prestigious award. The recognition was given to Nash Health Care Systems in appreciation of their support of the College's health science programs including Nursing, Physical Therapist Assistant, Medical Assisting, Phlebotomy, Medical Office Technology, and Nursing Assistant I and II. Each of these programs utilizes at least one of the facilities of Nash Health Care Systems as the primary clinical site for student training. In addition to working with expert professionals in modern healthcare facilities, these clinical experiences provide invaluable exposure for the students in terms of state-of-the-art technology to provide the best in patient care and treatment.
More ...

Red Oak Community News
What a great time we had on the Boomerang Express during Vacation Bible School last week! Approximately 100 workers and children, pre-school through 5th grade, turned out at Red Oak Baptist Church for a week of Bible study, missions, crafts, recreation, and refreshments. During the worship rally the children learned scripture and songs and gave to the VBS offering. More ...
SUZY PEARCE
Mt. Zion FWB Church News
We hope all fathers had a special Father's Day last Sunday. The service at Mt. Zion was centered on our fathers and was very inspiring and touched our hearts. The Sunday school lesson was from the book of Exodus. It was about our Heavenly Father's true authority and how we need to patiently wait for Him to fulfill His promises as Moses and Aaron had to wait on God. Zachary Tyner read the Bible verse for the day as we were dismissed for church services. More ...

Castalia Baptist News
Vacation Bible School is coming to CBC! We are going to 'travel' to Australia. So G'day Mates! I've been practicing my Australian accent, but afraid it comes out with a Castalia twist to it. Our VBS begins June 28 and ends July 2 from 6:30-9:00pm. There are classes for everyone including an awesome adult class that has been enjoying VBS together for several years. So register by picking up a form or calling the church. Would love to see you there. More ...
KATHY FREEMAN-ROBLES
Peachtree Community News
Father's Day at Peachtree Church was a special occasion. Pastor Whitehouse was honored by having his daughter and son-in-law lead the morning worship. Jamie Bunn and Catherine Gupton led in a recognition service of all of the fathers present.
More ...
BARBARA HARDISON
Brooklyn Community News
The Brooklyn Area Community Watch donated funds to the Harold D. Cooley Library. A note of thanks and gratitude goes to Melissa Mills for allowing the Community Watch and other non-profit organizations to hold meetings at the library. Groups and other organizations that utilize these services should seriously consider becoming "friends of the library" and give a donation. Donations will assist the library to maintain and continuously update the projects, supplies and equipment we have grown accustomed to and appreciate. More ...
LENA SESSOMS
Beulah Community News
On Saturday night the Men of Faith Southern Gospel Singers came to Beulah Church of Christ. A great concert was enjoyed by everyone who attended. We would like to thank them for their performance and also thank those who attended, especially our visitors. More ...
WILMA ENROUGHTY
Ephesus Community News
Pastor David Eidson welcomed everyone Sunday to honor Father's Day. It was wonderful to have so many visitors on this special day! More ...
DEBBIE PHILLIPS
Ag program offered by Nash County Farm Bureau
Contributed – A unique educational training event was held for elementary curriculum coaches from Nash-Rocky Mount Schools on June 2. At the session, sponsored by the Nash County Farm Bureau, educators representing elementary schools from the county school system took part in an orientation session related to the use of a new teaching kit entitled "The Farmer Grows a Rainbow." The kit includes multiple classroom lessons and accompanying physical activities for grade Pre-Kindergarten through fifth that address nutrition and fitness education with core curricula. More ...

Nash County Blood Drives for July 2009
Thursday, July 2 from 10 a.m. until 4 p.m. at Nash Health Care Systems, 2460 Curtis Ellis Drive, Rocky Mount
Tuesday, July 7 from 3 until 7 p.m. at First United Methodist Church, 100 S. Church Street, Rocky Mount
Tuesday, July 7 from 10:30 a.m. until 3:30 p.m. at Outback Steakhouse, 210 Gateway Boulevard, Rocky Mount
Thursday, July 9 from 3 until 7 p.m. at Wal-Mart, 1205 Eastern Avenue, Nashville More ...

Surviving the new economy
Some days, this whole "economic crisis" can really get you down.
For me, a Nerf gun, some homemade ice cream, church and a bluegrass jam put a real dent in it. More on that later in the column.
There are plenty of talking heads on TV that can explain the current economic situation so well that no one understands it. These folks are called "academics." which is a Greek word that means "never worked in the Real World, and have no concept of how things actually work." The Greeks were very good at shortening phrases. More ...
Mike Brantley
First garden is more than I bargained for
I always said I'd have a garden.
Growing up, my grandma had one, all my uncles had one and eventually my dad got him one too. There's nothing like having fresh vegetables straight out of your very own garden. But just like when I was younger, I forgot one small detail; someone has to tend to that garden.
When I mentioned to my husband that I wanted a garden, he was all for it. In fact, he told me to write a list of all the different vegetables that I wanted in my garden. So I did. The list ended up being fairly simple. I put only the stuff I liked then I added some things I knew some of my family liked. Then I showed the list to my husband.
I probably shouldn't have done that. More ...
Amanda Clark
Thanks to local animal control folks
I just wanted to say that those working for the Nash County Animal Control do a thankless job. I had a momma cat and kitten stray show up at my house and could not find the owners. I called Animal Control and they came out and rescued the Momma and the kitten. The gentleman that came out was very impressive on the way he handled them both. He was gentle and kind and very humane in his dealing. We often complain about the jobs our county is doing but I will have to say, you can't complain about Animal Control. They are very caring and compassionate people.
More ...
Letters to the Editor:
Forced annexation resembles extortion
As I drive through my neighborhood I noticed the various signs posted in the front yards of a number of homes. Signs stating "No Forced City Annexation", "Boycott Rocky Mount", "Boycott Rocky Mount Chamber of Commerce", "Stop Municipal Theft", etc. All the signs have been placed there for one particular reason and that is involuntary/forced annexation.
One sign in particular caused me to pause. That sign is "Stop Municipal Theft". What the municipality is doing is not really theft. The municipality is not outright stealing your property from you. They are using your property for extortion purposes. More ...
Letters to the Editor: - 2 opinions posted
Angel Flight needs your support
Each month, volunteer pilots from Angel Flight Mid-Atlantic fly patients needing specialized medical care, including chemotherapy and dialysis, to hospitals throughout North Carolina. Many of these patients are from rural areas and would otherwise be hard-pressed to receive the care they need. More ...
LETTERS TO THE EDITOR
Annexation - Chessmen
With some exceptions:
The black pieces are the cities of North Carolina,
The white pieces are the county residents who do not yet live inside cities,
The humans moving the black pieces are the team of (NCLM, NCACC, and the N.C. House of Representatives and the N.C. Senate. More ...
LETTERS TO THE EDITOR
Westridge Swim tops Birchwood
Birchwood's swim team competed against Westridge swimmers June 18 at Westridge. Westridge tallied 461 compared to 280 for Birchwood.
The top two of each event were as follows: More ...

PBS Golf Tourney tees off June 29
Contributed – Nash-Rocky Mount Public Schools will host the second annual PBS golf tournament Monday, June 29 at Birchwood Country Club in Nashville. Positive Behavior Support (PBS) is a state-wide initiative adopted in all 29 NRMPS schools.
According to PBS Coordinator, Rhonda Reid, "The first annual PBS Golf Tournament was a huge success. It truly helped us raise awareness of PBS throughout our community. We are hoping for a sellout, again, this year," she said. More ...

Nashville Rec. offers summer programs
Nashville's Recreation Department is gearing up for summer by offering numerous athletic programs and camps. Participants are encouraged to bring a snack and drink. Registation is required for all participants. No registration fee.
For more information on any of these programs, call 459-9697.
Registration forms are available at the Nashville Town Hall at 200 W. Washington Street or online at http://ww.townofnashville.com/recreation.html More ...

Stallions open season at home Saturday
ROCKY MOUNT - Are you ready for some football?
No, college and high school games are many weeks away, but if you're hankering to see football locally, Nash Central High School's Dawg Pound will be the place to find it come Saturday.
The Carolina Stallions, a semi-professional football team, will open its seventh season by entertaining the Fayetteville Ruff Ryders. Game time is 7 p.m. More ...
CHARLES ALSTON, Graphic Correspondent
Post 58 finishes six-game run with victory
RED OAK - Playing six games in six days can take its toll on a baseball team.
Just ask Coleman-Pitt Post 58's squad.
Post 58 concluded the worst stretch of its regular season schedule with a wild 12-11 victory over division member Ahoskie Post 102 Monday night at Northern Nash High School. A win at home Wednesday over Tarboro will clinch a second straight Area 1 Eastern Division title for Post 58 (7-2, 6-1). More ...
CHARLES ALSTON, Graphic Correspondent
WILLIAM JAMES DOZIER, SR.
GREENSBORO - Mr. William James Dozier, Sr., 60, passed away on Friday, June 19, 2009 at Wesley Long Community Hospital in Greensboro. More ...

JAMES EPPS
ROCKY MOUNT - James Epps, 78, died Wednesday, June 17, 2009 at Nash Rehabilitation and Nursing Center. More ...