Subscribe/Access
Advertisements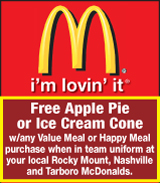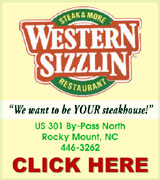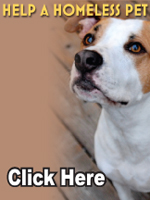 Sections
Member Options
Back
Gangs growing in NC
Law enforcement officials came out to Nash Central Middle School Saturday to discuss gangs and although several presentations were made, the same message was conveyed; community involvement and awareness is the key to combatting gangs.
First Sergeant Ted Williams, of the Nash County Sheriff's Office, Deputy Wilson Muse of the Edgecombe County Sheriff's Office, and several officers with Nashville's Police Department all spoke on gang involvement in this area. Starr Barbaro, of the Governor's Crime Commission, also spoke at the Gang Awareness Workshop, which was sponsored by the Brooklyn Area Community Watch Program. More ...
Amanda Clark, Graphic Staff Writer
BREAKING GROUND
The Town of Nashville celebrated a groundbreaking Tuesday morning for its new town hall facility, which will be located on Barnes Street next to the Nashville Police and Fire Departments. The new 4,457 square foot building will come at a pricetag of $727,945. Turn-Key Contractors of Rocky Mount was the low bidder for the project. Construction is expected to take around 270 days, which could mean a completion date around September 2009. Pictured are town employees with Nashvilles Town Council breaking ground. More ...

Pizza Hut to open in Nashville
Nashville will soon be the home of a new Pizza Hut, as the restaurant has plans to open in April beside Subway on Nashville Drive.
Guy Calise and Al Oconney, who both live in Nashville and will serve as the Area and General Managers, respectively, said they were excited to see the restaurant come to Nashville.
We think it's a neat town," Calise said of Nashville. "We're excited." More ...
Amanda Clark, Graphic Staff Writer - 1 opinion posted
Brooklyn Area housing rehab project closer to completion
A 2006 CDBG project should be complete in the middle of the year, Steve Player of the Wooten Company, reported to Nashville's Town Council last week.
Player spoke to Nashville Town Council members last week to provide an update on the Brooklyn Area CDBG project.
"That's a fiscal year '06 project," Player said. More ...
Amanda Clark, Graphic Staff Writer
Spring Hope eyes plan for stimulus funds
The Town of Spring Hope hopes to capitalize on the pending Economic Stimulus Plan.
In its regular meeting Monday night, Town Manager John Holpe told board members that the Economic Stimulus Package would include money for a broad range of projects, including water and sewer programs. More ...
Amanda Clark, Graphic Staff Writer
B&G Club to host Youth of Year Banquet
The Boys and Girls Club of Nash/Edgecombe Counties will soon announce its Sixth Annual Youth of the Year at a special celebration next week.
The Youth of the Year celebration will be held on February 19 at Egecombe Community College in Tarboro from 6 until 8 p.m. to present the Youth of Year title. More ...
Amanda Clark, Graphic Staff Writer
Nashville Chamber welcomes new businesses
Lady Bug Gifts
Nashville's Blooming Festival played a part in Hattie Rhodes opening her business, Lady Bug Gifts, in Nashville.
Rhodes, who grew up in Bailey and lives in the Stanhope area, had a business in Bunn but decided to relocate her business last year. More ...
Amanda Clark, Graphic Staff Writer
Castalia discusses board nominees
Castalia commissioners discussed selection a new commissioner at the regular February town meeting held on February 3. The seat is now open due to the resignation of Commissioner Melissa Joyner at last month's meeting. Castalia commissioners are now charged with the responsibility of appointing a replacement.
Two names were put forward as possible candidates. Commissioner Sylvia Mann suggested Lynn Hale as a possible replacement. More ...
Amelia Harper, Graphic Correspondent
Momeyer receives clean audit
The Town of Momeyer received a clean audit report at its regular meeting Monday morning but was cautioned to budget wisely for the coming budget year due to the falling economy.
Jim Winston, a Certified Public Accountant with Winston, Williams, Creech, Evans and Company, LLP, told board members that many towns would have to be conservative for the 2009-2010 Fiscal Year. More ...
Amanda Clark, Graphic Staff Writer
Joint Veteran's Committee to honor Nashville veteran
The Joint Veteran's Committee will honor Larry Hinton, who served in the U.S. Air Force, at its Flag Raising Ceremony Monday, February 16 at Jack Laghery Park.
Hinton served on Nashville's Town Council until his death in 2005. His wife, Louise Hinton, now serves on the Council. More ...

Child safety seat check set at Nashville Wal-Mart
The Nash County Sheriff's Office Highway Enforcement Awareness Team (H.E.A.T.) will sponsor a child safety seat check on Friday, February 13 from 2 until 5 p.m. at the Wal-Mart in Nashville.
H.E.A.T. is funded through a highway safety grant. More ...

Local graduates from Kaplan
Kiwanya Richardson of Nashville, NC, has been awarded a Master of Science Degree in Criminal Justice from Kaplan University. Richardson's accomplishment was celebrated during a live graduation ceremony on Jan. 31 in Miami. Five-time Grammy Award-winning recording artist John Legend served as the commencement speaker. More ...

Swindell appointed Co-Chair of Appropriations Committee
Senate President Pro Tempore Marc Basnight has appointed Senator A.B. Swindell (D- Nash, Wilson) as Co-Chair of the Senate Appropriations Committee. He will join Senators Linda Garrou (D-Forsyth), Charles W. Albertson (D- Duplin, Lenoir, Sampson), and Charlie Dannelly (D-Mecklenburg) as Co-Chairs of the committee, which oversees the state budget. More ...

ANNIVERSARY
Mr. and Mrs. Bobby Ray Farmer of Castalia celebrated their 50th anniversary on Jan. 10, 2009 at Brown Auditorium with a Renewing of their Vows, hosted by their children. Pastor William Holloway, Sr. renewed the vows for the couple. Family and friends from nearby to South Carolina and Delaware attended the celebration, along with Pastor Holloway's wife.This was a very joyous occasion. More ...

MILITARY NEWS
Army Reserve Pfc. Chanay J. Ford has graduated from basic combat training at Fort Jackson, Columbia, S.C.
During the nine weeks of training, the soldier studied the Army mission, history, tradition and core values, physical fitness, and received instruction and practice in basic combat skills, military weapons, chemical warfare and bayonet training, drill and ceremony, marching, rifle marksmanship, armed and unarmed combat, map reading, field tactics, military courtesy, military justice system, basic first aid, foot marches, and field training exercises. More ...

Keep America Beautiful recognized for high performance in 2008
Keep America Beautiful of Nash & Edgecombe Counties received the Keep America Beautiful President's Circle Award at the President's Circle Award Luncheon, which took place during Keep America Beautiful's 55th annual National Conference in Washington, D.C. The President's Circle Award recognizes exemplary performance made by certified affiliates of the national nonprofit to reduce litter, minimize waste, and beautify and improve their local communities. More ...

Nash County Tax Administrator retires after 33 years of service
Gene Rountree, of Red Oak, remembers his early days as a Tax Assessor for Edgecombe County. There were no computers and everything in the tax office was done the old fashioned way.
"It was all pencil and paper," Rountree recalled. "These days it's all on the computer." More ...
Amanda Clark, Graphic Staff Writer
O'Neal retires as Director of Nash County Social Services
While serving as Director of Nash County Social Services, Laura O'Neal said she didn't have time for the simple pleasures in life; reading a book, writing notes to friends, cooking. After 41 years on the job, O'Neal has retired and hopes to have more free time for those simple pleasures.
O'Neal's career began in Nash County over 40 years ago. In all, she has spent 35 years with the county, the last five and a half as the Director of Social Services. More ...
Amanda Clark, Graphic Staff Writer
Rocky Mount Academy student receives Scholastic Gold Key Award
RMA senior Ashley Warren was recently awarded a Scholastic Gold Key Award for her artistic work in the Eastern/Central Carolina region's competition. The winning piece, titled "Flight over Raleigh," was actually one photograph overlaid on another photograph. Ashley stood on top of a downtown Raleigh building to get the aerial photo. Then she put a photograph that she took of a bird on top of that photo. The end result was intriguing and effective enough to earn her the Gold Key. More ...

Nash-Rocky Mount Public Schools educators attend NCCAT Seminars
CULLOWHEE—Cynthia S. Carpenter, who teaches at Southern Nash Middle School, recently served as a candidate support provider for a seminar at the North Carolina Center for the Advancement of Teaching. She attended the seminar as a Golden LEAF support provider sponsored through an award to NCCAT from Golden LEAF Inc. of Rocky Mount. More ...

Mt. Zion FWB Church News
Sunday school was a delightful experience this morning. Brother Bob Watkins welcomed everyone, with 95 present. Allie Farmer read the scripture verse for today. Thank you. Thought for the day was "Salvation"; Are You lost? Try G.P.S. ... God's plan of salvation." Scripture that inspires this thought: Psalm 119: 105, "Thy word is a lamp unto my feet and a light unto my path." More ...
ROSALENE BASS
Peachtree Community News
The weather man cooperated and sent a beautiful, sunny day for the celebration of Peachtree Church's 200th birthday and of Dallas Edwards' 100th birthday. The Bicentennial Committee and the folks at Peachtree honored Dallas and his wife, Ozelle, with a festive luncheon. A yellow rose, confetti and handmade souvenirs adorned each table. The Fellowship Hall was festooned with balloons and birthday banners. More ...
BARBARA HARDISON
Red Oak Community News
Congratulations to Nathan and Heather Griffin on the birth of their son, William Carter Griffin!
Several ladies from Red Oak Baptist Church participated in the monthly Adopt-a-Dorm Bible Study at Fountain Correctional Center on Monday, Feb. 2. Jean Mellor led the study. Others attending were Nell Boone, Audrey Pearce, Suzy Pearce, Hazel Hill, and Marilyn Boone. More ...
SUZY PEARCE
Ephesus Community News
On Sunday morning the Women's Bible Study met in the fellowship hall at Ephesus where they are studying "Beautiful Offerings", a study by Beth Moore. A delicious breakfast was served by Sue Rouse and Martha Edwards. More ...
DEBBIE PHILLIPS
Beulah Community News
First of all I want to thank each of you for the great attendance at the monthly fish fry on Friday night. It was the largest crowd we ever had. We really enjoyed the great fellowship and appreciate the support of everyone. Remember, we have the monthly fish fry every month on the first Friday night from 5-8 p.m. We look forward to seeing you then. More ...
WILMA ENROUGHTY
Nash Health Care earns Joint Commission accreditation
The Joint Commission, a national health care accreditation organization, awarded hospital accreditation to Nash Hospitals, Inc. and Home Care accreditation to Hospice and Palliative Care of Nash General Hospital. The Joint Commission specifically praised the organizations' dedication to quality improvement and outstanding patient care. The accreditation was the result of a week-long survey which was conducted in November. More ...

Use better judgement when picking heroes
Heroes just ain't what they used to be.
In today's news saturation society, I guess you'd have to be totally disconnected to hear about the latest "hero" scandal. Record-setting Olympic swimmer Michael Phelps was caught in a photograph at a party in South Carolina smoking marijuana. More ...
Mike Brantley - 1 opinion posted
It's your job as a parent to be nosey and ask questions
The Brooklyn Area Community Watch held a Gang Awareness Workshop this past Saturday at Nash Central Middle School. The workshop was very informative but as someone said at the event, the ones that needed to be there, weren't.
It's disappointing for an organization to work hard to organize an event and have just a handful of people show up. And though 25 people isn't exactly a small group, considering the topic of the presentation, more people should have come out. More ...
Amanda Clark
Could there be a silver lining to the economic mess we're in?
As usual, the proverbial clock is ticking and the year is already at full speed. It's hard to believe it's almost mid February, that our new president has been in office almost a month, and it won't be long before we see signs of spring.
I just finished watching President Obama's first official live news conference. It was quite obvious he is sternly asking Republicans and Democrats to put party differences aside to get a plan in place to help the PEOPLE of the United States. The money that has been thrown at the economic problems thus far, in my opinion, has been squandered away. Banks continued dishing out the same or higher bonuses for 2008, they used bailout funds to buyout other banks and for redecorating offices. I'm quite ashamed this was even allowed in our country. There was nothing put in place to monitor these funds, and obviously there were no restrictions as to how these funds were spent. More ...
Jo Anne Cooper
PITT IS THE PICK
RED OAK -- Melisssa Avent is used to winning. That's a trend that began when she was younger, excelling for the Carolina Lookouts Travel Ball Fast-Pitch Softball Program out of Nash County.
Avent was one of the Lookouts' standout performers, along with several youngsters who would grow up to be her future teammates at Northern Nash High School. More ...
Geoff Neville, Graphic Sportswriter - 1 opinion posted
Clark's College Choice: Wesleyan
RED OAK -- If the leaf doesn't fall too far from the tree, Tyler Clark is destined to enjoy a successful baseball career at North Carolina Wesleyan College.
Clark is the son of Greg Clark, a former All-American at NC Wesleyan who starred for the Battling Bishops from 1979-82. More ...
Geoff Neville, Graphic Sportswriter
Bulldogs in charge of NEW-6
WILSON -- Wilson Fike senior forward Jeremy Atkinson did all he could to keep Nash Central from winning its NEW 6 basketball matchup with the Golden Demons last Friday night.
Atkinson, on his Senior night, came up with a Herculean 40-point, 20-rebound performance. And yet, it wasn't enough to fend off the hot-shooting Bulldogs in a 78-64 Nash Central victory. More ...
Charles Alston, Graphic Correspondent
Bulldogs will open March 5
ROCKY MOUNT -- Nash Central High School's always-solid track and field program will begin its season March 5 with a road meet at Smithfield-Selma. South Johnston will also participate in the event.
NC's complete schedule is as follows (home meets are listed in CAPS): More ...
Staff Reports
Peppers donates money to a scholarship fund at UNC
CHAPEL HILL -- Former University of North Carolina-Chapel Hill football star Julius Peppers has donated $100,000 to a UNC General Alumni Association scholarship program that supports African-American students.
The Light on the Hill Society Scholarship, a tribute to Carolina's earliest black graduates, is a vehicle for alumni and friends to support black freshmen who exhibit academic excellence and the potential to contribute while at Carolina and after graduation. More ...
Staff Reports
South Alabama Bound
RED OAK -- Zack Brantley's lengthy running journey will continue this fall toward his fathest destination of all -- South Alabama University.
In the estimation of Northern Nash cross country coach Jeff Dodrill, Brantley has ran over 8,000 miles as part of a furious training regimen that has placed him among the elite distance performers in the state. More ...
Geoff Neville, Graphic Sportswriter
Race slated at North Carolina Wesleyan
ROCKY MOUNT -- The North Carolina Wesleyan College women's cross country program, under the direction of head coach Dominic Modise, has announced its plans to sponsor NCWC's First Annual 5K and 1-Mile Fun Run to benefit Tennis Shoes 4 Africa.
The February 21 race will feature a fast, flat course that begins on campus and takes runners through the adjacent Ford's Colony neighborhood in Rocky Mount. More ...
From Staff Reports
RM's Big Signing Day
ROCKY MOUNT -- Rocky Mount head football coach B.W. Holt felt he'd have at least seven of his players sign National Letters of Intent this winter. Four at least did so last Wednesday.
With three of his players mulling offers on the table but undecided, seniors Whit Barnes, Nick Hahula, Nick Harrison and Keith Strickland had their minds made up by the start of National Signing Day. More ...
Charles Alston, Graphic Correspondent
Swimmers shine at region
GOLDSBORO -- Five athletes from both Southern Nash and Nash Central have qualified for the Class 3-A State Swim Meet, which will be held this Saturday at the Koury Natatorium on the campus of the University of North Carolina-Chapel Hill. More ...
Staff Reports
NASH COUNTY REC REPORT
NASH COUNTY -- Listed are updated scores and standings from the Nash County Parks and Recreation Departmen's 2009 Youth Basketball League: More ...
Staff Reports
NC Wesleyan's baseball,
WINCHESTER, VA. -- Junior sharpshooter Jarmel Arrington from Northern Nash poured in a game-high 33 points and knocked down seven three-pointers last Saturday afternoon to lead his North Carolina Wesleyan men's basketball team to a thrilling 102-98 overtime win on the road at Shenandoah. More ...
Staff Reports
Nash County's Got Talent Showdown
NASHVILLE – Nash Arts will host its annual Nash County's Got Talent Showdown on February 19 and 26 at 7 p.m. each night. Admission is $10 per person.
Performances by the top ten competitors of the 2008 contest along with some familiar faces of past contests will grace the stage offering the audience a mix of entertainment including gospel, country, contemporary and more. More ...

ART CONTEST WINNERS
W.L. Greene Alternative School won awards for best school in the show, best overall piece and best high school piece in the 2008 Juried Litter Art Show. The show, sponsored by Keep America Beautiful of Nash and Edgecombe Counties, was part of the NC Big Sweep litter prevention and education campaign. Over 130 students wrote about and made art out of litter. Pictured (L-R) are W.L. Greene students Fred Williams, Jerry Battle, Stephan Johnson, Micheal Lynch and art teacher Kristie Henry. More ...

HERMAN "DAVID" PULLEN
SPRING HOPE - Herman "David" Pullen, 49, passed away on Wednesday, February 4, 2009. Visitation was Friday, February 6, 2009 from 7:00-9:00PM at Cornerstone Funeral Home. Funeral Service was Saturday, February 7, 2009 at 2:00PM in the Chapel of Cornerstone Funeral Home, with the Rev. Ron Hawley and Thorp Baker officiating. Burial followed at Denton Family Cemetery of Spring Hope. More ...

JOSEPH PERSON "J.P." WOODARD
NASHVILLE - Joseph Person Woodard, 92, passed away Saturday, February 7, 2009. He was born in Johnston County, March 8, 1916. He was the son of the late, Stephen Eldridge and Martha Atkinson Woodard. He was preceded in death by his wife of 59 years, Gretchen Credle Woodard and 12 brothers and sisters. More ...