Subscribe/Access
Advertisements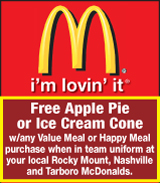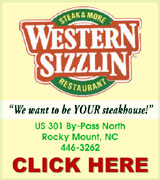 Sections
Member Options
Back
HAPPY NEW YEAR! 2009
Kamdyn Inscoe, 9 months, of Nashville, is ready for the New Year. She is the daughter of Amy and Jason Inscoe. Traditionally, decades ago, The Graphic always published a picture in the last edition of the year of a baby welcoming in the new year. For some reason the tradition slipped away like most things do over time, but we decided to bring it back this year, and hopefully for years to come. The Nashville Graphic staff wishes everyone a very happy and prosperous year. More ...

Red Oak is denied sewer services from Rocky Mount
After months of negotiations between Rocky Mount and Red Oak, the Rocky Mount City Council voted on December 18 to deny sewer services to Red Oak. The decision was made in a 4-3 vote against the measure.
Rocky Mount Council members Lamont Wiggins, Reuben Blackwell, Lois Watkins, and Andre Knight opposed the contract drawn up between the two parties. No reasons were cited for the opposition. More ...
Amelia Harper, Graphic Correspondent - 2 opinions posted
Red Oak appoints new commissioner
Red Oak Commissioners appointed a new member to the town council to replace Stanley Moore, who resigned two months ago due to health concerns. Tony Bennett, a long time member of the Red Oak Planning Board, received the appointment in a special extended business meeting that took place on December 18.
Bennett was chosen from among four applicants who applied to the town board for consideration for the post. Bennett retired from farming in Red Oak in 2005. He attended Red Oak High School, graduating in 1966 and then attended East Carolina University, receiving his B.S. degree in health and physical education. More ...
Amelia Harper, Graphic Correspondent
Nashville rescinds voluntary water conservation order
Voluntary water conservation measures have been rescinded, as of January 1, 2009, the Town of Nashville recently announced.
Town Manager Preston Mitchell said Nashville was following Rocky Mount in rescinding the voluntary water conservation order, which was initially issued in July 2007.
"They feel like the reservoir is back to a level to allow that," Mitchell said. More ...
Amanda Clark, Graphic Staff Writer
Locals weigh in on New Year's resolutions
With the start of 2009 just hours away, Nash County residents are preparing their New Year's resolutions. Several residents offered their resolutions to The Graphic.
Nash County Sheriff Dick Jenkins said he'd like to lose 20 pounds between now and May.
"I do need to lose some weight," Jenkins said. "This past year I have eaten enough for everybody."
As for the Sheriff's Department, Jenkins also said he'd like to see the Sheriff's Department continue to provide the best service. "We just want to do the best we can for the citizens," he said. More ...
Amanda Clark, Graphic Staff Writer - 1 opinion posted
Ceremony honors war veteran
The Joint Veterans Committee honored deceased Korean War veteran Corporal Everette Lee Godwin during a special ceremony December 15.
Corporal Godwin was the recipient of the National Defense, Korean Service and the United Nations Service Medals. More ...

Buffaloe honored as member of Who's Who
Kenneth Buffaloe, a former Nash County resident and martial arts instructor was recently honored as a member of Cambridge Who's Who for the years 2008-2009. Nominations for this honor are due to his work with youth program using the form of martial arts call Kyokushin. Buffalo received the state's Governor's Award for Excellence for his martial arts programs, including work with D.A.R.E., Boys and Girls Clubs, 4-H and several after school programs throughout North Carolina and Virginia. More ...

NC DOT announces 2008 wildflower award winners
The N.C. Department of Transportation announced the winners of the 2008 Wildflower Awards at a luncheon held Wednesday, December 3 in downtown Raleigh. Each year the awards recognize the efforts of NCDOT staff to carry out North Carolina's wildflower program and enhance the overall appearance and environmental quality of the state's highways. More ...

L&L Stores gives to local schools
In 2007 L & L Stores helped four area schools receive $500 grants from the ExxonMobil Educational Alliance Program. This year, 2008, L & L again worked with four area schools to secure $500 grants for each school which is part of 4,000 grants available to schools across the country served by Exxon or Mobil stations. The grants were made possible by funding from the Exxon Mobil Corporation. More ...

Contracts awarded for projects in Halifax, Johnston and Nash Counties
The N.C. Board of Transportation today awarded three contracts totaling $6.9 million for projects in Halifax, Johnston and Nash counties. Two of the contracts will improve I-95:
· Mill and resurface 4.95 miles of Interstate 95 in Halifax County from just north of Aurelian Spring Road (State Road 1600) at mile marker 167 to south of U.S. 158 at mile marker 172. The $3.8 million contract was awarded to Rose Brothers Paving Company Inc. of Ahoskie. Work is scheduled to begin as early as Feb. 9, 2009, with final completion no later than Nov. 1, 2009. More ...

Beulah Community News
I hope you all had a good Christmas and got a chance to spend time with your family and friends. I want to thank each of you for the many cards I received. More ...
WILMA ENROUGHTY
Mt. Zion FWB Church News
Call to worship "Ring The Bells" by our choir. Pastor Rogerson welcomed everyone and prayed the invocation. Hymns of Christmas were "Joy To The World" and "Hark! The Herald Angels Sing". Prayer concerns are for all those in rest and nursing homes. More ...
ROSALENE BASS
Peachtree Community News
The Christmas holiday with all of its hustle and bustle has passed. But its joy, love and feeling of brotherhood remain as the New Year approaches. In 2009 Peachtree Church will be celebrating its 200th year as a constituted church. Various activities are planned for each month of the year, in conjunction with this observance. To kick off the celebrations a talent show will be held on Friday evening, January 9 at 7:00. This will be preceded by a Pot Luck Supper at 6:00. Make plans now to attend. More ...
BARBARA HARDISON
Ephesus Community News
On Christmas Eve, Rev. Dougald and Linda McLaurin offered a time of communion for families as part of our Christmas Eve experience. More ...
DEBBIE PHILLIPS
My anti resolutions for the new year
Well, if you're reading this, you've just about put another year behind you as we get ready to officially flip the calendar over to 2009.
Where has this decade gone?
As has become tradition here, millions of folks have come to highly anticipate the annual Soapbox Anti-Resolutions. Plus, there are some really great coupons in todays paper. More ...
Mike Brantley
Rocky Mount's forced annexation is wrong and the timing is even worse
Annexation is never a pretty topic. The fact that North Carolina is one of only a few states that still allow forced annexation makes it even uglier.
When I moved to Nash County, I specifically looked for homes outside the city limits. Nothing against living in the city, I just enjoy country life. When I chose my house far away from the city limits, I did so with the assumption that I would always remain outside the city limits so this annexation that Rocky Mount is forcing upon county residents is really disturbing to me. More ...
Amanda Clark - 2 opinions posted
NNHS' KNIGHT STUFF
ROCKY MOUNT - Most area sports fans can't imagine Northern Nash's boys basketball team having 11 wins before Christmas.
But that's exactly what the Knights have done, and in the process, they captured the Nash County Holiday Tournament title last Tuesday with a wild 68-66 victory over Nash Central on its home court.
It was Northern's first title in the event since all four Nash County schools have been participating. More ...
Charles Alston, Graphic Correspondent
Three Out Of Four
ROCKY MOUNT -- To pay tribute to the Christmas season, Nash Central's Xaviera Bass donned green, red and white socks during last Tuesday's showdown against Rocky Mount for the girls championship at the Nash County Holiday Invitational Basketball Tournament.
Bass and her teammates had reason to celebrate, as the Lady Bulldogs spread plenty of holiday cheer with a 52-40 victory over RM at the NCHS Gymnasium. More ...
Geoff Neville, Graphic Sportswriter
All-State grid team selected
RALEIGH -- Rocky Mount's Whit Barnes and Nick Hahula got one Christmas present a day early last Wednesday.
The two Rocky Mount seniors were voted to the 2008 Associated Press North Carolina All-State Football Team.
Both were first-team selections -- the first time in recent history two Rocky Mount football players on the same team have been accorded that honor. More ...
Staff Reports
Firebirds Fly High To 3rd
ROCKY MOUNT -- You can't always judge a basketball team by its early-season record.
Especially when that club is the Southern Nash Firebirds, who don't appear to be too far away from being a possible NEW-6 Conference spoiler -- despite clutching a 2-9 record.
SN gave Nash Central all the Bulldogs wanted in last Monday's semifinals of the 2008 Nash County Holiday Invitational Boys Basketball Tournament. More ...
Geoff Neville, Graphic Sportswriter
SN hopes to build on 3rd-place finish
ROCKY MOUNT -- Even after his club's disappointing start to the season, Southern Nash girls hoops coach Scott Collie still considers the Ladybirds to be a potential key player in the upcoming NEW-6 Conference race.
And why not?
Southern struggled through its tough early-season schedule, but the Ladybirds were extremely competitive against future league foes during the Nash County Holiday Girls Basketball Tournament, which concluded last Tuesday at the Nash Central Gymnasium. More ...
Geoff Neville, Graphic Sportswriter
Rocky Mount defeated by Word of God at Glaxo
RALEIGH -- The organizers of the GlaxoSmithKline Holiday Invitational Basketball Tournament have been going nostalgic the last couple of years.
Last year, it returned the event to where it all started in 1972 -- Broughton High School's historic Holliday Gymnasium, the largest high school gym in the state (3,100 seats). The previous 12 years, the GSK had called N.C. State University's Reynolds Coliseum home. More ...
Charles Alston, Graphic Correspondent
HERBERT PULLEY
Herbert Pulley, 80, died December 30, 2008. No arrangements were available at press time. Arrangements will be announced by Hunter-Odom Funeral Service, Rocky Mount. More ...

HENRY JESSE SHAW SR.
NASHVILLE - Henry Jesse Shaw Sr., 74, of Nashville died Tuesday, December 23, 2008. A private service will be held at a later date. More ...

TRACEY BERNARD BULLOCK
ROCKY MOUNT - Tracey Bernard Bullock, 40, passed away Saturday, December 27, 2008. Funeral service will be on Saturday, January 3, 2009 at 12 noon at Leggett Chapel Baptist Church with the Rev. Willie Taylor officiating. More ...