Subscribe/Access
Advertisements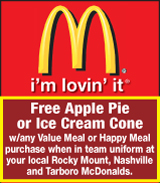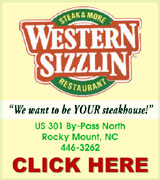 Sections
Member Options
Back
Nash County Railroad offers transloading
Nash County Railroad is offering transloading services to area businesses wishing to cut costs.
The company purchased land near Circle Drive and Railroad Street in Nashville and began offering transloading services in June.
Transloading is a term used to describe transferring a load from one mode of transportation to another. More ...
Amanda Clark, Graphic Staff Writer
Bubbles the Clown
Bubbles the Clown makes a balloon animal for four-year-old Kashmere Harper, at the Nash General Hospital annual Pediatric Christmas Party on Saturday, December 6. More ...

School Board discusses public input policy
After a lengthy discussion, the Nash-Rocky Mount School Board agreed to disagree and left its policy on public input alone.
Tommy Finch, Assistant Superintendent of Administrative Services, brought the information before the board during the work session on Monday evening. Finch asked the board to consider adding information to its sign up sheets for public policy. Previously, those who wished to speak at board meetings were required to sign in. Finch said the request was to add a copy of the policies for speaking and have those wishing to speak sign saying they have read and understand the policy. More ...
Amanda Clark, Graphic Staff Writer
Charges filed against RM Councilman
A Rocky Mount City Council member faces assault charges following an incident that occured last Monday night after a public hearing on Rocky Mount's proposed annexation.
The incident took place between Rocky Mount City Councilman Andre Knight and Herbert Moore, who lives in the Benbrook Subdivision just outside of Nashville. More ...
Amanda Clark, Graphic Staff Writer - 1 opinion posted
Salvation Army Bell ringer charged with stealing kettle
A Salvation Army employee was charged with conspiracy and larceny after plotting with a friend to steal money while ringing the bell outside Wal-Mart in Nashville.
According to Detective Joey Corbett, 26-year-old Tobias Richardson, of Rocky Mount, was working outside the Wal-Mart store ringing the Salvation Army bell when a man came up and grabbed the kettle and ran. More ...
Amanda Clark, Graphic Staff Writer - 3 opinions posted
Ribeyes Steakhouse opens in Nashville
Less than six months after announcing intentions to locate in Nashville, Ribeyes Steakhouse is up and running.
Ribeyes Steakhouse opened on Tuesday afternoon on West Nashville Drive. The restaurant is the seventh location in North Carolina.
Local residents Thomas and Janice Manning, along with daughter and son-in-law Krisan and Jeff Ellis, own the restaurant. More ...
Amanda Clark, Graphic Staff Writer - 3 opinions posted
I-95 study approved by County Board
Nash County Commissioners approved its I-95 Interchange Study at its regular meeting last Monday, adopting it as part of the Land Development Plan.
The study was conducted over the past year and studied four interchanges in the county. As part of the study, several issues were looked at, including existing and future land use, current zoning, environmental conditions, soil suitability, water and sewer service and market assessment. The interchanges studied included the Sandy Cross, Hickory, NC 97 and Dortches interchanges. More ...
Amanda Clark, Graphic Staff Writer
Wildlife Commission sets hearings on changes to hunting, fishing rules
The N.C. Wildlife Resources Commission has scheduled its annual series of nine public hearings to allow citizens to comment on dozens of proposed changes to the state's hunting and fishing rules. Some of the proposals apply only to one county or region, while others apply statewide.
One of the nine hearings will be held on Thursday, January 22 at Nash Community College. More ...

NHCS nurse name to Who's Who in Infection Prevention
Wanda Lamm, BSN, CIC, infection prevention coordinator at Nash Health Care, was honored as one of the Who's Who in Infection Prevention and was featured on the cover of Infection Control Today, a national magazine for health care professionals. Lamm was one of 18 nationwide selected for this honor. More ...

Local property management staff is honored for service
Janet Turner, a Rocky Mount resident and site manager with Partnership Property Management, was recently recognized for her service and dedication to residents.
Turner was recognized, along with maintenance caretaker Charles Rudd for their dedication and service in serving Brookway Village and Deerfield Apartments in Nashville. More ...

FSA reminds farmers of tobacco buyout contracts
Suzanne Murray, County Executive Director of the Nash County Farm Service Agency (FSA), reminds heirs of land owners and former tobacco producers who held Tobacco Transition Payment Program (TTPP), also known as "Tobacco Buyout", contracts that those contracts must be transferred after the former holder's death. The 2008 payments will be issued in January and any needed changes to contracts must be made soon to avoid a required refund of these payments. More ...

Military News
Army National Guard Pvt. Aldo D. Garcia Cruz has graduated from basic infantry training at Fort Benning, Columbus, Ga. More ...

Birth ANNOUNCEMENT
R. Patrick and Marsha Kay Robbins of Sharpsburg announce the birth of their son, Garland Isaac Robbins, born November 26, 2008 at Pitt County Memorial Hospital in Greenville. He weighed 6 pounds, 8 ounces and was 19 inches long. More ...

TRAINING DAY: Nashville and Rocky Mount Firefighters combine resources for rescue drill
An employee at Braswell Milling goes up to the grain bins. An hour or so later, no one has heard from him and fear he has fallen into one of the silos.
That was the scenario Nashville and Rocky Mount Firefighters responded to last Wednesday night as part of a training exercise. And though no one has actually ever fallen into a silo at Braswell Milling, Nashville Fire Chief Tim Pope said the incident is a realistic one. More ...
Amanda Clark, Graphic Staff Writer
Red Oak Elementary students donate toys
NASH COUNTY— Red Oak Elementary School students grinned from ear to ear as they proudly displayed toys, coloring books, crayons, games, dolls and stuffed animals that would soon be delivered to children at the pediatric unit of Nash General Hospital. More ...

Nashville woman is ordained
An ordination service was held in November for local ministers at North End Missionary Baptist Church in Rocky Mount. Among the ministers recognized was Nashville resident Reverend Chris D. Williams. More ...

Brooklyn Community News
In November I attended the Annual Community and Rural Development Banquet. The theme of the event was "People Helping People" The keynote speaker of the evening was Reverend John Neal. Rev. Neal spoke on the importance of keeping your community healthy. Most communities have some type of project that values the children, but it's usually headed by women. But according to Rev. Neal the men have to step up and take a viable role in developing our youth and the community. More ...
LENA SESSOMS
Red Oak Community News
Mildred Griffin attended the Rocky Mount Sanitarium Nurses' Christmas party on Dec. 2 at Gardner's Restaurant in Rocky Mount. The dining room was beautifully decorated in keeping with Christmas. the tables wear decorated with Christmas place mats, ornaments, and candy canes which gave the Christmas spirit. More ...
SUZY PEARCE
Mt. Zion FWB Church News
Our choir sang "Majesty" for the call to worship. Pastor Rogerson welcomed everyone and prayed the invocation. Hymns of worship were "One Day" and "O Little Town of Bethlehem". Prayer concerns are Etta Jones, Margie Matthews, Colin Matthews, Nancy Matthews, Ann and Adam Taylor, Evelyn Frazier, all other shut ins and sick. More ...
ROSALENE BASS
Beulah Community News
Sunday morning we had another great sermon brought to us by our minister, Daniel West. It was on "Do you hear what I hear", We had several visitors for the service. Thank you all for joining us and we look forward to seeing you again soon. Each Sunday our members bring Christmas cards to pass out to their friends. We have a box in which we put the cards in alphabetical order and it really is good idea and saves a lot of postage. More ...
WILMA ENROUGHTY
Ephesus Community News
Ephesians and visitors celebrated the season of Christmas with our annual Christmas Cantata. The lighting of the advent candle for Joy was performed by Harold and Bebe Wall. During the tithes and offerings Judy Rogers played one of the most beautiful versions I've heard of "Away in a Manger". More ...
DEBBIE PHILLIPS
Peachtree Community News
Lawrence and Karen Edwards had a wonderful treat last week-end when they got to meet their new grandson, Jackson Lowell Edwards. His family, Adam and Sarah and big sister, Lillian, came from Colorado Springs to visit for a few days. They visited in Greenville with his brother, Aaron who brought them to church on Sunday. Aaron and Adam lit the Advent candle of Hope, as their parents, Karen and Lawrence read the Advent devotional reading. Adam and his family returned to their home on Wednesday. More ...
BARBARA HARDISON
RMA student wins Geographic Spelling Bee
Contributed – It came down to a tie breaker question in the Rocky Mount Academy Geographic Bee and Tripp Andracchio's knowledge of Hungary's largest city made him the winner in this year's competition, sponsored by National Geographic. Finalists Andracchio, an eighth grader, and fifth grader Katie Gutshall ended up in the last level of competition after eight other students were stumped on questions along the way that would be hard for many adults, such as "Wapusk National Park, located on the southwest shore of Hudson Bay and home to one of the largest polar bear denning areas in the world, is in which Canadian province?" Other contestants were fourth graders Lindy Pittman and Rob Turnage, fifth grader Brendan Acker, sixth graders Brice Andracchio and Taylor White, seventh graders Cameron Graham and Anderson O'Brien, and eighth grader Jennifer Isaza. More ...

SNHS FFA is selected as winner in national program
The National FFA Organization recently selected the Southern Nash High School FFA Chapter as a three-star winner in the National FFA Chapter Award program. Southern Nash was selected from a pool of over 630 candidates nationwide. The chapter members were honored at the 81st National FFA convention in Indianapolis, Ind October 22 through 25, 2008. More ...

Nash-Rocky Mount School employees support United Way
Contributed – Nash-Rocky Mount Public Schools and the NRMPS Board of Education were recently recognized by the United Way for outstanding support and contributions during the 2008 United Way Campaign. Ginny Mohrbutter, United Way Executive Director, praised Nash-Rocky Mount Public Schools for its support of United Way and the 35 health and human services programs it represents. NRMPS employees donated over $65,000 to United Way and its agencies, an increase of 13% from last year's contributions. This increase, added to last year's campaign, represents a 25% increase in the support of United Way over the past two years. More ...

Dumb crook news, soapbox style
With Christmas just around the corner, what better way to get into the spirit of the season than to get a few laughs from less than intelligent criminals.
After all, a toll is extracted spending time at parties, shopping, eating and watching inane TV news broadcasts that go something like this: More ...
Mike Brantley
Ruritans are truly special people
Ruritan Clubs are a special group of people. I think that's proven by all the different things they do for the community each year.
Over the past month, I've had the opportunity to attend a few Ruritan events and I must say, I always know when I am asked to attend such an event, I'm going to get fed well. Ruritans sure know how to cook. More ...
Amanda Clark
Please give us hope for the holiday, say no to annexation
Dear Editor;
(For the Rocky Mount City Council)
I am praying for you, that your heart may be filled with compassion during this holiday season. I would like to share with you how this annexation is taking its toll on so many of the residents that it will be affecting. Many are not sleeping, many are having to take nerve pills just to calm themselves down and be able to function in their daily activities. More ...
LETTERS TO THE EDITOR:
Protest proposed annexation
Dear Editor,
The people in our community are against forced annexation. They made a choice to build or buy a home in a rural area. Many families lost their homes and personal property in the 1999 flood and these families had to start all over. I have met some of these families, most of them are senior citizens, they live in our community. They did not build or buy a house in the City of Rocky Mount because of the taxes, utilities and stormwater charges. We live out in the country. God blesses us with rain water. More ...
LETTERS TO THE EDITOR: - 1 opinion posted
TREY'S 40 NIGHT
ROCKY MOUNT - During the teams' first meeting of the season two weeks ago, Bunn seemed to have every answer during the second half of a wild comeback victory over Nash Central in boys prep basketball action.
But in last Friday's rematch, the Wildcats couldn't solve the defensive riddle of how to stop Trey Sumler -- Central's high-scoring wing. More ...
Geoff Neville, Graphic Sportswriter
Joyner Ready For Challenge At ECU
RED OAK -- Albeit almost 30 years apart, Tyler Joyner and Billy Godwin have shared the same mound rubber at the Northern Nash High School Baseball Field.
Godwin played at NN in the late 1970s and early 1980s before embarking on a playing/coaching career that culminated with being named the head man at East Carolina University three seasons ago. More ...
Geoff Neville, Graphic Sportswriter
Southern scoots by Ladycats
BUNN -- Bunn used a bit of role reversal to confuse the Southern Nash Ladybirds during Tuesday's non-conference girls basketball meeting.
During last week's loss to Nash Central, the Ladycats were effective in the first half, only to be dominated after the break as the Lady Bulldogs pulled away for a convincing decision over Coach Chuck Mann's contingent. More ...
Geoff Neville, Graphic Sportswriter
Elon star Hudgins honored
ELON -- Elon University junior wide receiver Terrell Hudgins (Rocky Mount/Rocky Mount High) and senior place kicker Andrew Wilcox (Richmond, Va./Hermitage) were named to the 2008 Walter Camp Football Foundation All-America team last Friday afternoon, marking the first time the Phoenix ever landed two players on the unit in the same year.
The team was selected by the head coaches and sports information directors of the NCAA Division I Football Championship Subdivision. More ...
Staff Reports
Late Bloomers For Bunn
BUNN -- The script worked so well the first time, the Bunn Wildcats decided to repeat it again last Tuesday during a boys prep basketball matchup against backyard rival Southern Nash.
The cold-shooting Wildcats -- just like a game one week earlier against Nash Central -- fell behind and appeared to be on the verge of defeat. More ...
Geoff Neville, Graphic Sportswriter
NC Wesleyan athletes claim postseason accolades
ROCKY MOUNT -- Head Coach Mark Henninger and the North Carolina Wesleyan football program have announced that three Battling Bishops have earned All-South Region honors from D3Football.com.
Defensive linemen Quinderra Spellman and LeeRon Boykin, along with offensive lineman Anthony Moore, were all tabbed Third Team All-Region selections after garnering First Team All-USA South accolades. More ...
From Staff Reports
Mosley, Kennedy Honored
NASHVILLE -- Two Nash-Rocky Mount Public Schools athletic directors were recently awarded Certified Athletic Administrator (CAA) status by the National Interscholastic Athletic Administrators Association (NIAAA).,br> Mike Mosley, Athletic Director for Nash Central High School, and Robbie Kennedy, Athletic Director for Southern Nash High School, were awarded Certified Athletic Administrator status after completing a rigorous application process. More ...
Staff Reports
Northern Nash, RM give out fall sports awards
NASH COUNTY -- Northern Nash and Rocky Mount High Schools each handed out fall sports awards during ceremonies held recently by their respective athletic departments.
Here are listings of all the award winners at each school in the sports of varsity and JV football, varsity and JV volleyball, women's tennis, men's soccer and men's and women's cross country. More ...
Charles Alston, Graphic Correspondent
Nash County squads tangle with Wilson Beddingfield
ROCKY MOUNT -- Pardon Rocky Mount's Lady Gryphons if they were suffering from flashbacks of last year's season-ending playoff basketball game with Greensboro Dudley last Friday night.
After all, during their opening period with Wilson Beddingfield, Rocky Mount was staring at a 17-0 deficit on the scoreboard -- just like that fateful night last March. More ...
Charles Alston, Graphic Correspondent
Bishops defeated on road by Virginia Wesleyan
VIRGINIA BEACH -- North Carolina Wesleyan College lost its second straight men's basketball contest last Saturday afternoon, dropping an 84-59 decision to the Marlins of Virginia Wesleyan on the road.
The loss wraps up the 2008 portion of the Battling Bishops' schedule and sends NCWC into the holiday break with an 8-2 overall record. More ...
Staff Reports
MICHELLE ANN SESSOMS
Michelle Ann Sessoms of Rocky Mount, passed away on December 9, 2008. Michelle died at the age of 47 with the disease known to many as Lou Gehrig's disease. More ...

HELENA MALLORY
LAKEWOOD, N.J. - Helena Mallory, 87, formerly of Rocky Mount, passed away on Monday, Dec. 8, 2008. Funeral services were Saturday, Dec. 13, 2008 at 1:00 p.m. at Richardson Funeral Home Chapel with the Rev. William Vaughter officiating. Burial followed in the Baker Cemetery. More ...

CHESTER HUNTER
ROCKY MOUNT - Chester Hunter, 79, passed away on Tuesday, December 9, 2008. Funeral services were on Monday, Dec. 15 at 2 p.m. at Greater Saint Chapel, Enfield. Interment followed immediately after the service at the Davis Family Cemetery. More ...

LELIA M. EPPS
ROCKY MOUNT - Lelia M. Epps, 74, passed away on Thursday, December 11, 2008. Funeral services will be today (Wednesday, Dec. 17) at 1 p.m. at Thorne's Chapel. More ...