Subscribe/Access
Advertisements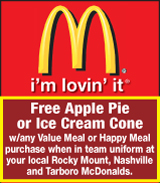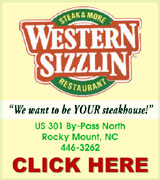 Sections
Member Options
Back
Castalia proceeds with park plans
Castalia commissioners voted on three measures that could bring in a new park, sewer services, and an expanded maintenance program to the town. However, the measures could also mean more than $100,000 in new short-term expenditures for the town as well. Votes were taken on the issues at the most recent town meeting held on Tuesday, December 2. More ...
Amelia Harper, Graphic Correspondent - 1 opinion posted
NASHVILLE CHRISTMAS
Nashville held its annual Children's Christmas Parade on Saturday, December 6 with performances from the Nash Central Middle School Band and Nash Central High School Chorus. Children were the highlight of event as they marched through downtown Nashville with decorated bikes and wagons. The event concluded with the lighting of the town Christmas Tree and an special apperance from Santa. Pictured above, Dawson Joyner, 6, of Nashville, tells Santa his wishlist Saturday following the Children's Christmas Parade. More ...

County adds Coopers Park to Master Plan
Nash County's Board approved adding a community park in the Coopers community last Monday during its regular meeting.
According to Patsy King, Organizational Development Director, the proposed Coopers Park would be similar in size and scope to the nearly completed W.B. (Bill) Ennis, Jr. Memorial Park in Red Oak and the proposed Bailey-Middlesex Community Park. More ...
Amanda Clark, Graphic Staff Writer
Spring Hope raises water, sewer rates
Spring Hope Commissioners voted unanimously, but reluctantly, to raise water and sewer rates for the town effective on January 1, 2009. The move came at the regular business meeting on Monday, December 8. Commissioners Best and Bissette were absent from the proceedings. More ...
Amelia Harper, Graphic Correspondent
Residents speak against annexation
Rocky Mount's City Council heard nearly three hours of opposition from residents in the city's proposed annexation plan during a public hearing on Monday night.
The city wants to annex 1,733 acres in Nash and Edgecombe Counties into its city limits. Close to 1,400 acres of that land is in Nash County, in the Oak Level community. In response to the annexation, residents formed the Oak Level Community Against Forced Annexation, or OLCAFA, and have been fighting the city's plans. More ...
Amanda Clark, Graphic Staff Writer - 1 opinion posted
Nashville soybean farmers named 2009 Young Leaders
The American Soybean Association, and the North Carolina Soybean Producers Association, and Pioneer Hi-Bred Intl., Inc., a DuPont Business recently announced Brent and Susan Leggett of Nashville as the 2009 ASA/DuPont Young Leaders. They were chosen to represent North Carolina in a program involving producer participants from 21 other states and Canada. More ...

Jaber re-appointed to NCC Board of Trustees
Nash Community College recently announced that Paul Jaber of Rocky Mount has been re-appointed for a second term by Governor Mike Easley to the college's Board of Trustees to serve through June 30, 2012. More ...

NC Highway Patrol to conduct "Booze It, Lose It" operations during holiday season
The North Carolina Highway Patrol will be conducting two specific enforcement operations over the holiday season. The "Booze It & Lose It" campaign is now underway and will run through Jan. 4. Troopers will be holding check points and saturation patrols at various locations throughout the twin counties. Also, beginning Friday, Dec. 19 and running until Dec. 21. "Operation C.A.R.E." will run concurrently with the "Booze It & Lose It" campaign with special emphasis being placed on impaired drivers, speed and occupant restraints. More ...

Military News
Army National Guard Pvt. Joseph J.C. Lodge has graduated from basic combat training at Fort Jackson, Columbia, S.C. More ...

Daughters of the American Revolution
The Daughters of the American Revolution Micajah Pettaway Chapter met November 20, 2008 in the home of Pris Sykes for a 10:30 a.m. coffee. After Chapter Regent Margaret Barnes welcomed everyone including Trudy Martin, Pris Sykes' sister, she led the U.S. flag pledge and American creed. Alice Wynne Gatsis, Chaplain, led the DAR ritual. More ...
DEE LONG
Beulah Community News
We want to thank each of you who came to our monthly fish fry last Friday night. We appreciate your support and enjoyed the fellowship we shared. May God bless you all. More ...
WILMA ENROUGHTY
Nash native writes book
A Rocky Mount native has written a book on enduring and surviving the loss of a child.
Suzanne Clark, a graduate of Northern Nash High School, will soon release "Cry Out to Jesus." The book tells the story of how God ushered a family through the valley of the shadow of death and out the other side to find joy once again. In "Cry Out to Jesus," Clark shares the details of her personal struggles through a journey of faith as her greatest fear is realized when her one-month-old son, Zachary, dies unexpectedly. More ...

Coopers Ruritan Club
Two years ago the Coopers Ruritan Club started a project to acquire a park for the Coopers community. At the Nash County Commissioner's meeting on December 1, 2008, the Commissioners amended the Nash County Recreation Master Plan to include a park at Coopers. In the fall of 2007, as President of the Coopers Ruritan Club, I addressed the Nash County Commissioners about the need for a park in the Coopers area. Since that time, I have been asked many times "why was the Coopers Ruritan Club involved in the Parks and Recreation Program?" After some thought, I realized that "our story" needed to be told because many people do not know what Ruritan Clubs do for their communities. More ...
HAROLD WINSTEAD
Red Oak Community News
Several ladies from Red Oak attended the Adopt-a-Dorm Bible Study at Fountain Correctional Center in Rocky Mount on Monday, Dec. 1. This was a joyous time as Nell Boone shared the Christmas story and Marilyn Boone led the group in singing Christmas carols including their favorite, The Twelve Days of Christmas. Following the music the group was treated to Christmas goodies and punch. Each lady received a bookmark, gospel tract, and bracelet. Others from Red Oak participating were Jean Stallings, Jean Mellor, Audrey Pearce, Suzy Pearce, and Hazel Hill. More ...
SUZY PEARCE
The Soap Box Christmas shopping guide
It's about this time every year that the Soapbox provides a great Christmas service to our readers — our annual Shopping Guide.
In the past, we've used this guide to talk about some of our inventions or rather, invention ideas. Unfortunately, we have yet to get them off the ground, so the following Soapbox creations (patent pending) are not yet available: More ...
Mike Brantley
Please respect the American flag while displaying it by following a few basic rules
Dear Editor,
First, let me say that I wish to applaud the Roanoke Valley for its show of support for our military and our nation by the number of American Flags that are now flying in the area. There are more flags flying today than I can remember in recent history. Displaying the flag however, carries some responsibility by the person or persons flying it. More ...
Letters to the Editor:
My list of must see Christmas movies
Houses are decorated, trees are up and it's cold. That means Christmas is just around the corner. And what better way to prepare for the holidays than watching Christmas movies.
They seem to begin right after Thanksgiving and can be seen right up until Christmas day. I have a long list of Christmas movies I enjoy watching every year but here are just a few of my favorites. More ...
1 opinion posted
SOLID SWIM START
ROCKY MOUNT -- Nash Central High School has built a mini-dynasty in area pool circles in recent years.
This season is no different, as the talent-laden Bulldogs are currently undefeated in the NEW-6 Conference standings.
But for Central swim followers, here's the best part of the equation -- the Bulldogs' 14-person boys roster currently consists of six freshmen, all of whom are making an impact on the varsity during the 2008-09 campaign. More ...
Geoff Neville, Graphic Sportswriter
Warriors edge Firebirds in mat action
STANHOPE -- Add another chapter to the budding Louisburg-Southern Nash wrestling rivalry.
Last season, SN traveled to Louisburg, and the clubs clawed to a tie following the last match. LHS was awarded the team victory because of a tie-breaker.
The to-the-wire heroics continued during last Wednesday's rematch at the SNHS Gymnasium. More ...
Geoff Neville, Graphic Sportswriter
Bulldogs edged by Wildcats
BUNN -- Taking on an experienced, talent-laden opponent, the Bunn Wildcats resorted to a bit of Smallville last Friday night.
With his club behind by as many as 16 points in the second half against Nash Central, BHS head coach Gerald Melton went to a small lineup that eventually paid off big dividends for the Wildcats. More ...
Geoff Neville, Graphic Sportswriter
Interest high in NNHS job
RED OAK -- It's been one month since Chad Smith resigned as Northern Nash's head football coach, and according to Dan Richwalski, Northern's athletic director, applications and resumes for Smith's replacement have been slowly filling up his mailbox. More ...
Charles Alston, Graphic Correspondent
Tourney's pairings finalized
ROCKY MOUNT -- Pairings have been finalized for the annual Nash County Holiday Basketball Tournament, which will be held Dec. 22-23 at Nash Central High School.
Here is the game schedule for the event: More ...
Staff Reports
HIGH SCHOOL GRID SCORES
CHAPEL HILL -- Listed are last Friday's results from the North Carolina High School Athletic Association State Football Playoff Semifinals: More ...
Staff Reports
RM Bested In State Semifinals
ROCKY MOUNT -- It's a play senior fullback Nick Hahula would dearly love to have back.
With Rocky Mount leading West Craven 19-14 with less than three minutes left in their NCHSAA 3-A East Regional Final battle last Friday evening, Hahula, while trying to pick up more yardage to milk the clock, fumbled and gave the Eagles new life at their own 20-yard line. More ...
Charles Alston, Graphic Correspondent
Gryphs, Knights pick up hardwood victories
ROCKY MOUNT -- Rocky Mount senior point guard Alonzo Sharpe knows that it is his job to add some offensive punch when his team gets a bit sluggish.
That's exactly what he did in helping the Gryphons beat J.H. Rose 71-60 at home last Tuesday evening. More ...
Charles Alston, Graphic Correspondent
North Carolina Wesleyan takes second at tourney
ROCKY MOUNT -- In a battle of unbeaten clubs, the Bearcats of St. Vincent College captured the 2008 Roger Taylor Invitational Championship last Saturday afternoon, downing host North Carolina Wesleyan by a 96-87 score at Everett Gymnasium. More ...
Staff Reports
"A Christmas Carol" at Nash Arts
Nash Arts will once again host "A Christmas Carol," but this year the play will return to its traditional roots.
Jim Singleton, who's been directing the play since 2003, said several versions of the play have been performed over the years. In the past, a western version and a version where Scrooge is a female have been performed. This year, however, Singleton said the performance will be the more traditional version set in the 1840's. More ...
Amanda Clark, Graphic Staff Writer - 1 opinion posted
IRENE A. DOUGHTY
WHITAKERS - Irene A. Doughty, 78, passed away Tuesday, December 12, 2008. Funeral services were at 2:00 p.m. on Friday, Dec. 5 at Pleasure Hill Baptist Church with the Rev. Wilson Battle officiating. Burial followed in the Pleasure Hill Baptist Church Cemetery. More ...

MORRIS LYNCH
HOLLISTER - Morris "Rubber Duck" Lynch, 79, passed away Wednesday, December 3, 2008. Funeral services were at 2:30 on Sunday, Dec. 7 at Pleasant Grove Baptist Church. Burial followed in the church cemetery. More ...