Subscribe/Access
Advertisements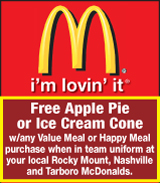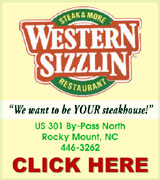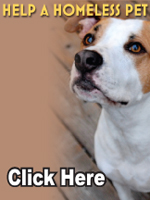 Sections
Member Options
Back
County board requests halt on annexation
In his first official day as a Nash County Commissioner, Wayne Outlaw motioned for commissioners to send a letter of support for the annexation moratorium and requested that any additional annexation in Nash County be halted.
The move came following public comments from three members of the Oak Level Community Against Forced Annexation, or OLCAFA, who asked commissioners to help them fight the City of Rocky Mount's proposed annexation plan of over 1,700 acres in Nash and Edgecombe Counties. More ...
Amanda Clark, Graphic Staff Writer
NRMS drops Oakley Collier
At their meeting Monday night, the Nash-Rocky Mount Schools (NRMS) board voted 6-3 to "terminate negotiations with Oakley Collier Architects (OCA)" because they were unable to agree on a fee and a design.
Board member Franklin Lamm made the motion to drop OCA, seconded by member Doneva Chavis-Battle. "In light of the board's inability to negotiate a contract with Oakley-Collier and my own conviction that this board will never negotiate an acceptable arrangement with Oakley-Collier," Lamm said, "I move that this board terminate negotiations with Oakley-Collier and undertake negotiations with the next best qualified firm, SFL+a." More ...
Michele Cruz, Graphic Correspondent - 2 opinions posted
Maloney family reflects on a year of recovery and blessings
If life played out like a textbook, Makayla Maloney's life would have ended on December 7, 2007.
The now eight-year-old Coopers Elementary School student was riding to school that day when her mom's vehicle hit a patch of ice and began sliding across the yellow line and collided with a truck. From that moment, life changed for the Maloney family. More ...
Amanda Clark, Graphic Staff Writer - 3 opinions posted
Contract awarded for new town hall
Nashville could see a new town hall in as little as nine months, as Town Council members awarded a contract to Turn-Key Contractors to build the new facility on Barnes Street.
Ann Collier, of Oakley and Collier Associates, presented the bids to council members during the regular meeting on Tuesday night. Collier said 14 bidders responded, six of which were from local contractors. Turn-Key Contractors in Rocky Mount was the low bidder with a price tag of $629,777. Collier said the bid would be good for 45 days. More ...
Amanda Clark, Graphic Staff Writer
County honors Mayo, Cooper for service
Nash County honored a past and present Chair of the Board Commissioners by naming the Administration Building and Commissioner's Room after them.
On November 19, a ceremony was held officially honoring the service of Frederick B. Cooper and Claude Mayor, Jr. to Nash County. The Administration Building was renamed the Claude Mayo Jr. Administration Building and the Commissioner's Room was renamed the Frederick B. Cooper Commissioner's Room. More ...
Amanda Clark, Graphic Staff Writer
Nash Fire Departments receive grant funding
Several Nash County fire departments have received grants through the 2008 Volunteer Fire Department Fund from the State of North Carolina.
Bailey, Castalia, Momeyer, Middlesex and Sharpsburg Fire Departments received grants totalling $36,618.06.The money will be used to purchase needed equipment, which will be purchased using matching funds. More ...

RMA students earn AP awards
Eleven students at Rocky Mount Academy have earned AP Scholar Awards in recognition of their exceptional achievement on AP Exams.
The College Board's Advanced Placement Program® (AP® provides motivated and academically prepared students with the opportunity to take rigorous college-level courses while still in high school and to earn college credit, advanced placement, or both for successful performance on the AP Exams. At Rocky Mount Academy, ten AP courses are being offered in the 2008-09 school year, beginning in the 10th grade, and 60% of the 10th-12th grade students take at least one such class. More ...

Nashville Christmas Celebration is Dec. 6th
Nashville's Children's Christmas Parade and Celebration will be held on Saturday, December 6 in downtown Nashville. The event will begin at 3:45 p.m.
Children 12 years old or younger are invited to come out with their decorated bikes, wagons, scooters, strollers or themselves and take part in this annual event. More ...

Military News
Navy Seaman Alvin C. Jones, stepson of Tracy D. Battle of Rocky Mount recently completed U.S. Navy basic training at Recruit Training Command, Great Lakes, Ill. More ...

Red Oak sees park and sewer progress
At the regular Red Oak town meeting on Monday, Mayor Al Wester announced progress in both the sewer issue and in park construction. The meeting was recessed until December 18 until more information could be gathered.
Regarding the sewer issue, Red Oak is seeking sewer services from Rocky Mount for the park, schools, and downtown area. The project has been in discussion for months, with both sides seeking modifications to the contract. Mayor Wester said that he had met Monday with Rocky Mount officials in order to "satisfy them on some of the issues in the contract" and felt that progress had been made. More ...
Amelia Harper, Graphic Correspondent
Schools, community get involved in Great American Smoke Out
On November 20, young people from Nash County's T.A.T.U, Teens Against Tobacco Use group took part in the American Cancer Society's Great American Smoke Out (GASO), a nationwide event to encourage tobacco users to give up their habit for one day, in hopes of making a clean break from tobacco now or in the future. More ...

Beulah Community News
As most of you know I haven't written the Beulah News the last two weeks. Thank those of you who let me know how much you missed reading it. Week before last, my brother-in-law, Tommy Lindsey passed away after being sick for several months. Please keep his wife, Terry Griffin Lindsey and the other family members and friends in your prayers. He will be greatly missed by all of us but we know he was prepared to go. Last week was Thanksgiving and the news has to be in a week before a holiday so I missed the deadline. I promise I'll try to do better in the future and not disappoint my readers. More ...
WILMA ENROUGHTY
Peachtree Community News
This was the first Sunday of Advent. Christians from around the world observe this in anticipation of the birthday of Christ Jesus. Pastor Whitehouse's message was titled "Where Did Jesus Learn about Fathers?' The scriptural basis for this was Matthew 1: 18-25. Pastor Whitehouse talked about Joseph, the forgotten man of Christmas. Sanctuary flowers were given in memory of Myrtle Bunn Denton, upon the occasion of her birthday, by her grandsons, Wayne and Mike Bass. More ...
BARBARA HARDISON
Mt. Zion FWB Church News
Our choir sang "I Will Serve Thee" for the call to worship. Pastor Rogerson welcomed everyone and prayed the invocation. Hymns of worship were "Praise Him, Praise Him", and "There Shall Be Showers of Blessing". Ronald Bass prayed the morning prayer. Prayer concerns are Etta Jones, Margie Matthews, Colon Matthews, Nancy Matthews, Adam and Ann Taylor, all other sick, shut-ins, lonely, hurting and lost. We pray for the safety of soldiers and missionaries the world over. More ...
ROSALENE BASS
Ephesus Community News
Sunday began the Week of Prayer for International Missions. Rev. Jimmy Sides reminded us that we are all missionaries, and we miss so much if we do not pray and give as God would have us to... Let's give so others may live and enjoy a better life. More ...
LOTTIE LOU DICKENS
Red Oak Community News
The Red Oak United Methodist Church and Red Oak Baptist Church celebrated Thanksgiving with a joint service on Wednesday, Nov. 26 at the Baptist church and inviting anyone in the community. Rev. Louis Reinoso brought the evening message. More ...
SUZY PEARCE
Marching Knights finish fourth in a field of 31 bands
The Marching Knights of Northern Nash ended their Competition Season this past weekend at the US Scholastic Band Association (USSBA) 20th Anniversary Celebration at M&T Bank Stadium in Baltimore, Maryland. Competing against bands from New Jersey to Georgia, the Marching Knights finished 4th in a field of 31 bands with a score of 93.8. Northern Nash also performed at the Navy and Marine Stadium in Annapolis, Maryland on Saturday night. More ...
Contributed
Sanford successfully completes CPA exam
RALEIGH - The North Carolina State Board of Certified Public Accountant (CPA) Examiners recently announced that 242 North Carolina candidates successfully completed the Uniform CPA Examination by passing one or more exam sections during the period July 2008 - September 2008. More ...

The turkey is gone, it's time to make Santa's list
I don't know about the rest of you, but I still manage to raise my game sometimes and surprise myself with personal accomplishments.
For example, I — and several others in attendance — were truly amazed at how much I was able to eat in such a short amount of time on Thanksgiving Day at my sister Jane's house. Had it not been for a dressing-related injury, I might still be going. More ...
Mike Brantley
I'll probably sleep through Black Friday next year
Last week, I discovered why they call the day after Thanksgiving "Black Friday." It's because when everything opens, it's still extremely dark outside, so dark that you feel like you should still be in bed. And, you should.
I'm not your typical woman because I really, really hate shopping. When I was younger, I dreaded the shopping trips my aunts took me on. I always went because they bought me stuff but I hated having to look for hours upon hours to find just a few outfits. Now, I could buy every person in the entire State of North Carolina an outfit in a few hours. More ...
Amanda Clark
We all will dearly miss Councilman Wright
I attended the funeral service held Saturday for Nashville Town Councilman Mr. William Frank Wright who passed away Sunday, November 23, 2008.
In my opinion, he would have been overwhelmingly pleased with the service due to the fact that he was always one to encourage others to get involved in the community. And if anyone left that service Saturday without feeling inspired to do so, something is wrong with them. Words spoken about Mr. Wright were truly inspirational. More ...
Jo Anne Cooper
Reader says forced annexation is un-American, un-democratic
Dear editor:
My wife and I live on a small farm located on Eastern Avenue. We rent the farm out for farming crops and I also own a small nursery where we grow our own plants, mostly evergreens.
When I received a letter from the City of Rocky Mount saying they were going to annex our farm and residents into the City of Rocky Mount, I could not believe it. They did not ask me if I wanted to be a resident of Rocky Mount, they said I was being annexed. The more I thought about being forced to do something against my will, without a right to even vote, is this the American way. Forced annexation is un-American and un-democratic. More ...
LETTER TO THE EDITOR: - 2 opinions posted
TAKING ON ALL COMERS
LOUISBURG - For any first-year coach, one of the most difficult adjustments can be getting to know the athletes at his or her new school.
That hasn't been a problem for incoming Northern Nash wrestling coach Corey Mercer.
Mercer, a Wilson native, spent four years in charge of the mat program at Red Oak Middle School. More ...
Geoff Neville, Graphic Sportswriter
Solid Early Season
RED OAK -- Some basketball coaches prefer to find a high-scoring player who can carry a team on his back during a season.
That's never been Rick Ruffin's style, and his beliefs have stayed true this season as the head boys mentor at Northern Nash.
Ruffin's spread-the-wealth philosophy has brought plenty of early-year success as the Knights have compiled a 3-1 record. More ...
Geoff Neville, Graphic Sportswriter
Clinic is scheduled in Wilson
WILSON -- Wilson native Will Hesmer, a keeper for the Columbus Crew of the Major League Soccer, will return home Dec. 20 to lead the Playing For Peace Soccer Clinic at Gillette Park.
Hesmer starred at Wilson Hunt High School before excelling at Wake Forest University. He is regarded as one of the nation's top keepers. More ...
Staff Reports
North Carolina Wesleyan takes two at tourney
ROCKY MOUNT -- The men's basketball team of North Carolina Wesleyan College continued its impressive play last weekend by picking up a pair of wins at the 2008 Southern Shootout, which was hosted by the Bishops.
Wesleyan earned a 90-74 victory over Mary Washington last Saturday and went on to down Hampden-Sydney on Sunday by an 84-82 score. More ...
Staff Reports
HIGH SCHOOL GRID SCORES
CHAPEL HILL -- Listed are last Friday's results from the North Carolina High School Athletic Association State Playoffs: More ...
Staff Reports
Gryphons advance with home decision
ROCKY MOUNT -- Even giving up a season-high 21 points didn't make a difference to Rocky Mount.
The Gryphons' offense was basically unstoppable as they got the Alamance County jinx off their back in a 42-21 triumph over Eastern Alamance in the NCHSAA 3-A East semifinals at the Rocky Mount Athletic Complex last Friday evening. More ...
Charles Alston, Graphic Correspondent
Wilson Hunt claims a pair of wins over Nash Central
WILSON -- Wilson Hunt's boys basketball team wasn't interested in being hospitable last Monday night when Nash Central came calling. It just wanted to avoid starting the season at 0-2.
And it didn't.
The Bulldogs were beaten 53-47 in a non-conference matchup that saw them cruising to a 30-22 lead at the half. More ...
Charles Alston, Graphic Correspondent
Golf tourney raises $10,000 for NRMPS students
A team of dedicated volunteers wanted to donate additional resources and materials to exceptional children's classrooms throughout Nash-Rocky Mount Public School System and make a difference in the lives of special needs children. The charge was led by Randy and Lisa Lumley whose son, Luke, benefits from the program. Luke was born with autism. His parents established the Luke Lumley Exceptional Children's Charities in order to help all children with special needs. More ...

Spring Hope Music Jubilee presents A Country Christmas
The Spring Hope Music Jubilee presents Southern Comfort (a country Christmas) on Saturday, December 6, 2008 at 7 p.m. at Spaulding Auditorium, located at 600 S. Pine Street. Tickets are $8 in advance or $10 at the door. This show sponsored by Don's Body Shop of Rocky Mount, along with local merchants and supporters. For more info, contact Ronnie Ezzell 903-9424, Ann Wright at 459-8255 or Jean Webb at 478-5287 More ...

Nash Arts to administer Grassroot Grant funds; Applications now available
NASHVILLE – Nash Arts is now accepting applications for Grassroots Arts Grant for fiscal year 2008-2009. The Grassroots Arts Program is state-funded through the North Carolina General Assembly and allotted through the North Carolina Arts Council to counties based on population. Nash Arts receives and administers the funds in Nash County for the North Carolina Arts Council as their designated county partner. More ...

DOROTHY BATTS
ROCKY MOUNT - Dorothy Batts, 81, passed away on Tuesday, November 25, 2008 at Nash Health Care Systems. Funeral services were at 2 p.m. Saturday, Nov. 29 at Friendship Baptist Church. Interment followed immediately after the service at Gardens of Gethesemane. More ...

CHARLES JEROME ROUNTREE
WILSON - Charles Jerome Rountree, 54, passed away Tuesday, November 25, 2008. A grave side service was at 12 noon Saturday, Nov. 29 at Rest Haven Cemetery in Wilson. More ...