Subscribe/Access
Advertisements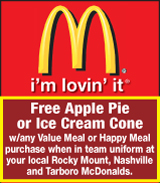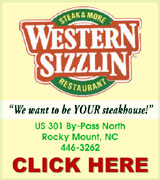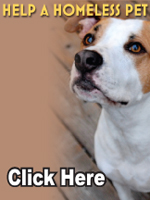 Sections
Member Options
Back
Nashville Town Council member passes away
Nashville has lost one of its biggest community advocates as longtime councilman Frank Wright passed away on Sunday, November 23.
Wright, in his 17th year on Nashville's Town Council, was a big supporter of many different civic organizations.
He came to Nash County in 1951 where he served as the first African American Agricultural Extension Agent. He retired in 1973 but later joined the staff at Nash Community College as Coordinator for the Human Resources Development Program. He also served as Literacy Education Recruiter and as a recruiter for the GED program. He also worked at Nash General Hospital in the public relations department. More ...
Amanda Clark, Graphic Staff Writer
OLCAFA works to incorporate Oak Level
The Town of Oak Level could soon be Nash County's newest municipality.
The Oak Level Community Against Forced Annexation (OLCAFA) has submitted a petition to incorporate the Town of Oak Level.
Betty Edmondson, President of the OLCAFA, said the group's attorney, Bob Hornet, planned to file the petition on Monday or Tuesday of this week. More ...
Amanda Clark, Graphic Staff Writer

Donald Cooper gives a brief biography of Marcum Cooper at a grave marker dedication ceremony held Saturday. Marcum was Donald's fourth-great-grandfather.

Patriot Marcum Cooper honored by NCSSAR
Marcum Cooper died nearly 200 years ago, but not before spending a period of almost 30 years serving his county and his country from 1778 to 1807. It is believed that Marcum was born sometime between 1740 and 1743. He died in 1811.
One descendant, Donald Cooper, said he knew little of his family tree ten years ago, but once he started his research, it became a passion to learn his heritage. That passion led to Saturday's dedication of his ancestor's grave marker that was sponsored by the Halifax Resolves Chapter, North Carolina Society Sons of the American Revolution (NCSSAR). More ...
Jo Anne Cooper, Graphic Publisher
Nashville looks at building reuse grant
Time is running out for potential Nashville business owners to take advantage of a Building Reuse Grant.
The North Carolina Rural Economic Center's Building Reuse and Restoration Program assists communities in revitalizing empty buildings, specifically buildings in downtowns. More ...
Amanda Clark, Graphic Staff Writer
Christmas tree auction to benefit foster kids
Families looking to put up Christmas trees after Thanksgiving won't have to look far, as a Christmas tree auction is planned just outside of Nashville on Saturday to benefit Nash County foster kids.
The Red Barn Auction Company will auction off 12 pre-lit, pre-decorated Christmas trees and 12 wreaths, also pre-lit and pre-decorated, on Saturday, November 29 beginning at 5 p.m. All proceeds will benefit the Nash County Social Services Foster Care Program. More ...
Amanda Clark, Graphic Staff Writer
Richard J. White honored at flag raising ceremony
Mr. White entered the Navy in the 1950s, and spent most of his 30 years on the sea aboard ships retiring from the Navy in the 1970s. He was heavily decorated for his service in Korea, China and Vietnam for which he received a plethora of medals including three Bronze Stars. He worked another profession for 20 years before retiring. White was honored on November 17, 2008 at the Veterans Memorial in Rocky Mount with a flag raising ceremony. The Joint Veterans Committee (JVC) celebrated the honor of Chief Petty Officer, Richard J. White, veteran of the Korean War, Vietnam War and the Cold War. More ...

Military Briefs
Air Force Airman Donovan L. Blount has graduated from basic military training at Lackland Air Force Base, San Antonio, Texas.
During the six weeks of training, the airman studied the Air Force mission, organization, core values, and military customs and courtesies; performed drill and ceremony marches, and received physical training, rifle marksmanship, field training exercises, and special training in human relations. More ...

Nash County Blood Drives for December 2008
Tuesday, December 2 from 4 p.m. until 8 p.m. at West Mount Volunteer Fire Department, 7955 West Mount Drive, Rocky Mount.
Wednesday, December 3 from 11:30 a.m. until 5:30 p.m. at Hospira, Highway 301, Rocky Mount.
Thursday, December 4 from 6 a.m. until 11:30 a.m. at Hospira, Highway 301, Rocky Mount. More ...

School board approves 2009-2010 proposed calendar for public review
The Nash-Rocky Mount Schools (NRMS) board unanimously approved the proposed 2009-10 school calendar during their work session last Monday.
The calendar plans next school year's opening day on Tues., Aug. 25, with a two-week break for Christmas holidays, a six-day spring break beginning Fri., April 2, and the final day of school on Wed., June 9. The calendar is posted on the school system's website for comments for 30 days before it will be up for final approval. More ...
By Michele A. Cruz, Graphic Correspondent
WIC program for eligible women, infants and children in Nash
WIC, the special Supplemental Nutrition Program for Women, Infants and Children is available at the Nash County Health Department. It is administered by the Department of Environment, Health and Natural Resources, and the Division of Maternal and Child Health. WIC provides the following benefits: supplemental nutritious foods, nutrition education, breast-feeding support, vouchers for healthy foods, and referrals to health care and community resources. In addition, WIC has proven to be effective in preventing and improving nutrition-related health problems within its target population. More ...

Local man wins Carolina Cash 5
A Nashville man is $100,000 richer after matching all five numbers in the "Carolina Cash 5" lottery game.
Charles Whitaker, Jr. won $119,556 for the November 8 "Carolina Cash 5" drawing. More ...

Raper elected to lead Ruritans in 2009
Dennis H. Raper was recently elected to lead the Rocky Mount-Durham Durham Ruritan District in 2009.
Raper is a member of the West Mount Ruritan Club in Rocky Mount and served as the District Lt. Governor in 2008. More ...

ane Tyson named Ruritan of the Year for second consecutive year
For the second year in a row, Jane Tyson was named the Ruritan of the Year by Coopers Ruritan Club at its annual appreciation banquet.
Stuart Lamm presented the award to Tyson, who has been a member of Coopers Ruritan Club, along with husband Danny, since March 2004. More ...
Amanda Clark, Graphic Staff Writer
Christmas Trees Available At Auction
Winter Wonderland - 7-foot slim-line tree with twinkling white lights. This tree is covered in collectible snowmen, snowflakes and other frosty decorations. Sponsored by James and Clara Ann Batts.
Feliz Navidad - full 7-foot pre-lit multi colored tree. Make Christas a fiesta with this fun tree covered in pinatas, copper ornaments and festive decorations. Custom copper tree topper. Sponsored by an anonymous friend of The Red Barn. More ...

NASHVILLE POLICE BRIEFS
ARRESTS
Alexander Lee Mills - 10/21/08 - charged with assault on a female
Ronald Edward Hux - 10/23/08 - charged with harassing phone calls and communicating threats
Alvin Lymon Harris, Jr. - 10/24/08 - charged with failure to appear More ...

Peachtree Community News
A large number of Peachtree folks attended the Ecumenical Thanksgiving Service held at First Baptist Church in Spring Hope on Sunday night. Pastors from seven churches participated in the service. The Thanksgiving message was delivered by Rev. Jimmy Sides, who is interim pastor at Ephesus Church. The music was provided by the First Baptist Choir. It was an inspiring and up-lifting service. More ...
BARBARA HARDISON
Mt. Zion FWB Church News
Our attendance was down to 81 in Sunday school, but praise God for each person who was present. Some had gone on a weekend retreat at Cragmont in Black Mountain. A.J. Jones read the scripture verse for today. Ronald Bass was acting superintendent in the absence of Bob Watkins. More ...
ROSALENE BASS
Ephesus Community News
Happy Thanksgiving to all God's people and How to Observe Thanksgiving. Count your blessings instead of your crosses; Count your gains instead of your losses. Count your joys instead of your woes; Count your friends instead of your foes. Count your smiles instead of your tears; Count your courage instead of your fears; Count your full years instead of your lean; Count your kind deeds instead of your mean. Count your health instead of your wealth; count on God instead of yourself. More ...
LOTTIE LOU DICKENS
Brooklyn Community News
In 2007 Mrs. Mary Lewis Deans Foote, contacted me to ask if she could come to speak at one of our Brooklyn Area Community Watch meetings. At this meeting she introduced herself and spoke on her passion for assisting the kids in the school system. She shared our assessment of the school system. More ...
LENA SESSOMS
Talking turkey – the cost of Thanksgiving
Thanksgiving is here, and as a card-carrying large person, I am indeed happy.
Along about the first week of December is when I generally start looking forward to the next year's Thanksgiving. That is because my sister Jane puts out a spread of food that is unmatched anywhere.
I know we don't have a monopoly on Thanksgiving and probably most families can echo the sentiments of the previous paragraph. More ...
Mike Brantley
Mr. Wright gave a lot to the Town of Nashville, he will be missed
This Thanksgiving, as we sit down to give thanks, many Nash County and Nashville residents will also be mourning the loss of Councilman Frank Wright.
Mr. Wright passed away on Sunday.
There are many words that can be used to describe Mr. Wright. I could fill this entire space with words of his happy spirit, his compassion and determination but most of all, his love for the Town of Nashville. More ...
Amanda Clark
We'll always cherish memories of "Peggy Jane"
According to the dictionary, one's legacy is something handed down by a predecessor.
But reflecting back on the fun times my family has had over many years, I have to believe there's more to one's legacy than material things.
For instance, making a difference in another person's life during our time here on Earth, or working to change something that benefits others, but mostly the precious time we spend with each other. More ...
Jo Anne Cooper
Reader responds to anger towards Mormon Church over gay marriage ban
Dear Editor,
Vengeance is mine sayeth the Lord.
This morning as I sat and read an article in a local newspaper concerning the proposition 8, the California ballot measure that banned gay marriage, it seems that gay marriage supporters have channeled much of their anger against the Mormon Church. Thank God for this church taking a stand against this sinful lifestyle. More ...
Letter to the Editor:
HOOPS SEASON BEGINS
RED OAK - Northern Nash's' boys basketball team bounced back from a season-opening loss at D.H. Conley earlier last week to post a 66-52 win at home over Wilson Hunt last Friday night for its first win of the 2008-09 campaign.
Hunt had a large lead in the third period then it got outscored 24-10 in the final 12 minutes of the contest by Northern. More ...
Charles Alston, Graphic Correspondent
Southern Surges At Falcon Invite
PIKEVILLE -- Southern Nash looks to be strong on the wrestling mat this winter -- a fact that was only reinforced by last Saturday's effective showing at the annual Falcon Invitational Tournament at the C.B. Aycock High School Gymnasium in Wayne County.
The Firebirds, coached by Eddie Coble, took on some of the area's toughest competition and came away with a third-place overall team finish. More ...
Geoff Neville, Graphic Sportswriter
Whitfield Clinic is scheduled
GOLDSBORO -- The baseball clinic run by North Carolina High School Athletic Association Hall of Famer George Whitfield is set for its 37th annual renewal.
The clinic is scheduled for Goldsboro High School on January 10, 2009, and features another tremendous lineup. More ...
Staff Reports
RM Bests Oxford Webb
ROCKY MOUNT -- On the coldest night of the season thus far, Rocky Mount's offense was hot as fire.
The Gryphons, playing in temperatures in the upper 30s, piled up 540 yards of total offense last Friday night en route to a decisive 48-14 win over Oxford Webb in the second round of the NCHSAA 3-A State Football Playoffs at the Rocky Mount Athletic Complex. More ...
Charles Alston, Graphic Correspondent
Drake helps NC Wesleyan to tournament sweep
ROCKY MOUNT -- Junior Trey Drake averaged 20 points and 7.5 assists per game last weekend, leading his North Carolina Wesleyan men's basketball squad to two wins at the first annual Eastern North Carolina Classic hosted by the Bishops.
For his efforts, Drake and teammate Jarmel Arrington (from Northern Nash) were named to the All-Classic team after helping Wesleyan turn in 85-51 and 94-81 victories over Norwich University and Emory & Henry College, respectively. More ...
Staff Reports
HIGH SCHOOL GRID SCORES
CHAPEL HILL -- Listed are last Friday's results from the second round of the North Carolina High School Athletic Association State Football Playoffs: More ...
Staff Reports
NCHSAA ROUND 3 PLAYOFF PAIRINGS
CHAPEL HILL -- Here are this Friday's pairings for the third round of the North Carolina High School Athletic Association State Football Playoffs: More ...
Staff Reports
ELVIS COMES TO NASH ARTS
Christmas with Elvis, by Alvin Smith, will open at 7 p.m., November 29th at Nash Arts in Nashville.
For more information or tickets, contact Nash Arts 252-459-4734. Nash Arts is located at 100 E. Washington Street, downtown Nashville. More ...

NASHVILLE'S CHRISTMAS CELEBRATION
The Nashville Chamber of Commerce will host its annual Christmas Celebration in downtown Nashville. Events will begin at 3:45 p.m., December 6, in front of the Nash County Courthouse. Entertainment will be provided by Red Oak and Nash Central Middle School bands and Nash Central's Chorus. Children are encouraged to decorate bikes, wagons or even themselves to march in the annual Children's Parade down Washington Street to light the town's Christmas tree. (The children are the parade, no professional floats or motorized entries allowed.) Creativity will be judged, and the chamber will award prizes to the top four winners. After the tree lighting ceremony, Santa will arrive and will meet with children at the Nash County Administrative Building. For more information call 459-2117. More ...

JAMES CURTIS TONEY
James Curtis Toney, 62, passed away on Sunday, November 16, 2008. Services were held on Saturday, November 22, 2008 at 2 p.m. at the Richardson Funeral Home Chapel with the Rev. Thomas Richardson officiating. Burial followed in the Cedar Rock Church Cemetery. More ...

INEZ A. WATSON
Inez A. Watson, 91, of Brithaven Nursing Center, passed away Thursday, November 13, 2008. Funeral services were Friday at 1 p.m. at Calvary Presbyterian Church, Wilson. Interment followed at Rest Haven Cemetery, Wilson. More ...

STELLA H. HINES
Stella H. Hines, 82, of Longleaf Neurological Center, passed away Monday, November 17, 2008. More ...

WILLIAM FRANK WRIGHT
Frank was born and raised in Washington, NC where he attended public schools. He attended A&T College (NC A&T State University) and received a Bachelor of Science Degree in Vocational Agriculture and Adult Education. He did further graduate study at Cornell University, and North Carolina State University to enhance his work with agriculture. He was the first black Agricultural Extension Agent in Richmond County and stayed there for 5 years. More ...