Subscribe/Access
Advertisements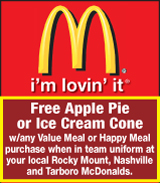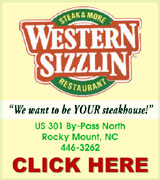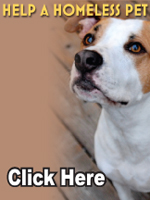 Sections
Member Options
Back
Moratorium bill is dead, says Swindell
According to Senator A.B. Swindell, a bill proposing a temporary moratorium on annexation so lawmakers can review the annexation laws died in the Senate, which means there is no moratorium on annexation.
Swindell said the bill was initially introduced that called for a 12-month moratorium on annexations until a committee could study the annexation laws in North Carolina. The committee was to report back to the General Assembly with recommendations on how the laws could be amended. The House had several hearings on the bill, finally approving the bill, but amended the 12-month moratorium to nine months. Swindell said the bill then went to the Senate where it stayed in the rules committee and was not appointed and died. More ...
Amanda Clark, Graphic Staff Writer
Fire deemed as suspicious
The Nash County Sheriff's Office and Emergency Services are investigating a house fire whose tenants moved out just two days before it caught fire.
Castalia's Fire Department was called to 9683 Main Street in Castalia around 2 a.m. on Saturday morning. The fire department, with the assistance of Nashville Fire Department, Red Oak Fire Department and White Level Fire Department, quickly extinguished the fire, which was contained to the front room and attic of the home. More ...
Amanda Clark, Graphic Staff Writer
FIRE PREVENTION
Pluggie the Fire Hydrant speaks to second graders at Nashville Elementary about fire safety last Wednesday as part of Fire Prevention Week. Nashville's Fire Department, along with Pluggie, visited the school throughout the week to speak with kids about fire safety. More ...

Early voting to begin Thursday
With this year's election expected to produce significant numbers, election officials are encouraging residents to not only get out and vote, but to get out and vote early.
"We're telling everybody to vote early," said John Kearney, Director of the Nash County Board of Elections. "It's expected to be the largest election ever." More ...
Amanda Clark, Graphic Staff Writer - 1 opinion posted
Residents voice concern over park
More than two dozen people crowded the Castalia Town Hall last Tuesday to discuss their feelings about a proposed town park. The public hearing was held on October 7 as part of the town's regular monthly business meeting. The meeting was led by Commissioner James Alston, who filled in for Mayor Elene Leonard who was hospitalized. More ...
Amelia Harper, Graphic Correspondent
Nash County Blood Drives for October 2008
Thursday, October 16
12 until 6 p.m. at Englewood Presbyterian Church, 100 South Englewood Drive, Rocky Mount and from 8 a.m. until 2 p.m. at Nash Central High School, 4279 Nash Central High School Road, Rocky Mount and from 8:30 a.m. until 2 p.m. at Nash Community College Building D. 522 N. Old Carriage Road, Rocky Mount. More ...

Nash Central High staff become CSI for United Way campaign
The staff at Nash Central High School turned into ace detectives for an entire week in October during the 2008 United Way campaign. It all began with a crime scene, staged during a recent faculty meeting.
A large crime scene photo was posted in the teachers' workroom where each department team could study events, suspects and clues listed to help solve the CSI-like mystery. More ...

NASHVILLE POLICE BRIEFS
ARRESTS
Maurice McKinley Harrison - 10/09/08 - charged assault on a female
Shanon Harris - 10/11/08 - charged with resist, delay or obstruct
Frank Jefferies, Jr - 10/11/08 - charged with resist, delay or obstruct More ...

RMA students are semi-finalists for National Merit Scholarship
Three out of the five local National Merit Scholarship Semifinalists are from Rocky Mount Academy this year. Craig Park, Travis Pearsall, and Allen Rowe have been notified that they are in the one percent of US high school seniors who have qualified to continue in the 54th annual National Merit Scholarship Program. These academically talented high school seniors have an opportunity to receive one of approximately 8,200 National Merit ® Scholarships, worth more than $35 million, that will be offered next spring. More ...

Beulah Community News
We really had a great Sunday at Beulah Church of Christ. The weather was beautiful, the attendance was great and the service was really inspirational. Sunday was annual Homecoming day. We had many friends and members who came to enjoy a great sermon which was given by Chris Hux, a minister from Roanoke Rapids. More ...
By WILMA ENROUGHTY
Mt. Zion FWB Church News
We welcome our four visitors in Sunday school today, making a total of 90 present. The beautiful, colorful flowers were given by Doris Young in memory of Durwood, David and Dennis Young. Thank you, Doris. Brother Bob's thought for the day was on encouragement; "Sandwich every bit of criticism between 2 slices of praise." Scripture that inspires this thought; I Thessalonians 5:11 "Therefore encourage one another and build each other up..." More ...
By ROSALENE BASS
Red Oak Community News
Eileen Shanks, Audrey Pearce, and Suzy Pearce attended the NRBA WMU Leadership Team Meeting on Saturday, Oct. 11 at the Associational Center in Dortches. More ...
By SUZY PEARCE
Peachtree Community News
Last week was a busy week for Peachtree folks. They worked together to make slaw, eye and cut up potatoes, cook the pigs, chop and season the pork and then serve the plates. The take- out plates had to be delivered and the eat-in plates served. The clean up afterward was a big job also. Many people helped and everyone worked hard. It was a happy and bonding experience. Appreciation is expressed to all who helped and to all who ate barbecue and made donations. More ...
By BARBARA HARDISON
Ephesus Community News
Mrs. Nina Blemins was speaker on Sunday morning during the worship hour. She is a wonderful speaker and she had a great story to tell of her relationship with God, Jesus and the Holy Spirit. All Christians have a great testimony in their hearts and are eager to tell it. God is so good to us as we are blessed each day with so much to be thankful for. With God we are blessed and so grateful that he is with us at all times. More ...
By LOTTIE LOU DICKENS
Everyone should buy local, celebrate local
I don't think she meant to do it, but Nashville Graphic publisher Jo Anne Cooper got me stirred up last week with her column on this page.
In the process of taking to task the Nash Health Care Systems Board of Directors for holding a retreat at a golf resort, she opened several cans of worms. More ...
Mike Brantley
Hospital needs a financial reality check
Dear Editor,
Nash Health Care Systems needs a reality check.  The Graphic reported the hospital lost $400,000 last year.  That is interesting, because they spent $300.000 on an outside consulting firm to tell them where to cut 100 jobs.  They also hired another firm to tell them how to cut employees and their family members off of health care insurance coverage. More ...
Letters to the Editor:
Annexation without public's vote is wrong
Dear Editor:
I understand the fury of residents of the proposed area to be annexed by Rocky Mount. I also felt the same and still do, but my fury is after the fact. I was annexed into city as of 07-01-2008. I also did not want to be in the city. More ...
Letters to the Editor:
Senate should have pushed harder to lobby for annexation moratorium vote
As the old saying goes, there are two things you can count on in life: Death and taxes.
All the stuff in between can be overwhelming and sometimes downright confusing. Especially when it comes to government.
I wrote a column a couple of weeks ago about the annexation Rocky Mount is proposing, grabbing homes right here at Nashville's back door in an effort to increase their tax base. More ...
Jo Anne Cooper
A Grid Split Decision
STANHOPE -- With its struggling offense in need of a jump-start, the Nashville Hornets' varsity club turned to the versatile Jacob Green before last Saturday's key youth football contest at backyard rival Nash County.
Green, who has played running back, quarterback and wide receiver this season for Nashville, picked up three rushing touchdowns in the first half to propel the Hornets to a 42-14 decision over Nash County at Firebird Stadium on the campus of Southern Nash High School. More ...
Geoff Neville, Graphic Sportswriter
Nash Co. earns key JV victory
STANHOPE -- It didn't take long for Nash County to display its overall team skill during last Saturday's youth football matchup against Nashville.
Just a few seconds, as a matter of fact.
That's when Jaquay Mitchell took the opening kickoff for a touchdown to give the Firebirds plenty of early momentum -- along with a lead they would never relinquish. More ...
Geoff Neville, Graphic Sportswriter
Northern Nash Erupts For 4-0 Win
RED OAK -- Finding a way to keep a team motivated for a late-season, non-conference match can be a hefty chore for any soccer coach.
That was the dilemma last Thursday for Northern Nash's Joe McCarthy and Louisburg's Brent Cardwell as their clubs met on the pitch for an event that had little impact on the respective teams' postseason fortunes. More ...
Geoff Neville, Graphic Sportswriter
Tennis a winner at Red Oak
RED OAK -- Red Oak Middle School's girls tennis team remained undefeated last Tuesday with a 7-2 victory against Riverbirch Tennis Center out of Greenville.
The Lady Tigers, competing in their final home match, improved to 8-0 under head coach Lisa Clark.
Results from the match were as follows: More ...
From Staff Reports
Nash Central, Rocky Mount begin NEW-6 with victories
ROCKY MOUNT -- Nash Central's got some major production from its passing game last Friday in its home matchup with NEW 6 foe Southern Nash. That aerial attack made all the difference in the Bulldogs posting a 24-13 win over the Firebirds.
It was the first conference matchup for both clubs this season. More ...
Charles Alston, Graphic Correspondent
NEW-6 Volleyball Tourney opens
ROCKY MOUNT -- While conference co-champions Rocky Mount and Northern Nash sat out the first round of the NEW 6 Conference volleyball tournament with byes, the other four teams played in first-round matches last Thursday at Nash Central to see who would meet them. More ...
Kent Wheeless, Graphic Correspondent
Hurricanes defeated by Red Wings
RALEIGH -- The Carolina Hurricanes unveiled their new black jerseys Monday night as the defending Stanley Cup champions, the Detroit Red Wings, came to Raleigh for a National Hockey League showdown at the RBC Center.
The Red Wings were not impressed by the display as they outscored the Hurricanes 3-1. More ...
Dave Buck, Graphic Correspondent
DeRatt sparks Wesleyan to spike victory
ROCKY MOUNT -- Sophomore Barbara DeRatt turned in a solid all-around performance last Tuesday night, leading her North Carolina Wesleyan College volleyball team to its seventh straight victory with a 3-0 sweep of Guilford College.
Set scores were 25-22, 25-13, and 25-18. DeRatt (pictured) turned in a .455 hitting percentage, five kills, four assists, and one service ace. More ...
From Staff Reports
ECU baseball sked released
GREENVILLE -- Thirty-five home games at Clark-LeClair Stadium, including the Sixth-Annual Keith LeClair Classic, highlight the 2009 East Carolina baseball schedule announced last Thursday afternoon by head baseball coach Billy Godwin, a Northern Nash High School graduate. More ...
From Staff Reports
ROCKY MOUNT HEAT RESULTS
ROCKY MOUNT -- The '93 Rocky Mount Area Youth Soccer Association Heat girls Classic soccer team scored two goals in the first half and shut down the determined attack of the Piedmont Triad Football Club to secure a 2-0 win on Sunday at the Old Carriage Road Soccer Complex.
The Heat scored its first goal seven minutes into the match when, on a free kick from just outside the 18-yard box, Kasey Cooke lifted her shot over the wall and under the crossbar for a 1-0 Heat lead. More ...
From Staff Reports
Nash County's got Talent auditions begin soon!
NASH COUNTY – Got talent? Nash Arts is looking for you!
Auditions are set to begin for the annual Nash County's Got Talent competition on Monday Nov. 3 and Tuesday, November 4. To register for auditions, contact Shelly at Nash Arts, 252-459-4734.
Registration fees are $25 for individuals and $50 for groups. More ...

White Oak Community Harvest Concert set for October 25
WHITE OAK – The 3rd Annual White Oak Community Harvest Concert is planned for Saturday, October 25, starting at 2 p.m.
The event will take place next to Manning's Store at 2739 South Old Franklin Road, just off Hwy. 64 Bypass between Spring Hope and Nashville.
Performers at this year's event include Al Batten and The Bluegrass Reunion and also The Grass Cats More ...

Sollini to perform at Cherry Hill Plantation
The second of three fall concerts at Cherry Hill Plantation in Warren County will feature Italian pianist Marco Sollini who has earned international acclaim from music critics and from some of the greatest contemporary musicians.
He will perform Sunday, Oct. 19 at 3 p.m. More ...

HENRY ALLEN JONES
NASHVILLE - Henry Allen Jones, 75, went to be with his Lord, Thursday, October 9, 2008. He was born November 6, 1932 in Edgecombe County. Henry was the son of the late, James O. and Mary Elizabeth Jones. More ...

CLORA A. BAILEY
NASHVILLE - Clora A. Bailey, 95, passed away on Friday, October 10, 2008. Funeral services will be held Wednesday, October 15, 2008 at 1:00 p.m. from the Union Hill Baptist Church with Rev. Thomas E. McCullers officiating. Burial will follow in the church cemetery. More ...
1 opinion posted
MARY RUBY TISDALE
WHITAKERS - Mary Ruby Tisdale, 89, passed away on Thursday, October 9, 2008. She was born April 10, 1919 in Nash County. She was preceded in death by her parents, John and Sue Brown; one sister, Eardie Coley and two brothers, Eddie and Herman Brown. More ...

WILBERT BRASWELL
ROCKY MOUNT - Wilbert "Dank" Braswell, 71, passed away on Wednesday, October 8, 2008 at Heritage Hospital. The funeral service was held at 2:00 p.m. Monday, October 13, 2008 at H.D. Pope Funeral Home in Rocky Mount. More ...