Subscribe/Access
Advertisements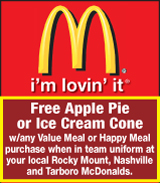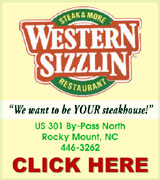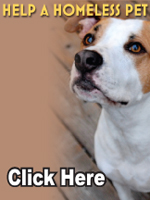 Sections
Member Options
Back
Nashville to seek bids for new town hall
The Town of Nashville will move forward with seeking bids on its new town hall project, council members decided during the regular meeting on Tuesday night.
Ann Collier, an architect with Oakley Collier Architects, presented the site plan to council members. The proposed facility will be located on Barnes Street, adjacent to the Nashville Fire and Police Departments on land the town owns. Last month, Collier presented a preliminary design to Town Council. More ...
By Amanda Clark, Graphic Staff Writer
Two tornadoes touch down in Southern Nash
Two tornadoes lingered in Southern Nash County last Wednesday but no damage was reported.
Brian Brantley, Nash County Emergency Services Director, said the two tornadoes touched down, one near Sandy Cross and the other near the intersection of I-95 and Highway 97. However, Brantley added, the tornadoes touched down in areas where there were no structures, lingered for a while, and slowly dissipated. More ...
By Amanda Clark, Graphic Staff Writer

Janie Battle (at left), Family Nurturing Chair for Habitat for Humanity, gives new homeowner Pat Hunter a Bible to keep in her home during a dedication ceremony last week.

Habitat dedicates eighth home to Hunter family
A little over a year ago, 721 Smith Street in Nashville was just a plot of land. Today, it's the home of Pat Hunter and her two sons, LJ and Jacob.
Habitat for Humanity officially turned over the keys to Hunter last week during a dedication ceremony at the home. This is the eighth home Nashville's Habitat has constructed since its inception. More ...
By Amanda Clark, Graphic Staff Writer - 2 opinions posted
Spring Hope enters into SOC agreement with state
An agreement between the North Carolina Division of Water Quality and Town of Spring Hope will allow the town's wastewater treatment plant to process an additional 25,000 gallons per day, leading the way to construction of a new Bojangles restaurant.
In a special called meeting last Monday night, Spring Hope's Board approved entering into a special order of consent, or SOC, with the state. More ...
By Amanda Clark, Graphic Staff Writer
Local teen talks peer pressure
A local teen is speaking up about peer pressures in today's society.
Eighteen-year-old Shanee' Arrington said during the 2007-2008 school year, she became a different person to fit in. Now, she is trying to reach out to others and let them know that you shouldn't change to be in the "in" crowd.
Arrington said she realized she wasn't being herself when her older brother told her she had changed. "And God told me too," Arrington said. More ...
By Amanda Clark, Graphic Staff Writer - 1 opinion posted
NEED names Hunter Executive Director
Nash-Edgecombe Economic Development's Board of Directors announces the appointment of Barbara C. Hunter as the agency's new Executive Director. Prior to her appointment, Mrs. Hunter was serving as Finance Director for the agency.
Theo H. Pitt Jr., Chairman of the Board of Directors and who led the Search Committee said, "Barbara is a dedicated employee, with vast financial experience and deep knowledge of the agency and its services to the economically disadvantaged citizens of our area. She has served with distinction in her current role for over 20 years." More ...

Nash County wraps up tax revaluations
Nash County's Tax Department is working hard to wrap up revaluations so that citizens can get the results of their new assessed values.
Tax Administrator Gene Rountree said it will probably be sometime in November before officials are finished and feel comfortable with the results. More ...
By Amanda Clark, Graphic Staff Writer
Morrisville man charged in fatal accident on Highway 64
A Morrisville man was charged with misdemeanor death by vehicle following an accident on Highway 64 near U.S. 581 in Nash County on Saturday morning.
According to the NC Highway Patrol, Sivarai P. Thevan, 26, of Morrisville, was driving on Highway 64 in the right lane beside another vehicle driven by Amardeep Singh, 26, also of Morrisville, when Thevan suddenly merged into Singh's lane, causing his vehicle to run off the road and into the median, hitting a tree before overturning. Both Singh, and his passenger, 24-year-old Nilesha Nahata were killed in the accident. More ...

NASHVILLE POLICE BRIEFS
ARRESTS
Timmy Richardson - 8/25/08 - charged with larceny/shoplifting and resisting arrest
Adam Keith Peele - 8/27/08 - charged with larceny/shoplifting.
Jermaine Williams - 8/30/08 - charged with assault on a female, resisting a public officer and assault on a government official. More ...

Downtown Merchants Association to honor Davis
The Downtown Merchants Association will present a plaque to the family of Doug Davis on Saturday, October 11 at 2:30 p.m. in front of Davis Furniture, 163 SE Main St., Downtown Rocky Mount.
Mr. Davis was a pioneer in the revitalization of Downtown Rocky Mount. He is being honored for the many contributions he made to the Merchants Association. More ...

Futrell, Unrue marry
Mary Megan Futrell and Aaron Benjamin Unrue were married Saturday, August 9, 2008 at Sunset Avenue Baptist Church, Rocky Mount. The officiating minister for the 3 p.m. ceremony was Rev. Phillip Coates. More ...

Rock Creek installs new pastor
Rock Creek Baptist Church held a "Church-Pastor Covenant and Worship Service" on August 10 for the installation of their new pastor, Rev. Blake Dempsey. Participants in the service were: Rev. Sylvia Sutter, Minister of Music; Rev. David Pope, Pastor Emeritus; Dr. Wendy Edwards, Spiritual Formation Coach with the Baptist State Convention; and Dr. Bill Wakefield, former interim pastor. Rock Creek Baptist Church was formed in 1996 under the leadership of founding pastor, Rev. David Pope, and Minister of Music, Rev. Sylvia Sutter. Rock Creek Baptist Church is located at 1238 Rock Creek Drive, off 1st Street Extension. The church has Sunday School each week at 9:30am and worship service at 10:30am. More ...

Mt. Zion FWB Church News
I am having to get this article in early, because Monday is Labor Day. I looked up the word to see why it is a holiday. Webster's dictionary said, "the first Mon. of Sept. set aside in most states in the United States as a legal holiday in honor of Workingmen as a class. If you are retired, remember those working days with pleasure. If you are still working, remember you are honored as a working class. You know that God ordained that man work after the fall of Adam and Eve. Honest work is honorable in the sight of God and man. God's word says, "... If any would not work, neither should he eat." (II Thess. 3:10). More ...
By ROSALENE BASS
Peachtree Community News
This Labor Day week-end was the time for the last fling of summer. Many Peachtree folks were away at the beach, in the mountains or just relaxing before school begins in earnest. But there was good attendance at church, including several visitors. Pastor Whitehouse delivered Part II of his sermon, "It's Going to Cost You Everything". This was based on the scripture passage from Romans 13: 8-10. He pointed out that religion is empty if it does not compel you to reach out to those who are hurting around you. His final point was that Love is God's medicine for the world. More ...
By BARBARA HARDISON
Ephesus Community News
Chris Sandifer led the agenda on Sunday morning for the worship hour in which Mary Jane Bauer gave her personal testimony, and also Debbie Phillips gave her personal testimony. They are both new Christians and have a great testimony. More ...
By LOTTIE LOU DICKENS
Military News
Army National Guard Pfc. April L. Hill has graduated from basic combat training at Fort Jackson, Columbia, S.C. More ...

Area business announces expansion
ROCKY MOUNT – Avada Audiology & Hearing Care Centers, Regional Director and President of Carolina Hearing & Balance, Inc., W. Earl McCall, announces company expansions into Roanoke, Richmond, and Hampton Roads, Virginia. Earlier this year, Rocky Mount based Avada Audiology & Hearing Care Centers expanded its services into Western North Carolina. "We found a profound need for hearing healthcare services in these areas," said McCall, "We love helping the hearing impaired. Helping the hearing impaired is a passion for our family and staff." More ...

District three gets new hunter safety educator
Hilton Best has joined the N.C. Wildlife Resources Commission as the hunter education specialist for the eastern Piedmont and Coastal Plains region. His duties will include instruction in hunter ethics and responsibility, wildlife conservation and management, firearms, wildlife identification, survival and first aid, specialty hunting and tree stand safety. More ...

Rocky Mount photographer wins first in photo show
Professional photographer, Ronald L. Sowers, owner of Ronald L. Sowers Photography, has two photographs juried into the Beaufort County Arts Council's Inaugural Juried Photography Show. The inaugural effort brought over 170 entries from more than 50 artists from South Carolina to Maryland. Ron won first place for his photograph titled Weaver & Dancer and an honorable mention for his photograph called Jessica - Model in the Traditional Monochrome category. Both photographs are part of an ongoing project and exhibition entitled "Descry" which will be exhibited October 2008 in the Gallery at the Halle Cultural Arts Center in Apex, NC. The Center is located at 237 North Salem St. in historic downtown Apex. More ...

Rocky Mount woman creates quilts for Shriners Hospital youth
Fred and Sandra Cutts reside in Rocky Mount and have supported The Shriners Hospitals for Children for many years. Fred is a member of Rocky Mount Shrine Club and Sandra retired from Nash-Rocky Mount School system in 2004. Since retiring she has searched for a special way to touch children's lives. More ...
1 opinion posted
Nash Correctional inmates give school supplies to Cedar Grove
Inmates at Nash Correctional Institution are giving back to the community in a way that could change the lives of children. Jodie Strickland, Program Supervisor and Coordinator for the Service Club said that this is the first time a school is the recipient of inmate fundraising through their service projects. Cedar Grove Elementary School was chosen as the recipient of multiple boxes of school supplies for needy children. Brightly colored folders, notebooks, crayons and pens will be distributed to students at Cedar Grove Elementary School whose parents are not able to provide necessary school supplies. More ...

I can't believe my baby girl is a third grader
Sometimes I feel like my 8-year-old teenager is growing out of control.
Longtime readers know a lot about Holly, as many significant things in her life have been chronicled here. You'll also note that I get in a real melancholy mood every year about this time, oddly enough when school starts back. More ...
Mike Brantley - 1 opinion posted
I'm tired of reality
Everyday I get up and go to work and live my life, I'm facing reality. When I go home at night, I don't want to face reality. So, why is every channel on television bombarded with stupid reality shows?
You can find a reality show on just about anything and that's just on regular tv. I can't imagine what satellite and cable television are like. More ...
Amanda Clark - 1 opinion posted
Watch out for investment schemes that rip off seniors
Scam artists and other dishonest businesses try to take advantage of consumers of all ages, but seniors can be special targets because they've built up a lifetime of savings and may be more trusting. One of the worst kinds of scams pressures seniors into spending their savings on living trusts and annuities that many of them don't even need. More ...
By Attorney General Roy Cooper
Bunn By A Block
BUNN - Bunn parlayed a blocked punt into the eventual game-winning touchdown in the third quarter of last Friday's 14-8 backyard rivalry victory over the Southern Nash Firebirds at the BHS Football Field.
With the score tied at 8-8 late in the third stanza, Bunn blocked an SN punt and took over at the Firebirds' 21-yard line. More ...
By Geoff Neville, Graphic Sportswriter
Bulldogs win over Spartans
SMITHFIELD -- Special teams play turned out to be the savior for Nash Central last Friday evening in its non-conference football road contest at Smithfield-Selma in Johnston County.
It ended up accounting for 22 of the Bulldogs' points on the evening as they topped the Spartans 28-20 for their first win of the season and also the first career victory for first-year head coach Kevin Crudup. More ...
By Charles Alston, Graphic Correspondent
Rams Win In 3rd-Place Showdown
FRANKLINTON -- After disappointing setbacks the night before, Franklinton and Northern Nash didn't necessarily want to be playing in the third-place match last Saturday afternoon at the Garman Homes Labor Day Cup.
In the semifinals of the eight-team event, host Franklinton had squandered a two-goal lead in losing to East Wake, while NN had dropped a shootout against Oxford Webb. More ...
By Geoff Neville, Graphic Sportswriter
Caniac Carnival selected
RALEIGH -- The Carolina Hurricanes have announced the schedule of events for the Ninth Annual Caniac Carnival.
The Carnival is the team's annual season kick-off event and will take place on Sunday, Sept. 21, from 10 a.m. until 2:30 p.m., at the RBC Center. More ...
From Staff Reports
HIGH SCHOOL GRID SCORES
NASH COUNTY -- Listed are last weekend's results from Week Two of the North Carolina high school football season: More ...
From Staff Reports
Carolina Mudcats get ready for SL postseason
ZEBULON -- Carolina scored three runs in the bottom of the eighth inning to break a 4-4 tie and go on to defeat the Tennessee Smokies 7-4 at Five County Stadium in front of 4,736 fans in the regular season diamond finale of the Class AA Southern League.
Brett Sinkbeil pitched five innings for Carolina, allowing just two hits and one run. Todd Doolittle (W,5-3) earned the win for Carolina, pitching the eighth inning, allowing one run on one hit. Chris Mobley (S, 28) pitched the ninth inning for Carolina to earn the save. More ...
From Staff Reports
Goodwin sparkles at Chicago contest
NASH COUNTY -- Perhaps asking for another MVP performance might have been too much to ask from Rocky Mount's Brian Goodwin.
But then again, perhaps not. More ...
By Charles Alston, Graphic Correspondent
Carolina Kids Theatre seeks participants for "Peter Pan"
Carolina Kids Theatre is currently holding registration "Peter Pan." Rehearsals and classes will meet weekly according to age groups beginning the third week of September. Everyone who registers will receive a part in the show and several smaller roles will be cast during regularly scheduled rehearsals. Principal roles and soloists, however, will be cast during an open audition scheduled for the end of the second week of rehearsals. Children cast as leads or soloists will be required to attend one additional rehearsal per week during the first two months and two additional rehearsal during the last month of rehearsals. Rehearsals will be mandatory for everyone participating during the final week of production. Performance dates have been scheduled for the second weekend in December, but may be bumped up to the first weekend because of availabilty of the performance venue. More ...

Nash County Blood Drives
Wednesday, 9/3/08 from 11 a.m. - 5 p.m. at 1511 Benvenue Rd, Rocky Mount
Thursday 9/4/08 from 4 p.m. - 8 p.m. at Friendly Masonic Lodge, Ebenezer Missionary Baptist Church, 652 Raleigh Rd, Rocky Mount and from 10:30 a.m. - 4:30 p.m. at Ceco, 100 Red Iron Rd, Rocky Mount More ...

ANNIE OWENS WHITLEY
SPRING HOPE - Annie Owens Whitley, 79, passed away on Sunday, August 31, 2008 at Nash General Hospital. She was the widow of Quinton J. Whitley and the daughter of the late Rufus and Martha Phillips Owens. More ...