Subscribe/Access
Advertisements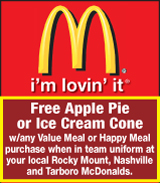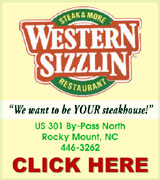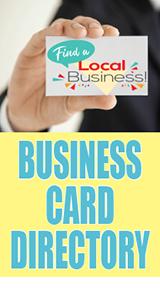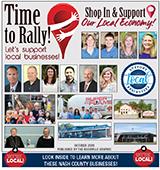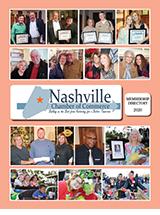 Sections
Member Options
Back
Chase leads to arrest of local man
A high speed chase through rural Nash County last Wednesday afternoon ended with the arrest of a Spring Hope man.
The Nash County Sheriff's Office was called to a disturbance at Vanderbilt Road outside of Spring Hope last Wednesday. According to Lt. Pat Joyner, with the Sheriff's Officer, when the responding deputy arrived at the scene, several people were in the yard. When the deputy got out of his vehicle, Joseph Andrew Edgerton, 32, allegedly came at the deputy with two knives in his hand. The deputy ordered Edgerton to drop the knives and Edgerton's wife jumped in between him and the deputy to stop her husband. Joyner said Edgerton then slapped his wife, dropped the knives and took off running. He then jumped into a white Chevy Tahoe and fled, allegedly trying to hit the deputy as he fled. More ...
By Amanda Clark, Graphic Staff Writer

Members of the Marine Corps League Honor Guard raise the United States Navy flag in memory and honor of Bill Bailey, a local WWII veteran. A ceremony will be held at Jack Laughery Park in Rocky Mount each month to honor a local soldier.

Local veteran honored at Jack Laughery Park
A flag raising ceremony will honor local soldiers each month at Jack Laughery Park in Rocky Mount.
The first flag raising was held on Monday and honored William H. "Bill" Bailey, Jr., a World War II veteran from Rocky Mount. Bailey passed away on June 26, 2008. He was 90 years old. More ...
By Amanda Clark, Graphic Staff Writer
County receives $11 million for water project
USDA presented the Nash Central Water and Sewer District with a check for $11 million, which will help fund the first three phases of the county's regional water system.
The low interest loan and grant, totaling $11.3 million, was presented to county officials by Jim Andrew, Administrator of the Rural Utilities Program, last Tuesday during a special ceremony in the Frederick B. Cooper Commissioners Room. The county was notified months ago that they had received the grant. More ...
By Amanda Clark, Graphic Staff Writer
Over 60 youth participate in third annual Youth Day
Proceeds from the third annual Youth Day event will provide up to $600 in scholarships to Nashville's Boys and Girls Club.
The Athletic Youth Day event, held Saturday at Glover Park, provided area youth with the opportunity to participate in an array of athletic events, including basketball, track and field, baseball and football. According to Lena Sessoms, a committee member and the initial organizer of the event, 65 kids signed up for the all day event. "But there were at least 100 kids out there," Sessoms added. More ...
By Amanda Clark, Graphic Staff Writer
"Pluggie" to help NFD teach fire prevention
Nashville's Fire District Auxiliary recently purchased Pluggie, a walking, talking fire hydrant, for the fire department to use for fire prevention activities.
Pluggie was purchased for $6,000 using proceeds from this year's reverse raffle, held in May. Tracey Goldbach, injury prevention specialist, said she began checking into a robotic fire hydrant after being asked several times if the department had one. Goldbach said Nash County has a robotic rescue squad and other area fire departments have fire trucks. But, she added, no one had a fire hydrant. More ...
By Amanda Clark, Graphic Staff Writer
Super 10 to close
Super 10 in Nashville will close its doors on September 20 after almost 20 years in business.
Super 10 first opened in July of 1989. Before it was Super 10, Pope's operated out of the Washington Street building for around 40 years. More ...
By Amanda Clark, Graphic Staff Writer - 1 opinion posted
4-H to host gala
The first annual Nash County 4-H Gala is set for Monday, September 8. The event will be a kick off to celebrate 100 years of 4-H in North Carolina.
The Gala will be held in the Brown Auditorium at Nash Community College and will help provide financial support to 4-H programs, which benefit over 5,000 youth. More ...

New shots required for sixth graders
Students about to enter the sixth grade will now have to meet a new immunization requirement.
A booster dose of Tdap vaccine, which protects against tetanus, diphtheria and pertussis (commonly called whooping cough), is now required for all children enrolled in public school prior to entering sixth grade. Children not attending public schools, such as private, religious, or home schools, are required to receive this vaccine by age 12. More ...

Auxiliary unit wins award
Ms. Susan Campbell, Department of North Carolina Historian 2007-2008, presented a certificate on June 14, 2008 to Nashville American Legion Auxiliary, Unit 293. The unit won second place in the American Legion Auxiliary Department of North Carolina Unit Scrapbook Contest for 2007-2008. The unit was awarded other certificates of recognition. Doris Leonard was elected and installed as Division I President. Four members of the unit also recently visited Autumn Care of Nashville. Six veterans were visited and given care gift bags as part of a special project called Vet Care. Five members visited Nash Grove Manor presenting eight veterans the special care gift bags. More ...

Motorcycle accident in Franklin County kills Rocky Mount man
Concerned passersby scurried at the scene of a fatal motorcycle wreck Saturday off Stallings Mill Road — many calling on cell phones for 911 rescue and others bringing over blankets and water.
Troy Alexander Artis, 44, was barely breathing on his side and his pregnant wife, who came up on the crash just after leaving a Smooth Riders Motorcycle Club fundraiser, was on the ground nearby crying out with stomach pains. More ...
By CAREY JOHNSON, Franklin Times Staff Writer - 1 opinion posted
MILITARY NEWS
Air Force Airman Pia D. Richardson has graduated from basic military training at Lackland Air Force Base, San Antonio, Texas.
During the six weeks of training, the airman studied the Air Force mission, organization, and military customs and courtesies; performed drill and ceremony marches, and received physical training, rifle marksmanship, field training exercises, and special training in human relations. More ...

FSA provides information on 2008 Farm Bill
Suzanne Murray, County Executive Director of the Nash County Farm Service Agency (FSA), would like to remind farmers that county committee elections will be held this fall for Local Administrative Area 3 which consists of Coopers, Oak Level, Red Oak, Rocky Mount, Stony Creek, North Whitakers and South Whitakers townships. LAA 3 is currently represented by S. Kent Smith. FSA will be accepting nominations through August 1, 2008 for eligible persons to appear on the ballot. More ...

NCC launches newly redesigned website and online registration
Just in time for the Fall semester, Nash Community College announces the unveiling of a newly re-designed website at www.nashcc.edu along with online registration for returning students.
Led by extensive college website research and feedback from the college's website users, the goal of the new site is easy-to-use navigation and menu options in a unique design that tells the story of who the college's students are. More ...
Contributed
Phil Ford Celebrity Golf Classic set for August 16
ROCKY MOUNT – (Contributed) The Boys & Girls Clubs of Nash/Edgecombe Counties has announced the Inaugural Phil Ford Celebrity Golf Classic. The event hosted by Rocky Mount native, UNC Chapel Hill basketball icon, and NBA superstar, Phil Ford, will support the Boys & Girls Clubs of Nash/Edgecombe Counties. More ...

Beulah Community News
We had two great sermons brought to us Sunday by our minister, Daniel West. Sunday morning the sermon was on "At Your Wits End". I'm sure at times we all feel that we are at wits end. The message was really meaningful and reminded us that everyone feels that way at times. We must just remember that God is always there to help us if we will only talk to him in prayer. More ...
By WILMA ENROUGHTY
Peachtree Community News
Welcome back home to Niki Scott and her children, Zachary and Chloe. They are back in the area to live while her husband, Chris Scott, is doing a tour of overseas' military duty. Grandma Jeannie Bennett will enjoy having them close by for a while. They moved here from Columbia, South Carolina and Zachary will be entering Kindergarten in the fall. More ...
By BARBARA HARDISON
Ephesus Community News
This week has been a wonderful week with lots of good activities for the mind, soul and body, mentally, spiritually and physically, as we are studying how to be a better Christian and church member. Our church members are getting prepared for a new pastor in the near future. Each of us have an important role to play as God called servants. More ...
By LOTTIE LOU DICKENS
Red Oak Community News
The Women in Action missions group of Red Oak Baptist Church met on Thursday, July 17 at the home of Jeanette and Hazel Hill. Everyone enjoyed the program and the special time of fellowship. Lots of plans were made for upcoming mission action projects. This month they collected items for missionaries. More ...
By SUZY PEARCE
Mt. Zion FWB Church News
We enjoyed a good Sunday school lesson about Jesus' servant hood. He washed His disciples' feet in example for them to follow by serving one another and mankind. The example still stands today. We are all to be humble and willing servants for mankind in the name of Jesus. More ...
By ROSALENE BASS
Castalia Baptist & Community News
Is it hot or is it hot? The dog days of summer are howling. This hot weather is good for the tobacco and cotton crops but not so good for us. Keeping cool the last couple of weeks has been a chore, but just think what the heat will be like in hell. Keeping cool there will be a full time job without seeing any results. If you don't like the heat here on earth then you surely will not like the heat of hell. To find out the way to keep out of the heat, come to Castalia Baptist Church. More ...
By LISA R. JORDAN
4-H students explore medical careers at NHCS
"What about this?"
Veronica Rowland, a nurse who works in Nash Health Care's Emergency Care Center, held an unlabeled container of blue liquid for the class to see. "Why is this dangerous?"
Instantly, almost a dozen hands were raised to answer the question. Students stated that every container should be labeled, that no one should handle unknown substances, and that these containers should be kept in a safe area. Rowland added another red flag: young children could mistake the unknown blue liquid for Kool-Aid and drink it, which could poison them. More ...

Jack Laughery Ride for Knowledge raises funds for scholarship endowment
The Nash Community College Foundation is pleased to announce that the 1st Annual Jack Laughery Ride for Knowledge held at Rocky Mount Harley-Davidson on Saturday, May 31, 2008 raised over $3,700 for the Helen & Jack Laughery Honorary Scholarship Endowment. This scholarship fund provides financial assistance to students who are returning to college to enhance their marketable job skills. More ...
Contributed
Postal nightmare nets a deficit
They say you can't fight City Hall. I guess that would include the Post Office, too.
At least that's what I've found out since March.
I've had to really consider whether to write this column or not.
After all, I don't want to offend my regular mailman, Ronnie, who is professional and a really good guy to boot. But, this is a case with more so with "higher ups" and much less to do with local postal employees. More ...
Mike Brantley
Occasionally the pen can get ahead of the intended word
When you get excited about things, you tend to sometimes express that excitement and not say exactly what you meant. I may have done that last week.
I mentioned Wendy's and Ribeye's coming to town in my column last week, adding that it would be nice to have a sit-down restaurant in town. And it will be nice. But, I definitely didn't mean that Nashville doesn't already have several nice places to eat. I may have made it seem like we are a town without restaurants, even though that's not what I meant. More ...
Amanda Clark
New generation is one that's alien to me
Dear Editor:
All the sounds made by nature's own are palatable to the human ear:
Consider the warble of a bluebird, the shriek of a hawk, the roar of a lion, cascading water falls, on and on.
Only man-made sounds are rasping to the ears and irritable to the nervous system. More ...
Letters to the Editor
Storybook Swimmers
NASHVILLE - Westridge's storybook pool season continued last Thursday with a road victory at Birchwood in Nash-Halifax Swim League action.
Westridge remained undefeated with a 483-297 decision at the Birchwood Pool. Westridge will look to remain perfect during this Thursday's regular season finale at home -- a rematch against Birchwood. More ...
By Geoff Neville, Graphic Sportswriter
Davis Picks His Way To Fantasy Payday
NASHVILLE -- A Nashville man won $5,400 playing basketball without breaking a sweat.
Gerald Davis was recently named the 2007-2008 Fantasy Basketball champ for Head to Head Sports.
Davis, who moved to Nashville from Maryland in 2003, said he began playing fantasy sports after seeing an ad in the Raleigh News and Observer a few years ago.
"It was a modest fee and you could play all those fantasy sports on your computer, so I joined," Davis said. More ...
By Amanda Clark, Graphic Staff Writer
Midnight hoops are scheduled
ROCKY MOUNT -- The Rocky Mount Parks and Recreation Department will be hosting a Midnight Basketball program for ages 16-25 at the Rocky Mount Senior Center (427 South Church St.).
The event will take place on 10 consecutive Fridays from 10 p.m.-2 a.m., beginning Aug. 1 and ending Oct. 3. Prior to each week's play, participants will attend workshops, with topics including city government, job training, gang prevention, conflict resolution and drug awareness. More ...
From Staff Reports
Teams slated for Brittany
WILSON -- Nash County's four public high school teams will all be in action at the annual Brittany For The Boys Soccer Showcase, which will be held Aug. 22-23 at Gillette Park in Wilson.
Rocky Mount High will be the first club in action, as the Gryphons will tangle with D.H. Cohnley on Aug. 22 at 8 p.m. More ...
From Staff Reports - 1 opinion posted
CAROLINA HURRICANES' SKED
RALEIGH -- Listed in the Carolina Hurricanes' 2008-09 National Hockey League regular season schedule (home games at the RBC Center in Raleigh are listed in CAPS): More ...
From Staff Reports
Blues, Reds earn decisions
RED OAK -- The Nash County Blue and Red Tennis Teams put together a strong showing last week during recent court action.
Last Tuesday, the Blues traveled to River Birch Tennis Center in Greenville and came away with an impressive 6-3 decision. More ...
From Staff Reports
Carolina Mudcats topped in extra innings
PEARL, MISS. -- Quentin Davis hit a sacrifice fly in the bottom of the 11th inning to send the Mississippi Braves past the Carolina Mudcats 8-7 in a near four-hour game in the series finale at Trustmark Park in a Class AA Southern League diamond matchup.
The sixth Carolina error of the game ignited the game-winning rally in the 11th against Jeff Gogal (L, 4-2). More ...
From Staff Reports
Nash duo to play at Wrigley
NASH COUNTY -- Rocky Mount rising senior Brian Goodwin has to be the busiest guy in Nash County this summer.
He was already playing showcase baseball with Impact Baseball's Dirtbags team and he's scheduled to participate in the East Coast Professional Baseball Showcase again this year (July 31-Aug. 4) in Lakeland, Fla. -- his second straight summer playing in the event. He'll be there by invitation from a scout for the Cleveland Indians. More ...
By Charles Alston, Graphic Correspondent
FREDDIE ALEXANDER
ROCKY MOUNT - Freddie Alexander, age 57, passed away Thursday, July 17, 2008 at South Village Nursing Center. More ...

CHESTER LEE THOMAS
ROCKY MOUNT - Chester Lee Thomas, age 51, passed away on Thursday, July 17, 2008 at Nash Health Care Systems. The funeral service was held at 2:00 p.m. on Saturday, July 19, 2008 at H. D. Pope Funeral Home Chapel in Rocky Mount. Interment followed immediately afterwards at Gardens of Gethsemane. More ...

WILLIAM "SKEET" LEE
HOLLISTER - William "Skeet" Lee, age 57, passed away Friday, July 18, 2008. Funeral services were held at 2:00 p.m. on Tuesday, July 22, 2008 from the Pine Chapel Baptist Church with the Rev. Robert Hedgepeth officiating. Burial followed in the Pine Chapel Memorial Garden Cemetery. More ...

BERNETTA WALKER
NASHVILLE - Bernetta Walker, age 80, passed away Friday, July 18, 2008. Funeral services will be held Wednesday, July 23, 2008 at 2:00 p.m. from Bunn Chapel Baptist Church with the Rev. Gregory Evans officiating. Burial will follow in the Oakland Cemetery. More ...

TROY A. ARTIS
ROCKY MOUNT - Mr. Troy A. Artis, age 44, passed away on Saturday, July 19, 2008. The funeral service will be held on Saturday, July 26, 2006 at 1 p.m. at The New Morning Star Church of Christ, at 225 S. Glendale Avenue, Rocky Mount. Interment will follow immediately after the service at Gardens of Gethsemane. More ...