Subscribe/Access
Advertisements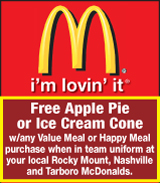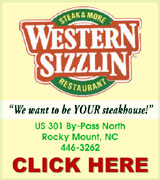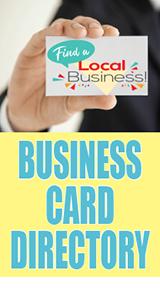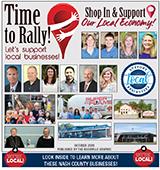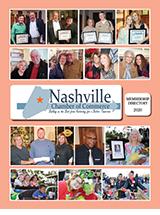 Sections
Member Options
Back
Castalia celebrates July 4th
JULY 4th - The Town of Castalia held its annual Fourth of July celebration on Friday. Events included food, games, a car show, musical entertainment and a parade. Celebrations concluded with fireworks. This year's event was held in memory of Ken Rice, a past festival organizer, who passed away in April. Pictured above, Miss Castalia waves to parade watchers Friday afternoon. More ...
1 opinion posted
Castalia, County reach agreement
After several weeks of discussion concerning details in a proposed Memorandum of Understanding between the county and Castalia, an agreement for the town to begin the purchase of bulk water from the county has been reached. At the last Castalia Town Meeting on July 1, Castalia officials sent back the MOU with the request that a change be made to the placement of the water meter. The revised Memorandum of Understanding was approved by the County at the July 7 County Commissioner's meeting. More ...
By Amelia Harper, Graphic Correspondent
Nashville requests DOT assistance
Nashville's Town Council unanimously approved a resolution requesting assistance from the Department of Transportation for its Downtown Signalization Project. The action was made at the council's regular meeting last Tuesday night.
The project is part of the town's Downtown Revitalization Project, which is a combined effort with Nashville's Chamber of Commerce. The signalization project includes replacing the existing signal lights in downtown Nashville with mast-type lights. Lights will be replaced at Washington and Barnes Street, Washington and Boddie Street and Washington and Alston Street. More ...
By Amanda Clark, Graphic Staff Writer
Red Oak updates town projects
At the regular Red Oak monthly meeting held on Monday, July 7, Commissioners updated the status of several current town projects. Updates were given on the new park construction, on the water and sewer situation, and on the proposed stop light to be placed at the intersection of Hwy 43 and Old Carriage Road. More ...
By Amelia Harper, Graphic Correspondent
County board okays rezoning request for commercial use
Nash County's Board of Commissioners went against the Planning Board's recommendations and approved one rezoning request while forwarding another to the Board of Adjustment.
The first request, made by David Baines, was a conditional use rezoning request for 1.02 acres at 5284 Baines Loop Road from A-1, or agriculture, to RC-CU, or rural commercial-conditional use. Baines owns a automotive shop at the location and requested the conditional use request for automotive repairs, light equipment rentals and tires sales plus single family dwelling and accessory buildings. More ...
By Amanda Clark, Graphic Staff Writer
FIRST COTTON BLOOM 2008
Carolyn Vick Philips holds the first cotton bloom found on Philips Farm in Battleboro. The Nashville Graphic has held a long-time tradition of offering a free one-year subscription for the first bloom of the season brought to the newspaper. More ...

Town to get exit numbers on Hwy 64
Giving directions to Nashville will soon become easier as exit numbers will adorn three Nashville exits on Highway 64.
Nashville's Town Council put the issue as a priority at its retreat meeting and has been in talks with the Department of Transportation on how it could make its goal a reality. According to Nashville Mayor Donald Street, the exit numbers will not only provide assistance in giving directions to the town but will also assist in the town's beautification project. More ...
By Amanda Clark, Graphic Staff Writer
Cell phone ban is rumor
Though law enforcement doesn't encourage talking while driving, First Sergeant Keith Stone of the North Carolina Highway Patrol said there is no law against using cell phones while driving.
Despite rumors being circulated on the internet, Stone said there is no law in place against the general public using their cell phones in vehicles. However, there is a law for drivers under the age of 18. There is also a law for school bus drivers. That law was in effect in 2007. More ...
By Amanda Clark, Graphic Staff Writer
Operation results in 25 DWI arrests
An operation to get impaired drivers off the highway resulted in the arrest of 25 over the Fourth of July weekend.
According to First Sergeant Martin Jones of the North Carolina Highway Patrol, "Operation Firecracker" ran from June 27 until July 6. In its last week, including the July 4th weekend, 25 impaired drivers were arrested. More ...
By Amanda Clark, Graphic Staff Writer
Etheridge sponsors bill to stave off energy market manipulation and speculation
U.S. Congressman Bob Etheridge stopped in Nashville Monday to discuss with some local citizens a recent bill he introduced to prevent energy market manipulation and excessive speculation.
Etheridge said there is a growing concern that the market is being manipulated, driving up fuel prices.
"We don't need people on Wall Street manipulating prices for folks on Main Street," said Etheridge. More ...

Bass, Mills marry
Lori Michelle Bass and Timothy Ray Mills, II were married at 6 p.m., June 14, at the home of Clay and Amy Thornton in Spring Hope in a garden ceremony performed by Rev. Frankie Carroll. More ...

ENGAGED
Mr. and Mrs. William Futrell, Jr. of Nashville announce the engagement of their daughter, Mary Megan Futrell, to Aaron Benjamin Unrue, the son of Mr. and Mrs. Bob Unrue of Nashville. The wedding will take place on August 9, 2008 at 3 p.m. at Sunset Avenue Baptist Church, Rocky Mount. More ...

BIRTH
Brian and Georgeanna Jenkins of Nashville are proud to announce the birth of their daughter, Hannah Marie Jenkins. Born June 19, 2008, at Nash General Hospital in Rocky Mount, she weighed 8 pounds, 9 ounces and was 20 inches long. More ...

MILITARY
Army Pfc. Jonathan A. Carroll has graduated from basic combat training at Fort Jackson, Columbia, S.C. During the nine weeks of training, the soldier studied the Army mission, history, tradition and core values, physical fitness, and received instruction and practice in basic combat skills, military weapons, chemical warfare and bayonet training, drill and ceremony, marching, rifle marksmanship, armed and unarmed combat, map reading, field tactics, military courtesy, military justice system, basic first aid, foot marches, and field training exercises. More ...

Nominations sought for Outstanding Volunteer
Nominations are now being accepted for the 2008 North Carolina Awards for Outstanding Volunteer Service.
This year marks the 30th anniversary of this program that showcases North Carolina's most dedicated volunteers. Through the years, North Carolinians have proven their concern and compassion for their neighbors by volunteering in their local communities. More ...

Castalia Baptist & Community News
There are 2 things you can depend on in Castalia on July 4th; magnificent fireworks and HEAT. This year was no exception. As the big day drew near, the town of Castalia became a cloud of red, white and blue. There were decorations of all kinds through out the town. Many homes and businesses were adorned with flags, bows and flowers in grand patriotic style. More ...
By LISA R. JORDAN
Ephesus Community News
Rev. Dougald McLaurin brought us a wonderful message on Sunday morning, "At the Lord's Table–So What,' taken from Matthew 26:20-30. During the offertory, he sang a special "Feel The Nails." He led the Commissioners' Service and many hearts were stirred. More ...
By LOTTIE LOU DICKENS
Beulah Community News
I hope everyone had a great 4th of July holiday. A lot of fireworks were displayed, and were really beautiful. Please continue to pray for our country, our leaders and all military personnel. Our men and women in the military are leaving their family and friends, and giving their best to help keep our independence and freedom. More ...
By WILMA ENROUGHTY
Mt. Zion FWB Church News
We had 103 in Sunday school today including two visitors. Welcome to each one. Since it was that first Sunday in July, we recognized those with a birthday this month, sang happy birthday and presented each one with a little gift. Those with wedding anniversaries were recognized and presented a small gift also. I read our Bible verse for today, Romans 12:1,2. A good verse for us to consider every day. More ...
By ROSALENE BASS
Word for the Week
The people of Israel had no drinking water. They grumbled. They harangued. They challenged Moses. "Why, now, have you brought us up from Egypt, to kill us and our children and our livestock with thirst?" (Exodus 17:3). God told Moses, "Take in your hand your staff with which you struck the Nile, and go. Behold, I will stand before you there on the rock at Horeb; and you shall strike the rock, and water will come out of it, that the people may drink" (Exodus 17:5-6). More ...
By Dr. Dennis Prutow
Nash County 4-H hosts fishing clinic for area youth
A fishing clinic for area youth was held on June 10 at Chappell's Pond in Nashville. The clinic was one of many 4-H Summer Camps and Workshops held this summer.
Seventeen children, some experiencing fishing for the first time, landed almost 100 fish in just three hours time during the 4-H Fishing Clinic. More ...

How to spend a million billion dollars
Today is your lucky day.
You have decided to purchase this newspaper for 75 cents and it is going to tell you how you and everyone you love can become a millionaire.
As a matter of fact, it is going to tell even the people you can't stand how to become millionaires. It will make $4 gas a "So?!" situation, and I guarantee you'll be ready to see your fellow man in a whole new light.
In short, the Soapbox — through very little effort of its own, just the way we like it — is going to solve all of America's problems, end political strife, blah, blah, blah. More ...
Mike Brantley - 1 opinion posted
Reader speaks of his faith and beliefs
Dear editor,
I am writing this message for the readers of this paper, The Nashville Graphic, because I believe that God laid it on my heart to do so, because it concerns the soul salvation of man kind.
After talking with some members and ministers of some local congregations, they tell me that a person does not need to be baptized for soul salvation. More ...
Letters to the Editor - 1 opinion posted
Stepping out of the almighty comfort zone
Sometimes in life, you're asked to do things that aren't quite in your nature. And usually, if you take a deep breath and just do it, you end up a better person in the long run.
Recently, I attended my first ever North Carolina Business and Professional Women's Conference in Asheville. It was a first of many things for me. I was not only attending the conference as a member but I was also representing Nashville's BPW as its Young Careerist Representative. More ...
Amanda Clark
NASH REC VICTORY
Nash Rec and Birchwood swim teams competed in their first swim meet against each other for the season last week. Nash Rec boasted a total of 559 points, while Birchwood earned 318.
Results are as follows: More ...
From staff reports
Sports Shorts
ROCKY MOUNT - If you are an area resident, a rising sixth through ninth grader and you want to learn all you can about the game of football, then Rocky Mount High's practice field will be the place for you next week.
For the second time this summer, RMHS will host an National Football League-sponsored event - this time it will be a Junior Player Development football camp for younger kids who want to be introduced to the basics of the game. And like the previous camp, it is free to all comers - thanks to the NFL and the Carolina Panthers. More ...
By Charles Alston, Graphic Correspondent
NEVERSON "COOPER" FOLEY COOPER
NASHVILLE – Neverson Foley Cooper, 70, passed away Tuesday, July 1, 2008. He was born April 20, 1938 in Nash County. He was the son of the late Sell Cooper and Elizabeth Foley Adams. More ...

CONSTANCE "DENISE" STOKES WHITE
NASHVILLE – Constance "Denise" Stokes White, 42, passed away on Tuesday, July 1, 2008. She was born August 28, 1965 at Nash General Hospital to Gertie Ann Stokes. More ...

NORRIS LEE ARRINGTON
Norris Lee Arrington, 50, died July 2, 2008. Funeral services will be held on Wednesday, July 9 at 2 p.m. at te Powerhouse Church of God with the Rev. Charlie Frinks officiating. Burial will follow at Oakland Cemetery. More ...