Subscribe/Access
Advertisements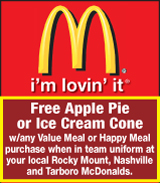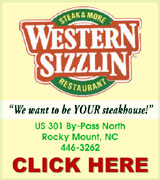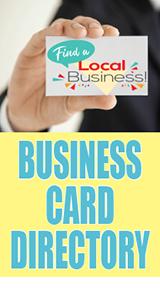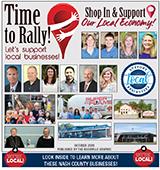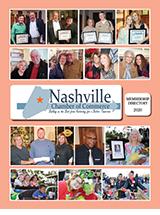 Sections
Member Options
Back
Four arrested in Wal-Mart robbery
Nashville Police have arrested four Rocky Mount men in connection with a robbery at Wal-Mart.
According to Nashville Police Chief Bill Creech, Nashville's Wal-Mart was robbed between 2 and 2:30 a.m. last Wednesday. Creech said the store was closed but the stocking crew was there when the robbery occurred. More ...
By Amanda Clark, Graphic Staff Writer
Accident kills one passenger, driver still in critical condition
An accident on Monday evening left a woman dead and a man in critical condition.
According to Trooper Eric Schaberg, of the North Carolina Highway Patrol, James Edward Bond of Windsor had parked his Electrolux van in the median on the westbound side of Highway 64. Schaberg said Bond then pulled back onto Highway 64, veering across both lanes of traffic to allegedly try and reach the Momeyer exit ramp. Schaberg said when Bond pulled out, an 18-wheeler driven by Douglas Ellis, of Clayton, t-boned the passenger side of the van. More ...
By Amanda Clark, Graphic Staff Writer
Residents speak against rezoning
Residents of Stone Ridge in Nashville expressed their concern over a proposed rezoning during a public hearing last Wednesday night.
The request came before Nashville's Board and the Planning Board to rezone a portion of the Stone Ridge Subdivision, which consists of five lots currently zoned R-6 and multi-family. The request was to rezone a portion of the lots from R-6 to multi-family. More ...
By Amanda Clark, Graphic Staff Writer
Math and writing scores rise at NRMS
Preliminary data shows the number of Nash-Rocky Mount Schools (N-RMS) elementary students proficient in math and writing increased from 2006 to 2008. This data is compiled based on end of grade math tests for grades 3-8, and a fourth-grade and a seventh-grade writing assessment.
Reading scores for grades 3-8 have been delayed and may not be reported by the state for many months. More ...
By Michele A. Cruz, Graphic Correspondent
Executive of the Year - Leadership Excellence Award
The Nash County Aging Department has another honor to hang on its walls. Aging Services Director Stacie Nelson recently received the Executive of the Year - Leadership Excellence Award from the North Carolina Association of Aging. Nelson received the honor in April at the Excellence in Aging Awards Luncheon at the North Carolina Association on Aging's annual training conference. More ...

Faith Christian Ministries director retires
"Stand firm. You're going to get a miracle in your life."
These words were spoken to Pat Coggin by her pastor, Bishop Kenneth Johnson right after she moved to Nashville. Soon after Johnson's words came that miracle. Coggin was hired to be the director of Faith Christian Ministries in 1991. Now, 17 years later, Coggin has retired.
Coggin moved to Nashville from Long Island New York with her husband, who is originally from Nash County. Coggin said she made the move reluctantly. More ...
By Amanda Clark, Graphic Staff Writer
Bailey man dies in accident
A Saturday night accident left a Bailey man dead and a Sims man injured after their vehicle struck a guardrail.
According to First Sergeant Martin Jones of the North Carolina Highway Patrol, Jonathan Daniel Moore, 27, of Bailey, was traveling north on Rock Quarry Road, just 2.7 miles north of Bailey, when his vehicle crossed the center line and ran off the road. Jones said after the vehicle ran off the road to the left, it struck a guardrail, came back on the road, spun around, ejecting Moore. He was pronounced dead on the scene. More ...
By Amanda Clark, Graphic Staff Writer
Spring Hope woman wins lottery
Judy Marshburn of Spring Hope didn't think to check her June 20 "Carolina Cash 5" ticket until a friend called to tell her that someone in Spring Hope had won. Marshburn turned on her computer to check the winning numbers and says she couldn't believe what she saw. Her ticket matched all five white balls to win the top prize of $307,726! More ...

Nash to host July 4 events
The Town of Castalia will be the place to be on Friday, July 4 as residents celebrate the town's annual July 4th Celebration.
Events begin at 9 a.m. with craft and food vendors as well as a car show. The car show will last until 1 p.m. More ...

Progress Energy makes $2.3 investment in Nash County
To meet the continued growth in demand for electricity in Nashville and the surrounding area, Progress Energy has completed a $2.3 million upgrade to the electrical system serving those communities.
Crews recently completed construction of a new electric substation that will serve the communities of Nashville, Castalia, Matthews Crossroads, Red Oak and Hilliardston in northwestern Nash County. The new substation, located in Castalia north of State Route 58 on Taylor's Gin Road, is part of a year-long upgrade to the distribution system in the area. An additional $550,000 will be invested in upgrading facilities serving Hilliardston later in 2008. More ...

MILITARY NEWS
Rachel Y. Parker has joined the United States Army under the Delayed Entry Program. The program gives young men and women the opportunity to delay entering active duty for up to one year. More ...

Nash Central High student serves as Governor's Page
RALEIGH – Jessica Eubanks of Rocky Mount recently participated in the Governor's Page Program in Raleigh. Jessica spent a week gaining valuable life experience and providing administrative support as a page for the North Carolina Department of Cultural Resources for the week of June 23-27. More ...

Local student receives Kiwanis scholarship
Alexandria Denise Stone, daughter of Ted and Denise Stone of Spring Hope, was awarded a $2,000 scholarship by the Rocky Mount Kiwanis Club at a luncheon meeting on May 29th at Benvenue Country Club. Alexandria graduated as valedictorian on May 30, 2008 from Faith Christian School with a 4.735 GPA. Alexandria has won many academic awards such as All A Honor Roll, ACSI Distinguished Christian High School Student for the athlete with the highest academic average, Headmaster Award 11, 2006 Optimist International Oratorical Contest local and Zone 5 winner, Teacher Award Physics 11 Honor, Extra Effort Award 11, 2008 Ambassador Award, and Most Christlike in Volleyball 2007-2008. More ...

Mt. Zion FWB Church News
Courtney Manning reported good attendance for Bible School last week. She said the week was an interesting and learning experience for the children. She thanked everyone who helped in Bible School to make it a success. More ...
By ROSALENE BASS
Beulah Community News
Special news: The monthly fish fry at the Beulah Annex on Reges Rd. will be held Friday night, July 4th from 5:00-8:00. We realize this is a big holiday week-end but we hope you will come out and join us to celebrate it. We also pray you will have a safe holiday. We look forward to seeing you on Friday night. More ...
By WILMA ENROUGHTY
Red Oak Community News
The children, youth, and adult counselors from Red Oak Baptist Church returned home safely last week after spending several days at Centri-kid and Centrifuge at Ridgecrest. They have many wonderful and fun stories to tell and we look forward to hearing them. More ...
By SUZY PEARCE
Ephesus Community News
Rev. Tony Futrell's message on Sunday morning was "To Forgive is Divine". The postlude of Judy Rogers was, "Rise, Go Joyously Into Life". The choir's message in song was, "I Want Jesus to Walk With Me", with Sarah Alford as soloist. More ...
By LOTTIE LOU DICKENS
Castalia Baptist & Community News
Well, I am here to tell you that if you were not in attendance at the CBC Bible School then you missed out. As the waves rolled onto the beach at CBC so did the people. By the end of the week enrollment had grown to a whopping 160. The age of attendance ranged from 3 months to well let's just say there were a few over 65. All classes learned about 'Living God's unshakable truth'. More ...
By LISA R. JORDAN
Peachtree Community News
"Surely the Presence of the Lord" was the call to worship sung by the congregation at Peachtree on Sunday morning. The beauty of the setting in the sanctuary seems to invoke His presence. Pastor Whitehouse's sermon topic was "Present Your Body to God"". His scripture choice was Romans 12:1- God's altar Call. He stressed that God wants you to come, "Just as you are", not all cleaned up. More ...
By BARBARA HARDISON
Hall named Chief Nursing Officer at NHCS
Leslie D. Hall, RN, MSN, was recently named senior vice president and chief nursing officer of Nash Health Care. Hall previously served as vice president of nursing for Nash General Hospital. More ...

Local graduates from MOC
A Nashville resident was among the 365 graduating seniors receiving degrees from Mount Olive College.
Krista Overcash Mosley received a Bachelor of Science degree during the Spring 2008 semester. More ...

Celebrating our freedoms on the 4th
2008 is one of those great years for July 4th.
The recognized date of the first signings of the Declaration of Independence falls on a Friday this year. That is great for a number of reasons:
1. It makes for an easy column this week
2. It makes for a 4-day work week [Downside: Less time to cruise the Internet on the boss' nickel] More ...
Mike Brantley
Technology is wonderful, but only when it works
It's amazing how much America has come to rely on technology.
Where would we be without cell phones or the internet, or even computers for that matter?? It was only a few years ago that we were without it but today, I can't imagine not having access to either one. The past week has been a reality check for me, a reminder of how much I rely on computers. More ...
Amanda Clark
Celebrate Independence Day in Castalia
Dear Editor,
Welcome friends and neighbors, to our 4th of July celebration
First of all I would like to give a special thanks to the fourth of July Committee members for all that they have done especially with our loss of chairman Ken Rice. More ...
Letters to the Editor
Court Authority
RED OAK - The Nash County Red Team hosted one of its toughest opponents of the season during summer tennis action last Thursday at the Northern Nash High School Courts.
The Reds were able to claim three matches, but still fell to a 6-3 margin to the Lake Wilson contingent.
Winners for the Nash County Red Team in singles were Nos. 1 (Chris Sawyer) and 2 (Turner Votipka). The Reds also got a doubles victory from the tandem of Sawyer-Votipka, who secured a 9-7 decision. More ...
By Geoff Neville, Graphic Sportswriter
Westridge Tops Nash Rec -- Again
NASHVILLE -- Long-time Westridge observers claim it's been years since their team has topped Nash Rec in summer pool action.
Now, Westridge has turned the trick twice in the span of one week. After defeated Nash Rec in the season opener, Westridge followed that feat with more heroics last Thursday, winning over host NR by a 436-393 margin in a Nash-Halifax Swim League event. More ...
From Staff Reports
Nick the coach for Gryphons
ROCKY MOUNT -- When Wilson Hunt joins the NEW 6 Conference the fall of 2009, Rocky Mount's new head soccer coach will have an inside track on that school's talent.
Why?
Because its former soccer coach is now the new head boys and girls soccer coach at RMHS. More ...
By Charles Alston, Graphic Correspondent
Carolina's standouts selected
ZEBULON -- Six Carolina Mudcats highlight the Northern Division All-Star team in advance of the 2008 Southern League All-Star Game to be hosted by the Mudcats at Five County Stadium on Monday, July 14.
IFs Gaby Sanchez and Chris Coghlan, along with OFs Cameron Maybin and John Raynor will be the Mudcats' four position players, with RHPs Chris Volstad and Chris Mobley as the Mudcats' two pitchers represented on the 23-player roster released by the Southern League on Monday. More ...
From Staff Reports
EAST-WEST FOOTBALL ROSTERS
GREENSBORO -- Rosters have been finalized for the annual North Carolina Coaches Association East-West All-Star Football Game.
The contest will be played July 23 at 8 p.m. at Jamieson Stadium on the campus of Grimsley High School in Greensboro. More ...
From Staff Reports
RV gets past Birchwood
ROANOKE RAPIDS -- For the second time in a one-week span, the Roanoke Valley Swim Team has defeated Birchwood in a Nash-Halifax Swim League showdown.
Hosting the event at the Roanoke Rapids Aquatic Center, RV surged to a 485-289 decision over Birchwood. RV had also won a contest between the two pool programs one week earlier in Nashville. More ...
From Staff Reports
WHAT'S HAPPENING at Harold D. Cooley Library
We have a lot going on this summer for all ages. We still have two performers left for our Summer Reading Program so we hope you can join us! On Wednesday, July 2nd at 2 pm we have Steve Somers The Amazing Teacher who will be here to teach you all about bugs! On July 9th, at 7 p.m. Snakes Alive! will be here for a hands-on (or off!) demonstration with live snakes. All of our performers are are free, do not require pre-registration, and are for all ages. More ...
From Melissa Mills, director
AILEEN COOPER WILLIAMS
Aileen Cooper Williams 85, passed away at her daughter's home on June 26, 2008 after an extended illness. She was born on January 6, 1923 in Nash County, daughter of the late Dewy Lee Cooper, Sr. and Sara Lillian Cooper Cooper. She was preceded in death by her husband Hoyt Tunnell Williams, Sr.; son, Hoyt Tunnell Williams, Jr.; grandparents James Pharoah and Lucy Baines Cooper, Neverson Wright and Lourenda Evans Cooper; brothers, James McLean Cooper, Dewey Lee Cooper, Jr., Alton Wright Cooper (infant), Garland Wayne Cooper and son in law, William B. (Billy) Gay. More ...

RONNIE LEE ALSTON
BROWNS MILLS, NJ - Ronnie Lee Alston, 50, formerly of Castalia, passed away Saturday, June 21, 2008. Funeral services were held on Saturday, June 28, 2008 at 2:00 at Perry's Missionary Baptist Church with the Rev. Randolph Alston officiating. Burial followed in the church cemetery. More ...

CHARLES MILTON JONES
ROCKY MOUNT-Charles Milton Jones, 68, died Tuesday, June 24, 2008 in Nash General Hospital. Funeral services are incomplete at this time. More ...