Subscribe/Access
Advertisements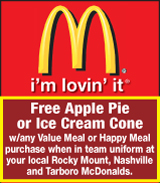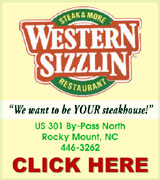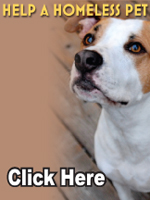 Sections
Member Options
Back
Roy Cooper inducted into Hall of Fame
If you ask Roy A. Cooper, Jr. to describe the best move of his life, he will say marrying his wife of 56 years, Beverly Cooper. Then, he will add the birth of his two sons, Roy A. Cooper, III and Pell C. Cooper. Now, Cooper has one more thing to add to his list as the 81-year-old was recently inducted into the General Practice Hall of Fame.
Cooper was inducted with five others Friday at the Coral Bay Club in Atlantic Beach. The award recognizes those with a lifetime of exemplary service and high ethical and professional standards as a general practitioner of the law. The award also honors those that have served as role models to lawyers in North Carolina. More ...
By Amanda Clark, Graphic Staff Writer
Combined effort nets 400 arrests
A combined week-long effort between the U.S. Marshals and local law enforcement resulted in the arrest of 78 Nash County residents.
Operation FALCON (Federal and Local Cops Organized Nationally) was held last week throughout Eastern North Carolina. Law enforcement throughout the eastern region partnered with U.S. Marshals to conduct the operation, which resulted in 400 total arrests and over 908 cleared warrants. More ...
By Amanda Clark, Graphic Staff Writer
Celebrating 125 years
Sharpsburg recently celebrated 125 years with festivities on Saturday. Festivities included music, food, vendors, games and rides. Pictured above, sisters Charisma Cunningham, 5, and Mahogany Cunningham, 6, (from L-R), both of Sharpsburg, slide together on one of several children's events offered on Saturday to celebrate the town's birthday. More ...

Annual Youth Day is July 19
Organizers are gearing up for the Third Athletic Youth Day, held each year at Nashville's Glover Park. The event, sponsored by Brooklyn Community Watch, Cooperative Extension and Nash County 4-H, is set for Saturday, July 19 from 9 a.m. until 2 p.m.
Activities will include three on three basketball, tag football, tri-star baseball, relay and track and field and t-ball. Activities are open to ages five to 18. More ...
By Amanda Clark, Graphic Staff Writer
NCHS band plays in Washington
When Nash Central High School first opened in 2002, the band program had only 47 students. Now the program is boasting over 150 students and recently returned from a prestigious performance in Washington, D.C.
Nash Central High School was chosen out of 67 North Carolina schools to represent the state at the National Anthem Project, which is sponsored by American Musical Salute. More ...
By Amanda Clark, Graphic Staff Writer
Elections Director resigns
After four months of serving as Nash County's Elections Director, Whitney Davis has resigned.
Davis was hired at the end of February to replace longtime Director Tracy Reams, who left in January to work with the elections office in Orange County. Reams had been the director for nine years.
Elections Board Chairman Ivy Armstrong said Davis turned in her resignation last week. Her official last day is June 30. More ...
By Amanda Clark, Graphic Staff Writer
Castalia approves budget
The $362,907 budget, which goes into effect July 1, 2008, includes $260,116 for the general fund, $87,241 for water and $15,550 for recreation.
A public hearing was held on the proposed budget and no comments were presented.
Mayor Ellene Leonard informed commissioners that Waste Industries was going up on their collections. "So we probably need to adjust our rates we charge the customer," Leonard said. More ...
By Amanda Clark, Graphic Staff Writer
Jerry Smith retires as Principal of Cedar Grove
According to Jerry Smith, Cedar Grove Elementary School is more than just a school, it's a community. On June 30, Smith will walk the halls of his favorite community for the last time as Principal.
Smith, who has served as principal 10 years, is retiring.
Though Smith will leave his role as principal, he vows that he will continue to be a part of the school, possibly as a mentor. More ...
By Amanda Clark, Graphic Staff Writer
Local named to Dean's List at Peace College
Meagan Brooke Sykes, of Nashville, was named to Peace College's Dean's List for the Spring 2008 semester.
"Peace College congratulates these young women for their outstanding academic achievements," said President Laura Bingham. "These students live the spirit of adventures in learning and life that we pursue here at Peace." More ...

Nash County groups donate Hero Packs to military kids
It takes a village to raise a child, and it takes a village to bring a project to fruition.
Operation Military Kids (OMK) is a national initiative which seeks to help children of the more than 123,622 active duty, reserve and guard troops who call our state home. Particularly during this time of global deployment, these soldiers need to know that their families here at home are surrounded by supportive citizens, offering a cadre of services and resources to help ease the stress of pre-deployment, deployment, post-deployment and reintegration. More ...

FSA accepting nominations for committee elections
Suzanne Murray, County Executive Director of the Nash County Farm Service Agency (FSA), would like to remind farmers that county committee elections will be held this fall for Local Administrative Area 3 which consists of Coopers, Oak Level, Red Oak, Rocky Mount, Stony Creek, North Whitakers and South Whitakers townships. LAA 3 is currently represented by S. Kent Smith. More ...

Military BRIEF
Air Force Airman 1st Class Jaroin L. Daniel has graduated from basic military training at Lackland Air Force Base, San Antonio, Texas.
During the six weeks of training, the airman studied the Air Force mission, organization, and military customs and courtesies; performed drill and ceremony marches, and received physical training, rifle marksmanship, field training exercises, and special training in human relations. More ...

Walker begins medical quest to China
Teresa Walker Mason, daughter of Rev. Dr. Thomas L. Walker and Joyce N. Walker, is determined to make a difference in her life and the lives of others around the world. Teresa Walker Mason would make any parent proud with her motivation and determination. Teresa earned her undergraduate degree from North Carolina Central University; won the crown of Miss North Carolina Central University; graduated Magna Cum Laude; earned her law degree from North Carolina Central University School of Law as president of the student bar association; active member of the North Carolina State Bar since 1995; is a Registered Mediator for the Supreme Court of Georgia; and is now Ethics Program Office Director for the Centers for Disease Control and Prevention in Atlanta, Ga. All of these accomplishments however, pale in comparison to her gallant fight to overcome the aggressive disease of, OPCA. More ...
Contributed
Brooklyn Community News
We would like to congratulate the W. L. Greene Alternative School graduating class of 2008. Principal Danny N. Braxton, the staff and students should be commended for their outstanding work. More ...
By LENA SESSOMS
Ephesus Community News
The Vacation Bible School workers were commissioned on Sunday morning during the worship service. Bible School started Sunday night with good attendance and everyone was excited. Peachtree Baptist Church has joined us this year and we're happy to have them with us. We are on Outrigger Island and living God's unshakable truth. The theme is, "Know the truth, speak the truth and live the truth". This will be a blessed week for all of us. More ...
By LOTTIE LOU DICKENS
Mt. Zion FWB Church News
There were 96 including 2 visitors in Sunday school today. We were glad to be able to study God's word from the twelfth chapter of Hebrews. This lesson was titled "Christ as Leader." His life gives us a perfect picture of leadership. We do well to consider how he loved, forgave and died for our sins. We are to look to Him in our race of life. An interesting lesson. More ...
By ROSALENE BASS
Peachtree Community News
Summer lies heavy on the land. The days are long. The vegetable gardens are flourishing with the promise of sweet corn and tomatoes. The Japanese beetles are chomping on the roses. The lawn mowers are humming. Relatives are coming for the annual family reunion. Vacation Bible Schools are going on in the churches all over the area. Families are taking vacations to the mountains or to the beaches. Ah, sweet summer—a time of fleeting delight and pleasure! More ...
By BARBARA HARDISON
Red Oak Community News
The Baptist Men had their monthly breakfast Sunday, June 15 at Red Oak Baptist Church.
Jeanette, Kirby, and Hazel Hill and Audrey and Suzy Pearce visited with Tonia Taylor and Linwood Denson at Nash Grove on Tuesday, June 17. The Women in Action will be delivering the tape for the tape ministry during the summer. More ...
By SUZY PEARCE
Castalia Baptist & Community News
I am not sure if you have heard that a wave has hit Castalia Baptist Church. If you are wondering how that is possible, then you haven't been reading my news. Shame on you. More ...
By LISA R. JORDAN
Beulah Community News
Attention: Coming to Beulah Church of Christ on Sunday night, July 13th at 6:00, "The Heavenly Sunrise". This is a great quartet, made up of 2 men and 2 women from Cove City, NC. Please mark this date on your calendar and come and join us. More ...
By WILMA ENROUGHTY
Nurse earns recognition as Cancer Cheomtherapy Course Trainer
Linda McCoy, a clinical nurse specialist at Nash Health Care, was appointed as an official trainer for the Oncology Nursing Society (ONS) Cancer Chemotherapy and Biotherapy Course, a comprehensive review for nurses who administer chemotherapy. As a trainer, McCoy will be responsible for teaching other nurses the course material in this highly specialized curriculum. More ...

NCC announces graduates
Nash Community College recently announced the following 313 degree, diploma or certificate graduates who were announced in the college's fortieth graduation ceremony on Friday, May 9. More ...

Women's Center earns Golden Bow Award statewide honor
The Women's Center at Nash General Hospital was recently honored with The Golden Bow Award in recognition of the hospital's outstanding support of breastfeeding mothers---making it one of only four hospitals in North Carolina to receive the award. The Golden Bow Award was launched this year by the North Carolina Breastfeeding Coalition (NCBC) to honor hospitals that implement policies to promote breastfeeding, specifically discouraging the distribution of infant formula companies' bags to new mothers. More ...

Coopers Elementary receives Hot Feet in Action Award
Nash-Rocky Mount Public School System (NRMPS) fitness walking program, Hot Feet in Action. Students and staff walked more than 78,000 miles with 98% of students meeting their walking goal of 120 miles each. 650 Coopers Elementary School students were able to participate in the Hot Feet in Action Celebration at Glover Park in Nashville and enjoyed lively music, fun fitness activities and health fair information. More ...

New Indiana Jones movie is a winner
Maybe it is because I hadn't been to a movie in almost a decade that didn't have an animated star. Maybe it is because TV is just so lame now. Or, maybe I'm just getting older.
But I'm not afraid to say it — I went to see "Indiana Jones and the Kingdom of the Crystal Skull," and I liked it. More ...
Mike Brantley
Local principal has been dedicated to his school
Cedar Grove Elementary School was the first school I came in contact with when I started here at The Graphic in 2006. It was one of those days that made me realize I made the right decision to come to Nash County.
I was only in my first or second week here and got an assignment to go to Cedar Grove for a story on ACTIVboards, a hi-tech program the school was participating in. I had an interview with Principal Jerry Smith. I was a little nervous because it wasn't everyday you get to sit in the principal's office, at least not for me. I tried to stay out of the principal's office growing up. More ...
Amanda Clark
Farmer's market should have been welcomed
Recently, the Spring Hope Chamber of Commerce apparently partnered with a citizen, Warren Boone, to organize a local farmer's market to operate in downtown Spring Hope.
My immediate reaction to the event was that the market was a wonderful idea! Fresh produce available right in your own downtown every Saturday morning, plus the advantage of the market possibly pulling traffic into your downtown, hopefully creating new customers for existing businesses. More ...
Jo Anne Cooper
A Westridge Stunner
ROCKY MOUNT - The Nash-Halifax Swim League scheduled opener last Thursday with a shocking plot twist that is certain to heat up the pool for the rest of the summer.
Westridge, competing at home, stunned traditional power and defending champion Nash Rec by a 467-399 margin.
The teams will meet again this Thursday at 5 p.m. -- this time at the Nash Rec Pool in Nashville. More ...
By Geoff Neville, Graphic Sportswriter
Crudup The Pick For Nash Central
ROCKY MOUNT -- So, you're Cedric Crudup's brother?
That's the response Kevin Crudup usually got when attending coaching clinics along with his kid brother.
But Kevin will be forging a name for himself in Nash County after being selected as the new head football coach last week at Nash Central High School. More ...
By Geoff Neville, Graphic Sportswriter
Winners crowned at C.L.R.
ELM CITY --A slight sprinkle delayed opening practice and roll-in last Saturday afternoon at County Line Raceway.
When racing  got underway, it was high-flying action on the 3/8-mile clay oval raceway.
The touring series of ARDC midgets saw Nick Wean of Phillipsburg, N.J. take the win, after the feature was interrupted when one of the racers took six flips in turn one. More ...
From Staff Reports
Birchwood Begins
NASHVILLE -- Birchwood Country Club opened its 2008 Nash-Halifax Swim League season by hosting Roanoke Rapids last Thursday evening.
The visitors from Roanoke Rapids came away with a 438-354 decision. The squads will meet again this Thursday at 5 p.m. at the Roanoke Rapids Aquatic Center. More ...
From Staff Reports
Nash County tennis squads meet in summer showdown
RED OAK -- The Nash County Recreation Department's summer tennis squads -- the Blue Team and the Red Team -- squared off against each other last Thursday in a matchup at the Northern Nash High School Courts.
The Nash County Blues won the event by a 7-2 score. More ...
From Staff Reports
NFL arrives in Nash County
ROCKY MOUNT -- Is there a better word in the English language than the word "free"?
When it comes to learning more about high school football, Rocky Mount head coach B.W. Holt doesn't think so.
Almost 190 high school players, from grades ninth through 12th, met for four days at Rocky Mount High School last week to hone their football skills -- on and off the field. Not only did players work on the field, but they had some classroom time, as well. More ...
By Charles Alston, Graphic Correspondent
Chattanooga Lookouts stop Mudcats
CHATTANOOGA, TENN. -- Danny Dorn hit a three-run homer in the first inning to spark a 10-1 Chattanooga victory over the Carolina Mudcats at AT&T Field on Sunday afternoon in a Class AA Southern League baseball event.
Dorn's blast against starter Brett Sinkbeil (L, 3-7) highlighted a four-run first, but the Lookouts (3-3) extended the advantage with another run in the second and a pair of runs in the fifth for a 7-0 lead. More ...
From Staff Reports
JULIE BLOOMER BOONE BAKER
SANDY CROSS – Julie Bloomer Boone Baker, 84, passed away June 23, 2008, after an extended illness. She was born in Nash County on December 23, 1923 to the late Frank High and Mahala Taylor Boone. She was preceded in death by her husband, Homer T. Baker in 1993. Bloomer was a life-long member of Sandy Cross United Methodist Church. More ...

RAY ANSTEAD
CASTALIA - Ray Anstead, 54, passed away Friday, June 20, 2008. Funeral services were held Tuesday, June 24, 2008 at 1:00 p.m. from the Pleasant Grove Baptist Church with the Rev Thomas Richardson officiating. Burial followed in the Pleasant Grove Baptist Church Cemetery. More ...

ASTOR "RAY" GRIFFIN
Astor "Ray" Griffin, 35, passed away Monday, June 16, 2008. He was born August 29, 1972 in Nash County. He loved his family, especially his children. Ray worked well with his hands and had a love of country music, riding four-wheelers and loved life in general. More ...