Subscribe/Access
Advertisements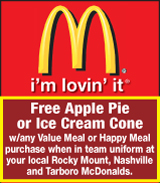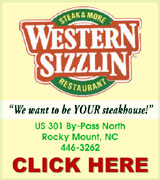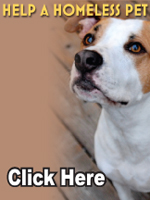 Sections
Member Options
Back
NHCS board receives update on SPI
Nash Health Care Systems CEO Larry Chewning provided board members with an update on the Strategic Performance Improvement initiative at the board's regular meeting on June 5.
The Strategic Performance Improvement initiative (SPI), is the system's plan to help reduce costs and put Nash Health back in good financial shape. More ...
By Amanda Clark, Graphic Staff Writer
Castalia requests changes to MOU
In an emergency meeting Saturday morning, Castalia Commissioners agreed to submit a letter of request to Nash County asking for some changes to its Memorandum of Understanding.
Last Monday night, Castalia commissioners agreed to get water from the county, contingent on securing two grants. The county agreed to take out sewer services in the original agreement, leaving just water services being offered to the town. More ...
By Amanda Clark, Graphic Staff Writer

Manly's Bettery, Co. A, 10th Regiment, provided the 1843 Ames cannon which was fired during the ceremony to salute Private Evan Hines Deans.

Stone dedication service held at gravesite of Evan Hines Deans
Just five months after his 17th birthday, Nash County native Evan Hines Deans was called to defend his Southern heritage in the war between the states – The Civil War.
Descendants and community members gathered Saturday morning at his grave site, located off Macedonia Road, to attend a stone dedication service to honor the soldier. The stone was provided by the Sons of Confederate Veterans (SCV). More ...
By Jo Anne Cooper, Graphic Publisher - 1 opinion posted
Contracts for CDBG projects awarded
Nash County's Board approved two contracts for work in the Bloomer Hill area.
Nash County received $700,000 in funding for a 2006 Community Development Block Grant. The County planned to use the money to help revitalize the Blooming Hill community in Whitakers. However, lead paint abatement caused the project to be put on hold. More ...
By Amanda Clark, Graphic Staff Writer
Momeyer approves 2008-2009 budget
Momeyer's Board met last Monday morning in new facilities and approved the town's FY 08-09 budget.
The $72,000 budget was unanimously approved with no public comments. The budget reflects no increases to residents of the town. More ...
By Amanda Clark, Graphic Staff Writer
ACS bus makes stop at Nash Health
"If one person can battle cancer, a nation can rise up and defeat it."
That's the message the American Cancer Society's Cancer Action Network brought to Nash County last week before continuing its nationwide tour to Washington, D.C.
The tour, made on the Fight Back Express bus, is part of a grassroots movement to make cancer a top national priority. The bus will make its final stop in Washington, D.C. on November 4, election day, to serve as a reminder that the war against cancer will be won. More ...
By Amanda Clark, Graphic Staff Writer
1132nd returns home after deployment to Iraq
Members of the 1132nd Military Police Company received a warm farewell last week as they returned home from the war in Iraq.
The company, based in Rocky Mount, arrived at the Rocky Mount-Wilson Airport last Tuesday afternoon. Several hundred people were at the airport to welcome the 120 soldiers back home. On Wednesday, June 11, a formal welcome home ceremony was held at Englewood Baptist Church in Rocky Mount. More ...
By Amanda Clark, Graphic Staff Writer
NFDA Reverse Raffle nets $19,000
The Nashville Fire District Auxiliary Reverse Raffle brought in around $19,000 for Nashville's Fire Department to utilize in programs.
The raffle, held on May 30 at Nash Community College, was the auxiliary's fourth and is the largest fundraiser held each year. More ...

4-H summer camps offer youth hands on learning
School's out and summer's in, which can only mean one thing; summer camp.
Nash County 4-H offered several summer camps last week but more are planned through August. Youth can still register for the camps through July 1. More ...
By Amanda Clark, Graphic Staff Writer
Griffin, Brown marry
Melanie Nicole Griffin and Andrew Oliver Brown were united in marriage Saturday, May 17, 2008 at Dortches Baptist Church. The officiating minister for the 5:00 p.m. double ring ceremony was Rev. Frankie Carroll. More ...

Allen and Vick marry
Lindsay Kristen Allen and Justin Kyle Vick were united in marriage May 2, 2008 at Lake Gaston in Macon in an evening ceremony overlooking the lake. Steve Moore, Magistrate performed the ceremony. More ...

Stewart, Sullivan wed
Crystal Renee Stewart and Marshall Wayne Sullivan were married Saturday, May 24, 2008 at Parkwood Baptist Church, Rocky Mount. The officiating ministers for the 2:00 p.m. ceremony were Rev. Steve Weaver and Rev. Mike Edwards. More ...

50TH WEDDING ANNIVERSARY
Macon and Elaine Robertson celebrated their 50th wedding anniversary Sunday, June 15, 2008 at a reception held at Birchwood County Club in Nashville. They were married on June 14, 1958 at Darlington Baptist Church in Halifax County. The Robertsons have two children, Lisa of Asheboro and Brad of Nashville and one deceased infant, Lara. They have two grandchildren, Lauren and Luke. Mrs. Robertson is the former Rose Elaine Smith. More ...

Births
Billy and Stephanie Freeman of Franklinton announce the birth of their daughter, Patricia Annaliese Freeman, born May 28, 2008 at Rex Hospital in Raleigh. Annaliese weighed 7 lbs. 14 oz. and was 20.5 inches long. More ...

Mt. Zion FWB Church News
Our choir sang "Faith of Our Fathers" for the call to worship. Deacon Atlee Matthews welcomed everyone and prayed the invocation. Hymns of worship were "Jesus Saves" and "In the Garden". Kenneth Parker prayed the morning prayer. Prayer concerns are the sick, shut ins, those in nursing homes, soldiers, VBS and the lost. We have special prayer concerns for our three baptismal candidates this morning. We praise God for their salvation and for their spiritual growth. More ...
By ROSALENE BASS
Ephesus Community News
Father's Day was observed at Ephesus Church on Sunday with lots of special dads standing proudly to be recognized on their day and a touching sermon by Rev. Tony Futrell. Fathers that play their role well are to be praised and must have God leading them. The men all got a Father's pin for their lapel. More ...
By LOTTIE LOU DICKENS
Beulah Community News
Sunday was a really great day at Beulah Church of Christ. Kenneth Massengale began our Sunday school service with Mrs. Lois Hedgepeth at the piano and Mary Lee Bass at the organ. The beautiful flowers were placed in the church by Sylvia Powell to honor all the fathers who have been a part of the Beulah congregation. After Sunday school was over our church service began with prayer by our minister, Daniel West. More ...
By WILMA ENROUGHTY
Peachtree Community News
The fathers at Peachtree were given special recognition on Sunday morning. They each received a book of devotional readings written especially for fathers. Pastor Whitehouse chose as his sermon topic "What Does it Mean to Have God as Your Father?" This was based on the scripture passage Colossians 3:21. More ...
By BARBARA HARDISON
Castalia Baptist & Community News
I hope that every father had a wonderful Father's Day. By the time this goes to print all the cards have been read and laid to the side, all the pretty wrapping paper has been ripped away from the gift that was given with love and the dishes washed that was used to serve dad his favorite meal. More ...
By LISA R. JORDAN
Red Oak Community News
Larry Hill and his family attended the annual convention of the Department of NC American Legion at the North Raleigh Hilton on Friday, June 13. Larry was honored as "Fireman of the Year for the Department of NC American Legion". He is a member of Post 110 in Nashville with Commander R.E. Collier, Jr. and Dept. Vice Commander, James Ervin who submitted Larry's name for consideration. More ...
By SUZY PEARCE
Urban legends revealed
We all know them.
We love them and we like to hear from them, but my goodness, they can't stop emailing us.
If you've got a computer, you've got a friend who either has other friends who constantly forward them things all day or either apparently have plenty of time on their hands during the day. They then use this time to find stuff and send it to you. More ...
Mike Brantley
Welcome home 1132nd unit!
I've always wondered what it was like to witness a soldier greeting his/her family after returning home from a war. Last week, I got the opportunity to see for myself.
I must admit, the experience was overwhelming. To see so many families anxiously waiting to see their loved ones is an indescribable thing. But the best part is when that plane finally arrives and the families are reunited. There are so many emotions floating around between these families. It was really neat to be able to take part in such an event. More ...
Amanda Clark
Reader offers his opinion on Farmer's Market issue
Dear Editor:
Amanda Clark's report on the concerns expressed by two business owners about the Spring Hope Chamber of Commerce's plans for a Farmer's Market did not include the rebuttals to their nebulous claims. (See June 12 Spring Hope Enterprise for a more complete and accurate report). More ...
Letters to the Editor
Where's that stimulus check?
Dear Editor:
Wonder how many remember the Ma and Pa Kettle episodes on radio? Or were on they on TV?
"Ma"
"What Pa?",
"Th' roof's aleakin'.'" "How do you know, Pa?" More ...
Letters to the Editor
Reader thanks local person for honesty
Dear Editor:
To the honest citizen who turned in someone's credit card to RBC Bank on June 5, the owner was located by the bank teller and within two hours of the loss the card was returned. More ...
Letters to the Editor
2008 NASH RECREATION TENNIS SEASON OPENS
NASH COUNTY RED TENNIS TEAM. (L to R) Hunter Smith, Caley Bass, Samantha Wooten, Mary Helen Moore, Casey Strickland, Dylan Crumpton, Turner Votipka, Jonathan Brown and Taylor Brazier. Not pictured are Haley Smith, Meredith Davis, Christian Davis, Chris Sawyer, Maggie Braswell, Candace Underwood, Jimmy Haden and Meghan Prete. (Photo Submitted) More ...

It's Time For Tennis
NASHVILLE - For the second straight season, Nash County youngsters have a summer tennis schedule to participate in.
Interest is so high in the program that the Nash County Parks and Recreation Department will field a pair of clubs -- The Nash County Red Team and the Nash County Blue Team -- for action in the Down East Tennis League. More ...
By Geoff Neville, Graphic Sportswriter
Nash Co. wins vs. Wilson 13
WILSON -- Nash County Post 58 continued its fine play this summer with a 9-1 thumping of Wilson Post 13 in American Legion baseball action Sunday evening at Fleming Stadium.
Post 58, which improved to 5-1 on the season, used small-ball effectively all night to put Wilson out of its misery early. Despite stranding 14 runners on base Sunday, Post 58 executed five sacrifice bunts and made haste with five Post 13 errors. More ...
By Charles Alston, Graphic Correspondent
NEW 6's top baseball stars honored
NASH COUNTY -- Nash County landed six baseball players on the NEW 6 All-Conference first team. The All-Conference teams were released last week after Rocky Mount concluded the season winning the NCHSAA 3-A state championship.
Three Gryphons made the first squad. More ...
By Charles Alston, Graphic Correspondent
Pirates' stars ink pro deals
GREENVILLE -- Former East Carolina Pirate pitcher Josh Ruhlman signed a free agent contract with the Kansas City Royals last Friday afternoon.
Ruhlman, a two-year lettewinner, appeared in a team and C-USA best 36 games out of the bullpen posting a 3.26 ERA in 2008. He is the third Pirate from the 2008 squad to sign a contract following Corey Kemp (Milwaukee Brewers) and T.J. Hose (Arizona Diamondbacks). More ...
From Staff Reports
Swimming will begin Thursday
NASHVILLE -- Action will begin this Thursday for the 2008 Nash-Halifax Swim League.
Defending team champion will tangle with host Westridge, while Birchwood will entertain Roanoke Valley.
All meets will start at 5 p.m.
The complete season schedule is as follows: More ...
From Staff Reports
Paugh signs with Bishops
FRANKLINTON -- Most successful soccer coaches will build a team from back to front, with an intense emphasis on defense.
Having a talented sweeper to patrol the back row usually means that a club will eventually sweep its way to victory. More ...
By Geoff Neville, Graphic Sportswriter
RMHS honors spring stars
ROCKY MOUNT -- Rocky Mount High School held it spring sports awards ceremony recently in the school's auditorium.
Among the announced winners were the recipients of the school's five major awards -- given out only once each sports year: Male and Female Athlete of the Year; Male and Female Scholar Athlete of the Year and the Juan Chesson Award winner. More ...
By Charles Alston, Graphic Correspondent
Mudcats close out 1st half of season
ZEBULON -- Miguel Negron hit a two-run double to right center field in the top of the eighth inning to lead Birmingham to a 3-1 victory over the Carolina Mudcats Sunday afternoon in front of 3,872 fans at Five County Stadium in a Class AA Southern League baseball meeting.
Carolina scored its only run in the bottom of the first inning when Josh Willingham grounded out to third base, scoring Chris Coghlan from third base. More ...
From Staff Reports
KATHRYN PITTMAN STRUM
NASHVILLE - Kathryn Pittman Strum, 73, of Nashville died on June 15, 2008. She was born in Durham, to Gurney Luther Pittman and Eula Mae Stancil Pittman on November 28, 1934. She was preceded in death by her mother and father. More ...

CHARLES LYONS
NASHVILLE - Charles Lyons died Friday June 13, 2008 in Nash General Hospital. Funeral arrangements are incomplete at this time. More ...

HELEN BRAKE RICHARDSON
WASHINGTON D.C.- Helen Brake Richardson, 59, formerly of Nash County, passed away Saturday April 12, 2008. Funeral services were held Tuesday June 17, 2008 at 1:00 p.m. from the Richardson Funeral Home Chapel. Burial followed in the Brake Family Cemetery with Rev. Melvin Johnson officiating. More ...

CONRAD JONES JR.
NASHVILLE – Conrad Jones Jr., age 82, passed away Wednesday June 11, 2008 in Nash General Hospital. Funeral services are incomplete at this time. More ...