Subscribe/Access
Advertisements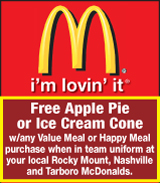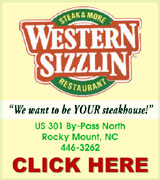 Sections
Member Options
Back
Castalia board votes to buy land for park
In a special called meeting, Castalia Commissioners voted Monday to buy land for a new park in a deal that was apparently struck and signed before any vote was officially taken. The only notice for the meeting was a note posted on the town's bulletin board on March 6 calling for a meeting March 10 for the purpose of "approval of minutes of a closed session held on Dec. 4, 2007 and discussion of proposal of acquisition of land for a park." More ...
By Amelia Harper, Graphic Staff Writer
Guptons named 2008 Distinguished Citizens
Pete and Edith Gupton were named the 2008 Distinguished Citizens at an annual reception held last week.
Chamber member David Bradley recalled the way Pete always responded when asked how he was doing. "Like a champ," Pete would say.
"That's Pete," Bradley said.
Though the award was given to both Pete and Edith, Bradley said, really, the two are one person. More ...
By Amanda Clark, Graphic Staff Writer
Spring Hope Board says "no" to land
Spring Hope's Board gave a unanimous "no" to purchasing 20 acres of land that could be used in developing more parks.
The land, located behind the existing ball fields off McClean Street, is owned by Glen Telefson. Town Manager John Holpe said Telefson was interested in developing the land into soccer fields but wanted to give the town the opportunity to purchase the land. In a memo from County Recreation Director Sue Yerkes, Telefson would sell the property to the town for $10,000 an acre, or $200,000. More ...
By Amanda Clark, Graphic Staff Writer
Locals vie for open county board seat
Two Nashville residents are vying for an open district one seat on Nash County's Board of Commissioners.
Lou Richardson, of Cedar Grove School Loop Road, and Jim Harris, of West Castalia Road, are both running for the district one seat. Richardson is currently serving district one and is seeking reelection to the seat. More ...
By Amanda Clark, Graphic Staff Writer
THE KING AND I
The Northern Nash High School Mainstage Players, in a "A Season of International Proportions," presents Rodgers and Hammerstein's musical, "The King and I, on March 14 and 15 at 7:30 p.m. at the Dunn Center for the Performing Arts. The show, based on actual historical events, tells the story of a British widow who changes the destiny of a nation when she is hired to become a teacher of the children of the King of Siam. More ...

Students fight cancer with facial hair February
Students and staff at Rocky Mount Academy looked a little rough on the edges during the month of February but sometimes, looking rough pays off.
Eleven students and staff members participated in Facial Hair February at the school last month. The event was a fund raiser for Relay for Life and required participants to go the whole month without shaving. Seniors Peyton McDaniel, Gary Jared and Edmund Gravely came up with the fund raising idea. More ...
By Amanda Clark, Graphic Staff Writer
Widening begins on Sunset
Work began last week on widening a 1.4 mile section of Sunset Avenue from Old Carriage Road to Halifax Road in Rocky Mount.
As part of the project, Sunset Avenue will be widened to create a center turn lane. The bridge over I-95 will not be widened. More ...

Burning ban lifted
A statewide burning ban has been lifted.
The ban on open burning was put into place on February 14 because of dry weather and depleted water resources across the state. The North Carolina Division of Forest Resources lifted the ban on March 1. More ...

Barton announces honor students
Barton College has named 20 students to the President's List and 232 students to the Dean's List for fall semester 2007. President's List students compiled a perfect 4.0 grade point average; Dean's List students achieved a grade point average of 3.3 or better on a four-point scale. More ...

ENGAGED
Sr. and Sra. Lorenzo Ayala of Spring Hope announce the engagement of their daughter, Maria De La Luz Ayala, to Matthew Paul Strickland, son of Mr. and Mrs. M. Ross Strickland Jr. of Nashville. A June 1 wedding is planned at the Nashville Baptist Church. More ...

NATIONAL AG DAY • MARCH 20, 2008: Where Does It Come From?
Potatoes
The potato is not a root but a storage area, which is part of the plant's underground stem. The roots collect more water and food than the growing plant can use at one time.
The plant stores the excess food in oval packages, called tubers (the potato). When the greenery starts to wither and turn brown, the potatoes are ready to harvest. More ...

Wells named Small Business Champion for North Carolina
The National Federation of Independent Business, North Carolina's leading small business association, has named Mary P. Wells as its 2008 Small Business Champion in North Carolina.
Wells has been an NFIB member since buying One Hour Koretizing Cleaners & Laundry in Rocky Mount in 1976. More ...

Nationally known pediatrician/author to speak at RMA
Rocky Mount, NC — Rocky Mount Academy, an independent PK-12 school in Rocky Mount, is bringing nationally renowned pediatrician and best-selling author Dr. Mel Levine to the area to speak to parents of school-aged children, educators, and clinicians about the way that children learn and to share ideas on how to improve school performance. Dr. Levine will appear at the Dunn Center's Minges Auditorium on the North Carolina Wesleyan College campus on March 19, 2008 at 7:00 p.m. Admission is free. In addition to Rocky Mount Academy, the event is being underwritten by the Rocky Mount Area Chamber of Commerce, the North Carolina Wesleyan College Dunn Center, and Nash Community College. More ...

Beulah Community News
We want to thank everyone for making our monthly fish fry a big success. Due to the rainy weather, we were thinking there may be a smaller attendance than usual, but we had a really big turnout. We were thankful for the attendance and also for the much needed rain. We also want to thank Joe Radford and Buddy Walker who helped with the cooking due to one of our men being out sick. We also want to thank all our regular people who help out each month. More ...
By WILMA ENROUGHTY
Mt. Zion FWB Church News
The pretty flowers were given in memory of Charlie Wood by Joy and Paul Manning and family. Thank you.
Hymns of praise and worship were "His Loving Kindness," "Down at the Cross," and "Wonderful Grace of Jesus." Our choir sang "This World is Not My Home." The AFC members sang a couple of songs for us. They sang good. Thank you. More ...
By ROSALENE BASS
Peachtree Community News
Sympathy is extended to Jerry and Melba Hobgood in the loss of his mother, Daisy Flowers Hobgood, who passed away on Thursday, March 6. Her funeral was held in Rocky Mount on Saturday. More ...
By BARBARA HARDISON
Red Oak Community News
Several women from Red Oak Baptist Church attended the monthly Adopt-a-Dorm Bible Study at Fountain Correctional Center in Rocky Mount on March 3. Jean Stallings led the study. Others attending included Audrey Pearce, Suzy Pearce and Jean Mellor. More ...
By SUZY PEARCE
Ephesus Community News
On Saturday, March 29 from 8:30 a.m.-3 p.m. This is for women only. The cost is $6 for lunch. Pay Linda Abernathy. "Deklutter to Honor the King." This conference is led and organized by Sally Sandifer. More ...
By LOTTIE LOU DICKENS
Staving off boredom waiting for spring
We know winter is drawing to a close and spring is almost here.
We also know that these last few weeks of spotty weather can make the last bit of cabin fever the worst.
That is why we here at the Soapbox are so diligent in our efforts to serve you each week in 1000 words or less, give or take. More ...
Mike Brantley
Ms. McIntyre was a lady I'll remember a lifetime
You can't help but get to know people working in a small, community newspaper. It's inevitable that while covering local events, you're bound to make a friend or two.
Last week, this community, along with the Nashville Graphic, lost a friend when Ms. Mary Hobbs McIntyre passed away. In my two years here, I had become quite fond of Ms. McIntyre. More ...
Amanda Clark
McIntyre was an inspiration and mentor
Over our lifetime, we meet hundreds of people through work, friends, family or social events. Some mere acquaintances, some become more.
Then there are people who we meet and befriend that truly make an impact on the rest of our lives.
Mary Hobbs McIntyre, who passed away last week, was one of those people in my life that truly made a difference, both to me personally and to her community. More ...
Jo Anne Cooper
Smulyan to visit Nash County
Gary Smulyan is considered to be one of the best jazz baritone performers in the world and will be in residence in Nash County April 1 – 3.
Smulyan and pianist Joe Cea will perform for five elementary schools (Spring Hope, Cedar Grove, Bailey, Swift Creek and Middlesex) during the school day, and with the Nash Central High School Jazz Band on April 3rd. The jazz bassist and drummer will join Gary and Joe on stage for the first half of this concert. More ...
Contributed
Bluegrass concert is March 13
Nash Arts welcomes Bluegrass music to its stage Thursday, March 13 featuring Marshall Stephenson & The Bluegrass Train Band.
Showtime is from 7:30 - 9:30 p.m. Tickets are $15. More ...

JEFFREY SCOTT CHAMPAGNE
SPRING HOPE– Jeffrey Scott Champagne, 45, died Friday, March 7, 2008. A memorial service was conducted March 9 in the chapel of Spring Hope Funeral Home. More ...

FRANCES YVONNE MANN
WHITAKERS – Frances Yvonne Mann, 52, died Monday, March 3, 2008. Funeral services were held on March 7 at the Pine Chapel Baptist Church with the Rev. Robert Hedgepeth officiating. Burial followed in the church cemetery. More ...

JOSHUA WARREN MUNDEN, III
ROCKY MOUNT – Joshua Warren Munden, III, 56, passed away Sunday, March 9, 2008. He was born in Rocky Mount on November 12, 1951. He was preceded in death by his parents Joshua Warren Munden, Jr. and Laura Burgess Munden. More ...

THURMAN L. JACKSON
NASHVILLE - Thurman L. Jackson, 78, died Wednesday, March 5, 2008 at Nash General Hospital. A funeral service was held Tuesday, March 11 at 11 a.m. at Union Hill Baptist Church with the Reverend Thomas McCullers officiating. Burial followed in the church cemetery. More ...

ROBERT BRAKE, JR.
NASHVILLE – Robert Brake, Jr, 70, died on Friday, March 7, 2008. Services were held Wednesday, March 12 at 2 p.m. at Social Union Baptist Church with the Reverend Nathaniel Bunn officiating. Burial followed in the church cemetery. More ...

JAMES REYNOLDS, SR.
NASHVILLE – James Reynolds, Sr., 98, died on Thursday, March 6, 2008. Services will be held on Thursday, March 13 at 12 noon at Union Hill Baptist Church wil the Reverend T.E. McCullers officiating. Burial will follow in the church cemetery. More ...