Subscribe/Access
Advertisements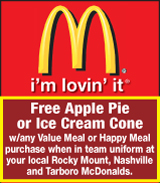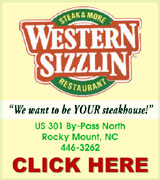 Sections
Member Options
Back
Sheriff's Office arrests 13 for drugs
In just part one of a joint investigation, the Nash County Sheriff's Department arrested 13 Nash County residents for various drug violations. And, law enforcement officials say more arrests are expected.
Last week, the Sheriff's Department began arresting individuals as a result of Operation: Clean Slate 2008. The operation began in the late summer of 2007 and consisted of undercover purchases of narcotics from drug dealers throughout Nash County.
According to Lt. Scott Parker, more arrests are forthcoming. More ...
By Amanda Clark, Graphic Staff Writer
Nashville looks at facility needs
Nashville's Board will look at the potential for building a substation for Nashville's Fire Department.
At its annual retreat, the board discussed having a feasibility study done on building a substation on the east side of town. The facility would hold one fire engine and would also allow the public works to station a truck there and the recreation department to store equipment. The facility could also allow Nash County EMS to station an ambulance there in the future. The facility would also be built to allow for future expansions. More ...
By Amanda Clark, Graphic Staff Writer
ELVIS Headlines Nashville's OPRY
Elvis rocked the house Saturday night at the 30th Annual Nashville Opry held at the Nash County Agriculture Center. Visitors were entertained by a numerous entertainers including Alvin Smith (Elvis), Ronnie Ezzell, Russ Varnell and the Smith Brothers. The event is sponsored by Nashville's BPW. The group uses all proceeds from the event for its annual scholarship award. Pictured above, Mary Alice Well, BPW special event chairperson, gets a hug from Elvis impersonator Alvin Smith prior to his performance. More ...

NRMS Board okays 08-09 school calendar
Next year's school calendar approved by the Nash-Rocky Mount Schools (N-RMS) board begins for students on Aug. 25, after a teacher workweek, and ends June 9. It includes 10 days of vacation at Christmas break, wrapping up the first semester on Jan. 16, two weeks after returning from the holidays. More ...
By Michele A. Cruz, Graphic Correspondent
Bissette retires after 47 years
Nash County's Health Department has seen plenty of changes over the past 47 years but come Friday, the department will see one of its biggest changes as Betty Bissette will not be in the seat she's sat in for over 47 years.
Bissette, 65, has been with the Health Department for 47 and a half years and on Friday, she will start her first day of retirement. Bissette recalls her first day of work clearly and said things were very different from the way they are today. More ...
By Amanda Clark, Graphic Staff Writer
Maynard found guilty
Adele Downey Maynard was found guilty in Superior Court for having noisy dogs and for violating the Town of Nashville's number of dogs ordinance.
The case was heard in Superior Court January 16 after Maynarda's attorney, Joseph Hester appealed a guilty ruling in District Court in March 2007. More ...
By Amanda Clark, Graphic Staff Writer
Officials investigate bus incident
A mother is claiming her 11-year-old daughter was sexually assaulted while riding a Nash County Schools' bus home from school.
School officials, however, maintain that while inappropriate behavior happened, the incident was not an assault, but was voluntary. More ...
By Amanda Clark, Graphic Staff Writer - 4 opinions posted
Fitch joins Carolina Gateway Partnership
John Gessaman, President & CEO of the Carolinas Gateway Partnership, announced that Geoffry Fitch has taken the position of Project Coordinator with the Carolinas Gateway Partnership. Mr. Fitch will be responsible for coordinating existing business visitation and investor relations for the Partnership. More ...

50TH ANNIVERSARY
Mr. and Mrs. George and Whittemore of Rocky Mount celebrated their 50th wedding anniversary on Dec. 16, 2007 with their immediate family at a dinner hosted by their children at the Outback Steakhouse in Rocky Mount. The Whittemores were married on Dec. 14, 1957 at St. Mary's Church in Princes Risborough, England. Mrs. Whittemore is the former Shirley Draper of Princes Risborough, England. The couple have three sons: George Whittemore Jr. and family of Graham; Derek Whittemore and family of Oxford; and John Whittemore of Fort Mill, S.C. More ...

ENGAGED
Mr. and Mrs. Kent Blaylock and Mr. and Mrs. Frank Belflower, all of Rocky Mount, announce the engagement of their daughter, Amy Elizabeth Belflower of Farmville, to Jeremy Lee Thomas of Nashville. The groom-elect is the son of Mr. and Mrs. Jerry Thomas of Nashville. A March 15 wedding is planned at the First Christian Church in Farmville. More ...

ENGAGED
Mr. and Mrs. David Wayne Kincade of Wilmington announce the engagement of their daughter, Brenda Brooke Kincade of Raleigh, to Jeffrey Barnett Strickland, also of Raleigh. The groom-elect is the son of Dr. and Mrs. Henry Howard Strickland Jr. of Rocky Mount. The wedding is planned for May 3 at First Presbyterian Church in Wilmington. More ...

BIRTH ANNOUNCEMENT
Mike and Donna Wilder of Bunn announce the birth of a son, Landon Newell Wilder, on Jan. 14, 2008 at Rex Hospital in Raleigh. He weighed 7 pounds, 12 ounces and was 20 1/2 inches long. More ...

BIRTH ANNOUNCEMENT
Wesley and Linda Sheets of Nashville announce the birth of a daughter, Allison Elizabeth, on Dec. 20, 2007 at Nash General Hospital. She weighed 6 pounds, 12 ounces and was 20 inches long. More ...

White earns degree
Stephen Edward White, son of Edward and Marci White of Nashville, was awarded a B.S. degree in construction (and the traditional "Hard Hat") by East Carolina University on Dec. 14. More ...

Champions for Children honored
Seven individuals, businesses and local organizations were recognized at the Second Annual Champions for Children reception.
The event, sponsored by The Down East Partnership for Children, honors those who have contributed to the betterment of the partnership. The event was held at the Imperial Center in Rocky Mount. More ...
By Amanda Clark, Graphic Staff Writer
Annual Opry is a success
Visitors of the Opry were treated to a variety of entertainment at this year's event including country, bluegrass and an Elvis show, by Alvin Smith.
The Nashville Business and Professional Women's Club hosts the event every year raising funds for an annual scholarship. More ...
1 opinion posted
Middlesex celebrates 100th birthday
Mayor Lu Harvey Lewis, Jr. welcomed hundreds to the Middlesex Centennial celebration held Sunday at the Middlesex Baptist Church.
Choirs from area churches entertained guests, a slide show of photos from the past and present of Middlesex was shown and guest speaker Dr. Burkette Raper shared fond memories of the area. More ...

Mt. Zion FWB Church News
It was exciting to have one new member, three visitors and a total of 101 in Sunday school.
Our choir sang "In My Life, Be Glorified" for the call to worship. Ronald Bass welcomed everyone and prayed the invocation. Congregational hymn was "Surely Goodness and Mercy." More ...
By ROSALENE BASS
Beulah Community News
I hope everyone has had a good week. We had a good service at Beulah Church of Christ on Sunday. We had several members out due to sickness but we are praying they will all soon be much better and be able to be back with us. Carolean Hyde was in the hospital but now she is at Autumn Care doing much better and hopes to be home in a few weeks. Darwell Daniels is still at Guardian Care but has been making a lot of progress with her rehab. Tom Howard is at Autumn Care. Lorraine Hedgepeth is still at Guardian Care. Virginia Duke Moss is at Hunter Hill Senior Village. Lettie Nelms is now at home and we pray she will soon be back with us at church. More ...
By WILMA ENROUGHTY
Castalia Baptist & Community News
Focus on WMU Sunday was held at Castalia Bapitst last Sunday with guest speaker Laura Davis, who is from Wise, VA. She is connected to Tar River Baptist Association through mission planning, her husband is pastor at First Baptist in Wise. She spoke on being God's servant. Our class passed out snowflakes with missioanry names who celebrated their birthday on Sunday. A skit was presented on Living the Call and the choir sang the old WMU anthem - "We've A Story to Tell." More ...
By KATHY FREEMAN-ROBLES
Red Oak Community News
Baptist Men's Day was celebrated at Red Oak Baptist Church o Jan. 27. The day began with a men's breakfast and men taught the Sunday school classes. Everyone enjoyed the morning worship service which included special music by the Men's Choir. The RA's were also included. The 1-3 grade RA's recited theirs and the 4-6 grade RA's served as ushers. We were also happy to have as the featured speaker Rev. John Hamm, North Roanoke Baptist Association director of missions, who shared a message on "Men on Mission." More ...
By SUZY PEARCE
Peachtree Community News
Baptist Men's Day was observed at Peachtree Church on Sunday Morning. The men filled the choir loft and sang a resounding rendition of the medley, "I'll Fly Away/ Leaning on the everlasting Arms". They were accompanied and directed by Jane May, Music Director. Sanctuary flowers were given by Marta and Eugene Whitehouse. Pastor Whitehouse chose as his sermon topic "Unlimited", concerning a very basic Christian doctrine - forgiveness. More ...
By BARBARA HARDISON
Wayne Outlaw selected as president of Ruritan National
Wayne Outlaw, has been elected as the 2008 President of Ruritan National, one of the nation's leading community volunteer service organizations. Delegates to the 77th Ruritan National Convention held in Nashville, Tennessee elected Outlaw, as well as other National Officers, to serve in 2008. More ...

Nashville library receives grant from AgCarolina
Nashville's Cooley Library was among twelve organizations that received $30,950 in grants from AgCarolina Financial's corporate giving program. The grants will help the recipients carry out programs that specifically benefit farmers and rural residents in eastern North Carolina where the Association conducts business. More ...

Reader mail from the Soap Box fan club
It's been a while since we pulled from our mailbag of the dozens of letters we get each decade and let the readers help write the column.
Remarkably, the letters are all questions and are all in regards to the things we were hoping to comment on this week ... in short, concise bursts. If there's anything that will substitute for good writing, it's writing. More ...
Mike Brantley
Best wishes to Ms. Bissette on her recent retirement
On Friday morning, Betty Bissette will wake up with nowhere to go, or at least nowhere that she has to go. After 47 1/2 years of working, Ms. Bissette is retiring.
Ms. Bissette has served as the Administrative Officer at the Nash County Health Department and has spent the past 47 years serving citizens of Nash County. It's definitely admirable that Ms. Bissette has stuck with the same job for 47 years. It's a rarity in these days and times. More ...
Amanda Clark
Youth of the year contestants were truly inspiring
Last week, I had the pleasure of participating as one of several judges for the Boys & Girls Clubs of Nash/Edgecombe Counties 2008 Youth of the Year competition.
The number of participants doubled this year, so groups of students were split up among panels of judges. I was one of three who interviewed and judged six students between the ages of 14 and 18. More ...
Jo Anne Cooper
BELMONT ABBEY ROAD
STANHOPE - Danielle Puckett has known no boundaries in her quest to be the best possible fast-pitch softball player she can be for the Southern Nash Ladybirds.
"Danielle has a great work ethic,'' said SN head coach Christy Bailey. "She is one of those players who takes it upon herself to get the extra work she needs, and not just at practice. More ...
By Geoff Neville, Graphic Sportswriter - 1 opinion posted
Nash Central soars to NEW-6 swim crown
ROCKY MOUNT -- Nash Central capped off its amazing regular season with yet another boys team victory in the most important meet of all to date -- the NEW-6 Conference Champions.
Central, which entered the event with an undefeated mark in league action, added an exclamation point to its campaign-long success last Tuesday by racking up 200 points, compared to 160 for runner-up (and defending champ) Wilson Fike. More ...
By Geoff Neville, Graphic Sportswriter
Wesleyan events are scheduled
ROCKY MOUNT -- The men's and women's basketball teams of North Carolina Wesleyan will host two exciting community service events that will be taking place during the month of February.
The first is NCWC's involvement in Kay Yow's Hoops 4 Hunger, which will begin on Feb. 1 and run through the end of the month. More ...
From Staff Reports
Hot Stove Heroes
RALEIGH -- When the Raleigh Hot Stove League's board members met to select their annual Will Wynne Award winner, two names kept coming up during the discussion.
Josh Hamilton and Carl Willis.
After reviewing the accomplishments of both individuals, the board couldn't decide between the two.
So they chose both. More ...
By Geoff Neville, Graphic Sportswriter
RMHS hands out fall sports awards
ROCKY MOUNT -- With the winter sports schedule almost over, Rocky Mount High still had some unfinished business from the fall sports season.
Due to a deep run in the football state playoffs and schedule conflicts leading up to the Christmas break, the school was forced to move its fall sports award ceremonies back. More ...
By Charles Alston, Graphic Correspodent
Lady Knights win NEW-6 hoops game
RED OAK -- When Northern Nash's girls basketball team beat Rocky Mount in the regular season finale of the 2005-06 season, who knew it would be nearly two years later before the Lady Knights would win their next NEW 6 Conference game?
Almost 24 months of frustration finally came to an end for the Lady Knights last Friday night when they handed Nash Central a 68-64 overtime loss. More ...
By Charles Alston, Graphic Correspodent
MARVIN E. "FEZ" ROBBINS
ROCKY MOUNT-Marvin E. "Fez" Robbins died January 22, 2008. He was born in Wilson Co., NC August 8, 1930, son of the late Charlie D. and Gertie Edwards Robbins. Marvin was preceded in death by four brothers, Roland, Levi, Randolph and Edward Robbins, three sisters, Estelle Allen, Iva Driver and Thelma Evans. More ...

BILLY BATTLE
ROCKY MOUNT – Billy Hyman Battle, 64, died Monday, Jan. 21, 2008 at Nash General Hospital. Funeral services were held Jan. 25 at H.D. Pope Funeral Home. Interment followed at Marks Chapel Cemetery. More ...

WILSON ERNEST COLEY
Wilson Ernest Coley, 90, passed away Tuesday, January 22, 2008. Funeral services was held at 11:00 am Friday, January 25, 2008, at Johnson Funerals and Cremations Chapel, 1912 Sunset Ave. with Rev. Tim Hogan officiating. Burial followed at Pineview Cemetery. More ...

MARY BEAMON
ROCKY MOUNT – Mary Louise Hart Beamon, 64, died Friday, Jan. 18, 2008. A memorial service was held on Jan. 26 at Thornes Chapel Missionary Baptist Church with the Rev. Richard L. Battle officiating. More ...

JOHNNY BEST
ROCKY MOUNT – Johnny Antonio Best, 32, died Tuesday, Jan. 22, 2008. Funeral arrangements are being handled by H.D. Pope Funeral Home. More ...

ALICE ELAINE MILLER PARKER
NASHVILLE,NC-Alice Elaine Miller Parker,86 died January 26, 2008. She was born in Franklin County March 4, 1921 to the late Sidney William Miller and Bessie Smith Miller. Mrs. Parker was a member of Momeyer Baptist Church. More ...